The following content may contain affiliate links. When you click and shop the links, we receive a commission.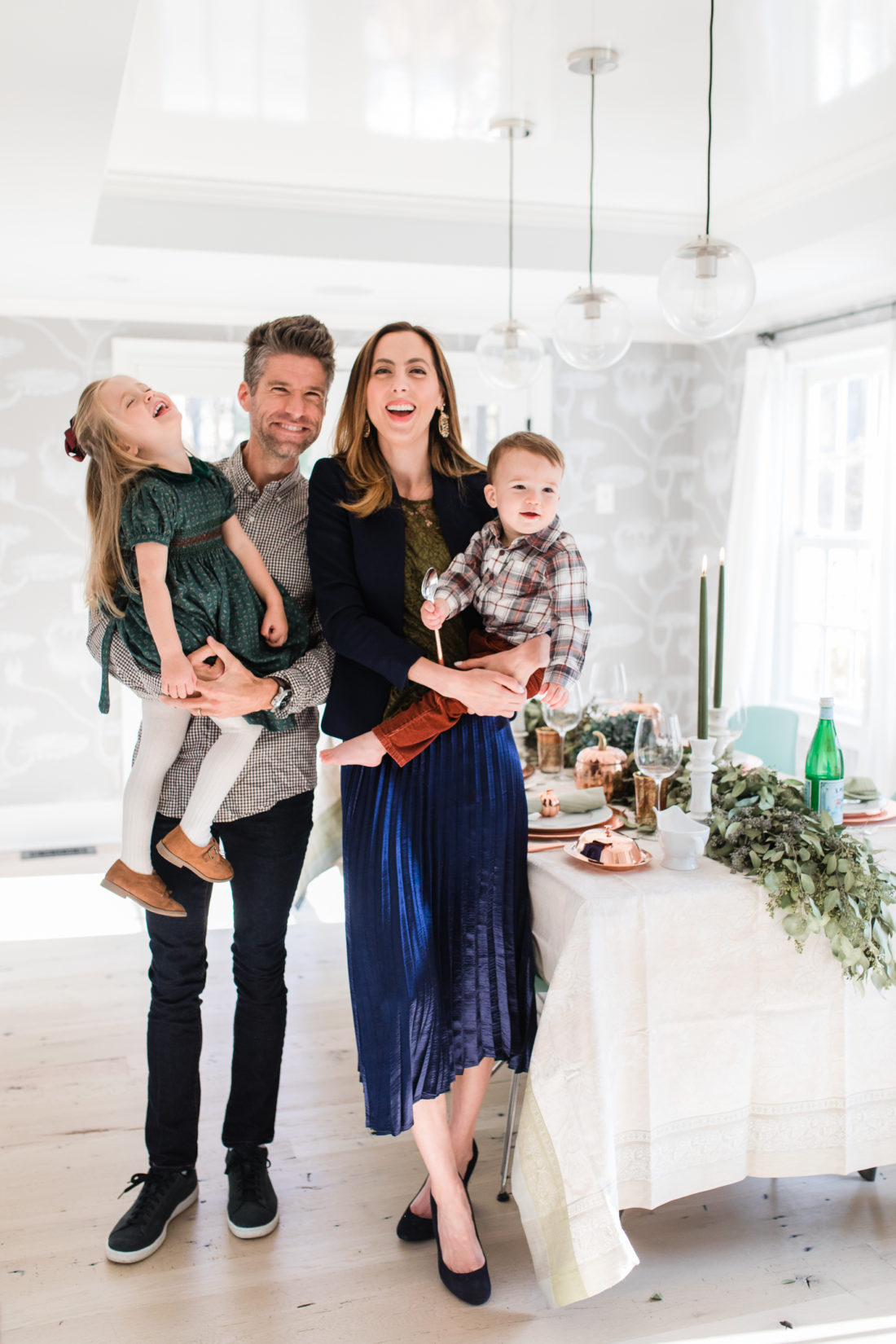 Thanksgiving is in just a few short days! In our household, Thanksgiving is one of our favorite holidays ever– for a variety of reasons.  The four of us all definitely agree that Thanksgiving foods can't be beat (we always eat a double batch of this stuffing), but generally speaking it feels like the most special holiday just because of the togetherness that it inspires in families all over our country.  We have SO much to be thankful for, and I'm thrilled that this year we'll all be together to eat and celebrate.  It's rare that we are, so we decided it would be fun to host Thanksgiving dinner at our house this year, and invite a few family members and close family friends who will be in town as well.  Today I'm sharing my Thanksgiving Table for 2017, as well as what my little fam will be wearing for the holiday– and some of our fun plans.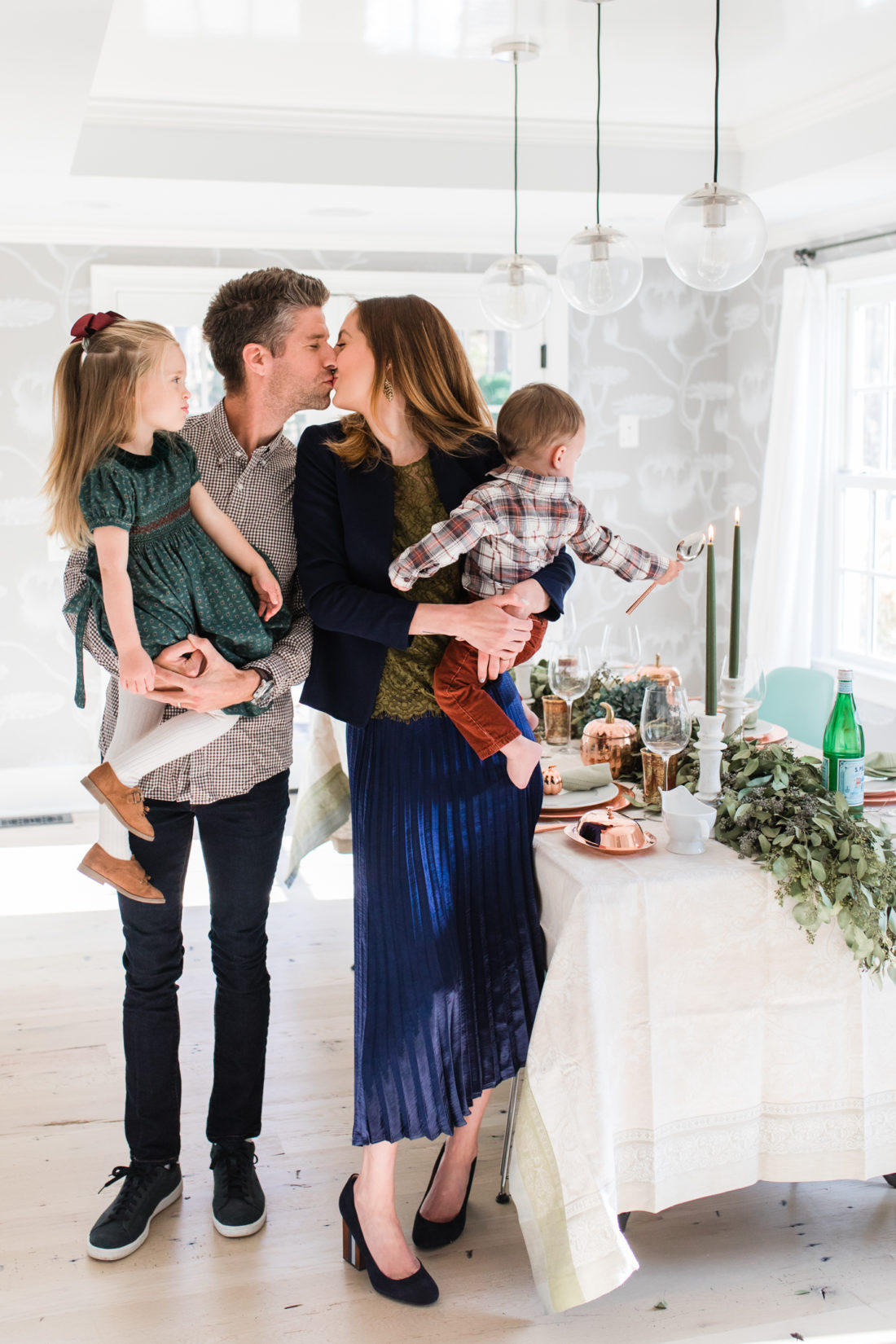 I'll start with the decor: this year for my table setting, I was dying to incorporate the warmth and style of copper! I had a gorgeous eucalyptus garland made for my Friendsgiving a few weeks ago, and decided to dry it out and repurpose it for Thanksgiving as well.  I wanted to play up the gorgeous green tones of the garland and offset them with copper and the elegance of marble.  To achieve my look, I went to Williams Sonoma! I absolutely love everything "tabletop" from Williams Sonoma, especially for the more traditional holiday vibes.  I grew up with my Mom picking up all of our tabletop elements from Williams Sonoma, and I love how stylish and versatile their pieces are.  I just about died when I saw all the copper they had in the store when I went shopping– and the copper pumpkin vessels and pumpkin napkin rings just put me over the edge! I plan on making homemade breadsticks and filling the copper pumpkins with them for my guests to enjoy alongside their meal.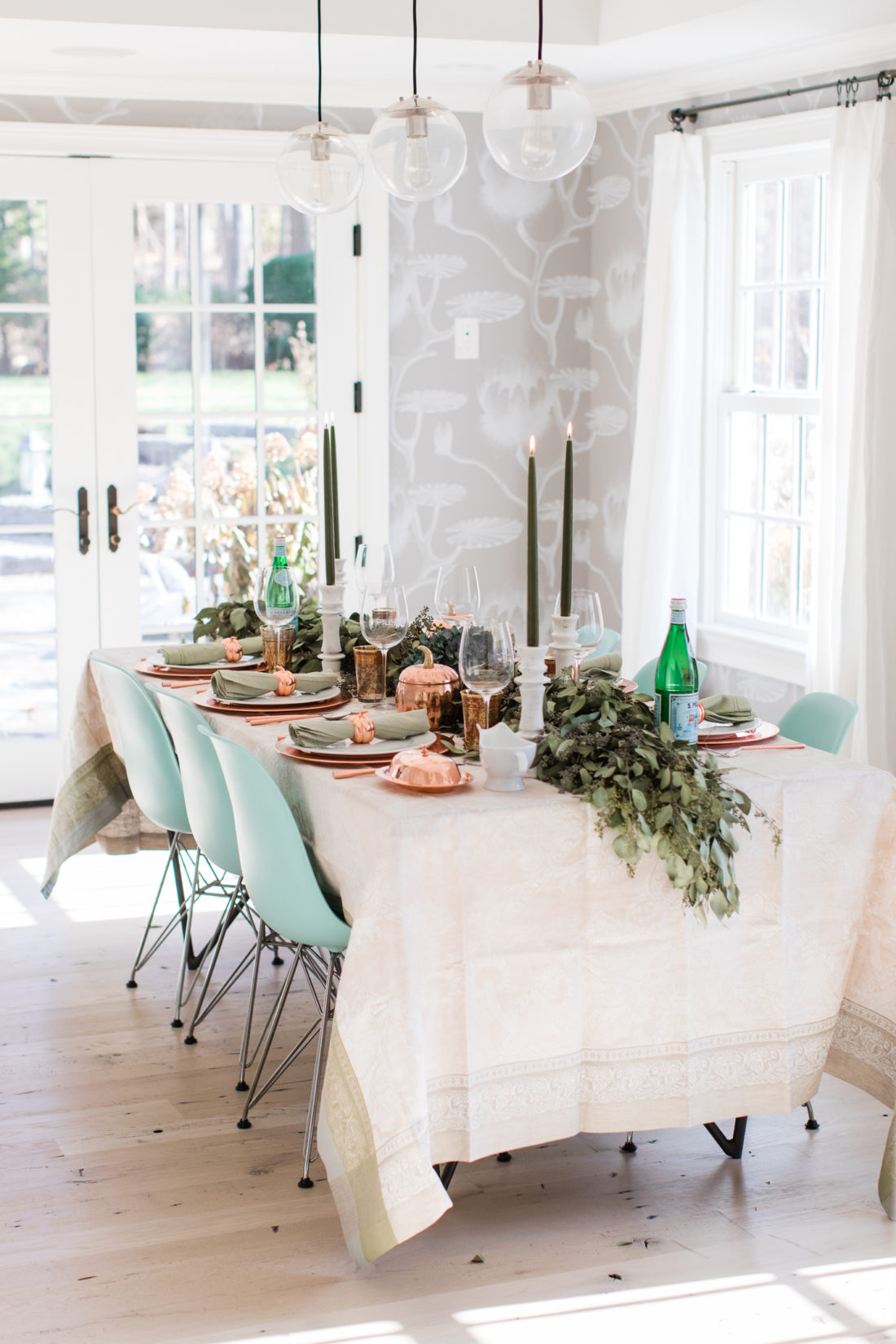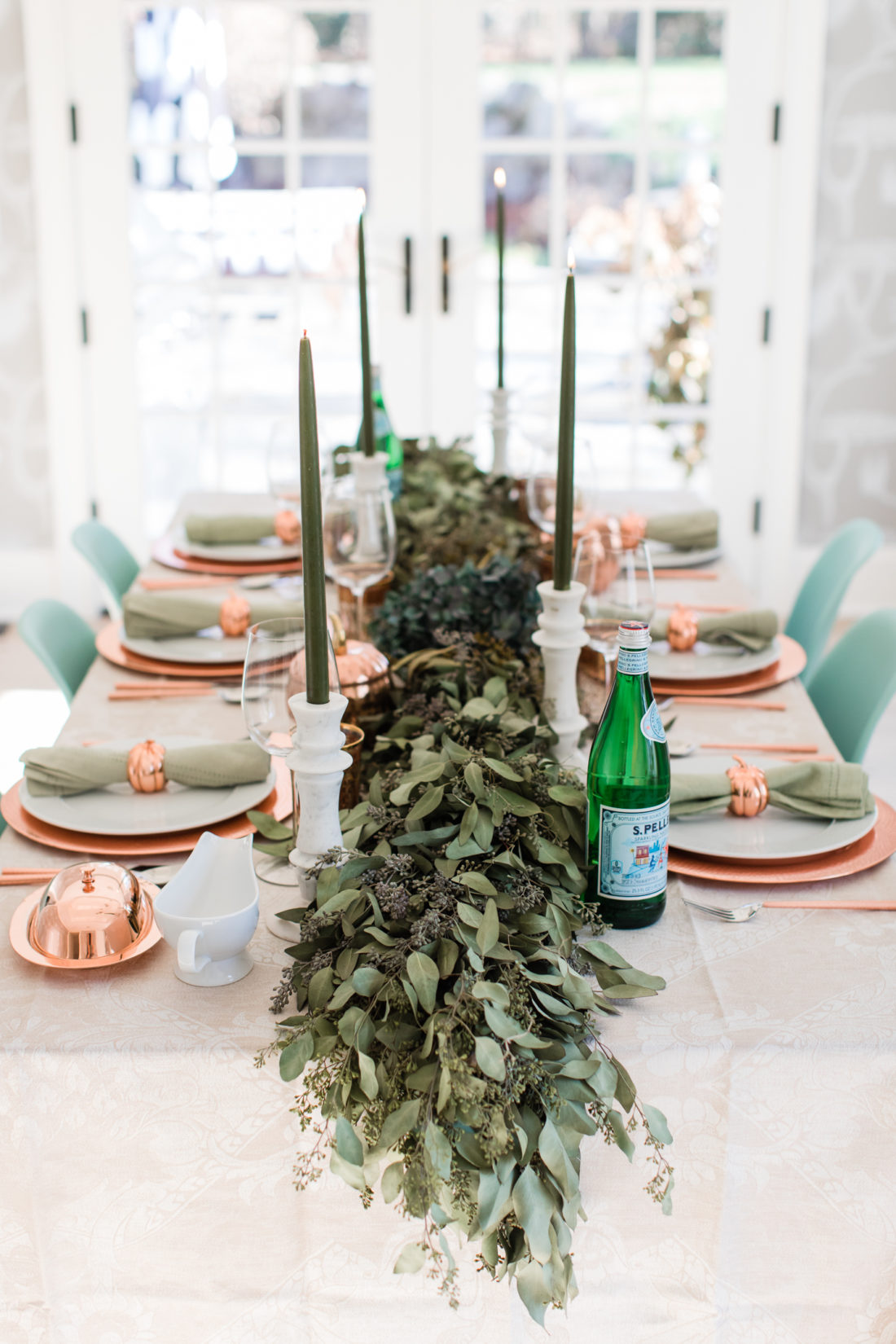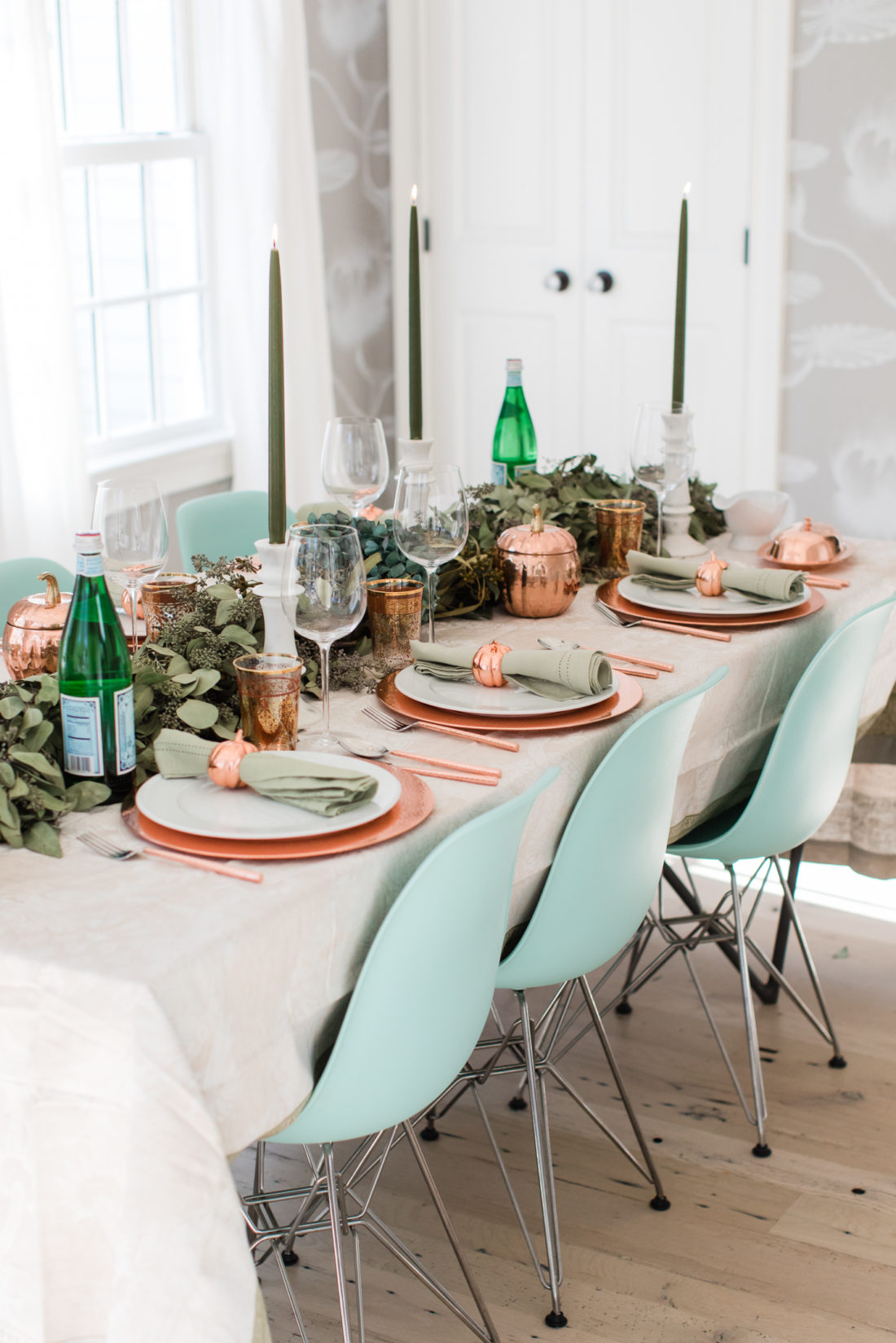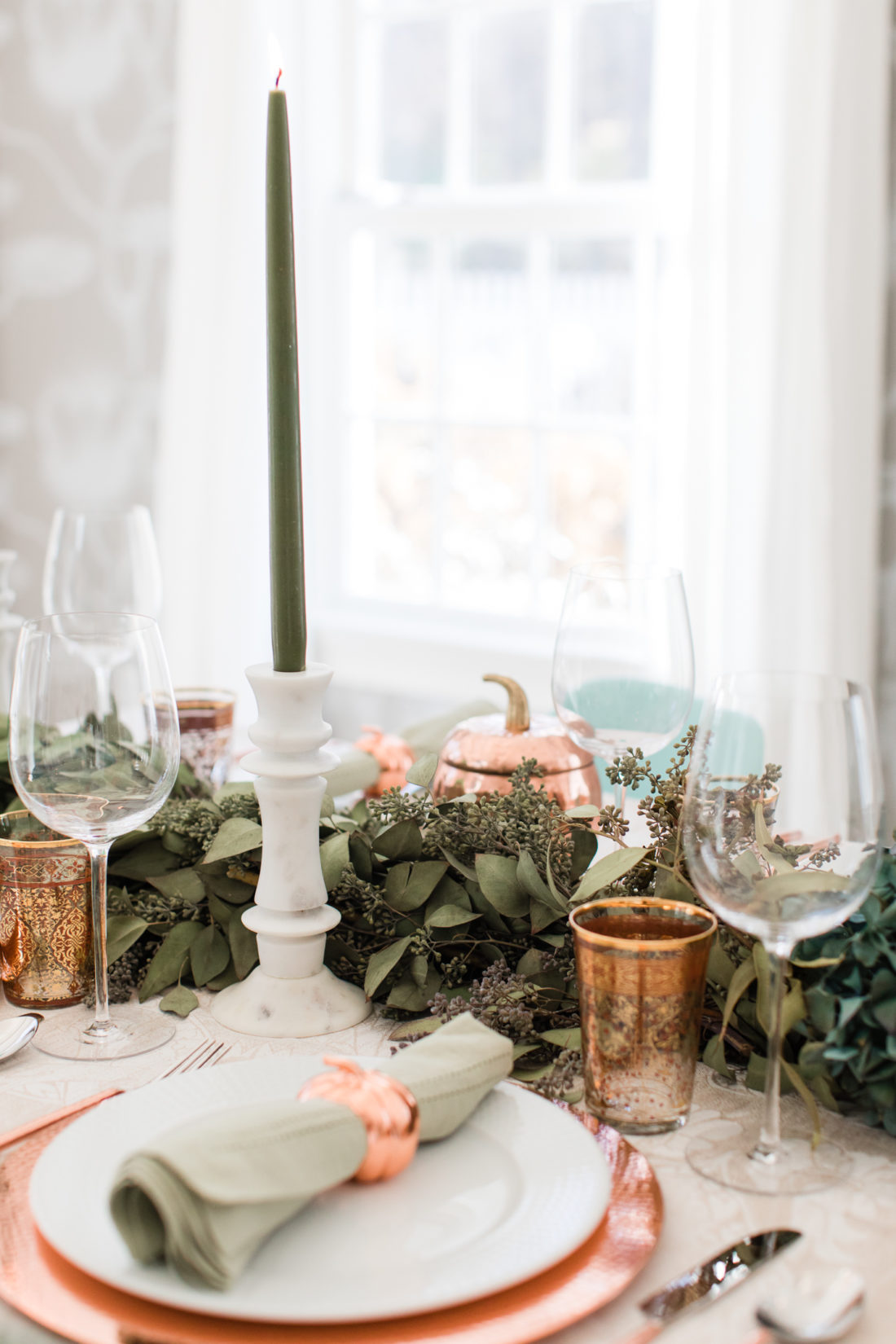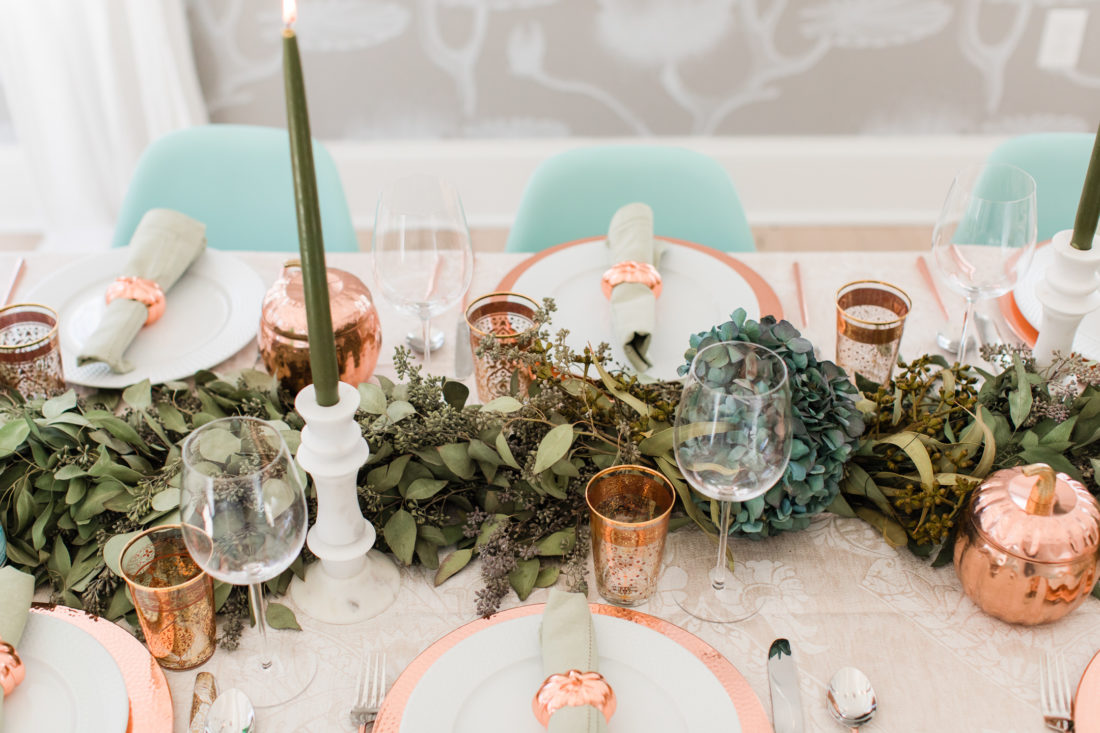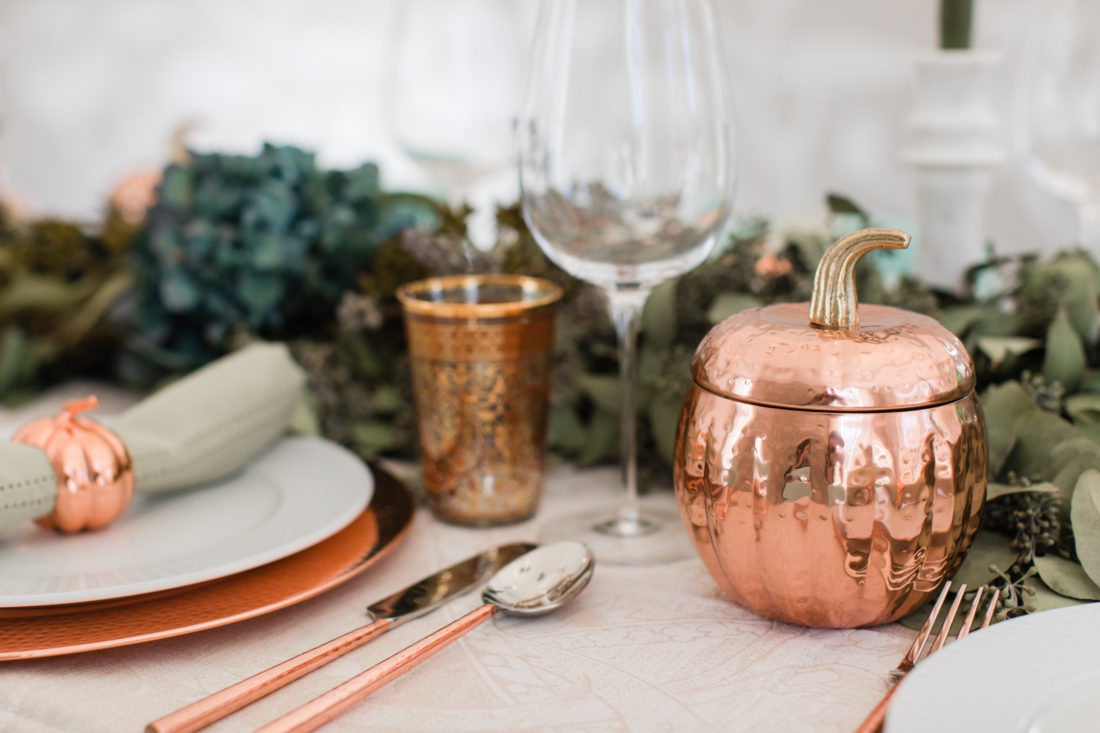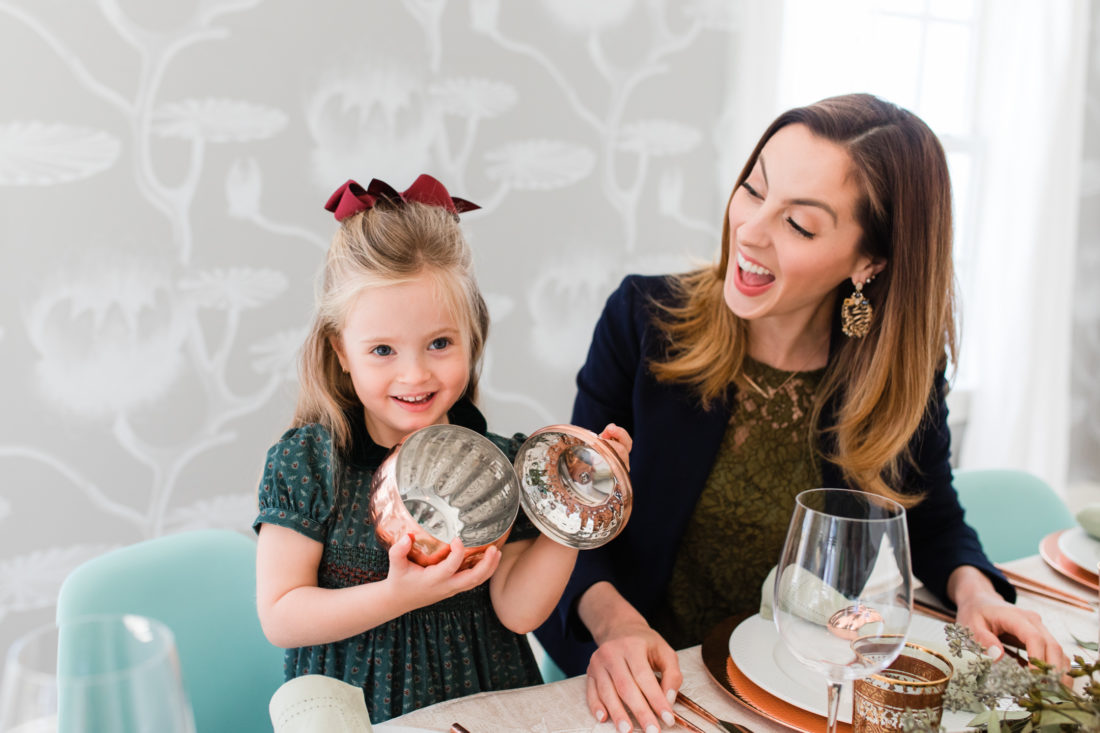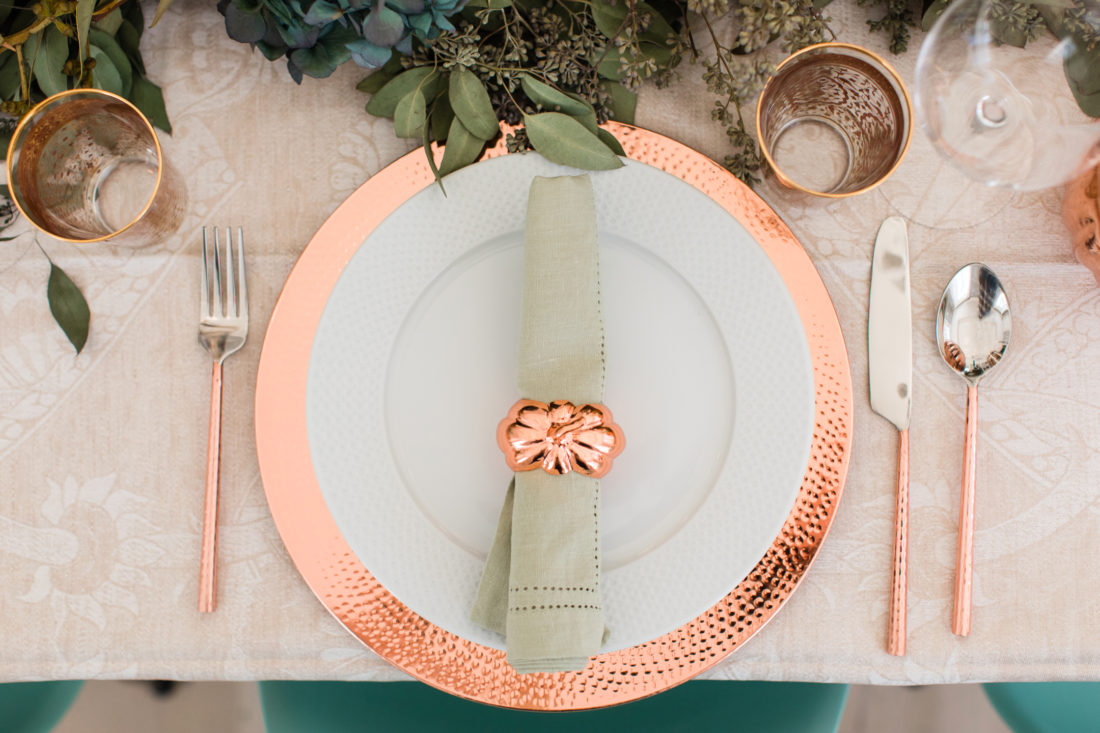 Teaching Marlowe how to set a table is really important to me, and this year she's old enough to help! It was so cute watching her put each napkin at each place setting.  She took her job extremely seriously.  Maybe next year I'll give her the silverware! LOL.  I like to set a semi-formal table for Thanksgiving, meaning that I use traditional place settings (charger plates, candlesticks, etc) but make sure to include a bit of "family style" elements as well.  I always have the butter dish, gravy boat, and some baskets (or in this case, pumpkins!) of bread to pass around and lend a jovial mood.  We also set up dinner on the marble island in my kitchen, and guests can take their plates in there to load up!  Here are my tips for setting the perfect Thanksgiving table: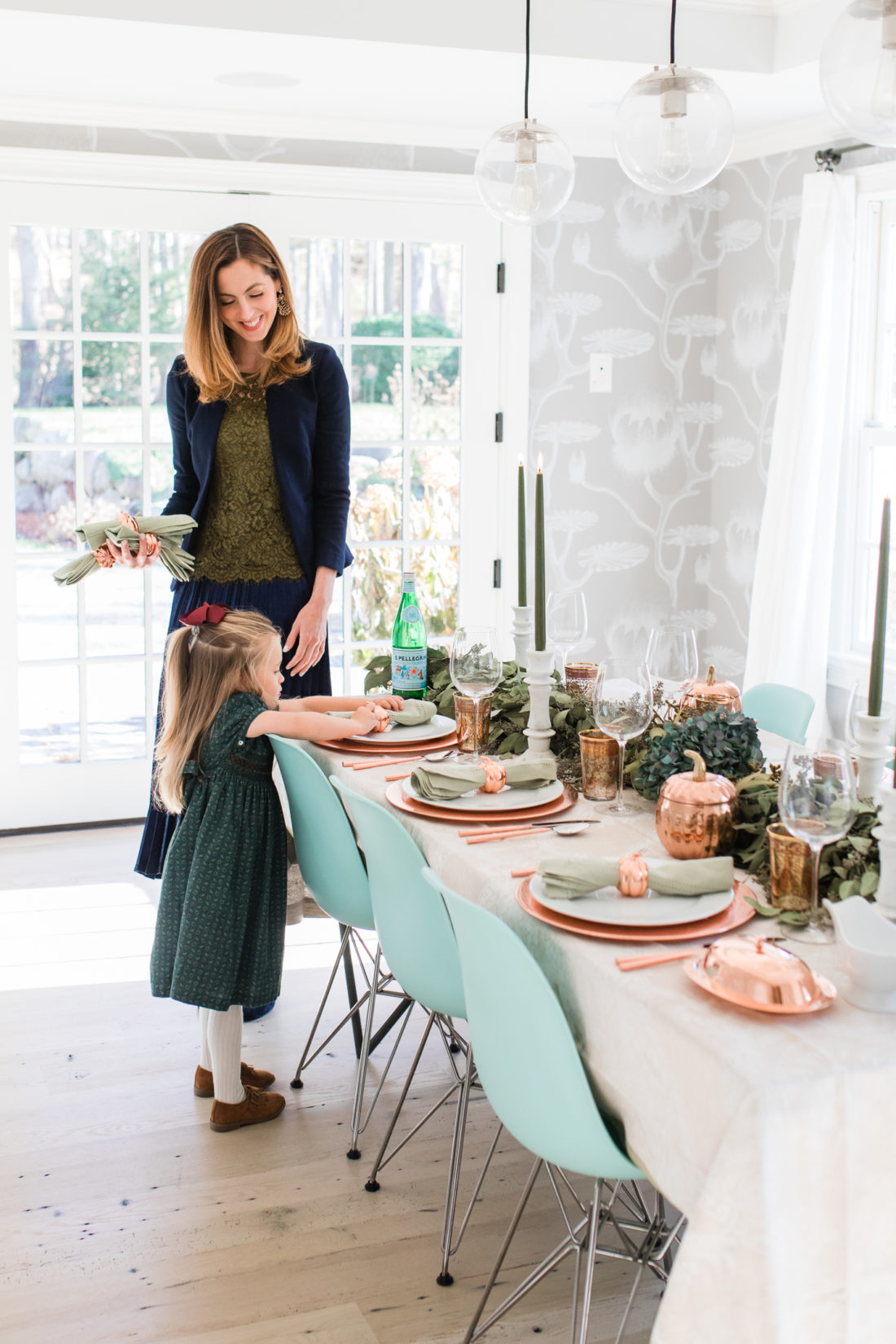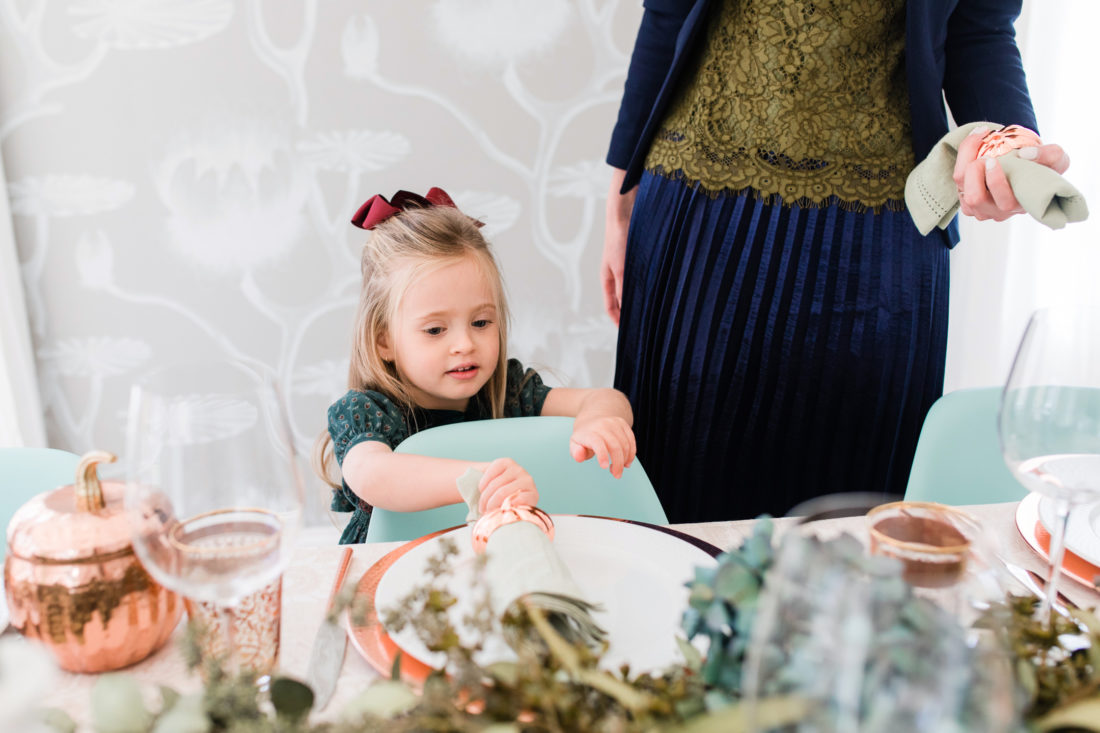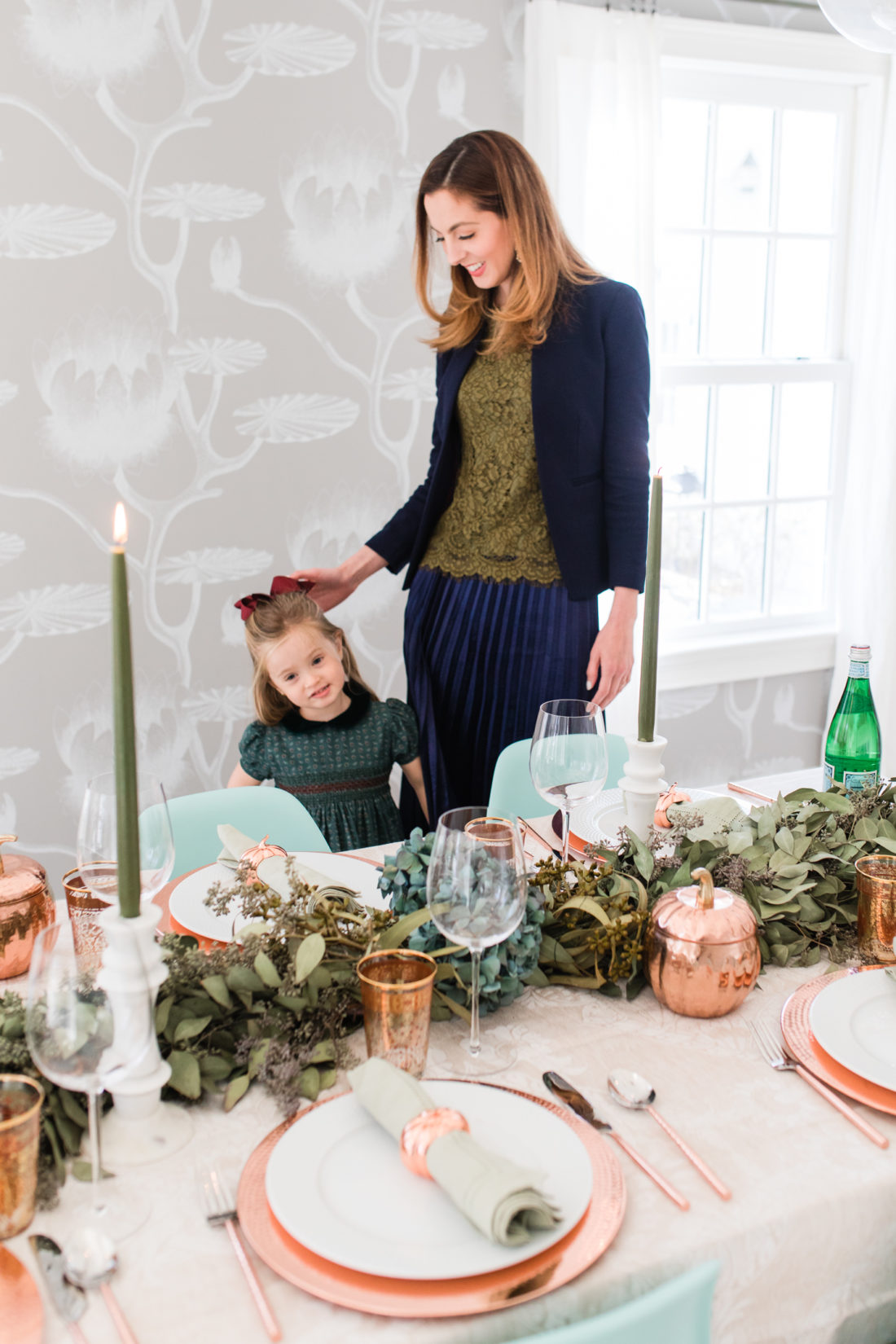 My Tips For Your Thanksgiving Table
Candlelight is a must! I love using candlesticks, but beautiful votives also do the trick– and make the mood so warm and merry.
Make sure your plates are big enough! I love using LARGE dinner plates to heap that turkey dinner on. Charger plates underneath make sure your table stays looking gorge even when guests are at the buffet serving themselves.
Include wine glasses AND water goblets.  Having two sets of glasses is such an elegant addition to any Thanksgiving table and is practical, too! You want to make sure your guests are hydrating as they're drinking…no "overserved" family members, please! LOL.
Offer Sparkling and flat water to your guests.  I put out Pellegrino bottles, since they matched my decor perfectly.  Then, I plan on having a beautiful glass water jug at each end of the table for iced flat water.
Decorate with low-lying florals.  My biggest pet peeve for family-centric meals are floral arrangements that are so high guests can barely see each other or talk over them! I settled on a garland for this meal, which is very low-lying– but I have some vases that are very shallow in my hallway closet and I use them for dinner parties like this when I'm doing arrangements!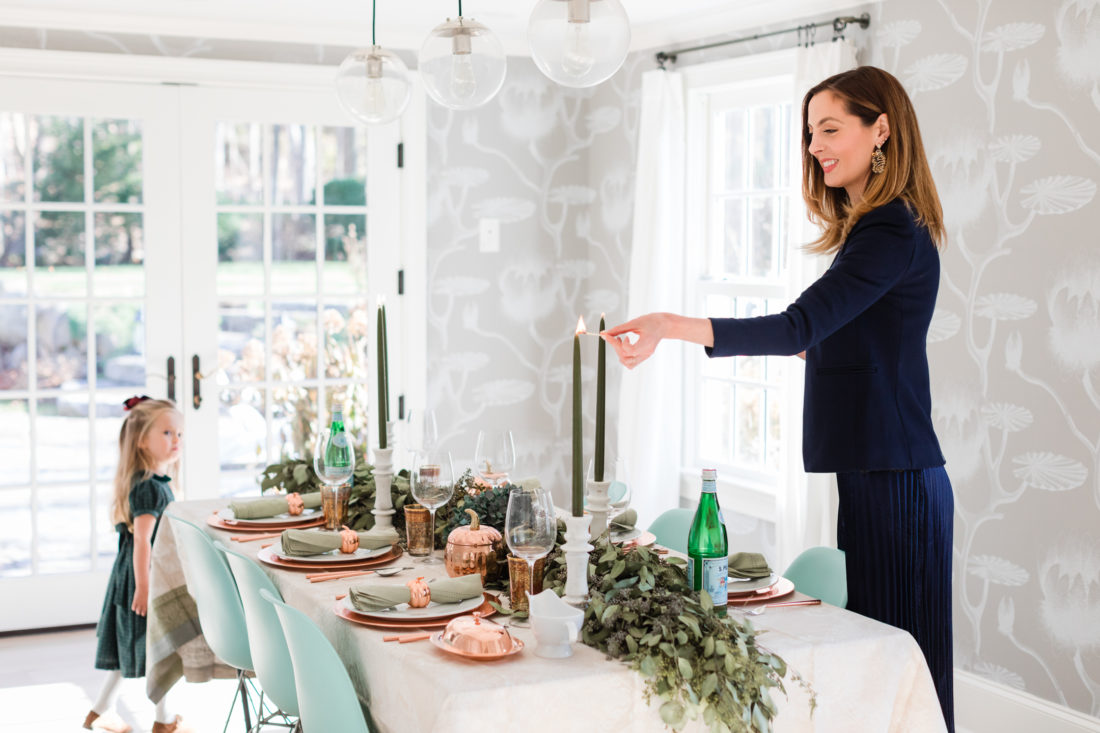 When it comes to our Thanksgiving dinner outfits, I will admit that I am always in charge of that! My family loves to take lots of pictures at holiday gatherings and I like to make sure that when we are standing together we don't clash– but tooooo matchy matchy always looks a bit odd as well.  I stick to a color palette of 4 or 5 colors and make sure the four of us are coordinating, but comfortable.  Comfort is key! I like wearing skirts with a stretchy waist band to Thanksgiving so that I can eat to my heart's content and look stylish at the same time.  Ha!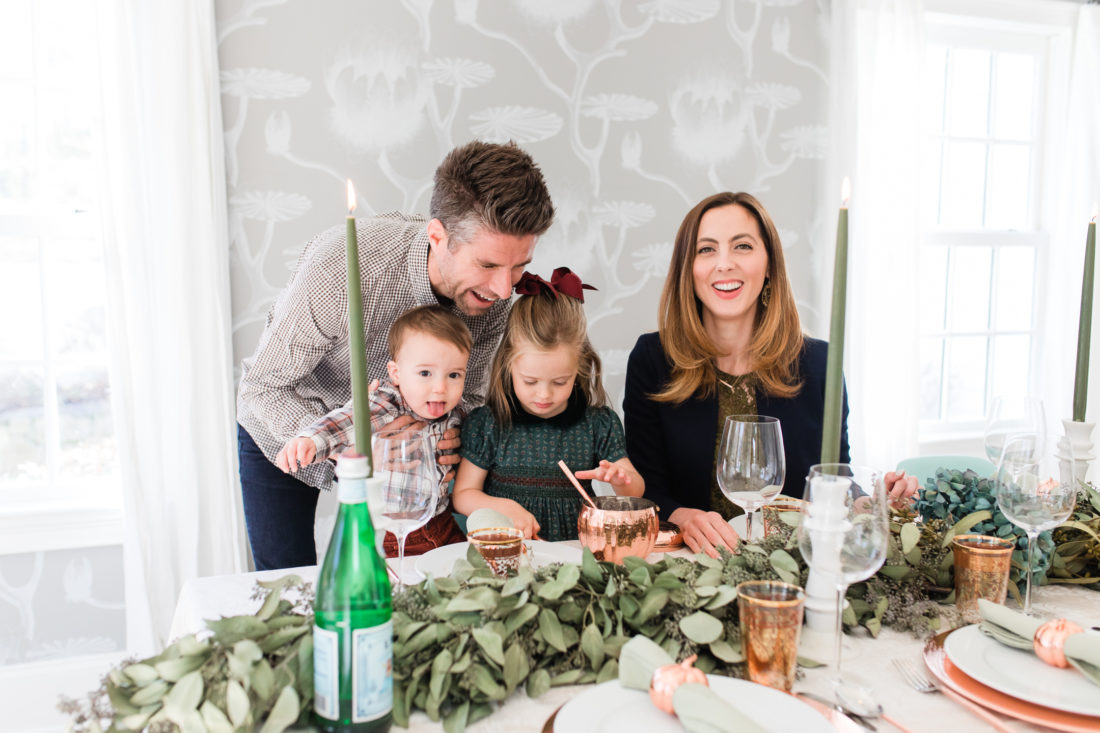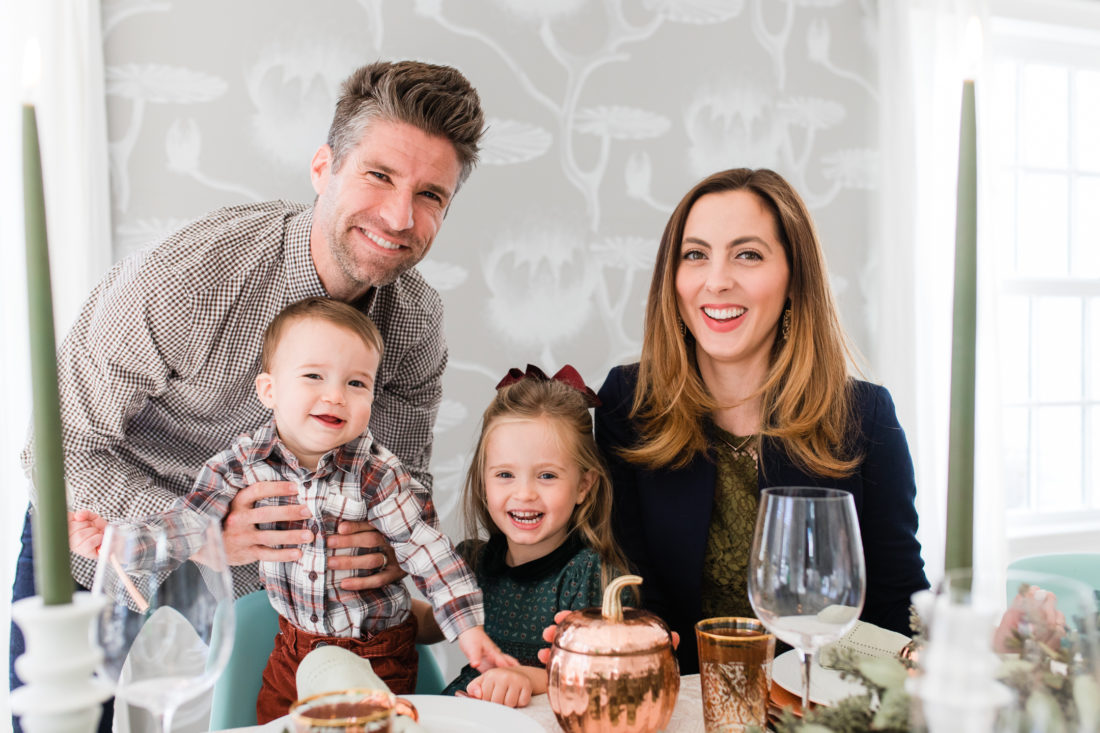 This Thanksgiving is our first one hosting at our new Connecticut home! We have some fun things planned.  Our friends and fam are showing up around 2pm and we have a fun cocktail hour where we shake up some yummy drinks (I'm partial to a pre-Thanksgiving dinner dirty martini!) and enjoy some appetizers.  We always have a legit cheese selection– and a couple of hot apps as well! Our family friend makes the MOST delicious breaded shrimp appetizer with four dipping sauces.  I'm going to make my signature (and super easy) bacon-wrapped dates as well! Then we normally sit down to eat around 4pm.  We are doing two turkeys this year– one in the oven, and one on the grill! Then we have a few different stuffings, green beans, roasted veggies, and mashed potatoes.  And Cranberry sauce, which is my personal fave– I put it on everything! Then, we enjoy a bunch of pies for dessert that my Mom brings from NYC.  We almost always forget to buy vanilla ice cream until the eleventh hour and somebody has to run out and get it.  LOL.  Would it really be Thanksgiving without a last minute grocery store emergency?! Ha!
During dinner, we go around the table and talk about what we're thankful for this year.  This year is especially moving for me, since Major's accident and skull fracture happened the day after Thanksgiving last year.  Getting closer to the "anniversary" of what we all went through is really emotional for me, and leaves me feeling really grateful and resilient.  It's so incredible that I can sit at my own table this year with my healthy, thriving son and finally shut the door to that entire chapter of our lives.  I am very thankful for that!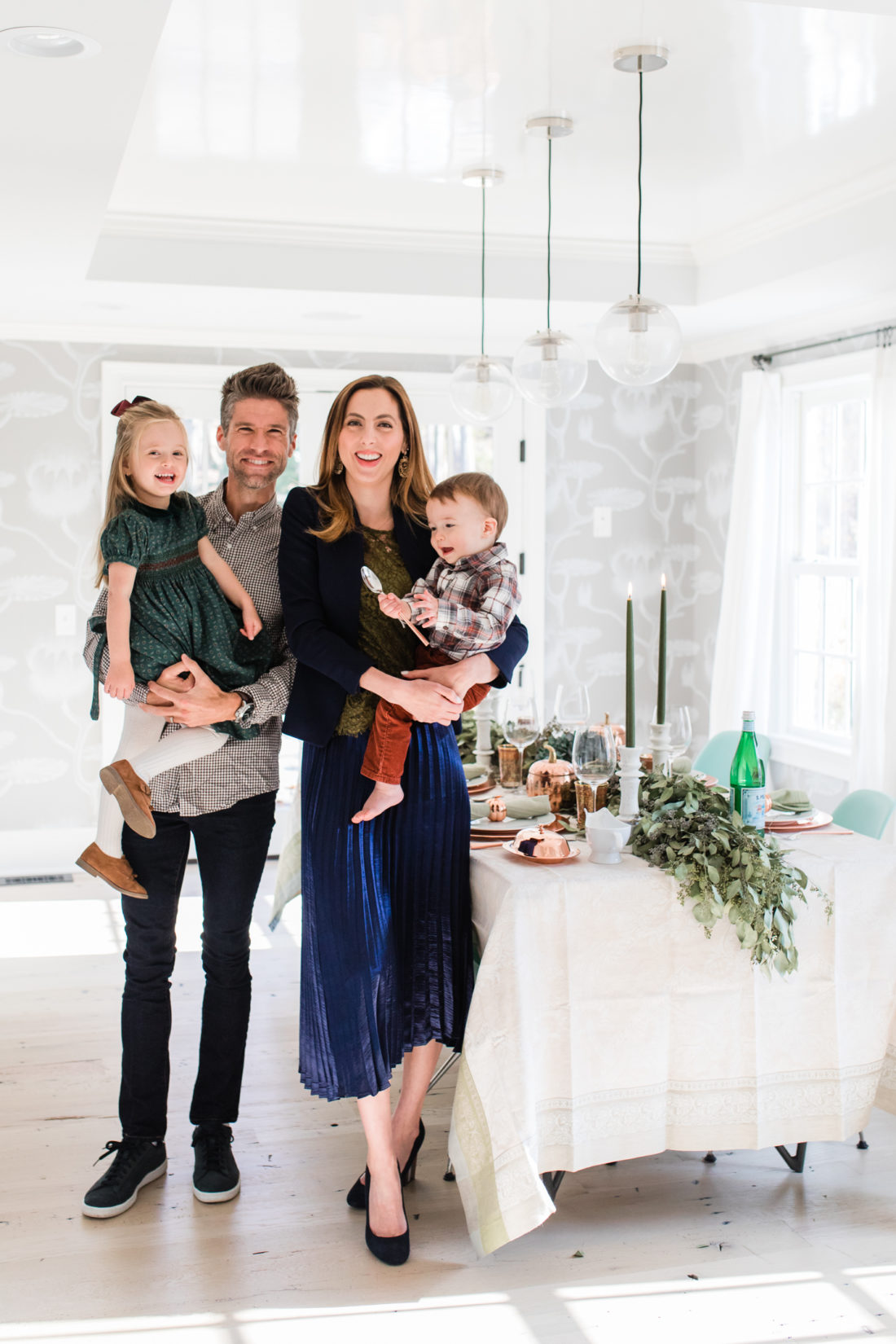 After dinner, we bring the wine into the living room and play games! I have a few old-school board games (think: Clue, Monopoly, Dictionary) that are so fun to play with bigger groups.  We'll probably put some great music on and hang out for a while once the kids are down for the night.  Although hosting in your own home can be stressful, I actually prefer it– you don't have to go anywhere at the end of the night! Ha!
Wishing you and yours a very festive and fabulous Thanksgiving holiday, filled with great food, good company, belly laughs, and of course a beautiful Thanksgiving table!
---
Photographs by Courtney Ann Photography