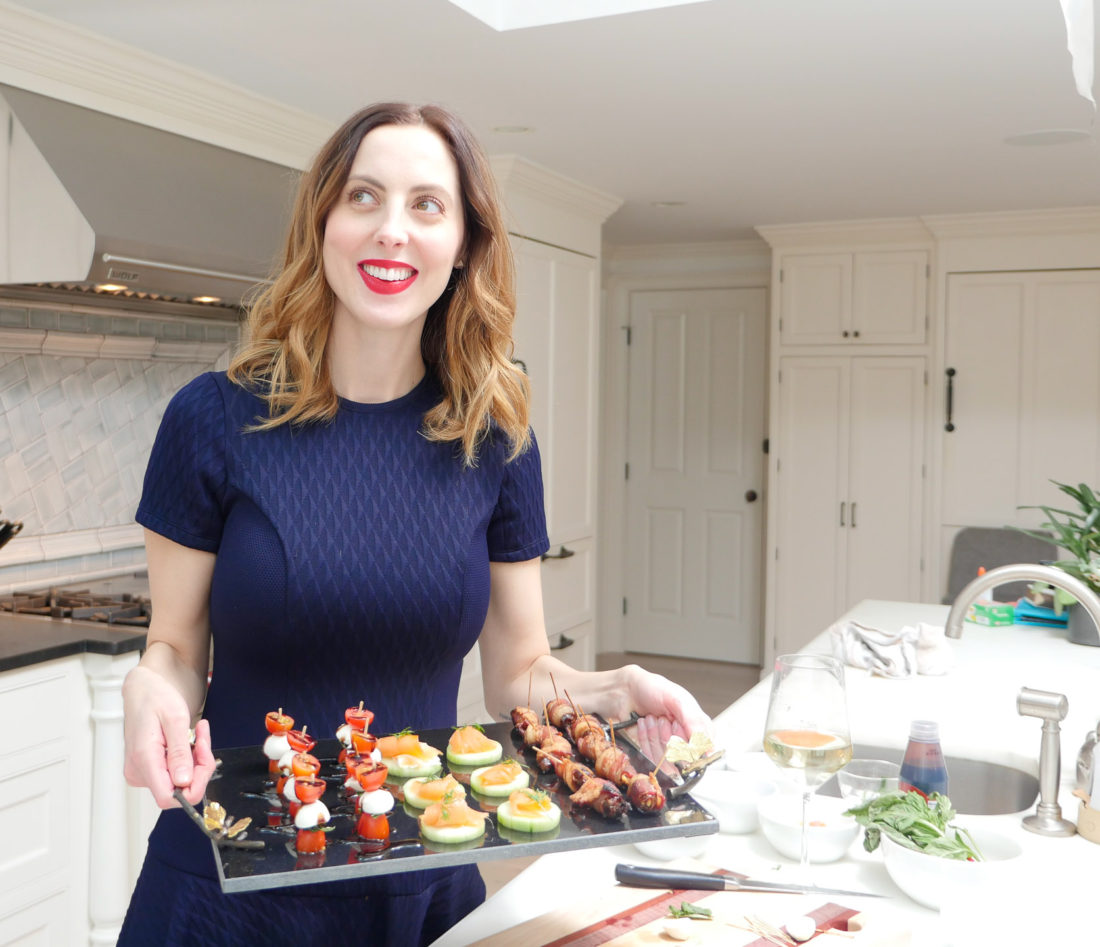 Party Season is upon us! As you know by now, entertaining at home is one of my favorite things to do. There is nothing more fun to me than getting a great group of people together to celebrate anything under the sun!  I especially love a rather impromptu or last-minute party.  There's something about those that end up being the best– I can never figure out why.  Today I thought I would share my go-to super easy Hors D'oeuvres trio that is just perfect for last-minute parties.  I love these little appetizers because they are perfect to pair with cocktails and really simple to assemble– only one item is cooked! There is also a vegetarian option and two of the three are so healthy.  I happen to think all three look delightful on a platter, too.  Aesthetics matter when entertaining, of course!  Hopefully having these three Easy Hors D'oeuvres in your back pocket will inspire you to take on some last minute entertaining at your own home! Watch the video below to follow along with my entertaining How-To.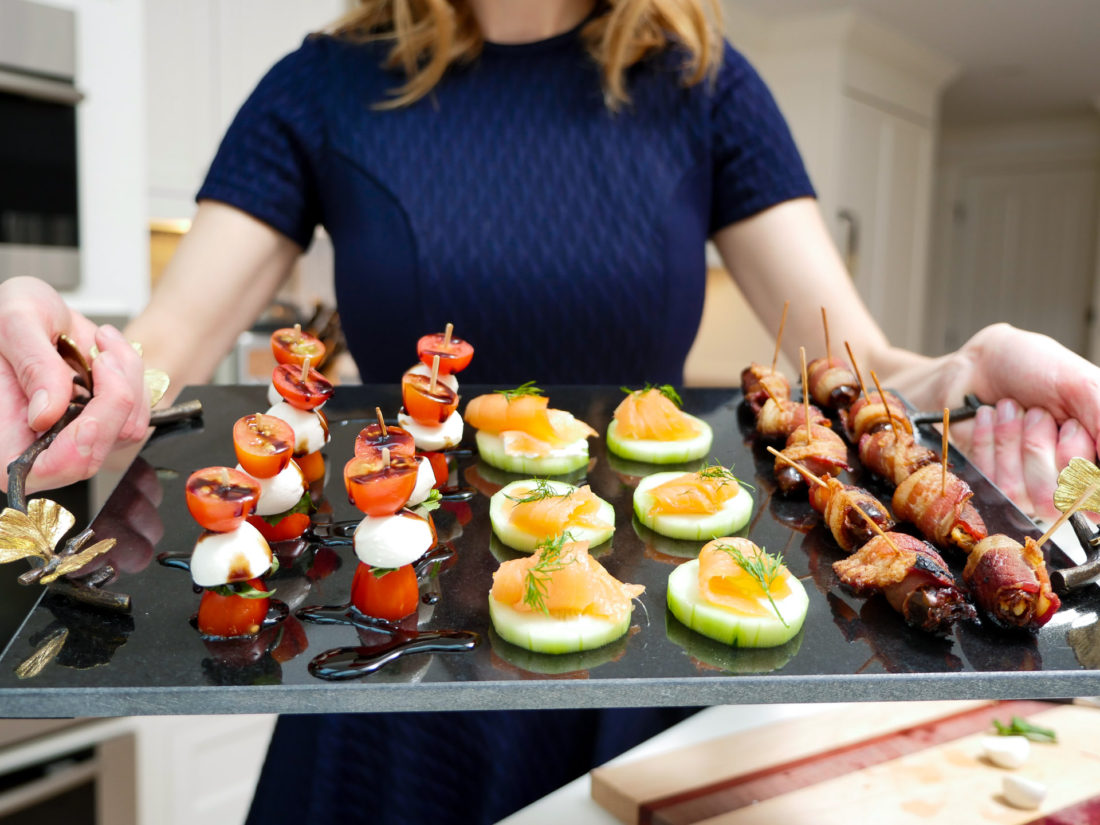 Baked Bacon-Wrapped Date Bites
20-30 pitted Dates (I always make extra of these.  Trust me)
1 log of soft Goat Cheese
1 package of Bacon
toothpicks
Preheat the oven to 350 degrees.  Get out a nonstick sheet pan, preferably with sides to avoid splatter from the bacon grease.  Slice each date, making sure to cut an opening and not slice it all the way through in to two pieces.  Fill each Date with soft goat cheese.  Next, slice your bacon strips across horizontally to make Double the amount of 4-5 inch pieces.  Wrap one piece of bacon around each Date approximately 1.5 times, securing with a toothpick.  Place your sheet pan in the middle of the oven and bake for 10-15 mins, remove the sheet pan from the oven and slightly turn each date so that they are evenly browned.  Return the pan to the oven and bake for an additional ten mins or until golden brown.  Remove and eat warm!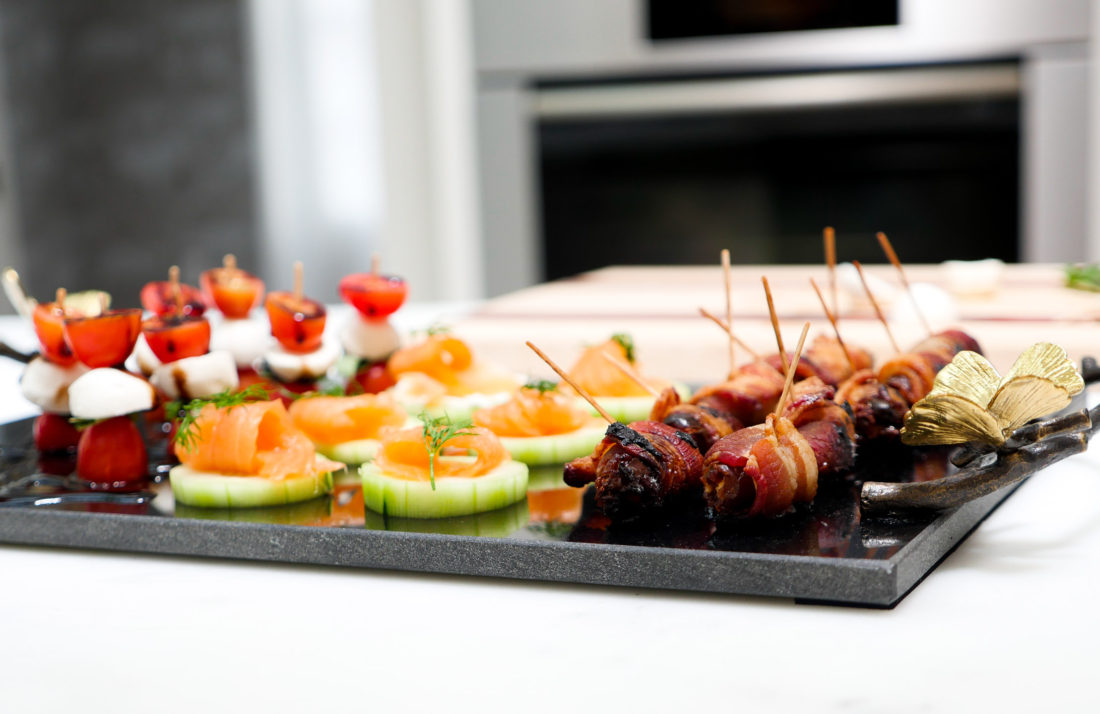 Smoked Salmon Cucumber Disks
1 package of Smoked Salmon
2 Cucumbers, peeled and sliced in to 1/4 inch rounds
1 log of soft goat cheese (optional)
Fresh Dill for garnish
On top of each Cucumber disk, arrange a smear of goat cheese (if using) and top with a bite sized piece of smoked salmon.  Top with a small piece of fresh Dill! Consume these within 30 minutes of making, you don't want them to get too warm or be left outside in hot weather!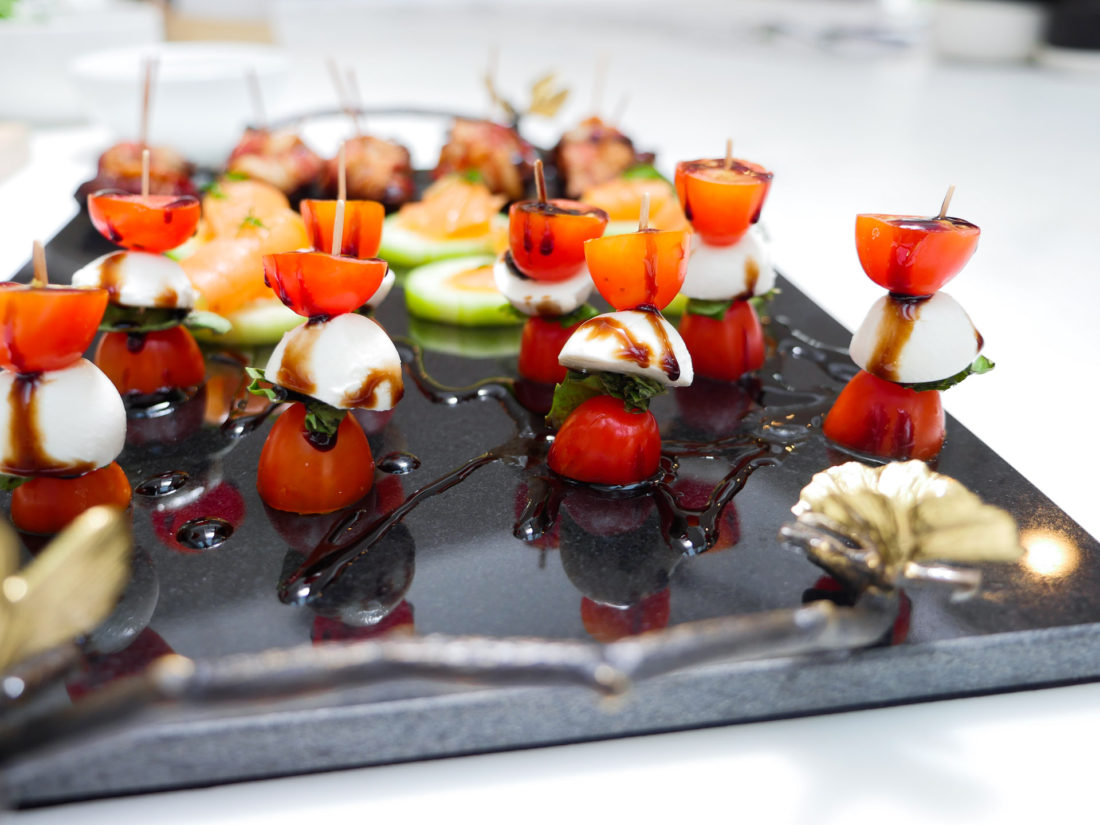 Caprese Salad Bites with Balsamic Glaze
1 carton of Cherry Tomatoes
1 carton of Bocconcini (Mozzarella Balls)
Balsamic Vinegar Glaze
Fresh Basil
Toothpicks
Begin by slicing the cherry tomatoes in half, as well as the mozzarella balls.  Take a toothpick, and put the first tomato flat side down at the bottom of the toothpick (you want the Caprese Salad Bite to be able to stand on its own on the flat bottom).  Follow with a small piece of torn basil, then half of a mozarella ball, then a tomato.  Repeat for all of your bites.  Line them up on your serving platter, and drizzle Balsamic Glaze over the top.  Serve alongside a small bowl of glaze for extra dipping!
Save