The following content may contain affiliate links. When you click and shop the links, we receive a commission.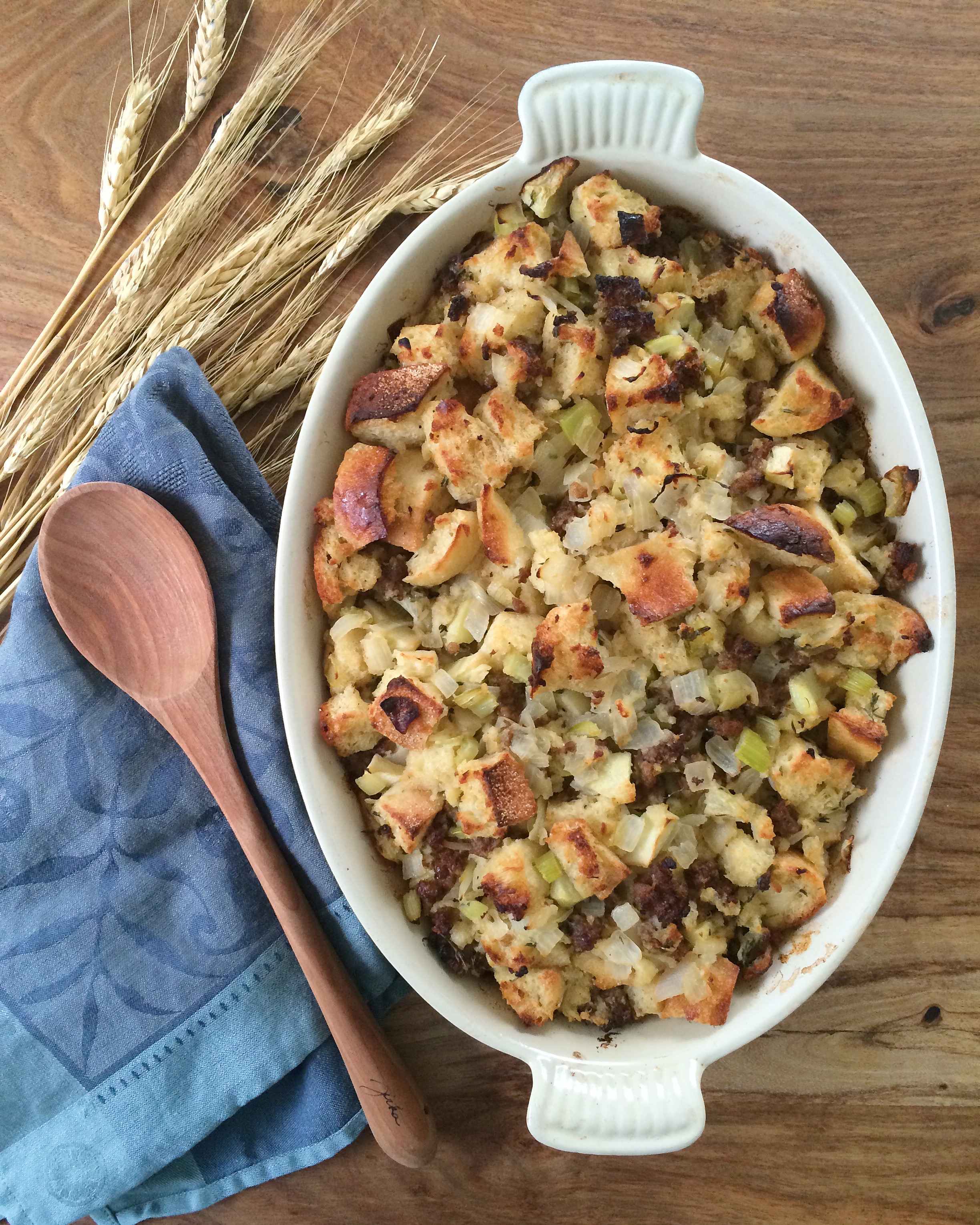 Look no further.  This is the stuffing you need to make this year.  Stuffing is by far my favorite component of the Thanksgiving spread (I top mine with globs of homemade cranberry sauce), and this one is so hearty and delicious that you can even enjoy it alone! When I'm craving that Holiday taste I will whip this up for dinner and make a big green salad to go with it.  Read more below for my Sausage & Thyme stuffing recipe!
ingredients.
1 stick unsalted butter, plus extra for greasing and baking.
10 cups bread from 2 crusty white loaves, cut in to 1-inch cubes and dried out overnight.
¼ cup Extra Virgin olive oil
1 large Granny Smith apple, coarsely chopped in to ½ inch pieces
Kosher Salt and Black pepper
1 lb sweet Italian sausage, casings removed
2 medium onions, chopped
4 celery stalks, chopped
3 garlic cloves, chopped
3 tablespoons fresh thyme, stems removed
½ cup Sherry
2 eggs
3 cups chicken stock
recipe.
Preheat the oven to 350 degrees and butter a shallow 3-quart baking dish. Place the cubed bread in a very large bowl, or pot. Heat the olive oil in a large pan over medium-high heat. Add the sausage and cook, stirring occasionally and breaking up with a wooden spoon. When the sausage is browned and cooked through (Approximately 10 minutes), transfer to the bread bowl using a slotted spoon. Add the onions and celery to the pan, and season with Salt and Pepper. Cook, stirring often, until the onions become translucent and soften (Approximately 5-7 minutes). Then add the garlic, apple and thyme and continue cooking until the apple is soft and the onions have browned (5 minutes). Add the onion mixture to the bread bowl. Reduce heat to medium and add the sherry to the pan, scraping up browned bits, until the sherry is almost evaporated (Approximately 2 minutes). Add the stick of butter to the sherry and and cook, stirring until it is melted together. Drizzle over the bread mixture. Next, whisk the eggs and 2 cups of the chicken stock in a medium bowl, and pour over the bread mixture. Toss while seasoning with salt and pepper. Add more stock ¼ cup at a time until the bread is well hydrated but not soggy. Pour your stuffing in to your baking dish, and dot with a few pats of butter. Cover with tin foil and bake for 35 minutes. Increase oven temperatures to 450 degrees and remove the tinfoil. Continue to bake until the top is golden brown, approximately 20 minutes. Allow the stuffing to rest for 15 minutes before serving. Enjoy!