The following content may contain affiliate links. When you click and shop the links, we receive a commission.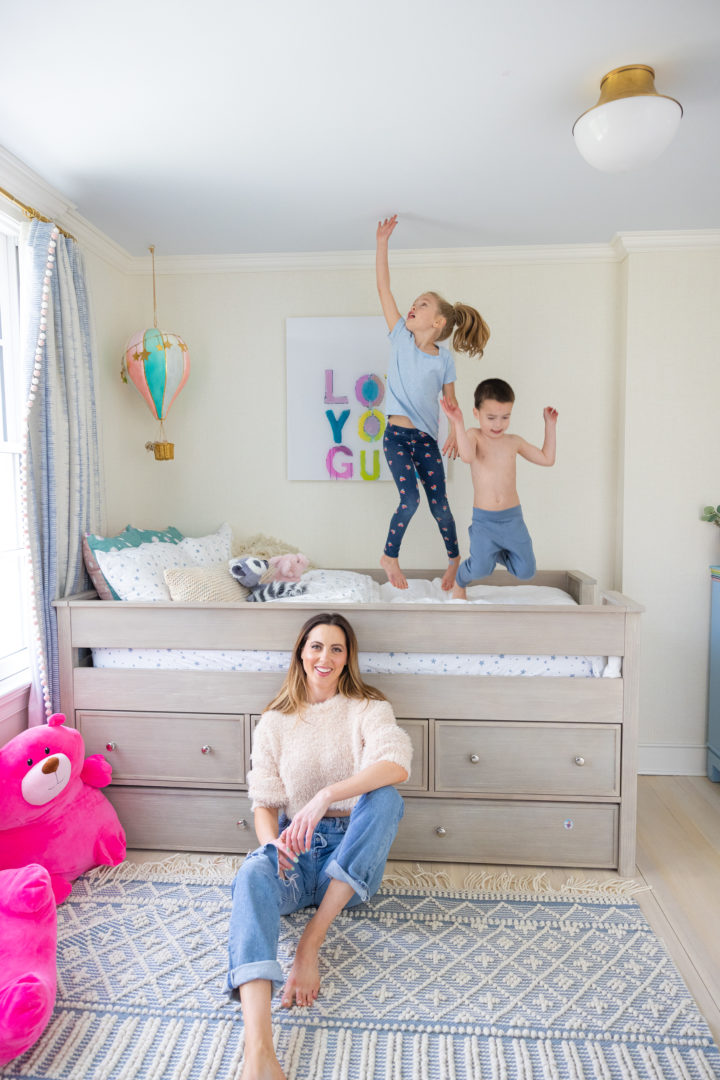 I'll be totally honest and say that we didn't expect to have a third child when Kyle and I originally bought this house. There are three bedrooms (one also all the way up steep stairs on the third floor), and so we thought we had it all figured out to give Marlowe and Major each their own room. Then Mateo happened! LOL. And very quickly, it became the best choice to switch everything around and have Marlowe and Major share a room. 
They started sharing a room in January of 2020. I was terrified at first. Both of them had always been excellent sleepers, and so I was extra nervous about rocking the boat and potentially disrupting everything. I had heard horror stories about siblings sharing a room and staying up until all hours of the night…with parents watching the baby monitor recordings to find them scaling the furniture at 1 AM. The last thing I needed was to create MORE chaos in the house. As if a new, third baby, and a divorce weren't enough! Since it wasn't my first rodeo with a newborn, however, I also knew that the last thing I wanted was the newborn sharing a bedroom with one of the big kids and waking them up all night…and so big kids sharing it was!
I traded in Marlowe's gorgeous velvet bed for a Captain's Bed, with a trundle bed that can be pulled out or put away as needed. Before I got it, I had anticipated storing Major's duvet in the closet during the day, putting his bed away, and then taking everything out at night to transform it into a room for two. In reality, that has happened a handful of times in over a year. The bed stays pulled out most of the time and it really doesn't bother me as much as I thought it would. I'm actually SO grateful that I listened to my gut and bought a Captain's bed instead of a bunk bed! Right before I transitioned them into the room together, we had stayed at a hotel where the big kids were sharing a bunk bed. It was so cumbersome to make the bed every morning, and even harder to snuggle with the kids individually. We are BIG on a pre-sleep bedtime snuggle in my house, and with the bunk beds, it just felt like we had to switch up our whole routine. The captain's bed seemed so much easier, as well as easier to make the bed since I was level with the top bunk just by standing. I was also nervous with the kids' ages that they would play on the top bunk and fall or jump off. I'm SO glad that I listened to my instincts, because the Captain's Bed has been such a win! I highly recommend for anybody combining kids into a room who are at younger ages. 
In terms of the emotional aspects of room sharing, I would say that it's been overwhelmingly a positive experience. While there were some bumps in the routine at first, I've noticed that Marlowe and Major have grown so much closer since sharing a room, and Marlowe particularly has been much less worried at night. After going through some anxiety spells during COVID, this was such a nice safety blanket for her and I'm grateful that they had the security of sharing a room during the past crazy year. I've definitely had to go in there and yell at them to go to sleep two hours after bedtime certain nights. I've also stood outside the door trying not to laugh as I listen in on their hilarious and ridiculous conversations. LOL. Believe it or not, Major is normally the Night Owl culprit! They occasionally do get into little tiffs and territory wars, particularly with toys or stuffed animals that they both want to have in bed with them. Generally speaking, however, I think it's been positive that they have to figure out their little tiffs on their own. I always tell them that unless somebody is bleeding, vomiting, or peed the bed, I don't want to hear it! Once lights are out they're out, and if they want to fight about something, they can also make up on their own. So far so good with that! There are a few products that have been great in easing the transition with their room sharing, so I figured I'd share below.
Let me know if you have any other questions!
Must-Have's for Sibling Room Sharing
Captain's Bed (Similar)
$1,999
As I explained above, this style of bed has been a game-changer! I love that it isn't too high off the ground, and has storage. Sometimes the kids will want to share Marlowe's bed for a few nights, and we put the bottom bunk away to create more play space in the room!
Himalayan Salt Lamp
$39.97
My kids love a night light, and this one creates such a soothing, womb-like light. I love it! Plus, salt is known to have healing properties. 
Sound Machine
$44.95
This sound machine is the best of the best. We all have one in our rooms. Having that extra noise is a must, for if one kid wakes up early or needs to go to the bathroom. The other one always sleeps through it!
Owl Night Light
$11.16
Major likes a little more light than Marlowe to fall asleep. I got him this little portable night light that he can have in bed with him. He can turn it on himself, and it turns off itself after a period of time. It has worked out amazing!
Contigo Water Bottles - Set of 3
$27.95
The kids have these water bottles in bed with them (there is no bedside table for a cup of water) and they're amazing because they don't spill!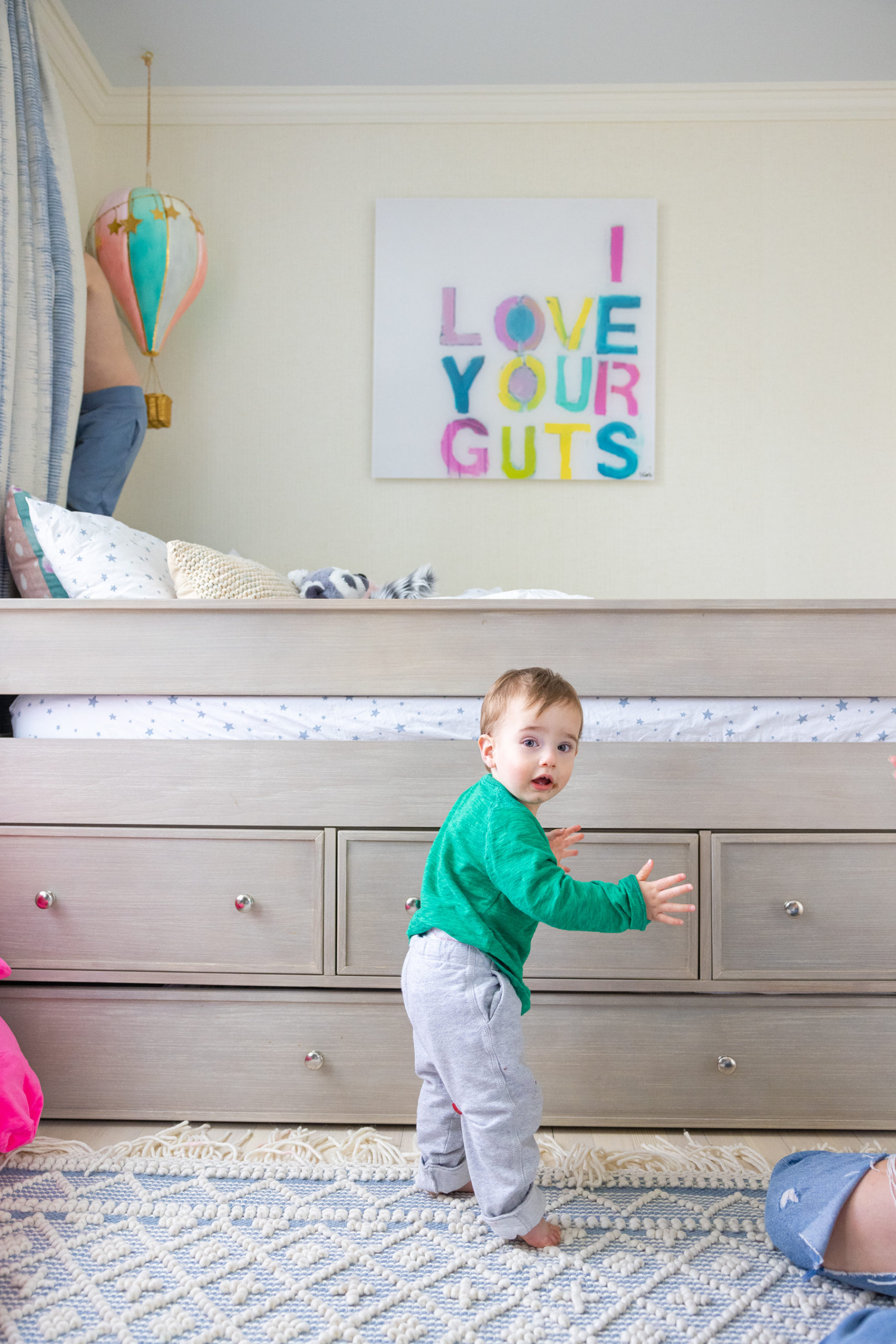 Photographs by Julia Dags | Happily Eva After, Inc. © 2021 All Rights Reserved