The following content may contain affiliate links. When you click and shop the links, we receive a commission.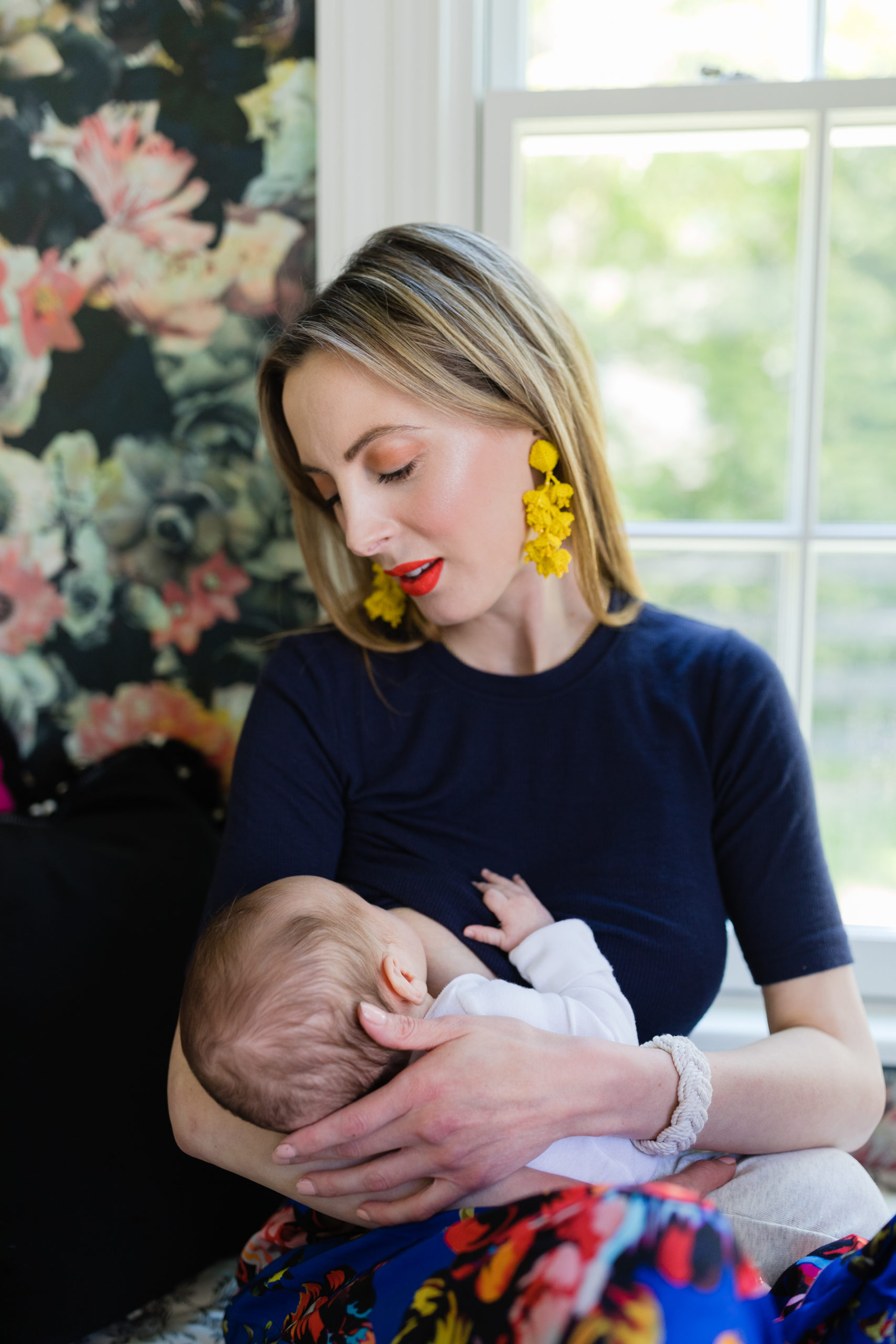 I've started the process of slowly but surely weaning Mateo from nursing, and transitioning him to formula. 
The decision to wean is super personal for every woman and can come with a lot of emotion – especially because each woman's decision to wean can be tied to feelings of really deep-rooted frustration, shame, sadness, relief, or pressure.  There is no right way to feed a baby, in my opinion, and it's taken three kids for me to solidly feel the right to that opinion. I wish I had felt more of a right to my feelings and opinions as a first time Mom.  I wish I could go back to that 29 year old woman and tell her, "Listen Honey. You need to do what you need to do. You need to be strong and happy to make your child strong and happy!"
Instead, I made my choice to wean Marlowe at four months, and felt guilty every step of the way. I wrote about my breastfeeding journey with her in one blog post, and about my breastfeeding journey with Major in another blog post. 
My decision to wean Major was the result of a mental health crisis I was having at the time, and it took me a long time to recover from the feeling that the choice was part and parcel with the darkness I was experiencing.  Overall, it was most definitely the right choice and I felt much better when I removed the breastfeeding portion from my daily motherhood experience. 
With both of these experiences, I was mostly just grateful that breastfeeding was an option for me at all (for some women it is not), and that the decision was a choice I made. I never felt forced to stop, or forced to continue. I ended up breastfeeding Major for around three months (including frozen milk).  As you can see from my blog, both of my kids turned out fairly normal. LOL. When I decided to have a third baby, I promised myself that I would breastfeed only for as long as it felt good and positive to do so. I wouldn't force it, I wouldn't cry over it, dread it, or curse it.  I would breastfeed as a beautiful experience with my child, and then when it felt good to me, I would wean him. 
While I have had an overwhelmingly positive experience breastfeeding this time (and really developed a nice routine!) I've realized that what it's taking out of me emotionally and physically is leaving me more depleted than I'd like as a working, single Mama to two other kids.
Luckily, I've been saving tons of breast milk in the freezer, and I plan to feed Mateo from that stash for a while as I slowly start to reduce feeds from my breast.  He has already started taking some bottles as I begin that process, and that is going well thankfully!
I know some babies do not take to bottles very easily after being exclusively breastfed for months.  I plan to use the same formula I used with both other kids – HIPP Organic Combiotik Hungry Infant Milk.  My kids have both loved it, and I like that it's organic and has great nutrients included in the formula.
HiPP Organic Combiotic Hungry Infant Milk
HiPP Organic
This is my absolute favorite baby formula! All three kids used this while transitioning from breastmilk to formula and had no stomach issues whatsoever!
I'll admit that beginning to wean Mateo has been pretty emotional. The past few months have been really nutty for all of us, and having that special time with my sweet boy a bunch of times a day has really bonded us.  Since I have been both a formula-feeding mama and a breastfeeding mama, I do know that taking that time itself with my baby is what ultimately bonds us, though.  I know our bond is written in the stars, and not as a result of how I feed him. I'm so glad I know this now as I start the emotional process of weaning!
I've said it before when discussing breastfeeding, but I'll say it again now:
It's possible to get REALLY hormonally imbalanced while weaning a baby!
It makes me feel symptoms akin to PMS, and even Postpartum Depression and Anxiety! I've learned that it's super important for me to go slowly with weaning and to really give myself a lot of grace during the process.  There is also this guest blog post about rebalancing your hormones naturally if that is a worry of yours! My method for weaning is to cut down one feed or pump every 4-5 days. This allows my body to adjust naturally.  I pump very minimally to relieve pressure if I get engorged during the weaning process.  The times Mateo eats that I am not feeding him from my breast during the weaning process, he receives a bottle of pumped (frozen) breast milk.  I have not yet given him formula, because in my experience, once the baby tastes the formula, they do not go back to drinking the breast milk.  I made that mistake with Major towards the end of my frozen stash and ended up with about 50 ounces of unused breastmilk. Not ideal! I plan to exhaust my breastmilk stash and then mix half breast milk and half formula for the first few bottles of formula feeding. For me, the last feeds to remove are the morning one, and the bedtime one.
You can check out Mateo's current feeding and nap schedule HERE. 
I'll be honest and say that I get a little teary-eyed at night these days, feeding him at bedtime from my breast and knowing that the days of feeling the sensation of him latching on me are numbered. But I also feel really empowered– that I now know myself well enough as a mom to know how I can be the best Mom possible to ALL three of my kids, and the best ally to myself and my own mental health. I'm looking forward to feeding my son from a bottle with love, and I know beyond a shadow of a doubt that he will be just as "fine" as my other kids were.  I just want to offer my love to any Mama out there (maybe on her first child, maybe on her fifth) who is wracked with guilt about her breastfeeding choices, or inability to breastfeed.  It has taken me three kids to really internalize that our love for our children is not measured by HOW we feed them. It is measured by the fact that we keep them fed and safe, that we nurture them from the depths of our "best", and that we gracefully and wholly love ourselves. You ARE enough, just as you are.   
I would love to hear any personal stories about weaning or breastfeeding in the comments below if you feel so inclined to share!