The following content may contain affiliate links. When you click and shop the links, we receive a commission.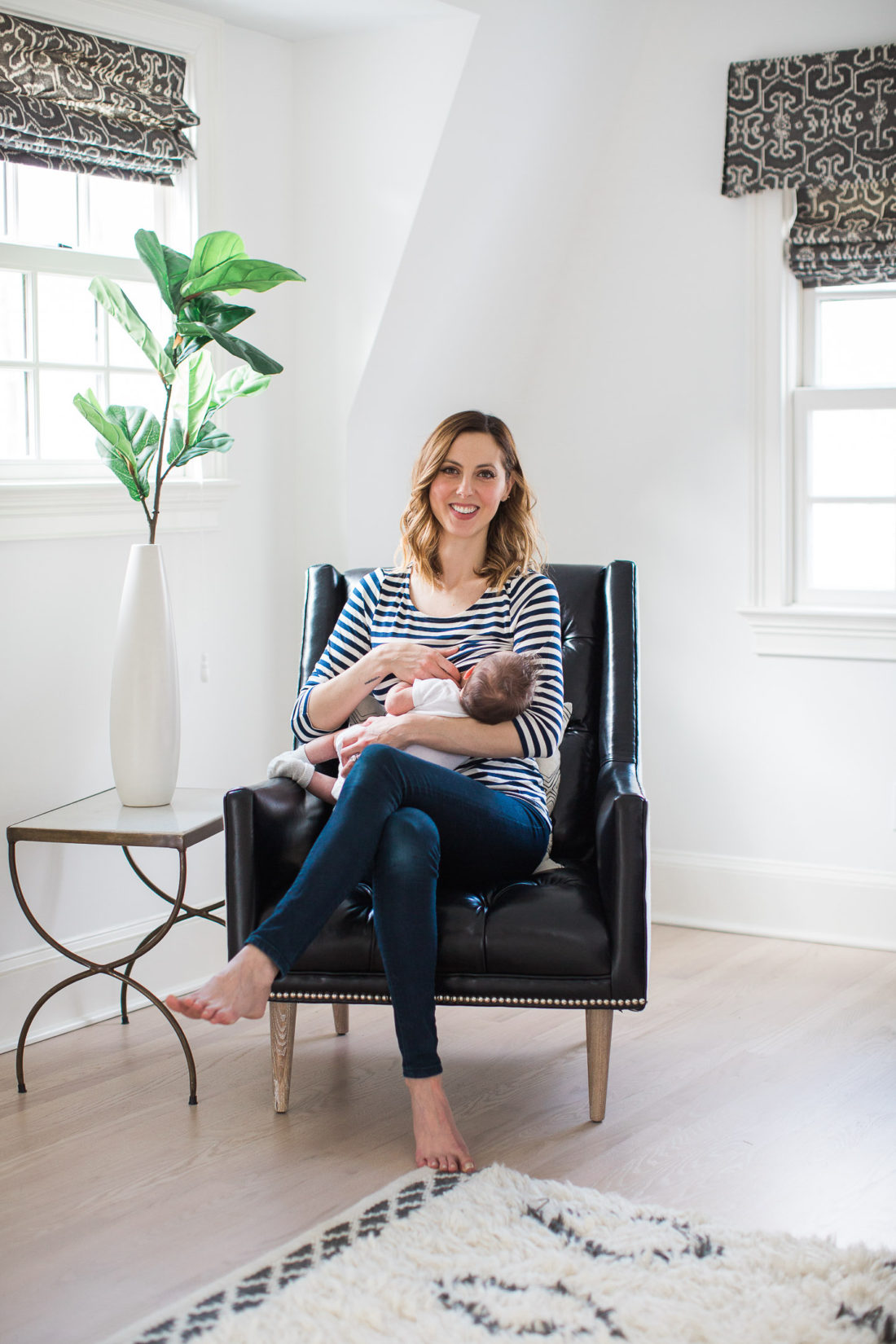 Now that I've had a little over two months under my belt of breastfeeding my second child, I thought I'd share a little update on how it's all going, and my thoughts and feelings (and new discoveries!) this time around. When I wrote a bit about my Breastfeeding journey with Marlowe while I was pregnant with Major, I remarked that my expectations for breastfeeding him were purposefully undefined. I had vowed to go with the flow, without self judgement, and see where it all took me. Well, now I have an idea about all of that, so figured I could update you!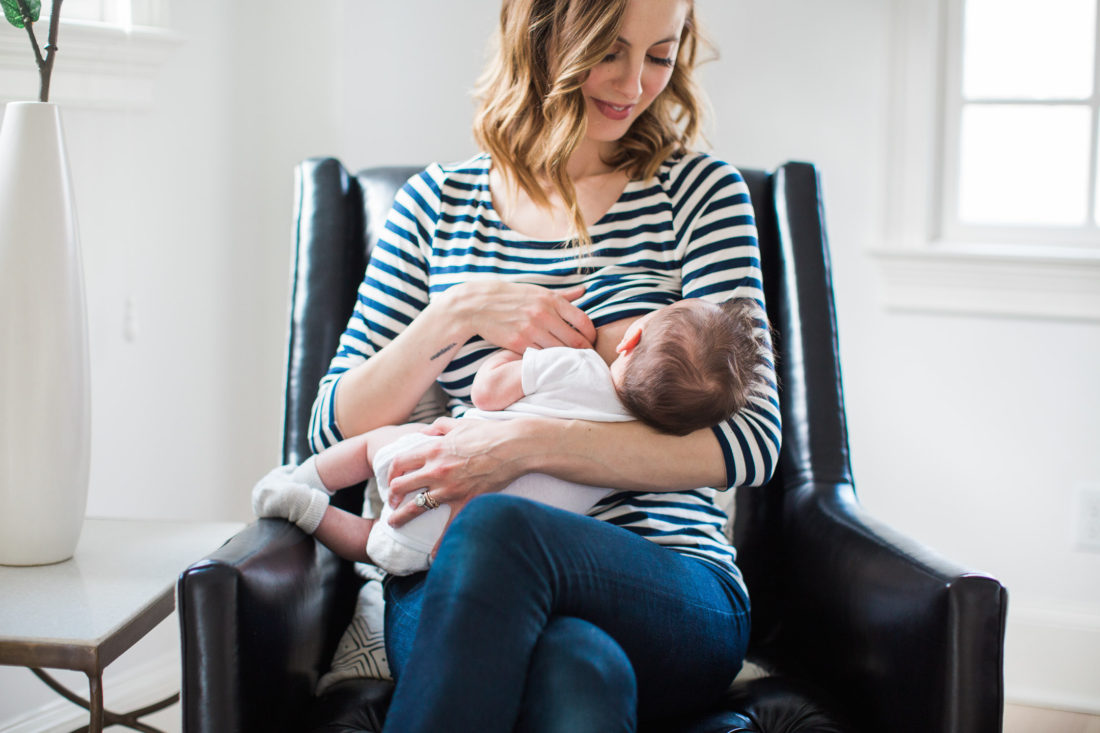 Like Marlowe, Major took immediately to the breast. I didn't do the "Infant Led Breastfeeding" this time around, because I actually forgot. Ha! I was so swept up in the moment that I put him on my breast instead of allowing it to happen. Verdict? Turns out it didn't make much of a difference in his appetite for breast milk, or his ability begin the suckling process. There was a version latching difficulty this time around, though. The culprit? Tongue Tie! AGAIN. If you read my last article, you know that I ended up having to get Marlowe's upper and lower Frenulum cut in order to establish a comfortable and productive breastfeeding latch. I was on high alert for it this time around, and I noticed almost immediately that breastfeeding Major was VERY uncomfortable for my nipples. Since I had forgotten almost everything about newborns in the past two years (it wasn't until day two with him that I even remembered I was supposed to be BURPING HIM….doiiiii) I thought it was possible that this discomfort (dare I say pain?) was just a normal part of the feeding initiation process. Well a few days in, and my nipples were cracked, bleeding, and my three day old baby was spitting up blood from feeding on them. Yeah, that is as horrific as it sounds. I had a lactation consultant come by and she, along with his pediatrician, told me to take him to a specialist to get one more opinion and probably a little snip. Immediately upon checking him out, the specialist told me that he did indeed need his lower frenulum cut. Since the process had been so traumatizing for me with Marlowe I was really nervous. I had been in tears, and she had screamed her head off for a few minutes after the snip. Well, never has that old chestnut "Every Baby Is Different" rung more true than when I held my itty bitty baby boy in my arms and watched him sleep through his own frenulum procedure. Not even a peep! I actually laughed then and made a mental note that Marlowe was in fact as much of a drama queen as I've always suspected. LOL.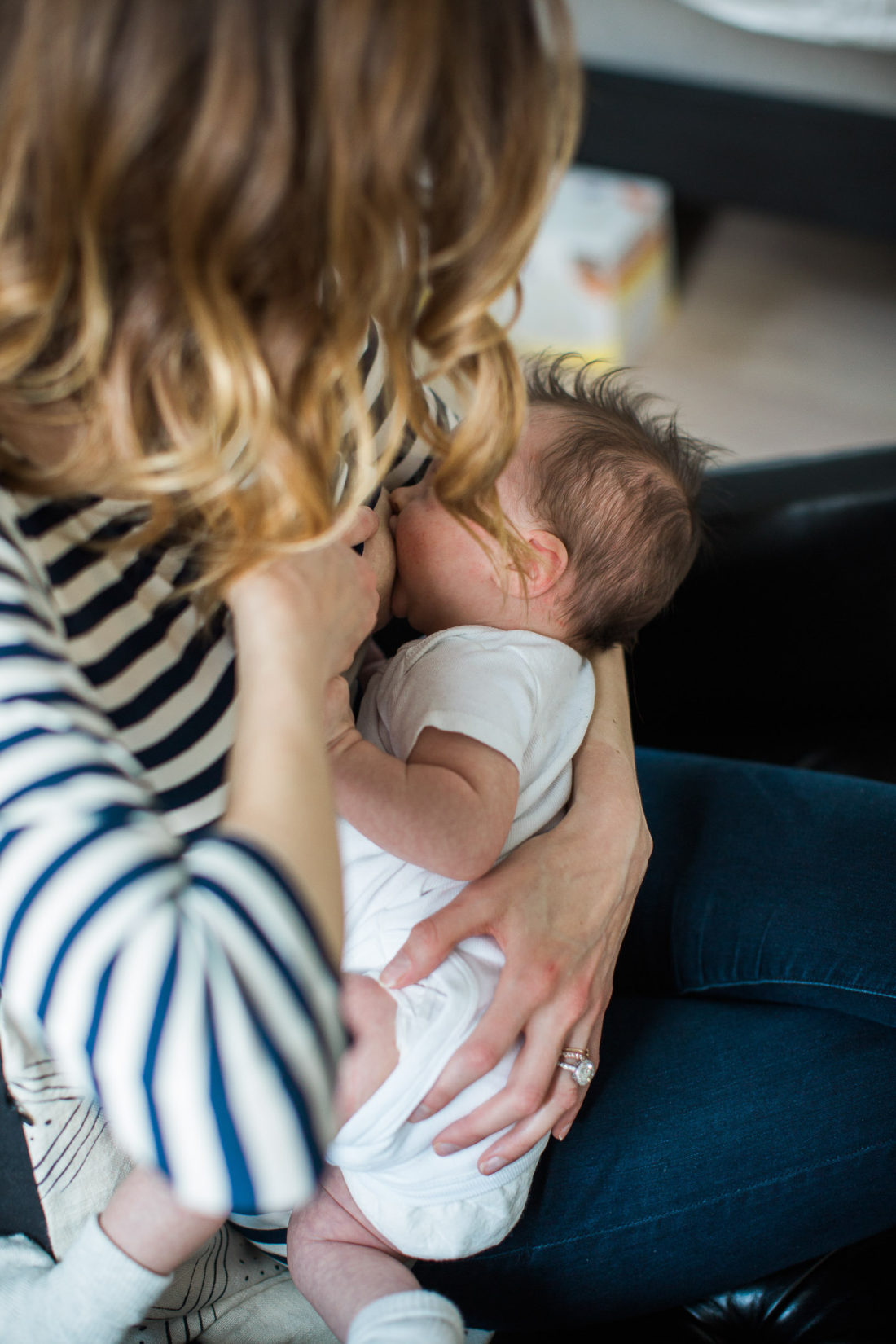 After his frenectomy, breastfeeding Major was much more successful. But just like my last experience, in the first month of breastfeeding him I had to deal with oversupply and fast letdown issues. Well luckily, the amazing Happily Eva After community had my back on this one! I had mentioned in my last update just how much I hated pumping, especially because of my Blockfeeding schedule with Lowie. A really helpful reader (Thanks, Elle!) told me that she used something called a Milkie on the other side while she was Blockfeeding, and this suggestion changed the game for me! If you don't know about the Milkie Milksaver, it's a little silicone "pocket" that you put in your bra to catch the letdown on the non-nursing side. The pressure from the bra helps get the milk started and relieved the pressure from my full breast. All while saving the milk! It made it so I didn't have to pump that side at all, and I was able to start saving up milk in the freezer. Such a win-win. We were in a great groove.
Then, Major had his accident. And my breastfeeding journey got totally thrown off. While we were in the hospital with him, and in the next couple of weeks, my milk supply dipped big time. The stress was just too much for my body, and I had to start pumping to up my supply, as well as use lactation tea to increase it. My favorite tea was the Traditional Medicinals Mother's Milk Tea, in the Shatavari Cardamom flavor (try with steamed milk and honey! YUM!) This combo ended up helping a lot, and my supply was able to bounce back. And luckily I had that milk from the Milkie saved in my freezer to subsidize the process. But then, my post-partum anxiety began, and my milk supply has been so troubled ever since. On "good days" it was fine, and Major would be able to easily get a robust and full feeding from me– but then on the bad days or weeks when I was having a hard time emotionally, my supply would suffer. What made this even worse is how much I would blame myself for it all. I would put so much pressure on myself to battle the anxiety so that my son's food source wouldn't suffer. When I would fall short (which you always do when you try to strong-arm anxiety!), I would feel even worse for "failing" my son. I still had to be supplementing his diet with saved milk from the freezer, and each time I used one of the bags, I would get even more upset that my supply of saved milk was dwindling. What would I do when it ran out? Add that to the Fear and Anxiety List! I hadn't introduced formula yet because I had so many feelings about using formula at a point "earlier" than when I had introduced it with Marlowe. I felt like the Breastfeeding Police were going to somehow know the second I made the decision and blame me for not trying hard enough, for not battling through and finding a solution. Even though I remembered how much happier Marlowe and I both were when I started formula with her at four months, my own feelings of self-doubt and guilt wouldn't allow me to view it as an option this time around. Basically, I was living out the exact opposite of my own advice. Funny how that can happen when you're in a funk…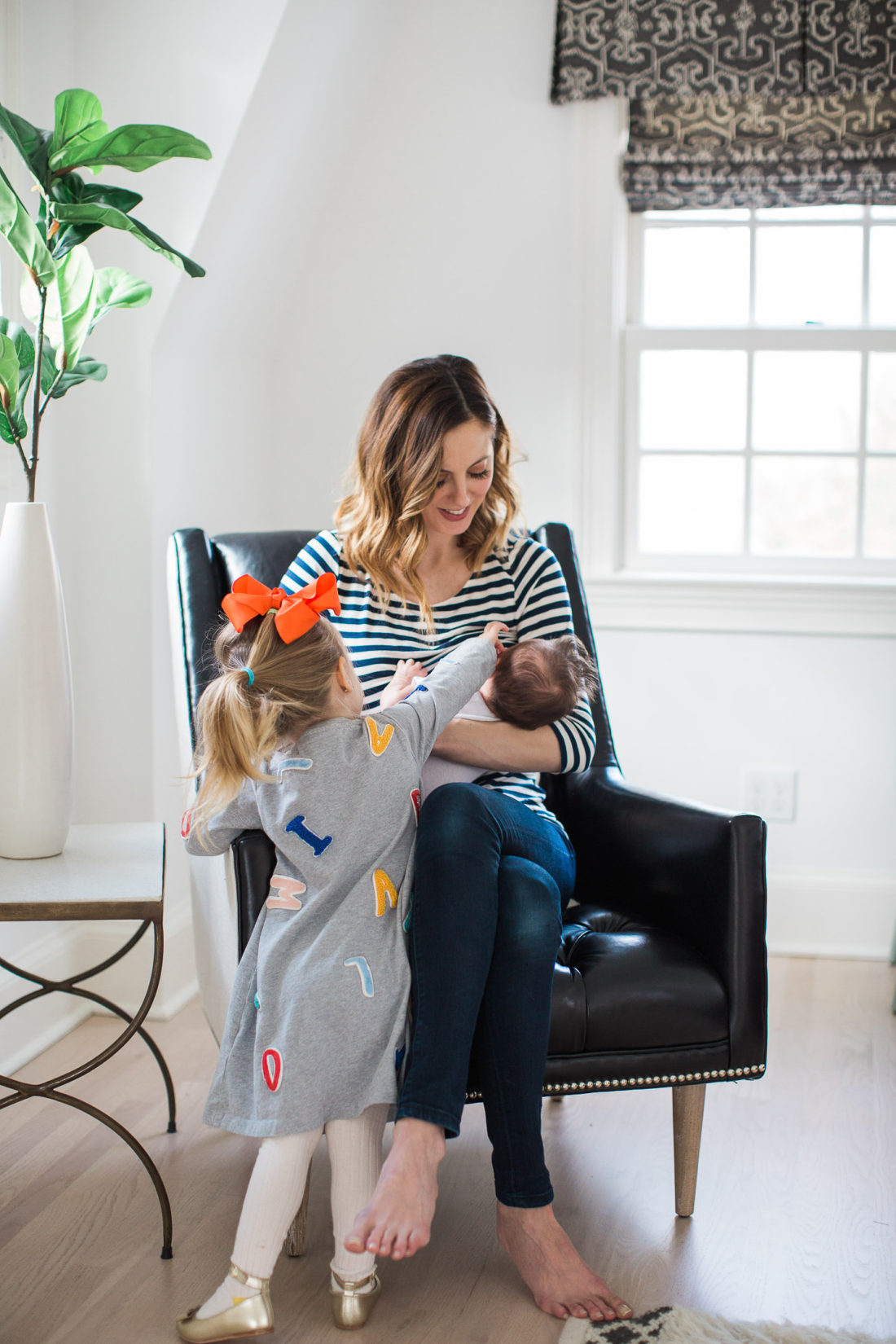 Kyle finally stepped in and asked me to stop torturing myself. At this point, Major was 11 weeks old and my morale was in the toilet. Between my pumping and feeding schedule, and my hyper-vigilance surrounding Major and his safety, I was barely leaving the house. I knew that something had to give, but it was my husband that finally put it in to words: "I know that I'm looking at this from the outside," he told me, "but I just see so many ways that you can take some things off of your plate if you start giving him formula." Even though it made me emotional, I had to agree. Freeing up my time would allow me to seek therapy and get more fresh air, as well as start to implement a little more self care– all things I needed if I was going to begin to get myself back on track mentally. Around the time that we decided to go public with Major's accident (so that I could begin my own healing process) was when we decided that I would begin a slow weaning process. I started introducing one bottle a day of formula, with the plan that every few days I would replace another breast milk feeding with a bottle of formula. In this way, I could make sure that my body weaned as gently as possible and I could extend his breast milk intake a little more as well. I plan to give him a bottle feeding a day of frozen breast milk once I'm fully weaned. I have enough saved to last two weeks with that plan. This wasn't an easy decision for me, but I will say that I felt a great sense of relief after making it. I think as Moms it's never easy to make a decision based on our own needs, but it's important to remember that as Mamas we are the beacons of light that our children follow. If we are miserable it's very challenging to make our kids happy and to help them shine as brilliantly as they deserve to. Secure your own oxygen mask before helping other passengers!
We went with the HIPP Organic formula again this time, and Major loves it! I'm now towards the end of the weaning process, and aside from some uncomfortable breasts at times, it has been going smoothly. Major is doing so well with the transition that it is inspiring me to take it in stride as well. When I gave him the first bottle of formula, I was fighting back tears. I felt like a failure and was worried that he wouldn't accept the change. But Major took a few gulps, and then he pulled away from the bottle, and looked up at me. He cooed a bit and then gave me the biggest smile. My heart just burst with gratitude. I felt in that moment like he was telling me it was ok– not to worry, and that he knew how much I love him. My kids are always teaching me the art of compassion and forgiveness, of openness and understanding. I'm so thankful for that quiet moment we shared because it really helped me let go and release a lot of the guilt I was feeling. I will admit that I get emotional when I realize that I am almost finished breastfeeding my last baby. It's so bittersweet. The finality of that phase is hard to swallow, but I also feel an immense amount of relief. The theme of 2017 so far for me has been about moving forward, letting go of unproductive feelings, and trying to be the best version of myself for my family. Luckily, I feel like I'm on the right road to accomplish that.
Was your breastfeeding/feeding journey different with your second child than with your first? I'd love to hear about it in the comments below!
Photographs by Stephanie Elliott Photography
PhotSave
Save