The following content may contain affiliate links. When you click and shop the links, we receive a commission.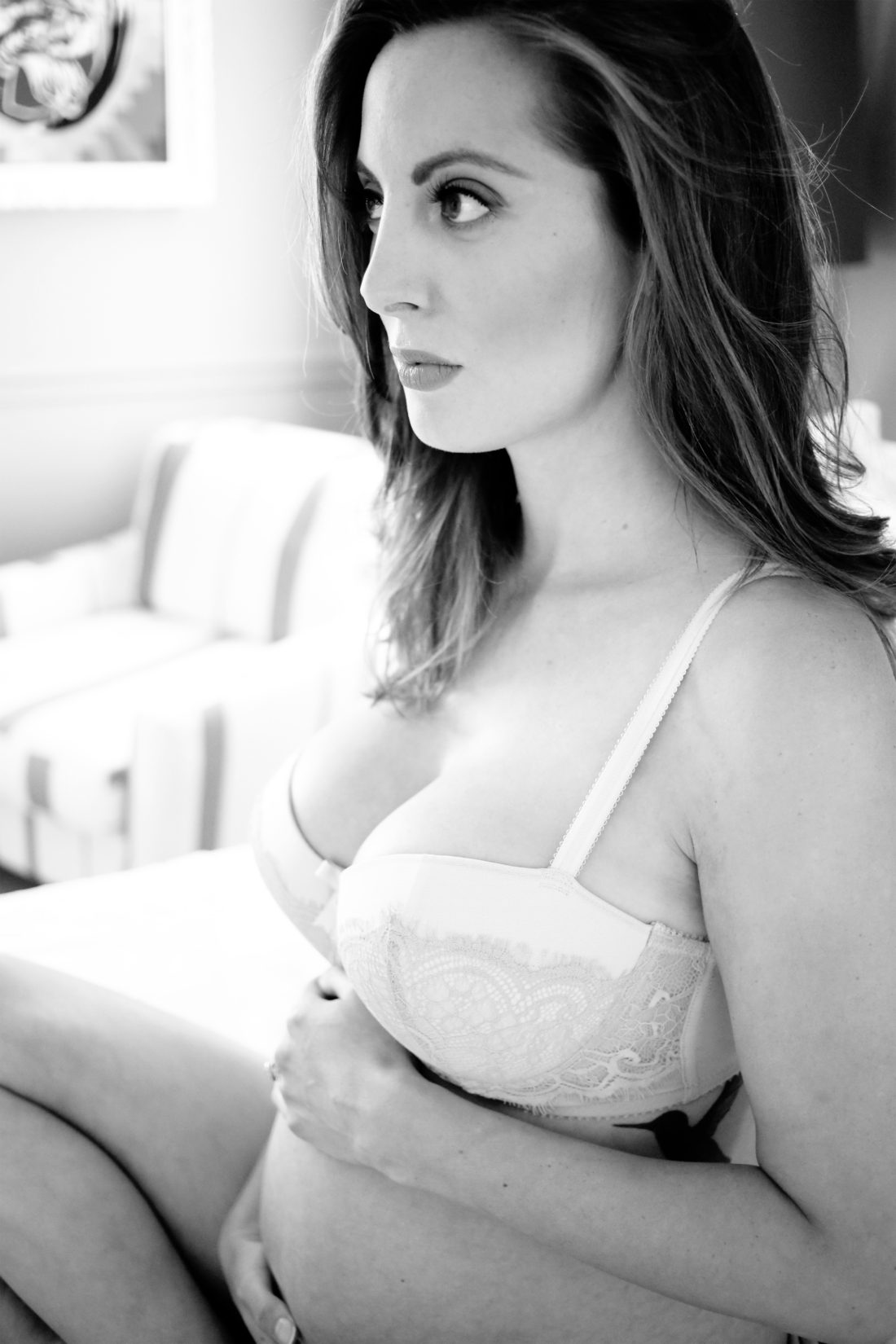 This picture was taken while I was almost nine months pregnant with Marlowe.  I wanted to document my pregnancy-changed body because I was blown away by how much it had transformed to accommodate my daughter.  I had no way of knowing how far and deeply my body would change even further after she was born, how many feelings these changes would bring, and how many emotions would come as a result of my breasts.
Today I want to talk a little bit about my relationship with breastfeeding.  Believe it or not, it's the number one question I receive from readers and followers of my blog and social media.  I hear from so many women who are experiencing the ups and downs of breastfeeding, or are simply asking what I think is a "normal" time to wean their babies– or how I dealt with the emotional decisions surrounding this feeding choice.  I think breastfeeding can be a really confusing, emotional, and challenging subject– and I can totally relate to the myriad of feelings that can come with the breastfeeding experience.  I figured since I'm about to go for Round Two over here (word up to Baby Boy Martino!) I would put my own experience with it down on (virtual) paper so that it can answer your questions once and for all.  Read on for my Tips & Tricks as well! As with any of my "advice", take what is useful to you and leave the rest.  Every woman is so different when it comes to feeding her children, and I think we can all agree that the important thing is for our children to be fed– regardless of the method!
I personally have had a lot of ups and downs in my breastfeeding relationship.  Immediately after Marlowe was born,  we placed her on my abdomen and she climbed up "the line" to my breast in what is known as "Baby-Led Breastfeeding".  I had heard about it in my Homebirthing class, but had never seen it.  It's truly one of the craziest things to watch.  A minutes-old baby lays on you, and then by kind of swinging their head up and wriggling the rest of their body after it like a caterpillar, makes its way slowly up your body to your nipple (they have darkened during pregnancy specifically for this purpose, by the way).  You gently help them get the nipple in to their mouth to begin feeding.  I have photos of this happening with Marlowe in which she looks like a little newborn squished potato, and I look like the most shocked person who ever lived.  My mouth is literally hanging open.
The next thing that happened in my Breastfeeding story is that my week old baby had to have her frenulum cut.  Upper and lower.  Sometimes they refer to this as "tongue tie".  Basically, the newborn's upper and/or lower frenulum (little line of tissue connecting your upper lip to your gums or the underside of your tongue to your jaw) is too tight or short and they are unable to form a good breastfeeding latch.  This is one of the most undiagnosed reasons for trouble with breastfeeding.  By trouble, I'm referring to a latch that is really painful, sore nipples, or a baby's difficulty with feeding on the breast.  Luckily, my midwife noticed an issue and I took Marlowe to a really wonderful pediatric dentist who was able to gently and quickly give her the procedure.  Marlowe's were so tight that she had to have both cut.  I was a mess during this, obviously, but it ended up really improving the latch and my own comfort level when she was on the breast.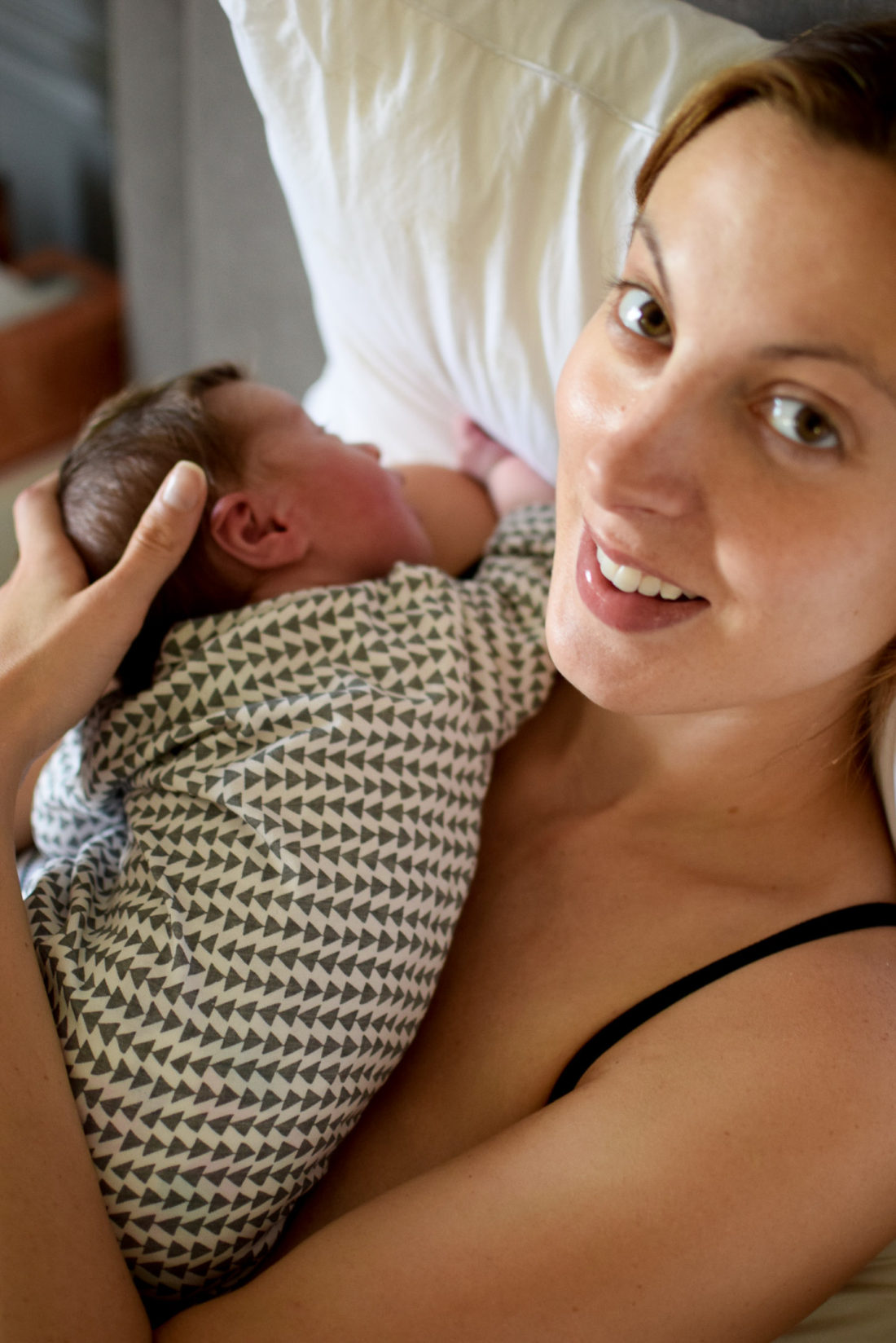 The next breastfeeding hurdle I faced was with my milk supply– but not how you would imagine:  I produced A LOT of milk.  This was extremely fortunate, but it also created a little bit of a tricky routine for me.  I was producing so much milk in each breast that Marlowe was getting full before she was reaching the nutritious and fatty part of my milk that she needed. You see, milk is divided in to two categories: the more caloric, sugary Foremilk which comes out of the ducts first, and the fattier, more nutrient-rich Hindmilk which comes out after the Foremilk.  Babies need both.  Feasting exclusively on Foremilk is like eating a bag of gummy worms.  It can make your tummy hurt if you haven't had some real dinner too! Since I was trying to feed her on both breasts at each feeding, she was basically getting a pack of Oreos on my left breast, and a Caramel Sundae on my right.  And then getting gassy and screaming like a Bat outta hell.  It was super charming.  I couldn't figure out what it was at first, but thankfully I'm an over-sharer and was texting all my Mama friends left and right trying to figure it out.  Turns out one of my girlfriends had experienced the same problem, and hers had been solved with "Block Feeding".  Block Feeding is when you nurse on one breast per feeding so that the baby eats through the foremilk and reaches the hindmilk.  And it totally helped! Here's the annoying part:  You then have to pump your other breast.  Every.  Single.  Time.  And so started my relationship with pumping.
I HATE PUMPING.  You won't see my write the word Hate very often on here.  I feel that few things deserve such exacting vitriol, but in my humble opinion Pumping is one of them.  I hate every single part of it.  I hate strapping the machine on, I hate the sound, I hate the feeling of my nipple being pulled in to the machine with that mechanical tug that makes me feel like a cow with udders.  Most of all, I HATE cleaning and disinfecting the seemingly hundreds of parts, especially at the end of a super long and exhausting day.  Pumping is the worst.  But what was I going to do? This is what my breastfeeding journey had dealt me and the option was basically do it, or cause my kid's stomach to feel terrible.  I did it, of course.  But it really affected my breastfeeding experience.  I thought actually feeding my daughter was lovely.  I wasn't one of the women who was totally obsessed with it, but I liked it enough.  The constant pumping was killing me, though.
When Marlowe was about three months old, I went back to work.  I shot a movie, and brought my pump to work with me.  Let me just say, HATS OFF to all the Women out there who pump at work for months upon months of time.  It's so so so so hard.  The storing, the pumping, the fitting it in to a hectic work day, the cleaning of the parts, the transporting of the milk home to your child.  It's a really hard thing.  For me, the movie was one thing– but when I went back to auditioning after it was over, it was completely different brand of nightmare. I would have to bring the pump with me, find a deserted parking lot someplace, pump in my car, transfer the milk to storage bags, place them in a cooler with an ice pack that I had brought along for the ride, and then cart the cooler to my meetings with me so it wouldn't melt in the heat of the car.  Besides having to take out my bare breasts in public, I would often spill breast milk on myself or in my car, forget certain pump parts, or worst of all, the ice pack– making the "Liquid Gold" that I had just pumped totally useless.  I remember a particularly busy audition day when this happened and I was about six hours away from being home.  I had to turn to my left and pour around four ounces of breast milk in to the gutter.  I wept.  Unfortunately, I was auditioning for a comedy about ten minutes later.  I didn't get the part.
At this point, Marlowe was about three and a half months old, and it was almost the holidays.  My pumping between auditions, on the road, and the "other" breast when doing home feedings had put my breasts on a strange schedule.  It was unpredictable when I would give them relief, and I was getting engorged often.  On Thanksgiving, I came down with a super nasty case of Mastitis.  To give you a frame of reference for the intensity of it, I actually thought I had come down with Meningitis, until I was diagnosed otherwise.  That's how insane my fever and pain were.  It was really scary.  Luckily, the antibiotics helped me, and I recovered, but it was a really stressful time.  I committed to continue breastfeeding (they say directly after Mastitis is the worst time you can wean) only to be faced with another road block.  Two weeks after recovering from Mastitis, I came down with Shingles.  At this point, I felt like the universe was playing a cosmic joke on me.  Mastitis and then SHINGLES?! Two weeks apart?! It was almost laughable.  But obviously my body was run down.  I felt depleted and I was worn out.  I took some time to reflect, and realized that so much of this feeling was being caused by my breastfeeding routine.   Thankfully Marlowe didn't end up catching Chicken Pox from my Shingles (this was my major fear), but I decided to pull the plug.  Feeding my child exclusively with breast milk just felt like a three ring circus, and I was done with the uphill battle.  And trust me, the decision didn't come easily.  I felt so insanely guilty.  I was physically capable of feeding my child with breast milk, and yet I was deciding not to– for reasons that had to do with my well-being and not hers.  I had so many sleepless nights while I weighed the options.  I cried when discussing it with Kyle and my girlfriends.  I worried that it was my duty to put her needs above mine no matter what.  I look back on this now and I just want to hold my First Time Mama hands and pull myself in for a big, pitiful hug.  Because, of course, my "duty" as Marlowe's Mom is actually to give her the best environment possible to thrive in– and a Mom who is losing her mind and her health from the stresses of breastfeeding does not the "best environment" make.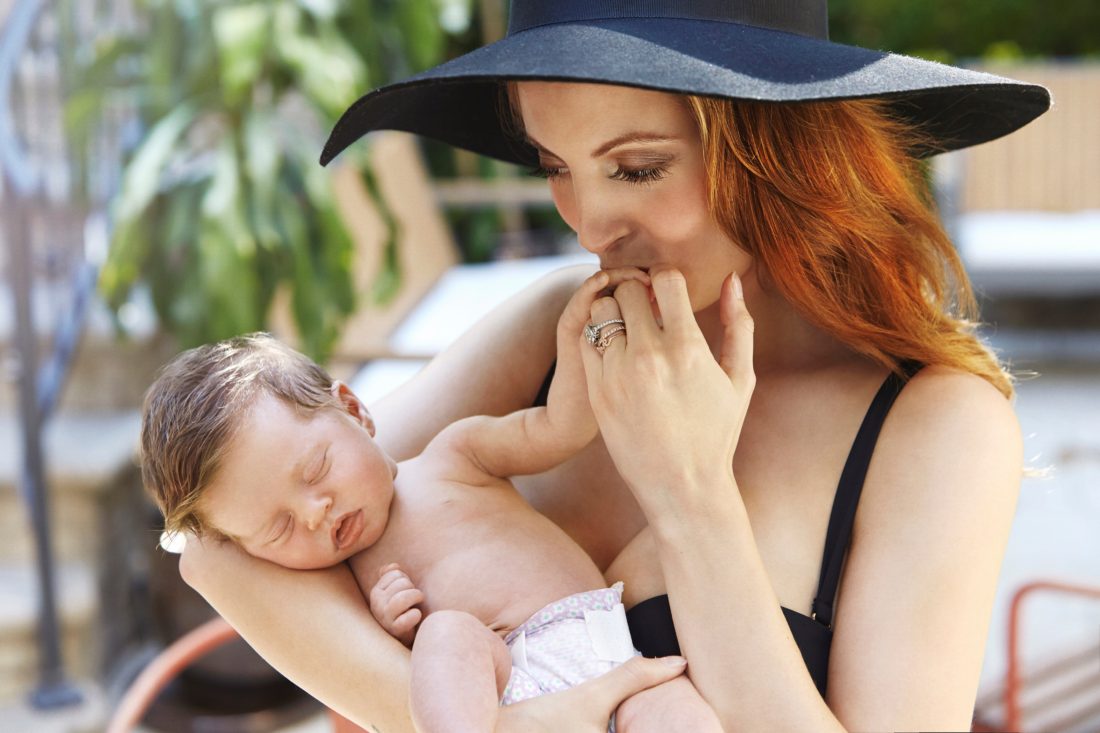 Because I had been pumping one boob every single feeding, I had a freezer full of milk.  What I ended up doing was weaning Marlowe at Christmastime.  I fed her first thing in the morning from my breast, and then would give her formula throughout the day until night time where I would give her milk from my breast again before bed.  I will tell you that my extreme feelings of guilt subsided as soon as I gave Lowie her first bottle of formula.  She LOVED it.  I think I had been expecting her to take one taste, look up at me, whisper "traitor" and hate me forever. But she gobbled it down and was totally normal for the rest of the day.  I think my entire body breathed a sigh of relief.   This weaning schedule turned in to breastfeeding only at night, which then turned in to not at all.  The whole transition took about ten days.  I remember waking up one morning and realizing that I had breastfed her for the last time, and felt tears spring to my eyes.  It was an overwhelming mix of emotions: relief, regret, pride, anticipation of this next phase of parenting her.  I'll always remember that feeling.
Marlowe was a little over four months old when she stopped breastfeeding.  For me, this timing worked out fine, but came with a lot of emotional conflict.  My experience as a Mom ended up improving after I weaned her– mostly because I ended up feeling much stronger and more like myself when I wasn't dealing with the stresses of breastfeeding.  But I also felt a lot of guilt and insecurity every time other Moms that I knew were still breastfeeding and I wasn't.  I felt so much responsibility for the "choice" that I had made, and for a while I think I was always waiting for an indication that this choice had somehow effected my relationship with my daughter.  Looking back, I wish that I hadn't placed so much weight on my decision and that I had honored my own needs at that time and not been so hard on myself.  I will also tell you that weaning my daughter effected my relationship zero percent.  Marlowe and I are so close and so connected, and I think that it would have been that way had I breastfed for three minutes or three years.
People don't talk about it enough, but breastfeeding is a really tricky subject.  For a lot of women, breastfeeding can be uncomfortable, painful, or tricky at first– and it's so important to get lactation support if you plan on breastfeeding.  There's no reason to suffer– most breastfeeding "problems" can be improved by talking to a specialist and learning techniques or tricks that relate to your specific issues, baby, or lifestyle.  As time goes on, the trickiness of breastfeeding can bring up so many emotions.  As parents, our number one concern is that our children are content and thriving.  When we are their food source, it's easy to take any issues that arise too personally– and be really hard on ourselves.  Our self worth as women and mothers IS NOT and should not feel like it is linked to our breasts.  We are abundant nurturers in every way, and it is my firm belief that we nurture our children in ways that are so much more important than the milk that they drink.  When your baby is screaming with hunger, and not latching on the breast, and your milk is drying up from the stress of all of it, it becomes much harder to remember this– but it's true just the same.  I have girlfriends who breastfed for two years, others not at all, some who supplemented their milk supply with formula, and others who breastfed for just a month or two before switching over to formula for the next year.  Guess what they all have in common? They are all excellent, loving Mothers who have wonderful relationships with their children.  Spoiler Alert: it all works out in the end.
I'm sure you're wondering what my plans are with my second child.  Here's the short answer:  I'm going to wait and see.  Every child is so different, and every parenting experience is so different.  I'm going to see how it goes, what my milk is like, what my son is like, and how we settle in to a routine before I make any decisions.  When he's born, I will breastfeed him, and I will leave the pages blank after that.  I plan on figuring out a way of moving forward that is beneficial to him, to me, and to the rhythm of our family.  Stay tuned, I guess!
My breastfeeding tips & tricks…
Get the right help.  There are lots of options for breastfeeding support.  Places like
The Pump Station offer classes and advice, or search your local area for Breastfeeding support groups or message boards.  If you can afford it, hire a personal lactation consultant.  They are worth the money and can tailor-fit a routine for you that works for your schedule and lifestyle.  I will be using one this time around with Baby Boy!
Get the right gear.  I used these milk storage bags, and these microwave steam disinfecting bags for my pump parts.  They were both super helpful! I also loved this breastfeeding pillow.
Use the right sized flanges.  The flange is this part of the breast pump.  Your breast pump comes with a standard sized set of flanges, but women's nipples don't come in one size fits all! If your pump is giving you pain, try sizing up or sizing down with your flanges.  This can help with more efficient expulsion of milk as well.
Stay hydrated and snack well.  Drinking enough water, and snacking throughout the day can really help with your milk supply.  I would keep a big bottle of water by my bedside as well as snack bars to nosh on while I fed Marlowe.
Dark Beer.  If I got stressed and my milk supply went down, a Guiness with dinner always used to help me!
Refrigeration Pump Tip! (I heard this one three months in to my breastfeeding journey but it still changed the game for me.  I wish I had heard it sooner): To save time and energy while pumping, refrigerate your parts between uses instead of washing them. Then, wash and disinfect at the end of the day as usual. Any milk caught in the parts will be cold and thus will not spoil.  I would place all parts in a bowl in the fridge at work or at home, and then soak, wash, and steam disinfect my pump parts at the end of the day.
Find A Great Formula.  Our pediatrician suggested this formula which is organic and made in England where they have very strict dairy practices.  The smell and taste of it is so yummy and creamy– not stinky or metallic like a lot of formula can be.  Marlowe loved it.
Wean Well.  The less abrupt your weaning is, the easier it will be on your hormones.  Try to instigate a gradual wean if possible.  Remember that weaning can cause a dip in hormones that can effect you emotionally and make you a little weepy or PMS-y.  Be gentle with yourself during this process!
Header photograph by Nina Suh for Love And Lemonade Photography
Save
Save
Save
Save
Save
Save
Save