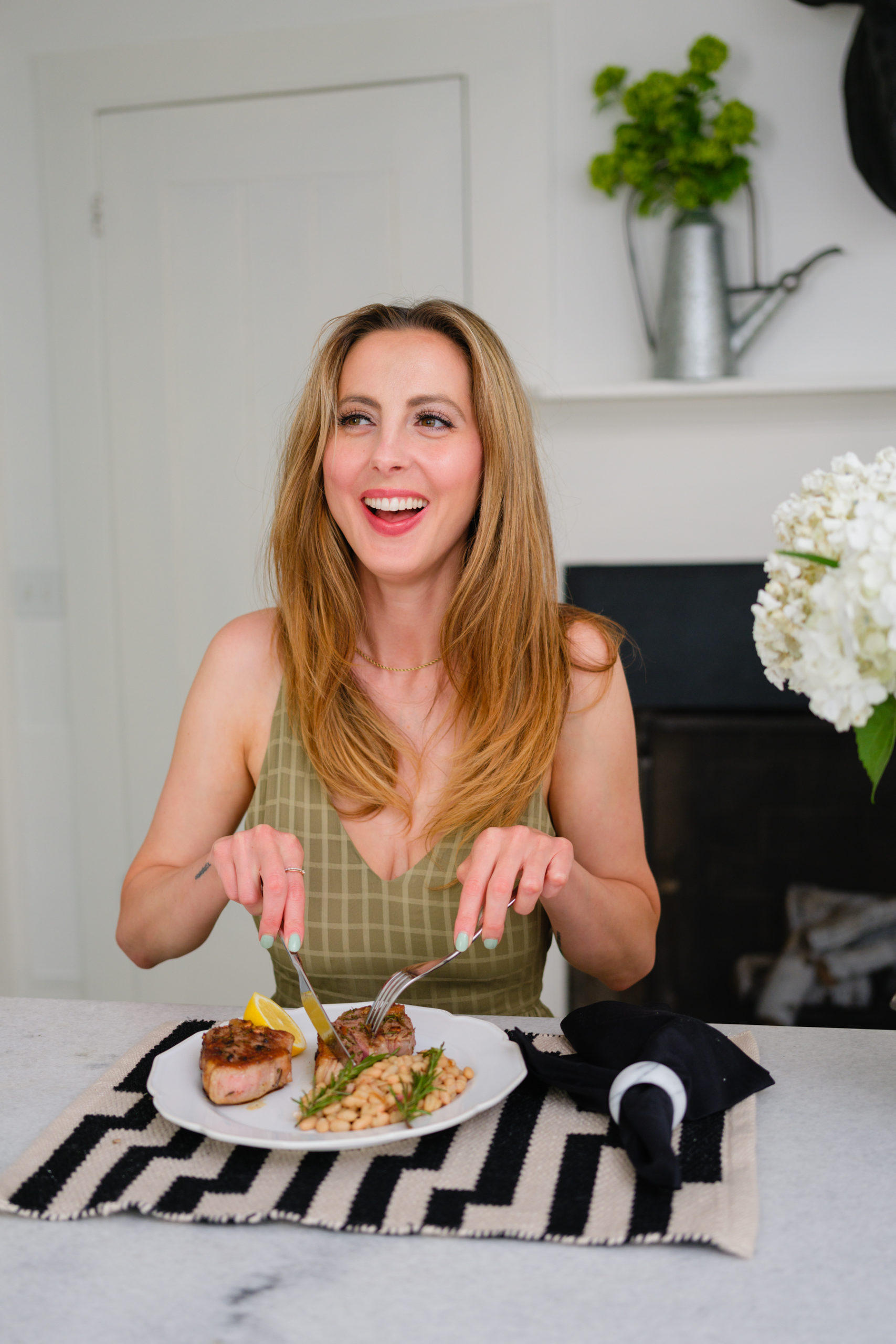 With all of us cutting down on "plans" and spending a lot more time at home, I've been loving to cook recipes that are super easy and delicious– but that feel like a little step up from the everyday pasta or slow cooker tacos. These are the recipes that make an average Thursday feel like Date Night, but are still simple enough and quick enough for a weekday sitch.
One of my favorite elevated weeknight recipes has always been my Rosemary Grilled Lamb Chops! This one is all about the super simple but DELISH marinade.  You just throw them on the grill and sear in that amazing flavor. I like to pair them with Sautéed White Beans for a really healthy and protein-rich meal.  I pour a beautiful, ice cold glass of Sancerre with this and feel like I could be on vacation…without the baby monitor on the table next to me, of course. LOL.
Rosemary Grilled Lamb Chops
Ingredients (Feeds 2)
Directions
Step 1
Combine
In a baking dish, combine all the ingredients besides the lamb chops. Mix well.
Step 2
Add Chops
Add the chops to the baking dish, and coat well with the marinade.
Step 3
Refrigerate
Cover the dish with plastic and refrigerate for at least two hours or up to overnight.
Step 4
Preheat Grill
When ready to cook, preheat a grill or grill pan to high, and brush with oil. Remove chops from marinade, discarding additional marinade.
Step 5
Grill
Grill the lamb chops, approximately 5 minutes on each side for medium.
Sautéed White Beans
Ingredients (Feeds 2)
Directions
Step 1
Sauté Shallots
In a sauté pan, begin by sautéing the shallot in the oil on medium heat, until translucent. (About 3-4 minutes.)
Step 2
Add Beans
Next, add the white beans, salt, pepper, and the juice from the lemon. Stir to combine.
Step 3
Sauté with Rosemary
Nestle the rosemary sprigs in the beans and sauté for 5 additional minutes on medium-low heat.
Step 4
Remove Rosemary
Remove the rosemary sprigs and either discard, or use for garnish. Serve warm.
For a printable version of this recipe, click here: Print Recipe