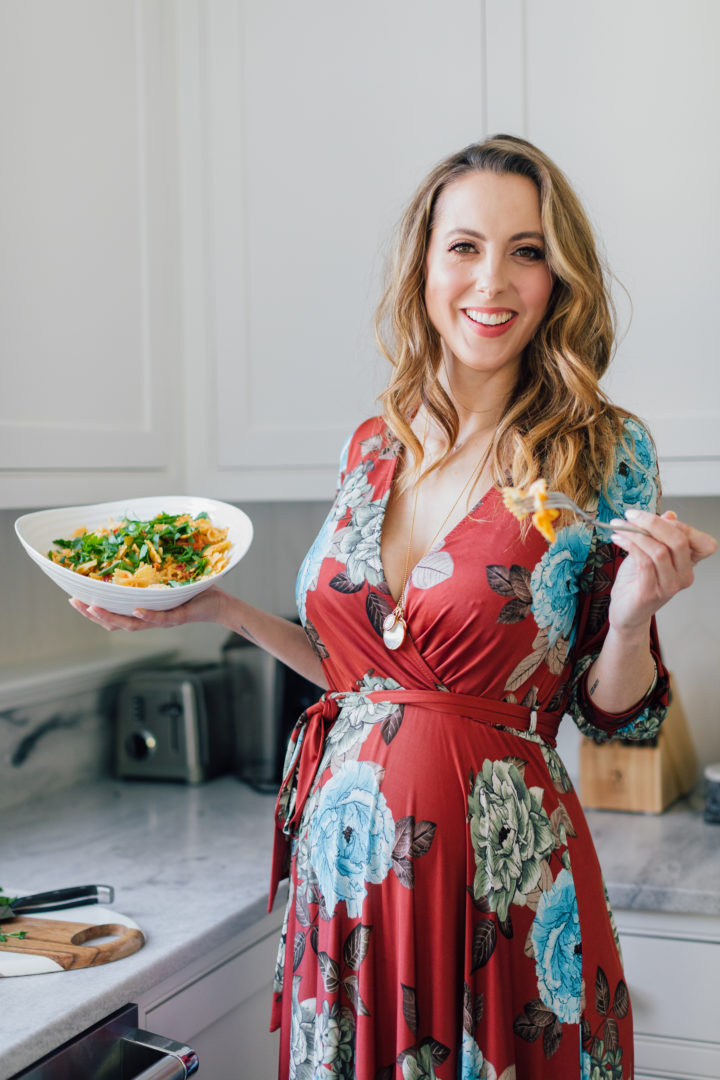 This recipe was originally published on June 15th, 2015, but since I received a number of requests during the Coronavirus outbreak for recipes using pantry staples, I decided to update and republish this recipe.
I love an easy weeknight meal, and pantry sauces are perfect for just that occasion! What's a Pantry Sauce? It's something that you cook when you forgot to buy groceries and you're rummaging through your cupboards praying that you don't have to eat peanut butter and jelly or cereal for dinner.  I came up with this one night in a bind and it's become one of my go-to's for dinner after a long day. You don't stock the below items in your pantry? Well try this sauce and you will start! This serves two people but is easily doubled for company or leftovers. Feel free to replace the goat cheese with cream cheese. and add grilled chicken for an extra protein boost!
What You'll Need…
Ingredients…
2 tbsp EVOO
2 cloves of Garlic, diced
1/2 large Onion, diced
1 small jar of Sun-Dried Tomatoes, drained and diced
1 small log of Goat Cheese
8oz of Penne or Farfalle
Salt & Pepper to taste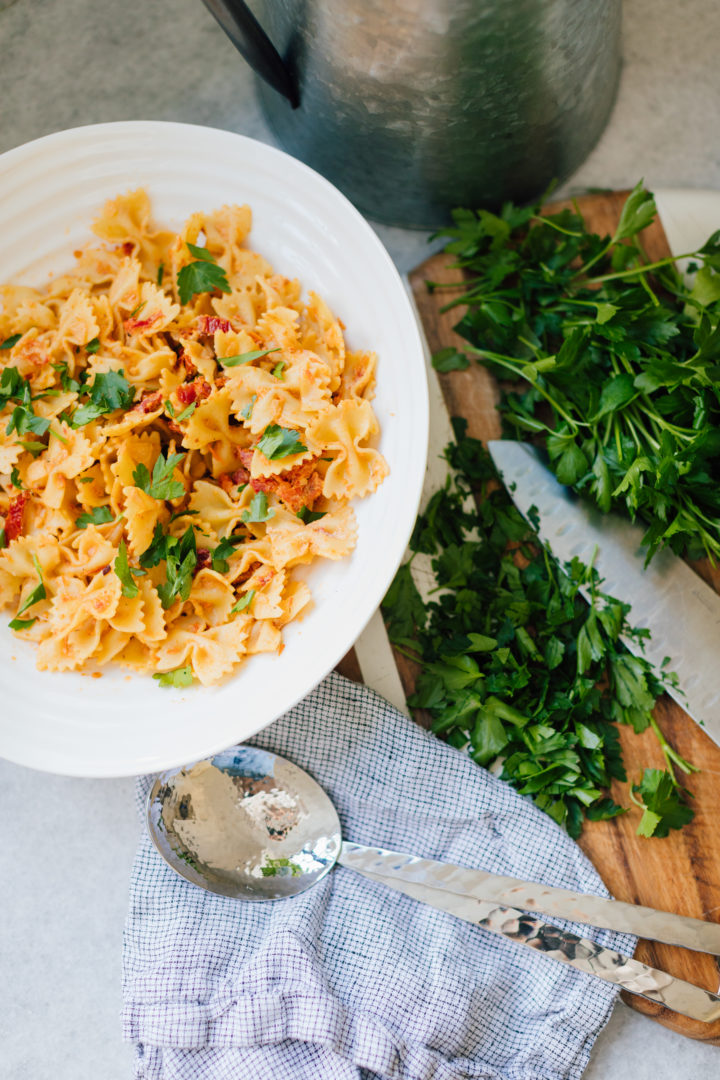 Recipe…
Start by putting the pasta water on to boil. I always add four tablespoons of sea salt to the pot, but this is optional.

Meanwhile, heat the olive oil in a large saucepan over medium heat. Add the garlic and onions and sautée until the onion is translucent.

Then add the sundried tomatoes, stirring occasionally for about three more minutes.

Next, lower the heat to low and add the log of goat cheese, breaking it up with the spoon. Stir until the goat cheese melts and becomes uniform with the rest of the sauce. Season to taste with salt and pepper and turn the burner off.

At this point, the water should be boiling in the pot so add the pasta. If the water boils while you are still doing the above steps for the sauce, add the pasta earlier.

Cook pasta according to package directions, about 10 mins, until the pasta is al dente (soft but with a firm bite).

BEFORE YOU DRAIN THE PASTA, reserve a cup of the cooking liquid and set aside.

Drain the pasta and turn the flame back on medium-low under the sauce, and add half of the cup of cooking liquid, stirring as it heats in the pan and loosens the sauce into a more creamy consistency. This amount of cooking liquid should be enough to loosen the sauce but if you would like it looser just add more liquid little by little.

Now, return the pasta to the pan with the sauce and toss to coat.

Turn off the heat, and enjoy!
Print Recipe
Shop the look…

Photographs by Julia Dags