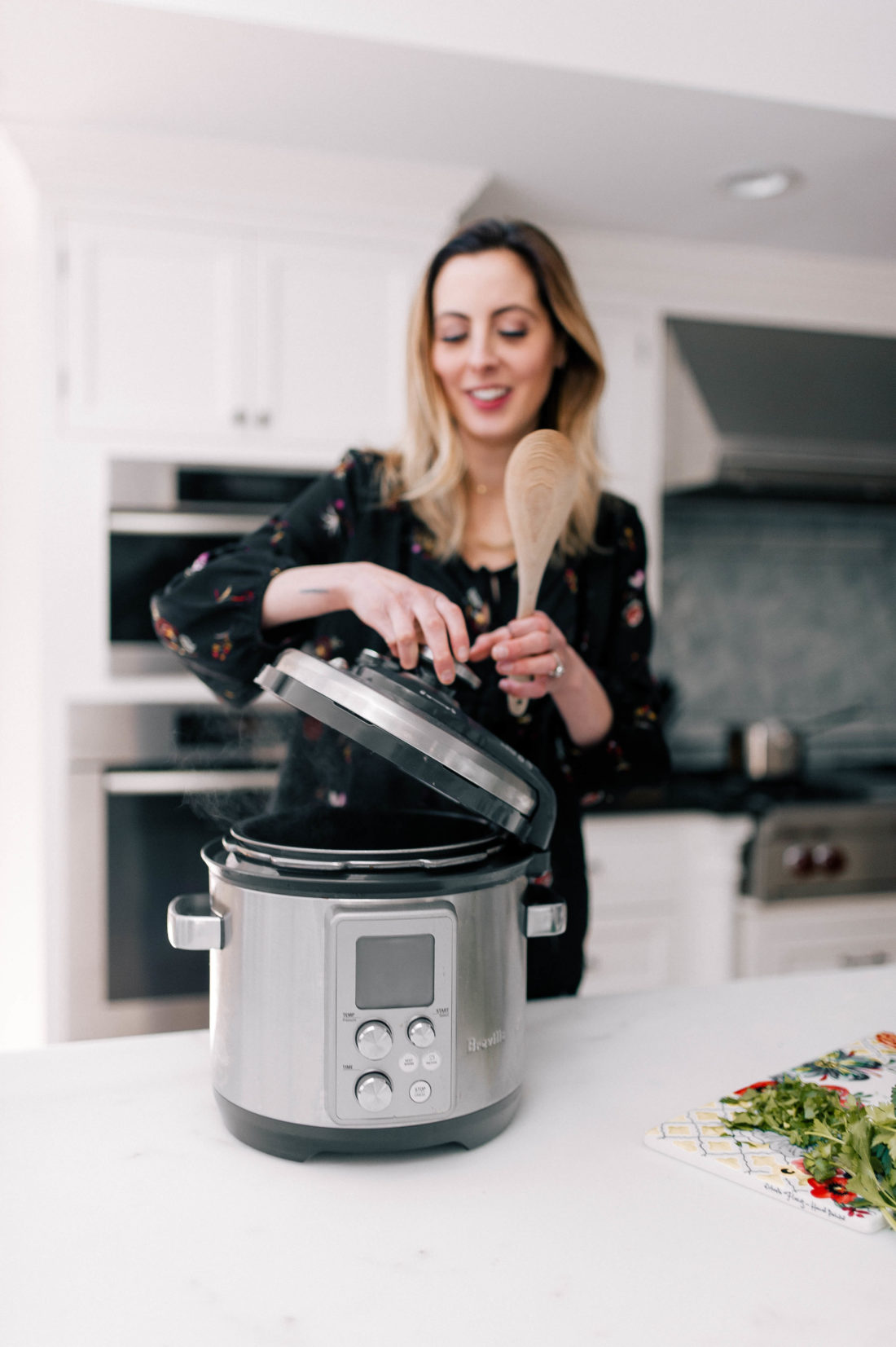 I want to start off by apologizing profusely for it taking me so freaking long to get this recipe up on the site! Honestly one of the reasons is because whenever I make these meatballs, they disappear in about ten minutes and it becomes challenging to photograph them for the blog! This is not a drill! LOL. In any case, this Slow Cooker Meatball recipe is one of my family favorites.  My kids eat it up like it's going out of style– and I find these meatballs to be so versatile! The whole thing ends up being a totally delicious tomato sauce with meatballs in it when it's all said and done– and you can eat it however you'd normally enjoy meatballs! Our most-used method is over spaghetti with parmesan cheese, but we have also made meatball subs with these (Kyle told me it was the best meatball sub he's ever eaten) and meatball sliders for the kids.  If you're trying to eat less carbs, you could even put these over zucchini noodles! (But don't ask me about that, since I bought a spiralizer over a year ago and haven't even taken it out of the box.  Whoops.)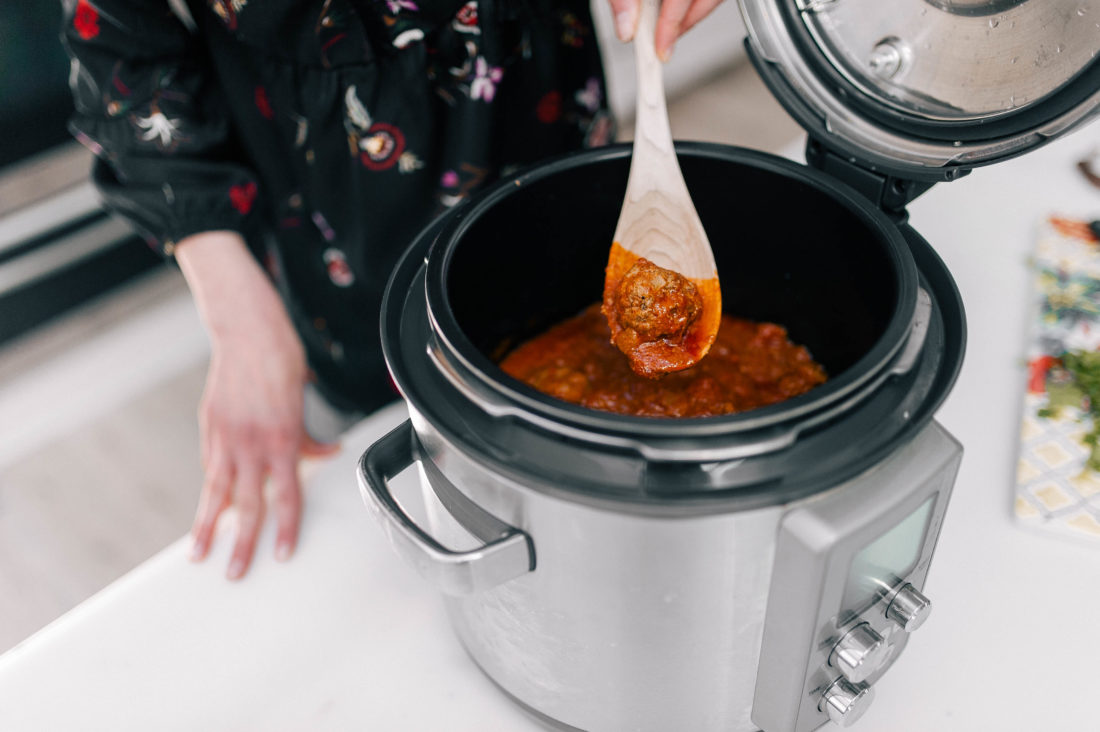 The best part about these meatballs is that since they're made in the slowcooker, you can set them and forget them! I start these in the morning right after dropping Lowie at school, and they're ready by Dinner time.  I have this slow cooker, which I'm OBSESSED with. It's more like an Instant Pot, in that it can sear, sauté, reduce, you name it.  But I had a much more basic and inexpensive slow cooker until a couple years ago and it was great while it lasted! You can definitely use a basic slow cooker for this recipe.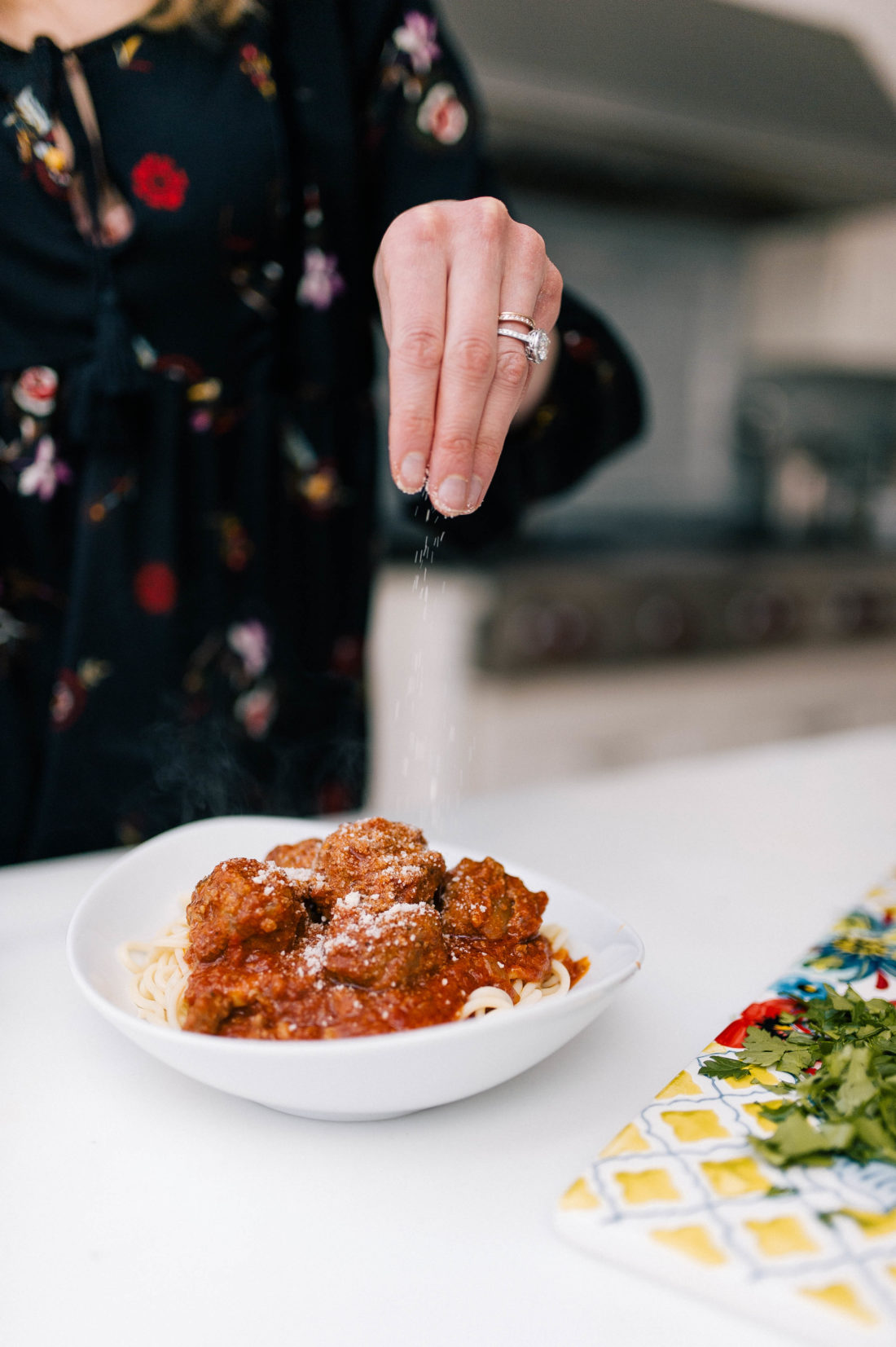 Recipe…
1 lb ground Beef
1 Egg
3/4 cup Italian Seasoned Breadcrumbs
1 small Onion, diced
1 Carrot, peeled and diced
1 15 oz can Tomato Sauce
1  15 oz can diced Tomatoes
1/2 Tablespoon kosher salt
1/2 cup Parmesan cheese (I use Pecorino Romano– a sheep version), plus more for serving
1 Teaspoon ground Black Pepper
1/2 Tablespoon dried Oregano flakes
4-8 cloves garlic, peeled
parsley, chopped (optional)
In a large mixing bowl, combine the ground beef, egg, breadcrumbs, diced carrot, diced onion, parmesan cheese, and the salt and pepper.  Mix with hands until well combined.  Now start forming in to golf ball-sized meatballs.  As you form the meatballs, it may look like they're "veggie heavy".  Don't worry! This is ok! They will cook down and work to make the meatballs so moist.  As you make each meatball, place them in the bottom of the slow cooker cavity.  You will probably have to add a second layer, depending on the size of your slow cooker.  This is fine, just make sure you're placing the meatballs gently! Now dump both cans of tomatoes/sauce on top of the meatballs, sprinkle the oregano over the top, and scatter the garlic cloves over that.  Close the lid of the slow cooker, and cook on low for 6-8 hours.  Mid way through cooking, open the cooker and with a wooden spoon slowly and gently stir the sauce and meatballs up to combine well.  When the meatballs are done, remove them in to a bowl with a slotted spoon.  Season the sauce to taste with salt and pepper.  Spoon the sauce over your pasta, and top with meatballs.  Sprinkle with parmesan cheese and parsley and devour immediately!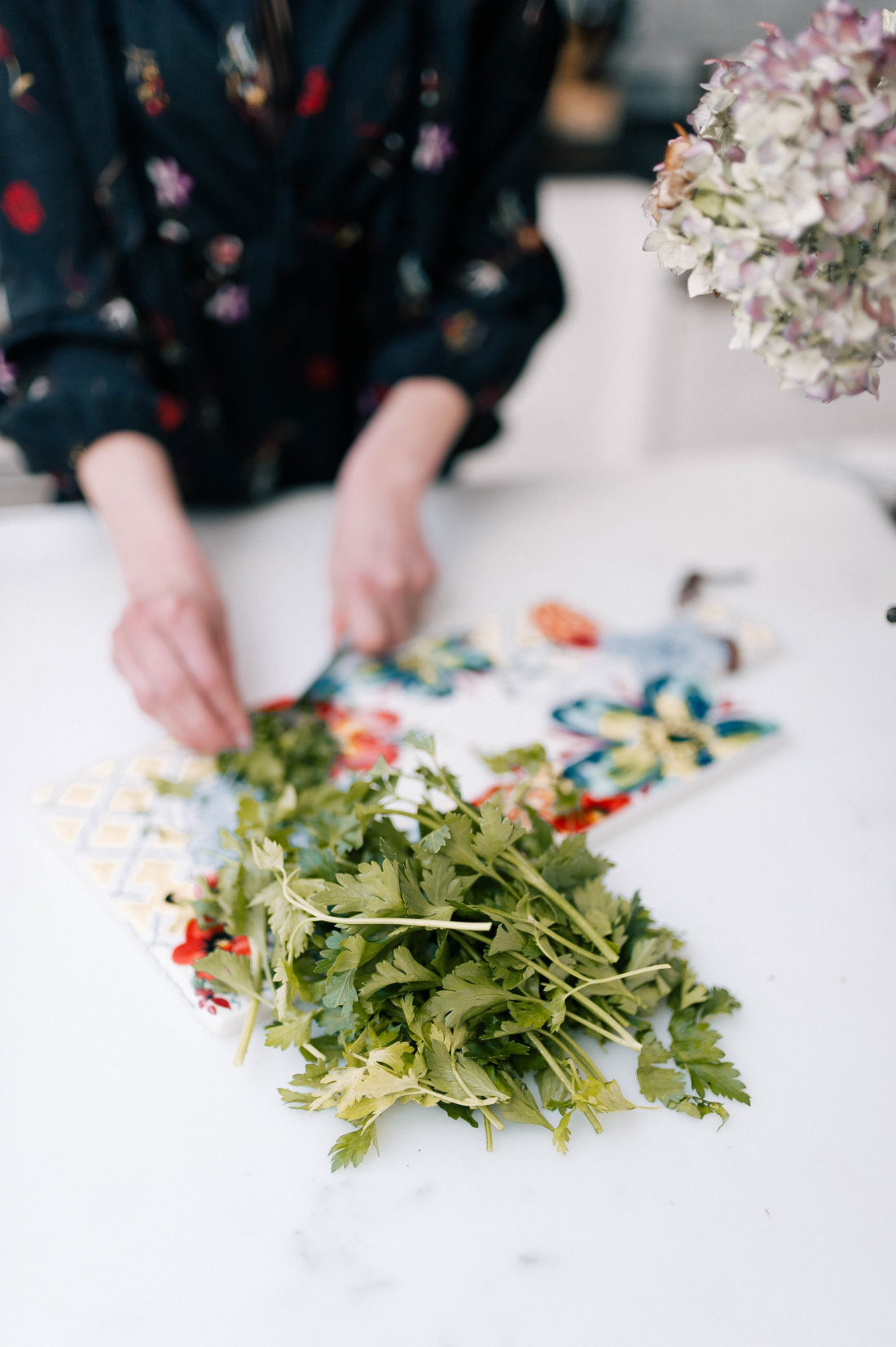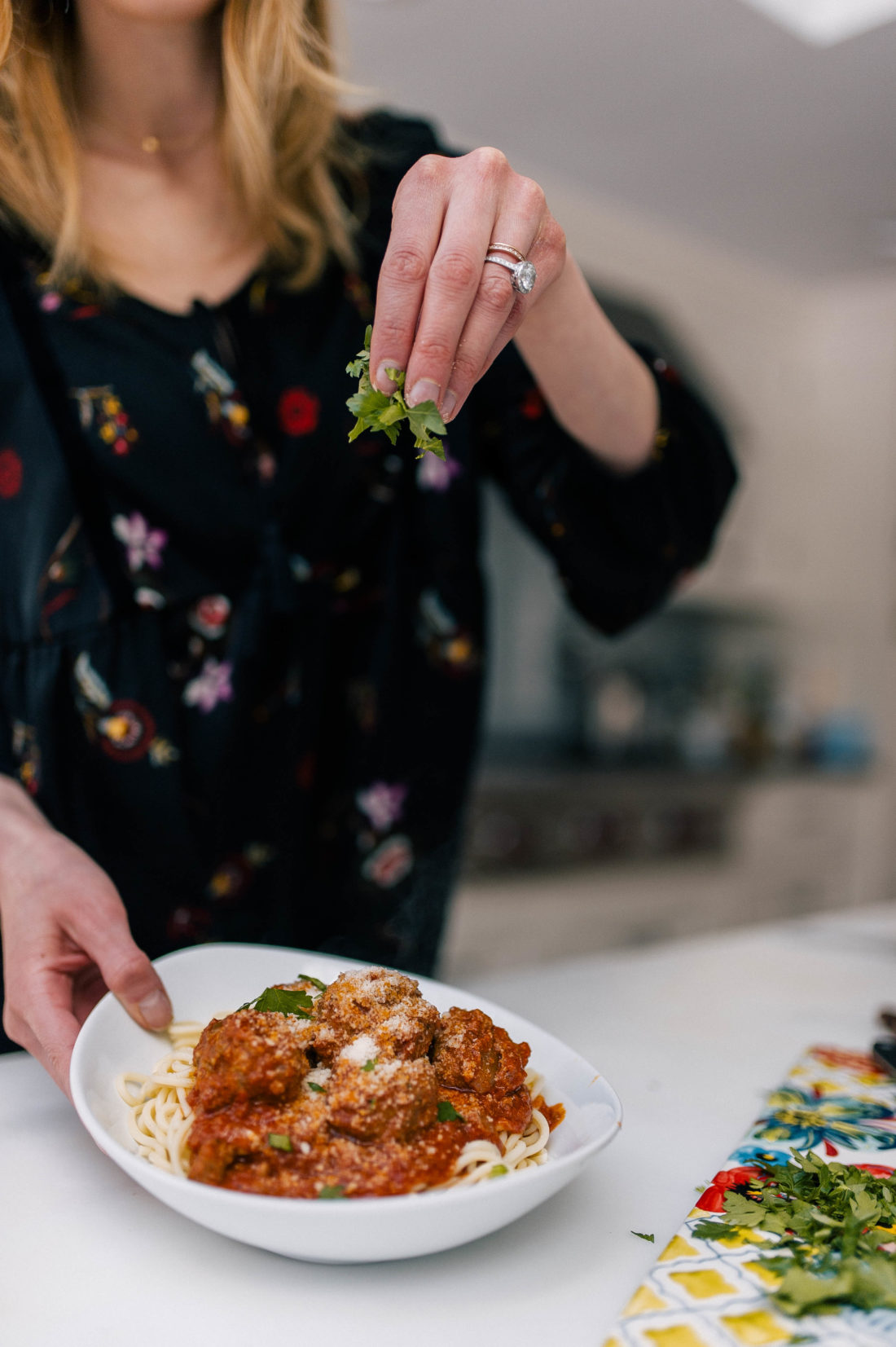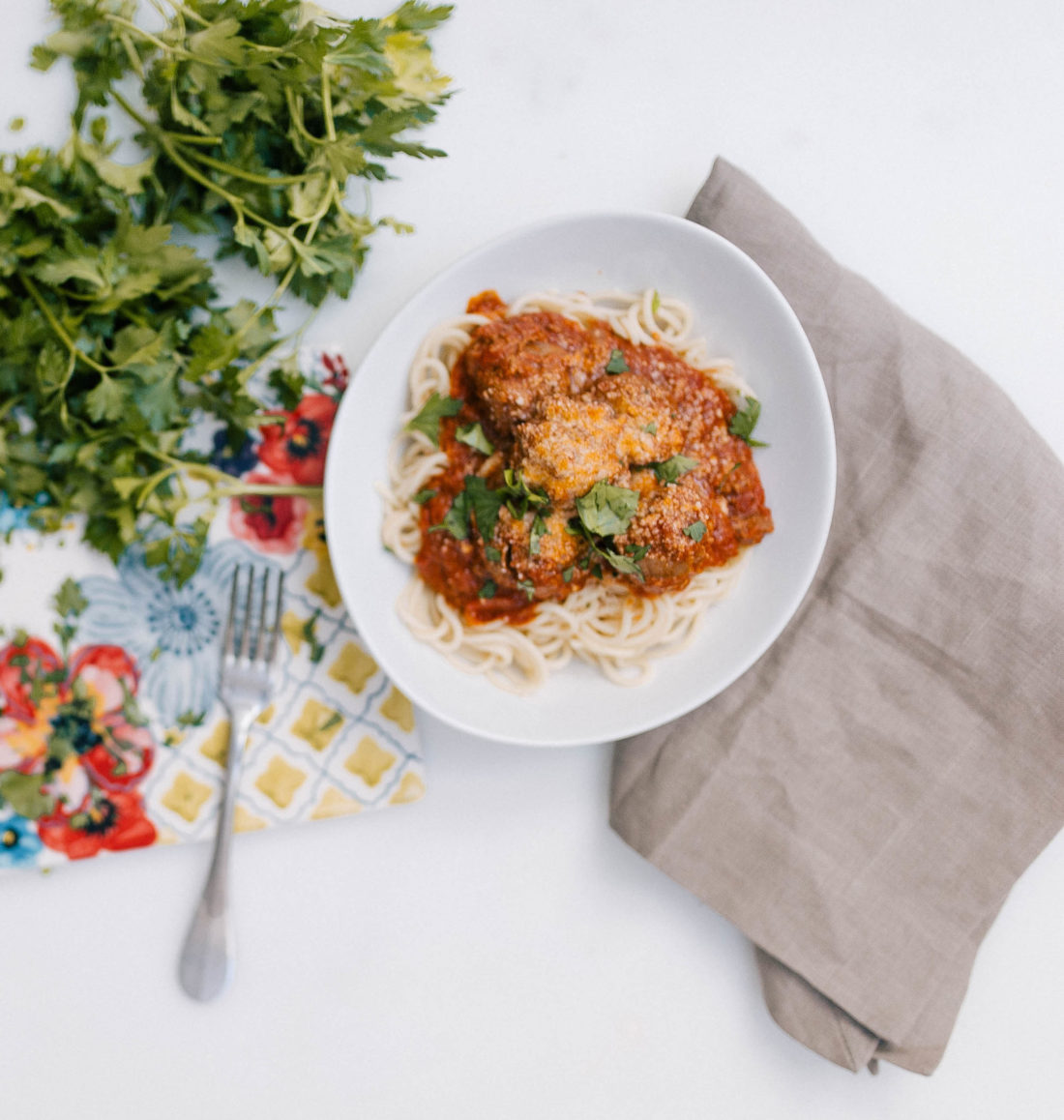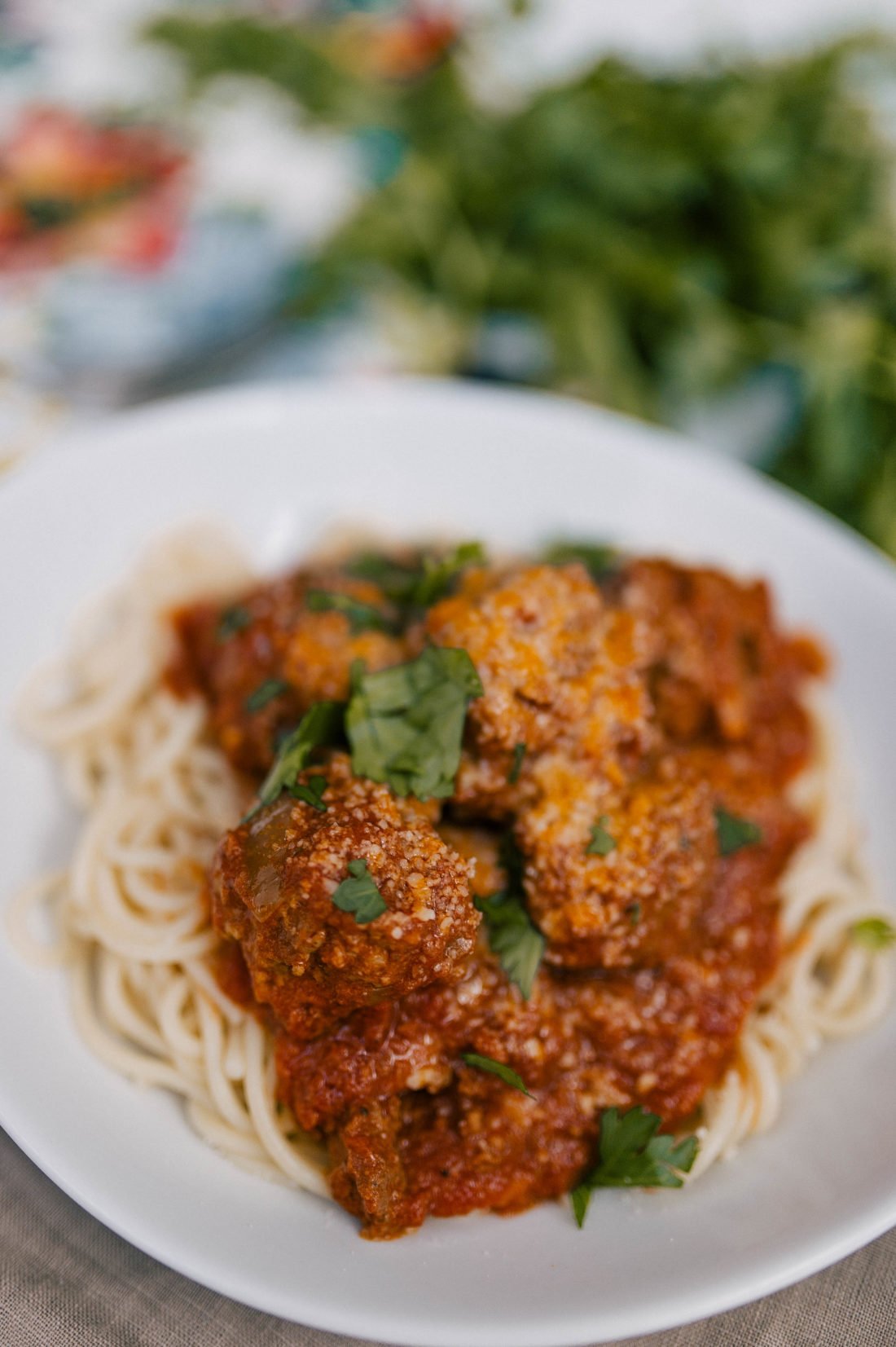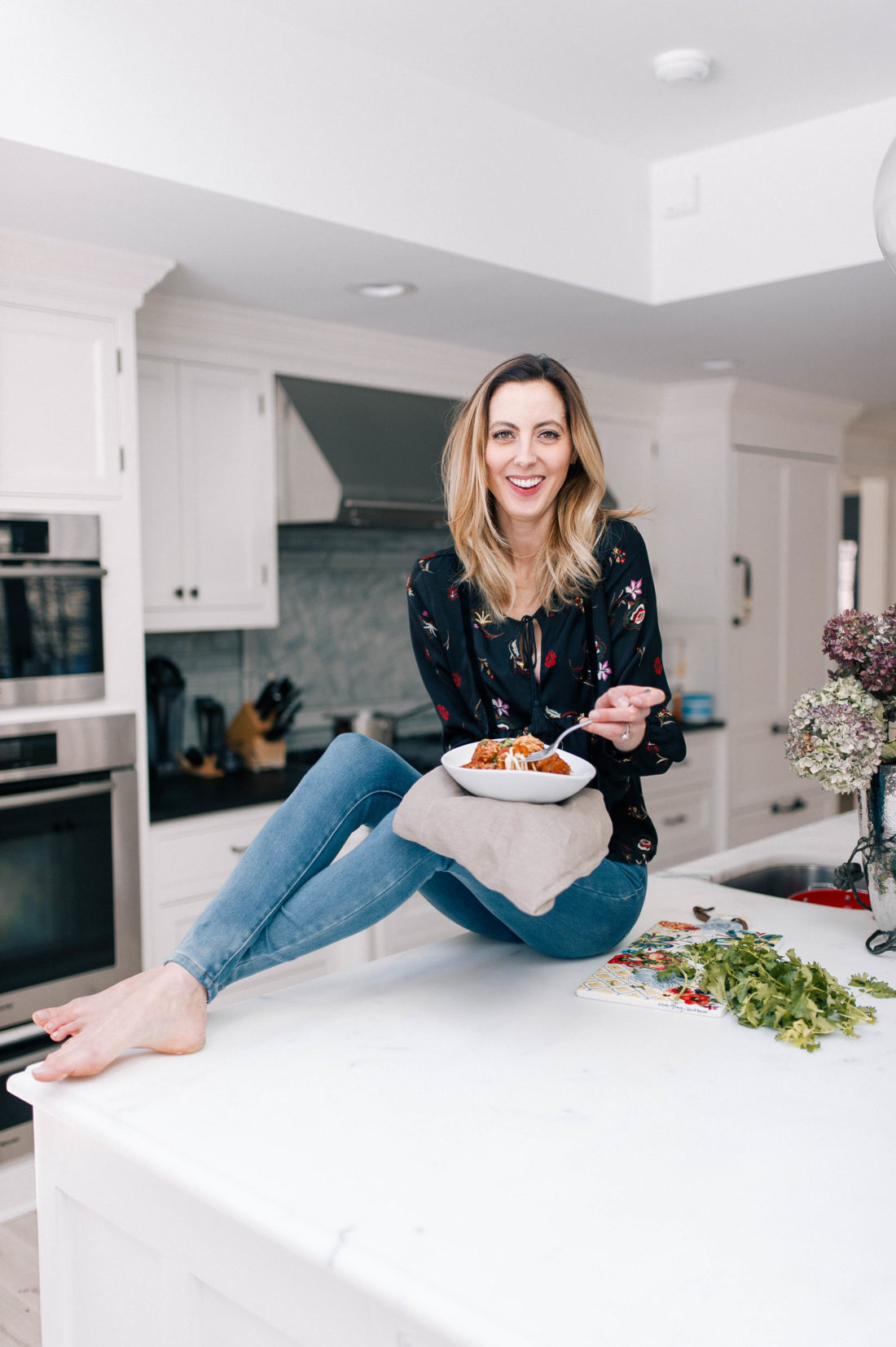 Other slow cooker recipes I love…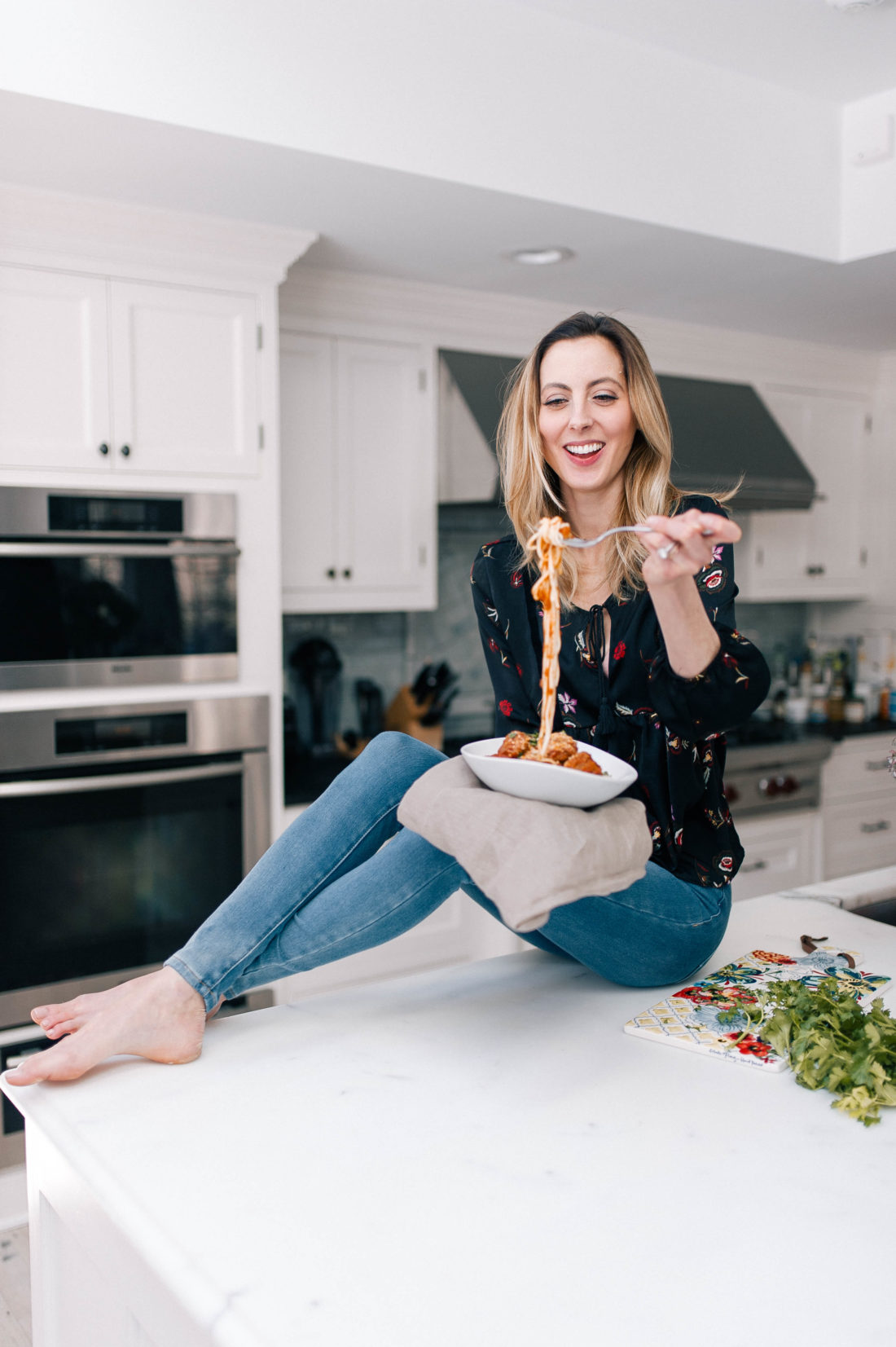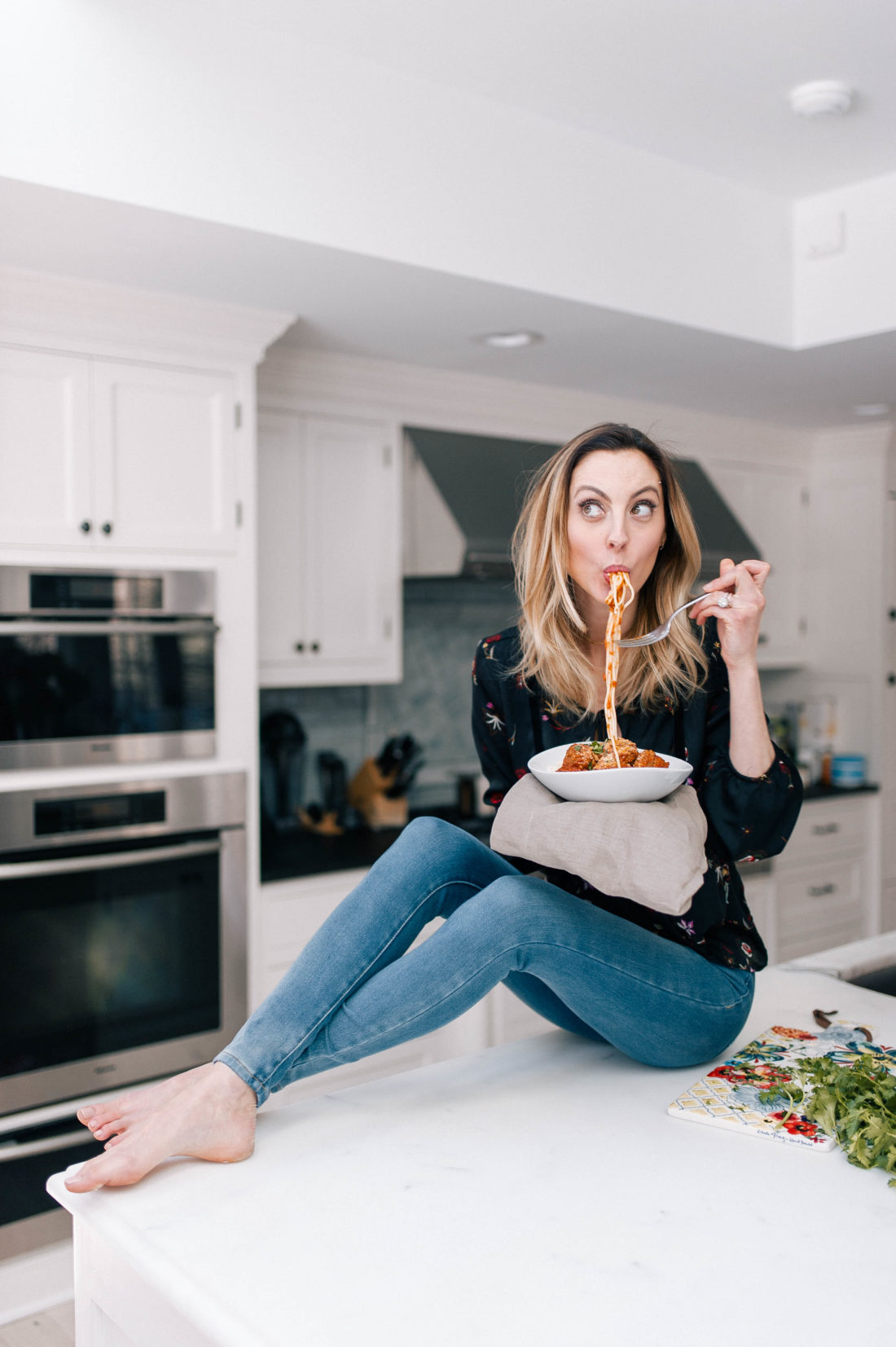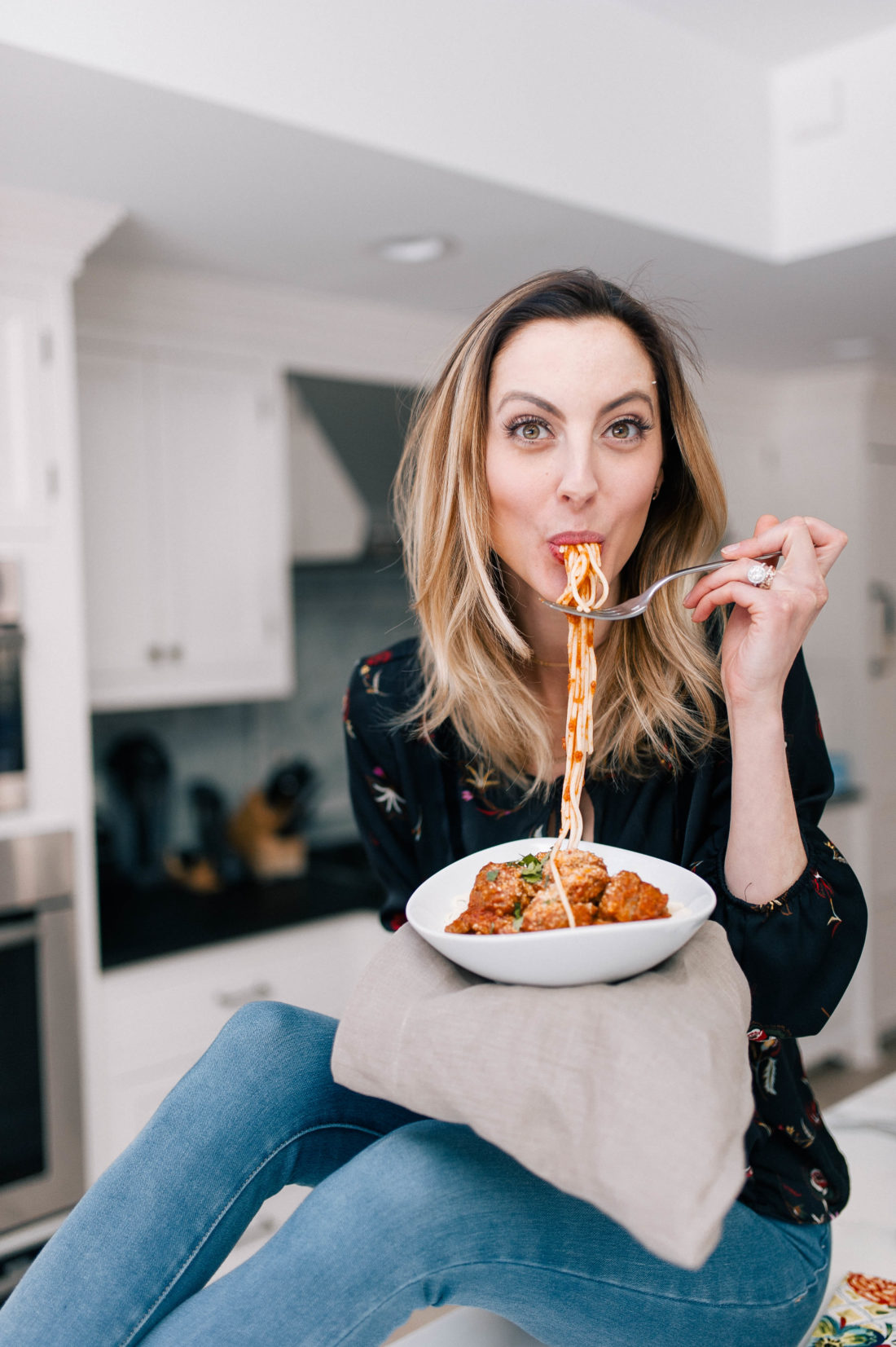 My Top (similar) and Jeans by Old Navy
Photographs by Carter Fish