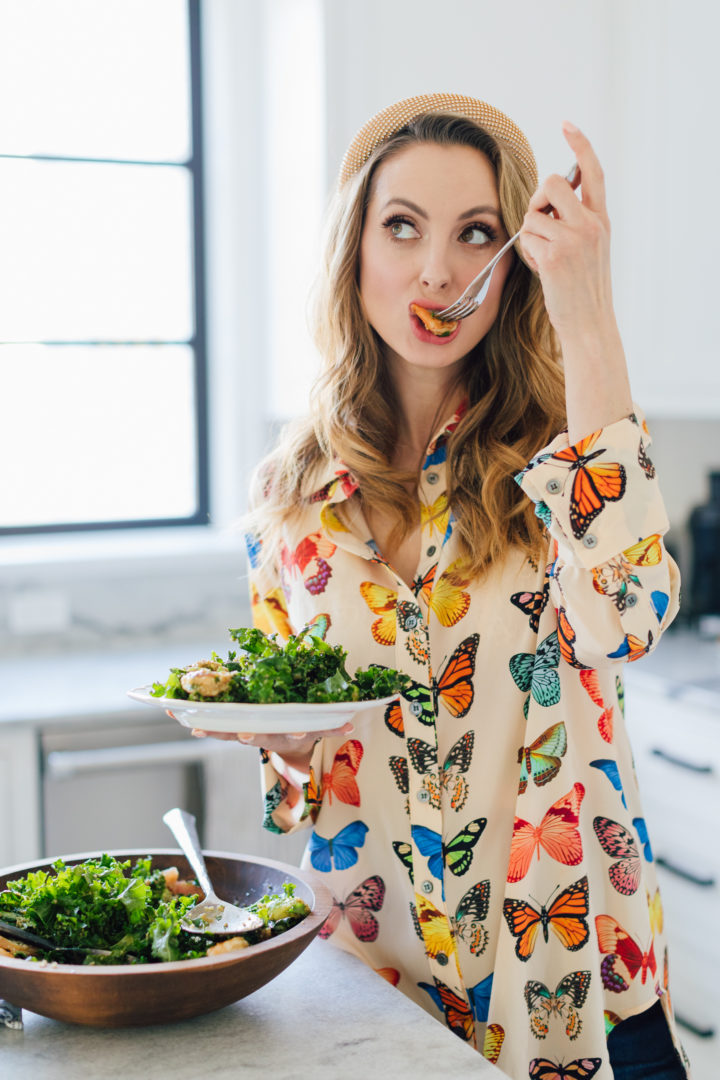 This post was originally published on August 26, 2015. It was updated on April 28th, 2020.
---
Here's a killer recipe for you health nuts out there!  I created it back in 2015 when I needed a healthy recipe that both picky-toddler-Marlowe and my now former husband would enjoy, and this one was a major hit! This salad is warm, sweet, and tangy, and it's so clean and nutritionally balanced – it's got veggies, greens, and tons of protein – and it's so delicious you would never know.  Plus, it's an excellent Main-Course-Salad meal that your entire family will enjoy!
When I created this back in 2015, it was kind of a "kitchen sink" recipe – I had all the ingredients on-hand, I just needed to figure out to put them together to make a healthy recipe.  Once I realized I could make a glaze from the apricot jam and slather it on the shrimp, it really gave me that sweet tangy-ness I was craving and sent the meal over the edge.
Feel free to play with different fruit jams, as well! I've made this recipe with a strawberry glaze the other day and freaked out – so yum! This recipe serves two as a main course but can be easily doubled for the entire family!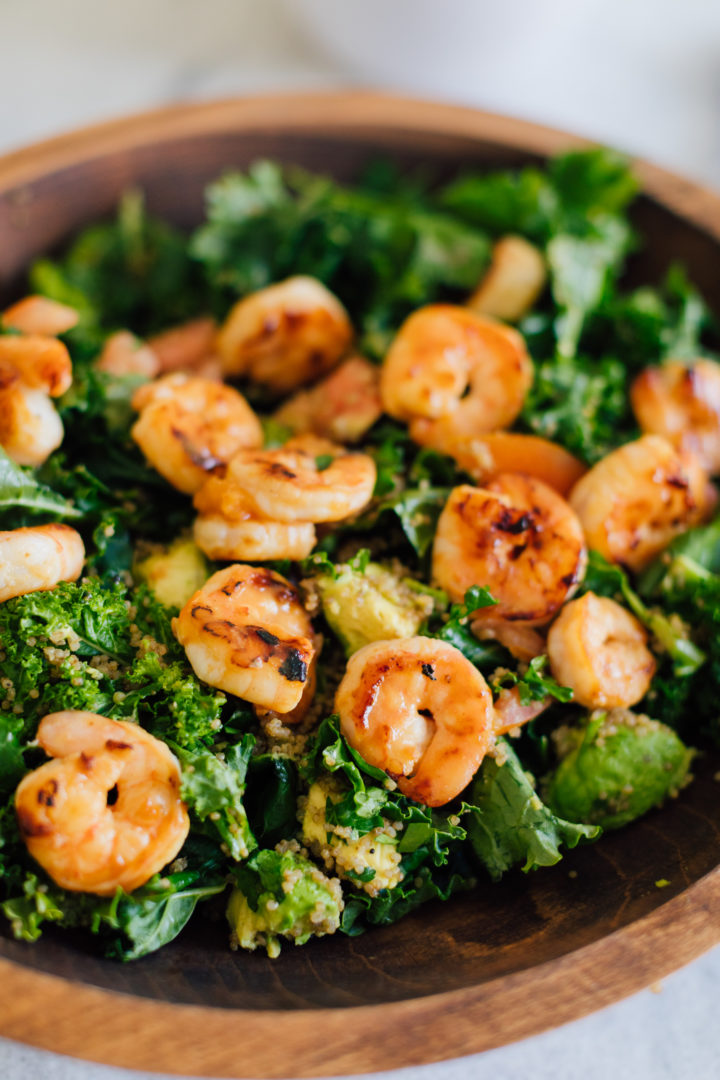 You Will Need…
Ingredients…
For the Quinoa…
For the Salad…
1 container of Baby Kale (or Baby Spinach), washed & dried
1 large Heirloom Tomato, halved and sliced
1 avocado, sliced
18-20 peeled & deveined Shrimp
1/2 cup flat-leaf parsley, chopped
1 cup of cooked Quinoa
1/4 cup Extra Virgin Olive Oil, plus 1 tbsp
Juice of 1 Lemon
For the Glaze…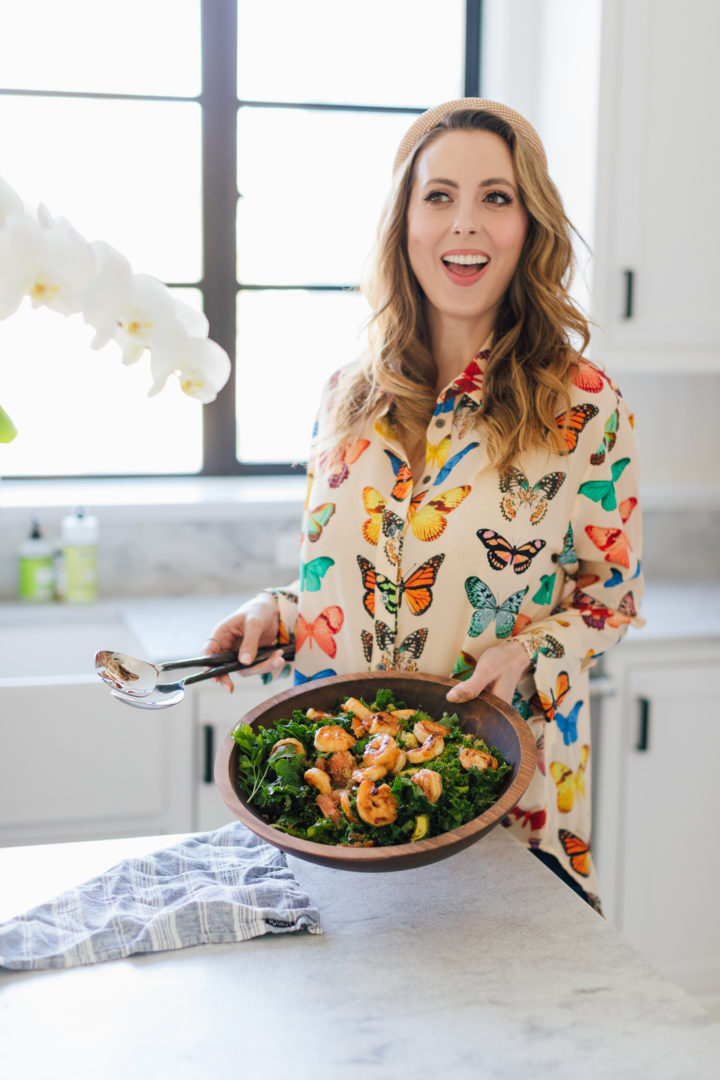 Recipe…
Preheat the grill on high.

If you haven't made the quinoa ahead, put it on the stove now and cook according to package directions while you make the rest of the recipe.

Next, assemble the first three ingredients in a large serving bowl, and toss.

Now prepare the glaze: place the apricot jam, 1 tablespoon of the honey mustard, and the rice vinegar in a bowl and mix with a small whisk until smooth. Season with salt and pepper.

Prepare the shrimp by rinsing and patting dry, then skewer.  I use three metal skewers so the shrimp aren't crowded.

Coat the shrimp with one tablespoon of Extra Virgin Olive Oil.  Place the shrimp on the grill and baste generously on the top side with the Apricot Glaze using your basting brush.

Cook for approximately 3 minutes and then flip, basting the other side.  Remember that shrimp are cooked when they turn pink, so don't overcook them! They will need no more than four minutes more cooking time.

Baste one more time, then remove from the grill, and slide the shrimp off of the skewers with a fork.

Add the quinoa to the salad bowl and toss to combine, then add the shrimp on the top layer of the salad.  Sprinkle the parsley on top.

Now combine the lemon juice, remaining tablespoon of honey mustard, and 1/4 cup Extra Virgin Olive Oil.  Whisk together, and add a pinch of salt.

Pour the dressing over the salad, and enjoy!
What is your favorite healthy recipe? Let me know in the comments below!
Photographs by Julia Dags