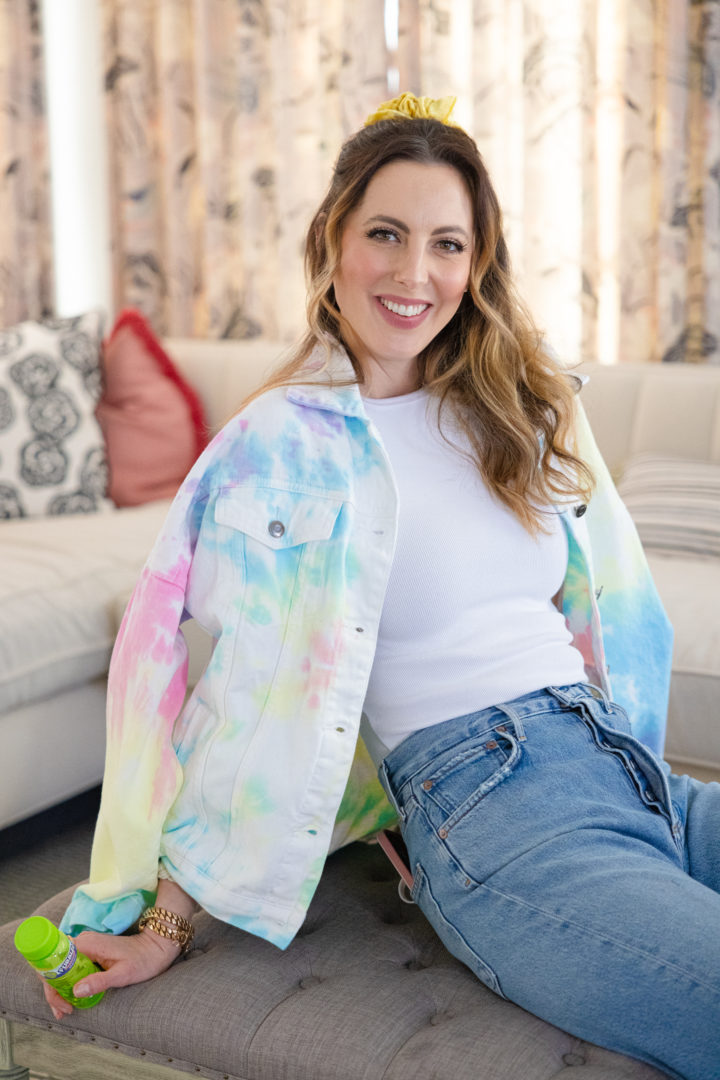 I'm 36 today! I laugh a little bit when I think about what I expected to be doing in my late thirties. I remember being a teenager and envisioning some kind of cosmopolitan, fast-paced lifestyle. Cocktails out with a gaggle of girlfriends every night, exotic vacations with my husband. Kids that I dressed adorably but also was never exhausted by or waking up in the night with. A corner office in an NYC skyscraper where I rolled calls all day, interrupted only by a Power Lunch. Impeccably dressed always, and with everything figured out. Aren't we all living like that? LOL.
When I reflect back on another year older, I'm truly moved by how different my vision was from my current reality…but also how much BETTER my life is than I even knew enough to dream.
It's not all puppy dogs and rainbows all the time over here, trust me. Oh boy, is it not. But at 36, I can tell you that the age-old saying is true: the older we get, the more we know ourselves, and the more we know ourselves the happier we're able to be.
I'm settled in a home I love. I have three beautiful, healthy, and happy kids who have kind souls, and are pretty fun to hang out with. I have a great co-parenting relationship with my kids' dad, and I have a loving and handsome boyfriend who is helping me learn to love myself more than I ever have.
I have a job that lets me be creative, and versatile, and interact intimately with people, and share of myself—which is a HUGE gift for me. As a child, I had a complex imagination and a really big heart…but because of some experiences I had, and things I went through growing up, I retreated pretty deeply into myself and didn't access the spark of connection with others that I really crave as a person. Growing more into myself as I've aged, opening up, and connecting with people has been a huge journey for me. I've learned that I'm an extrovert at heart, who really craves connecting and sharing with others, and a give and take of energy. One of my biggest dreams in a post-COVID world is to find a way to make my business a LOT more interactive in an IRL kinda way. Stay tuned!
The aspect of my life that I'm most grateful for at 36 is my incredible community. There's that popular saying, "it takes a village", and it really is true. But not just in the way they mean it, which is raising children (man, does that take a village). But it also takes a village of support around us to show up as our truest selves every day. To push ourselves to be better, to hold ourselves accountable, and to allow ourselves to grow and change with grace. Having a supportive community makes all of those things possible for me, and I'm so grateful. None of us are made to go it alone, and the more we are supported and support others, the more we come into our truest purpose as humans. At least, that's my humble opinion! 
So, what have I learned this past year? I've learned that being flawed is part of being human, and that I am loved regardless. I've learned that people will forget what you said or did, but they'll never forget how you made them feel. I've learned that my instincts are powerful, and mostly correct. I've learned that if you wait long enough, no feeling is final—good or bad. So it's important to give yourself grace on the worst OR best days. I've learned that that cream rises to the top, and if you keep your head down and work hard you'll eventually get rewarded for that. I've learned that people who are mean are in the most pain. I've learned that laughter is truly the best medicine. 
As I embark on another year older, I'm so thankful for every lesson and every challenge. I'm grateful to be here, with my health and my many blessings. And I'm so grateful for this community of people along for the ride. If you're having a tough time, I'm here to remind you that you're stronger than you realize. Just keep going. Life gets SO GOOD.
XOXO EA
Photographs by Julia Dags | Happily Eva After, Inc. © 2021 All Rights Reserved