The following content may contain affiliate links. When you click and shop the links, we receive a commission.
A Motherhood dynamic that still really surprises me, even four years in to my own parenting journey, is the continuing stigma surrounding childcare.  Every time I'm confronted with it, it really shocks me.  I regularly have people (mostly women, mostly mothers) "reaching out" to me on social media asking me why I have a nanny for my kids.  I normally stay fairly calm, and respond that since my husband and I work full time, do not have local family help, and work very inconsistent hours, full-time childcare is a necessity for us.  This is, of course, a pretty logistically obvious answer.  But I can't help but wonder, in those moments, what if I didn't work full time? What if I worked part time, or not at all, and simply wanted to have some help with my children? Would that make me a bad mom in these people's eyes? Why, in this 21st century, have we lost site of the "village" that families have relied on for centuries– and why have we created a meritocracy for the concept of plowing through the experience on our own?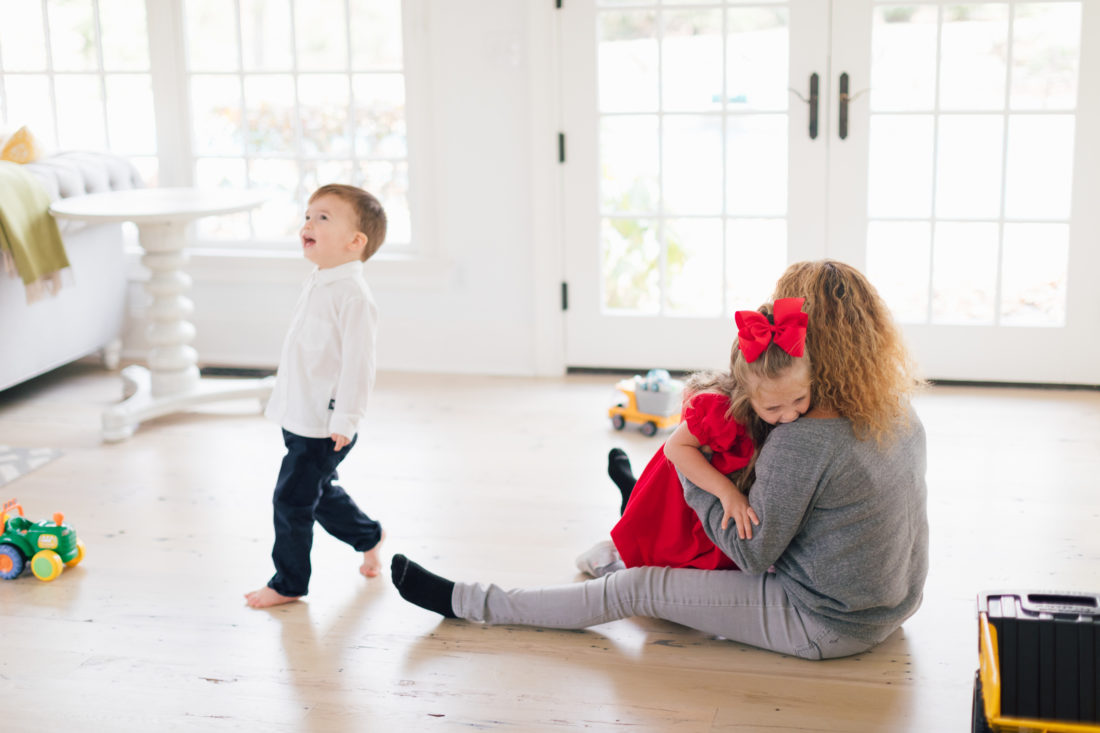 I've noticed this cultural trend in other ways as well.  It is not enough to be in good physical shape, we must also be in good physical shape while being able to eat "whatever we want".  That is more impressive, somehow.  It is not enough to have a clean and safe home, we must also run it and decorate it, and throw parties, and cook balanced meals and tidy up and organize by ourselves.  That makes us more impressive adults somehow.  It is not enough to be nurturing parents, we must also do it on our own…even if doing it on our own makes us exhausted, depleted, overwhelmed? Does that make us better for our children? All families are different, some have help from family, some find help from friends, some find help in the form of strangers who are hired and become like family– but why does having (or wanting) to hire help (as opposed to finding it organically) somehow relegate the quality of parenting? And why does it make a parent with "help" less than a parent without? I have always believed that as parents everyone has different strengths and weaknesses, which is one of the most beautiful things to witness about parenting– but I firmly believe that no one parent is purely "Good at it" or purely "bad at it".  Everyone is some kind of mix. It's been an interesting journey for me to make peace with the judgement that having a full time nanny can bring.  But I've always been transparent about our nanny's role in our lives, most of all because of the great value she brings to our lives!
I believe that having different people with different life views, different experiences, and different backgrounds brings so much to our children's upbringing and education. The proverbial "Village" isn't just for support, it's also for context! We've been lucky to have a couple great nannies for our kids–our current one is hands down our favorite ever, and hopefully will be with us for a very long time– and the common thread between them has been how different their cultural background is from our own. Our nanny now is from a Spanish-speaking country, and I was thrilled when she agreed to speak Spanish with our kids.  She sings spanish songs to them, cooks food from her country for them, and even has some great parenting hacks up her sleeve that are from her own upbringing.  I love it! I think when kids are exposed to different ways of living, and people with greatly varying histories, it really opens up their horizons and teaches the deepest forms of empathy. And beyond this as a child rearing concept, I also just love her personality, and think she's a great person for my kids to learn from.  She's kind but firm, intelligent, very funny, totally tough and brave, and completely independent.  I hope Marlowe, especially, picks up on all these qualities.
The thing I love the most about our nanny, though, is how much she loves my kids– and how much they love her! Before I ever had childcare, I always used to wonder if working away from my kids and having another woman spending so much time with them would make me jealous.  I'll admit that there have been a couple times in the past four years when I've gone to pick up my kids, or get them after a nap and they've flat out rejected me and called for their nanny (LOL) and if I was already feeling guilty or depleted myself it would sting.  I'm being honest! But overwhelmingly, my feeling has been the opposite: when I see my kids loving these incredible women who help me raise them– and when I see these women love them so completely– it makes my heart sing.  Because who doesn't want MORE love for their kids, both from others, and within their kids hearts?! When we take our nanny ("Yaya") on trips with us, my kids get so excited and always say "Is Yaya coming? The whole family, Mom?!" And they always include her in every family list, experience, and exciting news to share.  It makes me so happy that while I'm working they have so much love surrounding them.
I guess my point is that when people nastily ask me how it feels to have "somebody else raising my kids", my feeling is always that it's pretty great, actually.  Because don't villages always raise us? Our communities, our schools, our friends, our families and peers? I feel lucky that my kids are learning from some great people in their lives, and that we are all focused on raising them in the most loving way possible.  I don't feel that my kids get less because of it at all.  And so I've learned to let go of the negativity, and the shame, and the exhaustion too.  And to just feel lucky that I have the help from such an awesome person.
I'm curious about your views on this topic. Do you have family, hired help, or daycare for your children? Have you ever been shamed for having help with your kids? Please share in the comments below!
Photographs by Julia Dags