The following content may contain affiliate links. When you click and shop the links, we receive a commission.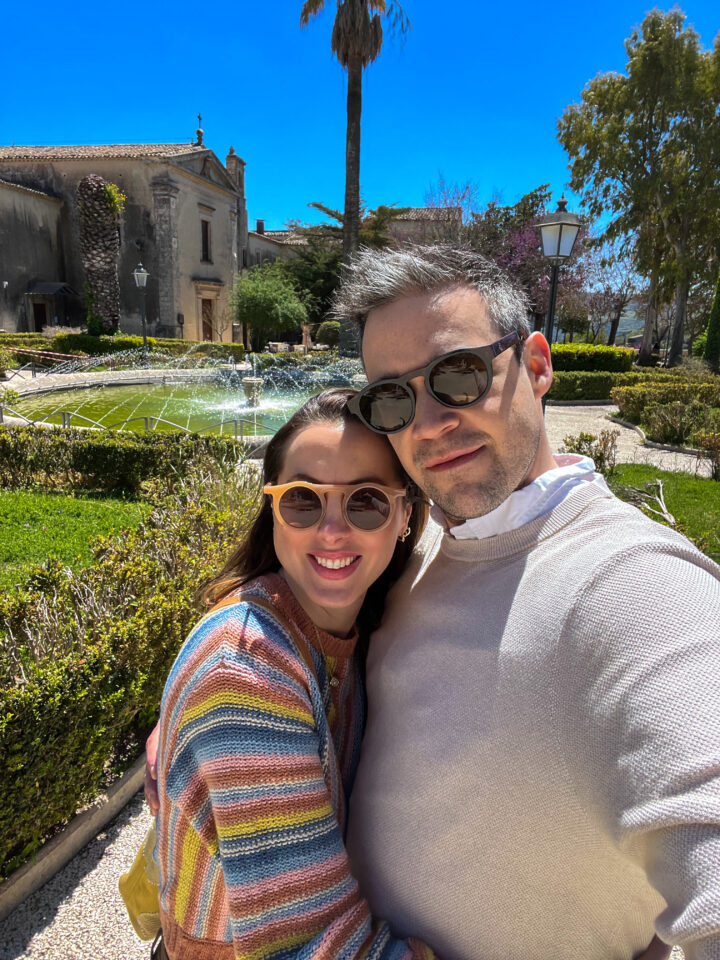 It's going to be hard to convey in a blog post how incredible my trip to Sicily with Ian turned out to be! After over five months of planning, and three years since I'd taken a vacation, there was a lot riding on the trip. We had never been on a vacation together before, we both were in desperate need of letting off a little steam, and we also both were craving a bit of an adventure alongside the kid-free days of relaxation. Mostly, we were just happy to get some alone time where we could really explore our relationship without having to rush back to the kids after 48 hours. I fell in love with Ian all over again just by falling in love with a place together. It was so special!
It was also important to me to give Ian a sense of my heritage. I love how interested he is in the Italian heritage of my family (from both sides), especially since I spent so much time there growing up. In a lot of ways, the trip was an opportunity for us to become even closer than we already are and to understand each other more deeply. Our trip to Sicily ended up being the absolute most magical time for us, and we had SUCH a blast. We can't wait to go back asap, and bring the kiddos! Today I'm sharing a bit of a rundown of the itinerary we followed, as well as some of my favorite places we found.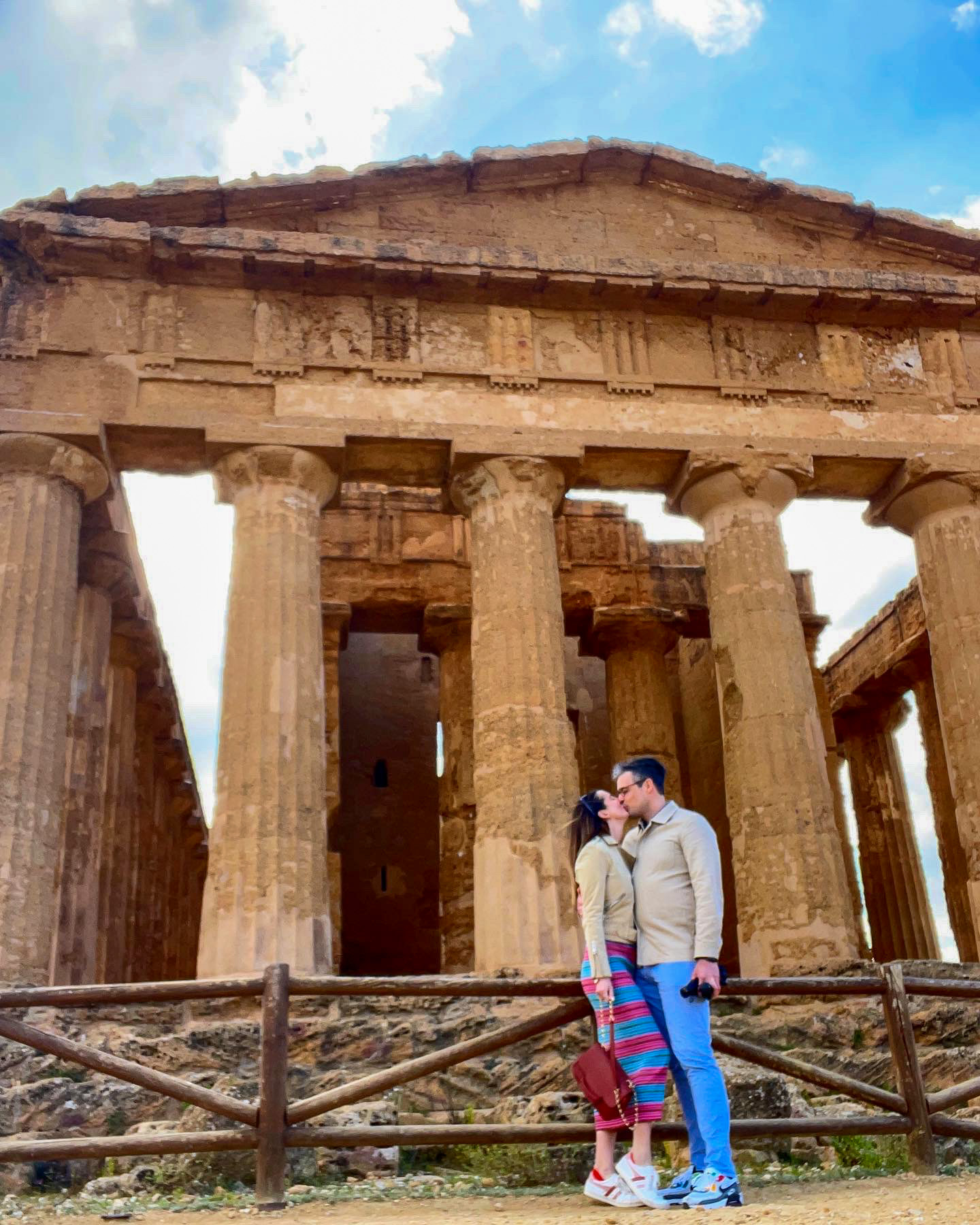 Visiting Italy again reminded me of the sweetness of a less hectic and simpler life. Or as they say in Italy, "La Dolce Far Niente", which translates to "the sweetness of doing nothing". In Italy, the emphasis is placed on great food, the beauty of even the smallest things, tradition, family, and basking in the essence of the moment. Nothing there is rushed, and everything you eat, drink, or experience has so much care put into it. The beauty in the simplicity of it all really resonated with me. The "lawlessness" of Italy also had me laughing daily with Ian. I've always been a pretty scrappy person, very solution-oriented, who doesn't accept no for an answer… and Ian was saying the entire time we were in Italy that he knows where I absorbed it from! Even driving on the Autostrada, people are passing each other, and zipping all over the place– everyone goes down the one-way streets the wrong way in the city center…there's definitely electricity in the air! LOL. It reminded me where I get my go-getter energy from, for sure.
We also were able to experience a totally new-to-us microclimate on Mt. Etna! Neither Ian nor I had ever been in a location like that before, and the setting was as interesting as it was stunning! As we got closer to sea level it was really warm, and then as we climbed up the mountain, the weather changed with the view! We ate dinner one night right near the top, and it was freezing and felt like a totally different place, with forests that looked like they were part of the redwoods. Great travel for me is as much about learning new things and seeing new things as it is about "treating myself", and I was so glad we had the opportunity to experience something so different and new to both of us.
Overall, Sicily is such a beautiful, warm, and vibrant place– filled with the most insanely stunning architecture and even more transcendent food. I cannot recommend it enough as a destination– with or without children! We fit a lot into our week there, but it was hardly enough. If I had to do it all over again (or had less time) I would have knocked Palermo off the list, and focused on the Ragusa-Siracusa portion for more days. I could have stayed in each of those locations for a week! Let me know if you have any questions!
Palermo
Palermo was first on our list! We got to spend Easter there, which was really special! Italy has so many beautiful churches and cathedrals, and at Easter time they pull out all the stops, which is quite a thing to behold. We even got to see my Dad and my Stepmom who flew in from Rome to spend the day with us! We had some incredible meals there, and it was really cool to witness firsthand the super-strong Arabic and African influence that there is in Sicily. It can be seen in everything from the architecture to the food– and the markets as well! I wanted to bring home a huge suitcase full of all the incredible spices, oils, and produce!
Stay:
Palazzo Brunaccini – this was a lovely hotel in a very convenient area of Palermo. I loved the neutral tones of the decor and their bar had great cocktails also. The bed wasn't as comfortable as others I've stayed in on my travels, but I would say it wasn't a dealbreaker.
Eat:
Farmacia Alcolica– a very cool mixology spot with a great outdoor lounge area
La Galleria– delicious and upscale for dinner
L'Acerba Osteria Dinamica– incredible fish dishes in the cutest courtyard
Ke Palle (Arancini)– taste Sicily's famous Arancini for yourself!
Antica Foccaceria– wonderful for lunch or a robust antipasto
Trattoria Altri Tempi– delicious and authentic Trattoria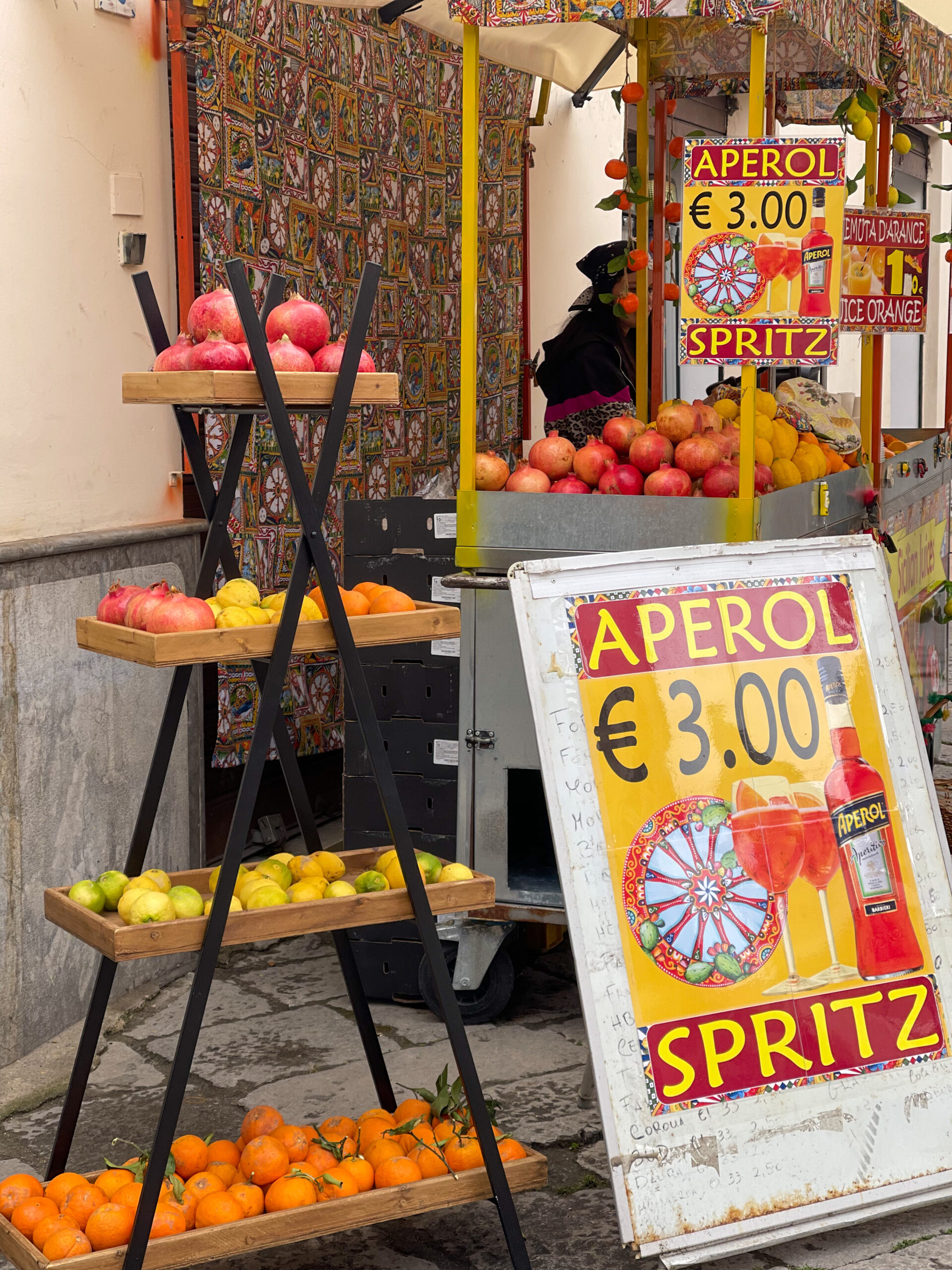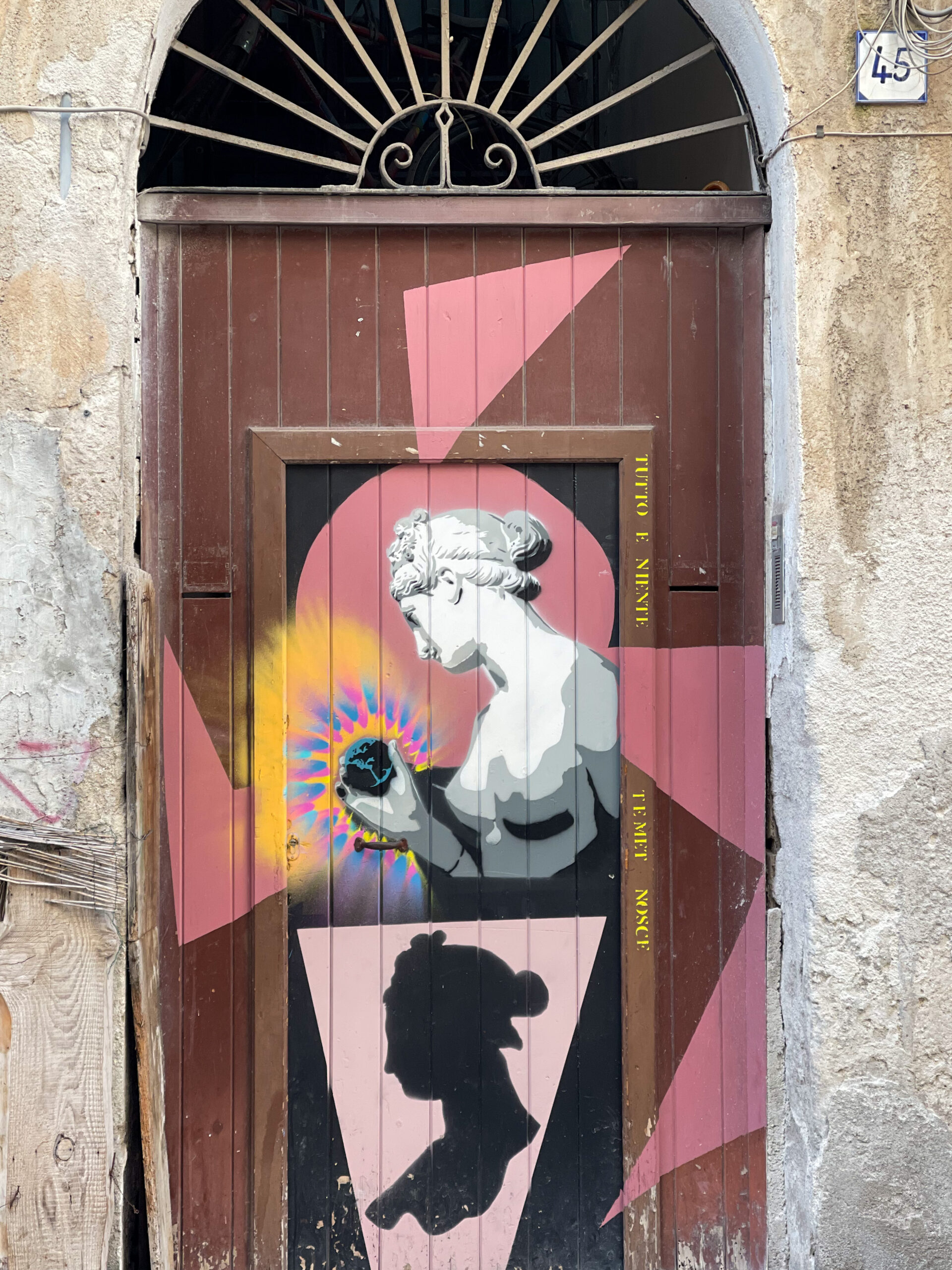 Menfi
The next day, we drove south towards Ragusa, and stopped in Menfi to eat lunch at a foodie destination: Da Vittorio. It is beyond delicious, and so special because it is filled with Italian families there having a special meal. We were the only tourists! The location right on the beach is so special, too!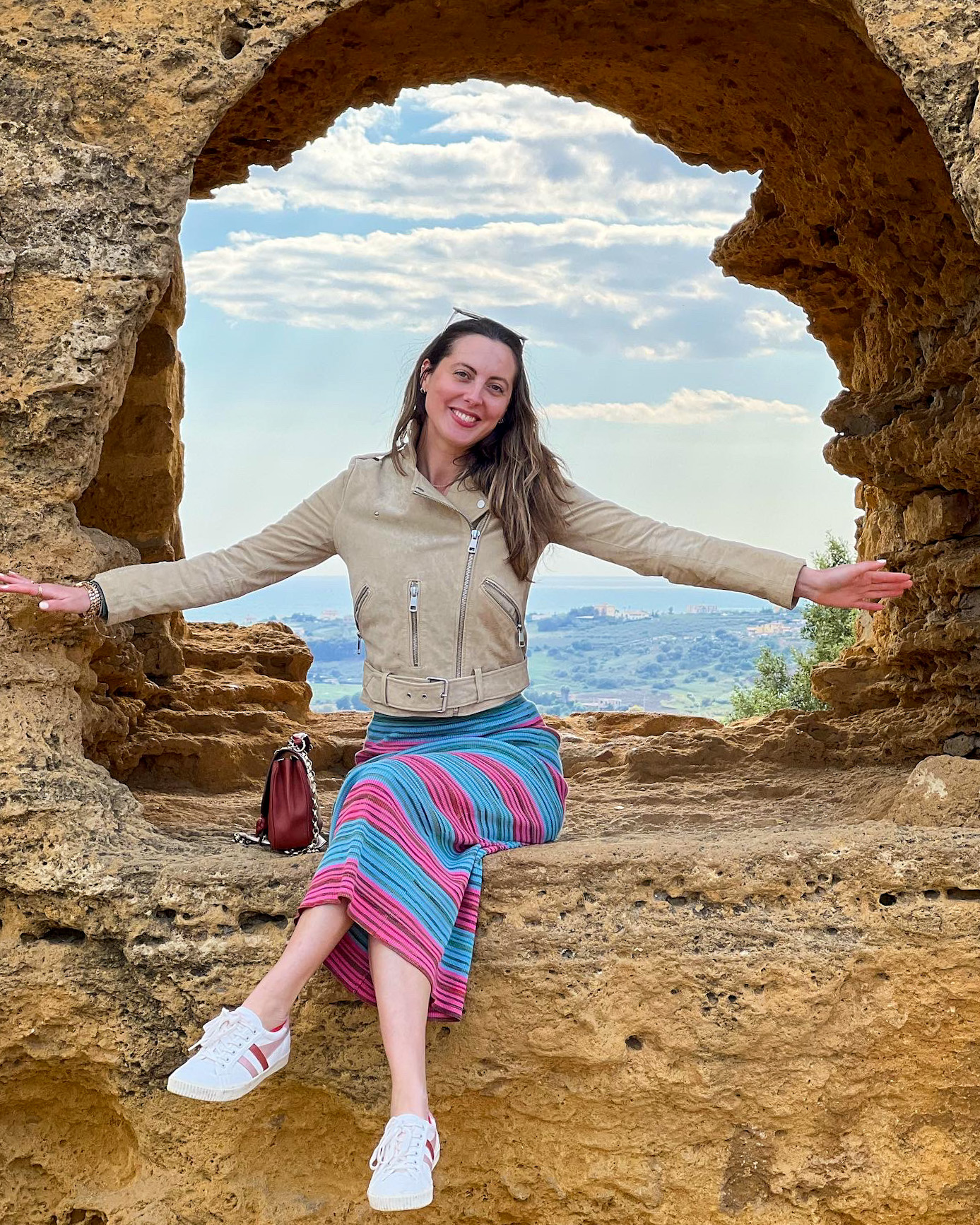 Agrigento
Ian and I both agreed that we couldn't go to Sicily without visiting some of the incredible ancient greek ruins on the island.
Valle Dei Templi is a UNESCO world heritage site, and is the absolute coolest park filled with ruins and artifacts! We only spent a couple of hours, but you could absolutely make a day of it. It's surreal to see all of the gorgeous ruins on the hill looking over the Sicilian coast!
La Scala Dei Turchi is another must-visit location in Agrigento if you're passing through. So gorgeous!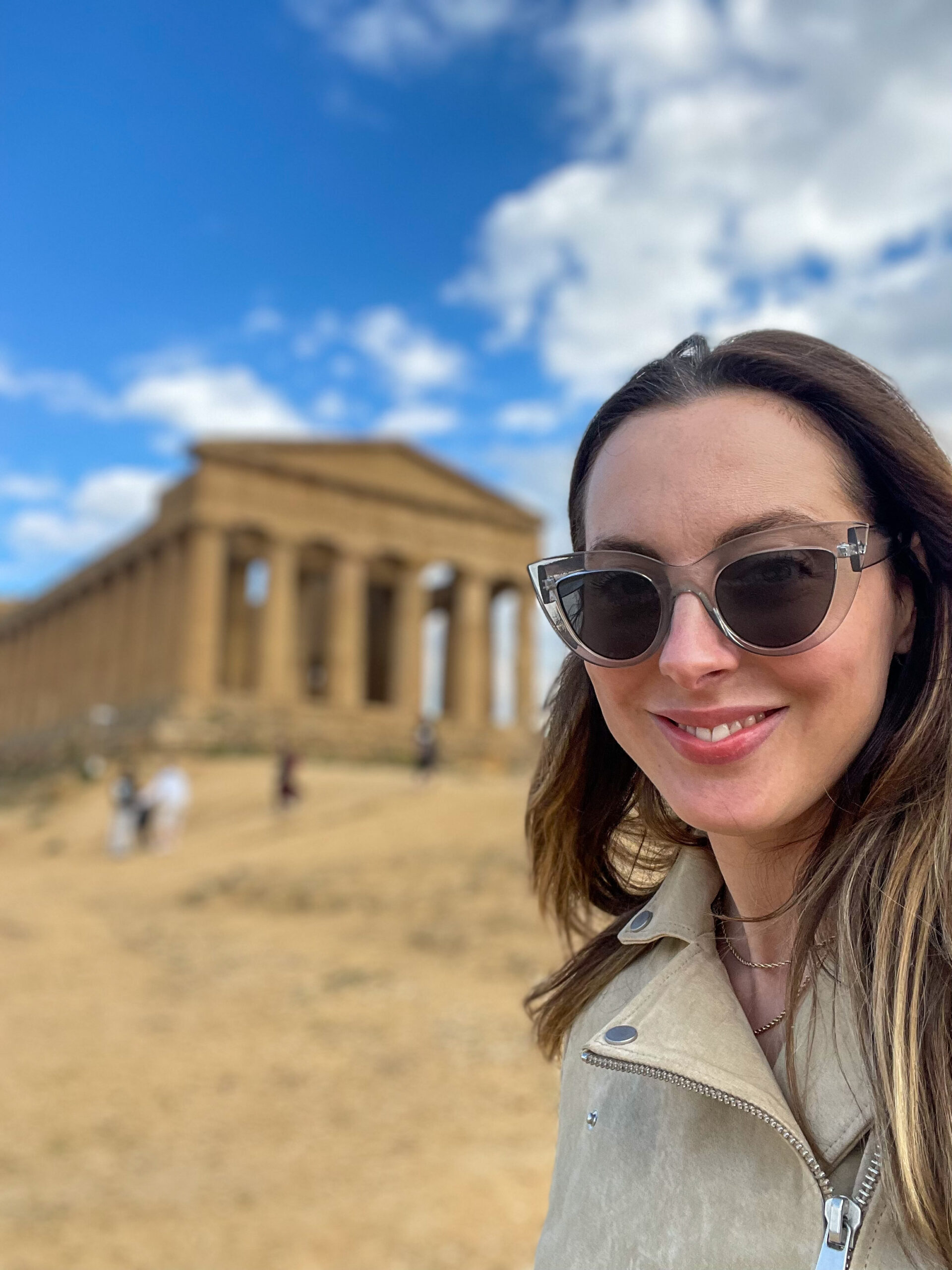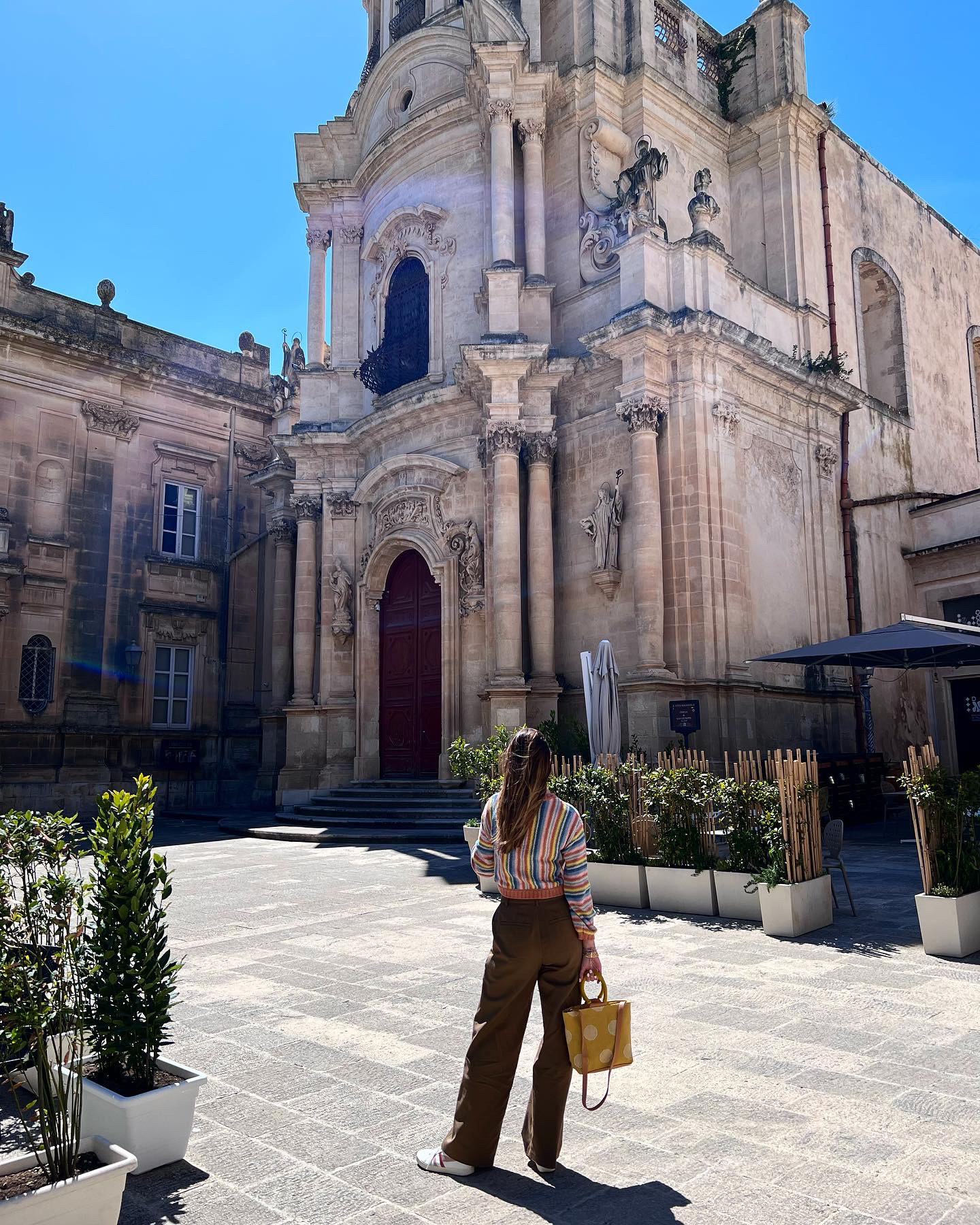 Ragusa
After Agrigento, we made our way to Ragusa, which was the most special stop on our trip- the place where my ancestors are from on my Mom's side of the family. We wanted to stay in Ragusa Ibla, which is the lower portion of the town that has beautiful medieval architecture and so much charm. The entire town is built into the cliffside, and the buildings are all stacked on top of each other in tiers, accessed by meandering staircases. It's stunning to see. Exploring Ragusa for the next two days was such a dream. We spent our days exploring, walking all over, and taking in the little hidden architectural gems. One of the most beautiful places is the Giardino Ibleo, the free municipal garden of Ragusa that has a beautiful park with a sweeping terrace and unbelievable views. I was also impressed by the artsy flair of the town. I found two little shops that were so unique and chic and a nice change from the more traditional Sicilian wares for sale. Needless to say, we had some of the most amazing meals there, too. Always a perk! Overall, it was clear that this town was one we could return to again and again- I really want to bring the kids.
Stay:
Terrazza Dei Sogni B&B– we stayed at this charming B&B that's in an excellent location and has the most gorgeous terrace with nearly 360-degree views. Highly recommend booking an evening happy hour to take in the early evening ambiance on the terrace!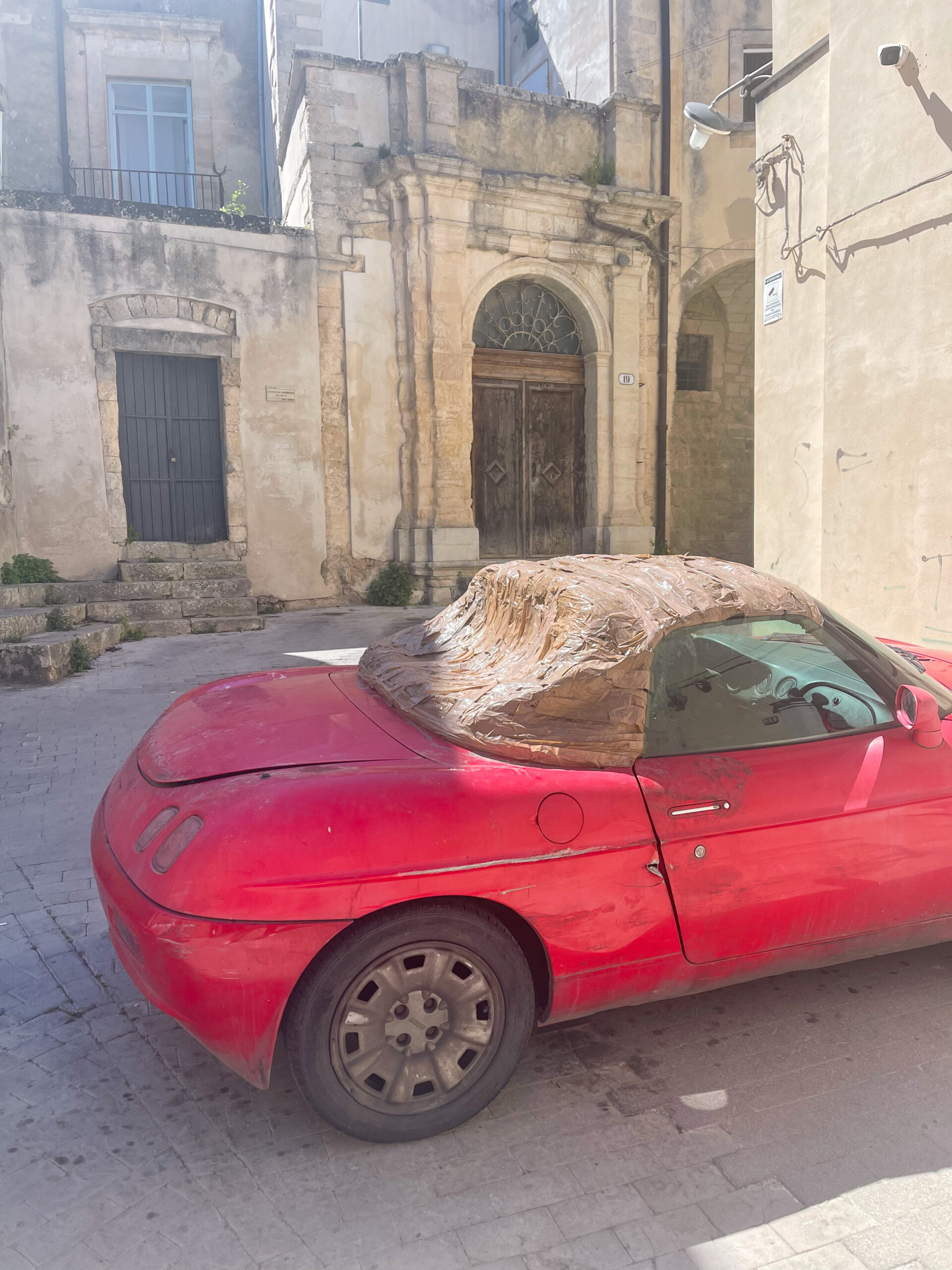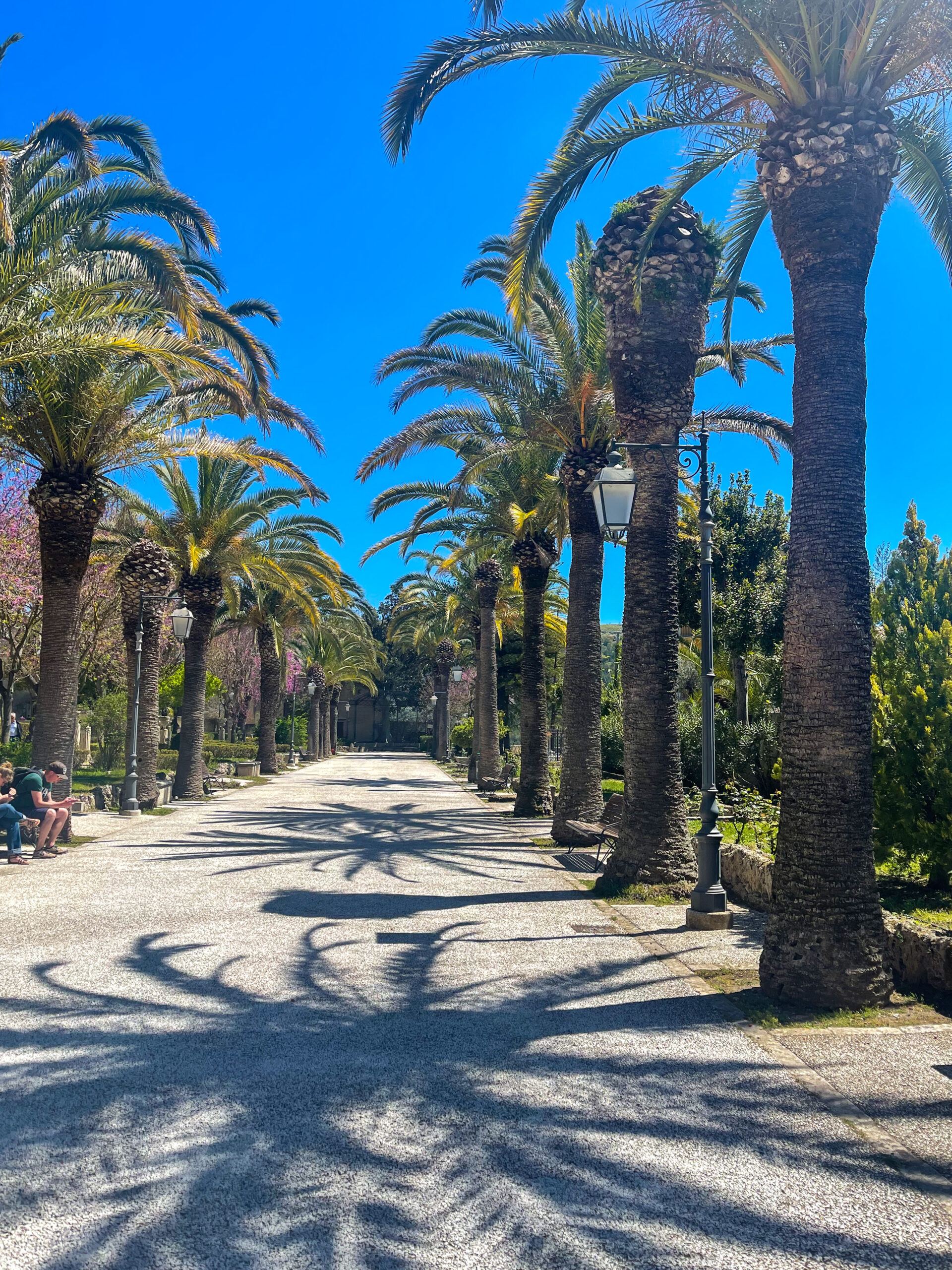 Eat:
Salumeria Barocco -this was one of the most special meals we had, local charcuterie board paired with wine, seated outdoors
Il Barocco – This restaurant is known for its pizza but we also LOVED the pasta dishes!
Monsù – elevated, yet traditional Sicilian fare
La Piazzetta ristorante– for aperitivi with a view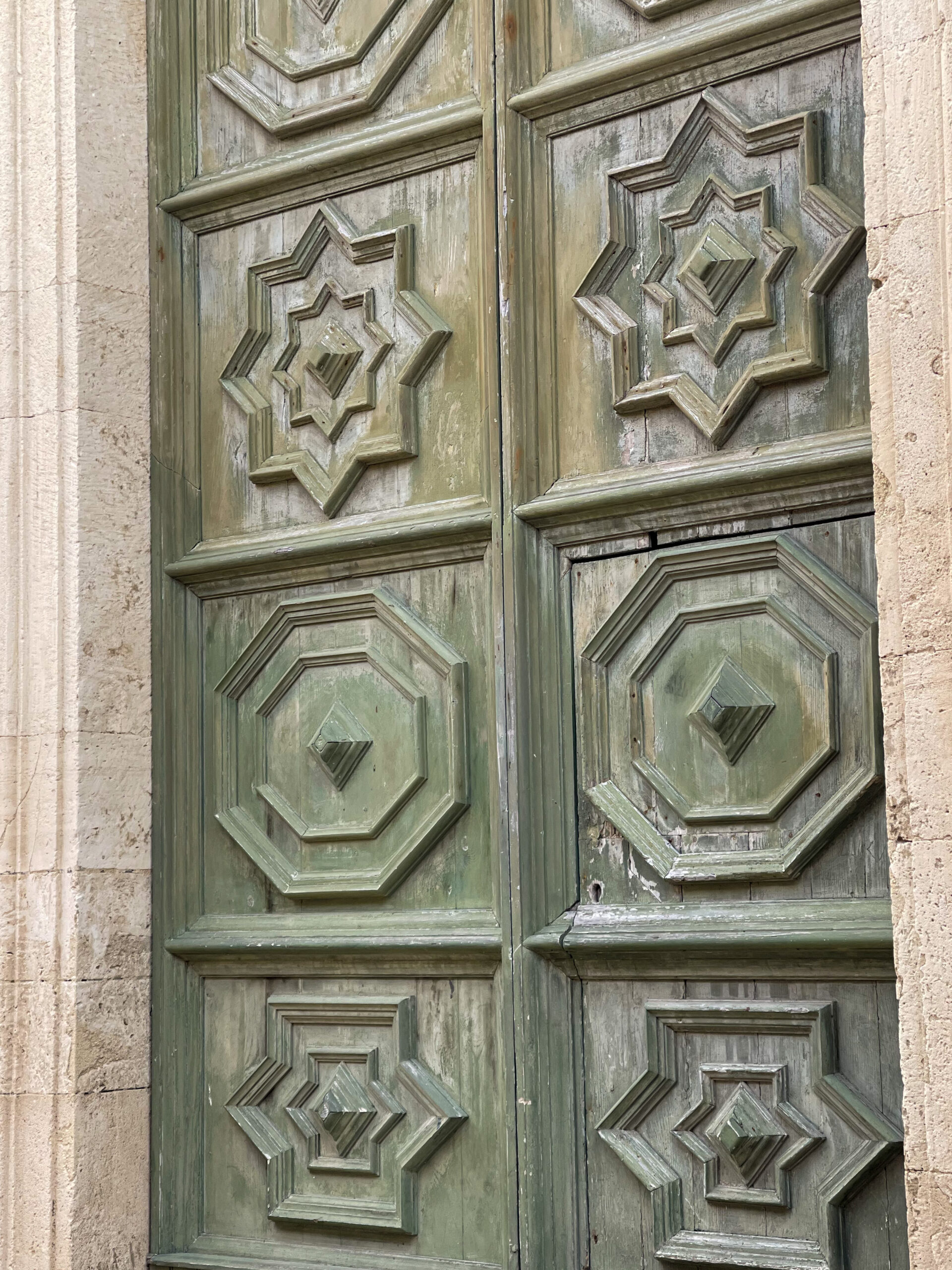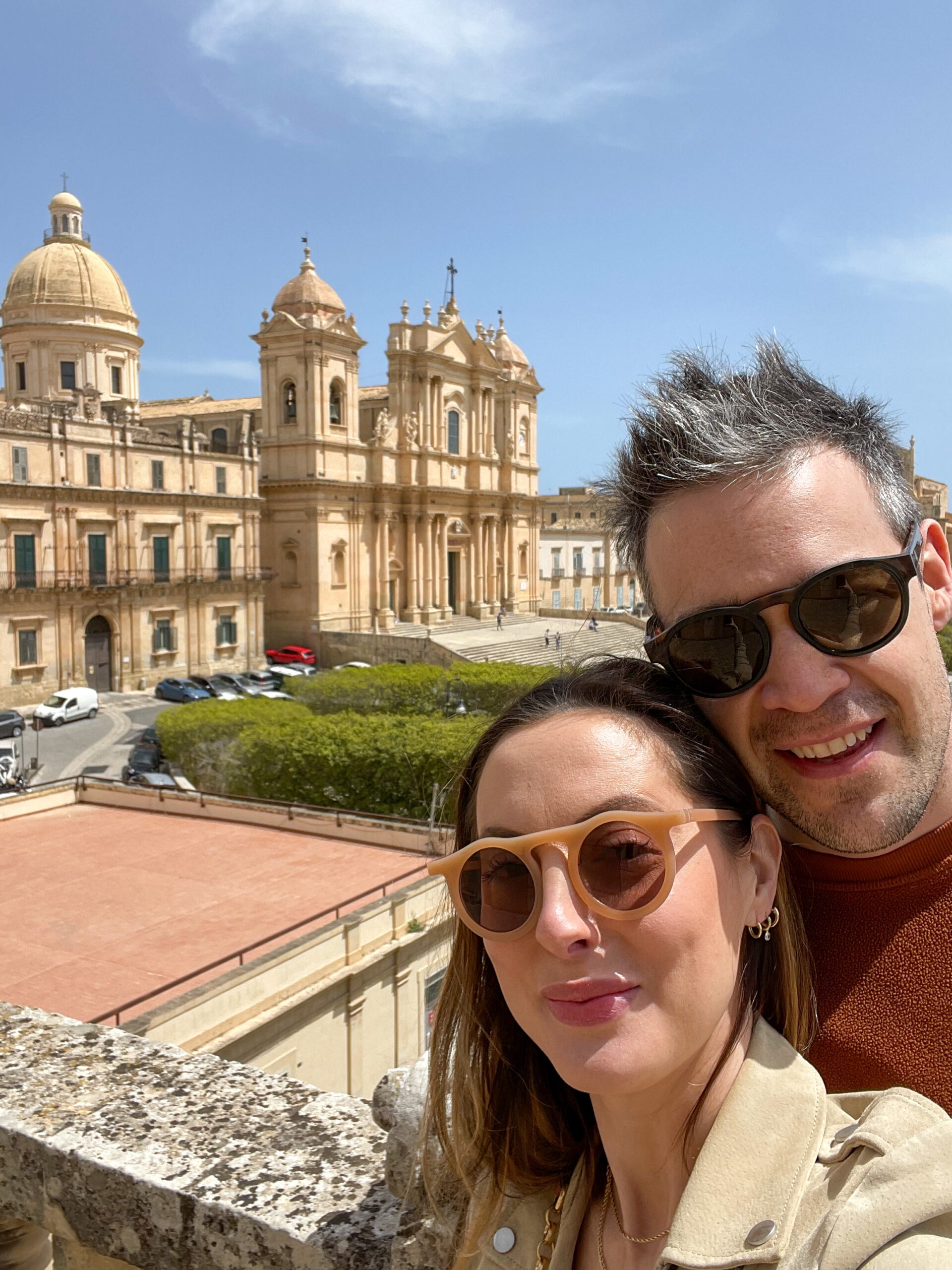 Noto
On our way to Siracusa, we stopped through Noto for a few hours. I knew I needed to visit this gorgeous Baroque town based on photos alone! The entire town is made of the most beautiful sand-colored stone, it's like something out of a dream. We spent some time exploring, and then had lunch and dessert…it turns out Noto is home to Sicily's most celebrated pasticceria ( sweets bakery). The desserts were so elaborate and incredible! My favorite was Granita di Mandorla (almond granita, which is like crushed ice). One of the peaks of our afternoon in Noto was the climbing to the bell tower of one of the churches, where we could see the entire town. It made for some great photos!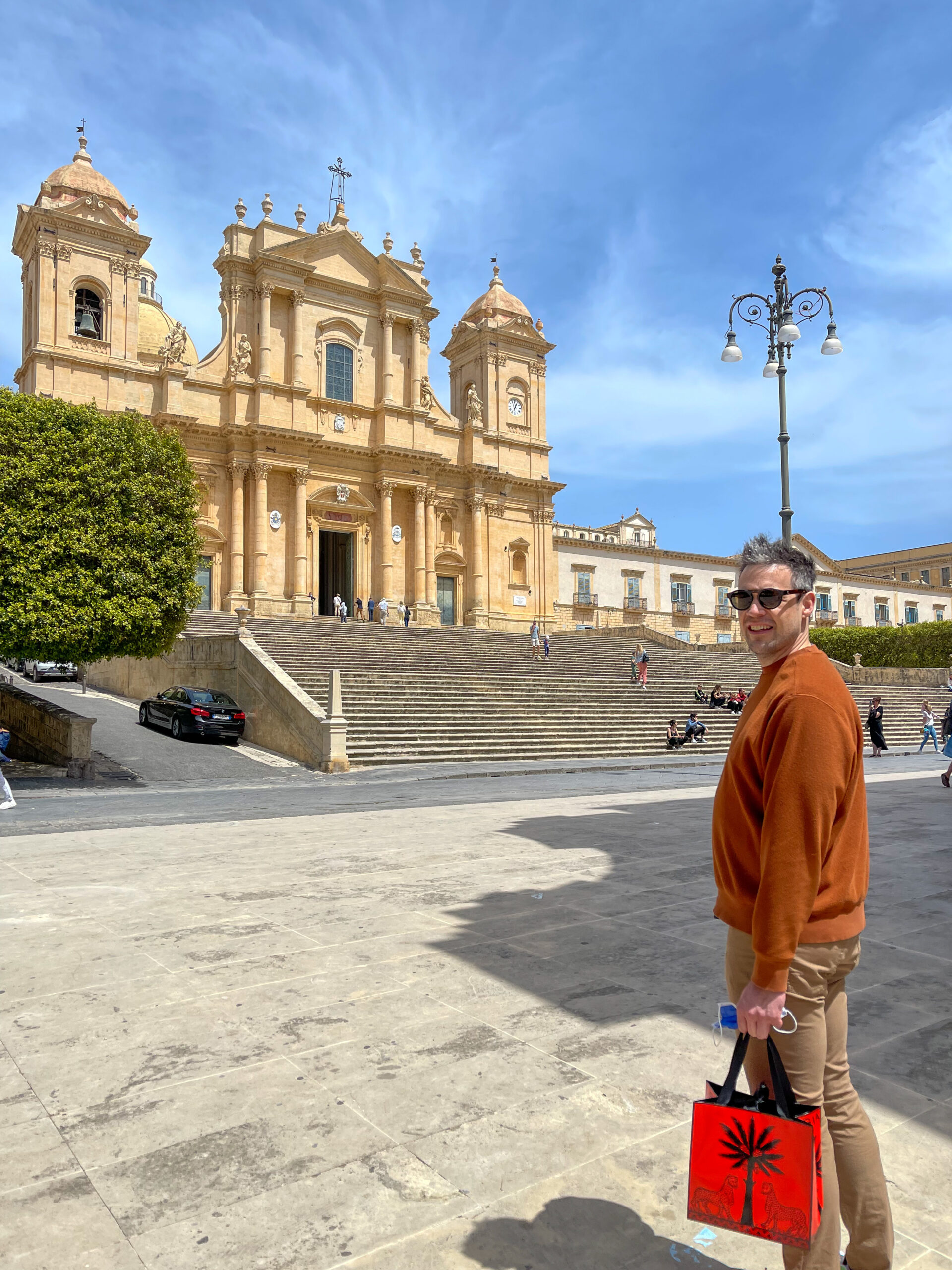 Eat:
Ristorante Il Giglio– delicious pizza and pasta with a beautiful view
Caffè Sicilia – the most celebrated pasticceria in Sicily!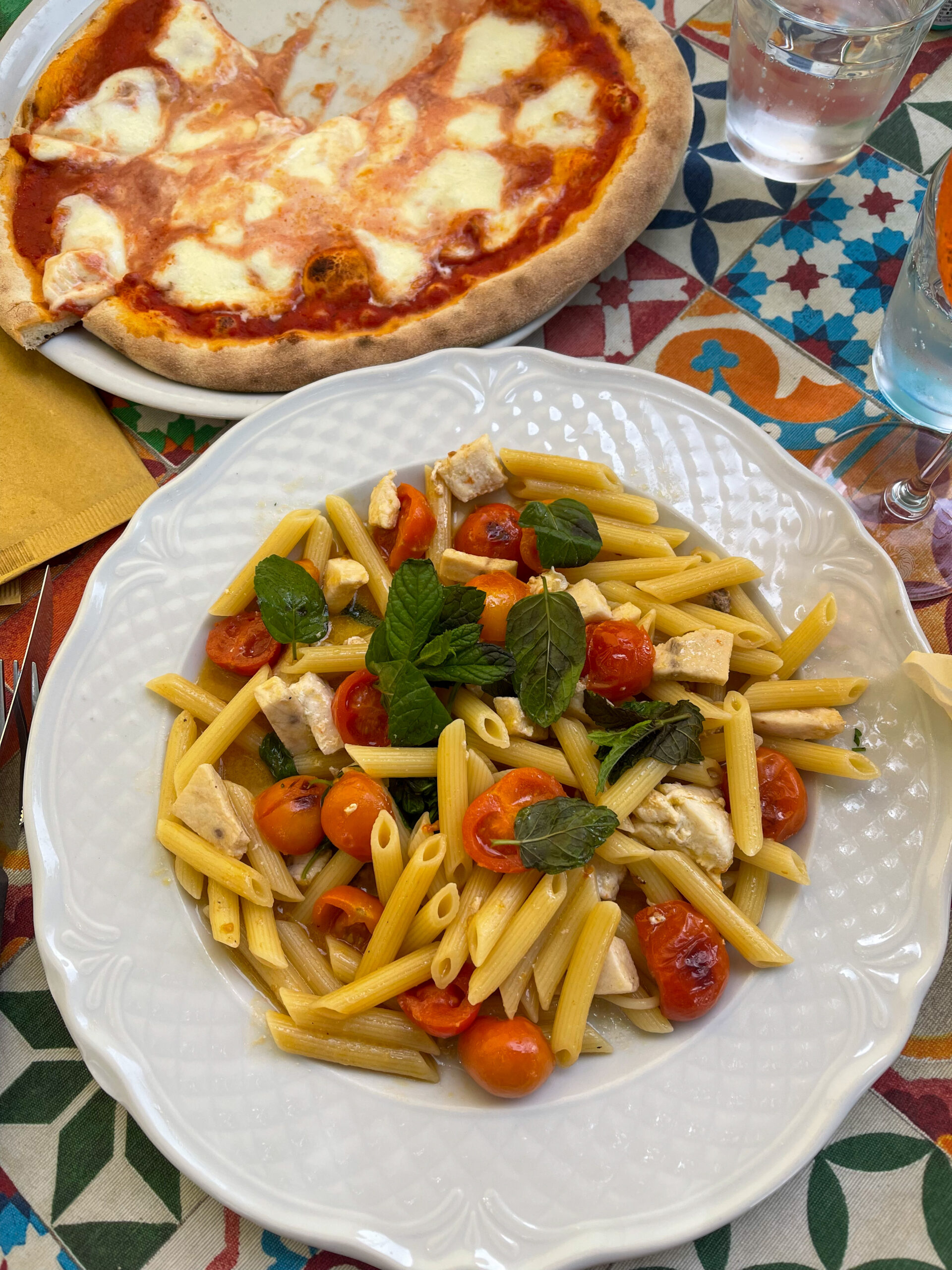 Drink:
Anche Gli Angeli – super cool bar, gastropub, and gift shop!
Siracusa
Siracusa, or Syracuse in the American books, was a stop on our list that I was SO excited for. A little town right at the southern point of Sicily that boasts the coolest little island right off of it, connected by a bridge: Ortigia. I'd heard about what a special place Ortigia is, but words barely do it justice. From the gorgeous ruins interspersed with the churches and tiny winding streets, and the ultra-cool market that happens daily, I was in heaven! We only had one day to explore and I wish we could have stayed longer. It was such a foodie heaven, too!
Stay:
Caportigia Boutique Hotel– we absolutely loved this hotel! The staff was so nice and helpful, and our room was so beautiful and comfortable. The bed was our favorite on the whole trip. Plus, we booked the room on the third floor that has its own private deck and hot tub! Super fun. Highly recommend booking a pre-dinner aperitivo on their rooftop, which is stunning.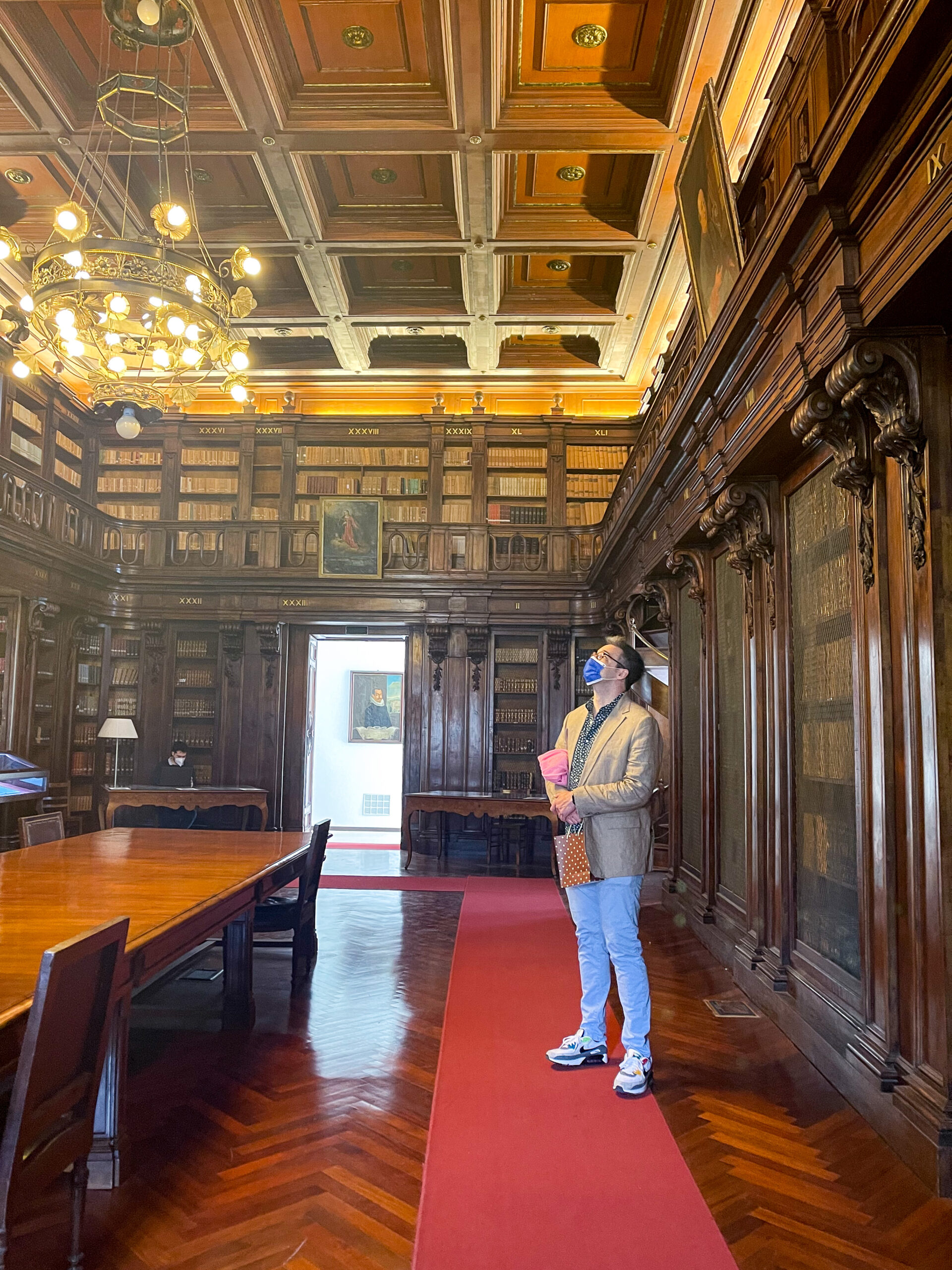 Eat:
Il Tiranno for aperitivo – we had the chef's choice crudo, and the perfect Negroni!
Ristorante L'Ancora – This was the best restaurant on Ortigia island that serves the freshest fish and produce, with a focus on celebrating the ingredients themselves. A must-visit!
Ristorante Porta Marino da Salvo – We went here for dinner because we were curious about its Michelin rating and wanted to try something a bit fancier for one night. While the food was super delicious, we realized that "fancy" while in Italy isn't really our thing. The ambiance was a bit stuffy
Fratelli Burgio Ortigia– so great for lunch or snack at the bottom of the market on Ortigia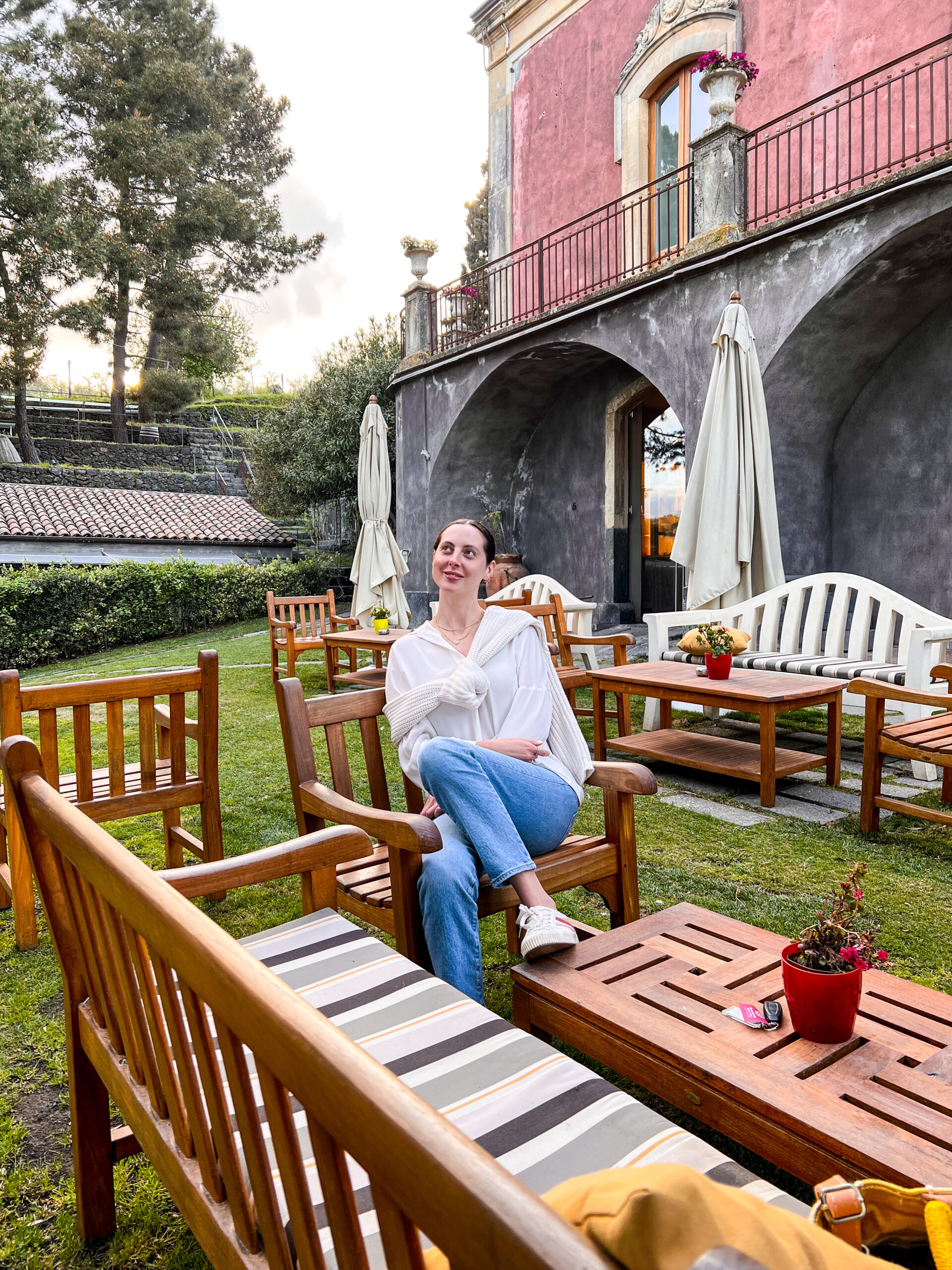 Zafferana Etnea
The last stop on our trip was two days on a biodynamic vineyard at the bases of Mount Etna. Mount Etna is technically an active volcano, though it hasn't erupted since 2001, and it makes for some really significant biodiversity in the area. As a result, there are such amazing fruits, veggies, and vineyards in the area! Plus, the town is known for its honey! I was intrigued to go to a beautiful Relais Chateau property there that I had been reading up on, and it didn't disappoint. The resort is impeccably designed and has such lovely and welcoming staff. It was so nice to end our trip with a little "luxury" and to mostly stay put and enjoy our surroundings for the last couple of days!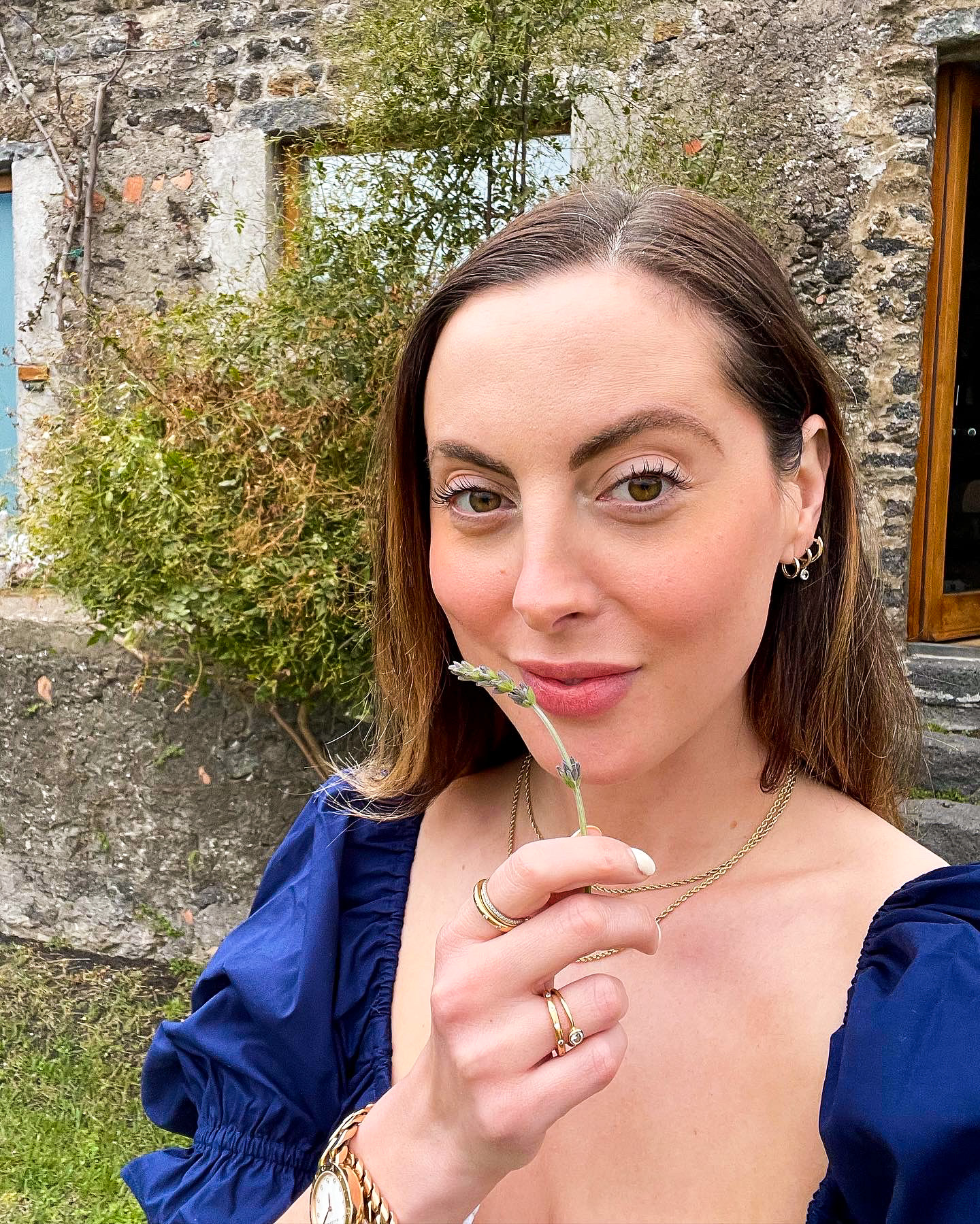 Stay:
Monaci delle Terre Nere Hotel – this was a bucket list hotel experience for us. Super pricey, but worth it as it was such a unique experience. I'll say that we ate at the hotel's own restaurant one night and thought the service was excellent, we didn't love the food. There are great other options nearby so I'd do that instead!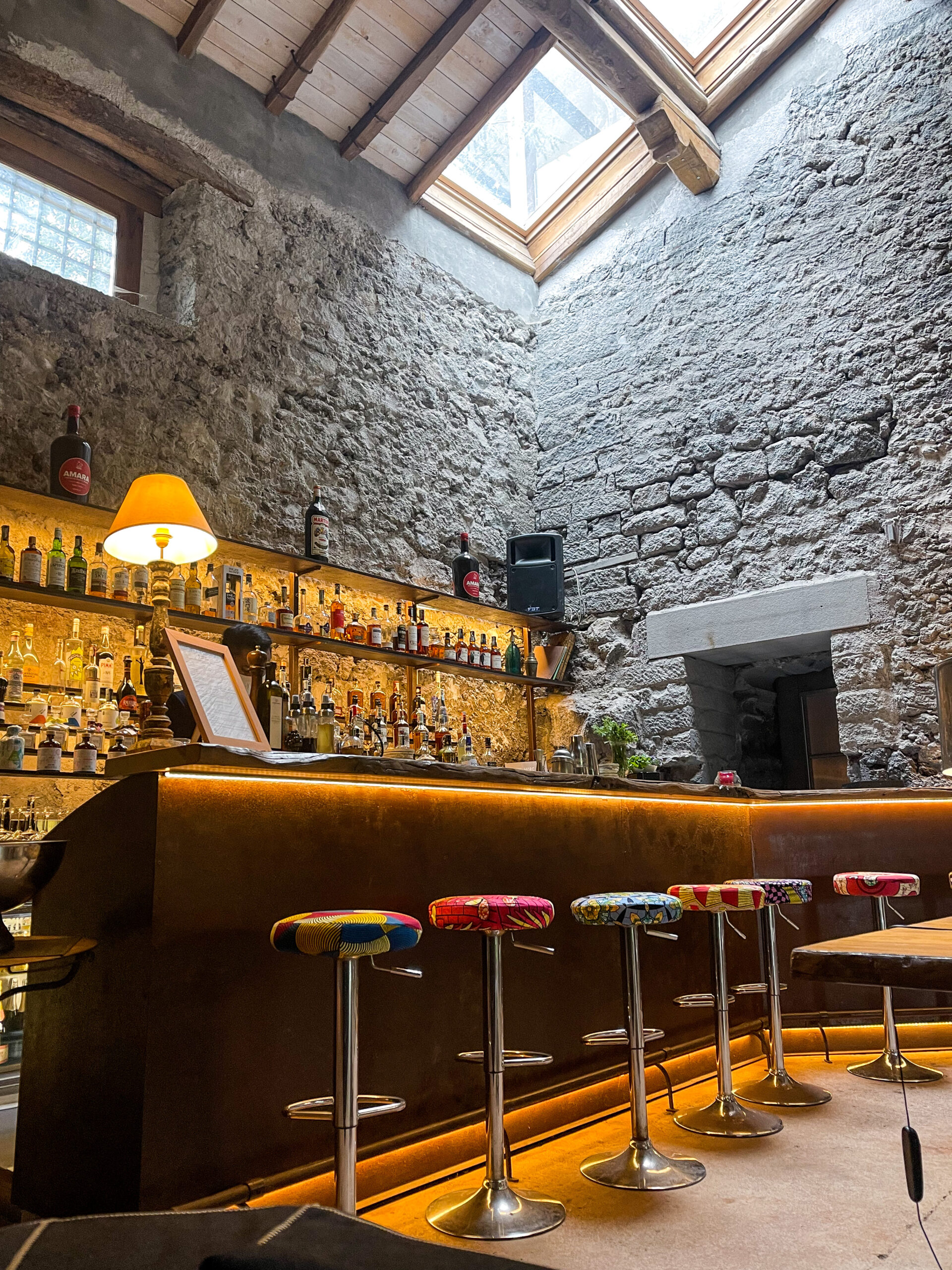 Eat:
All'Angolo – the most special eating experience we had in Italy. Driven by the slow food movement, this ultra-small, four-table restaurant has handwritten menus and the door is open to the kitchen so you can watch the chef cook everything. It felt so personal and is the meal we are still talking about!
4 Archi– This was a really cool experience all the way up Mount Etna! It feels like a lodge inside and has excellent pizza and meat dishes.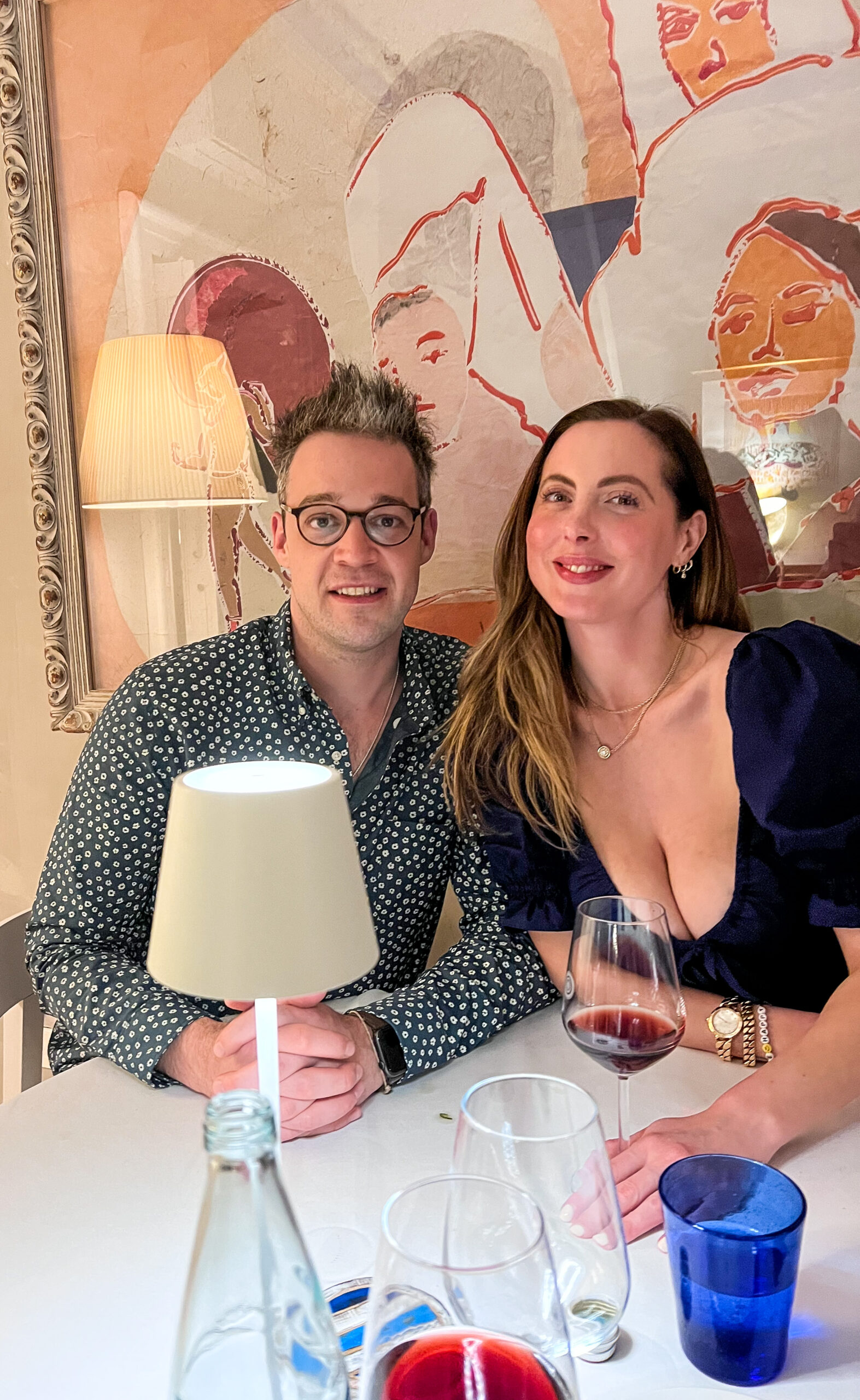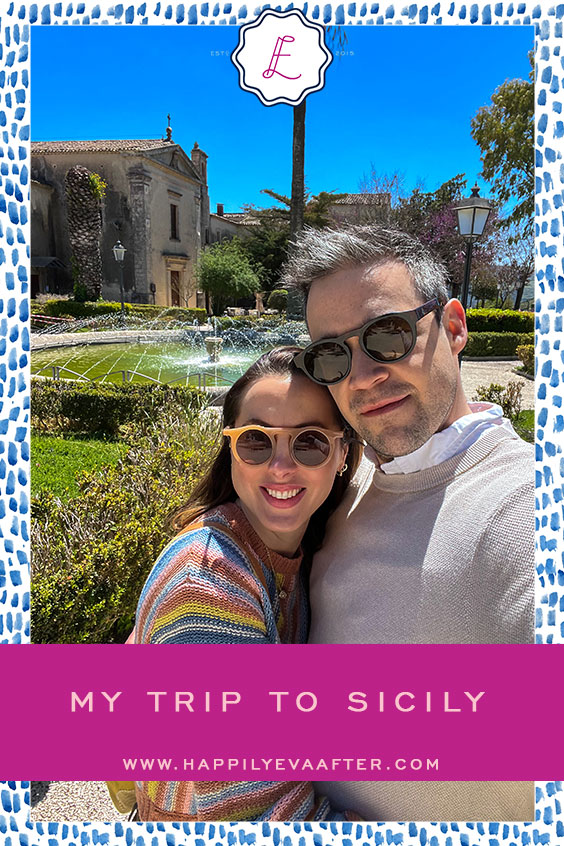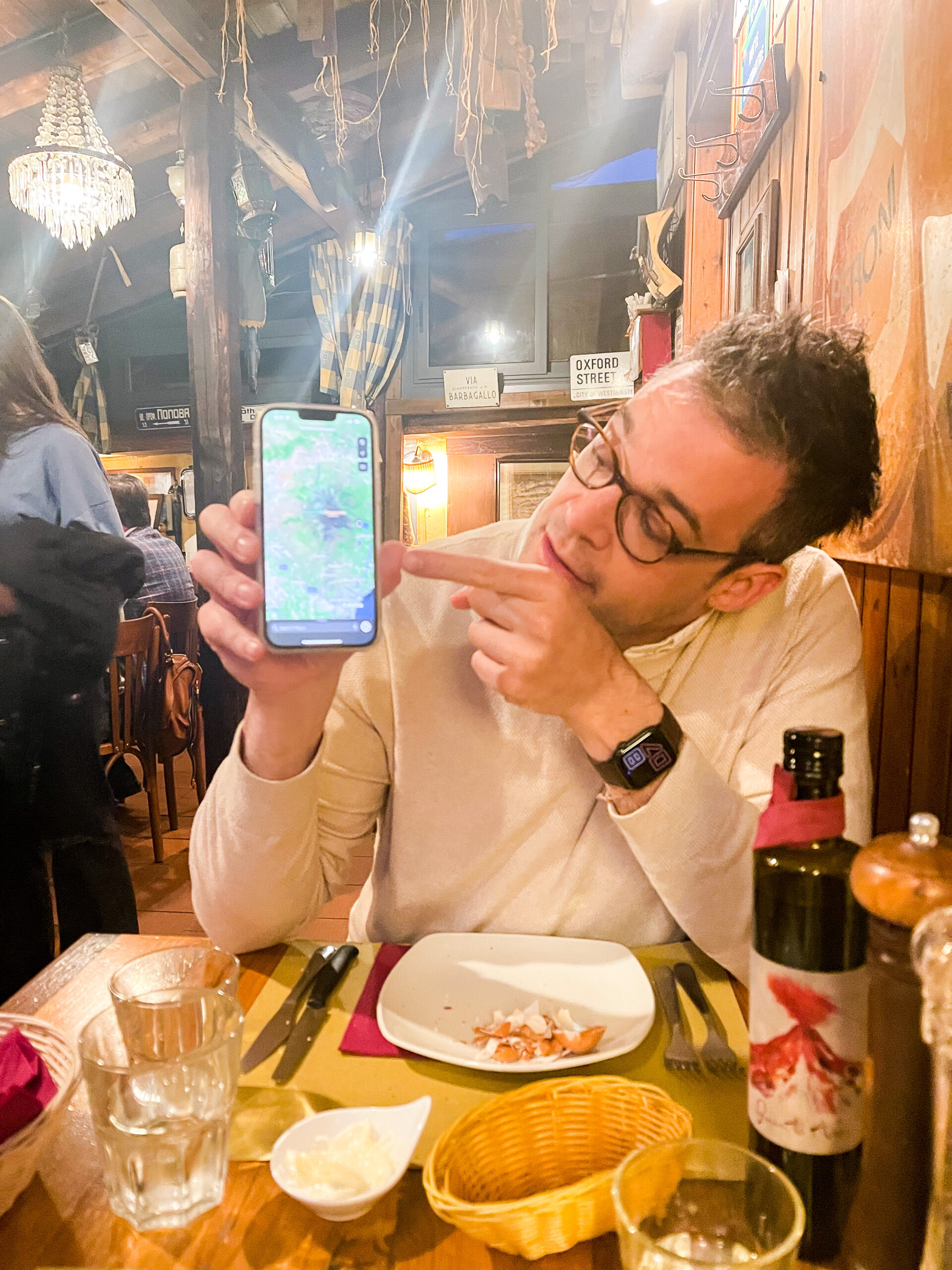 ---
Shop the post…