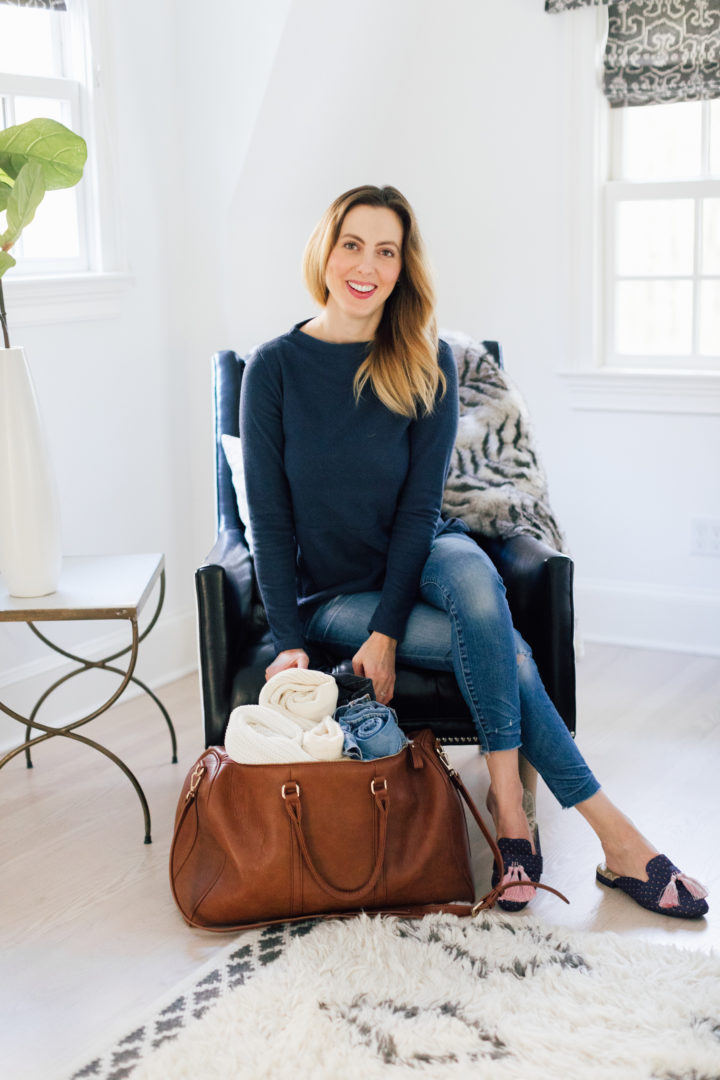 I've been traveling a lot recently and believe me I am GRATEFUL.  I mentioned in a blog post a few months ago how much I've missed traveling as I focused on growing our family– and I've been honoring the recent commitment I made to myself to explore more! When I was growing up we traveled almost nonstop, and on top of that I split my time between Italy and the United States.  I find travel to be very soothing to the soul, and adventure to be such a huge spark to my personality as I've grown and changed over the years.  Traveling recently has reminded me of some of my best travel tips, and so I thought I would share them with you today.  Here are my ten best!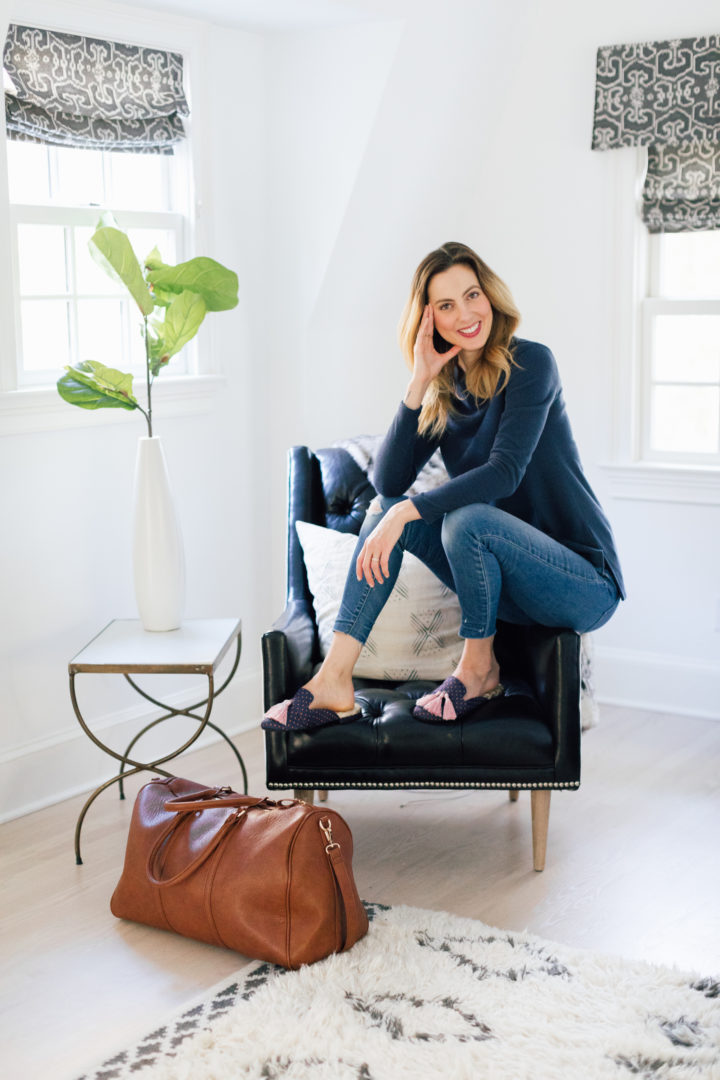 1. Pack A Travel Medicine Kit
I've obviously been doing this since I've had kids (you NEVER know what a kid will come down with, or where) but I used to do it for myself as well! For travel medicine kit without kids I packed: bandaids, neosporin, immodium, echinacea capsules, oil of oregano capsules, lavender essential oil, lemon essential oil, tea tree oil, Tylenol, Alka Seltzer, and a thermometer.  For travel with my kiddos, I add: children's tylenol, children's motrin, saline spray, Pedialyte packets, a Nose Frieda, and benadryl (the topical gel and the oral suspension).  Surprisingly, I can fit this all in to a ziplock bag, since most of these brands make smaller or travel sizes, and for the pills I only travel with a couple doses of each. 
2.

 

Use Packing Cubes
If you love staying organized, packing cubes are a must! Especially when packing for kids.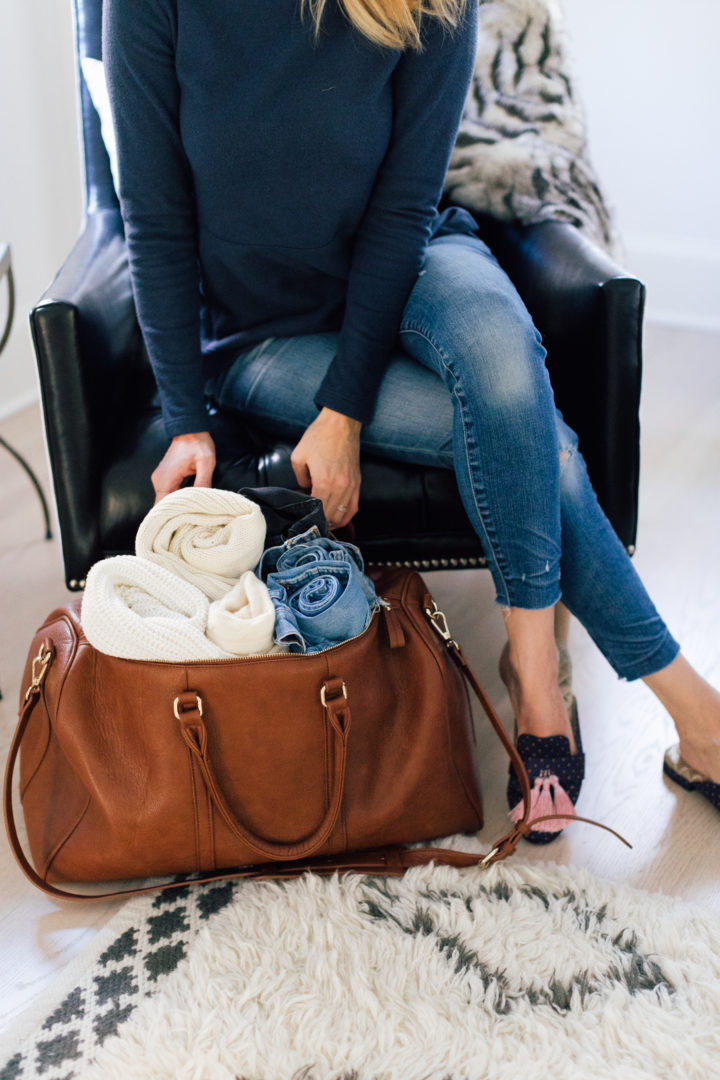 3.

 

Roll, Don't Fold
The truth is, rolling your clothes before placing them in your suitcase lets you pack way more– and I find that my clothes get less wrinkled in transit.  You can even throw a couple dryer sheets in there to keep them fresh!
4.

 

Invest in Travel Sized Duplicates
Stay fabulous even when you're away from home! Don't use crappy shampoos, conditioners, moisturizers, or hair styling products just because you're traveling.  Now most great brands have travel sized duplicates of your faves.  And if they don't, you can just buy 3oz. Refillable bottles and make smaller sizes.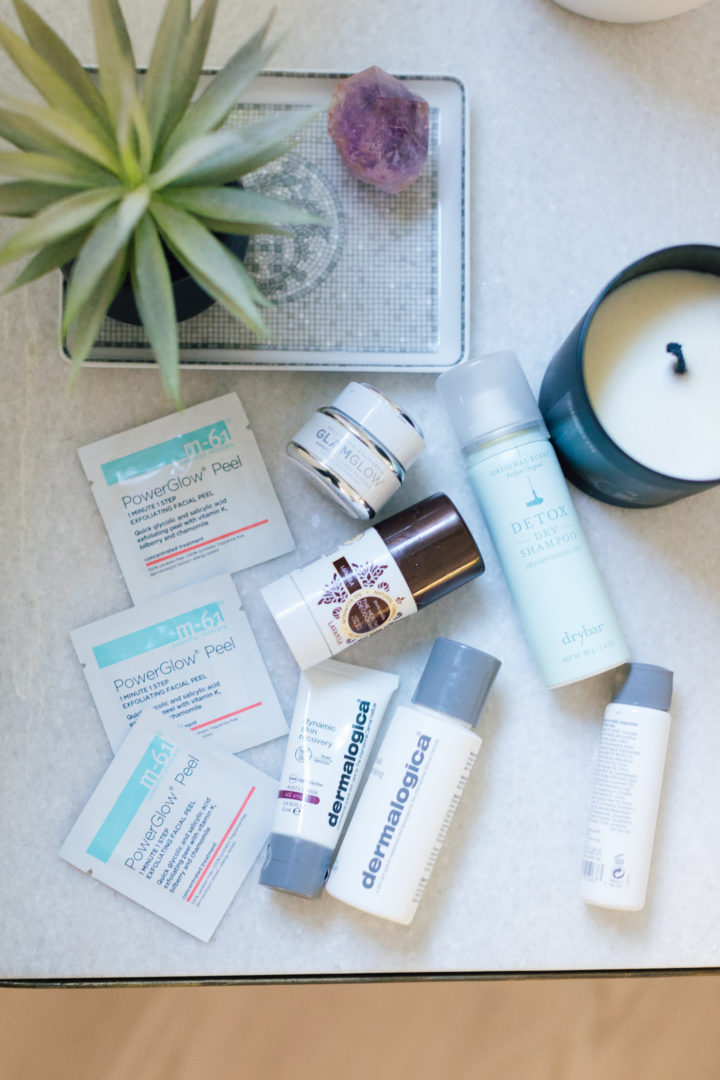 5. Carry A Pouch For In-Flight Items
My personal motto is "you can't have too many pouches".  Well maybe that's not THE motto I live by, but pretty close.  LOL.  Staying organized keeps me sane, and having coordinating pouches to pack smaller items in helps me know where everything is while I'm flying or driving. 
6.

 

Take Three Things Out
Whenever I travel, I tend to overpack.  I have a rule that I put everything aside that I think I want to bring, and then I carefully edit out three items.  You always want to have a smidge of room to pack a vacation purchase on the way home!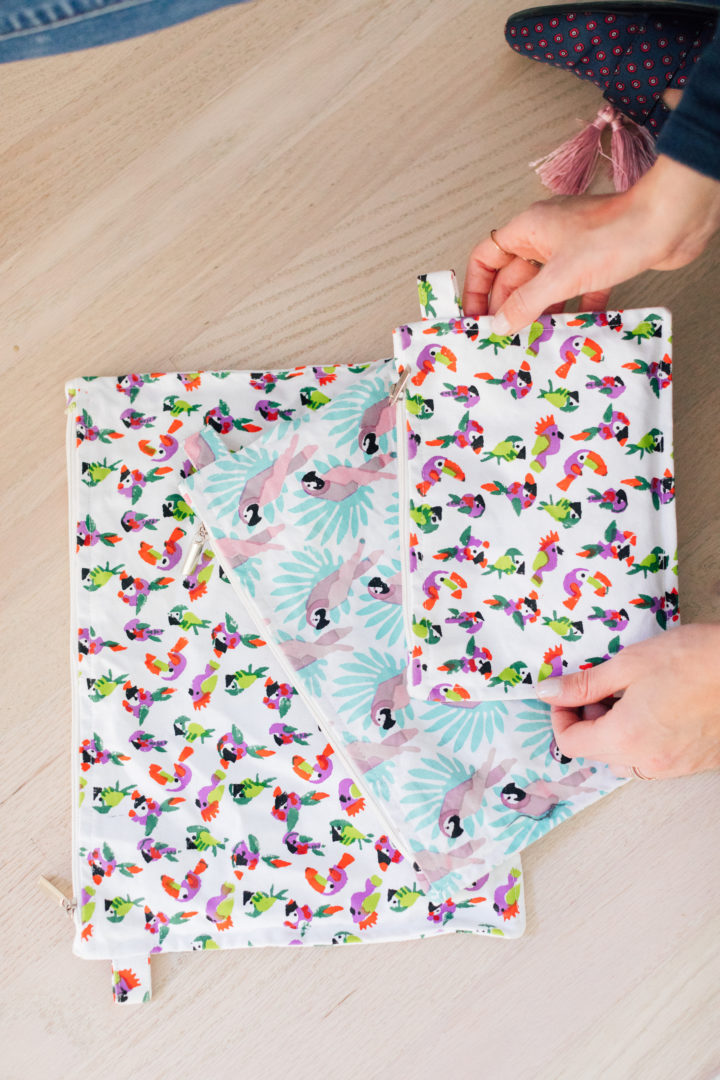 7.

 

Pack Socks Inside Shoes
The inside of shoes can account for so much wasted space in your suitcase.  I pack socks, and sometimes underwear, inside my shoe cavities to use up that extra room!
8.

 

Dollar Store Toys Save The Day
When I'm traveling with my kiddos, I visit the Dollar Store beforehand.  I take a shoe bag (the key is you want an opaque bag you can't see through) and I spend about $10 buying some toys for the kids.  Every hour while in-flight I pull out one item for each child from the bag.  Since it's a brand new thing they haven't seen before, they can usually play with it happily for a while.  I have them switch toys at the thirty minute mark.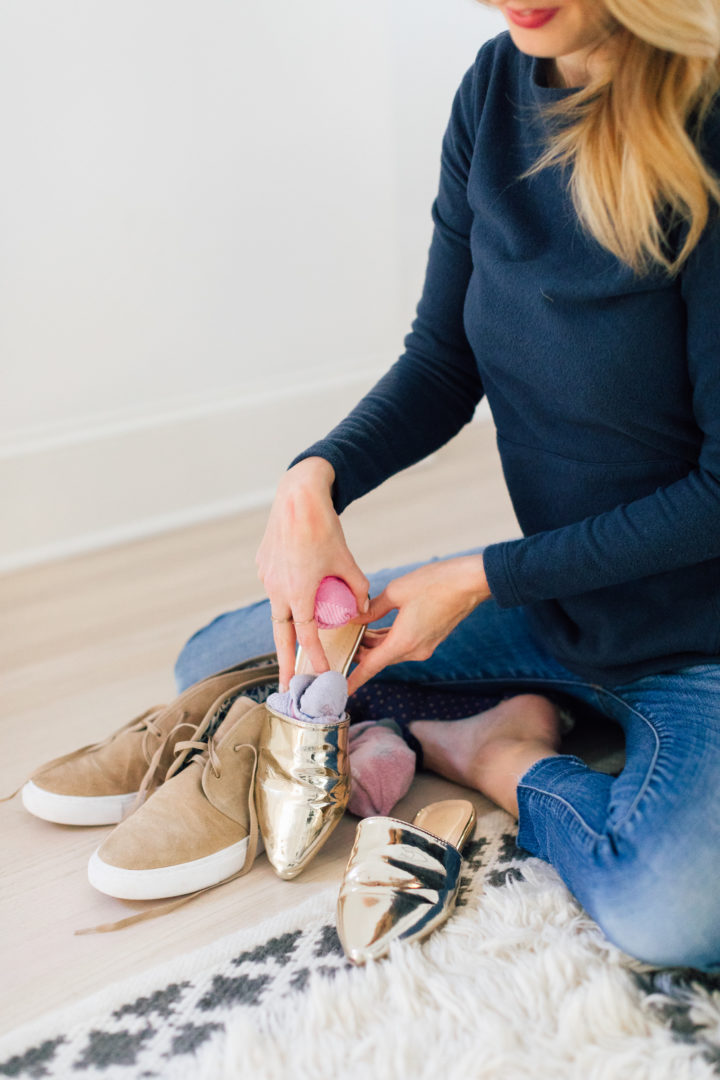 9. Print Your Itinerary, And Place In Each Bag
I always create a paper itinerary before I leave on a trip, including my flight numbers, airports, hotel names and reservation numbers.  I include any reservations we may have while on location, and any other pertinent info or recommendations.  Then I print out two copies, one for my carry on bag, and one for my luggage.  I like to have hard copies in case my phone or email or working– or if my phone runs out of battery!
10.

 

Pack An External Battery For Your Phone
And speaking of phones running out of battery! I like to travel with an external battery pack to recharge my phone if needed.  I also travel with a power cord, but you never know if you'll have access to an outlet while traveling.  These things have saved me on multiple occasions.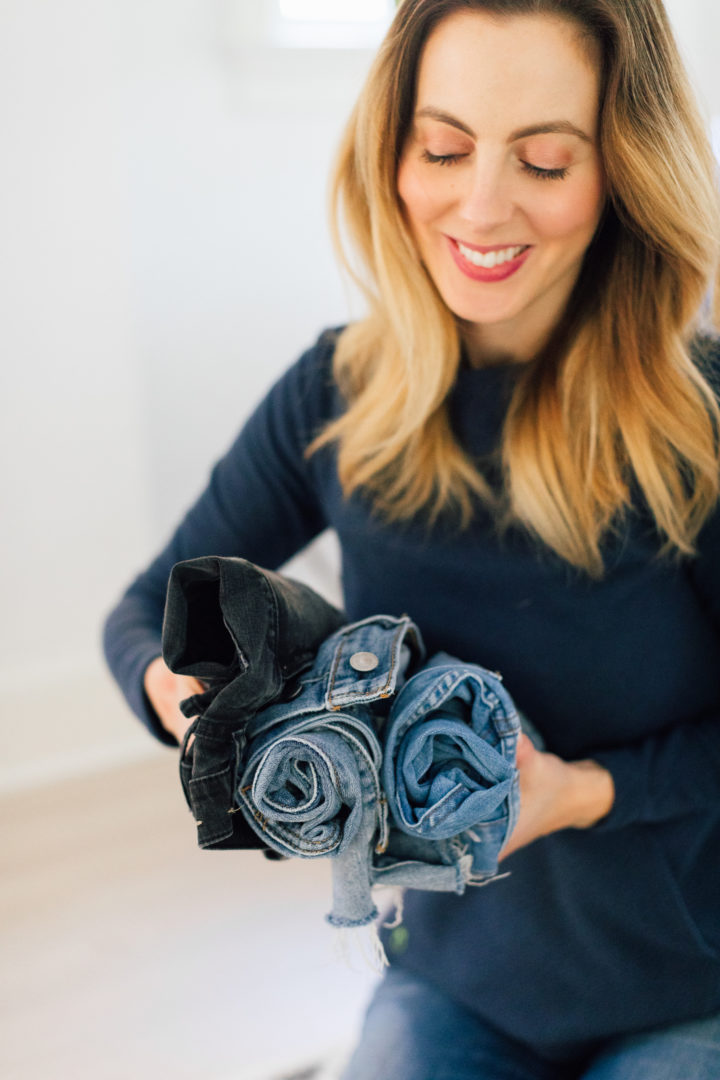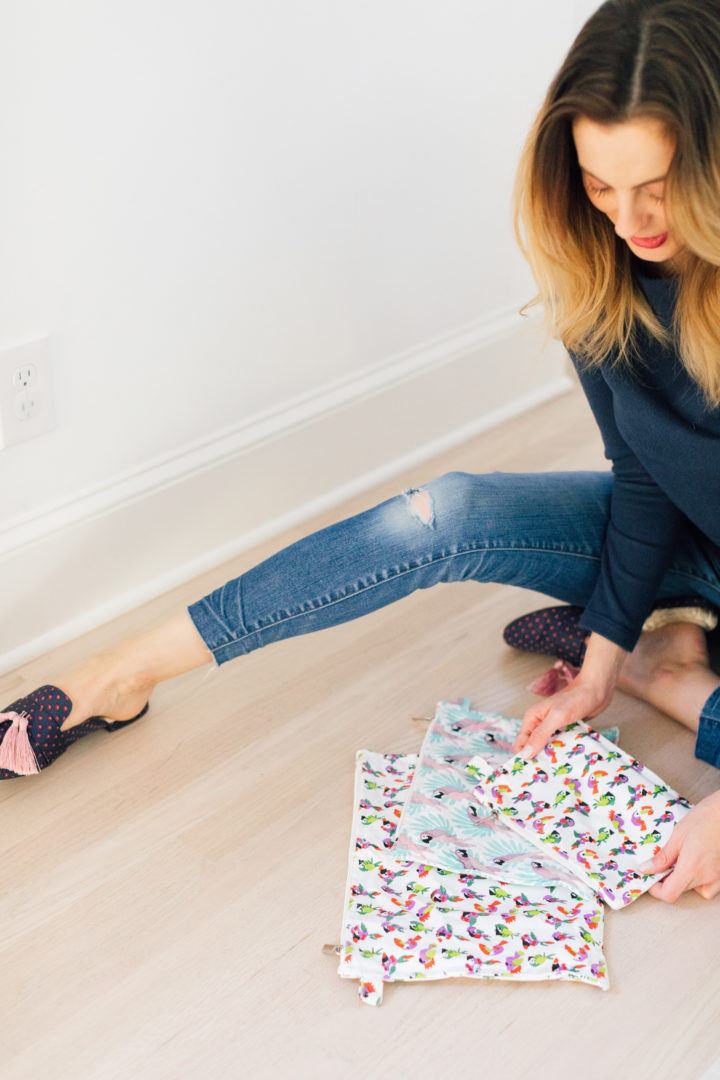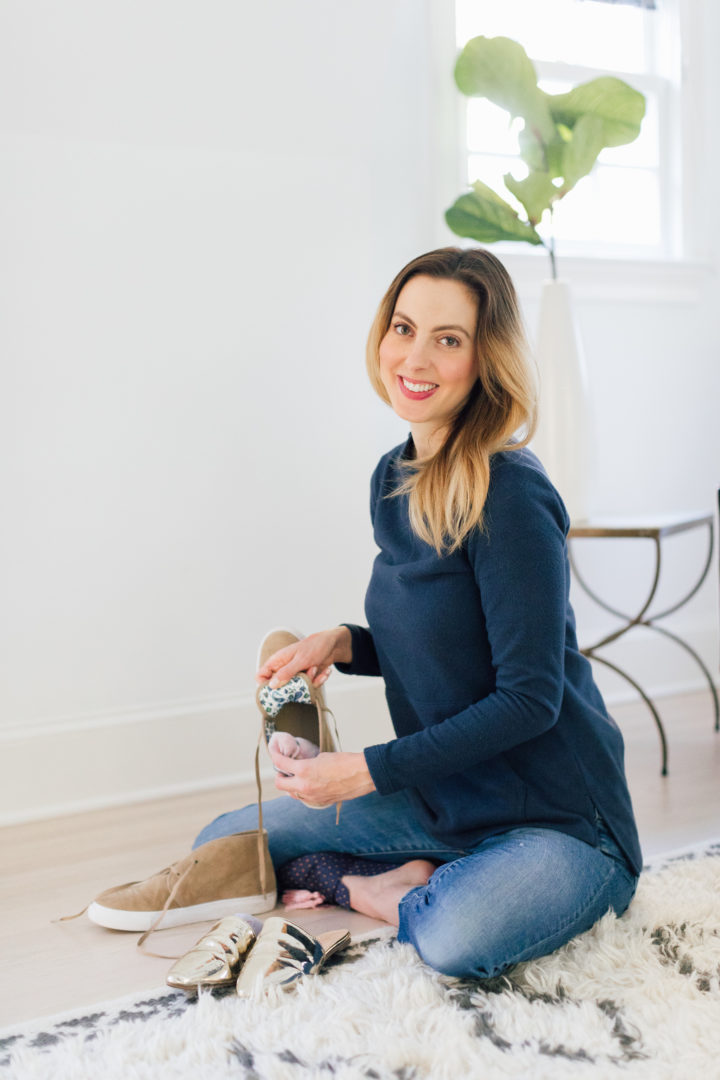 Shop the Post…

Photographs by Julia Dags.