The following content may contain affiliate links. When you click and shop the links, we receive a commission.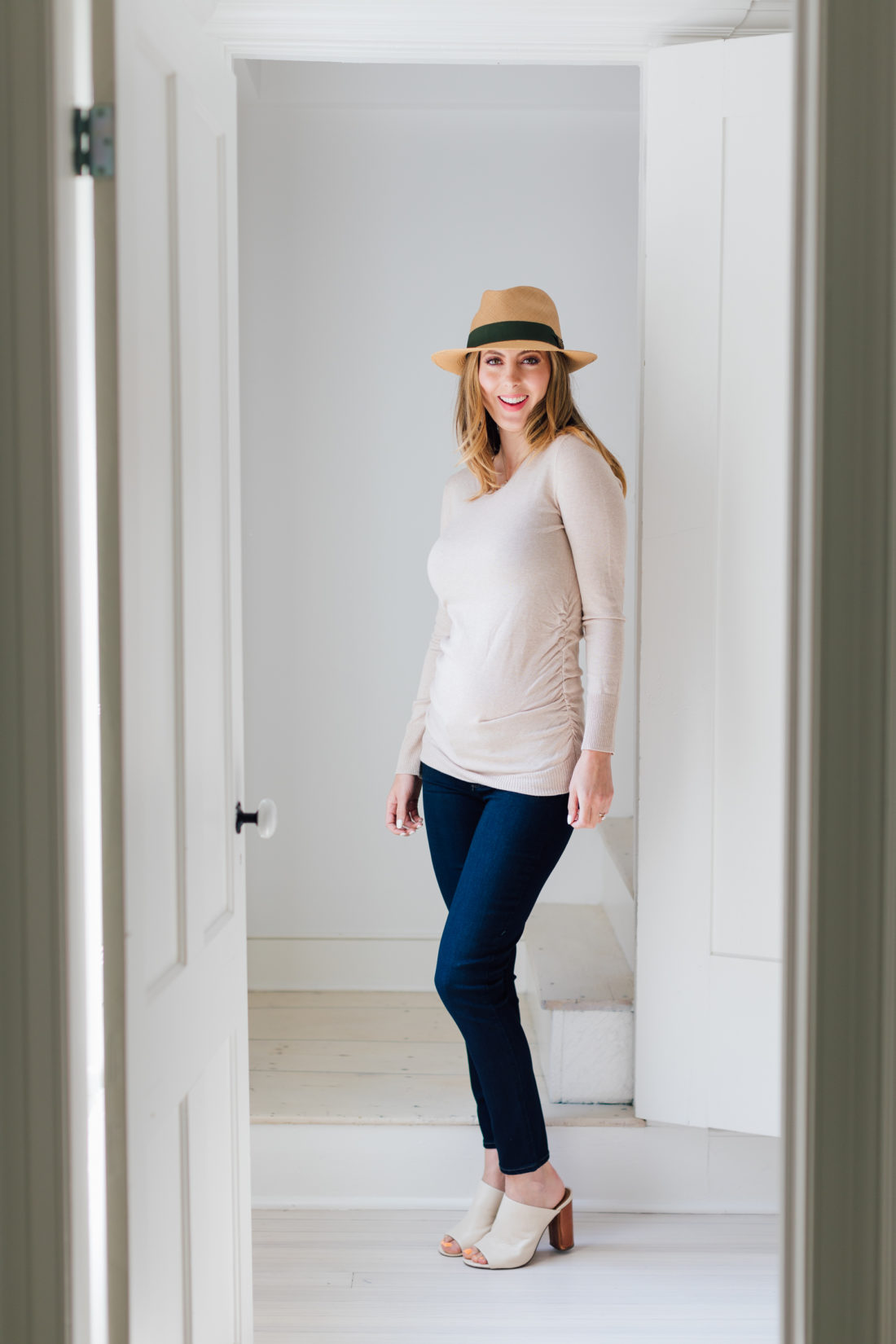 Now that the cat's officially out of the bag, I can regale you all with horror stories from my First Trimester! LOL. But actually. This time around, I really had a rough first few months. Or eleven weeks I should say. Today I thought I would give you guys a little update on everything you missed while I was busy hiding my pregnancy!
Finding Out
Stay tuned for a full blog post about what led us to the decision to go for baby number three– there's a lot there. But we did decide to open the door, and right afterwards we left on our Italian vacation. Basically, Italy should have a warning label when you enter the country: May Cause Pregnancy. LOL. I had never gotten pregnant that quickly or easily EVER so I really didn't expect that I was pregnant when we got home. In fact, I barely thought about it. My associates at work knew we had made the decision to open the door to a third, and so from the first couple of weeks we got back from our trip, they kept tabs on me. Finally one morning, they were asking about when I was due to get my period. To be truthful I really had no idea. I counted back and realized I hadn't gotten it since before Italy, but I still didn't think I was pregnant. I felt a little hormonal and figured I was just PMSing and about to get it. I went back home to make lunch, and Kyle and I had to catch up on a couple of things for work. As we were talking, I was cleaning up my bathroom and looked under the sink for cotton rounds. I immediately saw an old pregnancy test that had made it from under the sink at our last house FROM MY PREGNANCY WITH MAJOR. Two to a set! LOL. Since the girls at work had been badgering me about being pregnant, I figured I'd just pee on it to tell them for sure that it wasn't happening. I took the test, and left it out while I finished my convo with Kyle. I was about to head downstairs to pick up my bag and head out when I remembered the test! I went to the bathroom to throw it away, and took my first look at it:
"PREGNANT". Immediately I covered my mouth with my hand and whispered "Oh my god". And then I screamed for Kyle. We were both in absolute shock, but so excited. Neither of us trusted the test since it was so old! LOL. So then he went out and bought another pack and both of those were positive too. I was officially preggo!
Scary Beginnings
The first day of the news, we were both elated. I told a few close friends and of course the ladies in the office! We were all freaking out, and I kept tearing up just in disbelief at how lucky we were and how quickly this little soul had found us. I was about five weeks. The next evening, as I was putting the kids to bed, I started bleeding. I got up from snuggling with Major, and I felt the blood. I reached my hand down and it was bright red. I had the most sinking feeling in my stomach and I had to hold on to the wall to steady myself. I was convinced it was all over. Kyle was one a phone call, and I waved him off, he could see in my face how terrified I was. All I could muster was a whisper: "I'm miscarrying". After losing a baby before, there is always a part of me during every other pregnancy I've had where I expect the other shoe to drop, and for everything to be lost. It takes every ounce of strength to pull yourself out of that expectation. Kyle had me lay down, and that night I bled a lot. I had some aching but the cramping stayed moderate. I texted the friends we had told about the pregnancy and told them to expect the worst. They all reminded me that sometimes bleeding happens and it can be OK. In fact, I had some bleeding with Major, but it had been lighter, and at a different time in the pregnancy. I had also had bleeding with the baby I lost.
My heart was in the darkest space, and I cried all night, feeling so foolish for getting my hopes up. I managed to get in last minute to see an OB-GYN the next morning. I didn't know what we'd see or find out, but I knew if my uterus was empty, it was over. When the screen turned on, we saw the yolk sac and the pole! They reminded me that it was still early, but that I hadn't miscarried the parts of the pregnancy that were crucial and that technically so far so good. They also ordered bloodwork for the next several days to make sure my HCG levels were rising. If they didn't rise throughout the next week, it meant that the pregnancy was probably not progressing. That week of limbo was absolutely terrifying. I felt so confused, lost, and stuck in a dark place of not knowing. I desperately wanted to be around my kids, but I was also scared of being around them because of how fragile I felt. I knew they could sense it. We finally go the results back, and the HCG levels were rising! Then a week later, we had another ultrasound and saw our baby's heart beating. I have never felt such relief and gratitude. That week, my pregnancy symptoms came on full force, and were relentless until eleven weeks. For all the hell those symptoms raised, they were also such a pure reminder that my body was pregnant and that my hormones were active, and that was a huge gift in itself after the touch-and-go nature of the start of this pregnancy.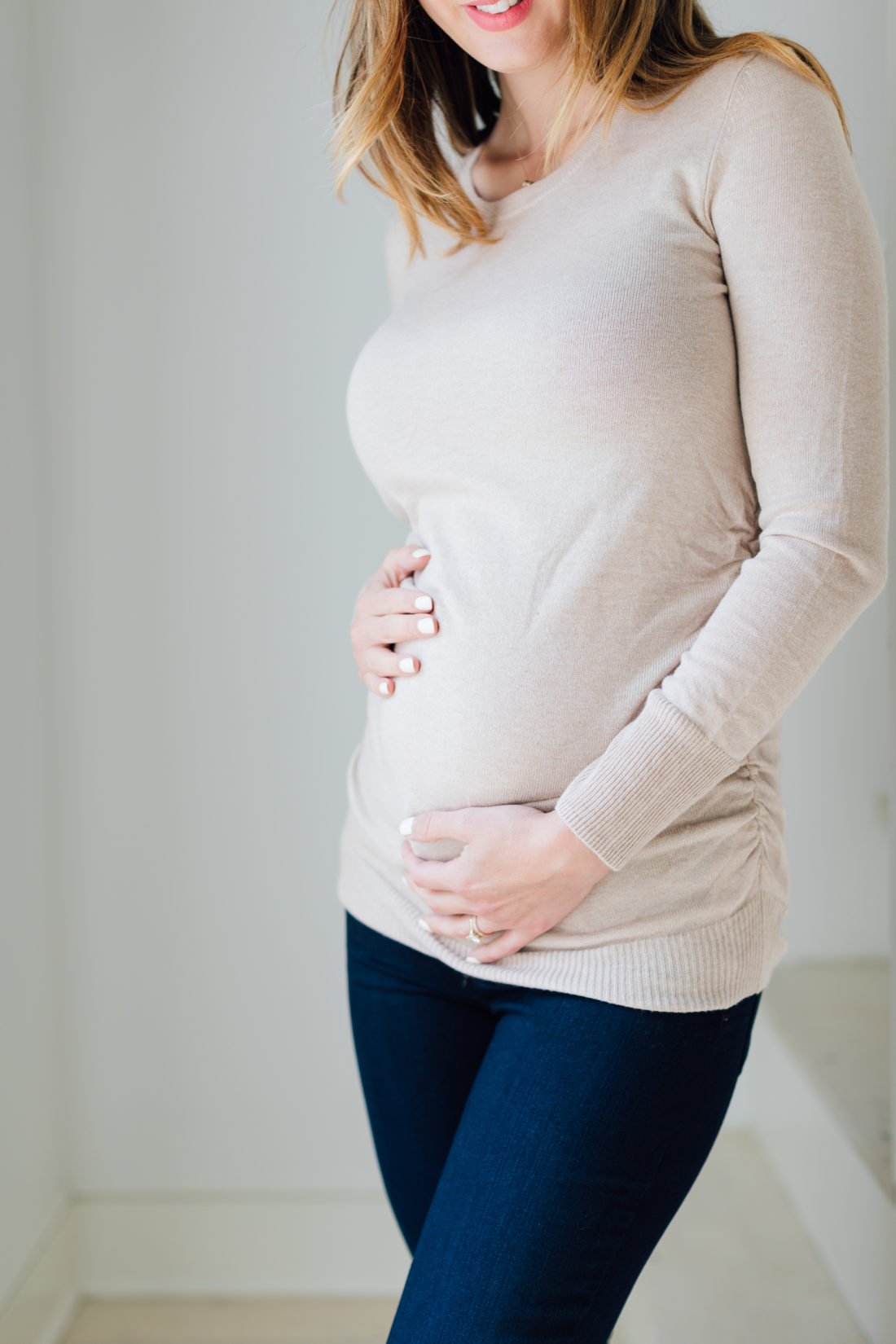 All-Day-Sickness
Oooof. I did not feel good this time around! It is truly a miracle that I was able to keep everything going work wise, and even personally. I was just so depleted, nauseous, and felt like I had the stomach virus for six weeks. We told the kids about the pregnancy a bit earlier than anticipated, so that they could have some context for why we needed their help a lot more! We could tell that they were a little scared wondering why I was so unwell. Kyle was traveling a bunch at the beginning of my pregnancy, including over Marlowe's birthday week when I was the sickest of the entire time. Thank goodness my sweet, big girl is such a help to me and would bathe Major and herself most nights while I lay on the bathroom floor next to their tub. 4pm and onwards was the hardest time of day for me by far. I'm so lucky that they're both semi-independent, I don't know what I would have done otherwise, especially on those nights when I was solo parenting. The only thing that helped me through were Ginger Beer (basically ginger ale, but more concentrated with the ginger aspect), sour candy (like Jolly Ranchers), seltzer, and keeping a sleeve of saltines in my purse literally at all times. There was one time when an eagle eyed girlfriend of mine texted me to tell me that an Instagram Story I had uploaded had the sleeve of saltines visible in my purse. If that wasn't a dead giveaway! LOL. I also kept a little vial of Peppermint essential oil in my purse that I could pull out and sniff if I was about to puke. It would help to stave off the gagging. Thankfully, I am able to create my own schedule, so even on days that were packed, I had some control over where and when my meetings were– and with photo shoots you can "fake" so much. A little make-up goes a long way! I finally came out of the haze at 11 weeks, and while I still feel a little crummy if I go more than a few hours without eating, I'm more or less back to my old self.
Figuring Out Logistics
This trimester has been all about figuring out the logistics of this pregnancy and getting my ducks in a row! I'm in the process of locking in midwives (Yes, I'm home birthing again!) and finding a doula as well as a specific birth photographer.  I'm deciding how much maternity leave I want to take also.  I've never ever taken real maternity leave before (I went back to work ten days after birthing both of my other kids), and obviously taking time off from a company you run and are the face of can be really complicated and risky.  I promised myself this time around that I would really work in some strict maternity leave to enjoy this final baby of ours, so now I'm trying to piece together what that will look like and how much time I can realistically take.  This baby will be here before we know it, and it feels like there is so much to figure out! I've spent the past few months just trying to take it day by day, and now that we are open about the pregnancy and I'm feeling better, all these convos have started up again.  I'd love to hear from any of you that have had to navigate maternity leave from your own startups of ventures you own.  It's so hard to know what to do!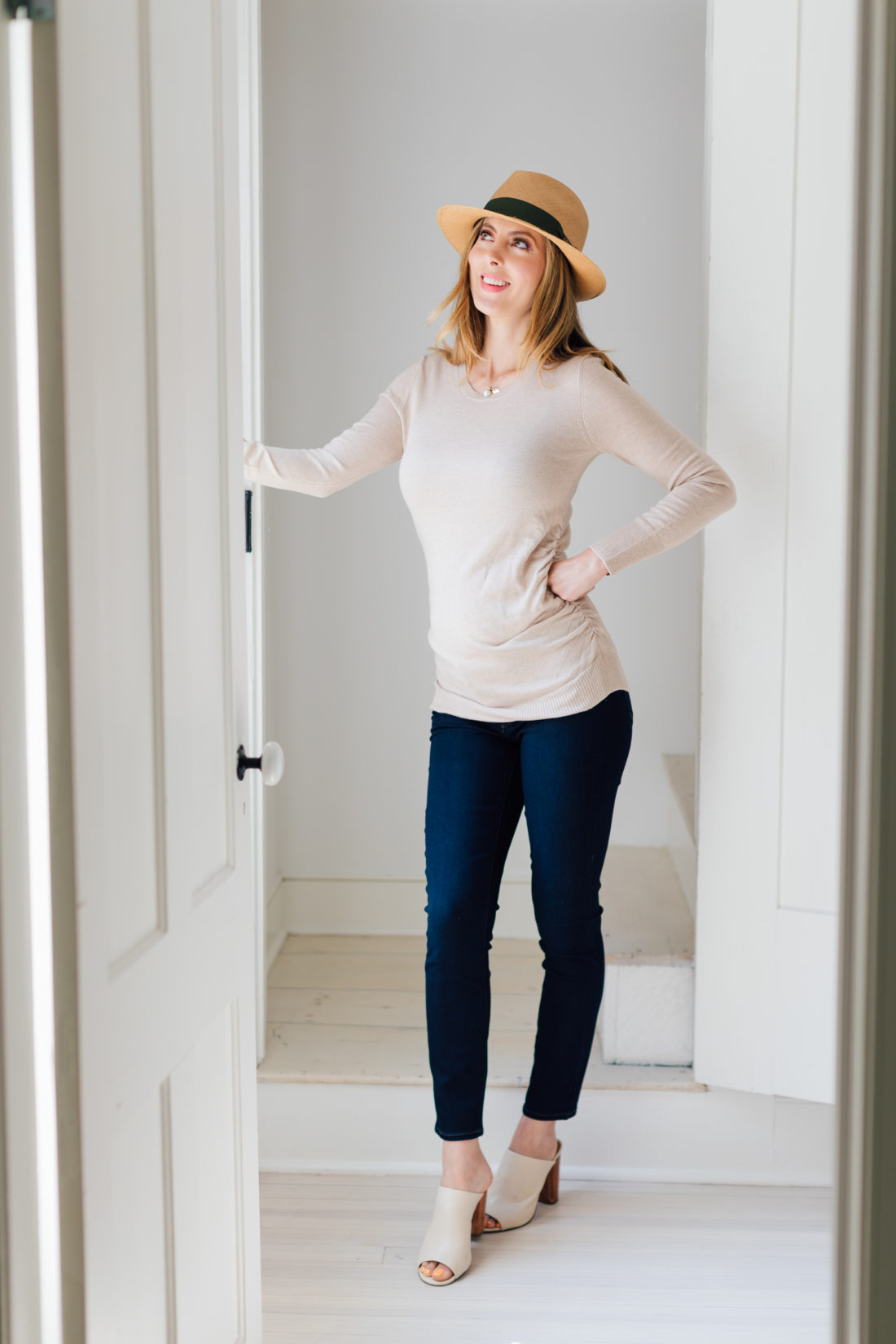 All in all, I'm just thrilled to be emerging from the First Trimester and heading in to the second, my favorite trimester ever! This pregnancy has reminded me that every great experience in life has so many positives, negatives, and ups and downs. And that in the end it is ALL worth it. I can't believe in six months from now I'll have a brand new little love of my life! It's so surreal to think about.
Shop the look…

Photographs by Julia Dags