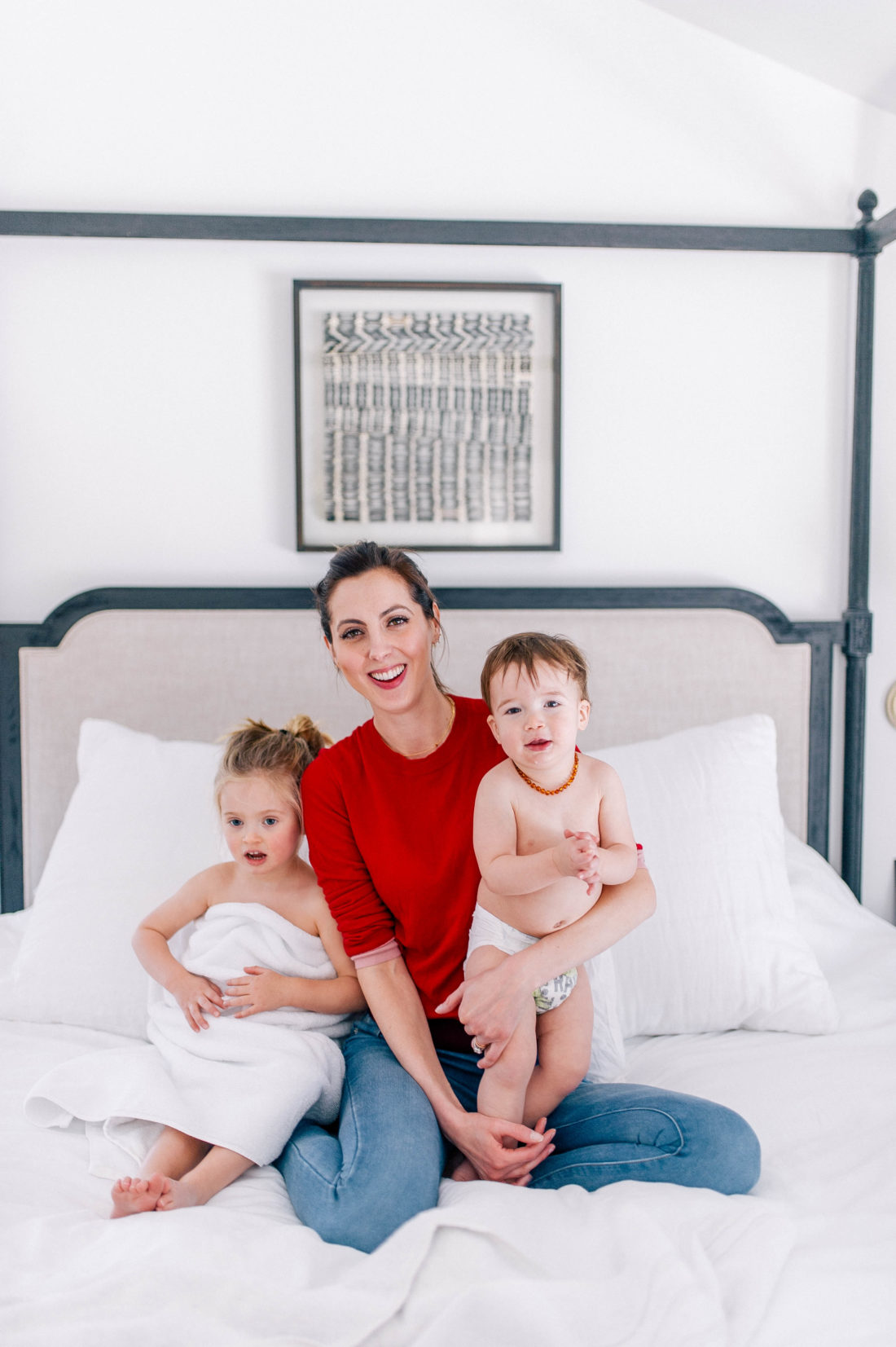 I'm about to serve you up some #MomLife tea nice and hot, so get ready people! LOL.  When my second child was born (spoiler alert: it's the enormous boy in these pics) the number one thing that freaked me out the most about adjusting to life with two kids was…drumroll please…BEDTIME.  I can't tell you how much anxiety I had over it.  My husband is gone often for work, and the idea of putting both kids to bed on my own when he was out of town had me in knots.  How would I even start?! How would I bathe both of them, manage both of them while getting them in to individual bedrooms?! I texted every single Mom of more than one kid that I knew: "How do you do BEDTIME with multiple kids? What are your tips?!" I was panicked.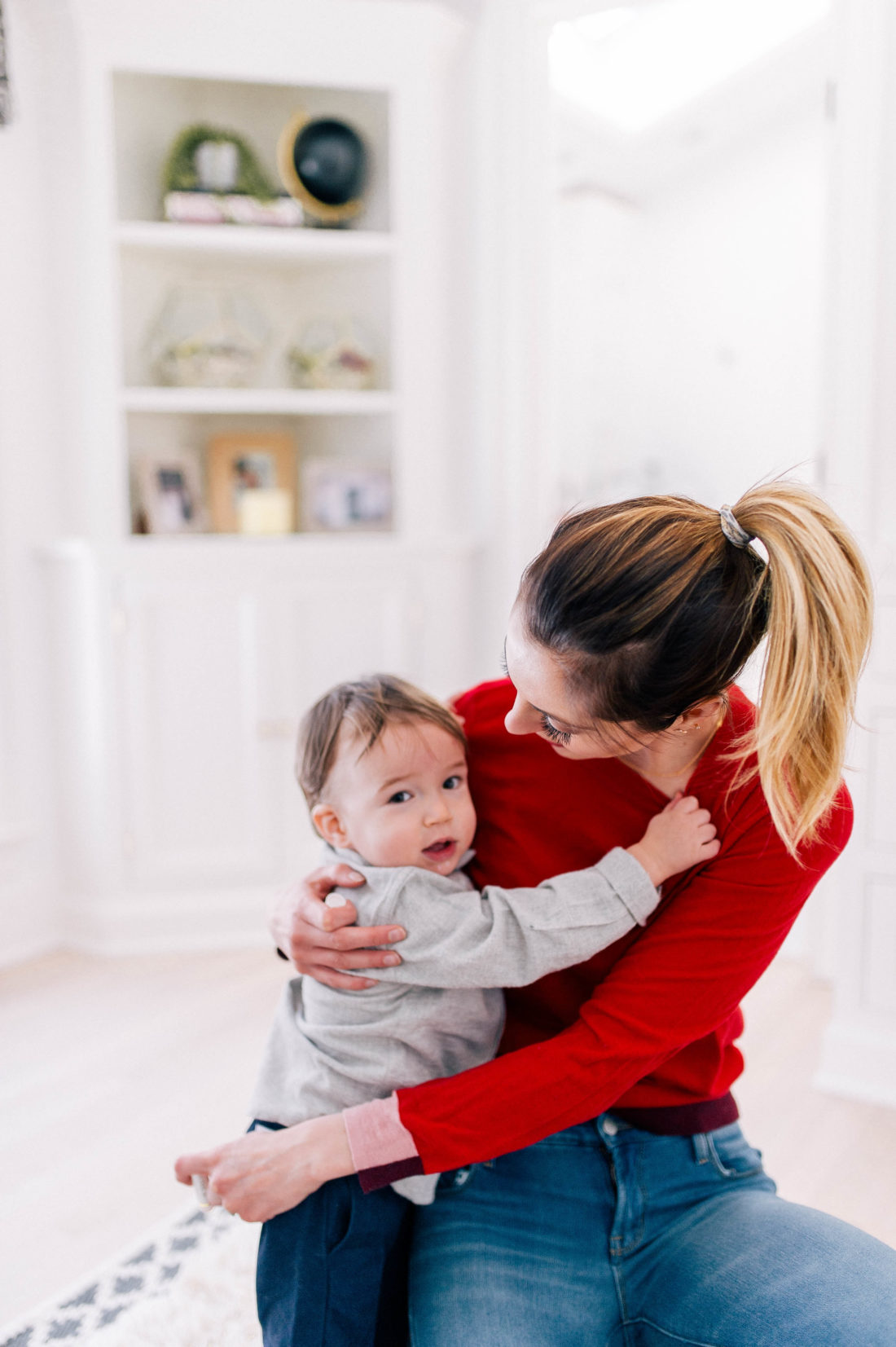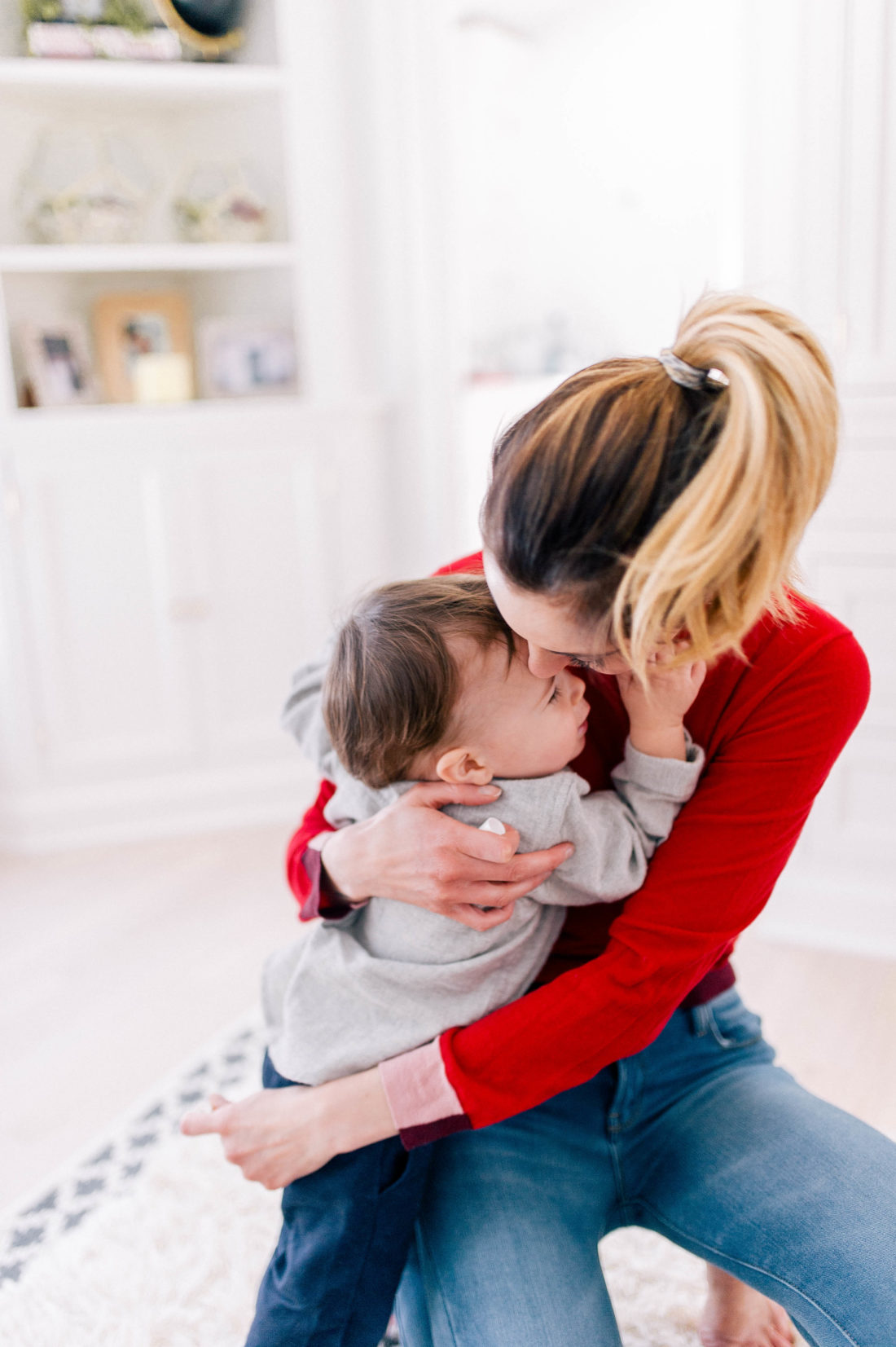 Looking back, I see this predicament as the bucket that all of my anxieties went in to during a pretty stressful time.  This "bedtime worry" became the vessel for everything I was worried about: if I can just figure out how to do bedtime on my own, perfectly, then my life is manageable.  Right? (Well, wrong, obviously. But just to put you in my frame of mind. Ha!).  The first few times I did double bedtime on my own, it was the chaotic disaster of my nightmares.  Self-Fulfilling-Prophecy City, if you will.  But then I started to figure out little tricks, and as my kids grew up and I got more nimble with both of them, things got better. And then when Major got to the toddler phase, things became a bit trickier again.  Because what is harder than a second squirmy child to wrangle in to pajamas and beg to sleep? A RUNNING second squirmy child to wrangle in to pajamas and beg to sleep.  Naturally.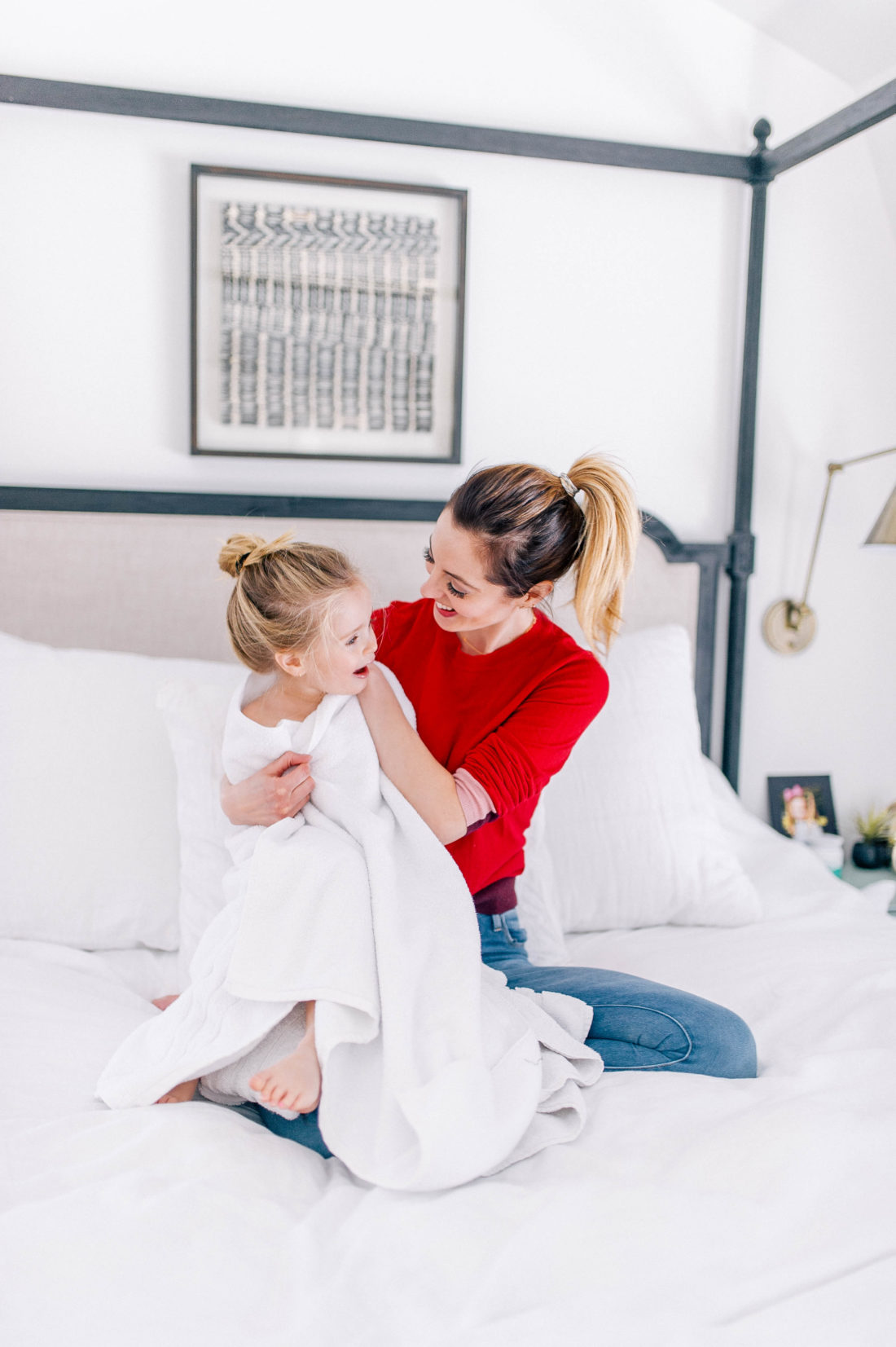 Then flash forward all the way to now, and we just ended a phase of life where Kyle was essentially gone from November 1st through February 10th.  I have been alone with both my kids more consistently in the past few months than ever before, and needless to say, I was finally able to lock in a great Solo Bedtime Routine.  I've had sooooo many requests to share my routine with both kids at night (I chuckle when I get these requests since it reminds me so much of myself during that new "two kid" orientation period) that I decided to finally post it! I'm sorry in advance that this is my Solo Bedtime Routine as it is with my kids NOW.  I know that doesn't help Moms with a newborn too much.  For you newborn Mamas, I will briefly share my best trick I had when Major was in the newborn bath (and I couldn't bathe the kids together): I started HIS bedtime FIRST.  I bathed him (Marlowe helped me), Dressed him (Marlowe helped me), and then fed him his bottle and rocked him while Marlowe watched a movie on the ipad in her bed.  I kept all the lights off, and both bedroom doors open so that I could hear her (she wasn't as independent then as she is now).  Then I would do her whole routine for bed after he was down for the night.  I hope that helps!  Ok, here we go with the current one…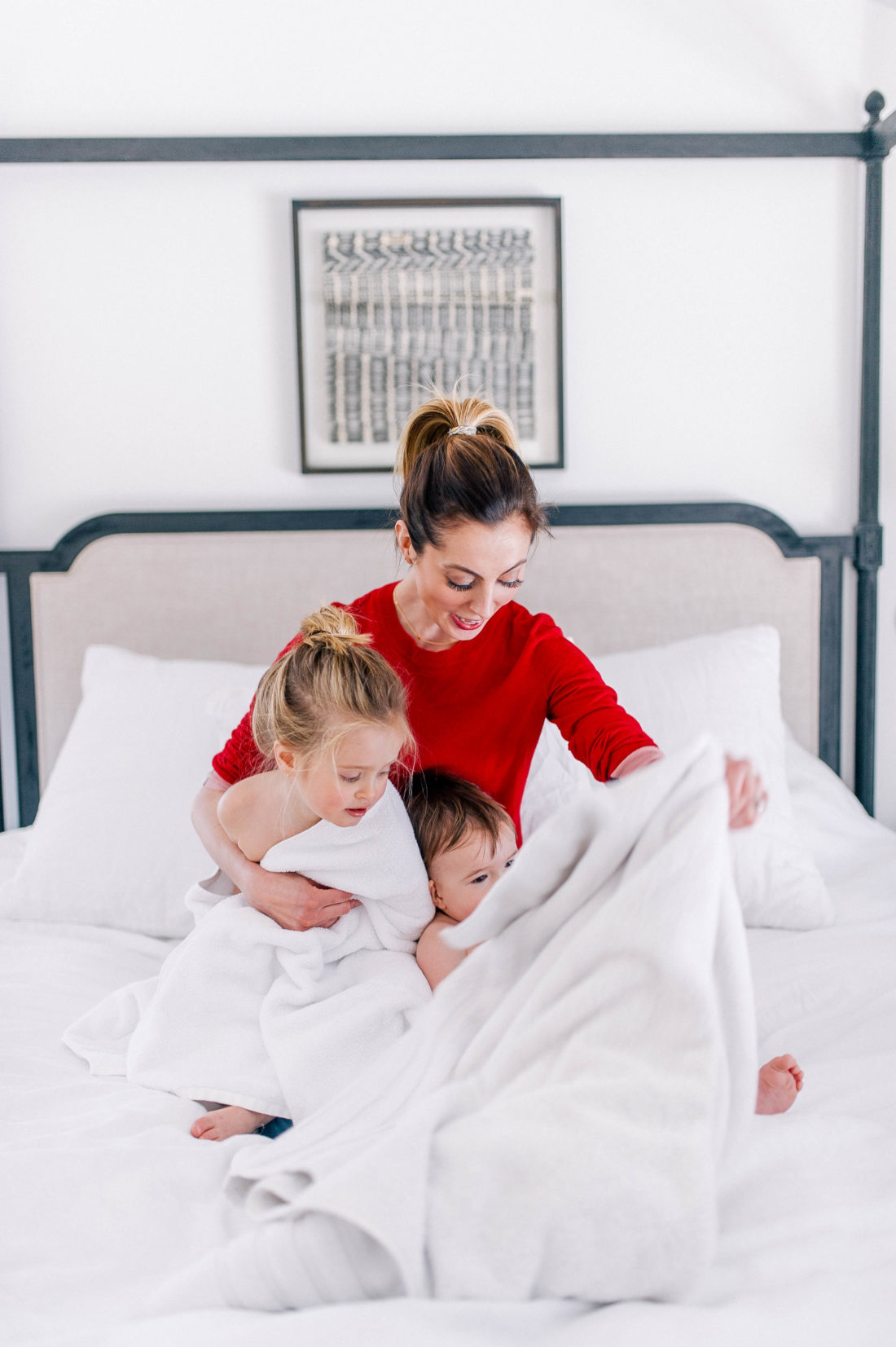 My Solo Bedtime Routine…
I just wanted to note that I started this routine when my kids were Three years old and 13 months old, respectively.  I begin this routine after Dinner Time, which ends at about 5:30 pm.
5:30pm: After Dinner Play
This time of the night is all about getting their wiggles out! Usually we actually spend a few minutes putting toys AWAY from the day, and I put on music to have a little dance party.  We always listen to stations on Spotify.  They love the Disney Hits station, and we listen to The Beatles and the Annie Movie Soundtrack more than anything else.  Sometimes I put on the Beyoncé station, which Major actually likes more than Marlowe does.  Go figure.
6pm: Bath Time
I start bath time much earlier when I'm doing it alone (when Kyle is home we start it between 6:15 and 6:30 because it doesn't take as long).  I make sure to grab everything I need from downstairs before we head up so I don't have to drag the kids up and down the stairs for things I forgot (obviously can't leave them alone up there!). I always bring Major's monitor (so I can keep an ear out for him while I'm putting Marlowe to bed) and two smoothie pouches.  Since Major weaned himself off of bottles and won't drink Milk at all, I like him to have a smoothie pouch before bed to keep him full at night and as a nice calcium-rich routine.  Of course after we did that a couple of times, Big Sister has made it a necessary part of her bedtime as well.  Go figure.
I head upstairs, and the first thing I do is close every single door off of the hallway that isn't Marlowe's room or the bathroom.  I don't want the kids getting in to anything while my back is turned for a second.  They go together to Lowie's room to play while I run the bath.  When the water is ready, I get them both in there! Marlowe is pretty good at undressing herself these days which makes life easier.  Then, I always start with Marlowe's bath routine first because she has about 90 million strands of hair and it takes forever.  We wash her first and shampoo, condition, etc– getting her totally "done" while Major is happily playing with the toys.  Then I switch their positions and Major gets clean.  This is my most challenging time, since he doesn't like his hair washed, or water poured over his face.  I usually turn the faucet on to distract him.  As soon as he's clean, I open the drain to let the water start draining out. They always ask for two more minutes in the bath, but have learned that the water is their timer. I let them play until it's all out of tub, then bundle them in their towels.
6:20pm: Pajamas
I make Marlowe come in and sit in Major's room, wrapped in her towel, while I get him in his pajamas.  I used to let her do her own thing while she waited for me, but she dripped on the floor and slipped a couple of times, or wandered in to my room and closet, or went back in the bathtub, and finally I was like "Ok. You're coming in here also, and we are shutting the door behind us.  The end!" I lotion Major up, put his night time diaper on, give him a little vial of his teething potion, and get him in his pajamas.  When he's all done, I put him standing on the floor and hand him his smoothie pouch.  Then the Martino train heads in to Marlowe's room together.
Major drinks his smoothie on the way, and always likes to be the one to close the door to his sister's room once's we're all inside.  While I get Marlowe ready, he finishes his pouch and plays with her books and dress up stuff.  I get Lowie all lotioned up, help her with her Pajamas, and spray a detangler in her hair.  Then I hand her HER smoothie pouch while I brush out her hair to distract her.  This is always a super charming part of my day…KNOT.  hehe.  She screams every time no matter what, just because.  The joys of Threenagers! Then, I braid her hair loosely.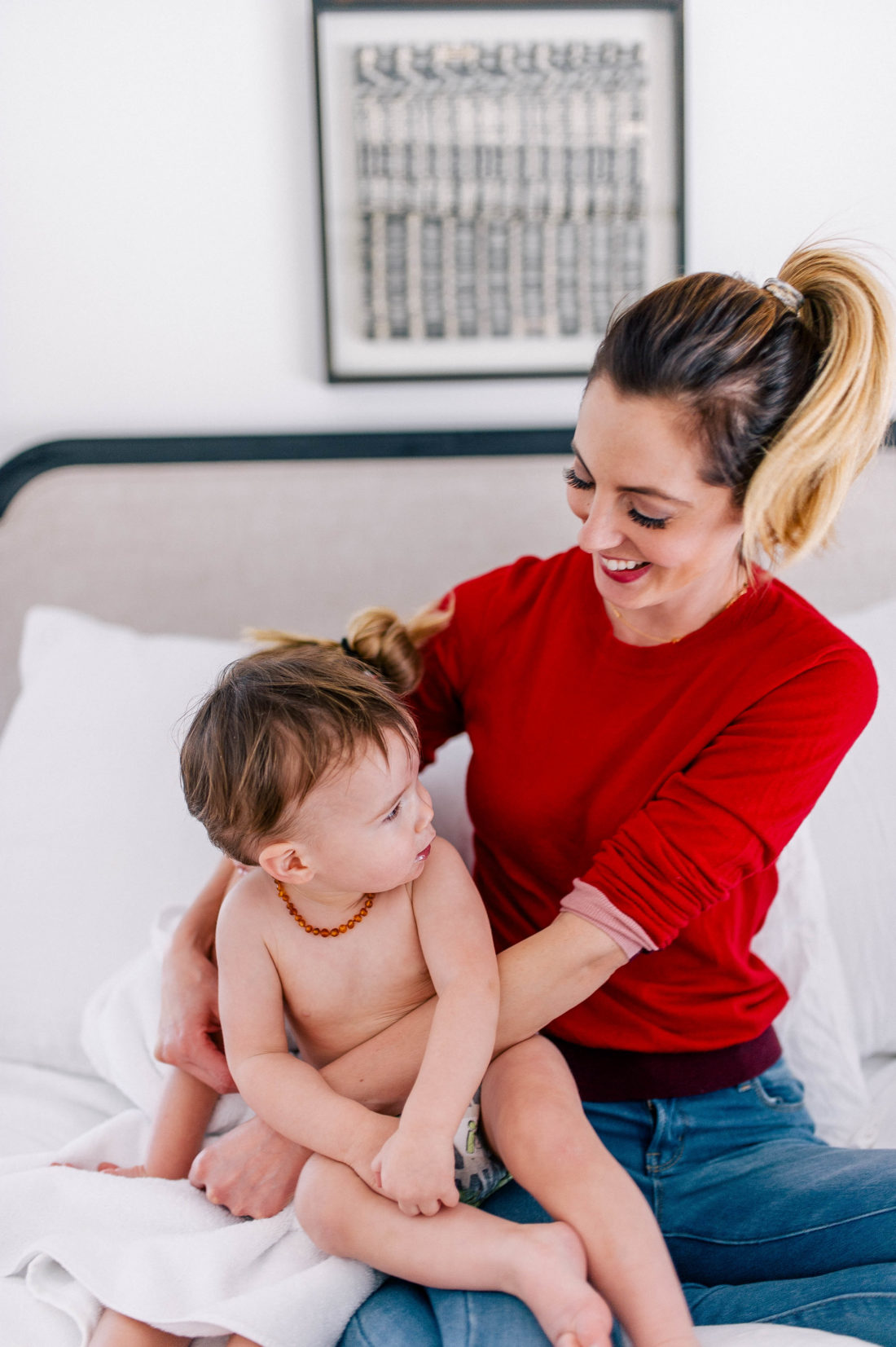 6:35pm: 5 Minutes of Sibling Time
I've found in my solo bed time routine that my kids are both way less fussy about getting in their beds if I allot them five minutes of play time together before bed.  Normally they elect for me to be OUT of the room during this time, and find shutting me out to be absolutely hilarious.  If you follow me on Instagram Stories I'm sure you've seen this in action multiple times.  I use the five minutes to change out the water in both of their humidifiers in their rooms, and to get Major's room ready for bed (lights out, humidifier on, sound machine on, sleep sack on the changing table).  FYI I only use a humidifier in their rooms in the Winter to combat dry air, or when they're sick– not year round!
6:40pm: Major's Bedtime
Major is ALWAYS fussy about being the first one to bed.  After the kids say goodnight to each other, I bring him in to his room and zip him in to his sleep sack.  During Major's bed time, Marlowe stays in her room, with the door shut, reading or playing quietly.  On days when she's acting up and resisting, I give her the iPad to distract her in there while I get her brother to bed.  Normally she's good just playing with her books and toys.  I shut the lights off in the hallway, and keep Major's door open so I can hear her just in case.  Then I grab his lovey from the crib, and sit in the glider for some cuddle time.  We sing a couple songs, snuggle a bit, and chat– and then he usually points to his crib and says "bed." That's my cue! I give him one last hug and kiss, and lay him down in there.  I close the door behind me, and turn on his monitor, bringing it back with me in to Lowie's room.
6:50pm: Marlowe's Bedtime
The first thing I do is bring Marlowe in to the bathroom to brush her teeth.  Then we go back to her room and she gets to pick two books for me to read her before bed.  We read them in the little reading nook, and then it's time to use the potty and snuggle! She climbs in to bed, I switch on her night light, humidifier, and sound machine– and shut off the lights.  Then I lay down with her for a few minutes and we do "Peak and Pit" of the day– when we share our best part and our worst part of the day.  Then I give her one last hug and kiss, and leave the room.  She has wanted me to leave the door a little cracked as she's falling asleep recently, which I always do.  Then, when I check on her before I go to bed I shut it all the way! I'm normally out of her room by 7:05 or 7:10.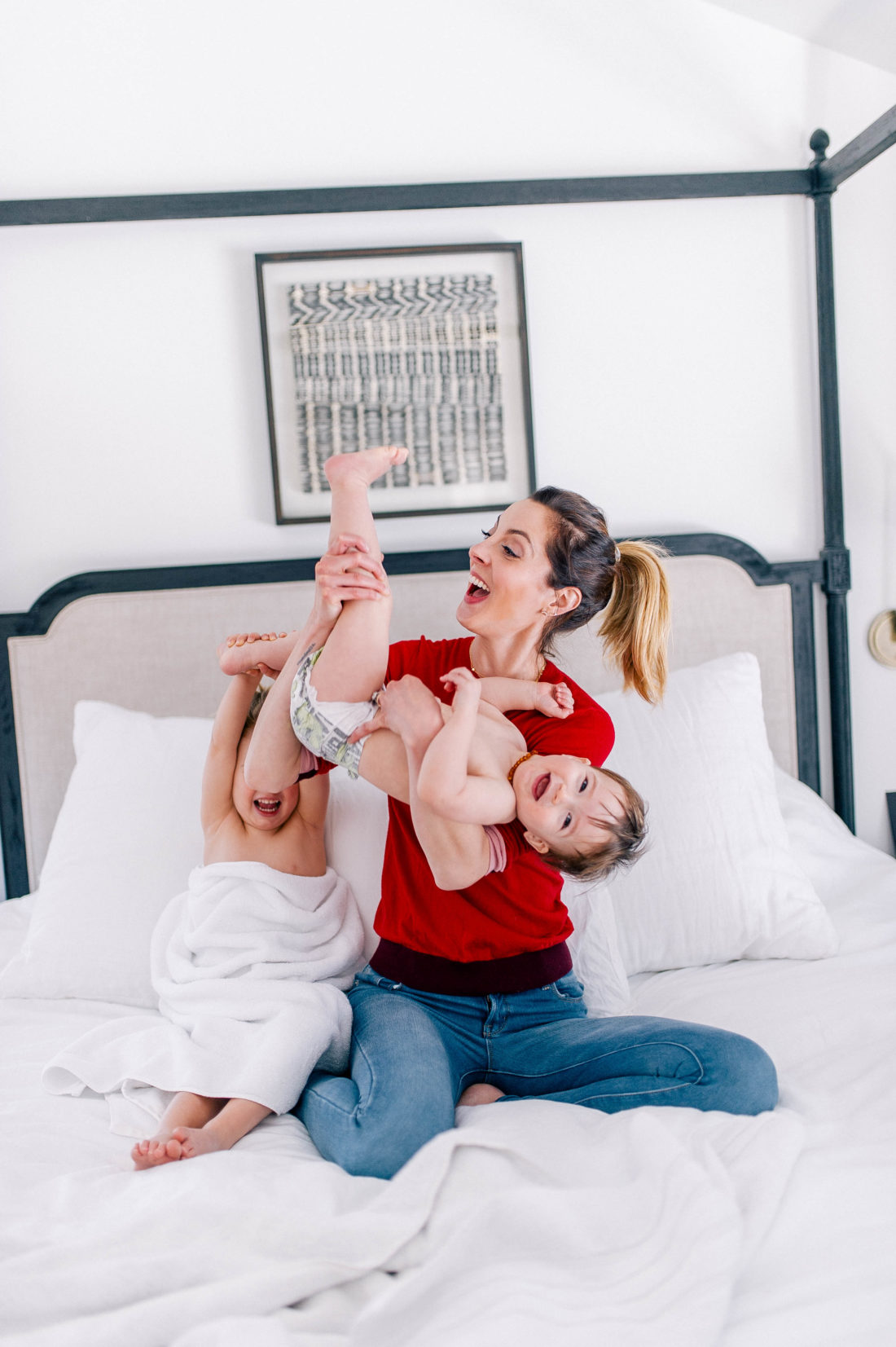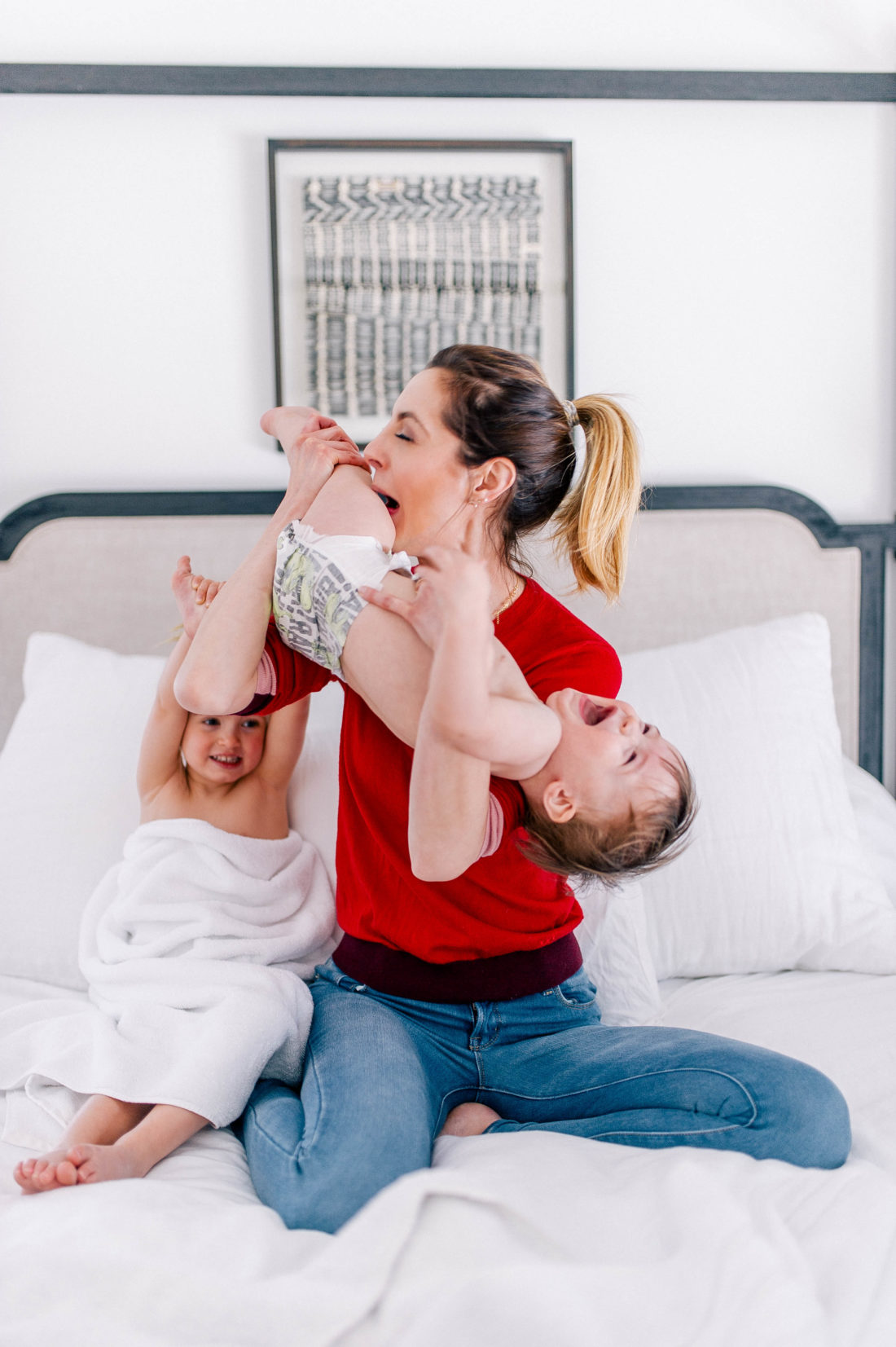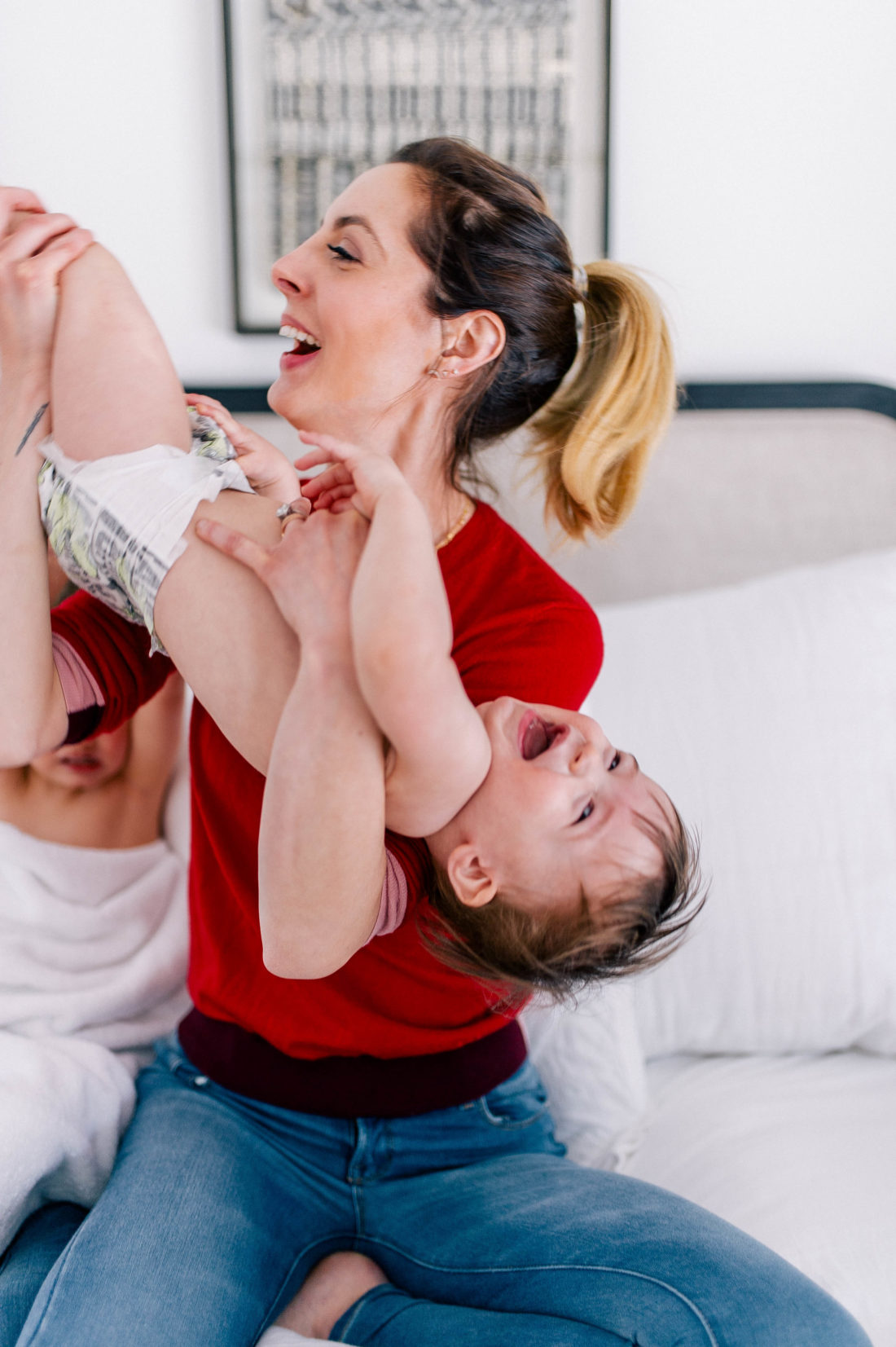 So, there you have it! Hopefully the details aren't too boring– I know sometimes people like the detail aspect, especially when they're looking for ideas to apply to their own routines! I hope this helps anybody out there feel a little less overwhelmed by getting kids to bed on their own.  If you have any great solo bedtime routine tips, or additional questions for me, please share in the comments below!!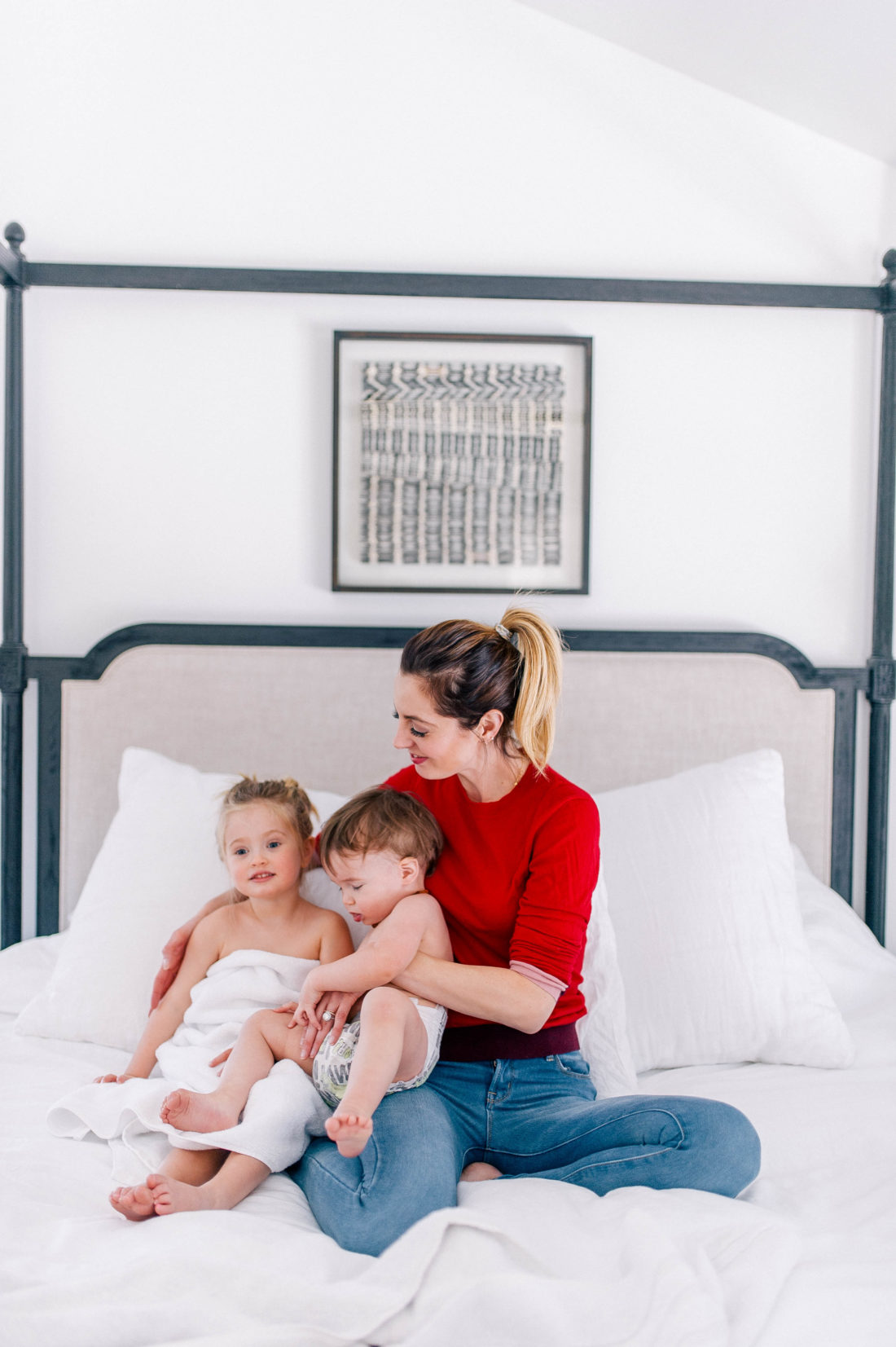 Photographs by Carter Fish