The following content may contain affiliate links. When you click and shop the links, we receive a commission.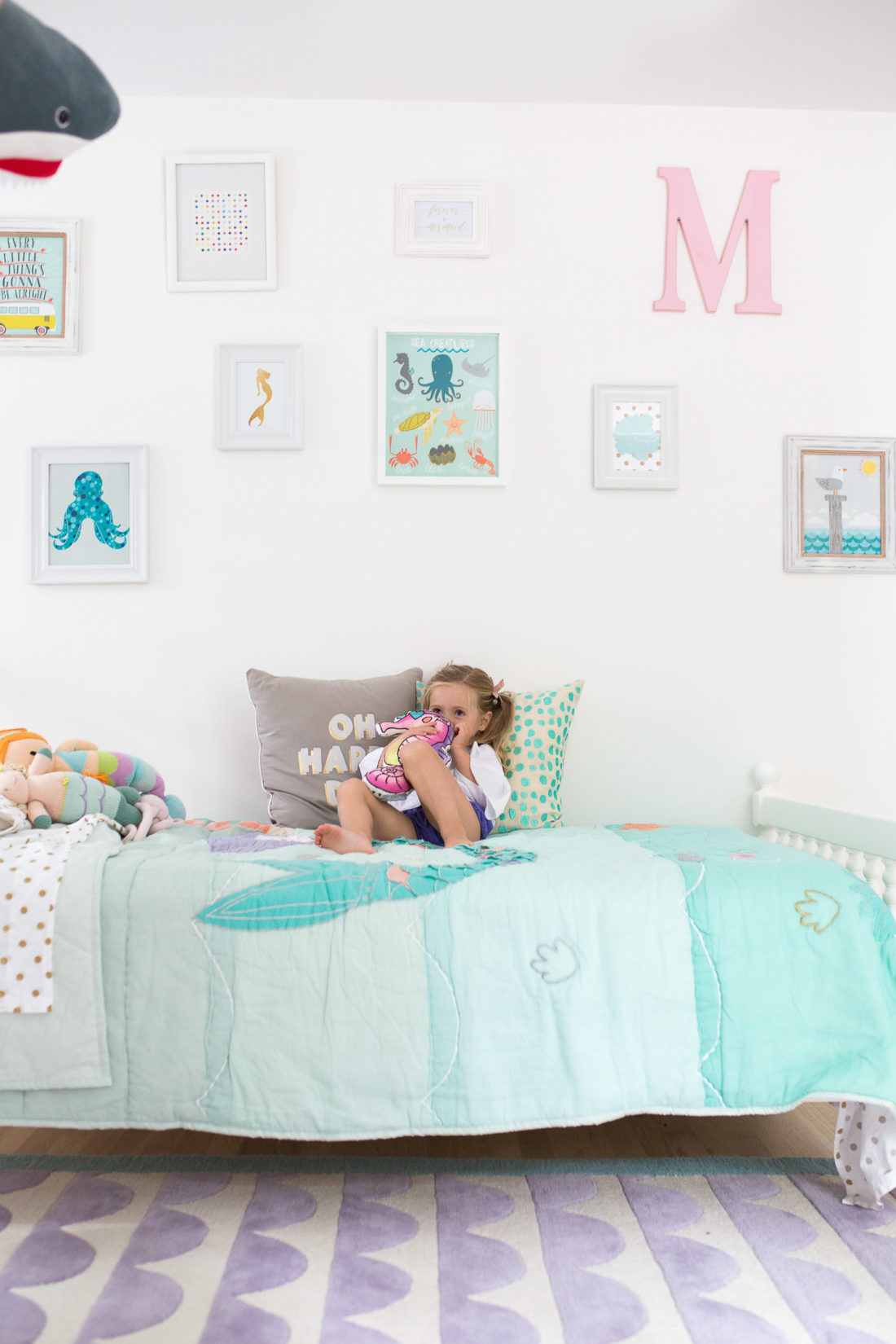 Out with the old, in with the new! My spunky three year old has officially outgrown her crib and is sleeping in a Big Girl Bed– and I have to say, I'm pretty obsessed with it.  To be clear, since Marlowe turned two she had been sleeping in her crib which had been converted in to a "Toddler Bed": one side of the crib was totally off, and she was able to get in and out of it independently. But it was still a crib!
The transition to this Toddler Bed was a little hairy.  I liken it a bit to Sleep Training (if you've ever done that).  I really had to set the boundaries with Marlowe, remind of the plan, and focus on follow through.  It took Lowie about four days to feel comfortable sleeping in her Toddler Bed without crying out for me or Kyle until she fell asleep (and a couple of times during the night.)  I mean it's crazy what taking one side off of a crib can do to a kid emotionally! Thankfully, Marlowe was great at sleeping in her Toddler Bed after the initial transition, but I was a little nervous when I knew we were going to be switching up her sleeping situation again with the Big Girl Bed when she turned three.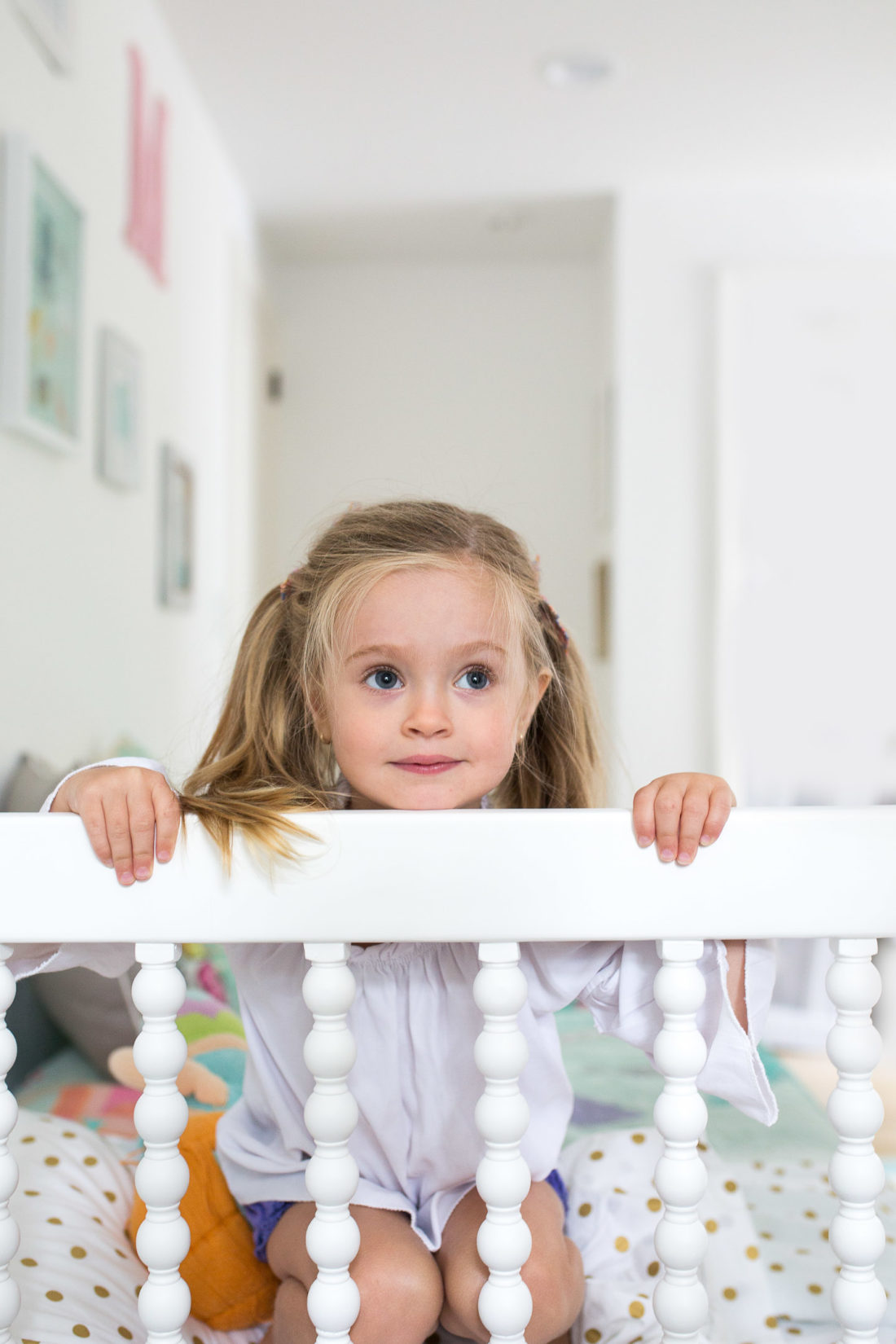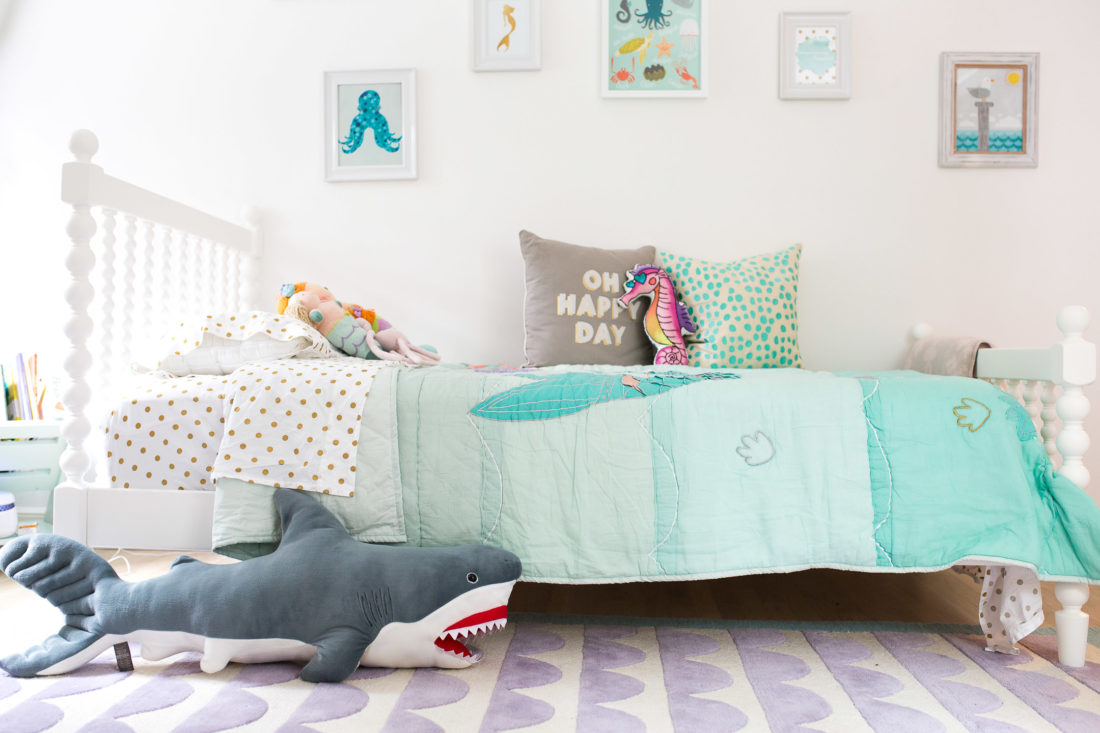 First thing first: we had to choose her Big Girl Bed! I absolutely swooned over this Incy Interiors twin bed.  I wanted to stick with a white wood vibe, and I completely fell for the adorable bed frame that almost looks like a bunch of bubbles stacked up! It goes perfectly in her Mermaid-themed bedroom. I was also so excited that I got to pick out a new quilt! Land of Nod always has the cutest Mermaid pieces, and I fell in love with a gorgeous Mermaid quilt to make her new bed even more special!  Marlowe is obsessed with her new bed setup– especially the fact that she has so much more room for visitors.  Her big thing now is letting us know that her bed is big enough for Mama AND Daddy AND Major Boy to snuggle her all at the same time! It's so sweet to me that that is the main draw for this new bed situation.  Ha! Because Marlowe had actually managed to roll out of her Toddler Bed a couple of times in the past year and ended up on the floor, I also added a little guard rail when she started sleeping in it.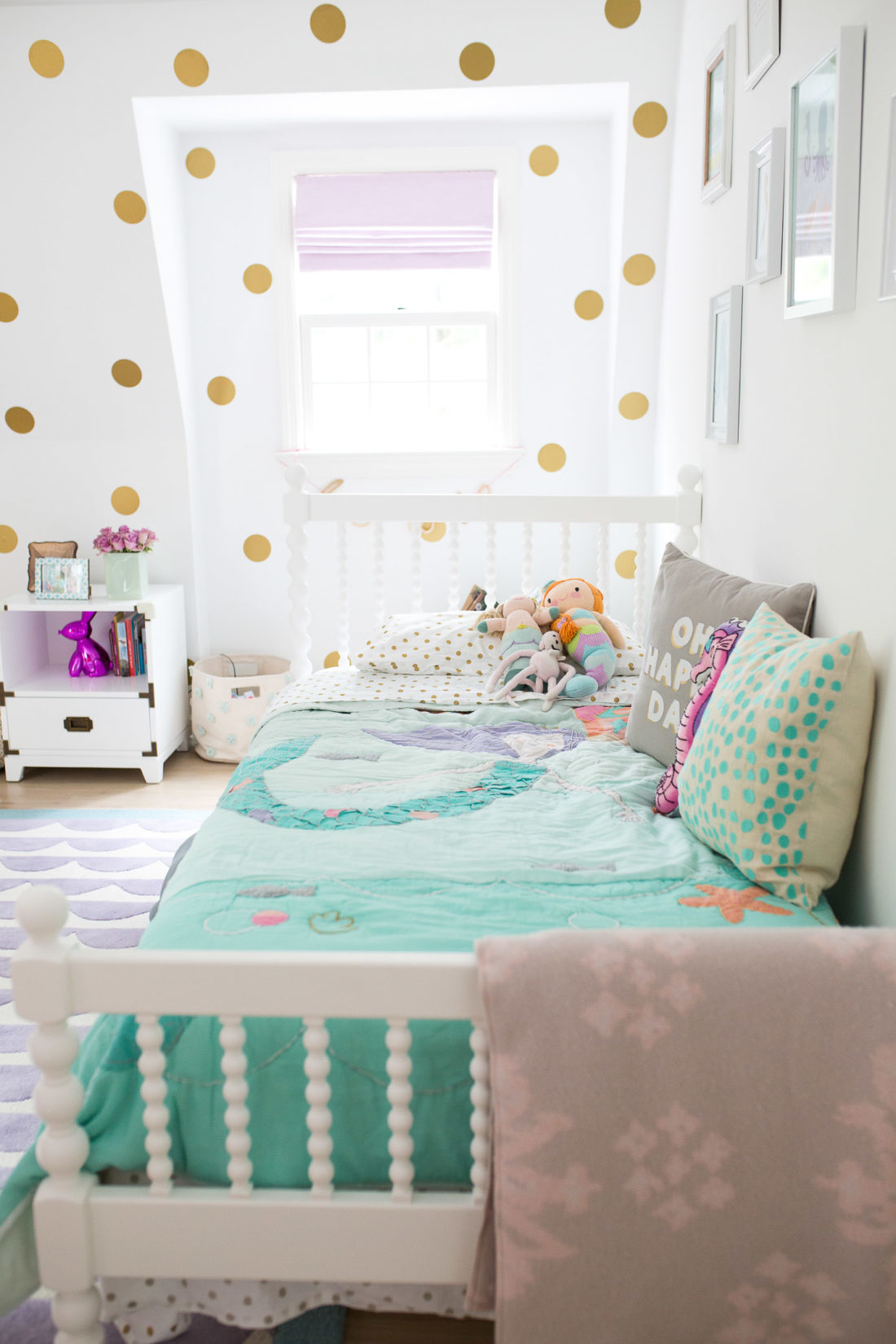 I was expecting a bit of a transition time when we implemented Operation Big Girl Bed, but truthfully, I think she was relieved to finally be in a bed that's more her size.  She had definitely outgrown the crib mattress.  The first night, she wanted a few more snuggles at bed time– but we talked a lot about how cool it was that she had room for even MORE stuffed animals to keep her company while she slept in her Big Girl Bed! I left her room and closed the door expecting to hear some yelling for me in a few minutes, but after a half an hour all was still quiet.  I peeked in to check on her and she was fast asleep on her new big girl pillow, with all her stuffed animals around her.  That next morning she even slept in until 8am!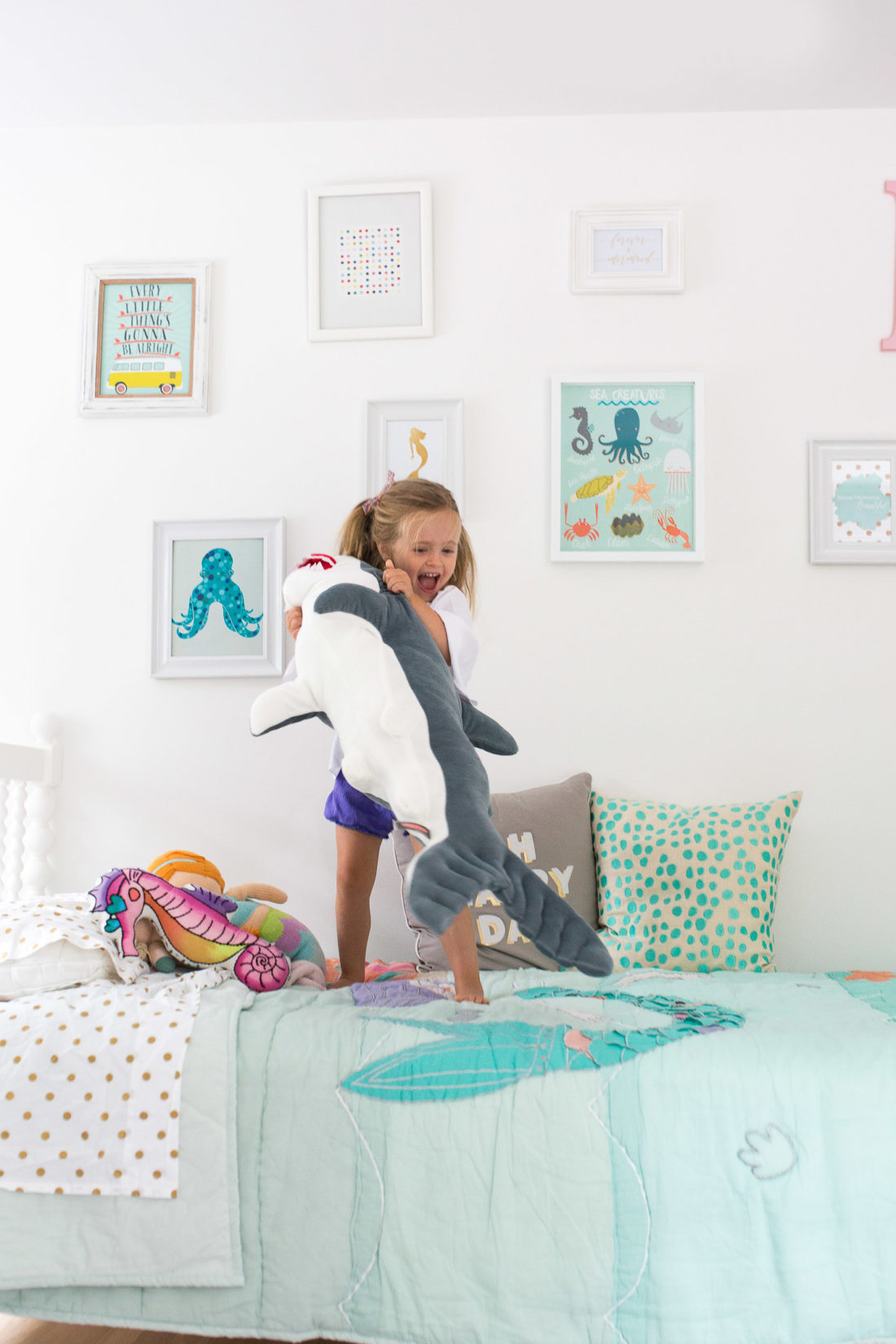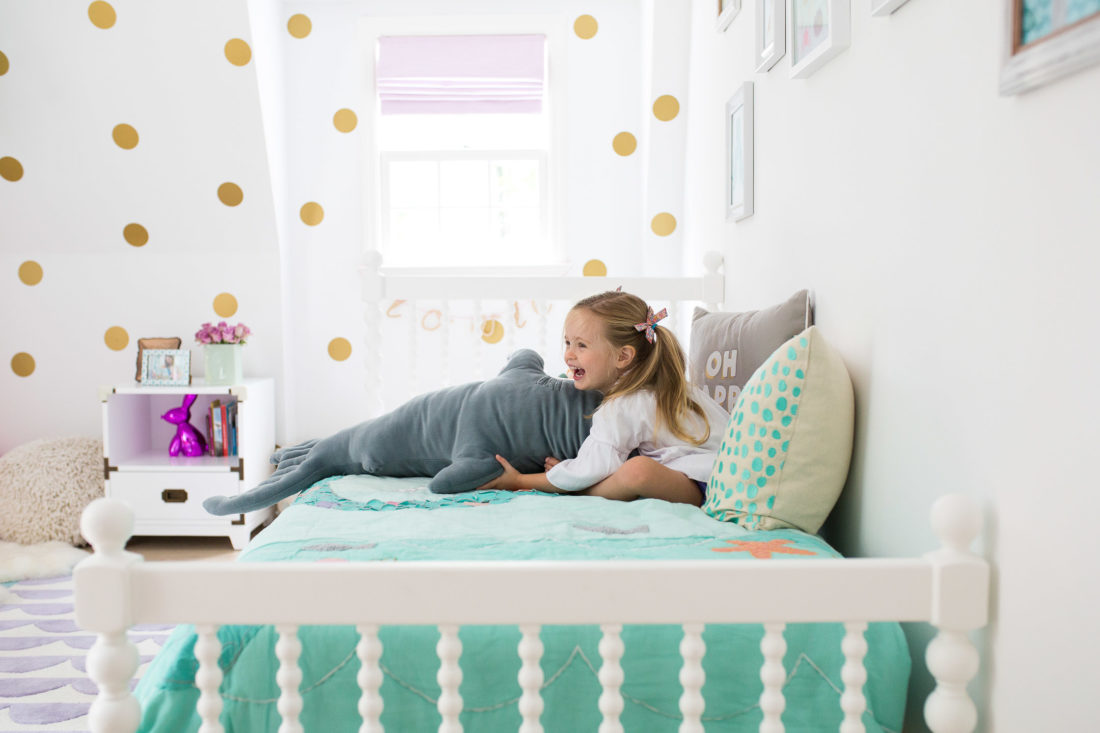 It's funny how sometimes the things I expect to be a "big deal" with my toddler end up being no problem at all– and it's the things I never expect that rock her boat a bit.  That's parenting for you, I guess: a neverending learning experience! Do you have any tips for transitioning your children out of a crib? I've shared mine below…
My tips for transitioning a child out of a crib…
Take the emotional change in to consideration! Even though it seems exciting to us, a change with a kid's sleeping arrangement can leave them feeling super emotional.  I always ask a lot of questions about feelings during these big transitional moments and make sure I'm paying attention to any changes in behavior that might represent signs that Marlowe needs me to hold her hand a bit more through them.
Get a Toddler Alarm Clock.  This thing has saved my life.  The second your child can get out of their bed by themselves, they can get out in to the hallway just as easily– and in to your room! This doesn't lead to much sleep for anyone.  Before we took the side off of Marlowe's crib, we trained her with a Toddler Alarm Clock.  The stoplight changes from red to green at a predetermined time (by you) and let's your child know when "Morning time" is and they can get out of bed.  It took us about a week for her to get used to it, but it really works like a charm! Marlowe's clock is set for 7:30am, and she knows that until her light turns green she MUST stay in her bed.
Play up the Cool Factor.  Kids get excited about anything you're really excited about.  When we transitioned Marlowe out of her crib we went crazy playing up how cool it was to be graduating out of a crib.  We did a countdown calendar of when we would do it, and even gave her a little gift on the day to represent how proud of her we were that she was so big now!
Set boundaries, AND STICK TO THEM.  If you tell them they have to stay in bed, they have to stay in bed.  Period.  I can't even tell you how many times I carried Marlowe back to her bed those first few days out of a crib, but no matter how tired I was, I never caved.  Kids are so smart and they can sense if you're really serious about boundaries or not– especially in the toddler phase! If they know you're not going to cave, they get accustomed to the new arrangement much more quickly.  (I know somebody who sat outside her toddler's bedroom door every single night when they transitioned them to a Big Kid Bed, since that is what her toddler requested.  Well it's a year later and she is still doing it– and regrets the day she ever started that soothing technique!)
Celebrate the change.  Is your kid's new bed big enough to get in some good snuggles with Mom and/or Dad? Take advantage! As we all know, change can be emotional but it can be fun too! Don't forget to let loose a little and celebrate this fun new stage with your child!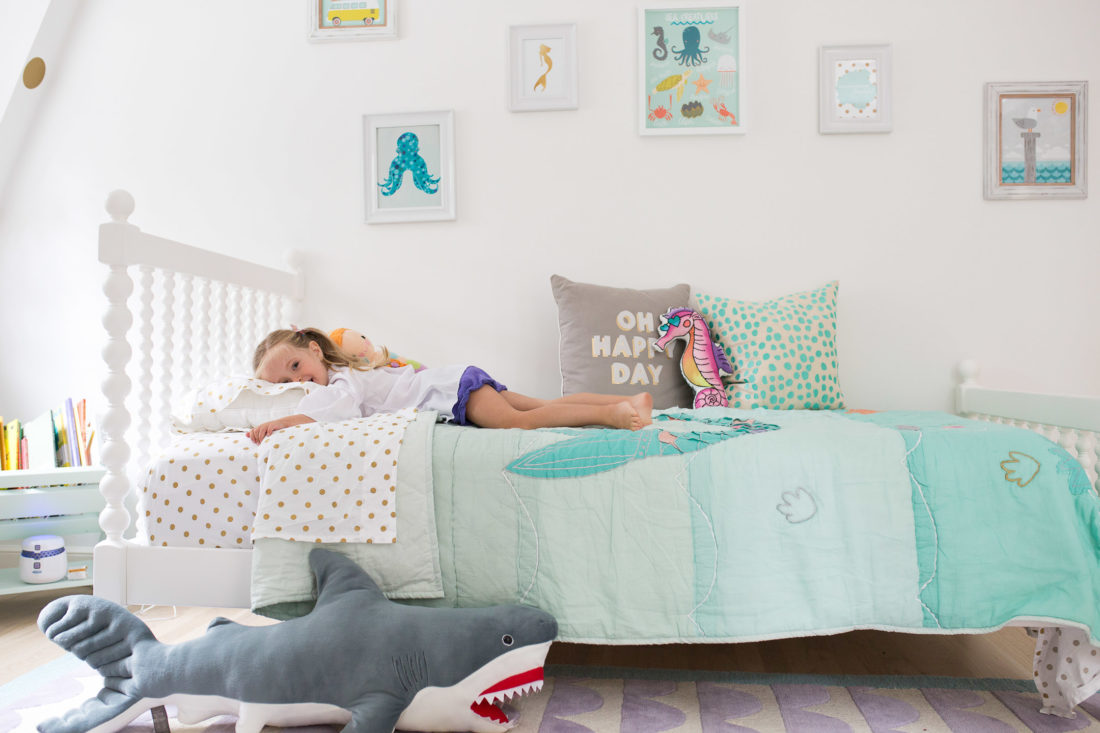 Shop the look…

Photographs by Stephanie Elliott Photography
Save
Save
Save
Save