The following content may contain affiliate links. When you click and shop the links, we receive a commission.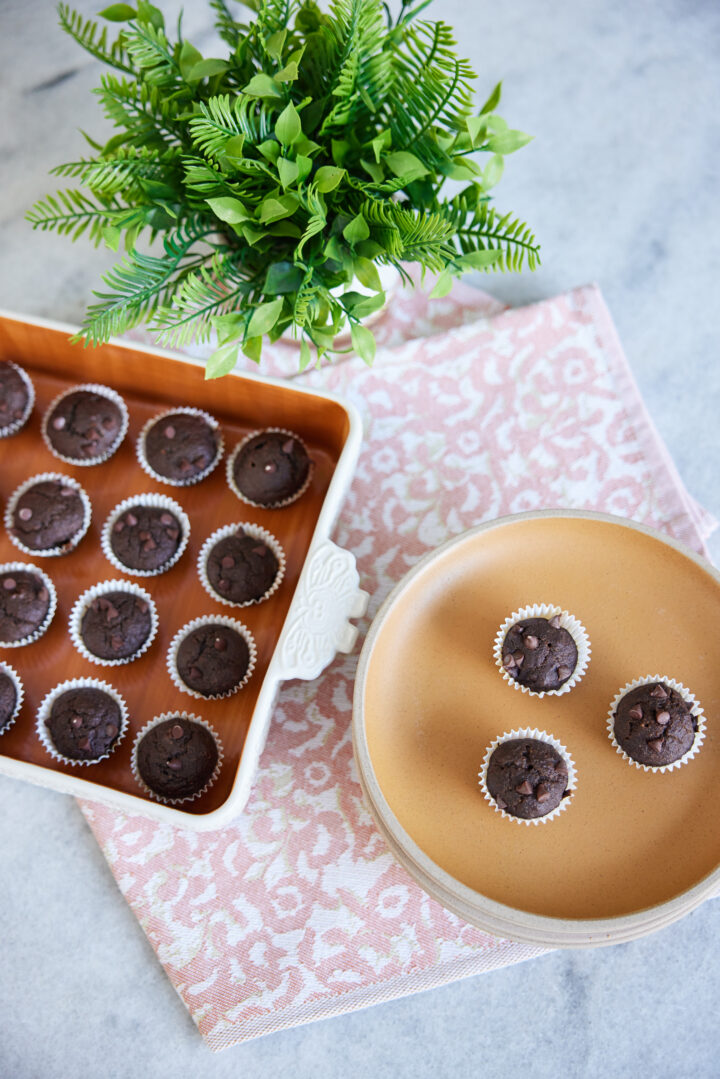 My kids are addicted to muffins. We get the pre-made little mini muffins at Whole Foods (chocolate chip and corn flavors!), and I swear we run out of a whole carton of them in two days! I've tried making regular-sized muffins for them, but they just don't seem to like them, or eat as much of them, as when the muffins are mini. Go figure! Because of the muffin obsession, it suddenly occurred to me a few months ago that I may not be taking advantage of the muffin habit as much as I could be. Let me explain:
Generally speaking, my kids are pretty good eaters. They will eat fruits and veggies in moderation, but they're definitely not super adventurous about it. Also, the three of them can hardly agree on which veggies or fruits to eat. They each have a different favorite or least favorite. I give them a multivitamin daily, but I also want to make sure they're getting enough fruit and veggie servings in the food they eat daily. Enter, my trick!
I realized maybe it was time to start hiding the good stuff in my kids' favorite little muffins. And by The Good Stuff, I mean fruit and veggies! I decided to trick them with cocoa powder and a few chocolate chips to create mini muffins packed with Spinach, Carrots, and Banana. You could even add Kale if you wanted! These delicious Hidden Veggie Mini Muffins are such a big hit with my kids, and they even love bringing them to school for snack. I giggle in the background knowing that they're eating their veggies, too!
Let me know if you try these chocolatey and healthy mini muffins, and how you like them!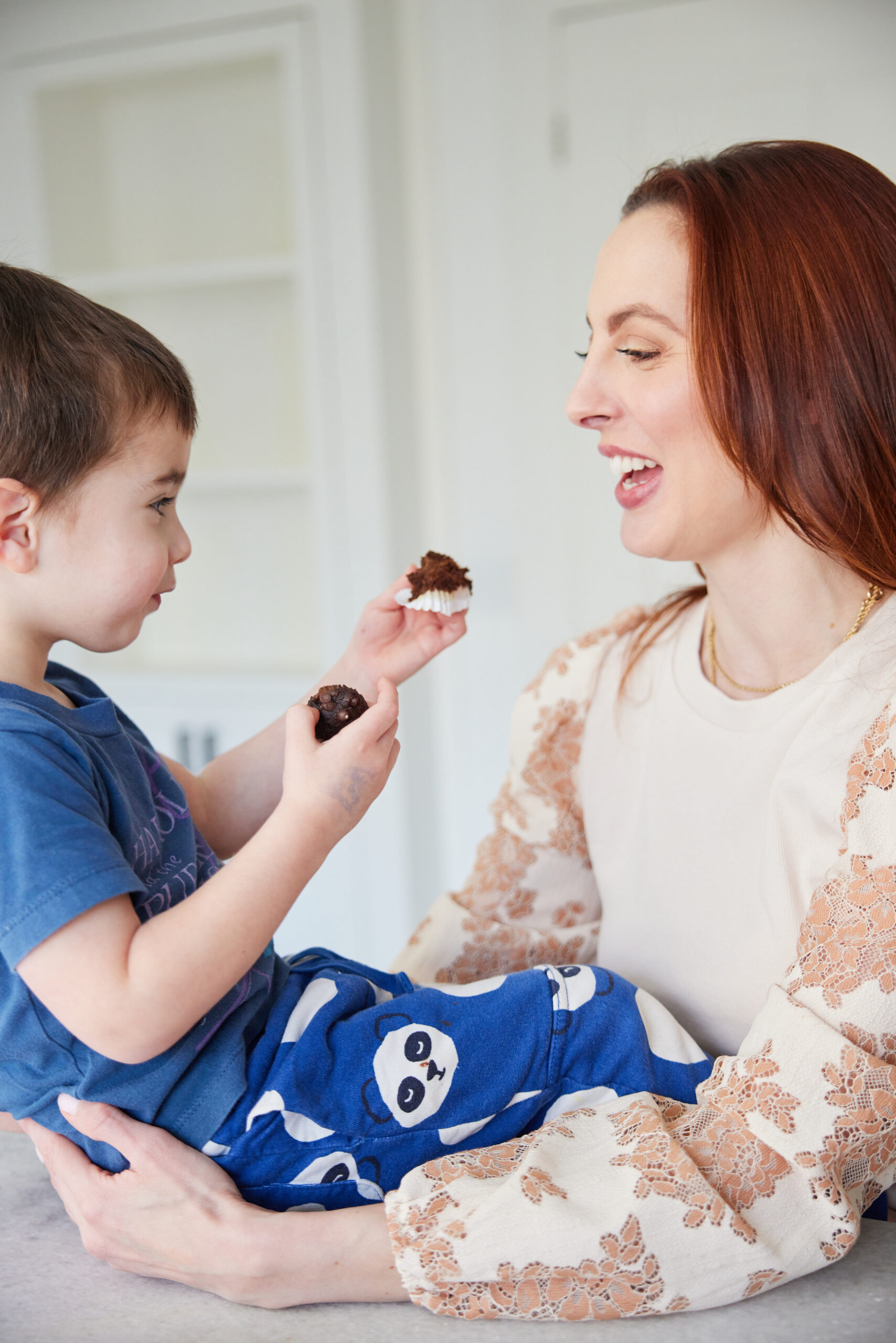 Hidden Veggie Mini Muffins
Step 1:
Prep Oven and Pan
Preheat your oven to 350 degrees. While your oven is preheating, line your mini muffin pan with liners.
Step 2:
Blend First Set of Ingredients
In a high-power blender, combine eggs, banana, carrots, spinach, maple syrup, coconut oil, apple cider vinegar, and vanilla.
Step 3:
Blend remaining ingredients
Once the first ingredients have been thoroughly mixed and smooth, add flour, baking soda, baking powder, salt, cocoa powder, and ground cinnamon. Blend until smooth.
Step 4:
Mix remaining in bowl
Take the mixture from the blender and place it into a mixing bowl. Depending on your blender, once you add the flour and remaining ingredients it may not blend as easily. A mixing bowl will come in handy if this is the case.
Step 5:
Add mini chocolate chips
Add mini chocolate chips into the mixture in the mixing bowl and fold in.
Step 6:
Fill liners
Fill each liner with the mixture from the bowl. Place additional chocolate chips on top if you would like.
Step 7:
Bake
Bake the mini muffins for 10 minutes in the oven. Use the toothpick method to make sure they are done. If not, place in the oven for an additional 30 seconds to a minute to bake more. Be careful not to overcook them!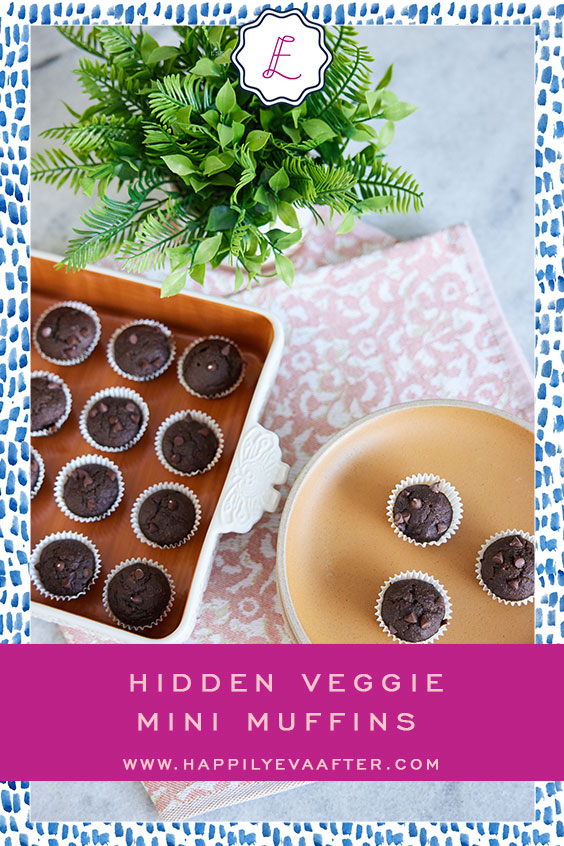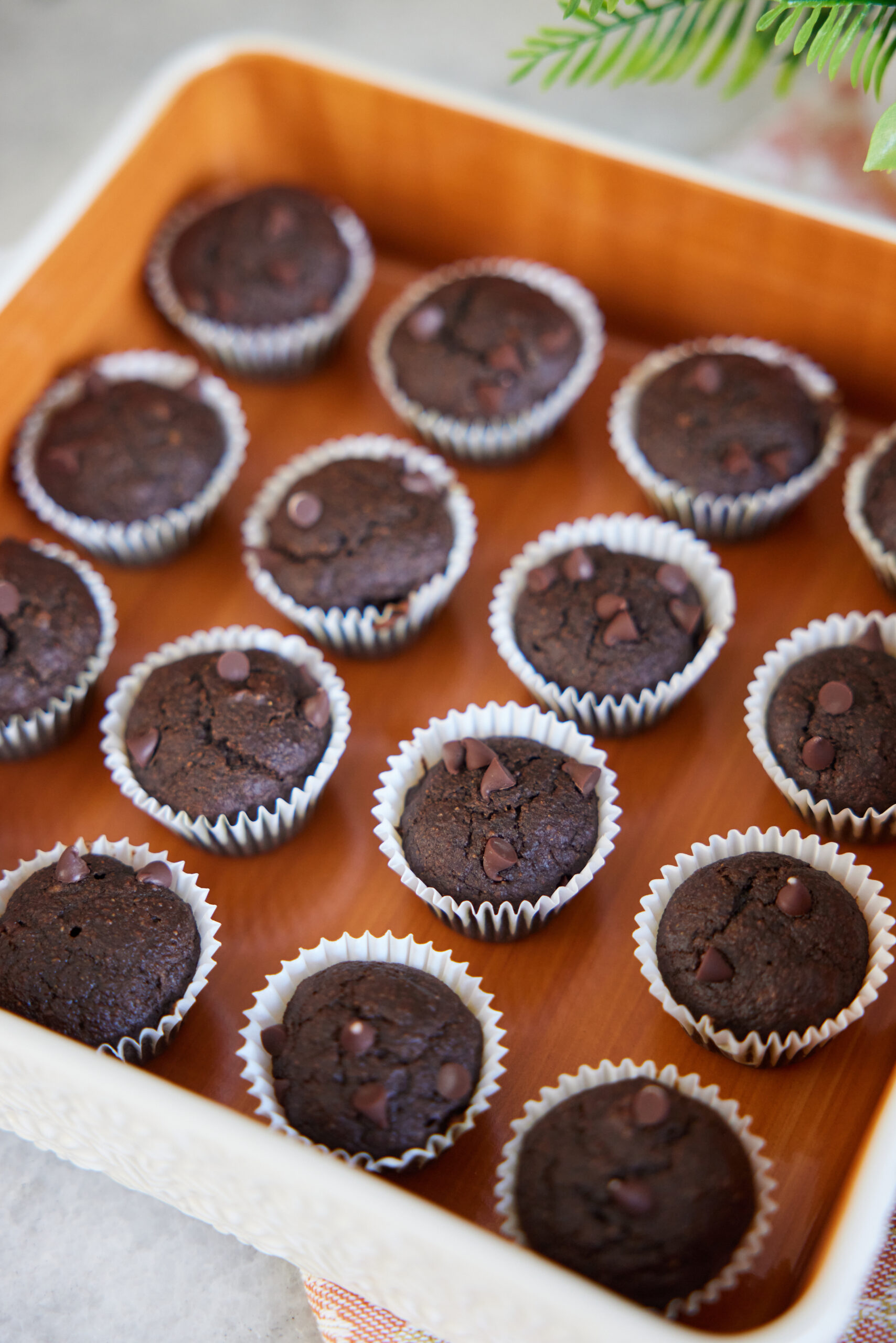 ---
Shop the post…

Photographs by 

Julia Dags

 | Copyright © 2023 Happily Eva After, Inc. All Rights Reserved.