The following content may contain affiliate links. When you click and shop the links, we receive a commission.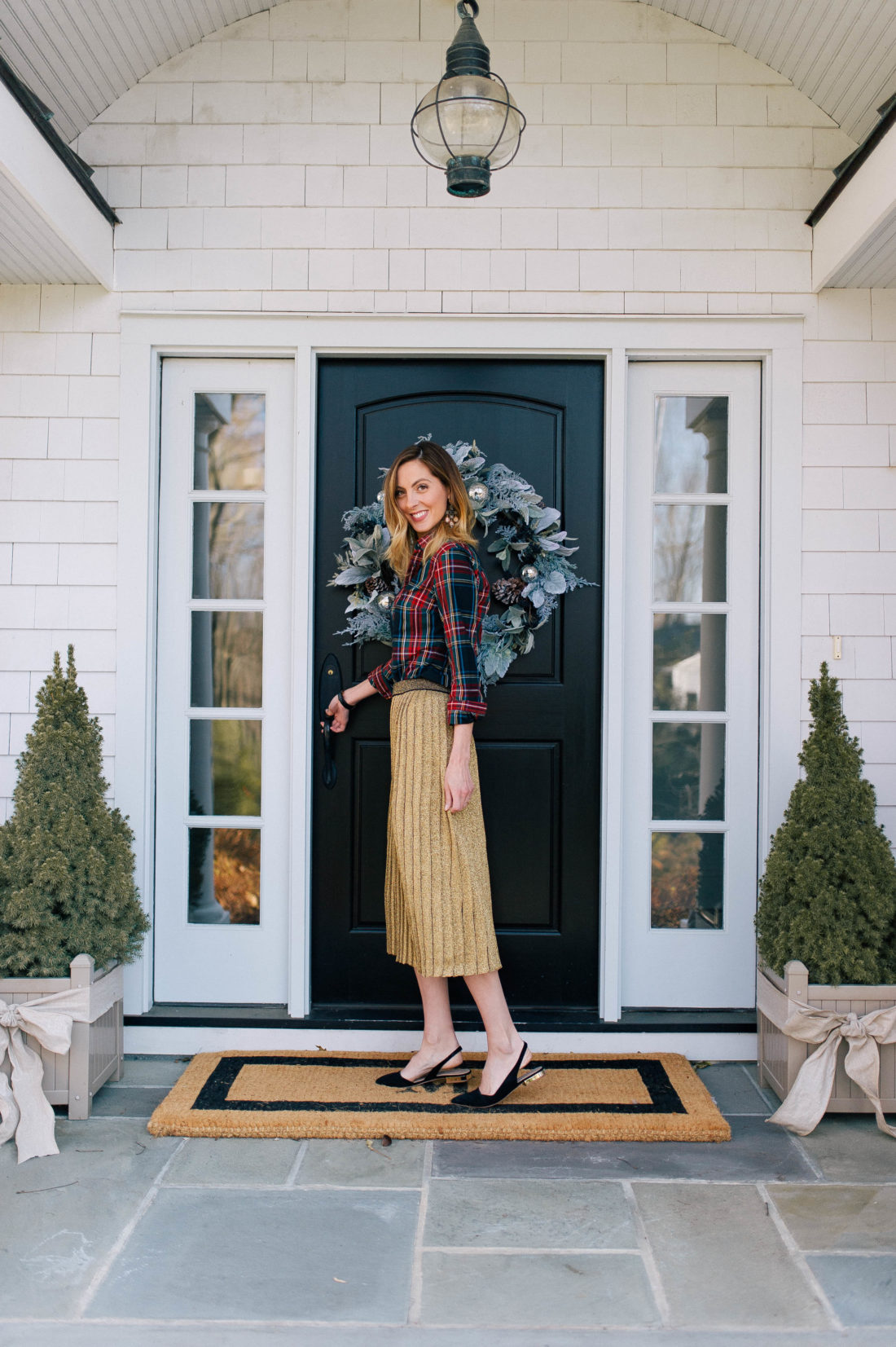 It's the most wonderful time of the year! And my official Favorite Holiday is drawing closer– YASSS! Decorating for Holidays always gives me so much joy, and this year it's been really special to decorate our new Connecticut home! Last year I decorated for Christmas as well, but there was a lot going on in my personal life behind the scenes AND Major was just an itty bitty baby still– it was really nice this year to get a fresh start and really go for it with the decor.  Everyone in my household just feels happier around Christmastime, and there are so many fun traditions we love doing as a family! (more on this next week). Today I wanted to give you a little home tour and show you how I bring the Christmas cheer in to my home to get us all in a festive mood!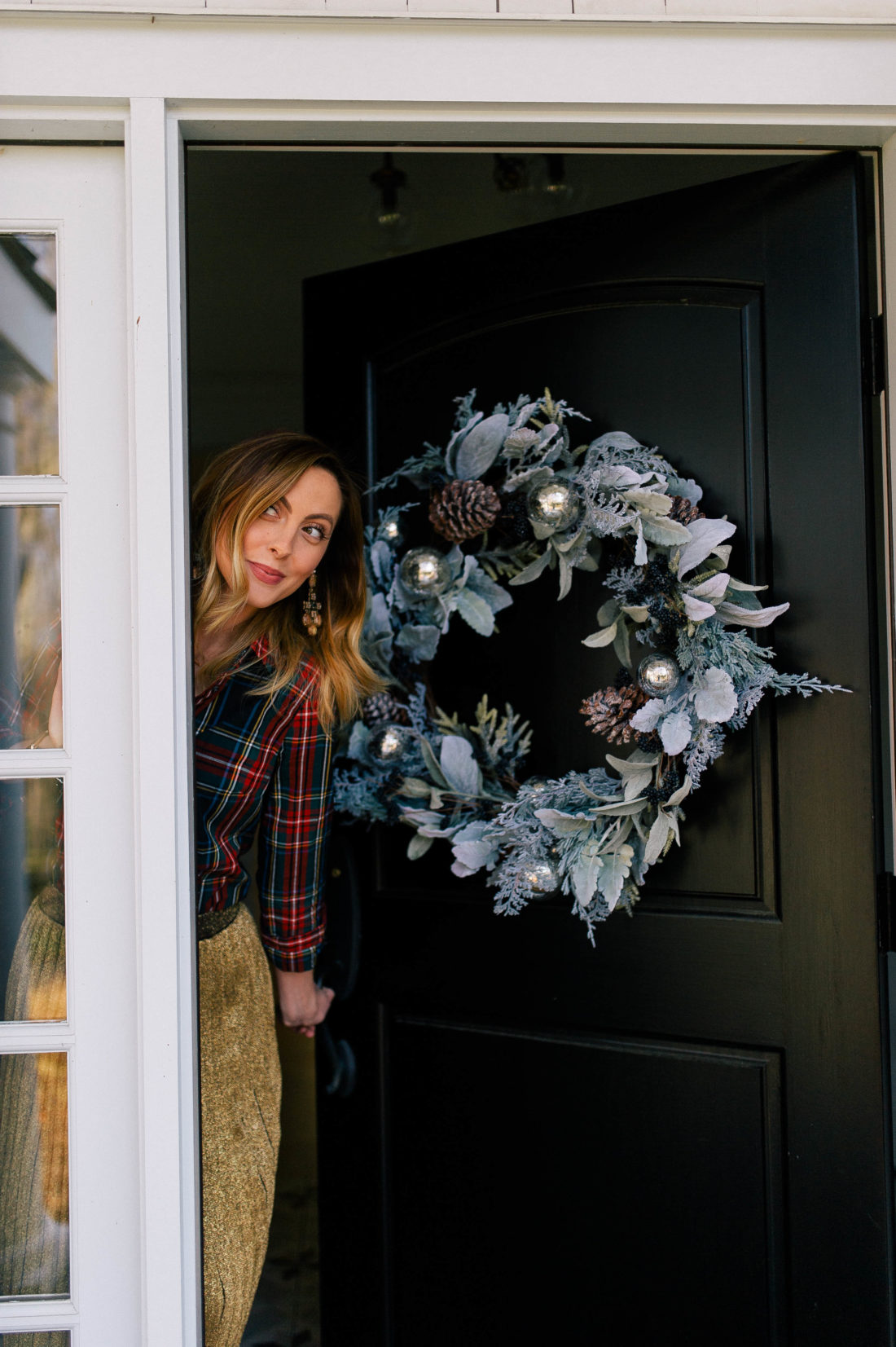 For the exterior of my home, I always love investing in a gorgeous faux wreath that I can use year after year! I had a magnolia leaf one that I used for years on our front door in Los Angeles (We had real magnolia trees on our property so it worked perfectly!)– but the wreath got damaged in our move.  I was a little sad, but honestly I like my new wreath even more! It's nice to get a bit of fresh energy in my Christmas decor this year! I got my two mini trees outside from a local nursery, and dressed up the simple planters with beautiful ribbon.  I also FINALLY upgraded our doormat game.  I've always loved monogrammed doormats and I had this extra wide one personalized.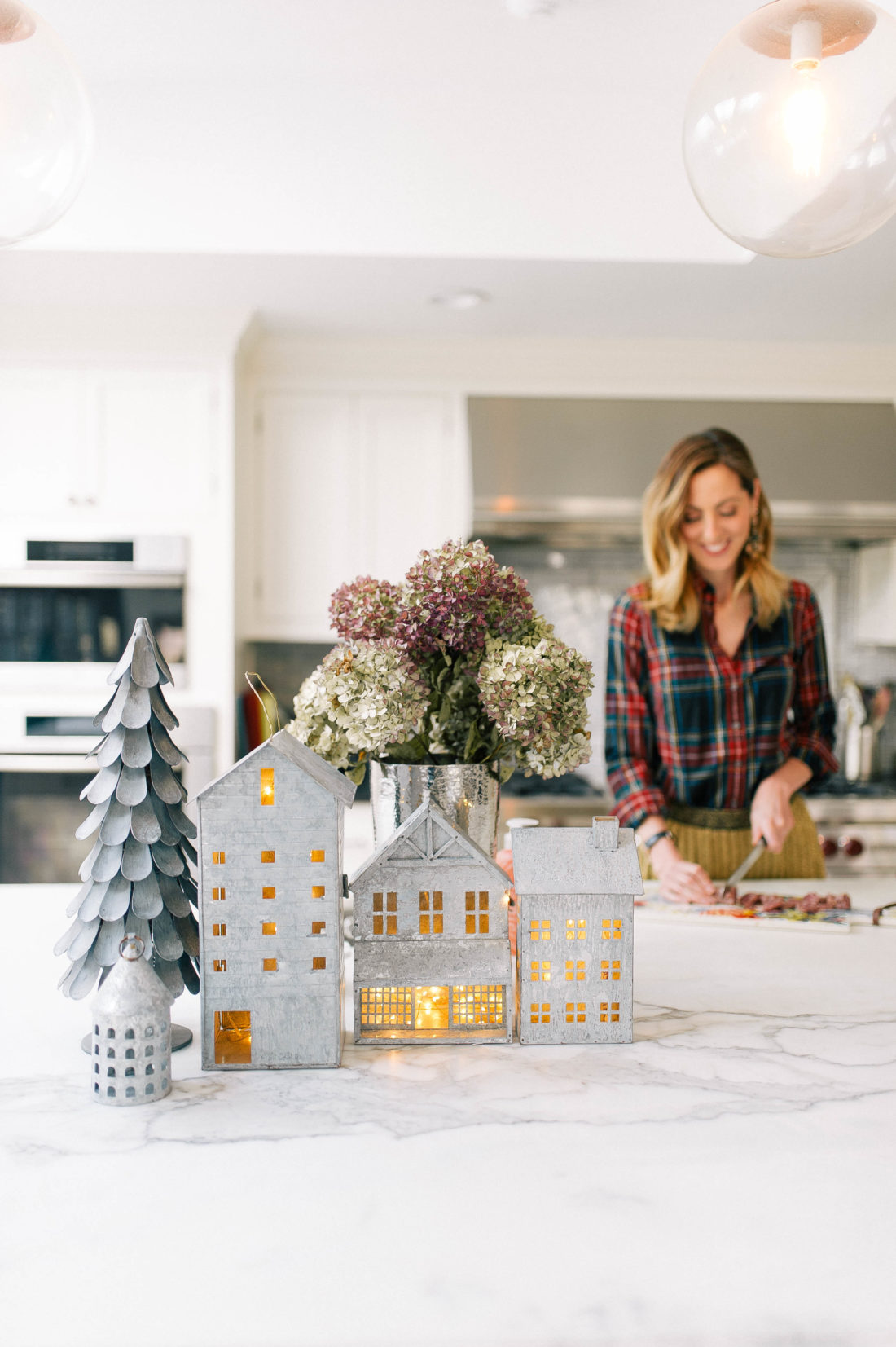 Inside the home, I love decorating our most trafficked areas in sweet little ways that still go well with my existing decor.  It's important to me that all my holiday decorations match my existing aesthetic! I just about died when I saw these adorable galvanized steel houses at Terrain.  I had to have them! In the store they filled them with little sparkly light strands, and I knew my kids would adore having some cute buildings all lit up on our marble island in the kitchen.  Boy, was I right.  Major screeched at the top of his lungs and lunged out of my arms towards them when he saw! Talk about holiday spirit! LOL. I think these pieces would also look so charming on a mantel or on an entryway table.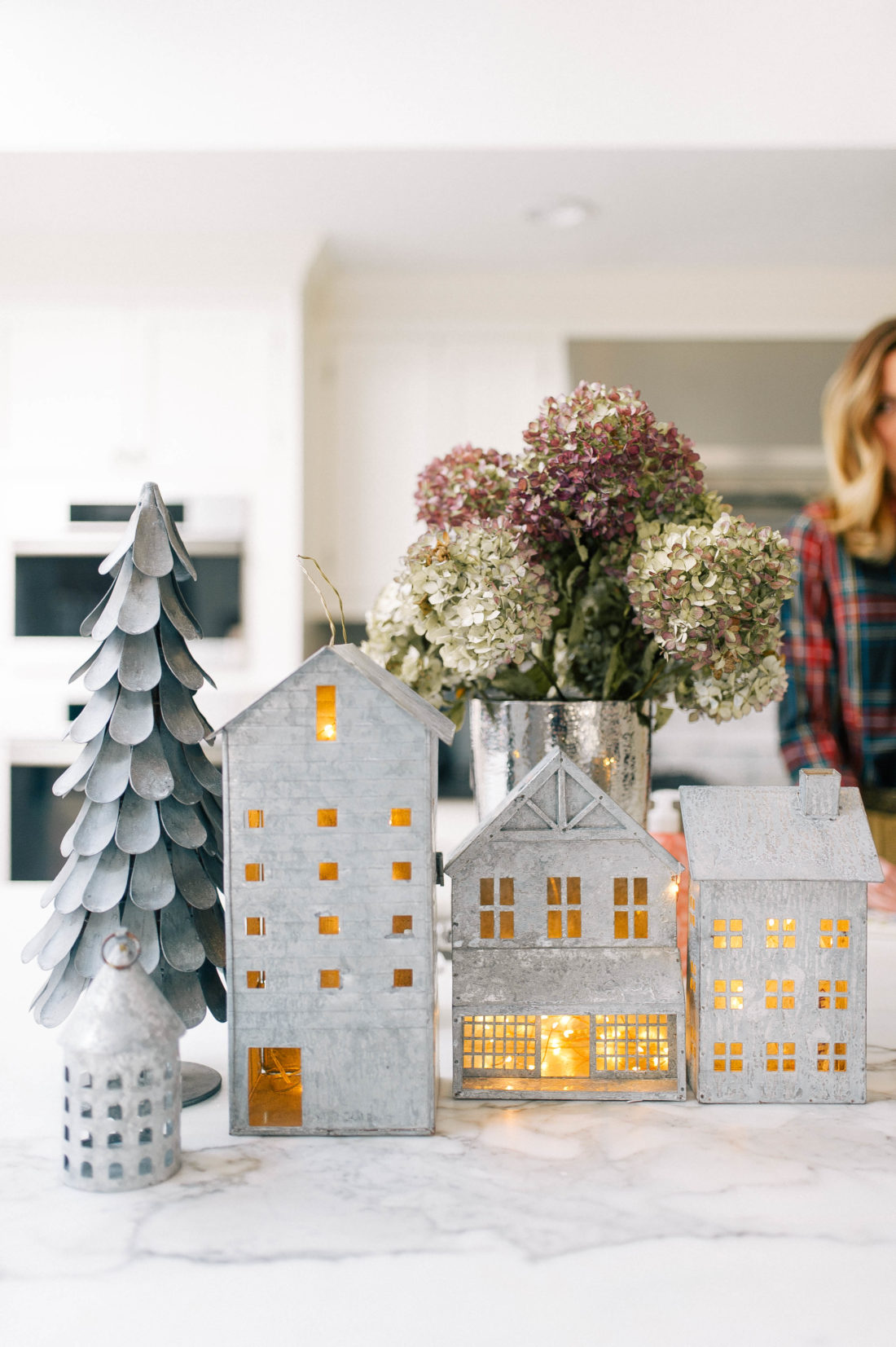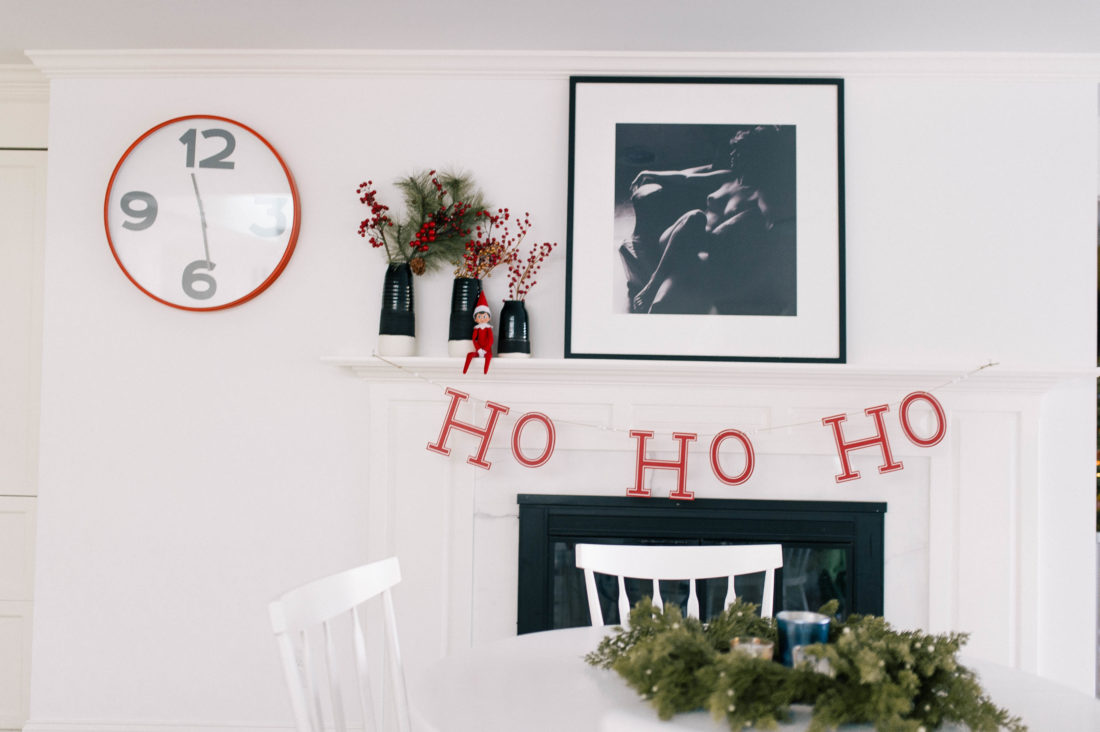 Our kitchen mantel always gets a little love, too! This year we introduced the kids to The Elf On The Shelf, and her position of glory is on this mantel.  There's no place better for her to observe my children and threaten them with her relationship with Santa than overlooking the area where they eat all their meals! Tantrums begone, ha!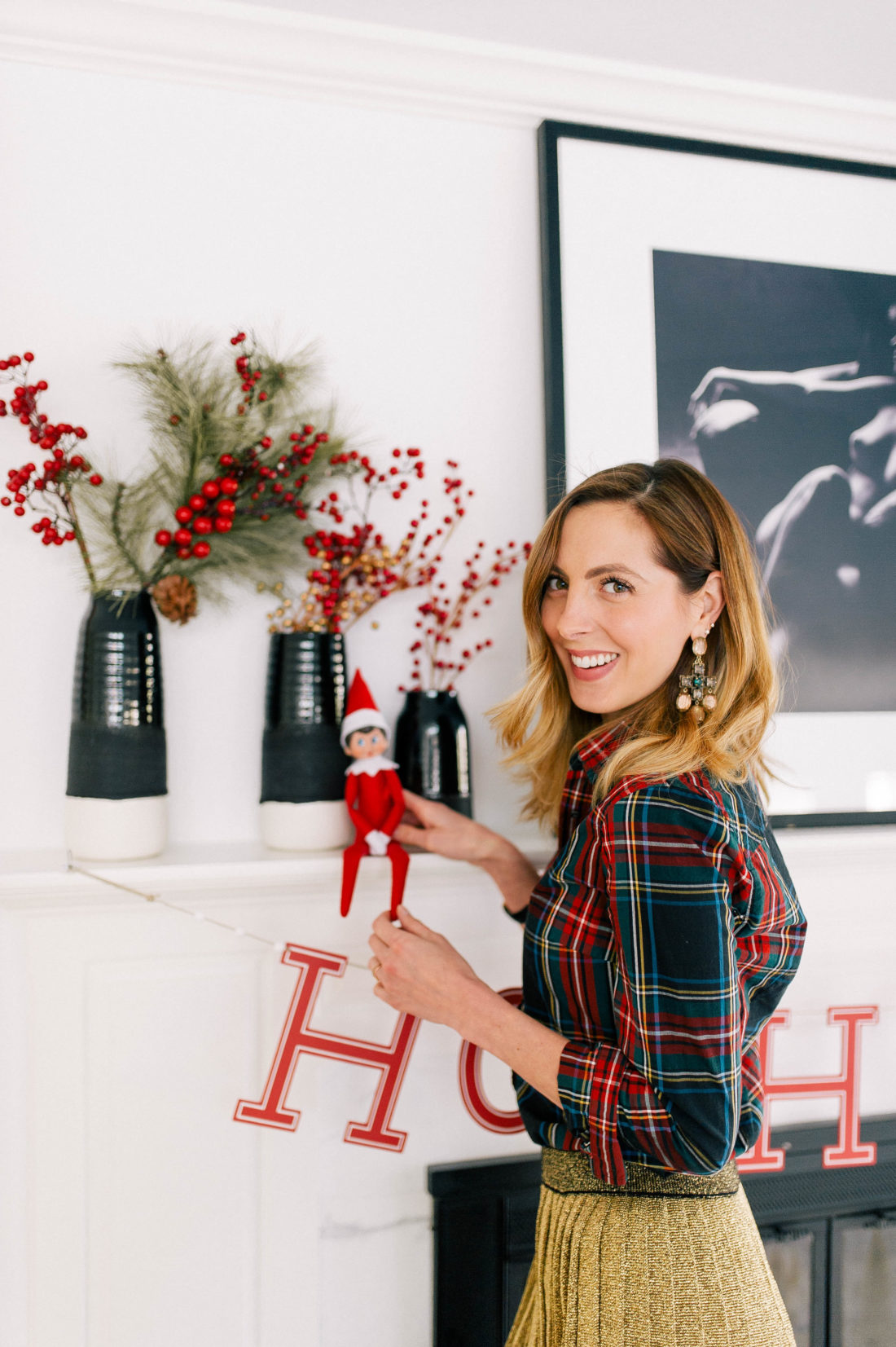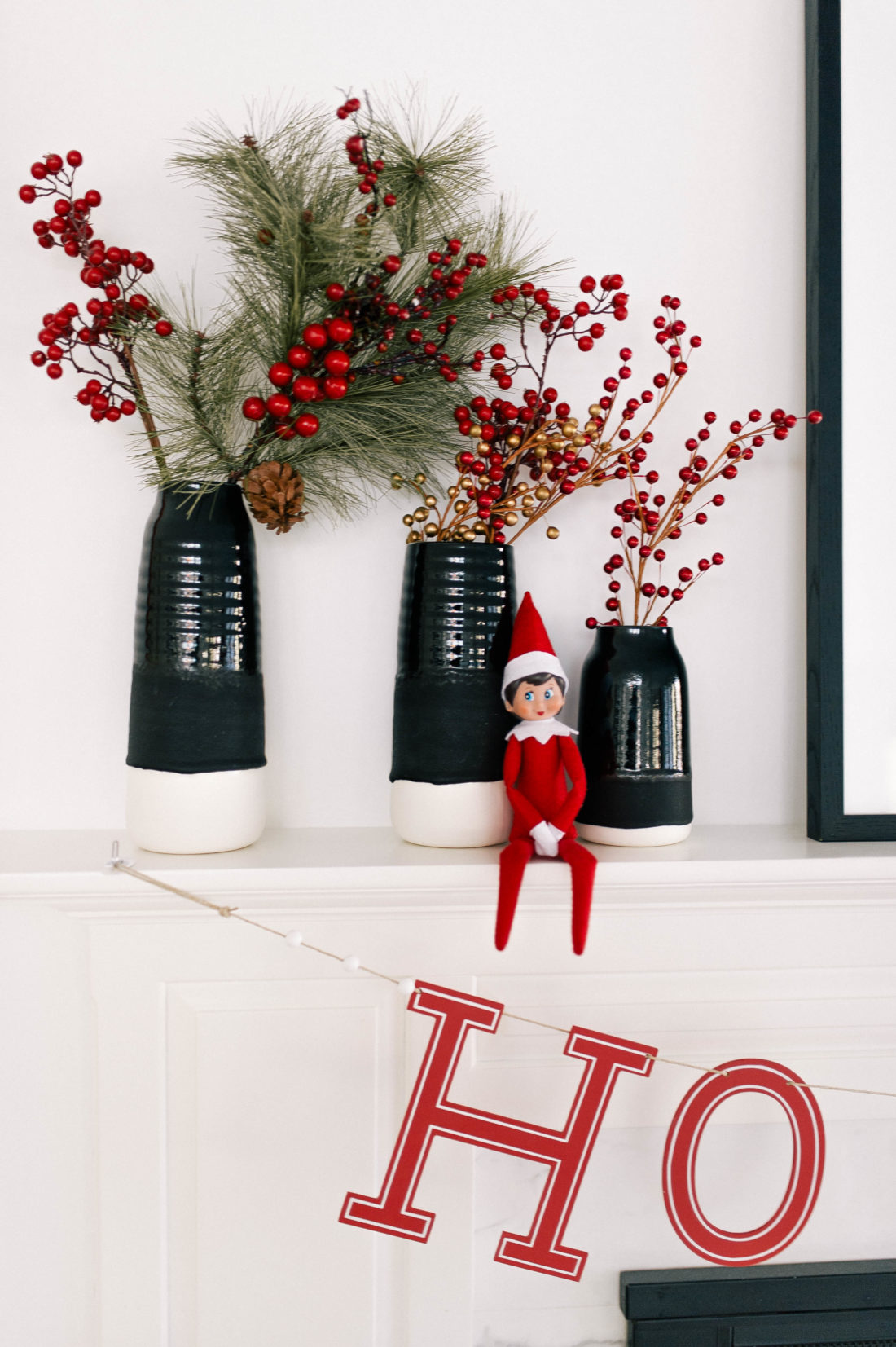 Now, I should take this opportunity to mention that Grapes The Dragon is still going strong in our household! If you somehow missed the vibe of Marlowe reinventing herself around Halloween time with her green dragon costume, I will recap for you now and let you know that she has worn her costume pretty much nonstop since the beginning of October.  She has a whole dragon persona named Grapes (she came up with the name), and I have to say it's been a pretty hilarious part of our lives as of late.  Marlowe wanted to be in the pictures for this post, but only as Grapes– so you are about to see her in all her glory! LOL.  I'm dying over these pictures, why are kids the cutest and weirdest literally ALL OF THE TIME.  If I had enough memory space on my hard drive I would just film this crazy kid all day long and have hours of footage to watch on repeat when she grows up.  Ha! Good thing for this blog, at least I can scroll through the pics nonstop one day!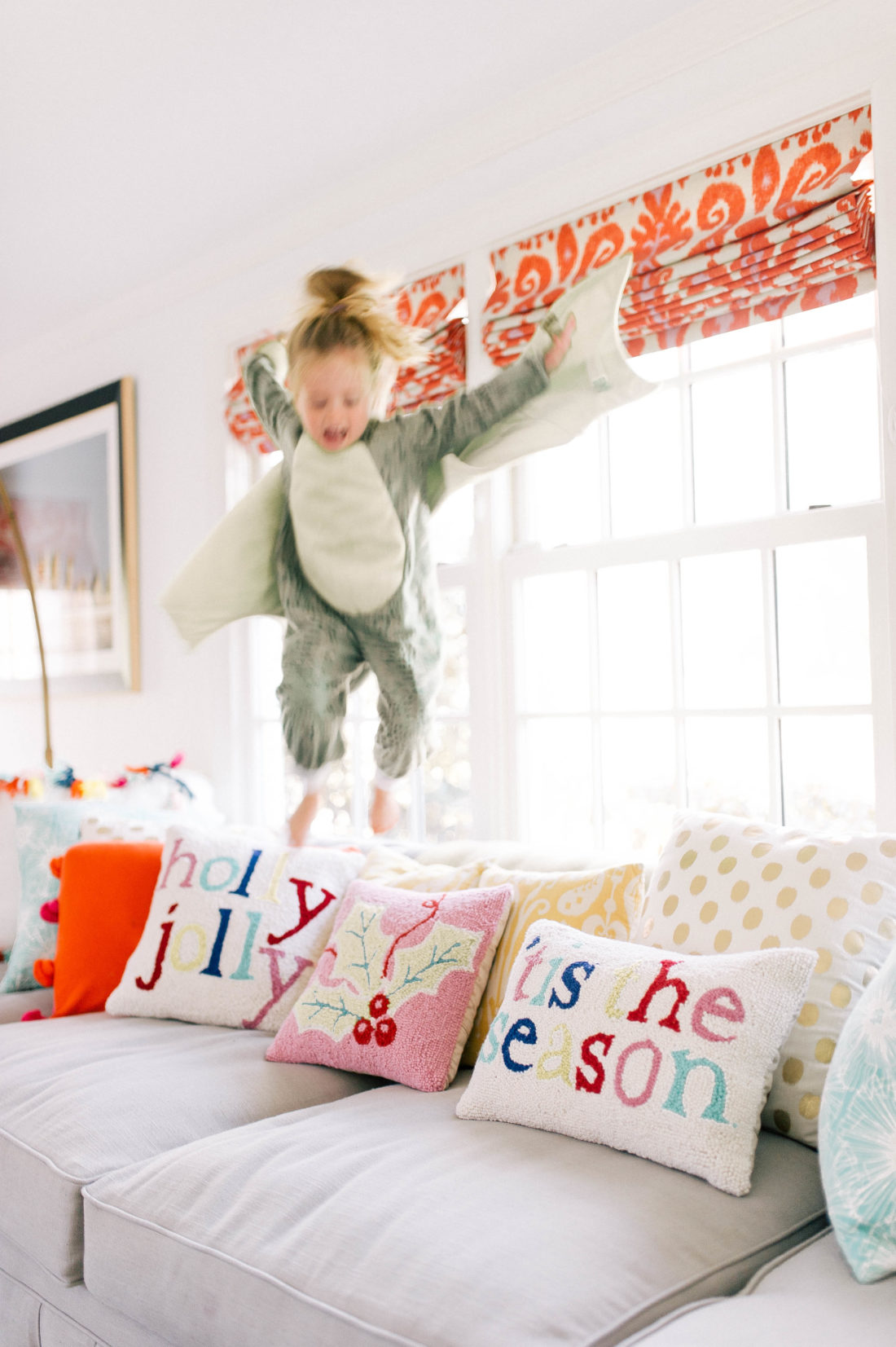 When it came to the holiday decor for our Family Room, it just felt meant to be this year.  I love decorating with pieces from Grandin Road– and when I got their holiday catalog in the beginning of september I almost lost it when I saw that one of their featured new Holiday collections matches our family room PERFECTLY.  I mean I could not believe it!!! It's like it was made especially FOR ME! Ha! I raised the bar big time in terms of holiday decor in this room this year, and even added a second faux white tree with twinkle lights and beautiful colorful ornaments all from the catalog.  The pretty holiday pillows and the glass trees are from Grandin Road as well. I absolutely adore how this room turned out…and I'm semi convinced to keep the tree up year round! Guess who else loves the room? GRAPES!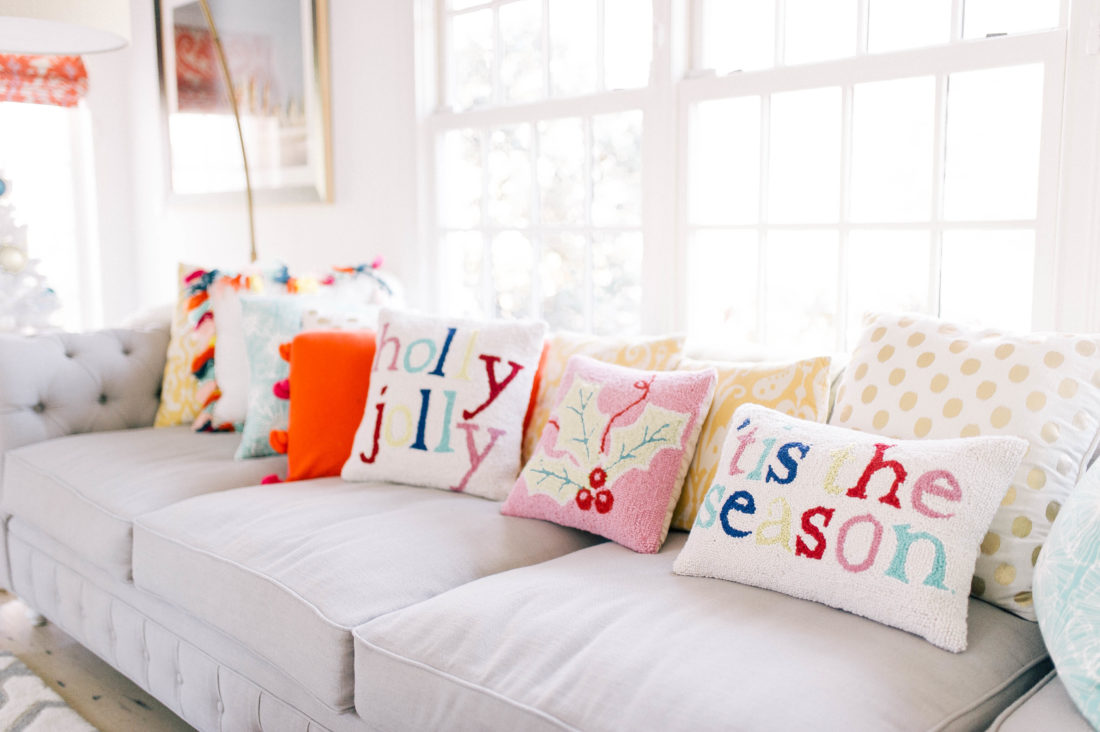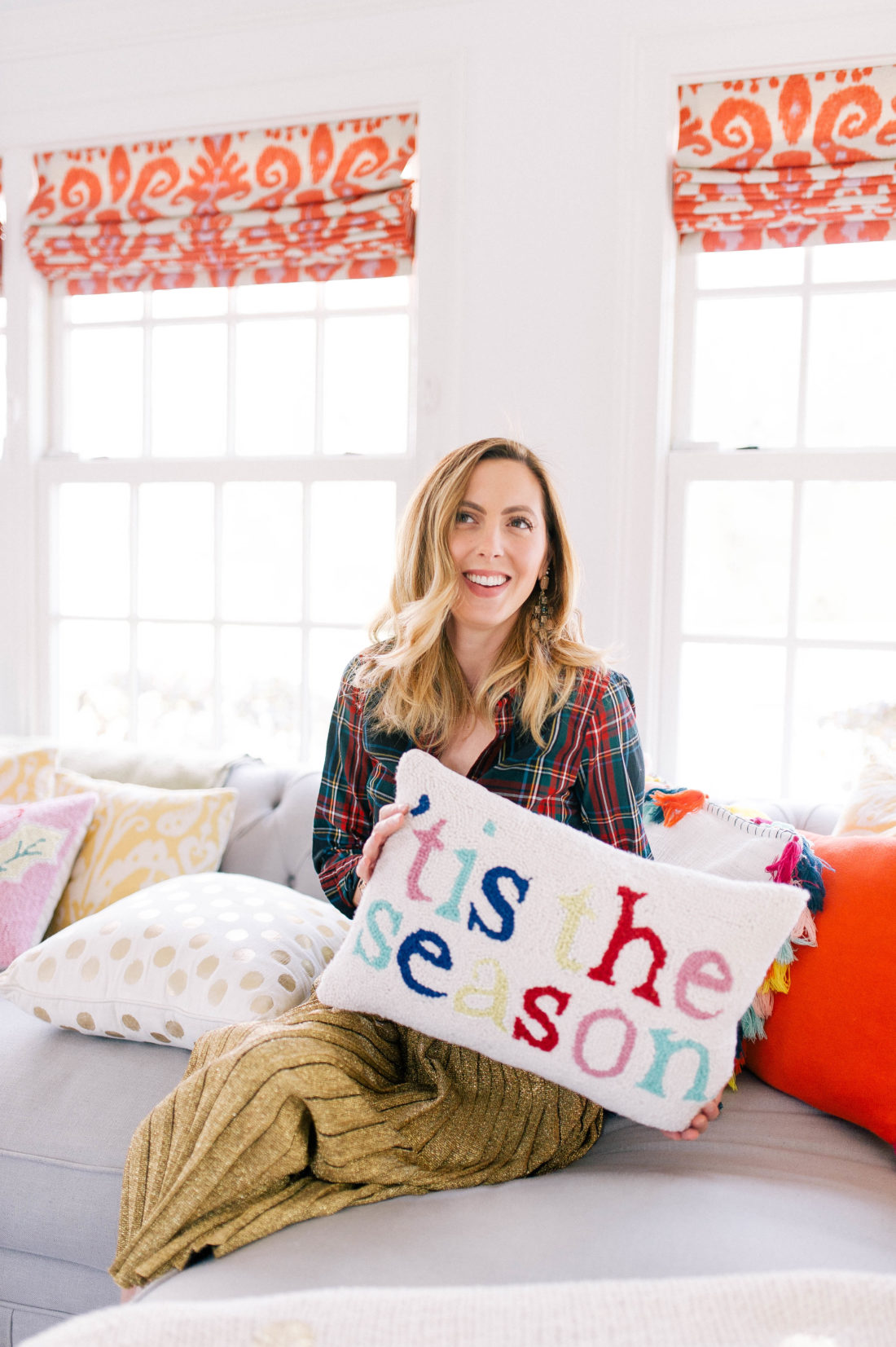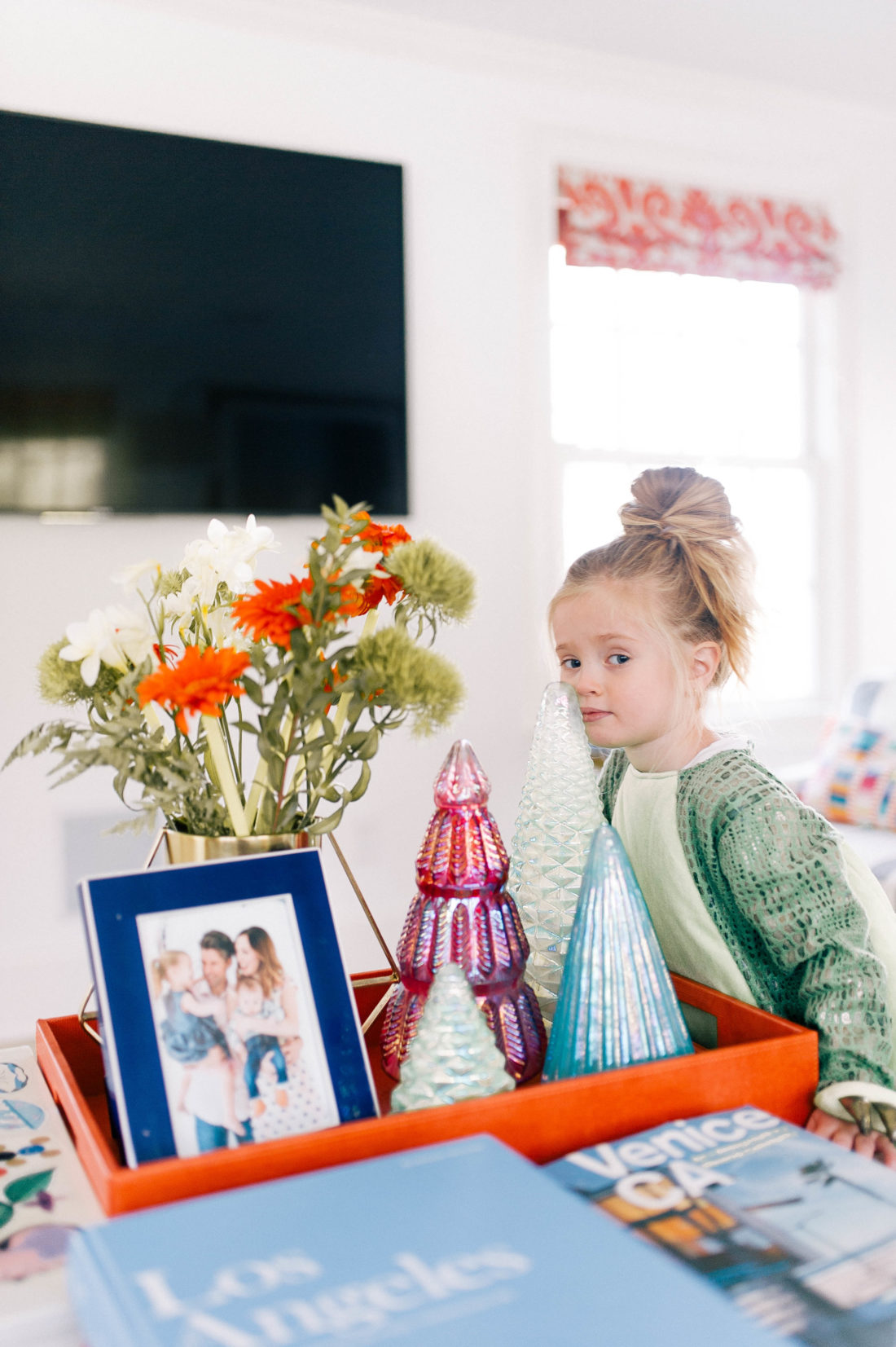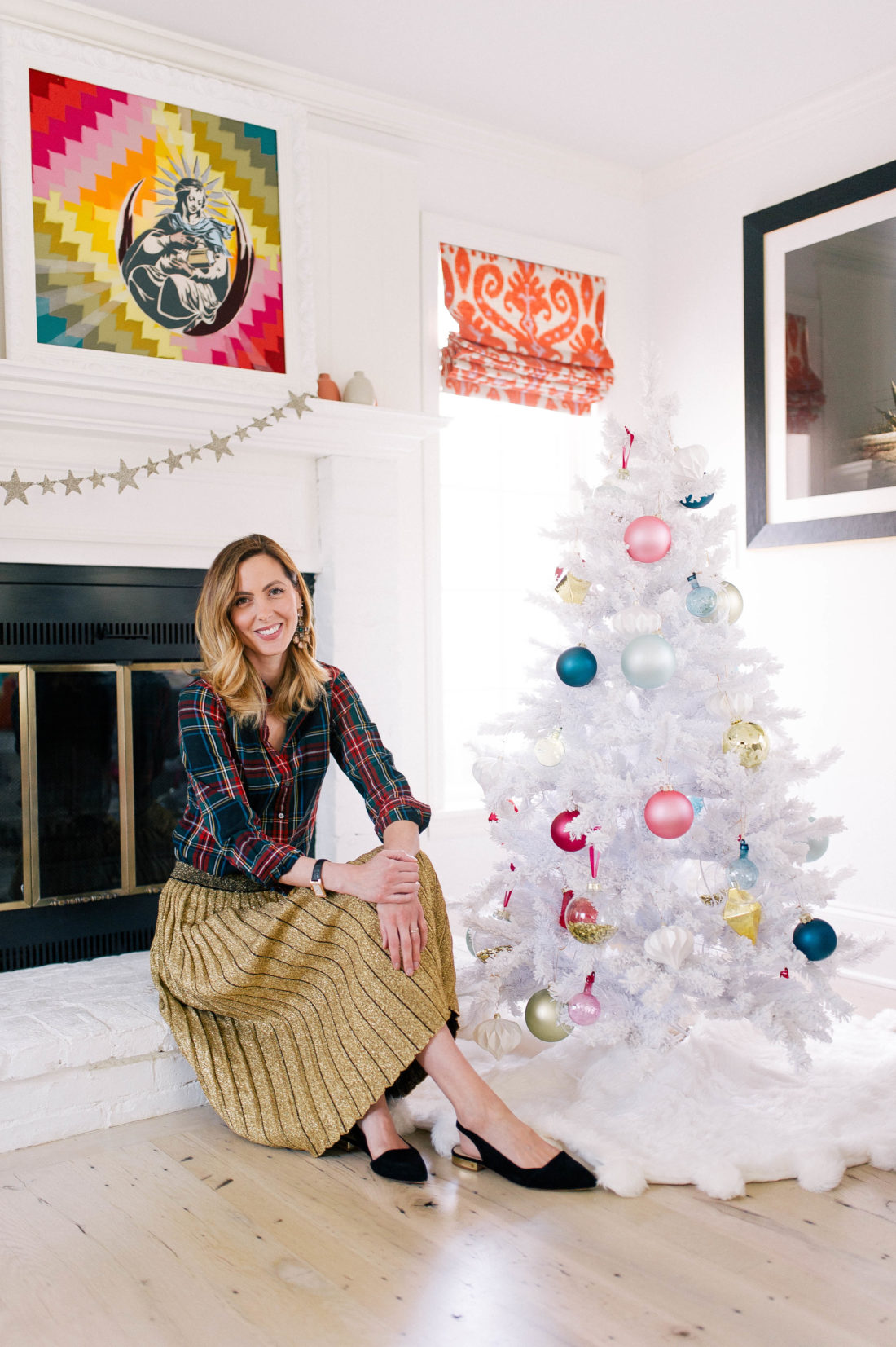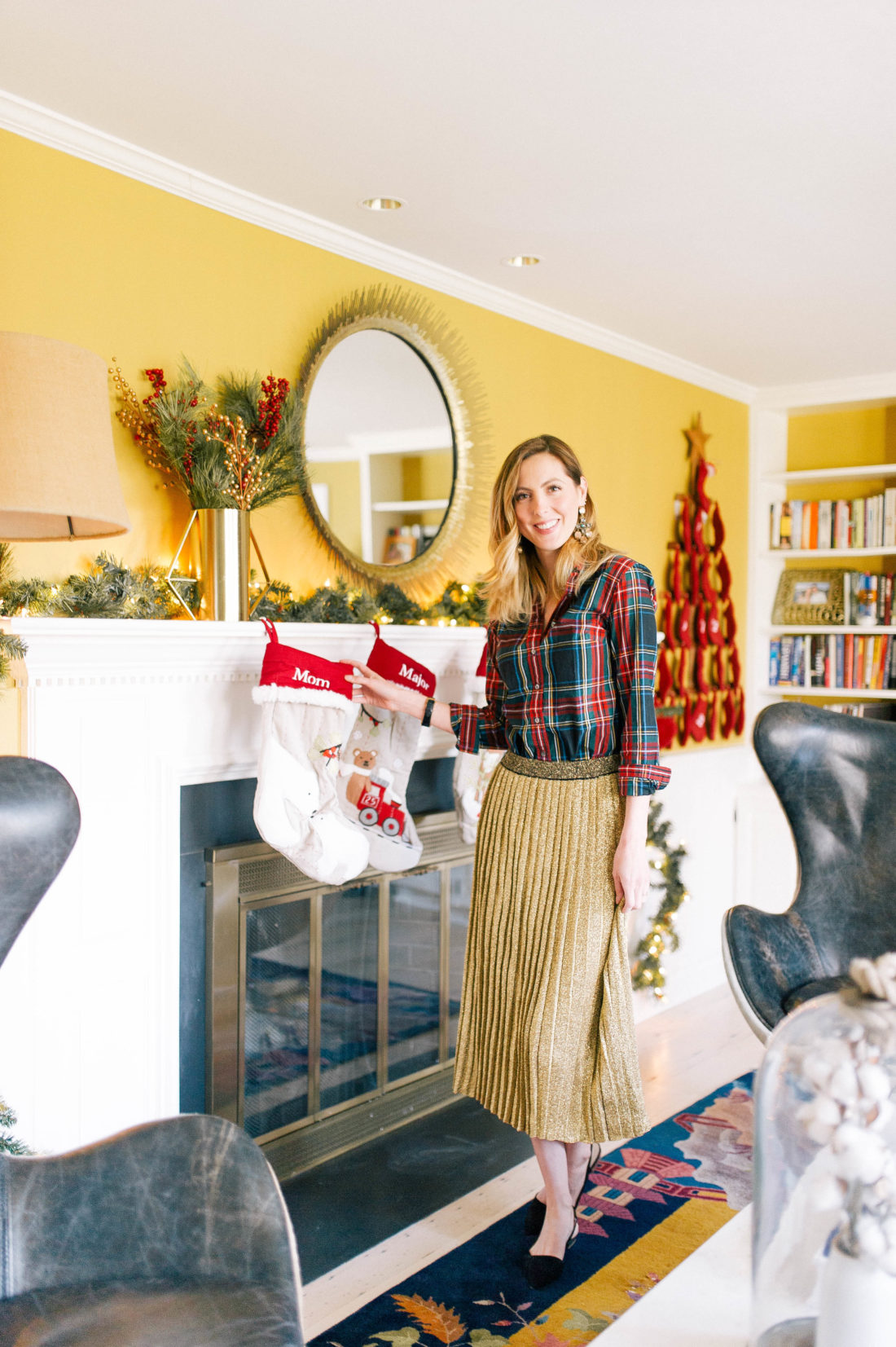 Lastly, I get really excited to decorate our Living Room as well.  This is our more "adult" living space that Kyle and I use together without the kids.  It has our bar in it! LOL. Whereas our Family Room has an energizing and modern holiday vibe, I wanted to go more traditional Christmas in this room. We decorate our family tree in this room each year, with ornaments that we've collected over the years– and some that I've held on to from my childhood! I just love our perfectly imperfect Christmas tree– it feels so "us" to me every time I look at it.  Our iron bull head and bar cart had to get decked out also, of course! And while last year we had our completed family set of four stockings hung up, this year is the first year we will be spending Christmas in our own home– and that is SO special to me.  I can't wait to watch my kids run in to this room to see their gifts on Christmas morning!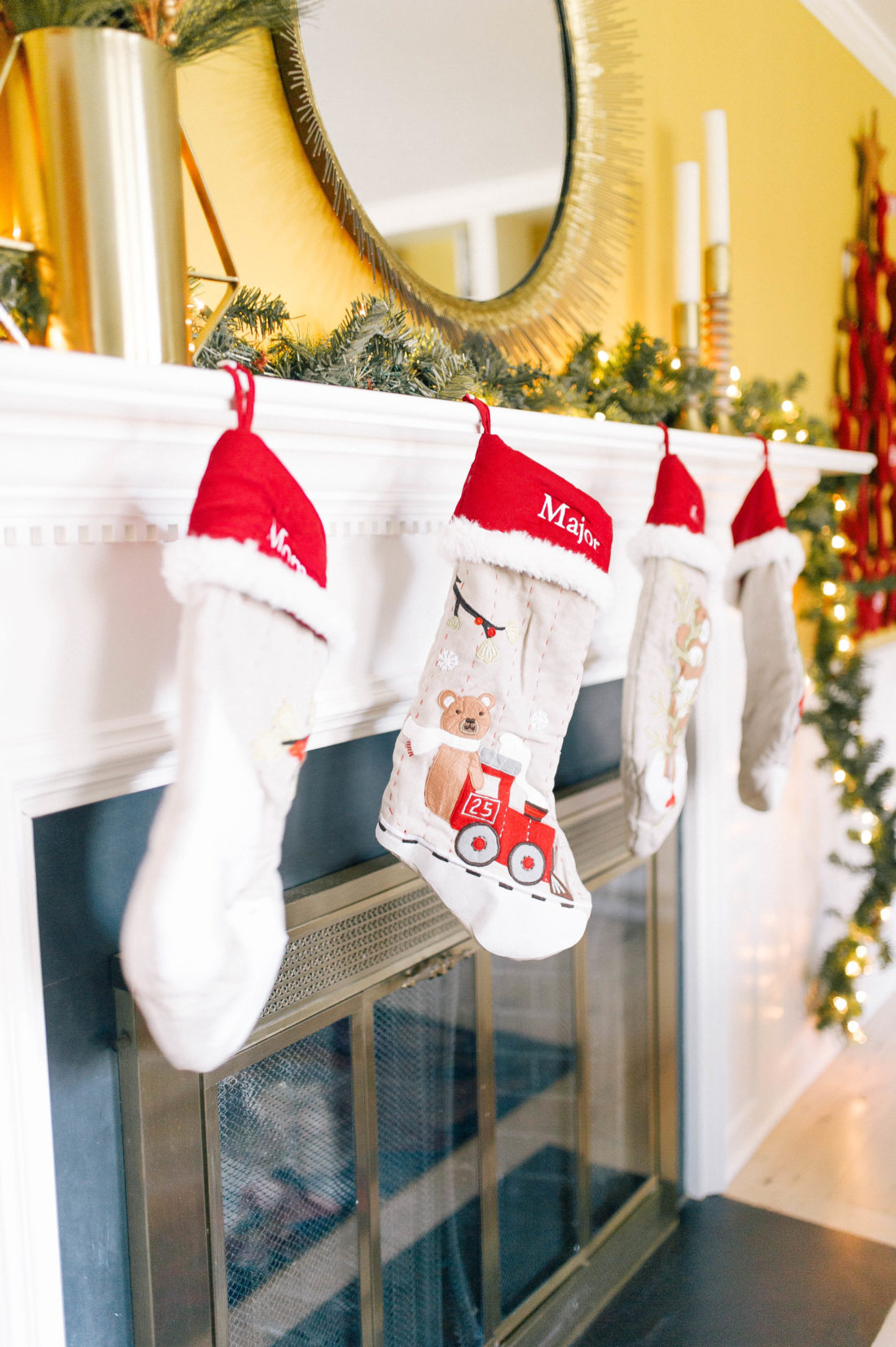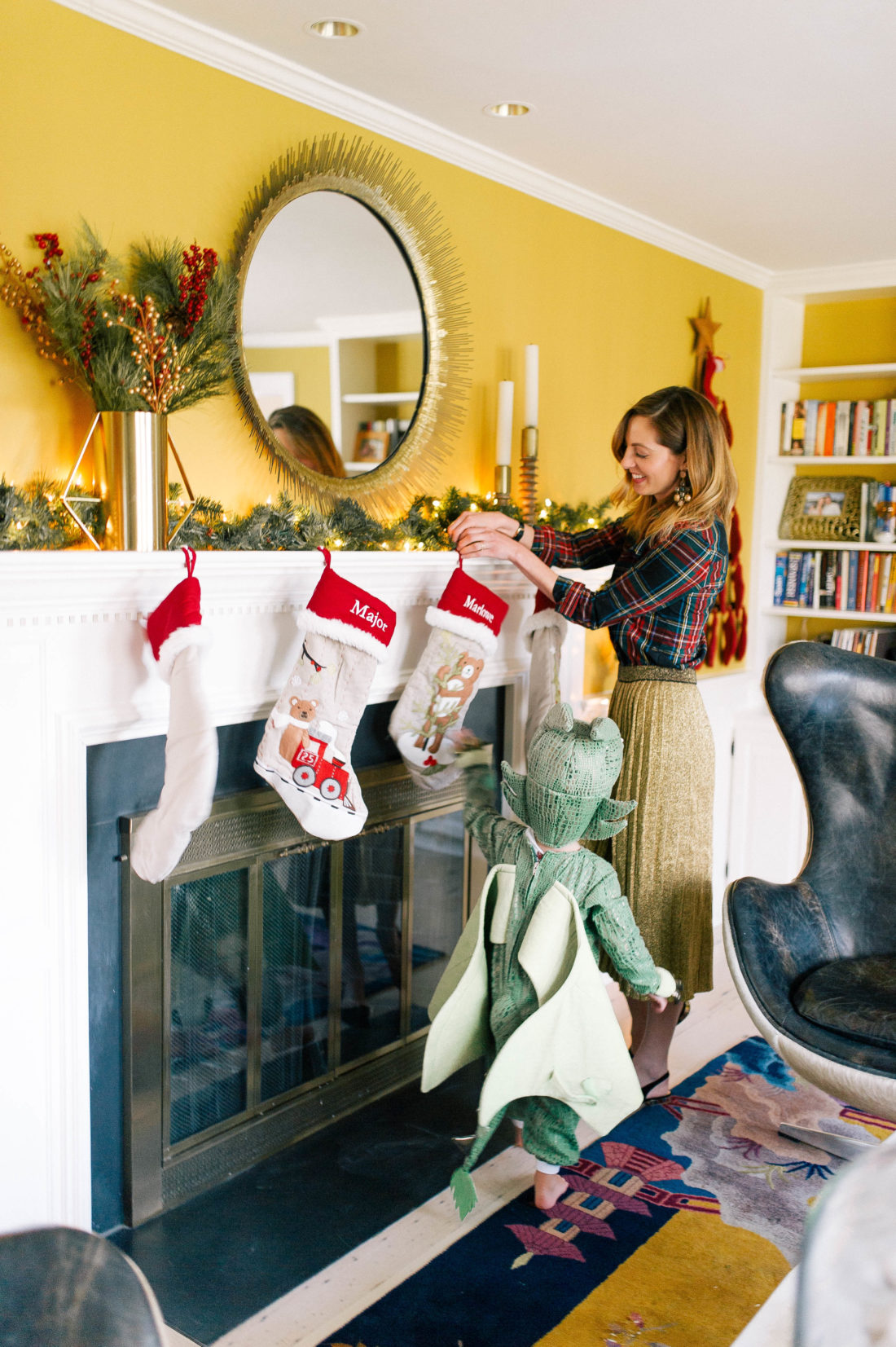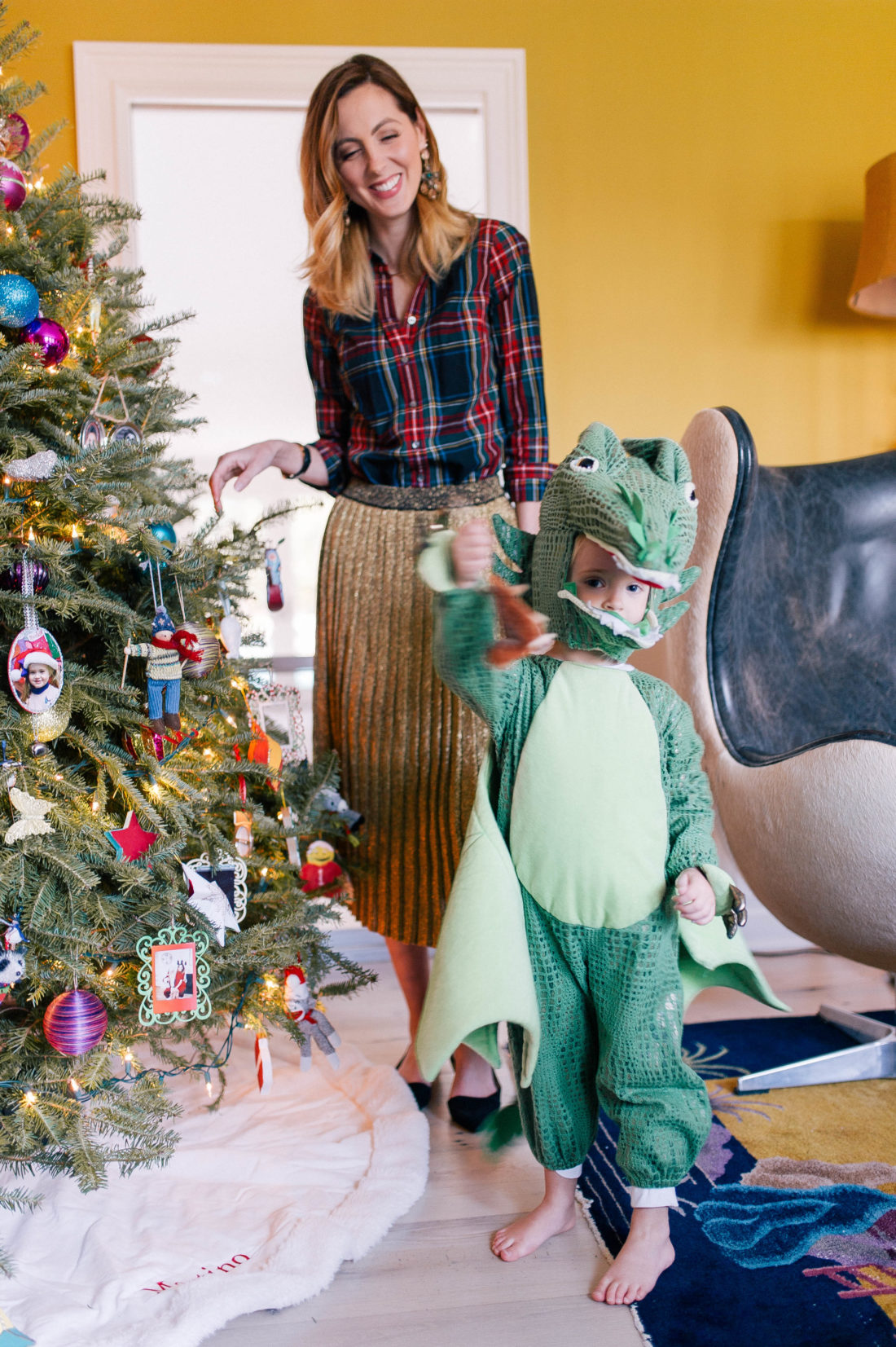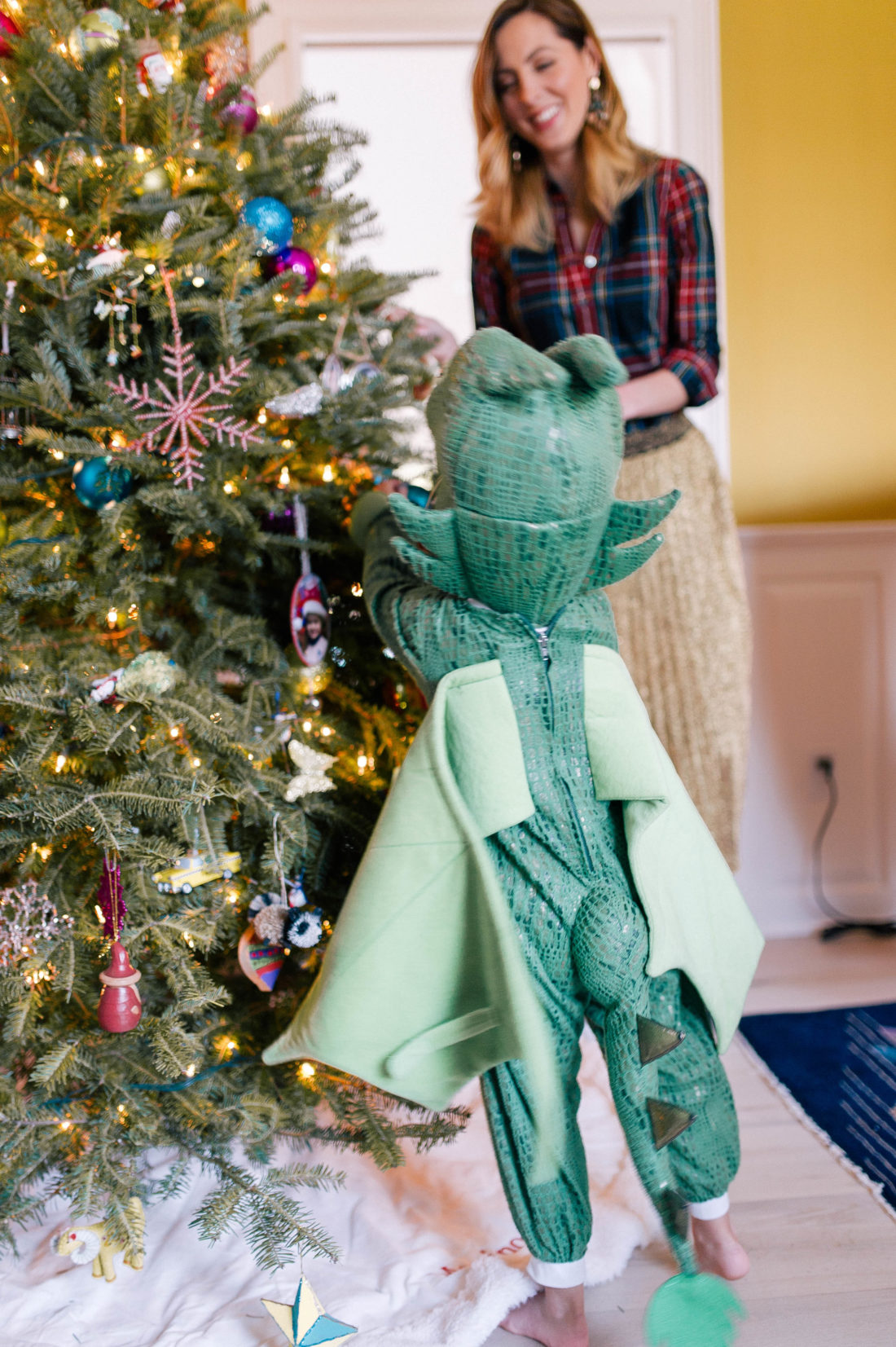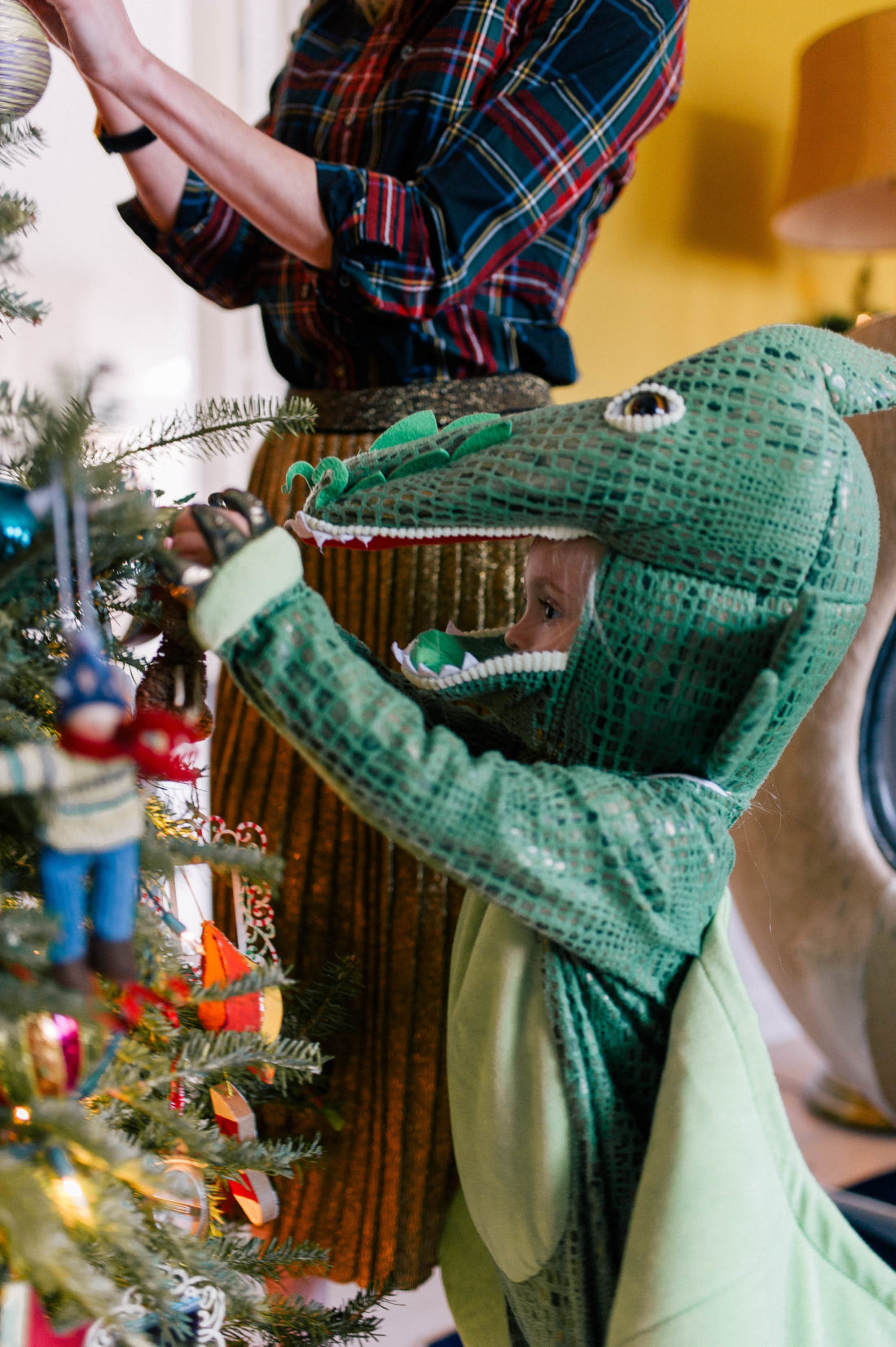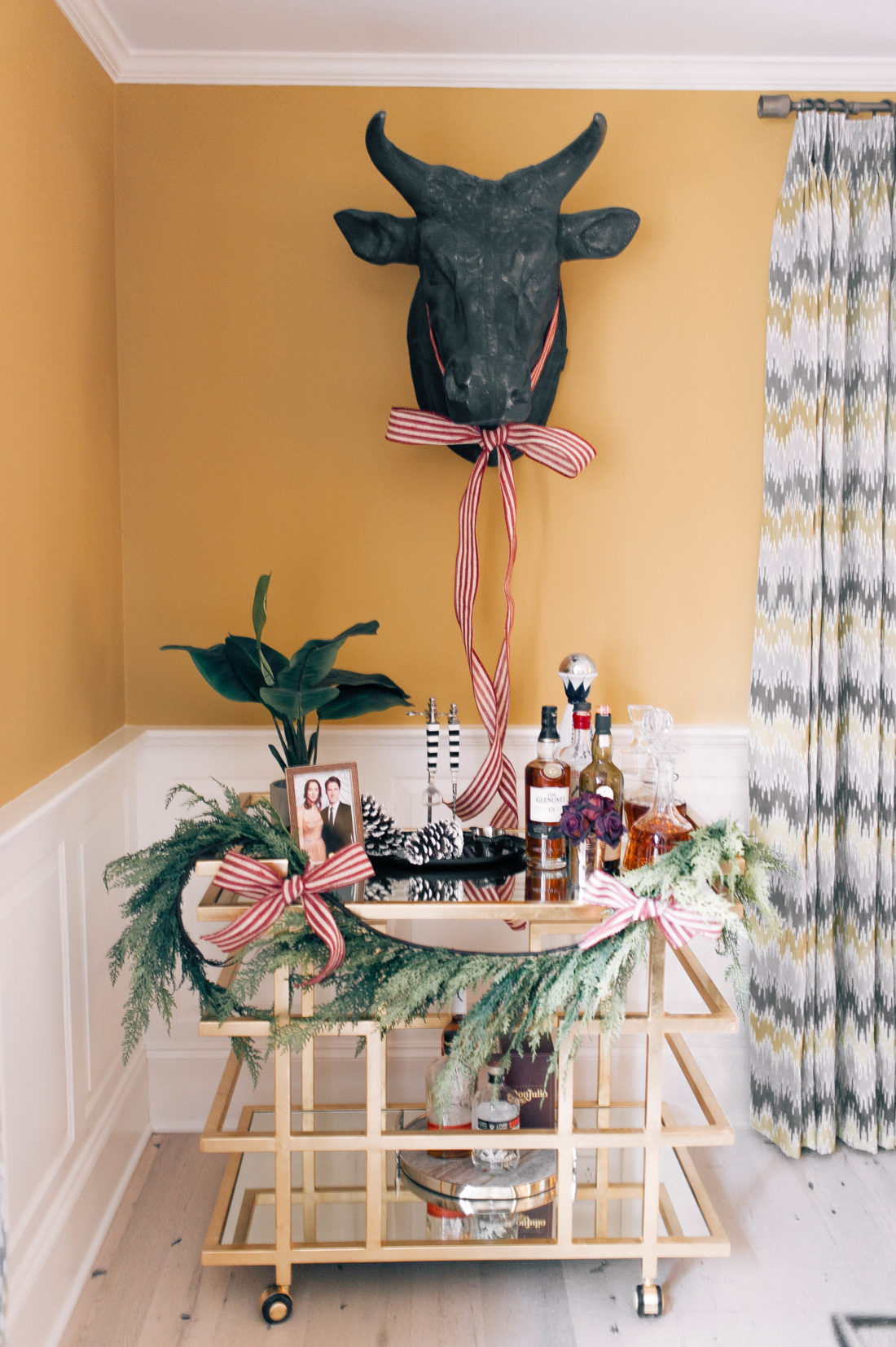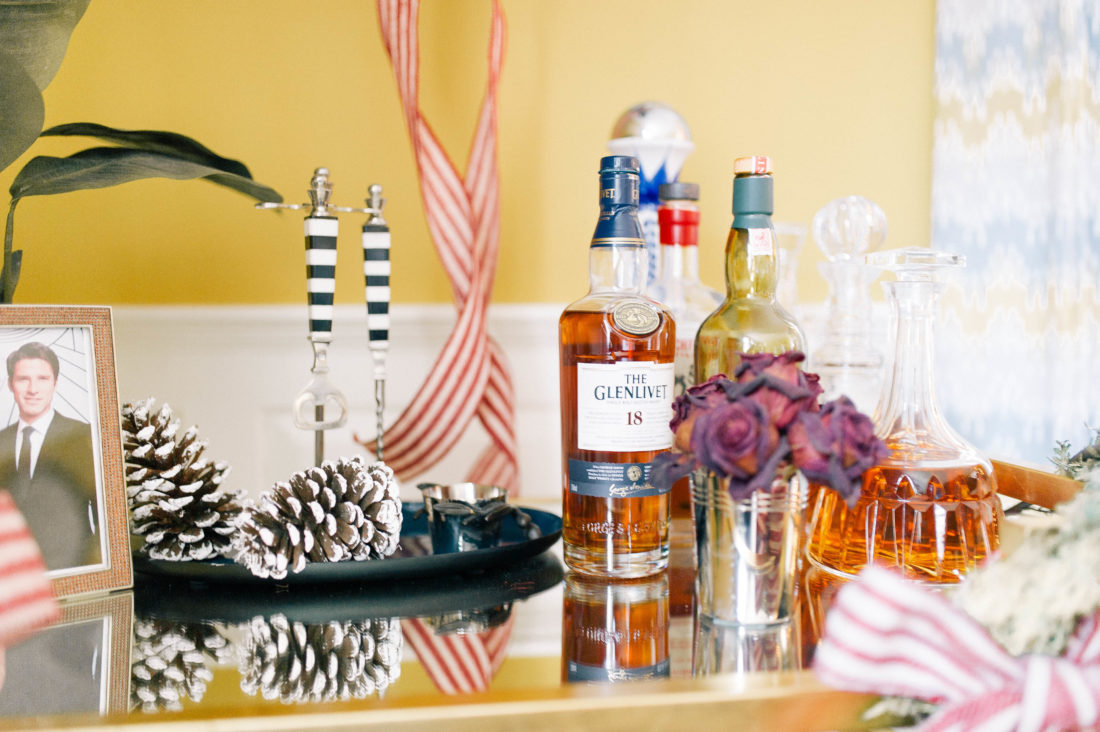 Having our home all decked out for the Holiday season really puts a spring in my step, and I know it may be a little crazy to go all-out before it's even December– but if holiday cheer is wrong I don't want to be right!
To kick off the season, I wanted to do a special giveaway for you guys right now! When I opened my Grandin Road Christmas Ornaments for our Family Room tree, I actually gasped.  I couldn't believe how beautiful they are.  Welp, I'm giving one lucky reader a complete set for YOUR tree! These ornaments aren't even available anymore on the website (clearly I'm not the only one obsessed) so you will be extra lucky to snag them! To enter, just comment below and share your favorite Christmas tradition.  I will pick a winner tomorrow!
**UPDATE** The Giveaway is now closed! Congrats to Joelle , you won the giveaway! Please see my reply to your comment below to claim your prize!
Shop the look…

My top by J. Crew
My Skirt & Shoes by Tory Burch
Marlowe's dragon costume by Pottery Barn Kids
Photographs by Carter Fish