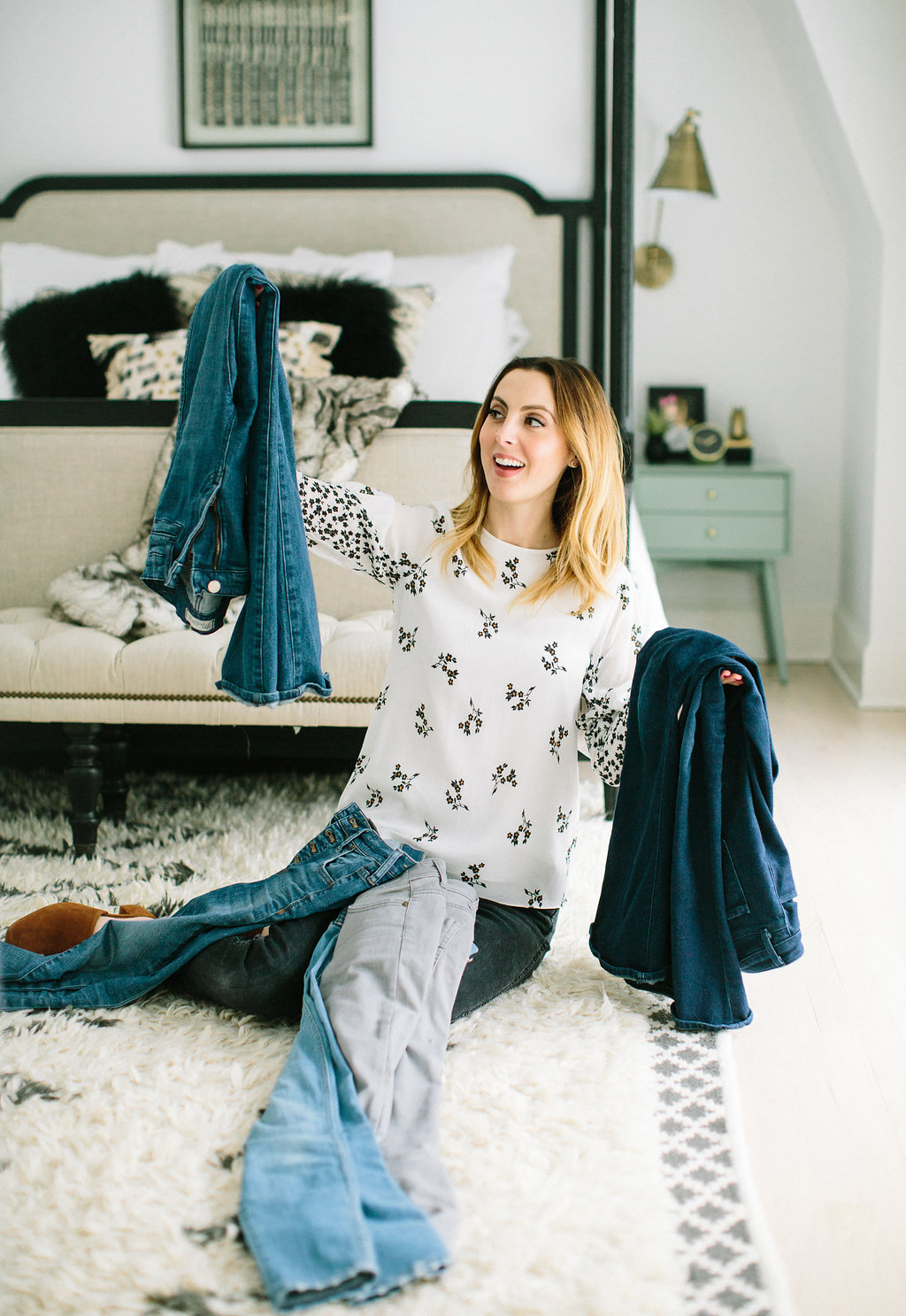 I know a lot of us are gearing up to switch over the seasonality of our closets in a month or two. One of the best things I've learned to do over the years is to do a full closet clean-out once a year.  I think it's a great way to re-curate your wardrobe, get rid of pieces that are collecting dust, and to have your wardrobe grow and mature along with you.  It's also a nice way to make a buck, if you play your cards right! I love cleaning out my closet in the Spring each year, and today I thought I would share my tips for cleaning out your closet so that you can get organized along with me!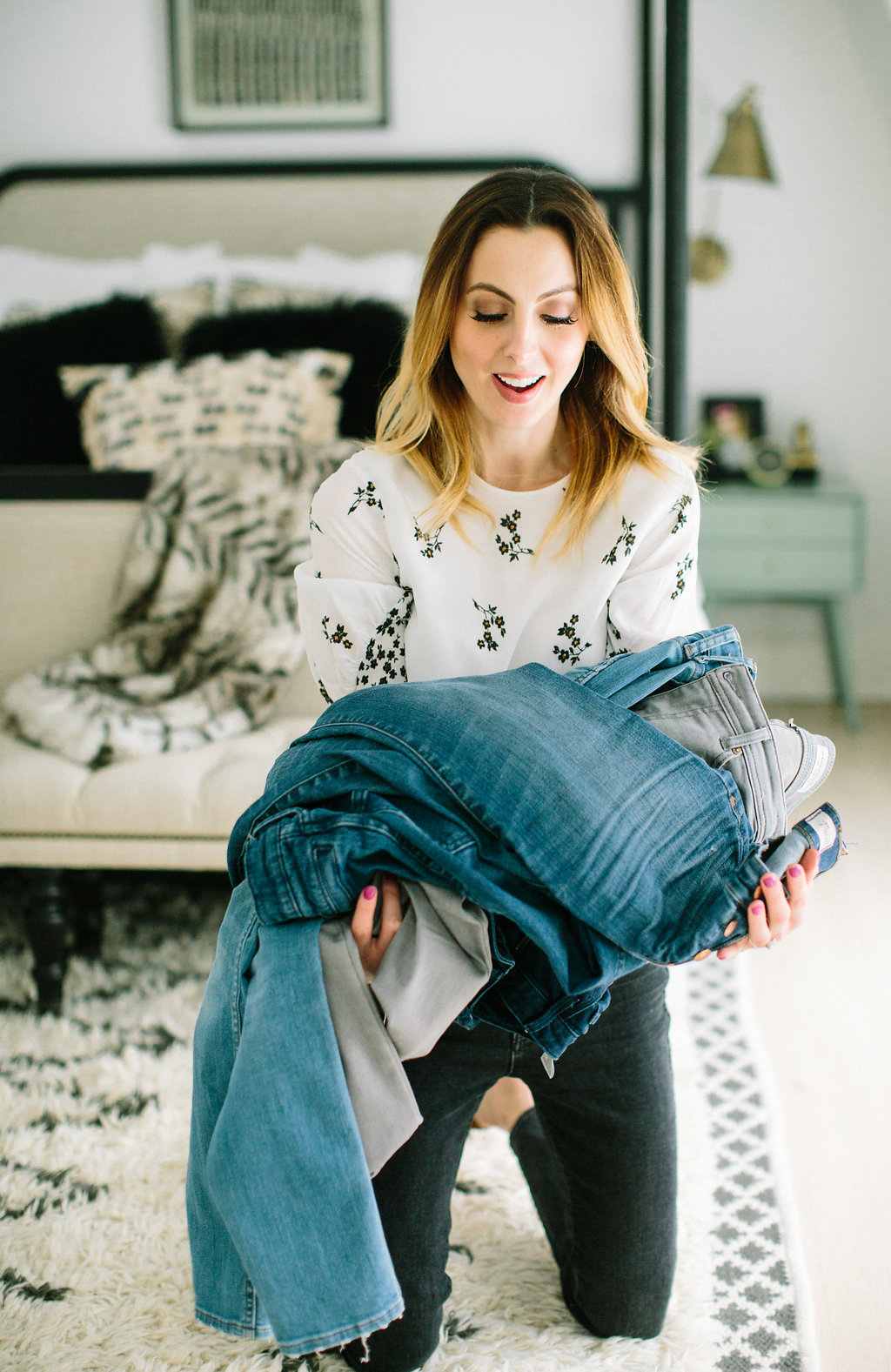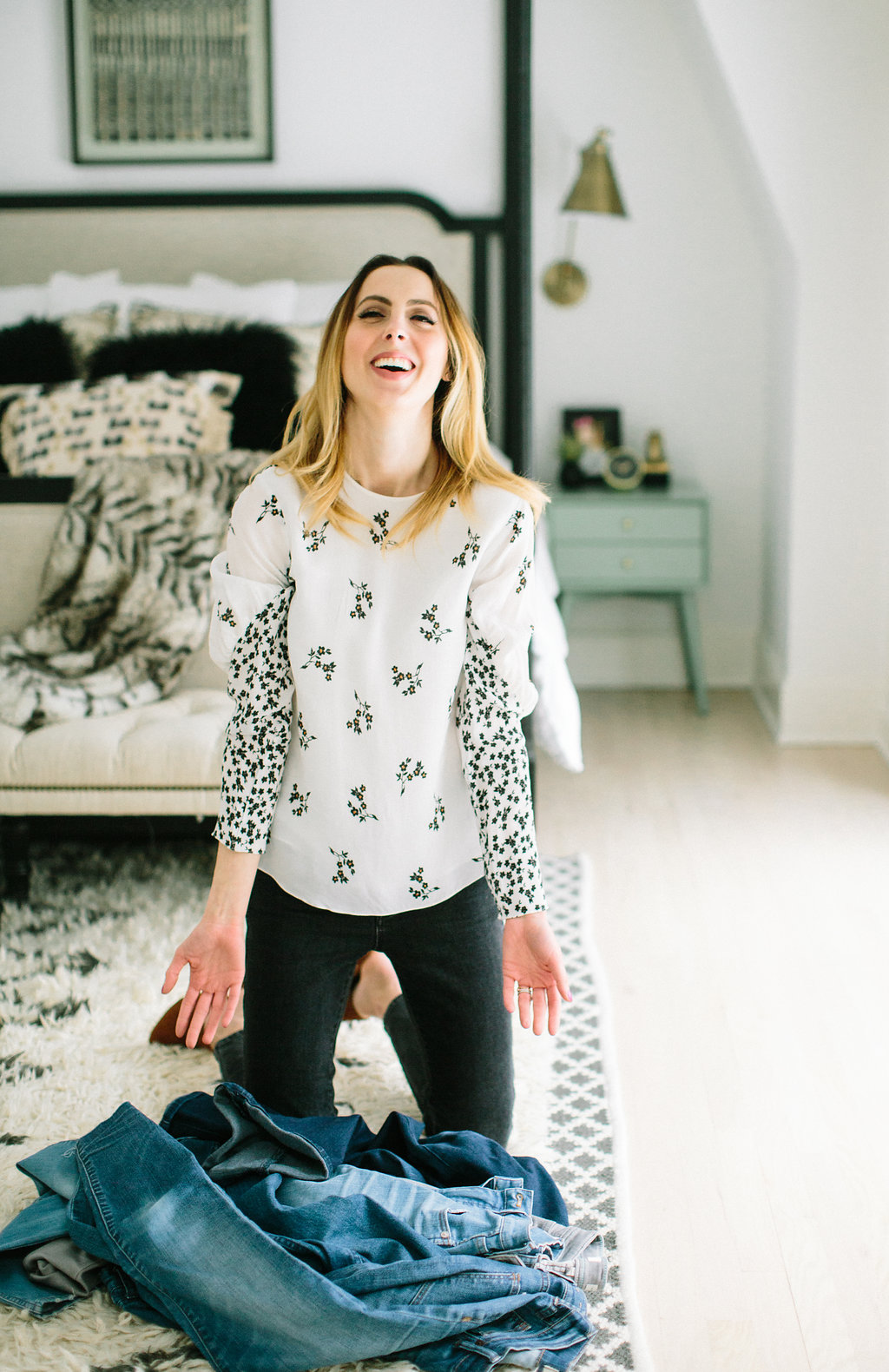 1. Be Honest
Stop holding on to the pieces of clothing that you have convinced yourself you'll wear again…one day…when they fit AND you happen to be on vacation someplace warm where they will be PERFECTION for that photo opp you have in the back of your mind….  It ain't gonna happen.  I call those pieces of clothing "As If's" because cleaning out my closet reminds me of Cher from "Clueless", and that is one of my favorite Cher sayings ever.  Lol. My personal rules for the clothes in my closet are that if I haven't worn it in two years, or if they don't fit me TODAY, they get put in the Out pile.  I wrote a piece about my journey with positive body image over the years, and one of my biggest promises to myself has been that I will not own any aspirational clothing.  I think this is a terrible idea and only works to make people feel badly about themselves.  No more "My Skinny Jeans"! I think every piece of clothing in your closet should be flattering on your body and make you feel good about yourself.  While cleaning out your closet, try on EVERYTHING, look at yourself in the mirror, and be honest with yourself about how you really feel wearing it.  If the result is less than great, that article of clothing doesn't deserve you! Additionally, if I've held on to something because I'm absolutely positive I'm going to wear it one day, I think that a two year maximum grace period on that is more than fair.  If you haven't worn something in two years, DO you even really like it? Let's be real.
2.  Think About Your Closet As A Curated Wardrobe
I think it's important to view your closet as a curated wardrobe for your lifestyle, and not as individual pieces you might like.  I'm sure you like ALL those jeans you have, but how many pairs of dark denim skinny jeans do you really need? I know you think they're all different, but they're really not.  Instead, go through the jeans and look at it like a collection: 1 perfect pair of boyfriend jeans, 1 perfect pair of distressed denim, 1 perfect pair of dark denim skinnies, 1 perfect pair of wide leg denim, 1 perfect pair of midwash highrise button fly, 1 perfect pair of grey jeans, etc.  If you're having a hard time deciding on which items to keep, try them on again, and take pictures.  You might be surprised by which ones actually look better on you from all angles.
Also start paying attention to what you don't have in your closet.  Are you missing the perfect pair of black pants, or a pretty silk bow blouse, or a classic trench? Start making a list (I use the notes section of my phone for this) of classic pieces that you can invest in little by little.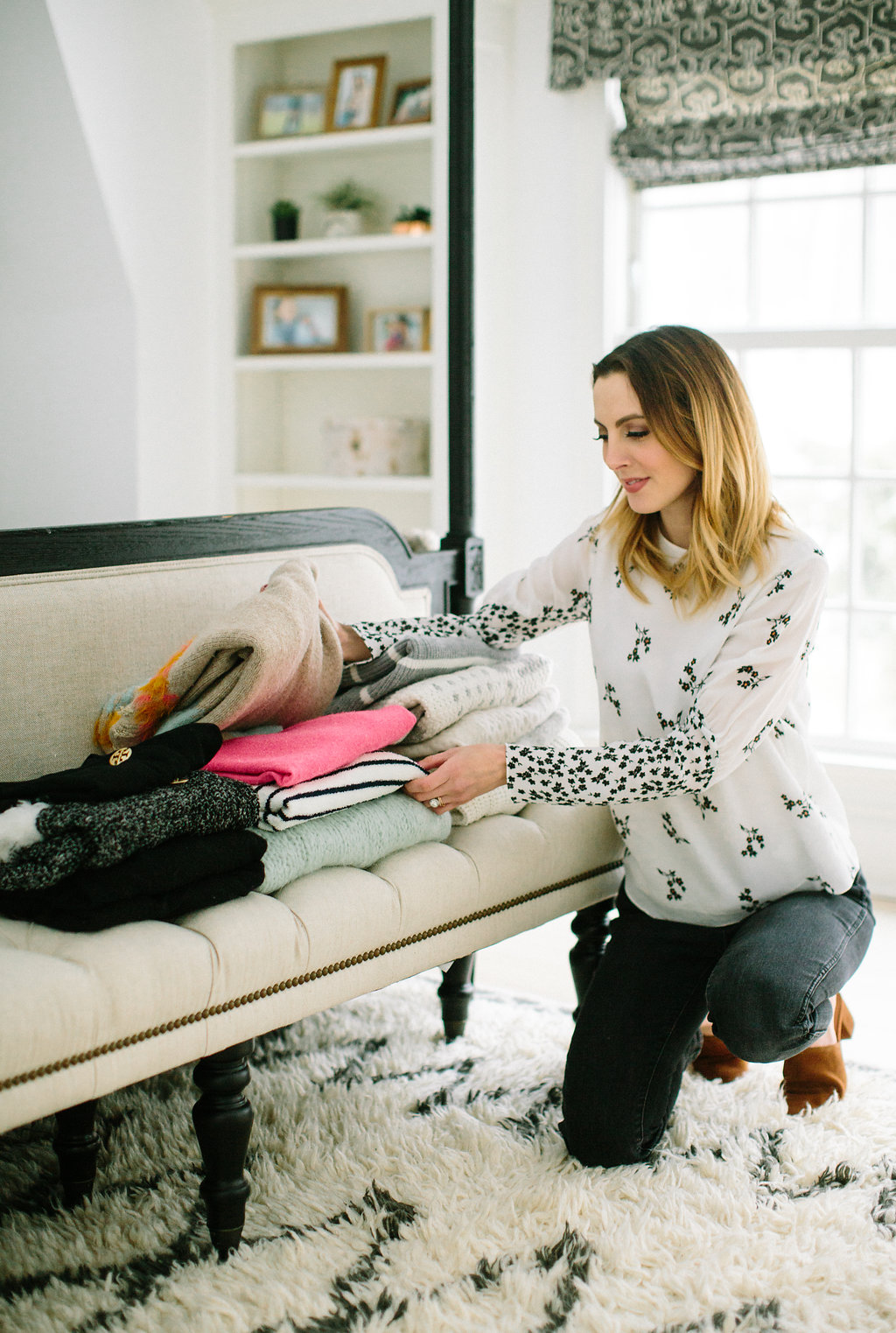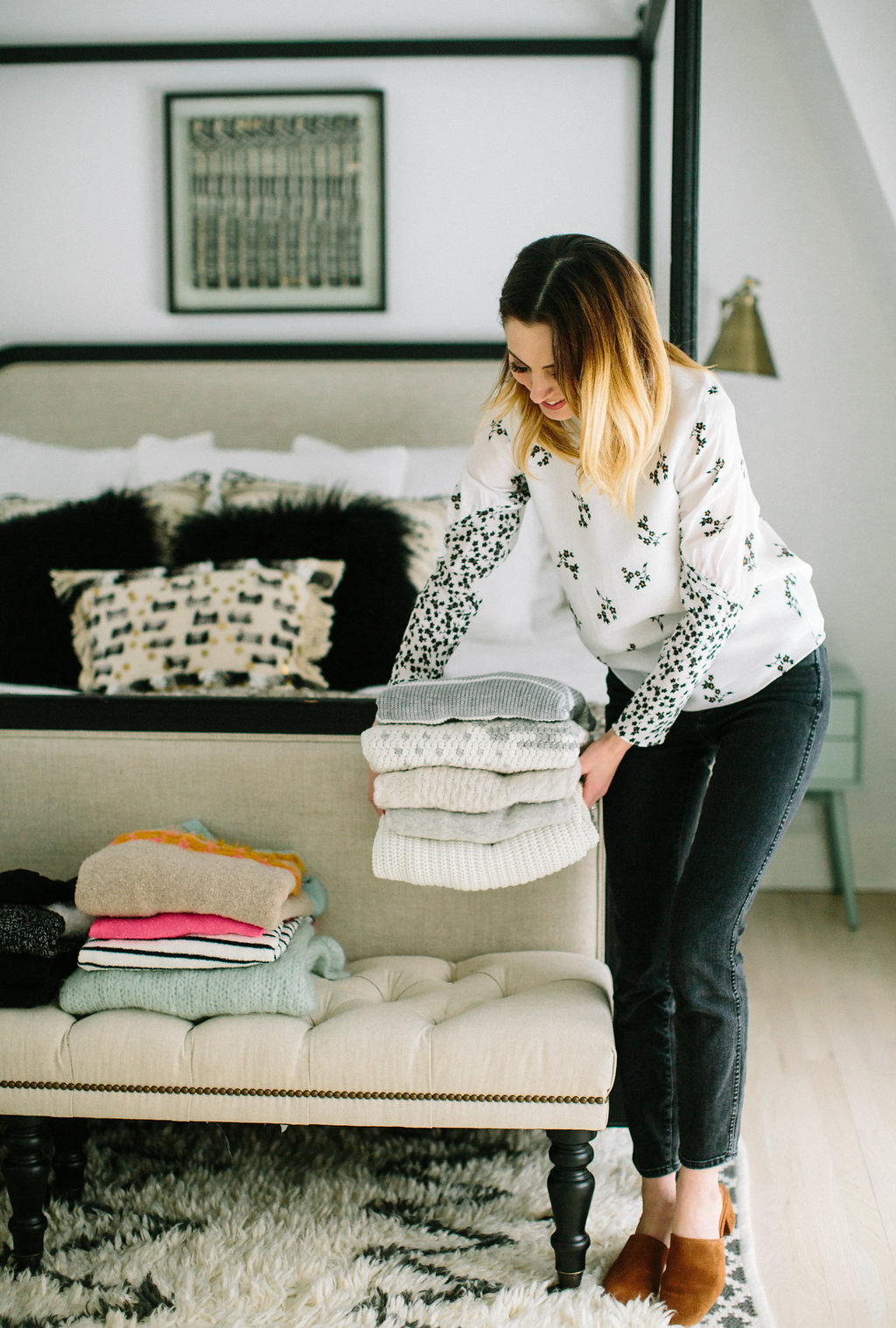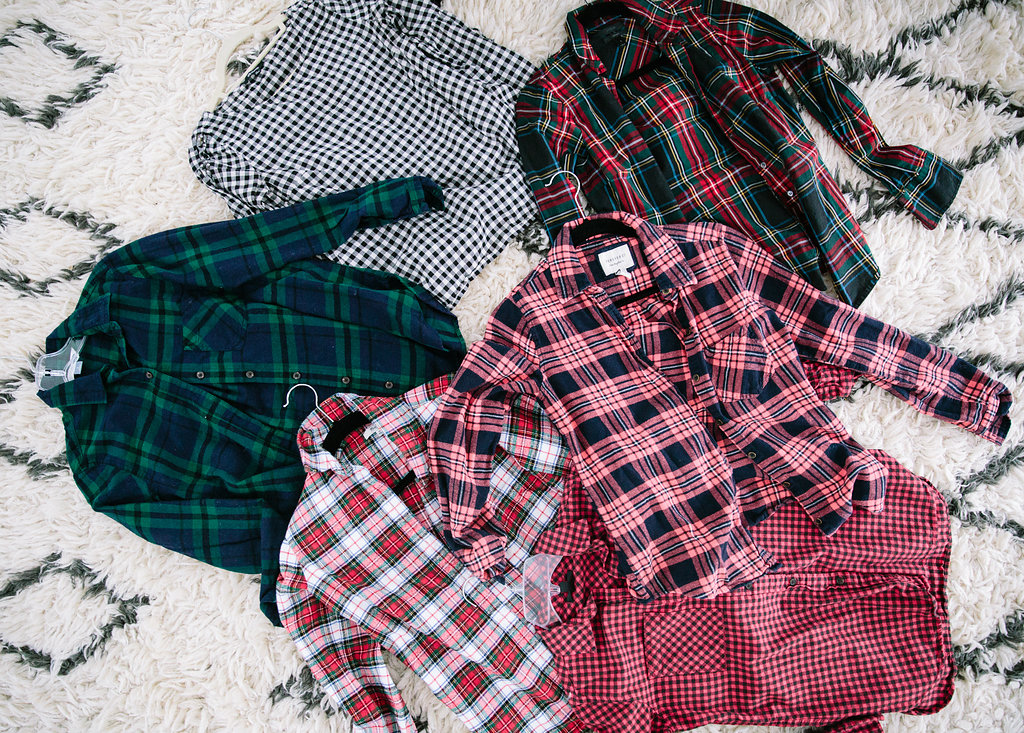 3.  Make Piles
I split up my "Out" clothing in to three categories with three separate piles: Store, Sell, and Donate.
Some clothes are right for my closet any longer, but I don't want to fully get rid of them.  For example, any important dresses that I have pictures in (such as what I wore for both of my children's baptisms) or maybe they're just incredible designer pieces that I want to keep for Marlowe one day.  These all go in the "Store" pile! Then I put the finished pile in space saver bags to place in storage so that they won't get damaged or eaten by moths.
Other clothes are like new, but still not right for me anymore.  Maybe it's a top that I loved when I bought it but I soon realized wasn't that flattering.  Maybe it's the overflow from my denim addiction– whatever the case, if you have clothing with good labels, you should try to sell it! All that goes to the "Sell" pile.  I wrote a whole post about how much I love Thredup for this.  You can also buy clothes with your consignment earnings! Keep in mind that clothes that are like new, good labels, and in season will usually get you the highest commission when selling.  You can find local consignment stores as well! After selling these clothes, you can put the money you make towards the pieces you determined you were missing in the closet curation I mentioned earlier.
More worn in clothing is best to donate! I out and out throw away anything with a rip or stain on it– but if there are great pieces that probably won't sell by consignment, I put bags together to drive to Goodwill! I like knowing that these clothes that are no longer right for my closet will find themselves a much needed new home.  I also love donating kids clothes, since I find my kids grow out of things so quickly!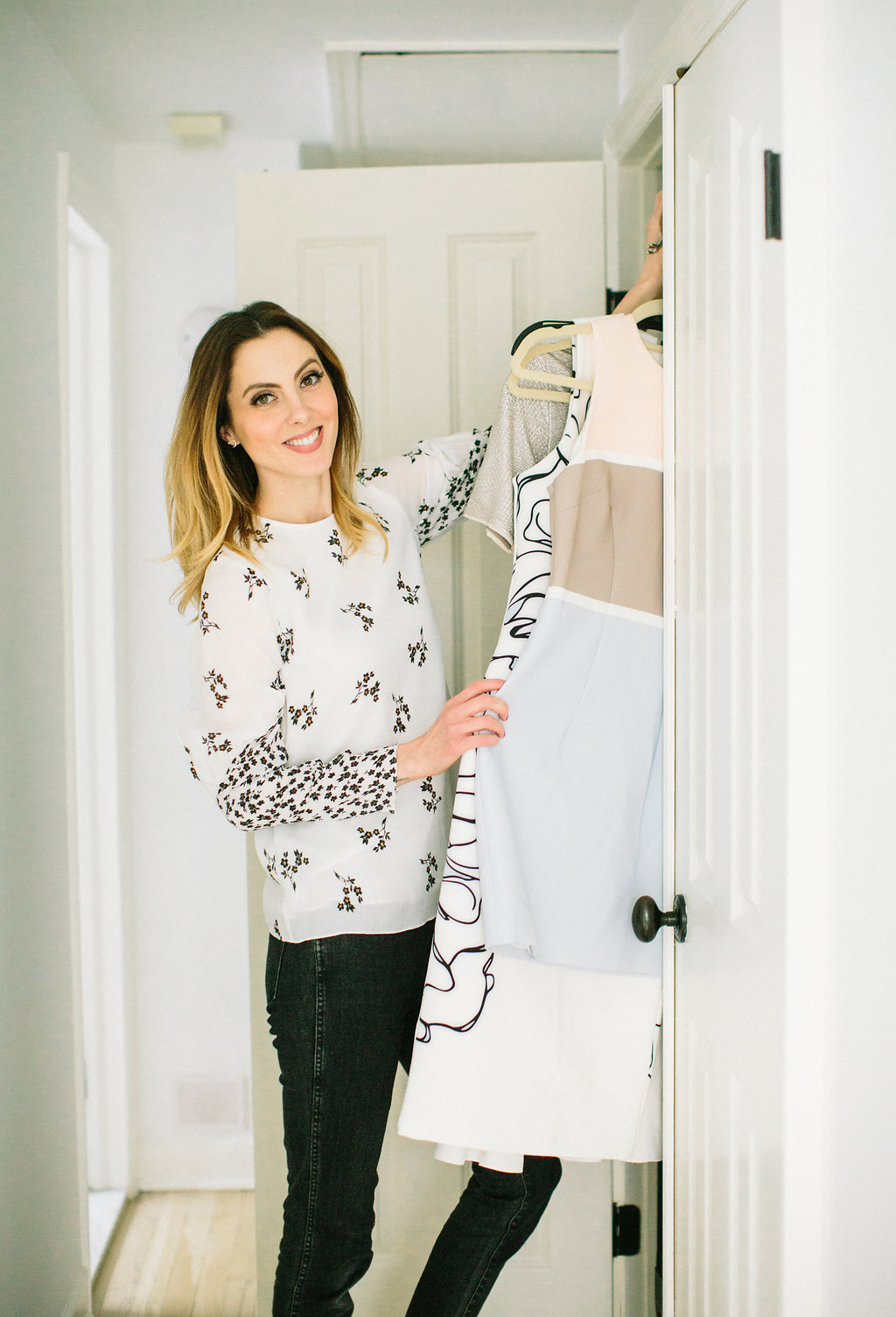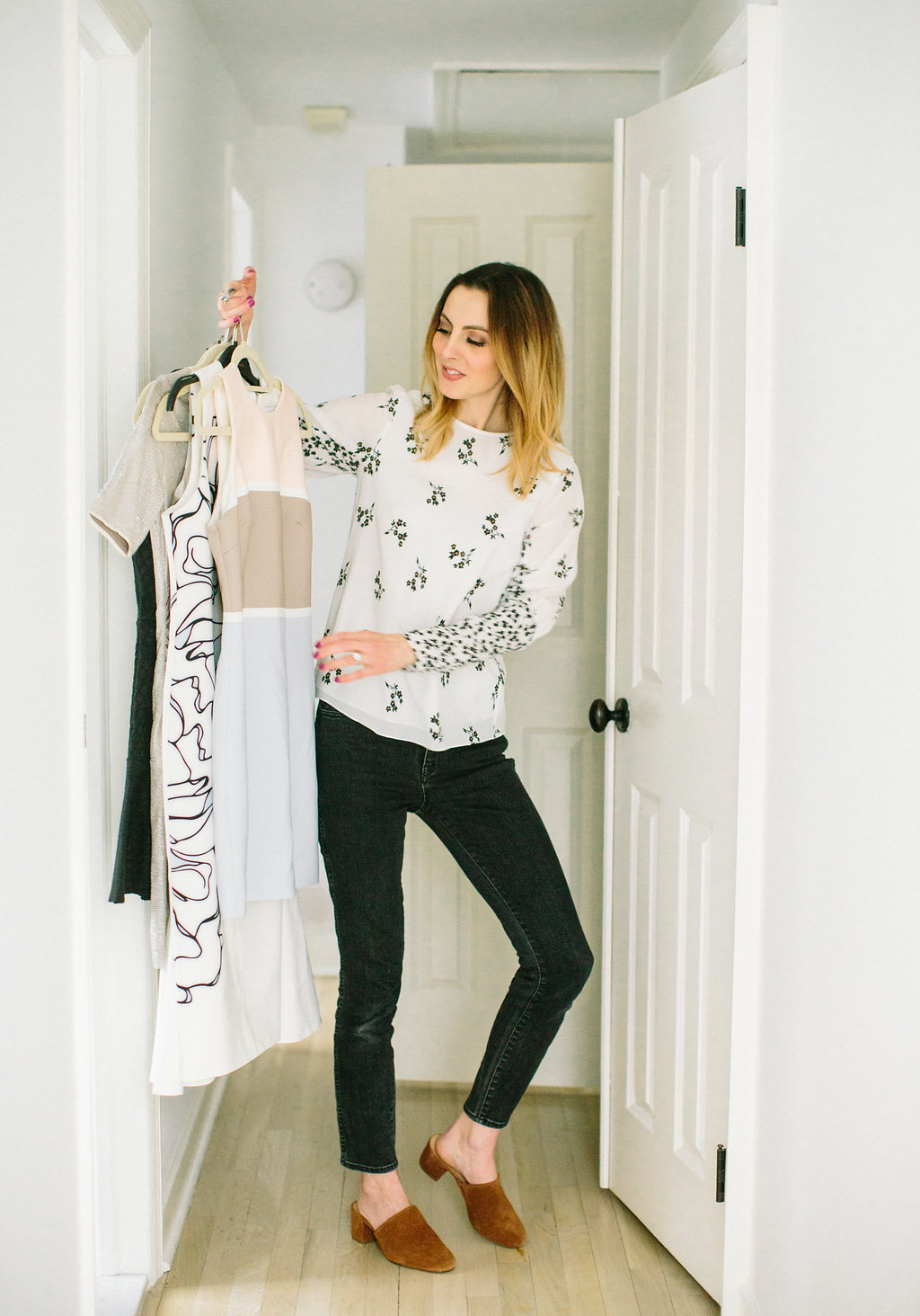 4.  Store Out Of Season
Make sure you use space saver bag, packing cubes, or bins to store clothing that is out of season.  It's nice to see exactly what you're working with for the weather you've got– instead of sifting through sweaters and flannels in July! Throw some moth balls or cedar planks in your storage containers to ensure that your clothing stays hole-free while it's put away.
5.  Get Organized
Now that you've cleaned out your closet, make sure that everything that remains is well organized! I like to organize my closet by item type, by style, and finally by color group.
First I put all the dresses together, the pants together, the skirts, tops, and sweaters.  Next I go in to each category and differentiate.  So maybe with dresses it will be Short vs. Long, and then Casual vs. Cocktail.  I go in to those sections once more and place all the clothes together according to their color groups.  I do the same across all the item categories in my closet.  I find that once my clothing is organized in this way, it makes surveying the closet as I'm getting dressed SO easy, and I always know where to find everything! It also makes me take note once again of any holes in my wardrobe as a whole.  I can tell in a glance if I'm missing a great, simple camisole top, or an LBD.  I can also tell the areas where I might be getting a bit TOO excited.  Once when I did this cleanout I noticed that I somehow had waaaaay too many striped tops, and I was able to make a mental note to fill in other areas of my wardrobe instead.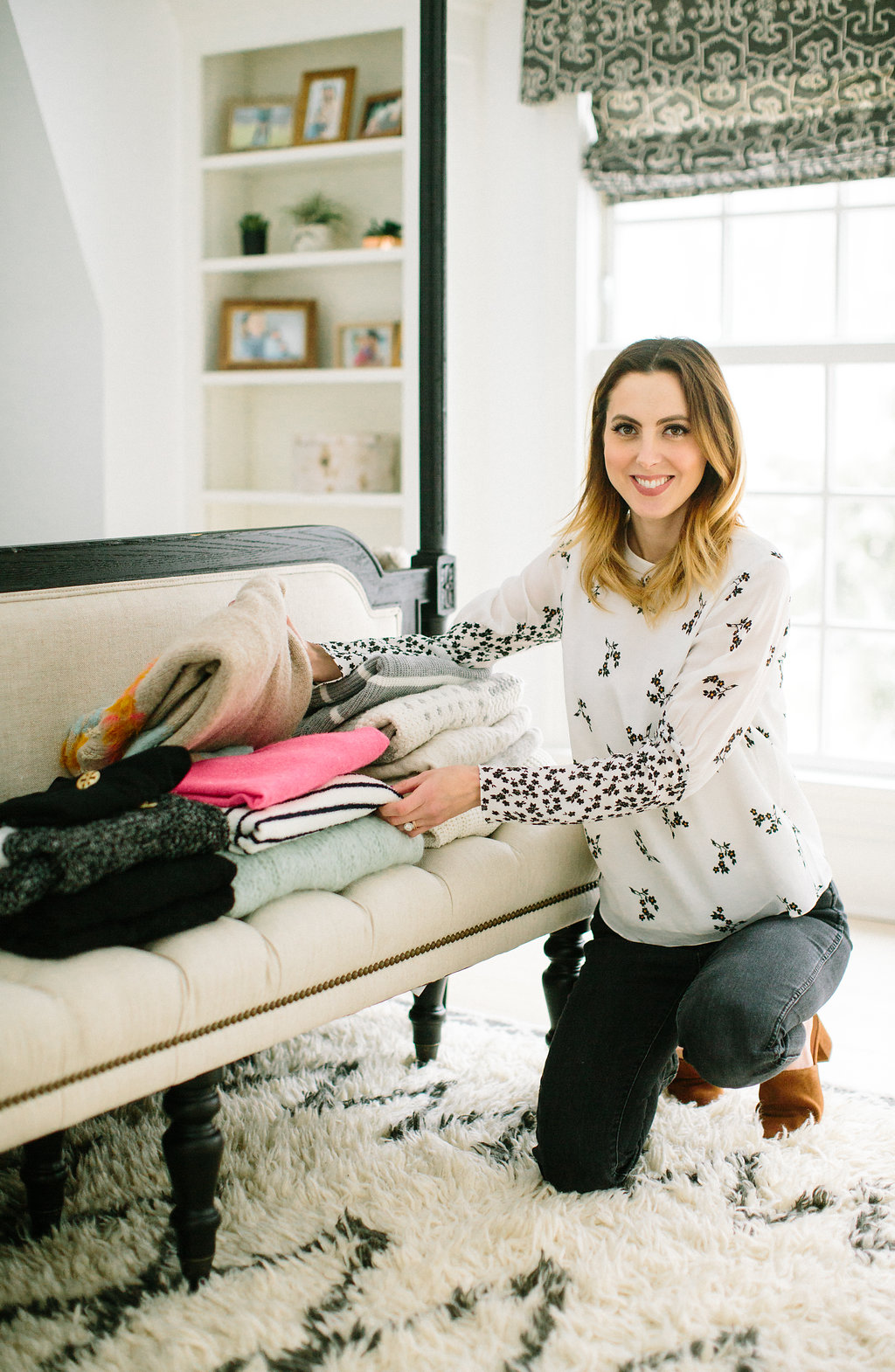 Great products keeping your closet organized…

Photographs by Lindsay Madden Photography