The following content may contain affiliate links. When you click and shop the links, we receive a commission.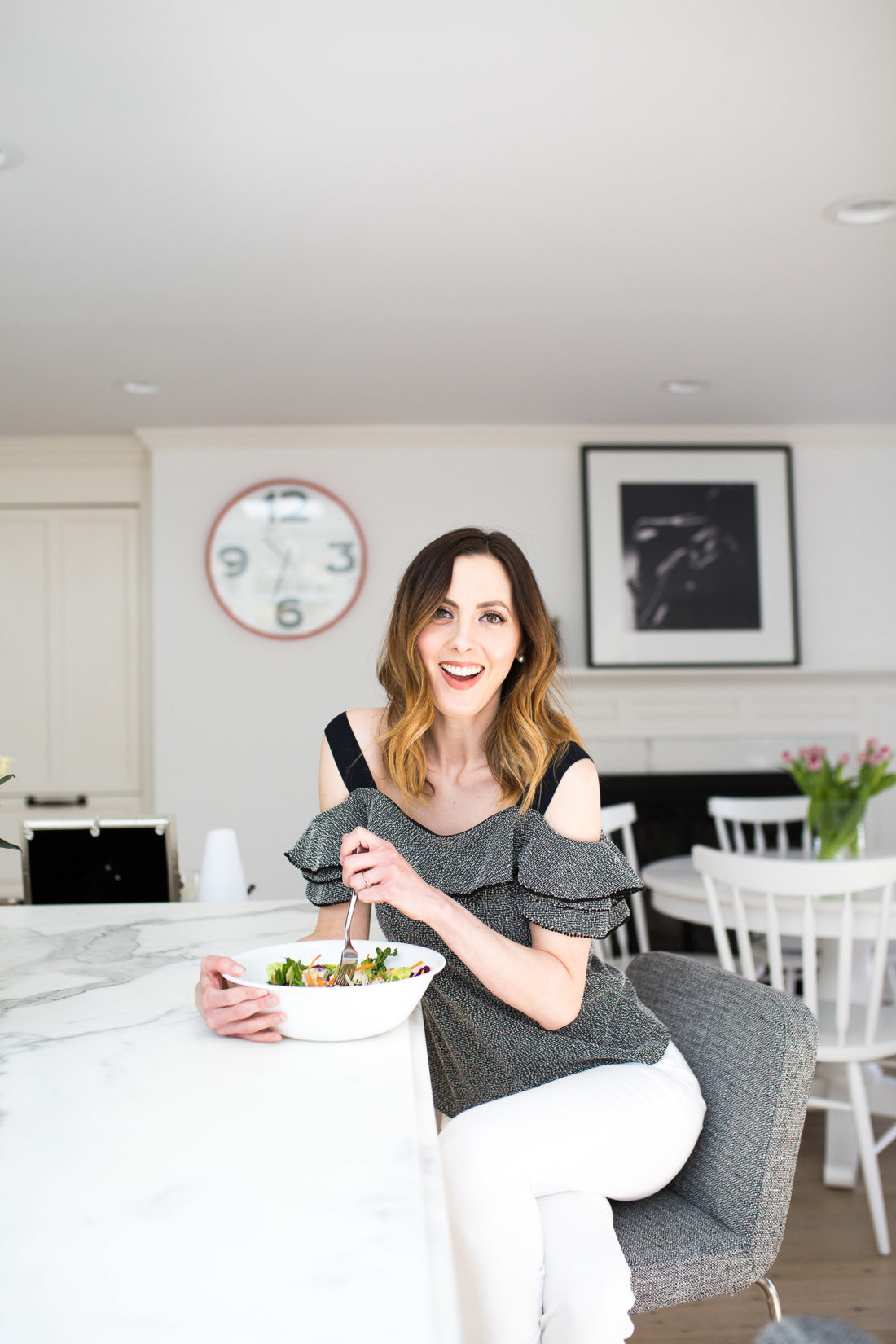 One of the biggest questions I get asked on the blog, in emails, and on social media is: Can you share your weight loss secrets? Sometimes people ask me "Can you share your post-baby workout?", or "Post about what you eat to lose weight!"  These questions are totally valid, but are fraught with a lot of history for me.  The truth is, today I feel like I'm finally living as my healthiest self– but my path to get here was not about specific diets, certain workouts, or a weight loss routine.  It has been more about changing my entire lifestyle and the way I think about food and about my body.  Today I thought I would share a bit about my body image history with you, and a few of my tips for discovering your healthiest self and feeling great about the skin you're in!
First of all, I'll mention that I don't own a scale.  People ask me (strangely, often) about how much I weigh, how much weight I gained while pregnant, or how much I've lost etc.  I much prefer to go off of how I look and feel in my clothes than in a number on the scale. I can say with total authenticity that I am able to separate how my body looks from how I feel about myself as a person– BUT I didn't always use to think this way!!!! In fact, there was a period of time in my life where I thought incessantly about numbers on a scale, what I was eating and not eating, and picking apart my physical appearance nonstop.  I fell victim to that way of thinking like so many others in our culture, and the truth of the matter is that it made my life so much harder! And (surprise, surprise) also made me endlessly unhappy and consistently insecure.  And there is one thing I know for sure: An unhappy, insecure woman is NEVER the most beautiful woman in the room.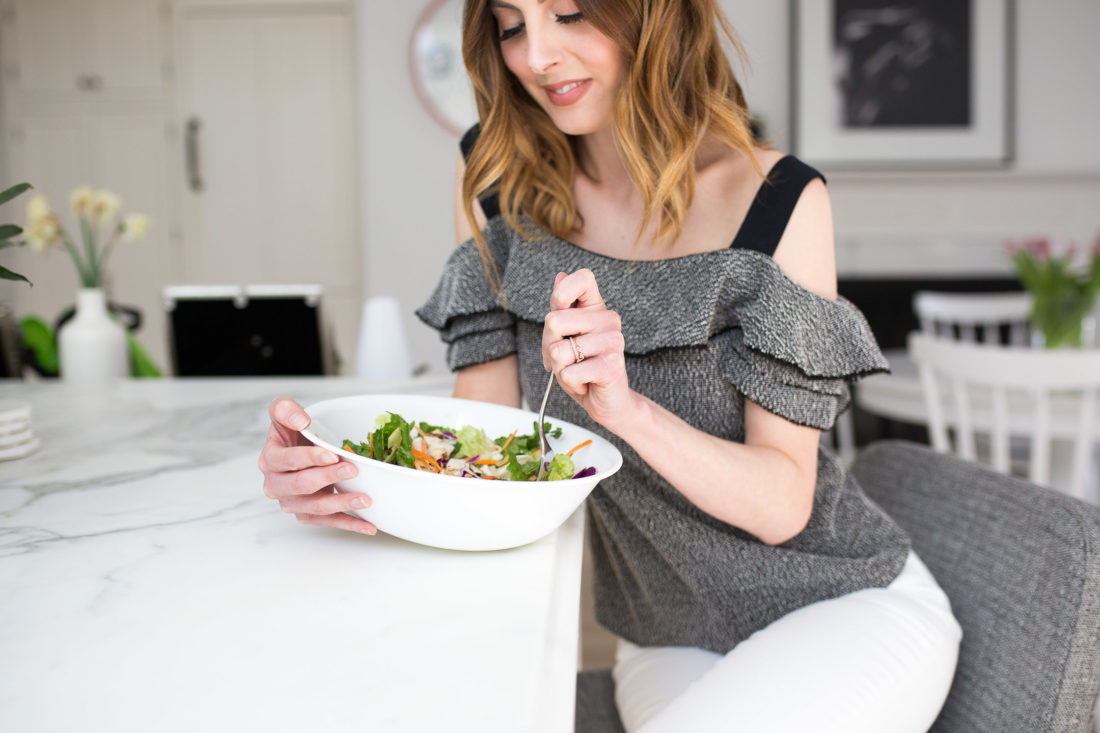 For a long time, any insecurities I had about myself I would take out on my appearance.  If I was feeling "less than" in my life or unsure of the future, the way that I looked physically would be how I could exercise control and feel as though I was in charge of my own destiny.  I would compare myself to others endlessly, and really pick myself apart.  It started in high school, around the time that my acting career began.  I would look at other girls in my age group who weren't even built like me, and think that I had to have their bodies to feel better about myself.  Or their perfect skin, their long amazing hair, etc.  I remember one girl I knew in particular who had a very athletic body type (the opposite of mine!) and had very defined ab muscles.  I would get up at 6am every single day before heading off to school and do thirty minutes running on the treadmill and a hundred sit ups to try and achieve a similar look.  I remember feeling like if I could complete this challenge, that it would somehow stand in for all of the other things I hoped to accomplish– that it would prove that I could do what I set my mind to.  How I wish now that I had "set my mind" to something much more productive or philanthropic than a six pack! I've mentioned before that I'm a very Type-A personality and super goal-oriented.  There is beauty in that, and danger in that I think.  It helps you get where you're going but it also sets the stage for bitter disappointments when things don't (or simply cannot) go your way.
When I got to college, I gained some weight like a lot of girls do.  I think it's a mixture of the late nights, less-than-stellar nutrition, and the drinking that does it.  Regardless, I ended up about 25 pounds heaver than I ever was before.  I'm including some old pictures here so you can see what I mean! Of course that isn't a lot of weight to gain, but for somebody who was already comparing herself to others, it sure felt like a lot.  At that point, I became totally fixated on diet culture, cutting things out of my diet, and trying any "quick fix" to drop my extra weight.  If I saw a magazine on a news stand promising to help me "Cut 10 Pounds Fast!" or promote "The Secret Superfood That Will Flatten Your Tummy!" I would buy it in a heartbeat.  I became an encylopedia on all things weight loss.  I would think about and plan what my next meal would be, what the "smartest" way was to eat or drink to achieve my body goals– and almost nothing about my desires or happiness when it came to food.  As a result, I was obsessed with food! Food was on my mind from morning to night.  Depriving myself just made things worse.  If I was craving dessert, I would cave and eat two desserts instead of a few bites of one to satisfy the craving.  If I was hungover, I would "slip up" and eat a burger and fries and hate myself for the rest of the weekend.  I remember going "carbless" (remember the Atkins Diet?) for six days, and then eating a sandwich and literally crying because I was so disappointed in myself for "ruining" all the "hard work" I had put in.  It was an extremely toxic mindset, and the worst part was that it was robbing me of the joys of food and of health! Here I was, a perfectly physically healthy young woman who was so caught up in a vicious mental game with myself that I was barely living life to the fullest! I was traveling the world, having once-in-a-lifetime experiences, and sitting there through all of it torturing myself on the inside.  Talk about a waste!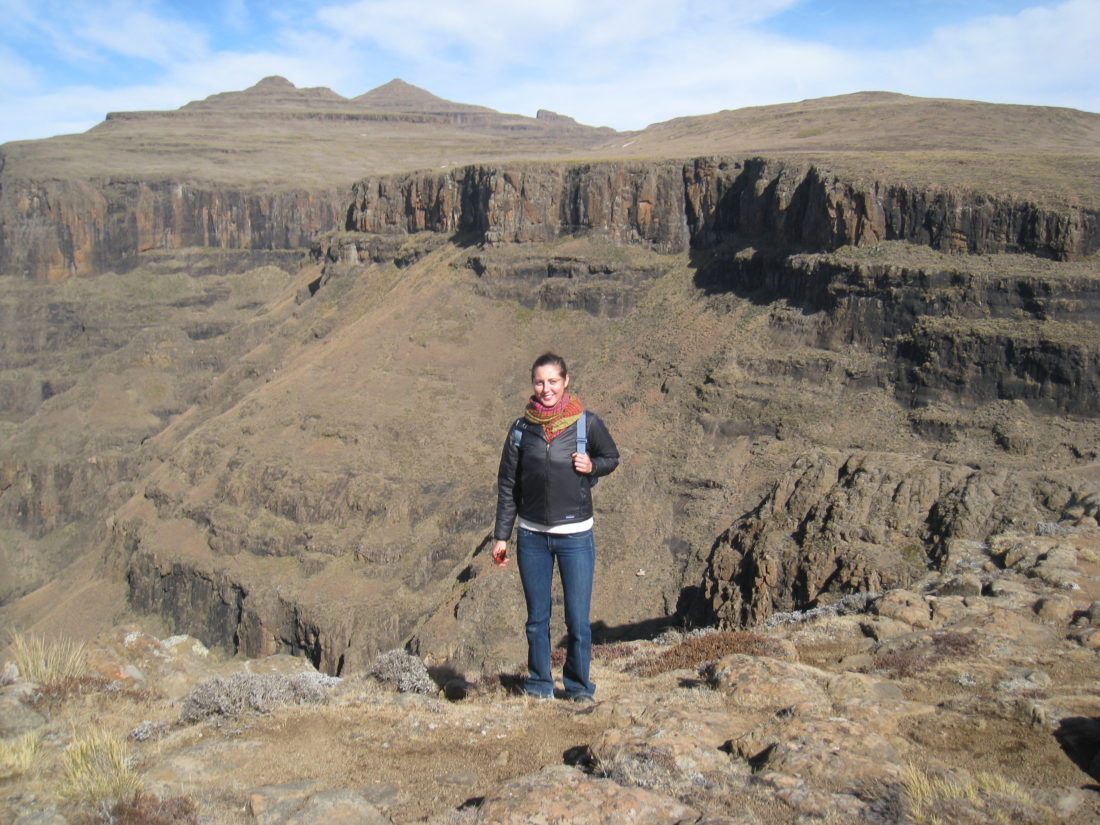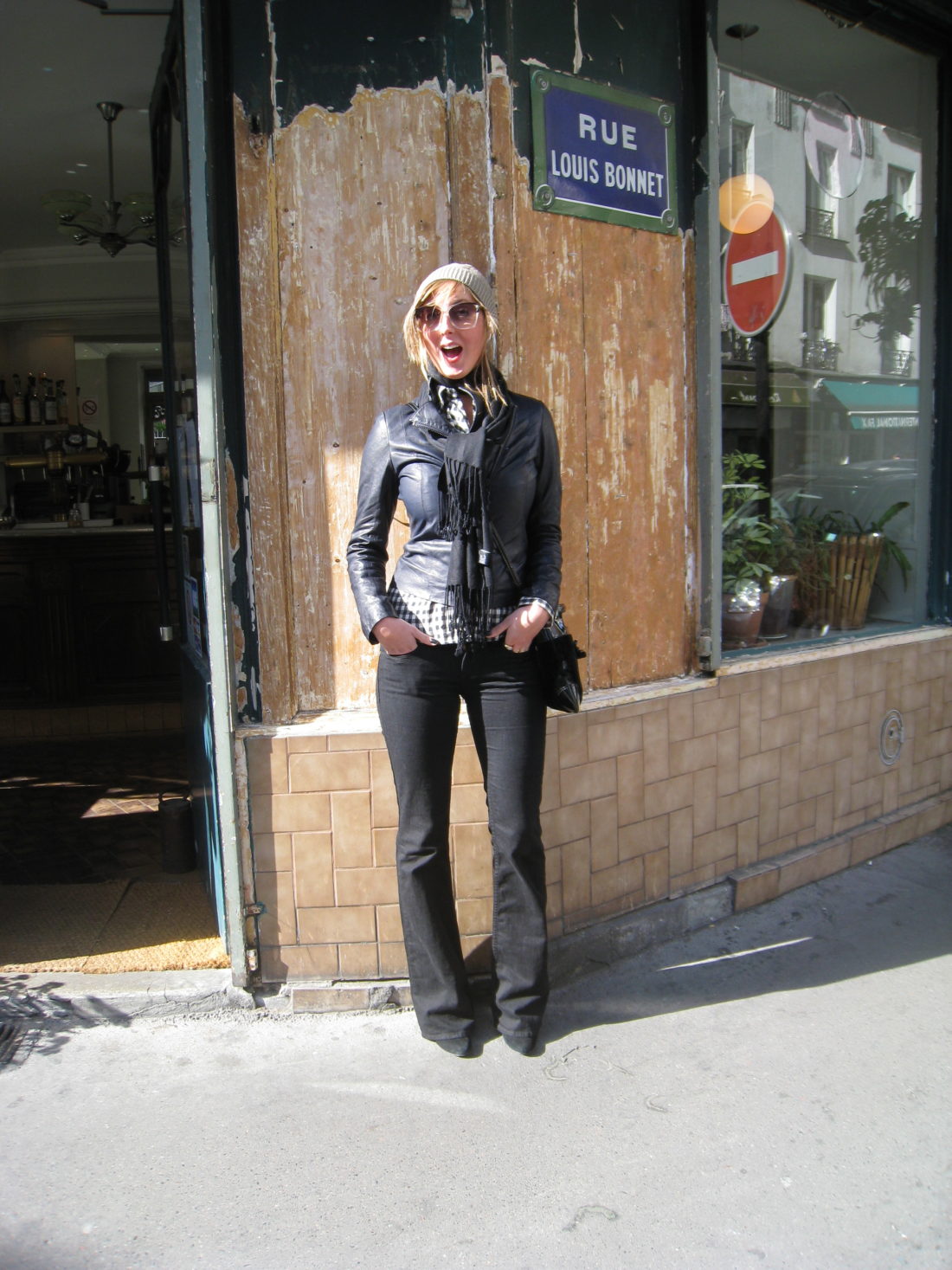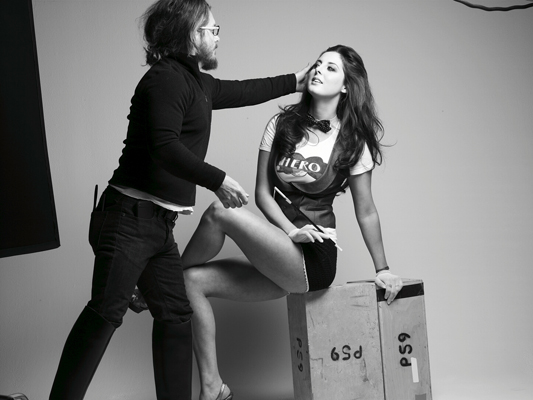 I managed to un-clutch a bit after college, but my unhealthy relationship with picking myself apart physically continued.  In my mind, I could always look better.  Luckily, I was always using methods to achieve my goals that were technically "safe" for my body, but were they safe for myself as a happy woman in the world? Definitely not.  What was even worse was that it felt so normal to be this way, because everywhere I turned was a culture of women trying to change their bodies and diet their way to perfection just like me. I felt normal in this constant, anxious dance of coming out on top– controlling my body to perfection, and obsessing over "healthy" (read: skinny) food.  I remember one review of a movie I starred in at the time affectionately calling me "Moon-Faced" and I cried for hours.  I remember reading that phrase over and over and looking at my face in the mirror wondering why I hadn't lost my babyfat yet.  Why couldn't I focus instead on the fact that a newspaper was positively reviewing a movie I was starring in, after working so hard for so many years for that moment?! When I think back to that time, I wonder how much my physical self-consciousness got in the way of what I was able to accomplish.  I wonder if I had put half as much energy in to something truly productive that I did in to wanting to look physically "perfect", I would have done some pretty cool things.
Finding a few full-b0dy pictures to show here of myself from that time was nearly impossible.  I'm sure at the time I poured over each one, critiquing myself in my head until I finally ended up deleting them.  I hated my large breasts ("They make me look bigger than I am!"), my arms ("My biggest problem area!") my acne prone skin ("Disgusting!") and my abs that were flat, but never defined no matter how hard I worked at them ("So unfair!").  I had absolutely zero respect for my body, for all that it had accomplished, and for all that it was accomplishing every moment of every day just carrying me around where I wanted to go and pumping oxygenated blood through my cells.  I really needed a complete mental shift.  Luckily, becoming pregnant with my daughter did that for me.  The road to become pregnant wasn't the easiest for us– by the time I was carrying my child in my body, the ups and downs emotionally were definitely there, but so was a certain awe.  It felt really good to feel like my body was purposefully creating something, and that what I was putting in to it was building my daughter cell by cell.  For the first time in years, I allowed myself to give in to cravings, to enjoy the food I was eating, and to eat when I was hungry instead of according to a certain plan.  And what happened? I stopped thinking about food all the time! Instead of craving things constantly, I ate the fries if I wanted the fries and then didn't eat them for maybe two or three weeks after that.  My whole being felt lighter, I was happier, and I felt more pleasure from food than I had in years.  I started realizing that maybe this kind of grace I was giving myself during this magical time in my life could continue on after my daughter was born.  Maybe if I just allowed food to be food, and exercise just exercise– and not a meter of success– then I could shift the focus away from the minutia and enjoy life a bit more.  I began to focus instead on how I could eat and exercise to feel the best, to give myself energy, and to please myself.  If I had a particularly indulgent meal, instead of punishing myself mentally, I would get excited to balance it the next day with really clean eating.  I embraced the Yin and Yang– the ups and downs of a real, imperfect but pleasurable life.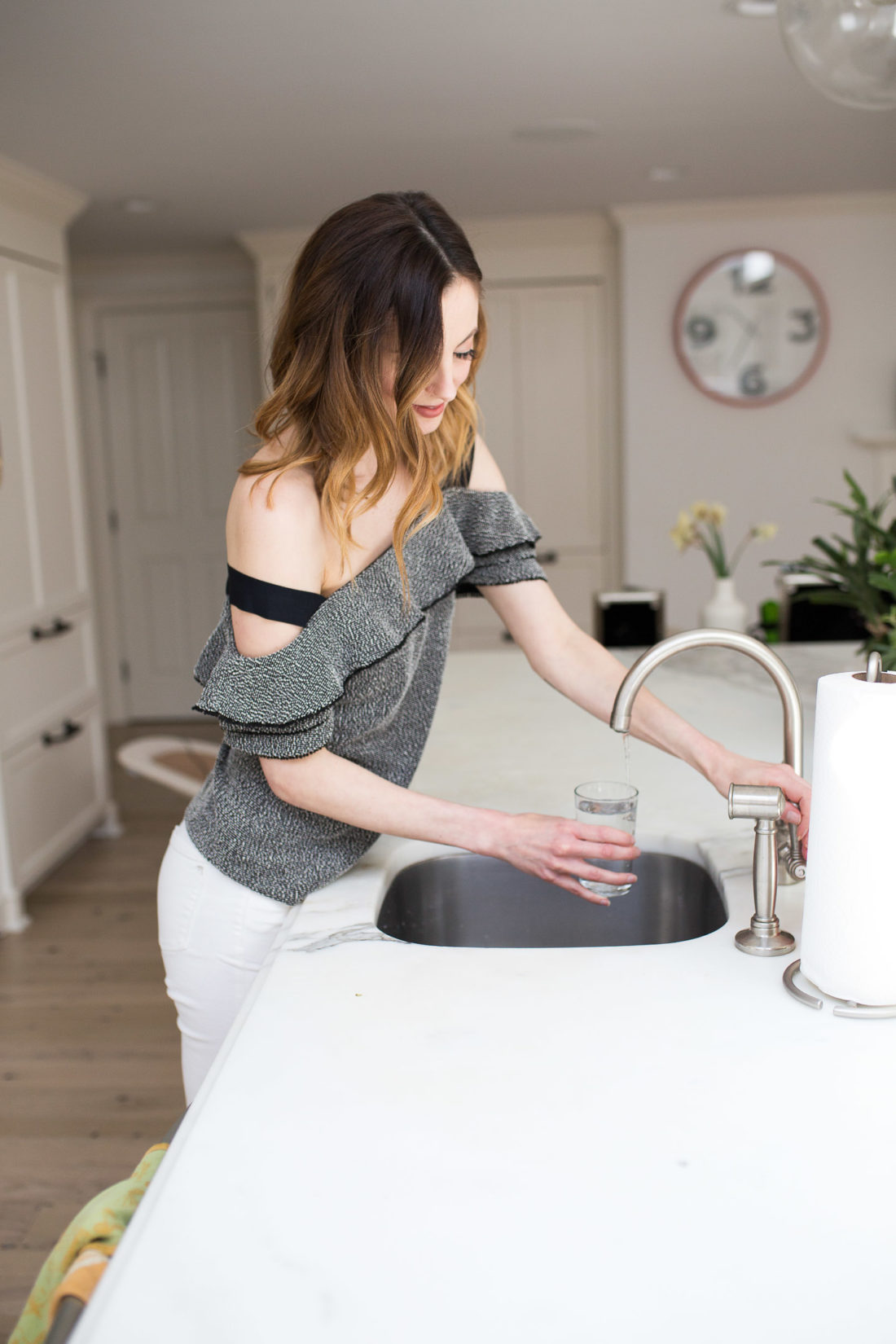 After Marlowe was born, I had absolutely no time to obsess about my weight or my body.  I was in New Motherhood 101. I had just had a baby, and of course my body didn't look like I was used to (or how I would have liked it to in a perfect world), but when I felt myself slipping in to derogatory thoughts about myself I would think back to her birth and all my body had done as it had aided me in growing and delivering my beautiful healthy daughter in to the world.  I would hold her tiny fingers in between mine and think, "I BUILT THAT."  It was a choice every step of the way to redirect negative thoughts, but it was so important to me.  Trying to be more generous with myself in all my flaws is one of my biggest meditations in motherhood thus far, and one I hope to pass on to my daughter throughout her childhood.  During my most recent pregnancy with Major, I focused again on being my healthiest, most vibrant self.  I ate for energy and joy, enjoying things in moderation, and fueling my body to build a baby.  I walked a ton and drank a lot of fluids.  When I would go to my midwife appointments, I stepped on the scale backwards so that I didn't allow the numbers to speak louder in my mind that how I felt in my own body. I never thought once about the "diet" I would go on after my son was born, in order to get the coveted "post baby body".  I think that if I had, and if my french fry or doughnut days were technically numbered, that I would have overindulged during my pregnancy and eaten a ton more of those foods to make up for the diet days ahead.  I think that eliminating that pressure from my thought process enabled me to maintain a healthy body image during my pregnancies.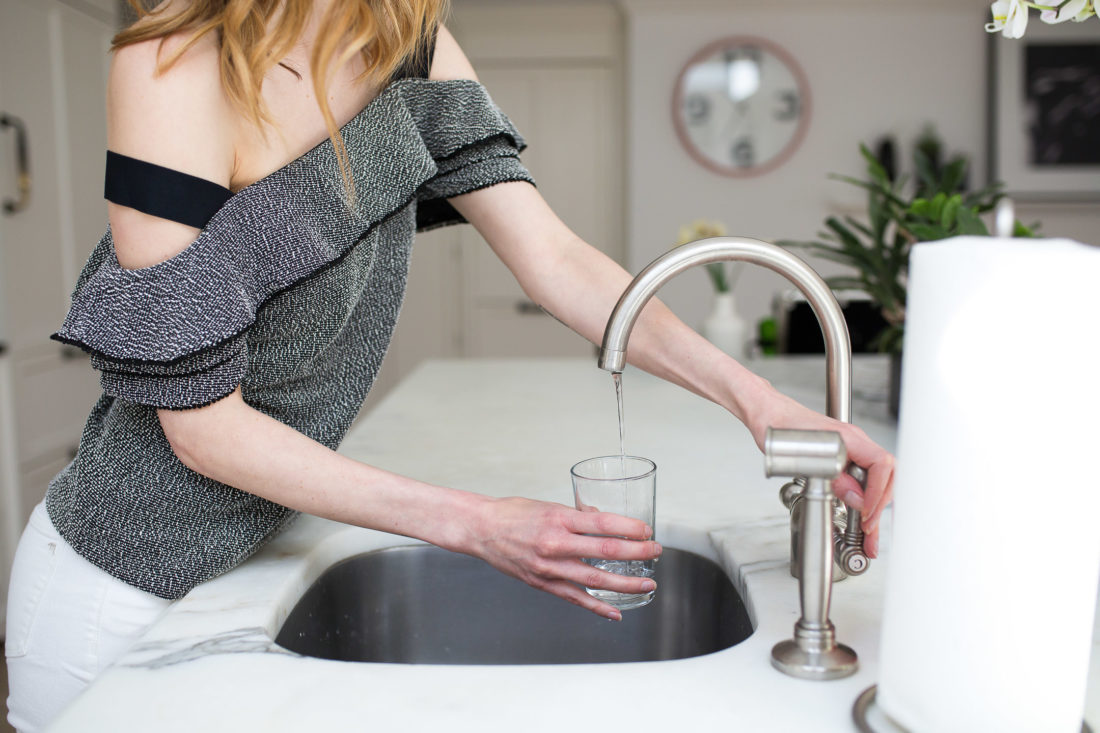 Now, I give in to my food cravings, and enjoy things in moderation.  I choose healthy foods with the understanding that I can and will have a burger if I want to– and order dessert if it looks amazing!  I drink wine because…two kids under three.  LOL.  I drink tons of water.  If I'm feeling a little slacking on the nutrition, I blend myself a healthy smoothie packed with good stuff.  I exercise because it gives me energy and makes me feel strong and capable, not to mention is excellent for my mental well-being.  Breaking a sweat keeps my skin glowing.  Of course I'm not perfect, and some days were and are harder than others to remain body-positive despite the many changes my body has gone through in the past three years (three pregnancies, two births, and two breastfed babies)– but I try to see it as a lifestyle instead of a quick fix.  I have friends who are size 16, friends who are size 0, and everything in between.  I have a size 12 friend who is gorgeous, comfortable in her own body, and truly radiant– and another friend who is also gorgeous, a size 2, and consistently insecure about her size, her shape, and everything else.  She'd be the first to tell you that she feels terrible about herself most days…and if you saw her yourself all YOU would think is "perfection!"  Our minds do a number on us.  Nobody is immune.  What I've learned is that feeling good in your own skin, being happy, accepting your physical body, and enjoying the pleasures that life has to offer are what actually create radiance in a person.  Joy is truly the most attractive quality, and it emanates outwards from every part of somebody when it's present.  I think when push comes to shove, we all really want to be the HAPPY girl.  At least I do.
Here are my tips for discovering your healthiest self, and encouraging body-positivity as a way of life: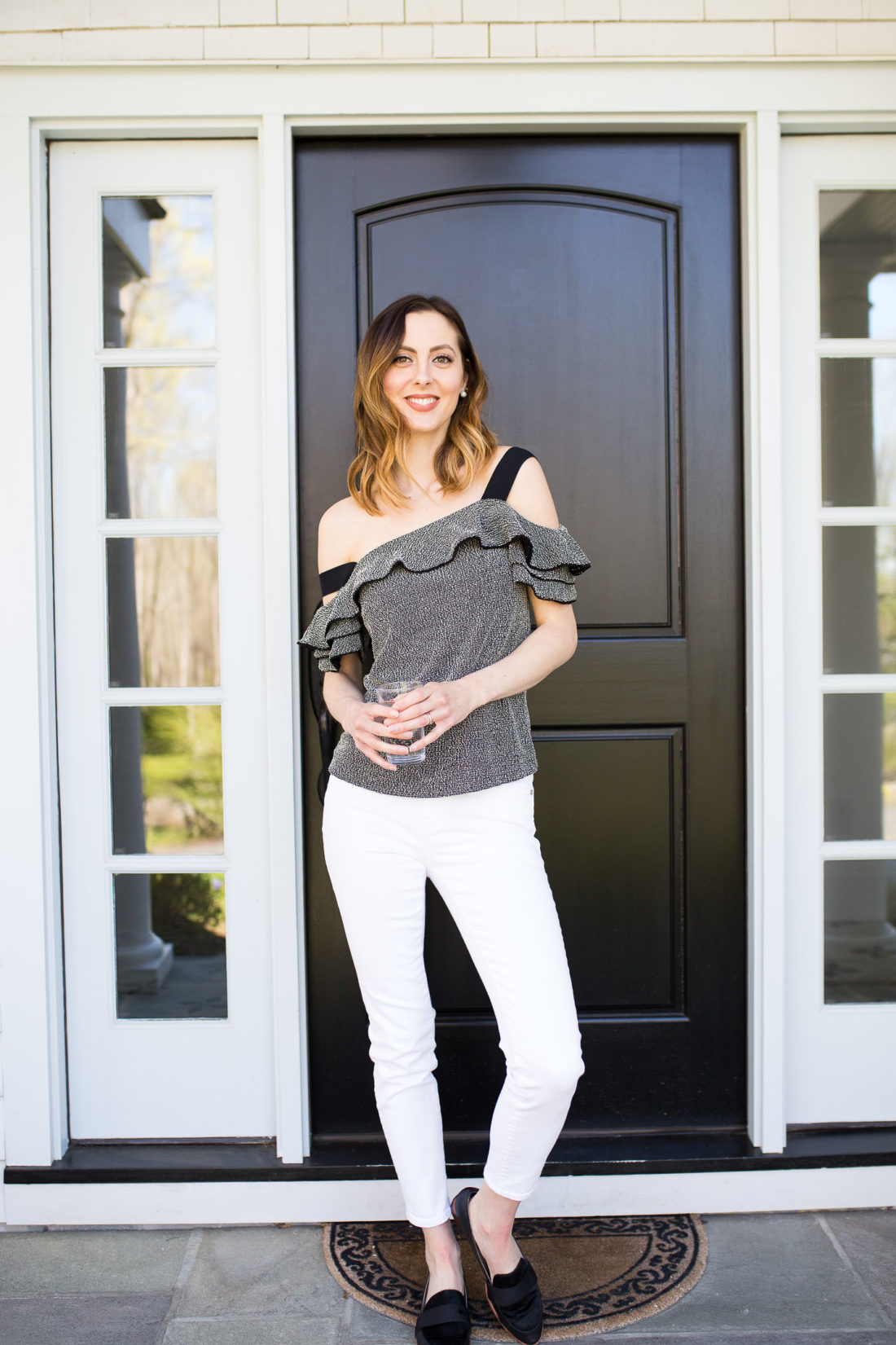 Ditch the scale.
Nobody ever regretted doing this.  I read an interview with Nicole Richie a few years ago in which she declared "Scales are SO eighties!"  LOL! I tend to agree.  Focus instead on how your clothes fit you, how you feel in your body, and your energy levels. A scale can't tell you much about fitness in the first place, considering the fact that muscle weighs more than fat anyway.
Ditch the "skinny" clothes.
This is the body-shaming equivalent of having an ex-boyfriend in your contacts to call up whenever you have a fight with your husband.  Not healthy, and a pretty bad idea.  It will only make you feel weird and badly about yourself to hang on to clothes "in case you lose the weight".  Instead, invest in a wardrobe that you feel great in no matter what!  Sell those "skinny" clothes at a consignment shop, and use the money to go out to dinner!
Be honest with yourself about your body type.
Dress to your best assets.  Nobody has a body full of perfect features, not even actresses and models.  I have run in those circles and I will tell you that they hate their bodies just as much as everybody else does– and that there is a whole team of people photo-shopping the images you see.  I actually used to be the LEAST anxious when I had a photo shoot coming up because I knew they'd airbrush and shrink me to perfection.  It's just the name of the game (unfortunately).  Be honest with yourself about what works for your body, and accentuate the positives! Tailor your clothes to fit you, and remember that there are no style rules.  Wear what makes you feel good about yourself!
Allow for cravings.
If you've been thinking about a piece of cake for three days, eat the damn cake! Enjoy every bite, allow it to fill you with joy, and when the experience is over, appreciate it.  Then move on.  Tomorrow is a new day, with new cravings and different experiences.  Find healthy things that you crave, too, and give yourself access to those as well!  If you are obsessed with one vegetable, look up lots of delicious ways to cook it.  Make eating an experience instead of an end result.
Hydrate.
It's amazing how well your body functions, eliminates toxins, and glows from within when you are very well hydrated.  I like to make spa water at home by cutting up cucumber slices and putting them in a pitcher of water in the fridge, or even adding a drop of peppermint essential oil or lemon essential oil to my reusable bottles of water to entice myself a bit more.  Remember that for every cup of caffeine you drink, you should really be drinking at least TWO cups of water to flush it out and rehydrate! Ditto alcohol.
Exercise as a way of life.
This was perhaps one of the biggest "life changes" I made.  Instead of focusing on specific gym time, I now think of my exercise levels as how I function and exist in the world.  Sure, it's great to go to a pilates class or run on the treadmill, but have you examined the choices you can make just by getting from point A to point B?  Whenever there is an option (and I'm not pushing my kids in a stroller), I take the stairs.  If I have some time to kill, I walk instead of driving.  If I'm walking with the stroller, I pick up the pace to get my heart revved up a bit for little bursts.  If we are in the pool with the kids, I have Kyle watch them for a few minutes and swim a couple laps.  Just getting my limbs moving, my heart beating, and remembering how lucky I am that my body actually works does wonders for my physical health and my metal well being.
Create strength goals instead of size goals.
Work towards something that can be labeled as an achievement instead of a number on a piece of clothing.  After Marlowe was born, I wanted to increase my upper body strength.  I did push ups every morning until I could do thirty in a row.  It was a simple achievement, but it was fun to work towards something– and my arms got really defined!
Celebrate your most beautiful features.
It's ok to be proud.  If you love your lips, reward them with a new beautiful lipstick.  Is your cute butt your calling card? Find a sexy pair of underwear and admire yourself in the mirror.  Celebrate the things that make you uniquely beautiful, and never apologize.
Compliment Others.
See a feature on somebody else that is just gorgeous? Say something! Instead of turning it in to an internal comment about yourself and how you look different or worse, kindly laud praise.  If I see somebody with amazing hair in line ahead of me that I envy, I will say "excuse me, you have the most amazing hair!" It makes me feel good to build somebody else up, and you never know how important it might be that day for that person to feel good about themselves.  I always say that if women actually told each other the positive things that they secretly think in their minds about other women's appearances all day long this world would be a much different place.
Take your vitamins.
This is a no-brainer, but health starts from the inside!  Make sure you are up to date with your doctor's physicals, and don't forget ask if you are deficient in anything!  Vitamins are a great way to make sure we are getting the nutrients we need to feel  our best.
Avoid soy.
So.  This one might be controversial, BUT since I have always been allergic to cow dairy, I used to eat a ton of soy.  Especially in college when I was using it in lattes constantly, etc.  Once I cut soy out of my diet I instantly lost ten pounds (actually) and have since learned that it can affect how your body processes hormones.  I avoid soy now, and I don't give it to my kids, either! Sometimes (every few weeks) we might eat some steamed edamame beans but that's about the extent of it.  We definitely don't consume processed soy (aka soy milk). I use coconut, almond, or goat milk.  I have heard that non-GMO soy is better for you than regular, but I still haven't gone back.
Don't starve yourself.  Ever.
Stopping eating does not make you lose weight! That is a myth! In fact, when your body goes in to starvation mode, it slows down your metabolism so that your nutrients remain in your body for longer. This actually makes it harder for your body to lose weight.  If you stop eating all together in order to drop a few pounds you will not only be extremely cranky, but also unsuccessful! If you have actual weight loss goals, work with a doctor or nutritionist to create a healthy and successful plan.  Eat smaller, more frequent meals (this will aid your metabolism), and eat clean (whole, unprocessed foods, grilled or steamed, healthy fats, whole grains).  There is no "quick fix" that is sustainable.  Trust me,  I've tried them all.  What actually works is consistency, moderation, exercise, and a healthy attitude.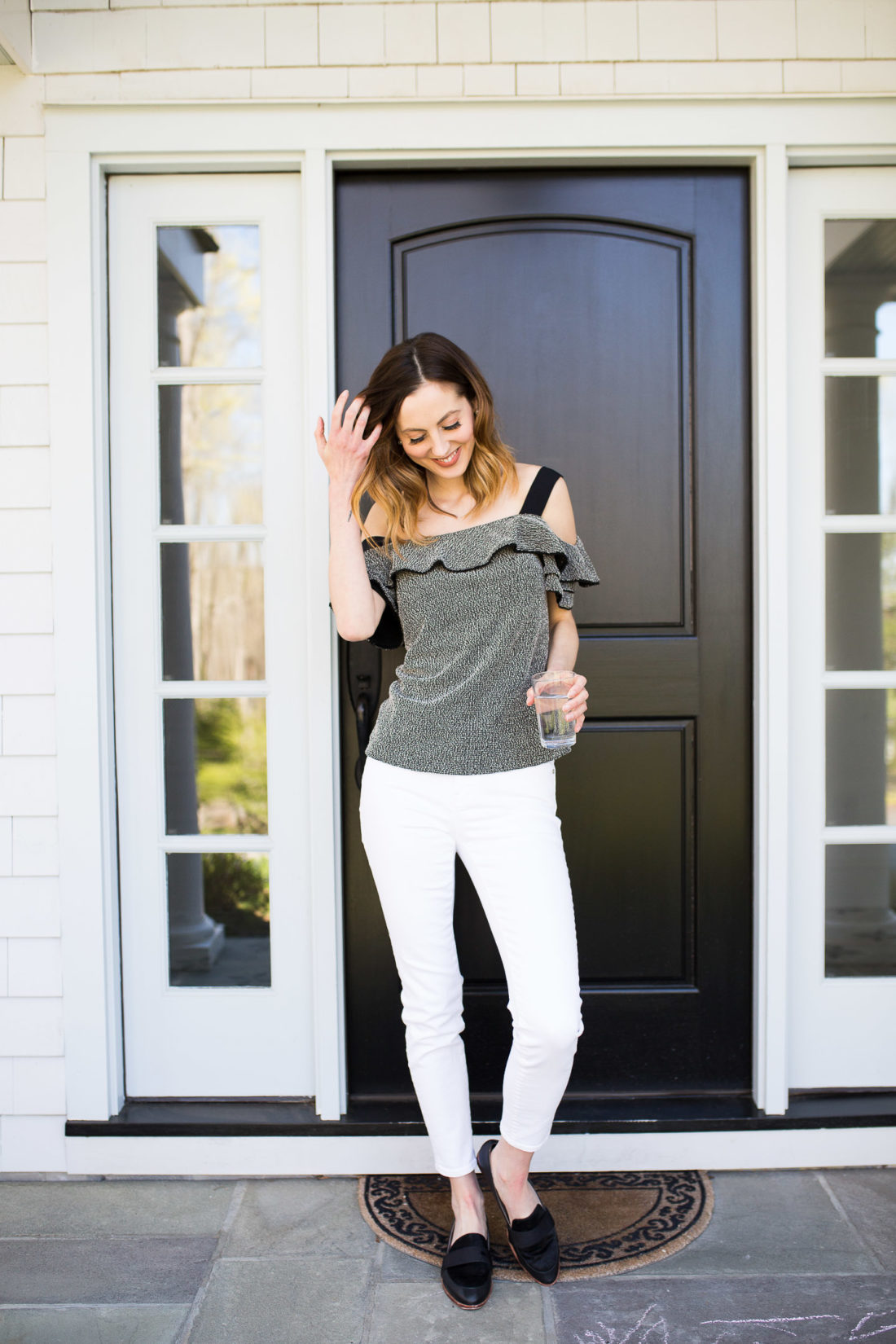 Do you have a personal body image journey you'd like to share? Please do so in the comments below!
Photographs by Stephanie Elliott Photography