The following content may contain affiliate links. When you click and shop the links, we receive a commission.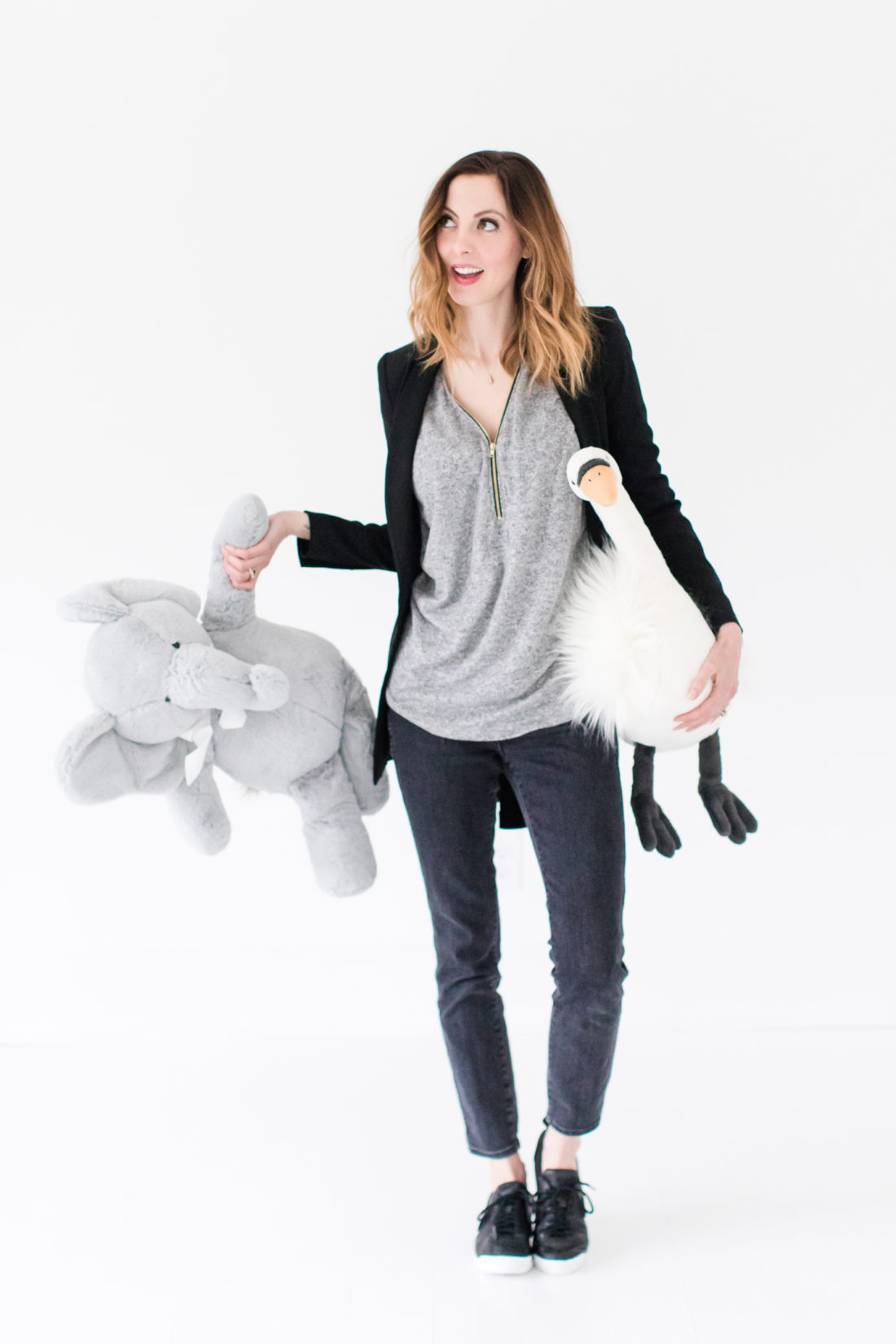 Let's face it: that Postpartum time is not when you feel the greatest about your body, no matter how healthy of a body image you have. It's a challenge to get that baby outta there… and possibly an even bigger one to then look down and think to yourself, "Hey, body! I don't recognize you at all!" It's also hard when this major physical change comes with tons of other life changes and adjustments while you get used to having another member of the family. After my first pregnancy, I didn't try that hard to make myself feel better. I kind of dealt with everything as it came, and felt badly about myself most days that I was in sweats or jammies for the majority of the day. I felt Blah and I looked Blah. When I actually got dressed (rare), I just tried to cram myself back in to the same clothes I wore before my pregnancy– which definitely were not easy to breastfeed in OR great at making me feel back to my normal self (I wasn't). Thankfully, I have now completed TWO rodeos! I still don't know everything about this Motherhood thing (spoiler alert: NOBODY does), but I have figured out a few great tips and tricks along the way for feeling and looking stylish during that tricky postpartum period of time. I don't know about you, but when I feel pulled together I feel more like a woman who can conquer it all– no matter whether that is in my own kitchen or at the office. Today I'm sharing my Postpartum Style Guide with you– a selection of my own must-haves for looking and feeling great about your shape after baby. And while not everybody breastfeeds (just read my two journeys with it Here and Here), there are also some good breastfeeding fashion tips thrown in there for good measure. Shine on, Mama! Shine on…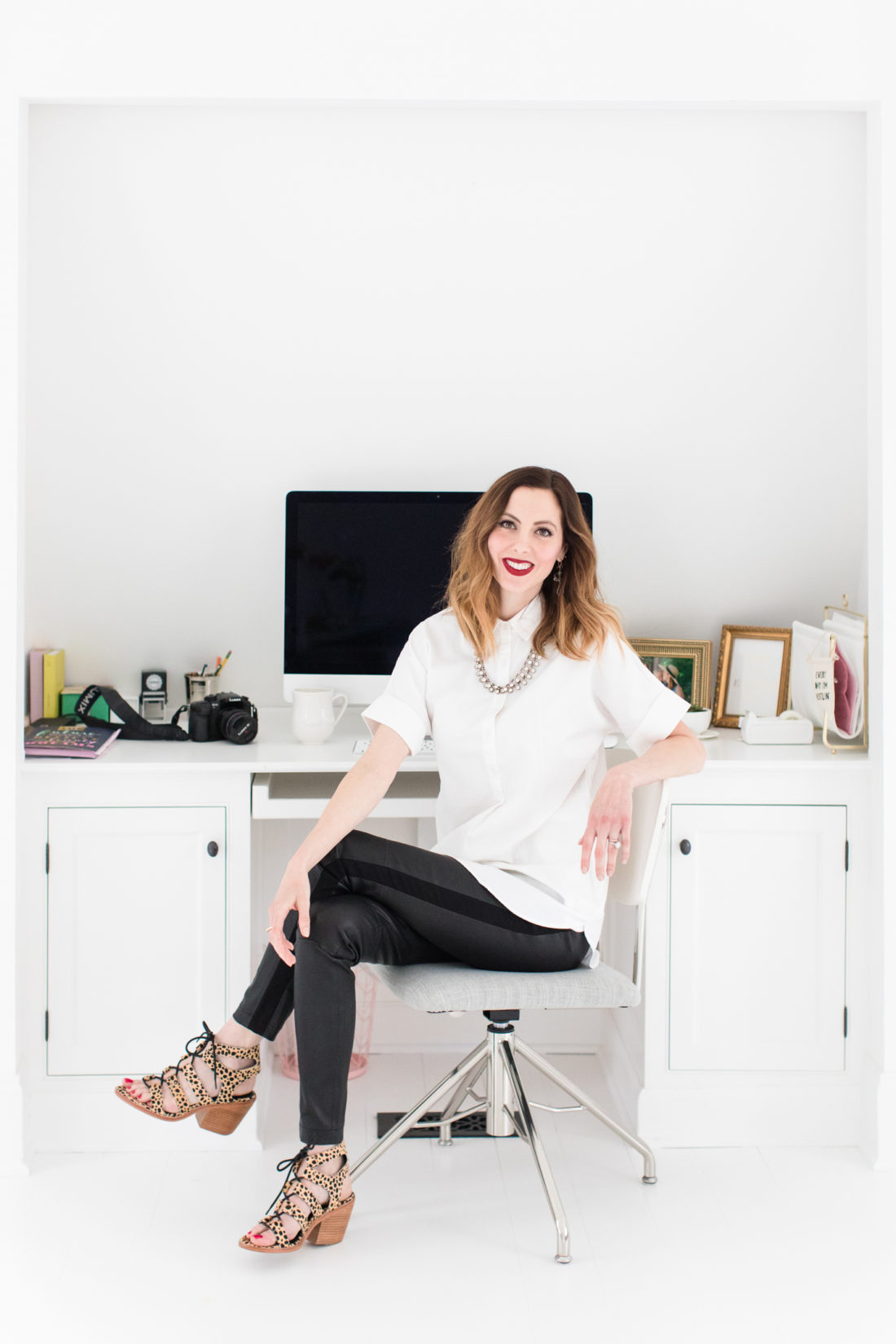 My Postpartum Style Essentials
I like to think of these as my "Smoke and Mirrors" postpartum trick. I LOVE (faux) leather leggings. They are stretchy and forgiving, but have enough structure to really hold you in all the right places. Plus they dress up even the simplest look, and you can wipe spit up right off of them. Obsessed. I really like the slightly cropped style of the ones in this collage, but there are two other great options HERE and HERE.
Some of you will be like, "Huh? You want me to wear a WHITE shirt with small children?". Hear me out. First of all, the buttons on a button down are clutch. You can so easily breastfeed in a shirt like this, and the shape is so classy and pulled together. You can even wear one with jeans and it looks like an actual outfit, no matter how much (zero) thought you put in to it. I love a white button down because they always look luxurious and like you are way more chic than you actually are (Me)– AND if they get stained you can bleach them! No stress! Also white goes with everything, Ok? The one I'm wearing in these pictures is sold out, but I selected another one above from my friend Morgan's site, BURU. (Pssst: use the code HEA15 for 15% off your order) The entire focus of her line is breastfeeding and motherhood-accessible clothing– so you can find anything great on there if you're in that phase of life! Two other excellent button down options HERE and HERE.
Feeling cozy is a must during your Postpartum period. I love an open Maxi Cardigan because it can warm you up in a pinch, and has easy access for breastfeeding. The length of it elongates the shape of your body so you appear longer and leaner. Throwing a cool Maxi Cardigan (like the one in the collage above) instantly adds dimension to even the simplest outfit. I also like the options HERE and HERE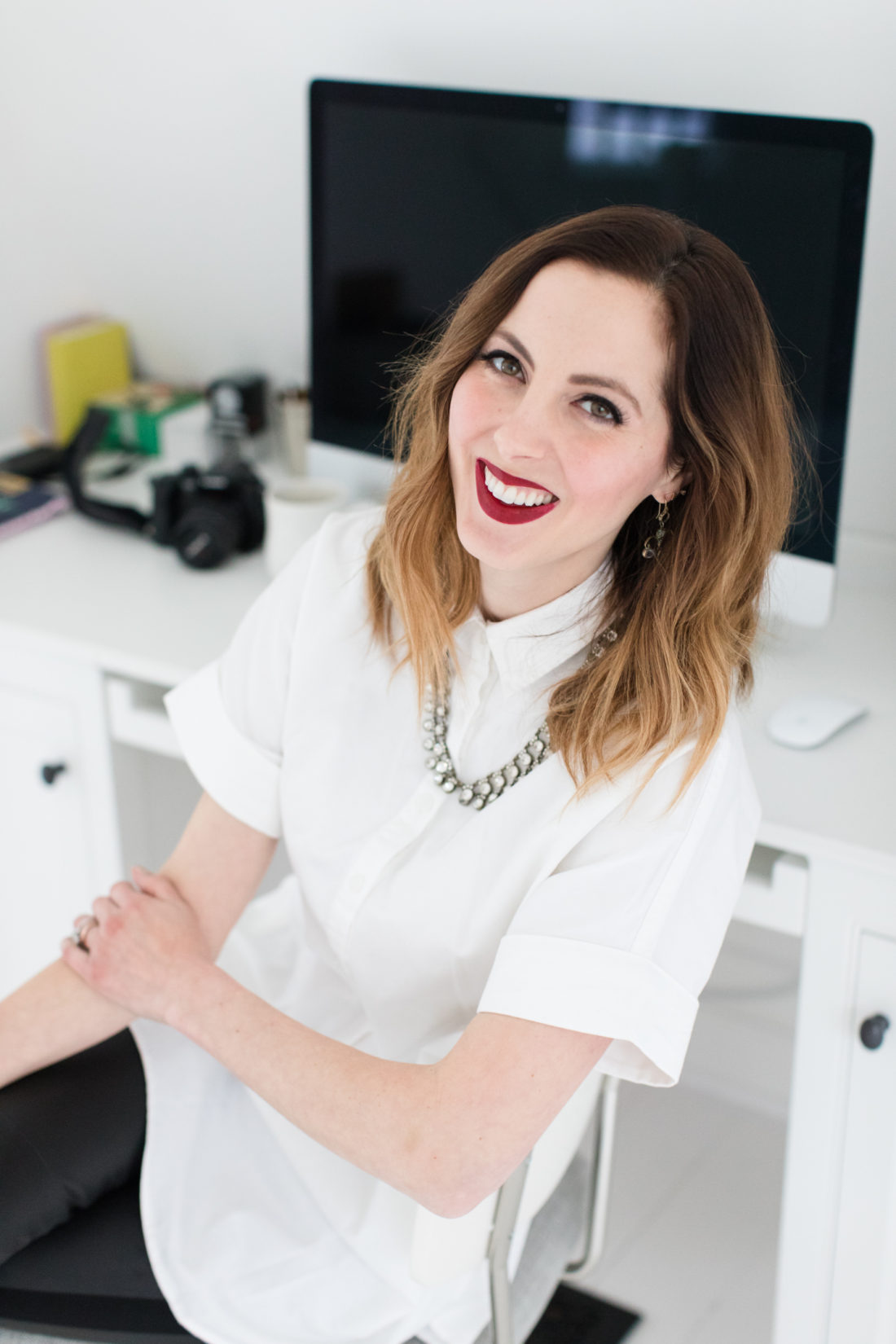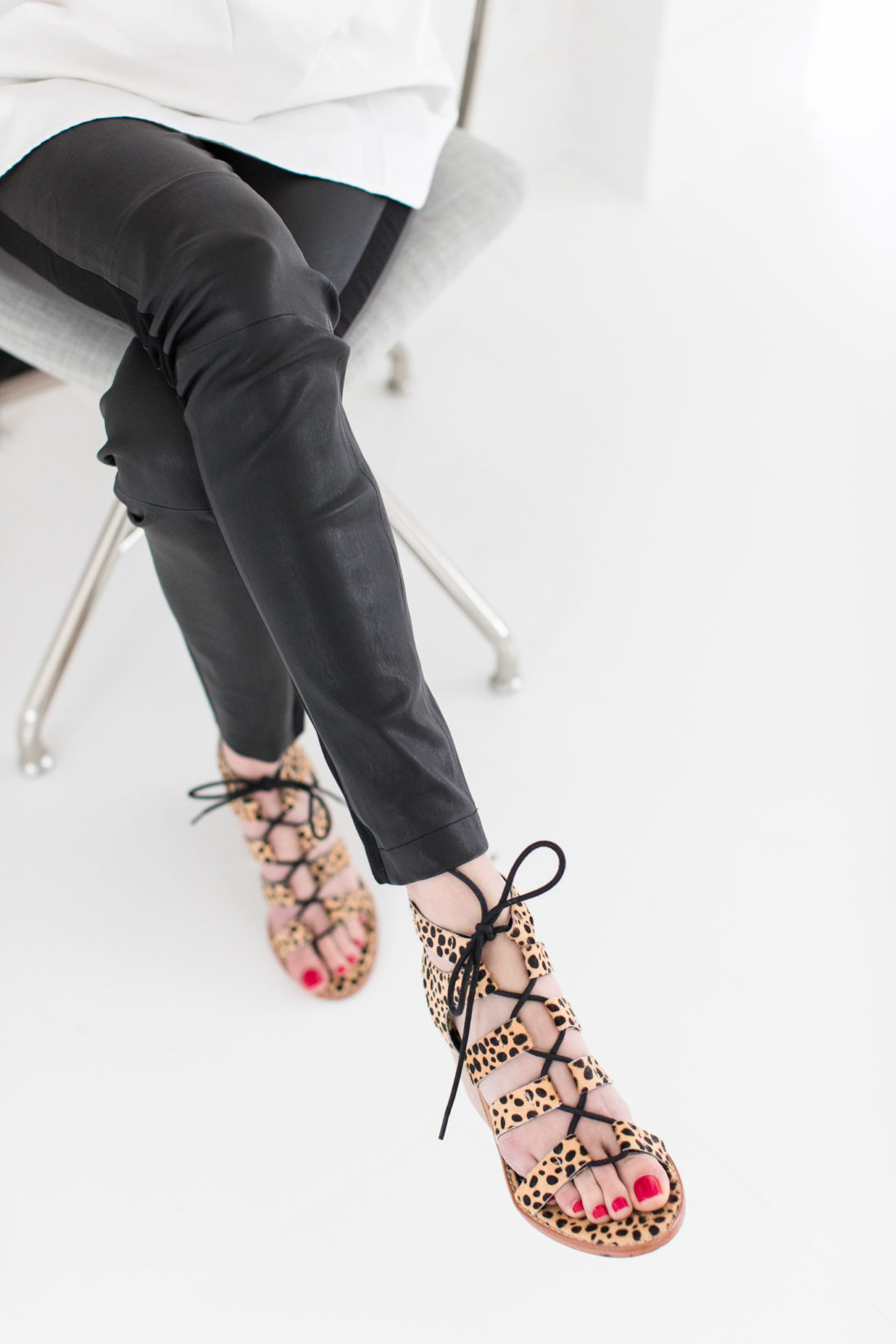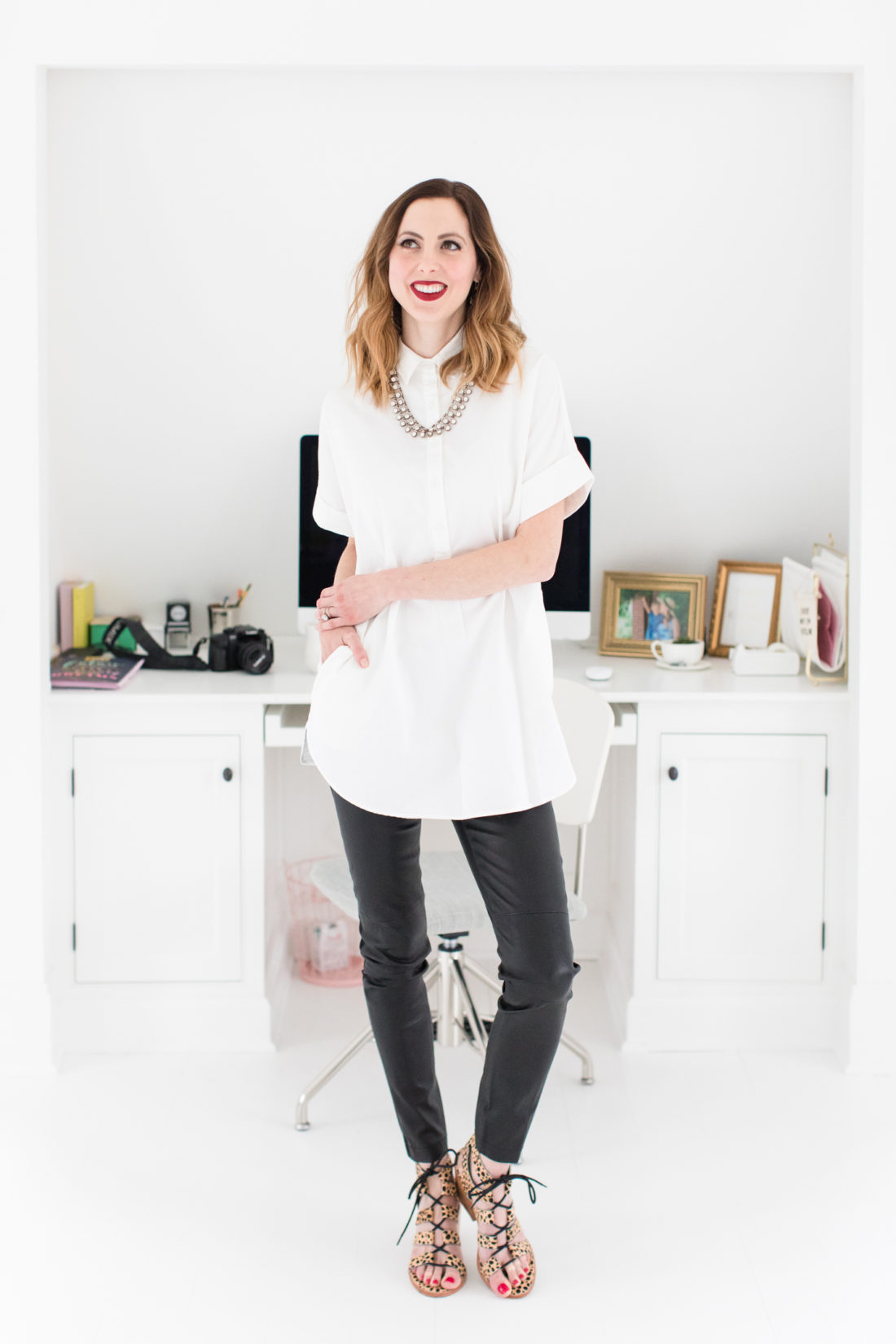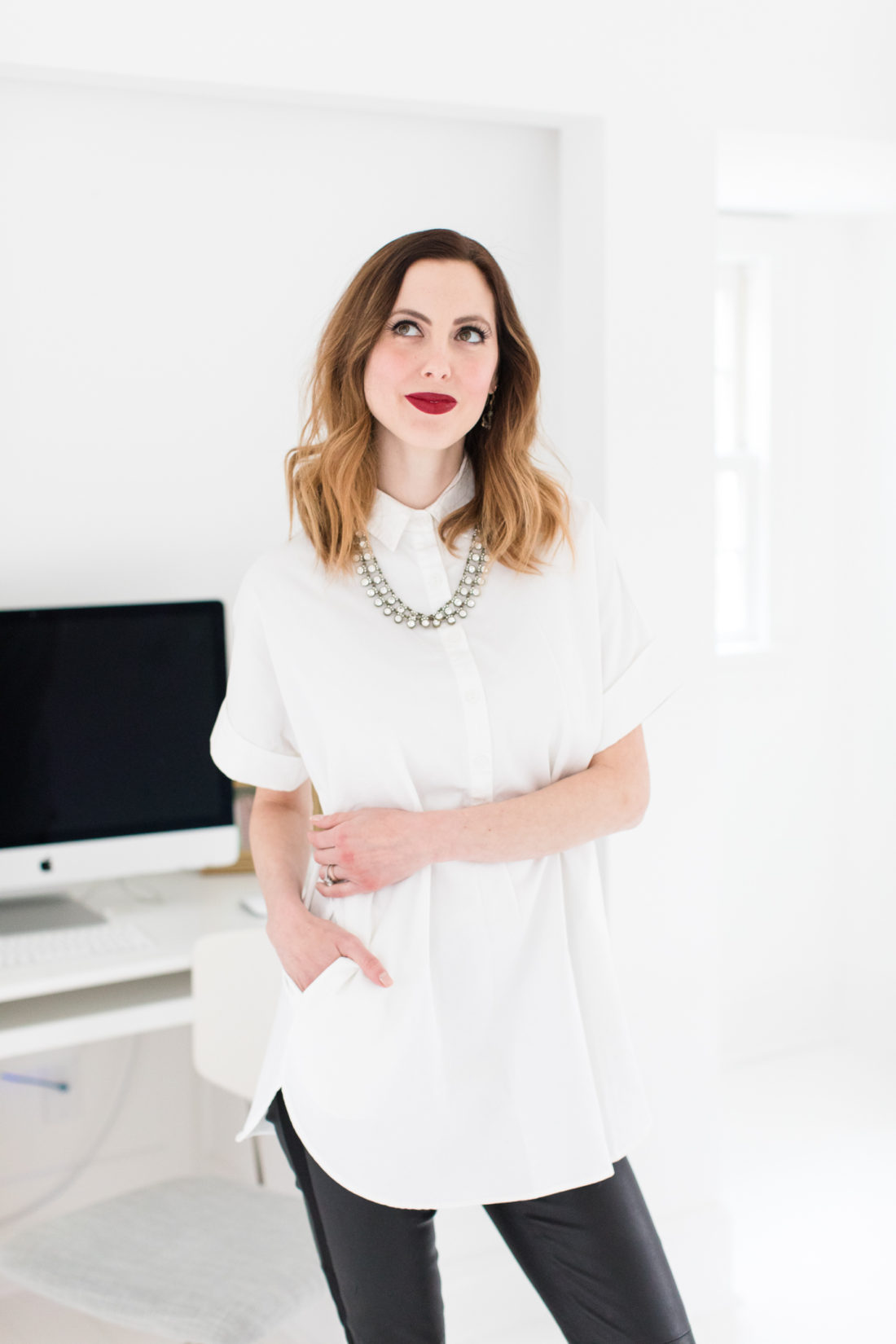 What I mean by this is something that is washable, easy, and just as comfortable as a T-shirt, but IS NOT a T-Shirt. Why? Because you will actually feel way chicer if you wear something other than a T-shirt, even if what you are pairing it with is a simple pair of leggings or some jeans. Also if you're like me, you will periodically look in your closet and say to yourself "I just don't have any great TOPS." Why is this a thing?! Ha! So, we can always use a new great "Top" is my point. The one in these pics is by BURU, and is so convenient for breastfeeding (thanks, zipper!)– but I also love the option in the collage, and this beyond cute one HERE.
Ok. Somewhere along the road, High Waisted Jeans got a bad rep. WHY?! They are not scary! They are not nerdy! In fact, if you didn't know they were high waisted you wouldn't even notice! (most of the time). Slightly high waisted jeans have become my postpartum Godsend. After Major was born, my second-time Mama belly was totally deflated. Well, first it was still swollen– but then a few weeks later it was like a deflated balloon. Even though I could more or less fit back in my bigger pairs of non-maternity jeans at that point, my stomach would muffin top (or Full Bagel, as I call it) over the waist band and made me feel the opposite of a million bucks, AKA two-and-a-half bucks. High waisted jeans go up just a bit further and keep that tummy tucked in. It's like shapewear as jeans. I'll take it! The ones in the collage above are great for every day, and I also love the jeans HERE and HERE. Yes, all three are by Madewell– because Madewell has THE BEST JEANS. Are you aware of this already? Can I get an Amen?
This one is obvious, but a Mama's best friend is a pair of comfortable shoes that also look fabulous. I love sneakers in general (I came of age in Hip-Hop infested Brooklyn, after all. Holler. ) but sneakers are the ultimate dream when your life involves running around with a newborn and chasing after a (looney) Toddler at the same time. There are so many great, super chic sneaker options these days. I recently bought these black, leather Nike ones pictured below and in the collage– but I'm also seriously coveting the ones HERE and HERE.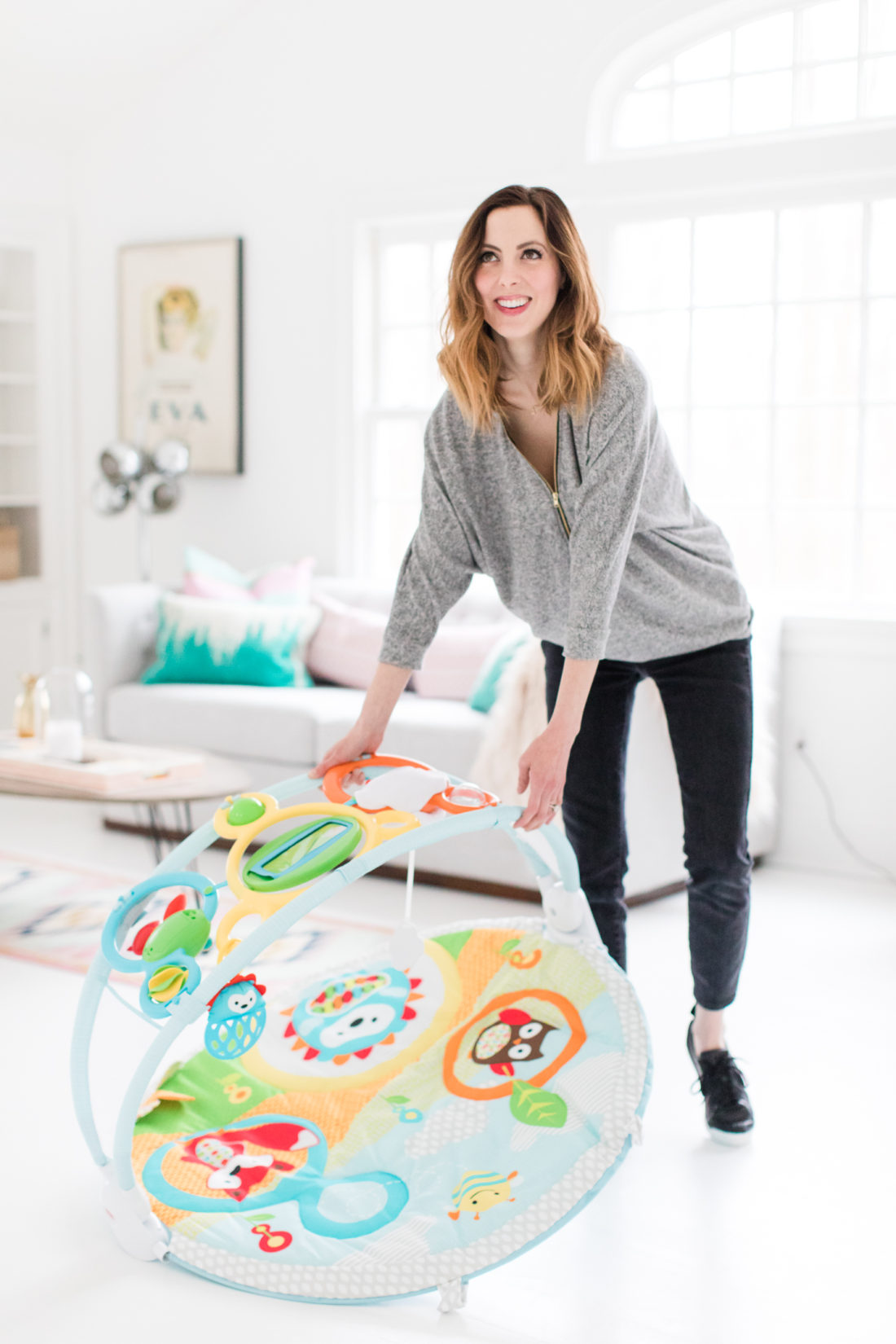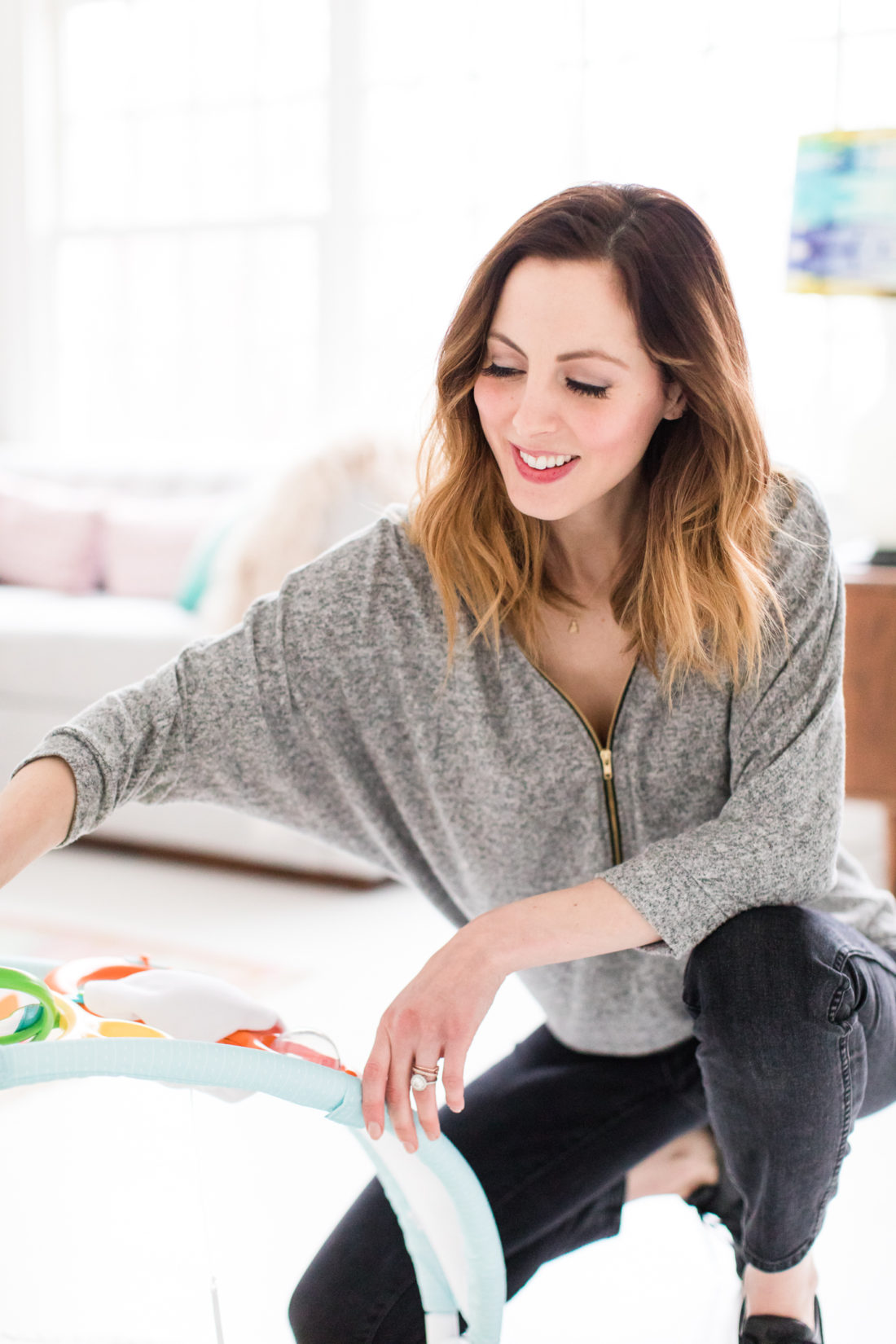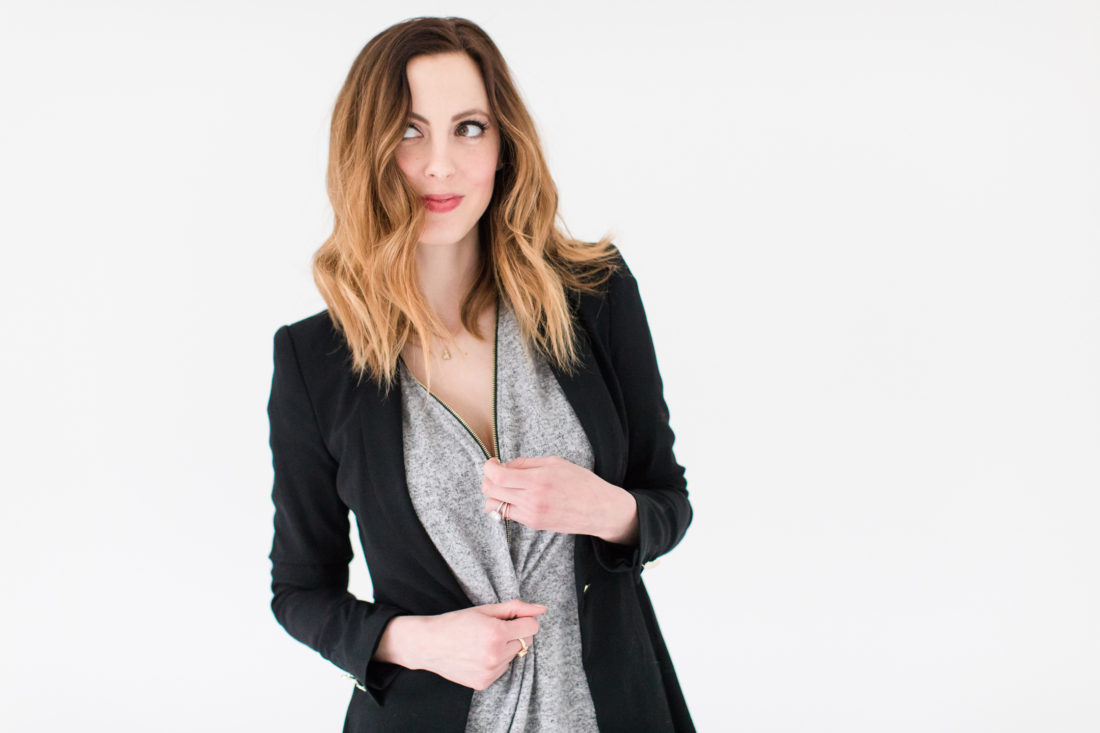 This is a great postpartum style trick. Throw on anything, then put a structured blazer on top of it– and instantly you have a waist! It also makes you look like you put an outfit together no matter what you're wearing underneath it. Yes, probably even pajamas. That's so in right now. I've had this Alice and Olivia one forever (in collage) and it's so flattering. The pleats in the back make it look very fashion forward– I get compliments on it all the time when I wear it. I found a couple other stylish options HERE and HERE.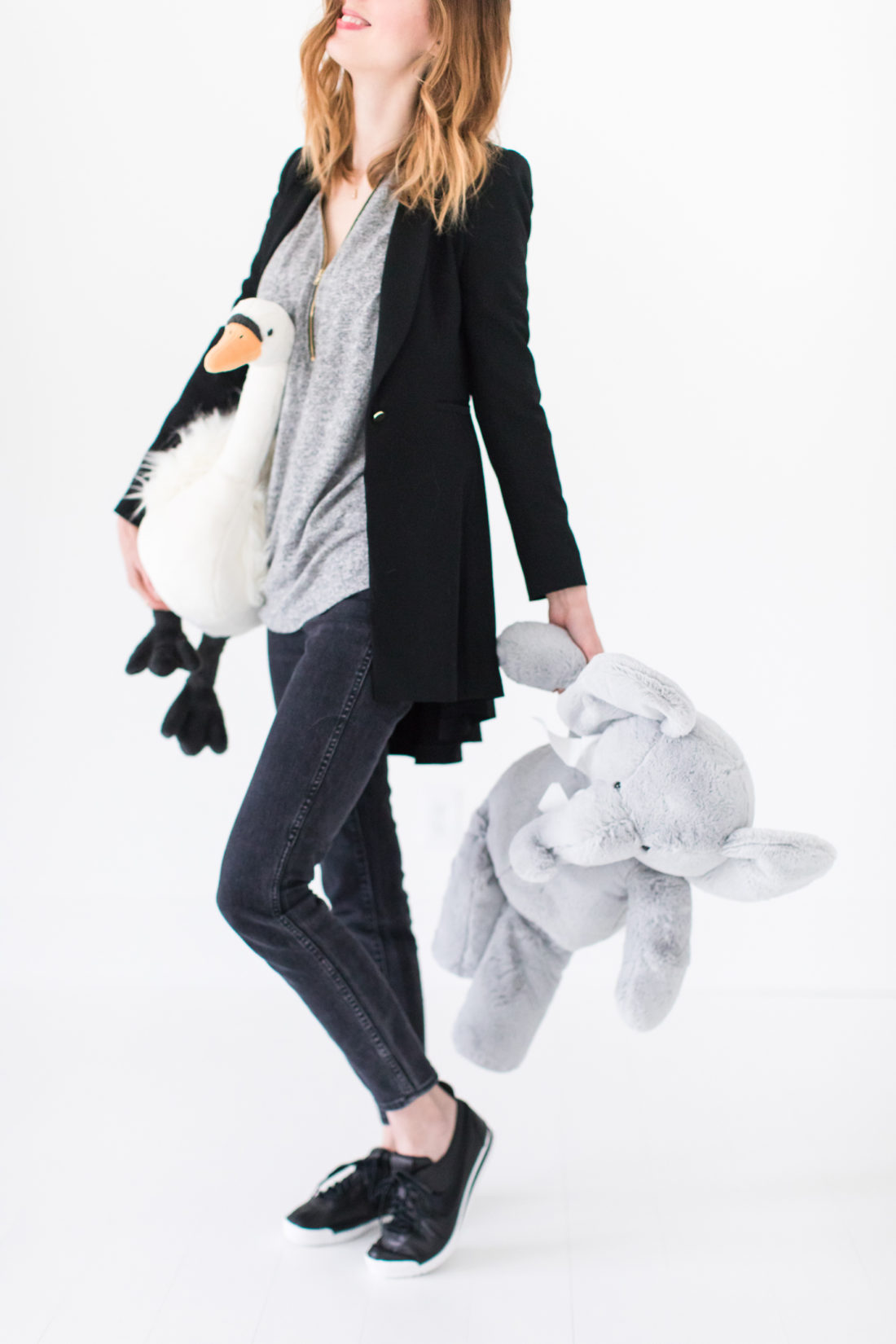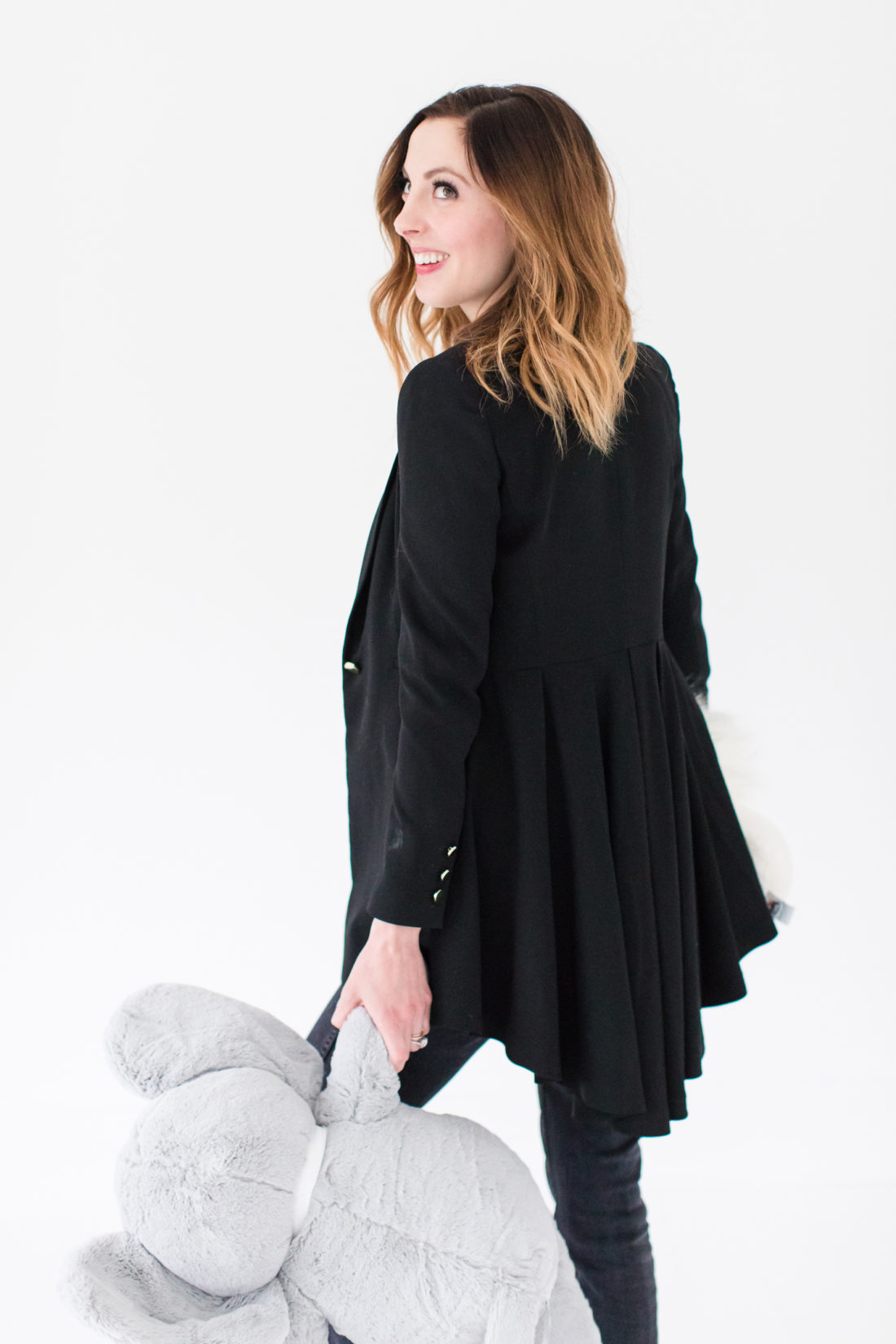 It's as simple as this: you CAN feel great in loungewear! If you follow me on any of my social media, you know that I like to wear actual pajamas. I love them because I feel cute and coordinated even when I'm sleeping and relaxing. Wearing some stylish pajamas just instantly brightens my mood and makes me feel cute. What can I say. I highly recommend having a pair for after baby to brighten your mood even on postpartum days when you barely leave the couch! Additional awesome pairs HERE and HERE.
Feeling Blah? Need a wardrobe or outfit update in two seconds? Throw on a gorgeous piece of jewelry! I love a Statement Necklace because it draws the eye up towards your face (Hello, sunshine!) and away from the other areas of your body you might be struggling with during this postpartum period. All-black outfits can feel a little bit strange in my opinion, but throw on a super cool necklace with a slimming black ensemble and it looks like you're making a statement instead of hiding. The one in the collage above is so versatile, but I also love the ones HERE and HERE.
Putting on a slash of bright lipstick has the power to elevate my mood any day of the week. I swear it works like coffee. I learned in my postpartum period with Marlowe that when I took the time to put on a little mascara and some lipstick, it brightened my day and made me feel like I could tackle the hard parts. Even when I'm wearing a really simple outfit, I like to dress it up with some bright lipstick. This is also a great idea to kick your outfit up a notch if you're transitioning it from day to night! Go ahead and plan a Date Night with your partner while you're at it! The one in the collage is my Go-To, but HERE and HERE are other ones I love.
Plaid is so timeless and looks great on anyone. It's also an easy print if you're not used to wearing prints. I love prints for postpartum style because they distract from any problem areas, and make a fashion statement all at the same time. Whether you are wearing it as a cute dress (similar to the one in the pics HERE) or keeping it casual like in the collage, there is a plaid for everybody and every body. I also own the fashion-forward plaid top pictured HERE.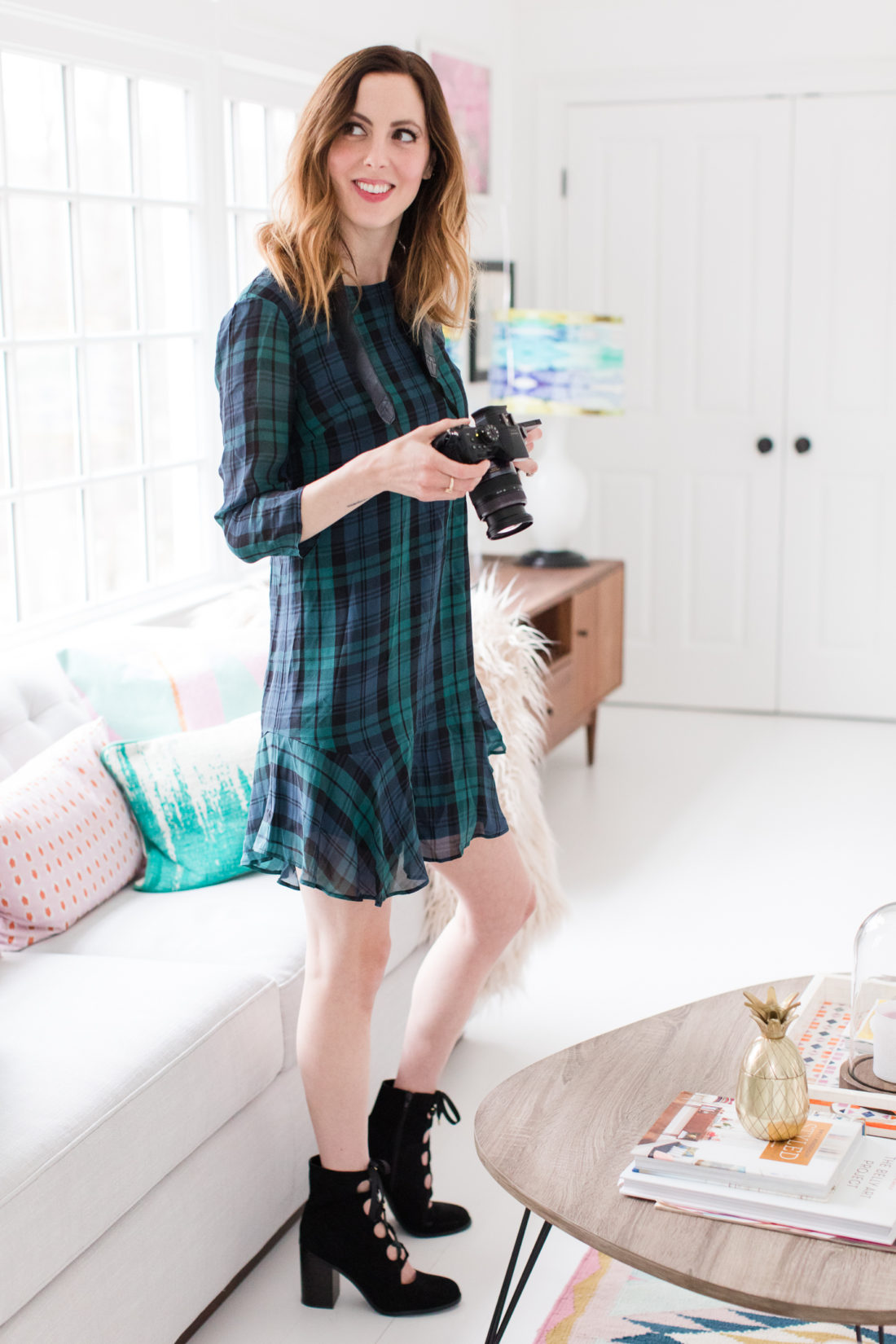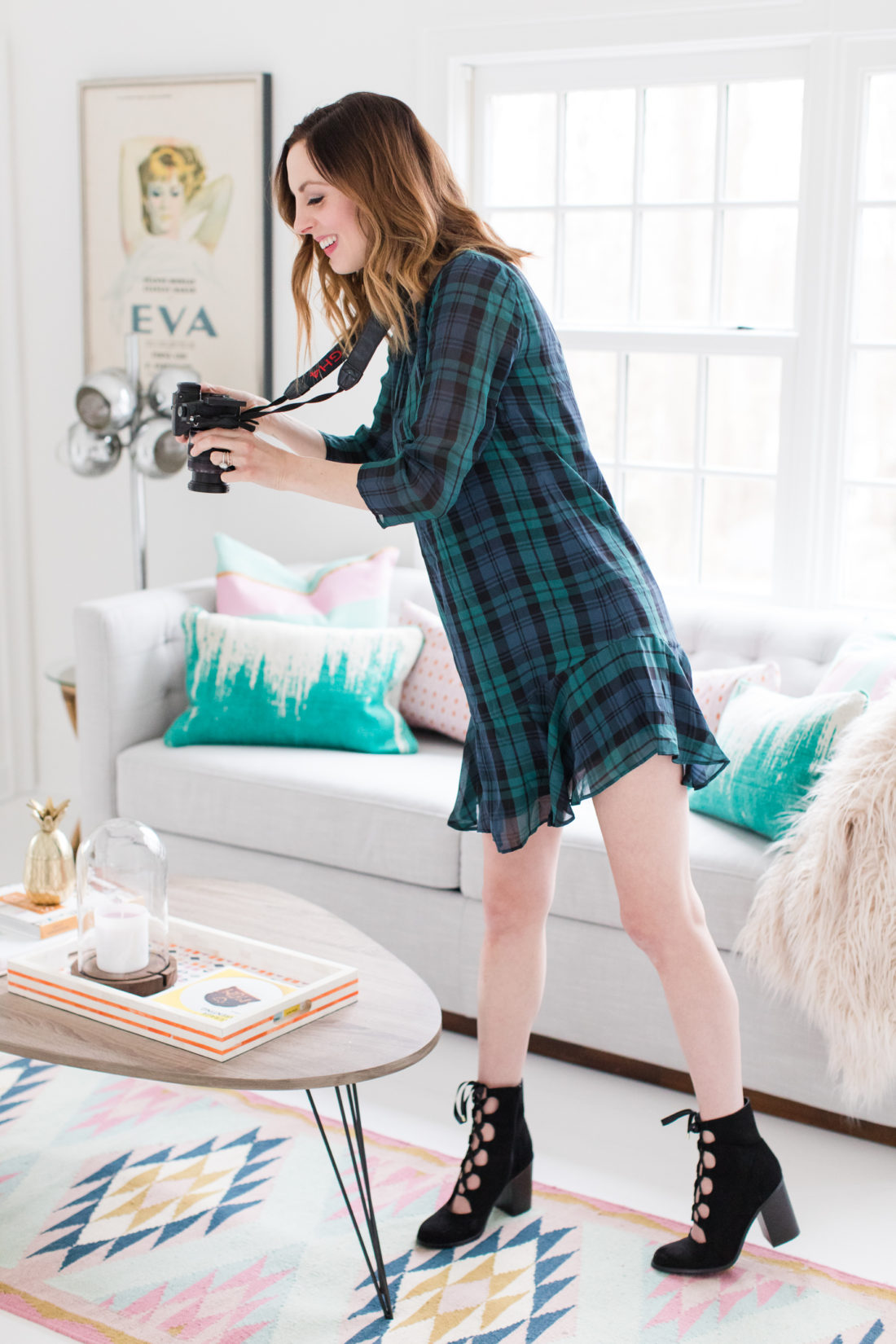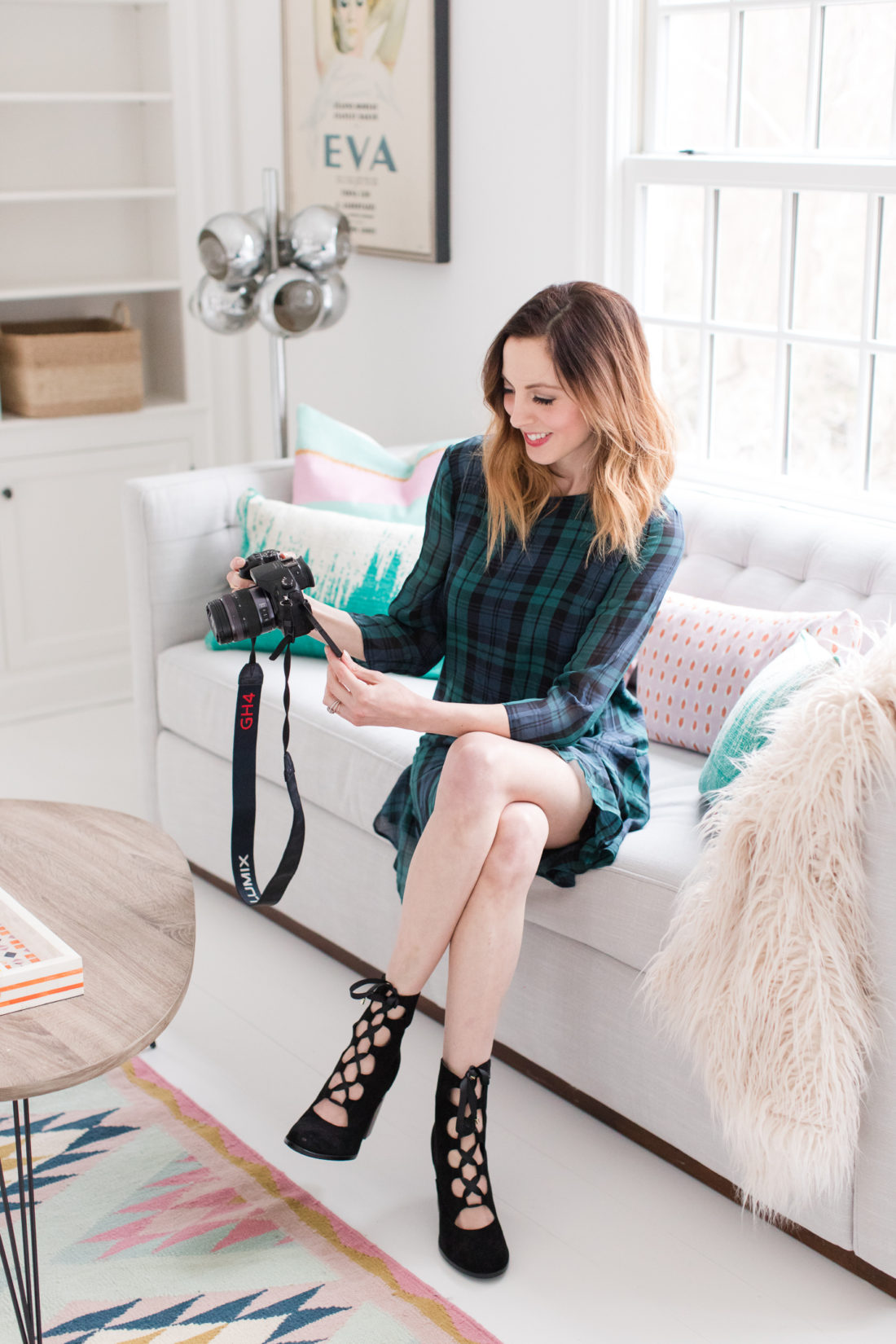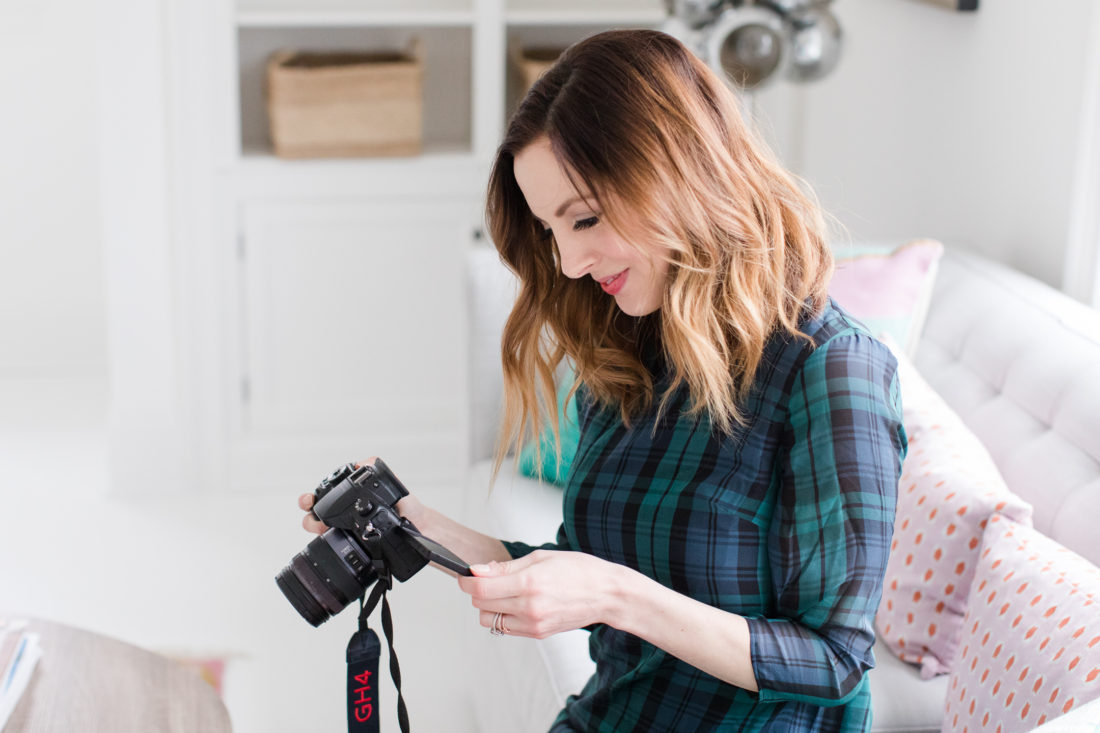 I hope this Postpartum Style Guide will inspire you to feel your best after baby! It can take a while to really get back to feeling entirely like ourselves after such a big life shift, but I find that spending some time and energy on feeling my best really helps invigorate me as a Mama and as a Wife. Do you have any foolproof style tips for after baby? Share them in the Comments below!!
Shop the post…

Photographs by Courtney Ann Photography
Save