The following content may contain affiliate links. When you click and shop the links, we receive a commission.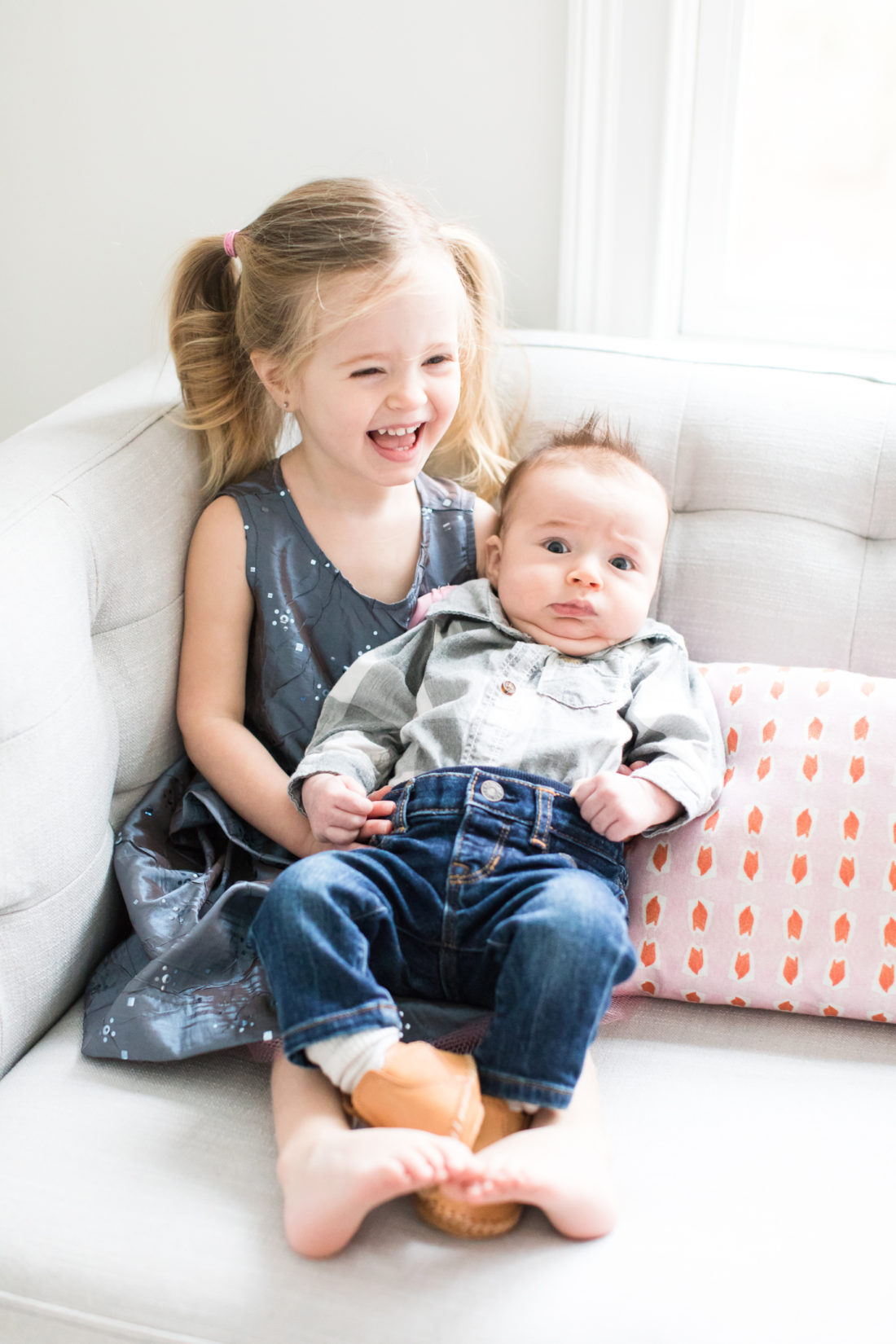 Imagining Marlowe as a Big Sister was pretty much my favorite part of being pregnant.  My pregnancy with Major had a lot of ups and downs, and for a while there I was surviving from day-to-day just waiting for the other shoe to drop.  One moment I would feel overwhelming gratitude and joy to be carrying my Rainbow Baby, and the next moment I would be sure this precious life was going to slip through my fingers yet again.  To say it was a roller coaster of emotions is an understatement! Every time I would start getting anxious I would sit and try to daydream about what my children would be like together– would they look alike? Would they enjoy playing together? I would close my eyes and envision holding both of them, wrapped up in my arms, and in my heart I knew everything was going to be OK.  The whole time I was pregnant, Lowie was super excited about the idea of her "Baby Major", and about being a Big Sister.  We read lots of books about what an honor it is to be a Big Sister, what babies are like, and all the things she could do that he couldn't.  But it's hard to explain an abstract concept to a barely two year old.  I knew, obviously, that Marlowe's reaction to the idea of a baby brother would be VERY different than her reaction to an actual living, breathing baby brother who would take Mama's time, energy, and snuggles.   I definitely prepared myself mentally for Marlowe to flip the switch on us.  I told myself over and over that it might take her a while to get used to him, not to build it up too much in my mind, and that most likely I would be dealing with a toddler who had lukewarm feelings for her brother at best.  As long as she didn't try to punch him in the face or smother him with a pillow I was going to consider it a win!
Well little did I know that watching Marlowe be an actual Big Sister to her actual real life baby brother would be one of the greatest joys of my life.  As a Big Sister she is utterly exquisite.  My daughter can be difficult in many ways– and she definitely tries my patience– but when it comes to her brother, there is a connection that is so calm and nurturing.  I marvel at how caring she is towards him, how gentle and generous, and how completely sweet.  It is almost like she's his other Mama! When I watch her with Major, I feel so much joy and hope about the little human she is becoming that I think my heart might actually burst. I almost feel like in those moments I'm experiencing Marlowe not only as the little girl she is now, but as the amazing woman she will eventually become.  I could sob right now even thinking about it!  "Proud" doesn't even begin to explain how I feel.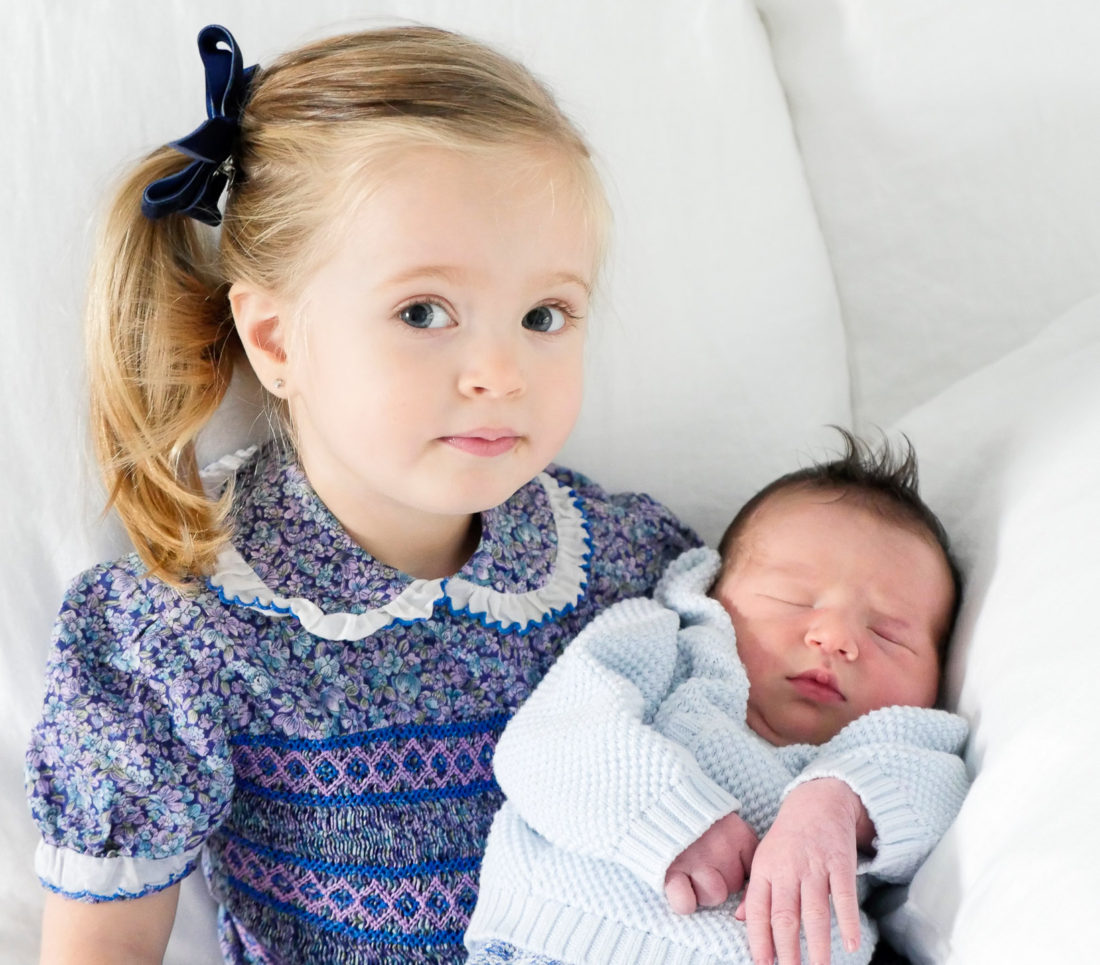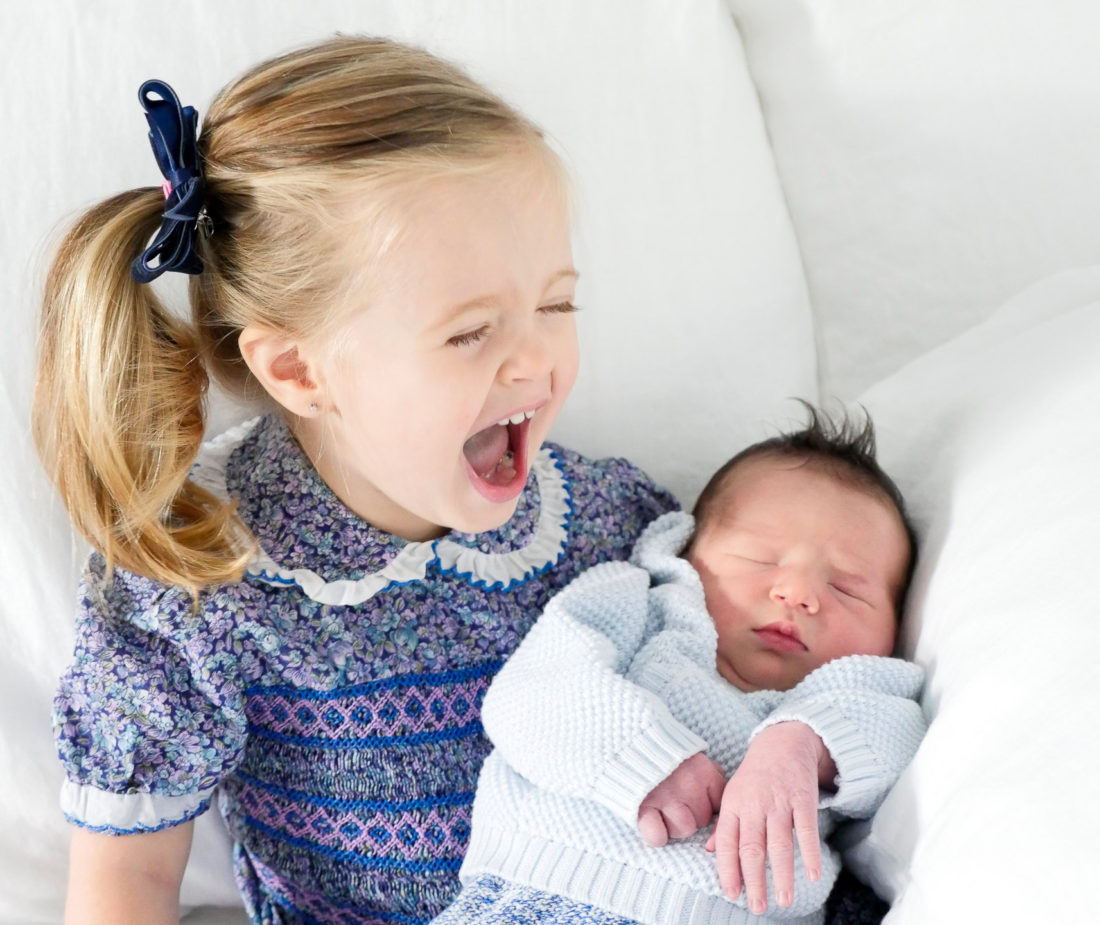 From the moment Marlowe met him, she was just so interested and enamored.  She wanted to hold him and care for him, and every time he made the little peep it was time to alert the presses!  If you follow me on Instagram, I'm sure you've seen lots of the videos I post of her with her little "Major Boy".  This was a nickname coined by her, of course.  Now we all call him that! She says the funniest things to him (and about him!), and is always using the most adult words and phrases.  Sometimes I feel like she sounds like somebody's Bubby. "Oh my little sweet boy," I heard her tell him once while she was petting his head, "You are just so ADORABLE!" Kyle and I die laughing all the time.  You may have also seen the video I posted on Instagram of her letting me know that "Major Boy has little nipples." LOL.  Whenever she gets home from school, the first thing she wants to do is hold her brother.  Kyle and I think it's important for her to feel that we trust her with him, so we always allow it when she asks.  We set her up on the couch with a pillow under her arms and prop him up in there.  Sometimes he isn't in the mood, but usually it becomes the best part of my day– just watching her sit there and chat to him, cuddle him, and connect with her little baby.  She's also mastered the art of using him as a tool to get out of things.  When we want her to finish her vegetables? "I can't do it, Mom." Well why not? "Because Major is gonna be so mad." Time to go to school? "I don't want to go to school, Mom.  Major gonna be so sad. He gonna miss me." Hmmmmm.  Actually I think he may love it since it's the only few hours of his life when he gets undivided attention, but who's counting? Ha! Just this morning, we were getting her ready to head out the door to school, and while we were putting on her coat and backpack, Major starting fussing in his bouncy chair. "Oh no!" Marlowe exclaimed, and darted over to him.  She got down on her knees and wrapped her arms around her brother and told him softly, "Don't worry, Major Boy, I always come back." Instant flood of tears for Mama. Clean up in Aisle Seven!! The funny part is that she can actually get Major to calm down when he's fussing.  And he does totally adore her.  Or, I would say, he alternates between being completely overwhelmed by her over-the-top energy all over him, and total adoration.  Mostly the first one.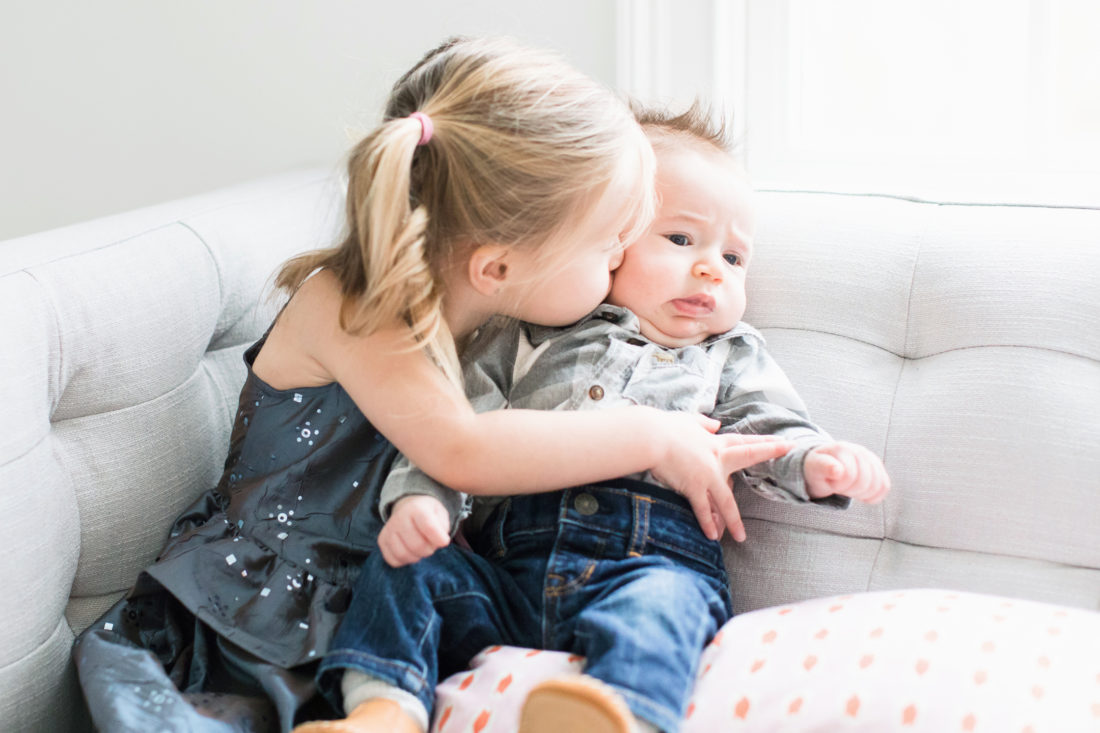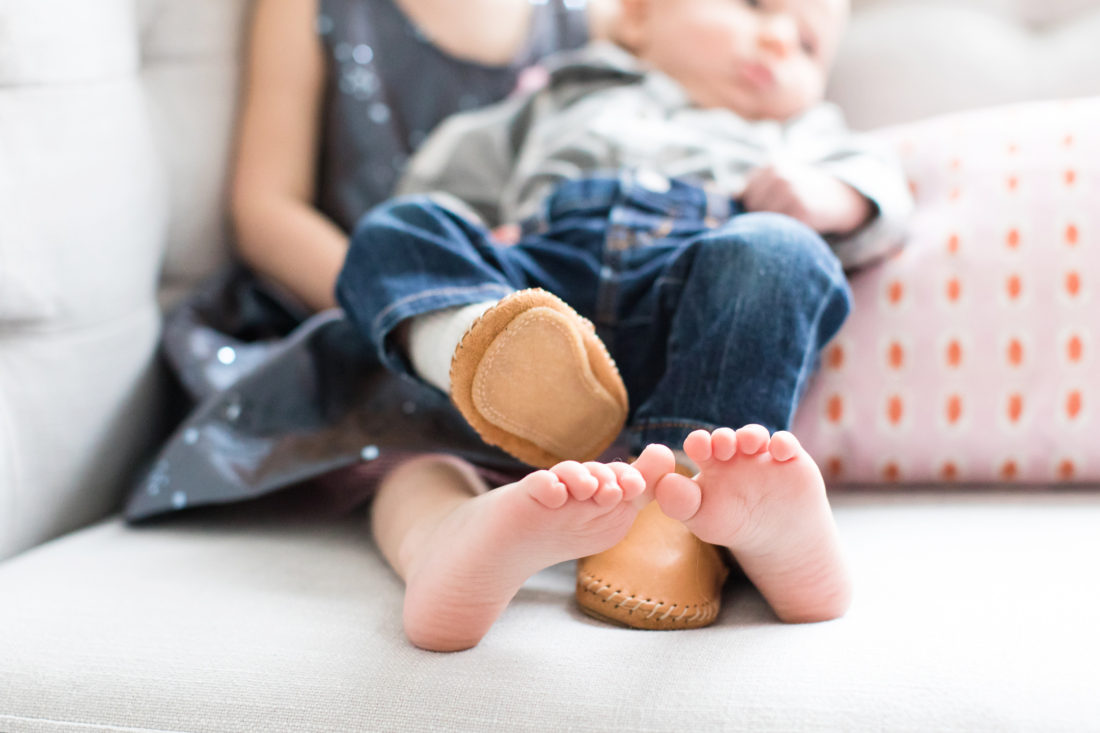 But for all of Marlowe's love for her brother, the sibling relationship is obviously not without its more fraught moments.  Marlowe has been sick a lot so far this Winter, and when she is feeling fragile and fussy she has a hard time understanding why she has to share my time.  Towards the end of the night if she is super tired, she starts up the second I pick him up to bring him upstairs.  She can be in the middle of playing with a toy, reading a book, or watching a movie, but suddenly, she wants me to hold her.  Scratch that, SHE NEEDS ME TO HOLD HER.  When I explain that my arms are already full, she flips.  Cue: hysterical crying, hanging on my clothes and body, melting to the floor and sobbing while she kicks her legs. This has gotten a bit better since I have started explaining what "sharing Mommy" is all about.  I tell her that I am just one Mommy, and that she and Major and Daddy all have to share me, and my snuggles, and my time.  I told her that after Major gets a turn, then it's Marlowe's turn for Mommy time (I think Daddy usually gets shafted in this scenario…LOL)  Now sometimes when I'm burping him she'll look at me and tell me with A LOT of authority: "Mama, after this you put him down and then you hold ME."  Noted.  Generally speaking though, she directs her fury toward the one who is supposed to be holding it all together and balancing both her kids' needs (aka ME) and not her little brother.   I've also introduced the term "Baby Love", as in "Do you need some Baby Love?"  Baby Love is the snuggles, and cuddles, and rocking, and singing that is normally reserved for babies, but that Big Girls sometimes need when they're feeling pretty fragile about having to share with a little baby brother.  Because sometimes (just sometimes) big girls need to be held like a baby too.  Identifying her fragile moments as times when she requires a little Baby Love has enabled her to put a label on what she needs from me and it has definitely cut down on the tantrums! She is also quick to point out when Major has majorly had it with the big bad world, and needs some Baby Love himself. I think Marlowe pretty much realizes that they're both in this together. LOL.
I can't wait to watch how my kids' relationship grows and changes over time, and even over these next few months as Major gets more mobility.  I can imagine it could be a rude awakening when he reaches in to her toy bin one day and (GASP!) wants to play with something.  The drama! I'll keep you posted…
And because you all were so kind and loving when I shared Major's Birth Story with you a few months ago, I was moved to share this special, special moment in time…the most precious of all my precious memories: the moment the two loves of my life met each other for the first time! I cry every time I watch this.  It reminds me that the future is bright, that children are all little balls of goodness and love– and that one day they will grow up and take this crazy world out of our hands to change it for the better.  Here's to hoping.
---
Save
Save
Save