The following content may contain affiliate links. When you click and shop the links, we receive a commission.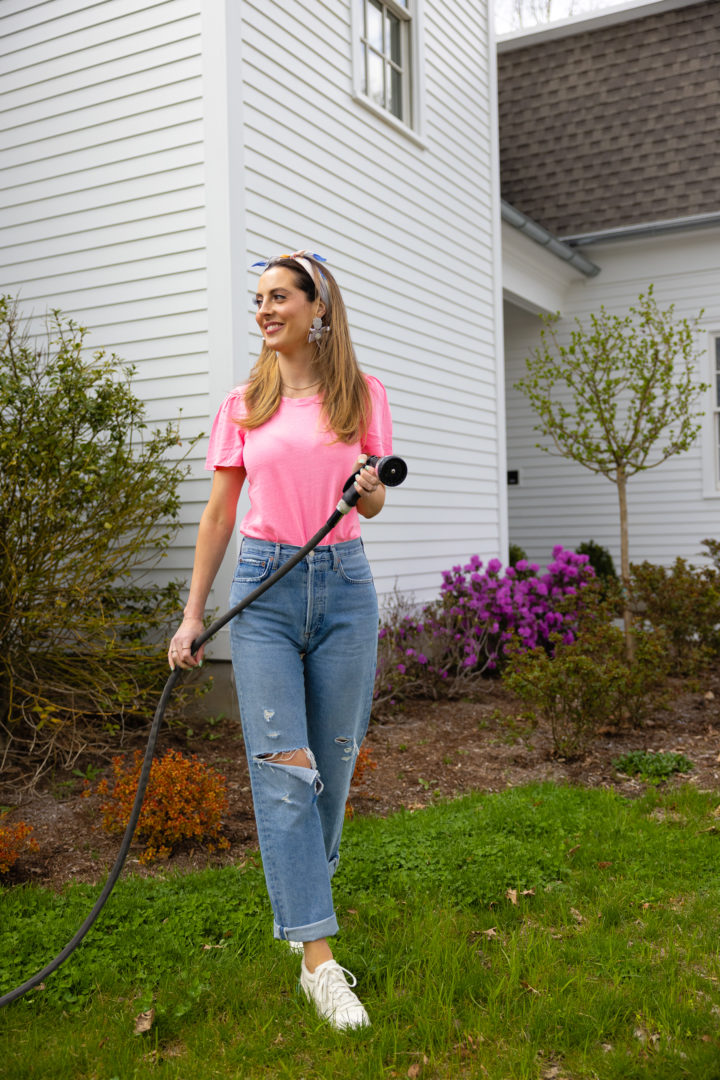 I grew up in New York City, and I can tell you with absolute certainty that fertilizing, seeding, and manicuring an acre of yard is not something I ever saw myself doing. I also never imagined myself LOVING having a yard as much as I do. It's been so wonderful to have a piece of property where the kids can run around and we can spread out a bit, especially during these times of isolation! 
After getting divorced, having a company come to take care of the property and all its landscaping needs was no longer in my budget. Like, at all. I can't believe how expensive it can be! I crunched the numbers and realized how much money I would save by investing in the equipment and doing it myself…with a little help of course! Ian convinced me that it could be such a fun project for us to do together on the weekends, and to be honest, I was looking forward to getting in a good workout outdoors while doing something productive. 
As it turns out, landscaping and caring for my own property myself has been SO gratifying, even if the work is hard and the hours are long! I have a newfound interest in gardening and lawn care, and I've realized that even the simplest growth in the grass that I've personally nurtured can make me feel super accomplished. Yet another example of how it truly is the little things in life! 
Today I wanted to walk you through what we've been doing in terms of landscaping and yard work, and some tools or tricks that came in handy! I added all my gear down at the bottom of the post as well, so you can see specific products. 
GRASS REPAIR + CARE
After nearly two years of construction on my home, including a pretty big addition, my yard was pretty much destroyed. As a result, it was really packed down in certain areas and the grass just wasn't growing. It looked patchy and terrible and bugged me all last summer. I knew I wanted to do something about it this year! Ian and I did some research and bought a meter to test the PH of the soil. If the PH wasn't at a good level, we would have first sprinkled some Lyme before seeding and fertilizing. Luckily, when we checked, the PH levels were ok, so we got directly to seeding and fertilizing! First, I fertilized the entire yard, using a spreader. Next, I used two big bags of seed to do the entire property, and twice over the bald areas. We made sure to do the seeding and fertilizing on a day when ran was expected later in the week and the timing couldn't have been better. It rained for two or three days straight and I'm sure that really helped with growth. 8 weeks later, and the grass has been growing like crazy! We still have a few spots we want to reseed this fall, but overall I'm so impressed—and the total cost wasn't crazy either.
MOWING THE LAWN
I will say, mowing my property feels like a full-time job, but I kinda LOVE it. As a Type A personality, it's so satisfying to complete the yard bit by bit, and the freshly cut grass smell is intoxicating! My one pain point is that the battery on the mower only lasts about an hour and a half, so I end up having to do half one day and then half the next morning, but it could be worse! I use a weed whacker/edger to cut the corners around flower beds and next to my stone wall, as well as under my fence and porch. I'm pretty proud of my handiwork if I do say so myself.
WEEDING
Ian and the kids love to weed the garden beds together, and it's a great way to make the kids feel included in the yard work. They're getting so good at it too! I made sure to get us all really good gardening gloves and hats so we're comfortable out there for longer periods of time. I also bought a weed torch to get the weeds that spring up among the driveway gravel. It's extremely satisfying to torch them. LOL. That's Mama's favorite job!
BRUSH CLEARING
There was a huge patch of tangled brush and a dead tree on the property that was kind of an eyesore. I decided to clear it so we could plan wildflowers…and maybe even put up a swing on a nearby (healthy) tree for the kids to use! Ian cut the tree down himself (we have firewood for the entire summer now LOL), and then the kids helped us clear out the weeds and brush. We're almost done now, and I can't wait to plant the flowers! It's going to be such a beautiful patch to look at from the house.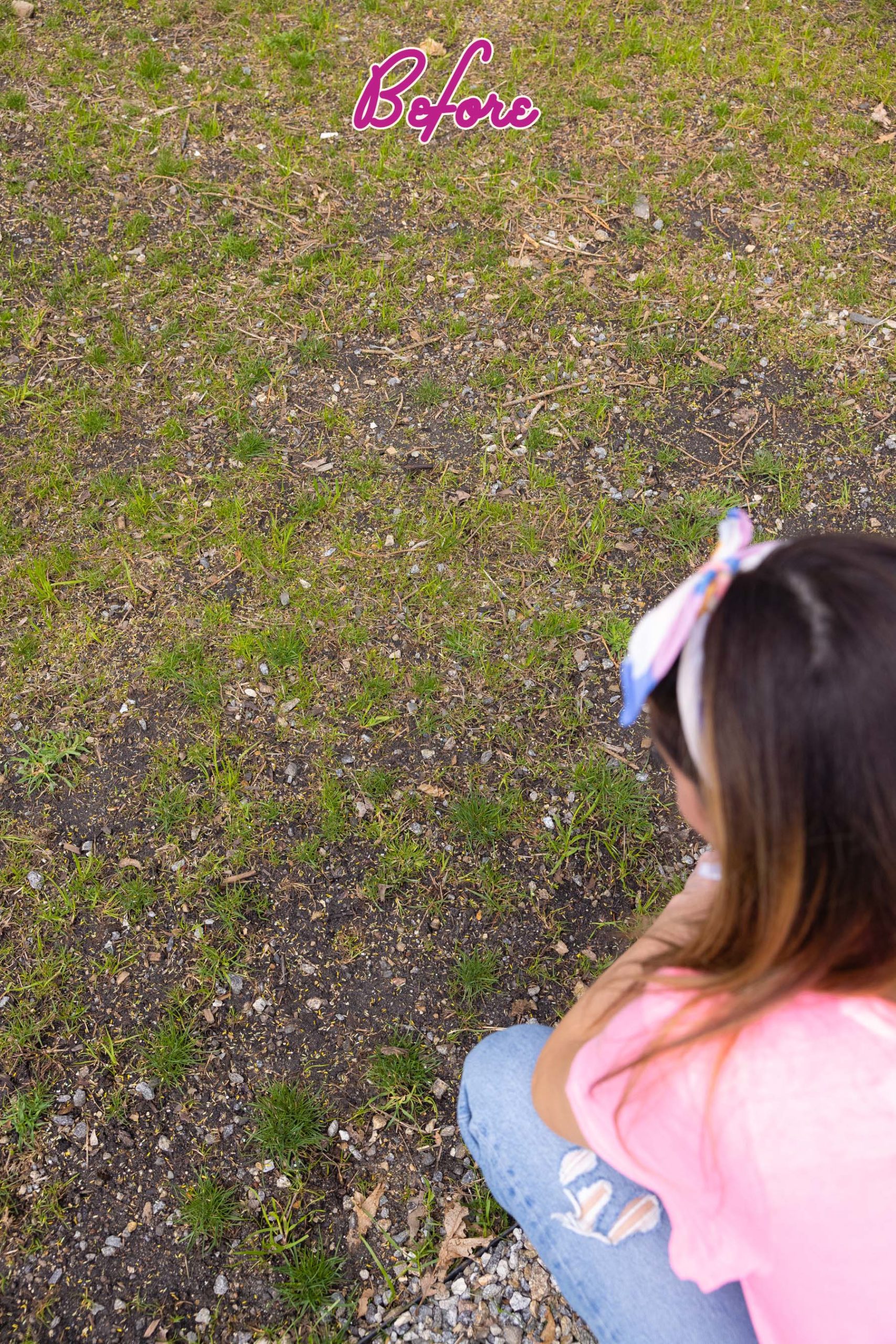 Landscaping Must-Have's...
ECHO PB-580T Gas Cycle Backpack Leaf Blower
$349
We did all our Fall cleanup with this leaf blower and a couple of rakes, and it worked great! It's manageable enough for me to use on my own, too, Highly recommend!
Super Recycler SmartStow Max Cordless Battery Walk Behind Mower
$699
This is the lawn mower I have and I am fully obsessed. It's so so easy to use and doesn't feel too heavy to push at all. The bag is easy to remove and dump, too! Never, ever, ever thought I'd be singing the praises of a lawn mower on this blog, but here we are!
Scotts Turf Builder EdgeGuard Mini Broadcast Spreader
$36
This is the spreader I have to spread fertilizer and seed. A must if you're feeding your lawn!
Sun Joe Electric Pressure Washer
$159
This is the power washer I have that brings me GREAT JOY. Haha. It's so easy to use, and I power wash my porch and patio every few weeks to keep them looking great.
Flame King Self Lighting Propane Torch Weed Burner Ice Melter
$23
The most fun weed torch in all the land! You can also use it to light bonfires and outdoor fireplaces, etc.!
RYOBI Cordless Battery Edger
$79
This is the edger/weed whacker I have! It's great! I have nothing to compare it to, but it gets the job done and I can easily use it so I give that simple fact five stars.
Heirloom Garden Arm Saver Gloves
$38
These are the prettiest garden gloves! And I love that they cover some of the arm too!
Vgo Gardening Gloves for Kids 5-7
$12
My kids have these gardening gloves and love them! The rubberized part protects their hands from prickles.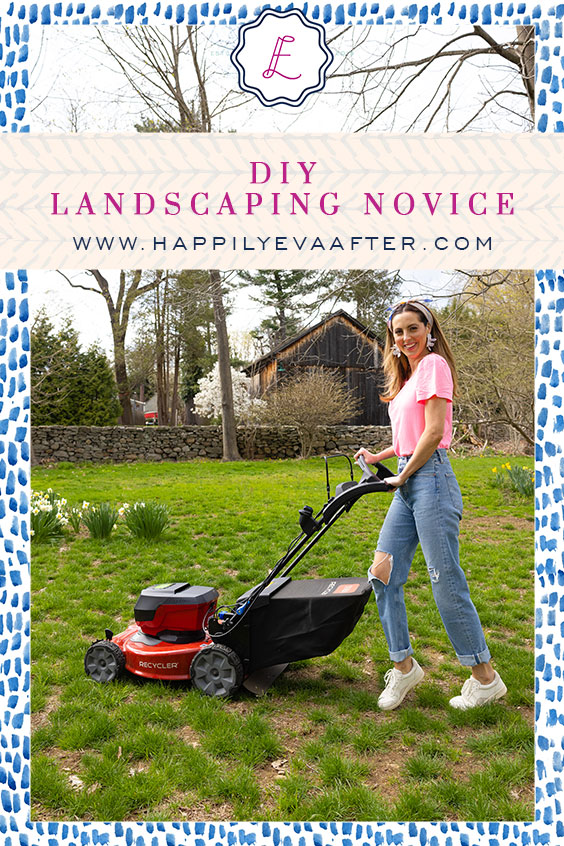 Photographs by Julia Dags | Copyright © 2021 Happily Eva After, Inc. All Rights Reserved.