The following content may contain affiliate links. When you click and shop the links, we receive a commission.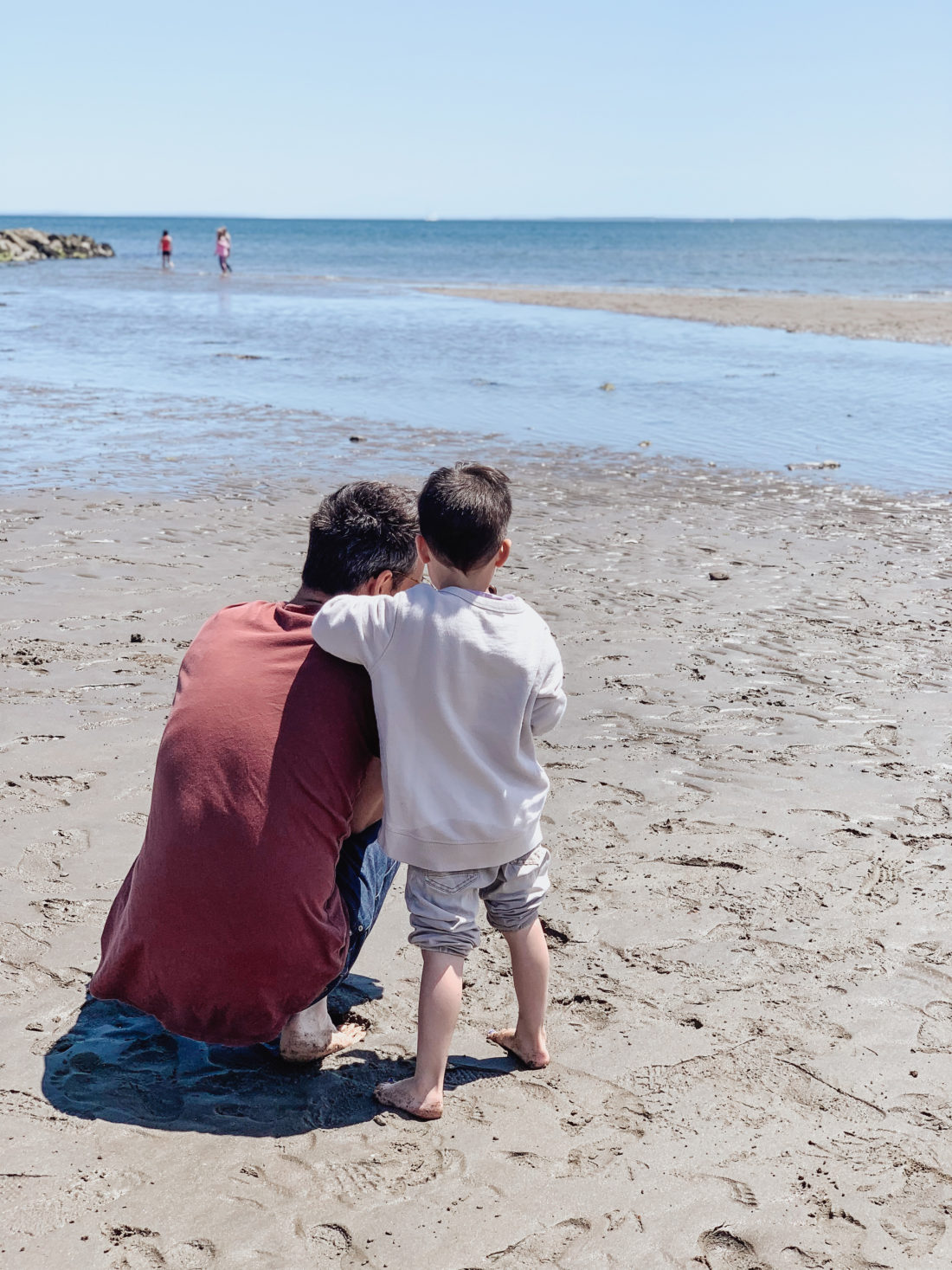 Since sharing with the world about my relationship with Ian, I've gotten a lot of questions from people asking how I went about introducing my kids to a new guy in my life. I totally understand this question, and I think it's important to crack open the conversation surrounding these types of topics to normalize modern families a bit more. Unfortunately, half of marriages do end in divorce, and many have children involved. I've gotten messages from women who are in the process of divorcing or have recently divorced asking mostly two questions: 1. How did I know I was ready to date post-divorce? and 2. How did I introduce Ian to my kids?
How Did I Know I Was Ready to Date Post-Divorce?
The first question is simple to answer, because it's totally subjective. You have to feel ready. That's it. There's no norm when it comes to this. A month can be normal, and three years can be normal, depending on where you are in your personal journey after the dissolution of your former relationship. The one thing I'll say is that you should open up again romantically when YOU feel ready, not when other people think you should be ready. The truth is, Ian himself made me feel ready, that's how I knew! Just trust your gut.
How Did I Introduce Ian to my Kids?
One word: Carefully.
Since I know people are looking for a bit more than a one-word answer (LOL), I'll expand on that a bit more, but I want to really drive home how much thought did and should go into something like this. It's not a "wing it" type of scenario. I always knew that whenever I introduced the kids to a new guy that it would have to be somebody I had extremely strong feelings for. Also, being in a pandemic, so much of my experience with Ian needed to be at home (plus I have custody of the kids most of the time). I knew that once I introduced him to them, we would be spending time all together in "their space" if that makes sense. Knowing my kids, and how open-hearted they are, I also considered the fact that they would probably become attached pretty quickly. I would never want to introduce them to somebody only to not have things work out in my relationship and put them through another transition. Of course, nobody has a crystal ball in a relationship, and you can't not date for the fear of things not working out, but my point is that I wanted to be really sure about somebody before I ever involved my kids.
As any parent that is "dating again" knows, you can only be so sure about somebody if they haven't interacted with your kids! So that introduction is important to see if a relationship can work long term. I really wanted to see Ian around the kids, once I knew I had serious feelings for him, but I also wanted to do it in a way that would be thoughtful and would feel safe for the kids. And I'm not an expert! So what did I do? I asked an expert!
Ian and I went to a therapist who works with both adults and kids, to get advice on how to most organically bring him into the fold. We did a couple of sessions together, and we each did sessions separately. It was SO helpful to each of us individually, and as a couple, to share and talk things out about this process—and I feel so grateful that I have a partner who was down to go into all of it in such a choreographed and thoughtful way. He wanted the kids to be comfortable just like I did.
And before I get questions about it: yes, Kyle met Ian before the kids!
We were actually able to spend time just the three of us, and have dinner a couple of times before Ian met the kids. It was important to me that everyone felt comfortable and had a sense of each other before we took that big step. I think that having this level of respect has made all the difference when it comes to maintaining a healthy and positive co-parenting relationship.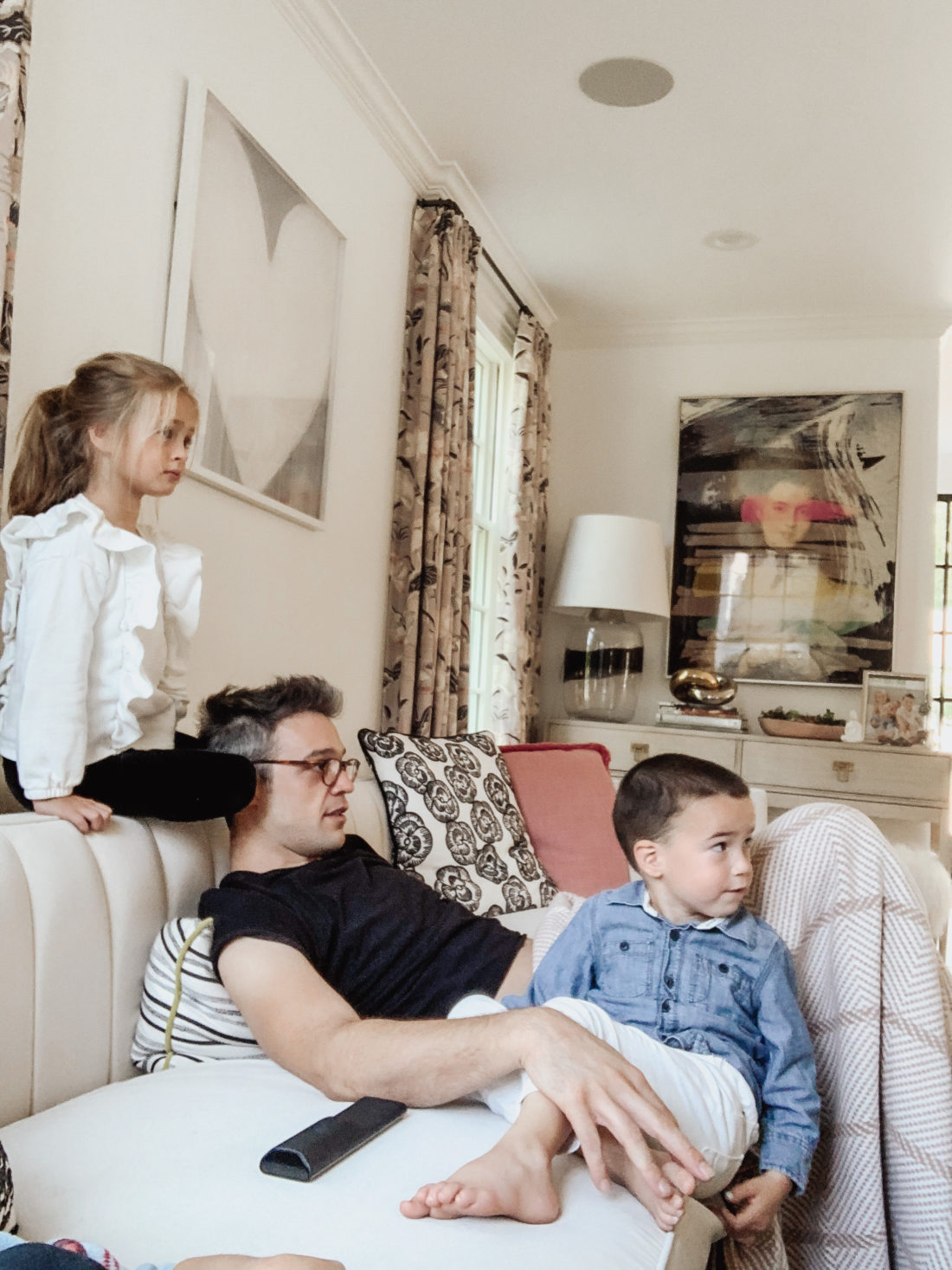 The therapist we spoke to recommended that I tell the kids about Ian before meeting him, and see how that went first. She said to keep it really basic and then answer questions as they came up. She reinforced that I should NOT refer to Ian as my "friend", because that would be confusing (as he was definitely not just my friend).
One night, when I was alone with just the big kids, I told them that I met somebody that made me feel really happy and special, "just like when Princess Jasmine meets Aladdin, and when Aurora meets the Prince." I told them his name was Ian and "he's really nice and funny and I love spending time with him." They were both surprised and intrigued. Marlowe immediately asked if he was my boyfriend (yes.) and if I was going to marry him (I don't know). She also asked if she could meet him tomorrow. LOL. I told her maybe she could meet him in a week or two. After that, I answered questions as they came up. Sometimes they'd arise in the middle of the day, or at night when I was putting them to bed. I got everything from "what does he look like?" to "how old is he?", "where does he live?" and "can we go to Ian's house right now?"
The therapist suggested we keep the first meeting pretty brief, and to really go off of the kids' cues when it came to how long it went. She suggested we play outside and have him meet us there. That way, the kids could engage as much or as little with him as they wanted to, and they would feel more in control. I was so overwhelmed and nervous the first time they met (and he definitely was too), but when Ian was walking up, they screamed out "Ian!!!" and ran over to him. They wanted to show him everything they were playing with, and wanted him to play too. They kept asking him a million questions and Marlowe invited him to have lunch and dinner at our house. Hahaha. The therapist had suggested that in the beginning we should keep the interactions pretty consistent. So, maybe three times a week two weeks in a row for limited time frame. After an hour, Ian left, and promised to come back and have lunch with us later that week.
The kids got to know him by playing and reading with him, and just as I had expected they did get attached pretty quickly. It was sweet to see them getting to know each other, and of course it made me fall for Ian even more to watch him be such a natural with the kids. When the weather was nicer, it was fun to bring the big kids on little adventures like strawberry and blueberry picking, and to go to the beach and explore all together. We waited a while before Ian started sleeping over, and I made sure to ask the kids first if they would want Ian to ever sleep over at our house? They were SO excited the first time!
As per advice from the therapist, I made sure to check in with the big kids from time to time to ask them how they were feeling about Ian, and if they had anything on their mind about Ian being my boyfriend. Marlowe did have questions from time to time. Natural things like "do I have two Dads now?" I made sure to answer these kinds of questions decisively and promptly:
"No, you don't have two dads. You have an amazing Daddy already, and he is your only Daddy. One day in the future, if Ian and I decided to get married, he would be your 'Stepdad' which is different from a Daddy. Ian really cares about you guys, though, and he's so happy to get to spend time with you and get to know you guys more and more."
I realized through this process that Marlowe doesn't have that many friends with divorced parents. It's been an interesting thing for her to work out, without really seeing examples. My parents are really the only close examples she has! Once the schools are more interactive, I hope to get her involved with a "Banana Splits" lunch program for kids with divorced parents—so she can interact a bit more with other kids who have families like hers.
I'd love to hear some of your own stories about introducing your kids to a new partner, if you're willing to share!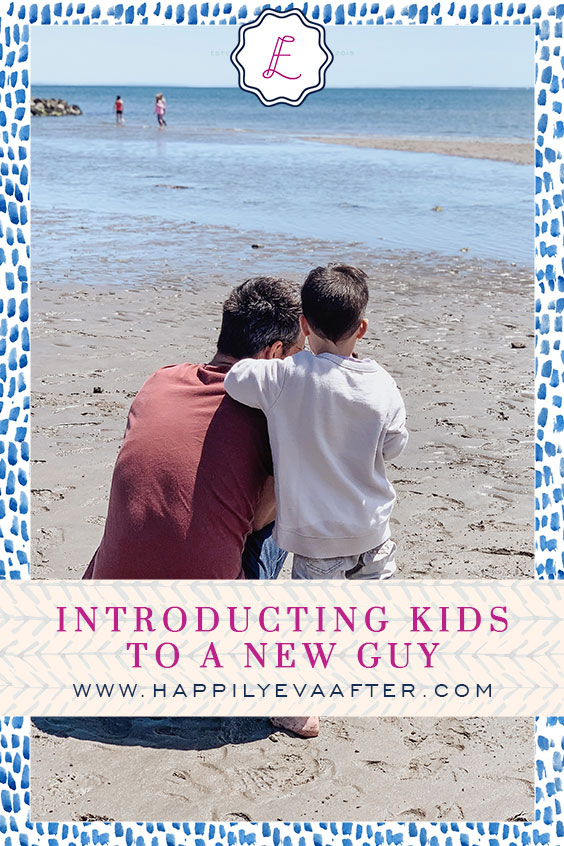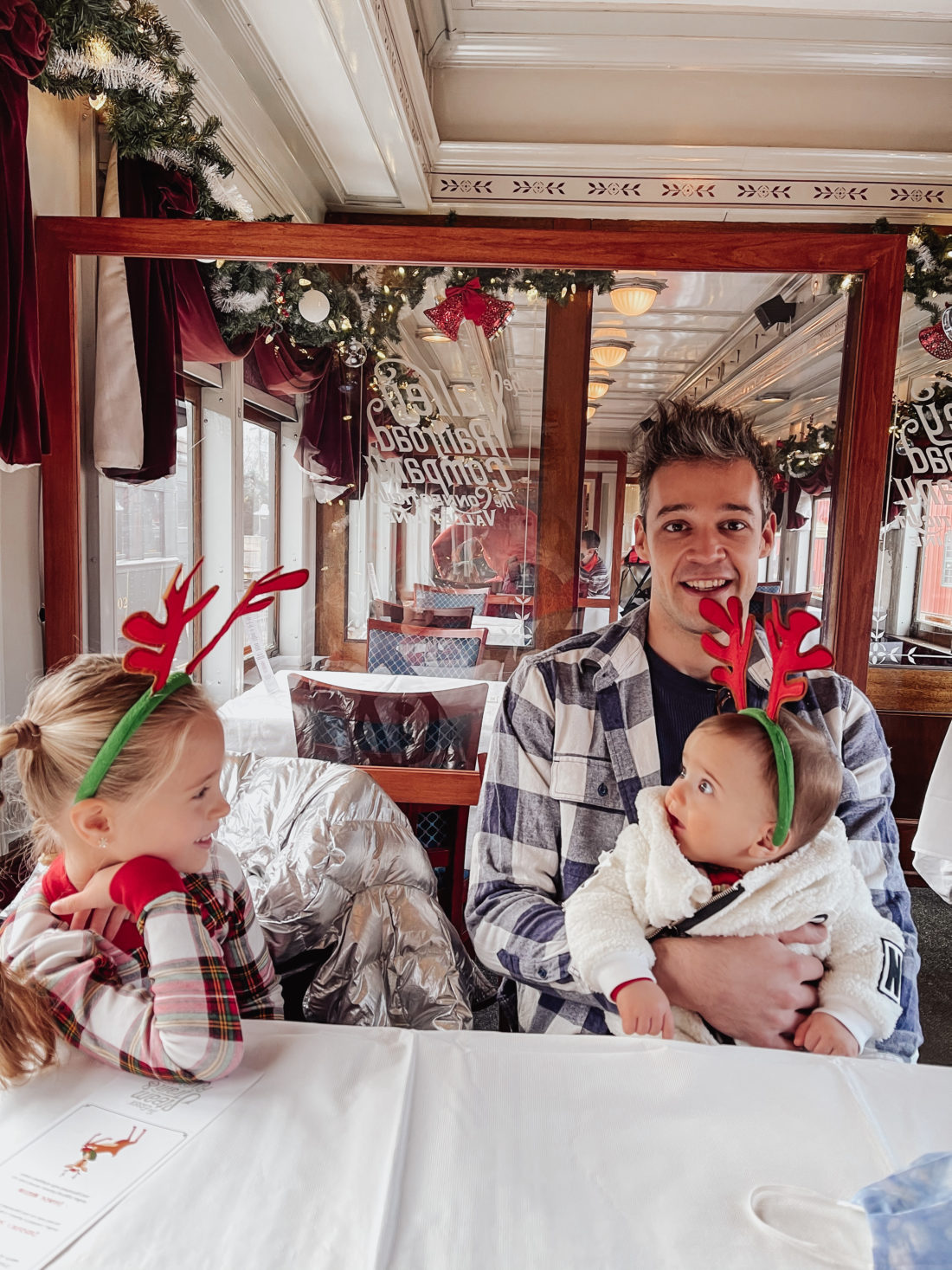 ---
Happily Eva After, Inc. © 2021 All Rights Reserved