The following content may contain affiliate links. When you click and shop the links, we receive a commission.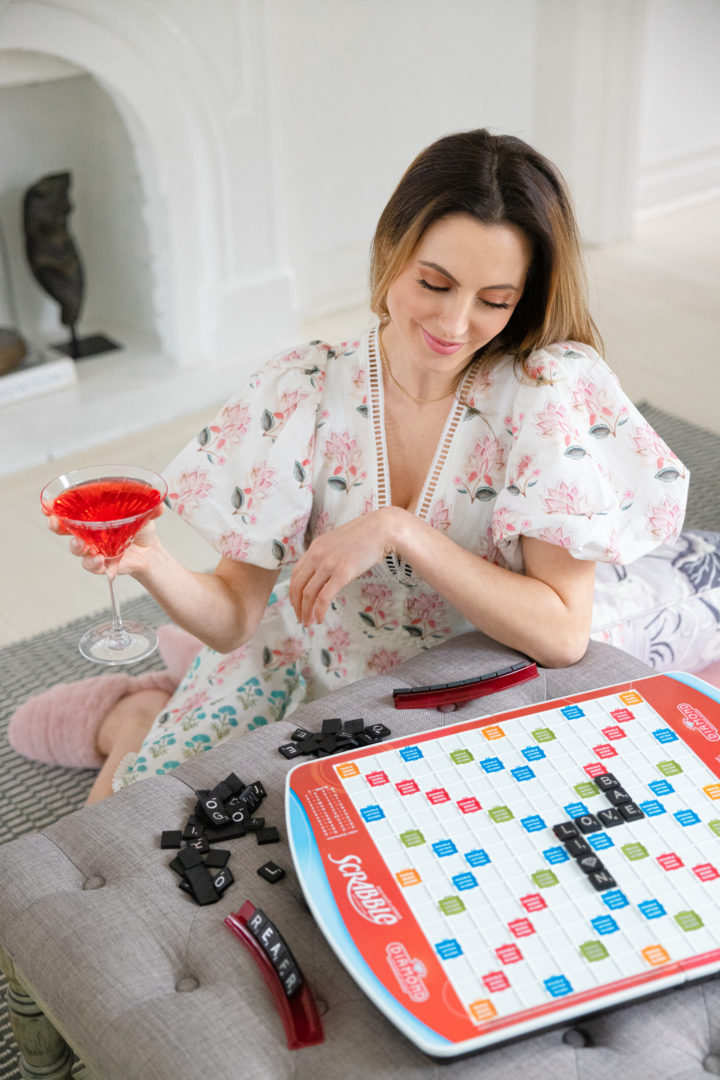 Dating somebody new is a really fun and exciting time, filled with butterflies and waiting days just to see each other and spend time together. It's meant to be "the best days" of your relationship together…but what happens when you're spending that "honeymoon period" in the middle of a pandemic, and mostly at home? Cue the disappointment sound effect. I know there are tons of people experiencing this strange time through the lens of deepening a new, exciting relationship…and also through the lens of trying to reinvigorate a marriage or long-term relationship. The last year has been super stressful, and we're ALL needing to find ways to connect, or reconnect, with our partners in our homes.
With Valentine's Day around the corner, I thought it would be the perfect time to share some of the cute ideas for Date Night at home that my boyfriend and I have tried and really loved! Date Nights at home haven't been perfect. I'll be honest that at times it's been frustrating not to be able to really feel free when it comes to spending our precious alone time together, but it hasn't been all bad. In fact, I think that the concentrated time spent at home has really helped us become even closer, and it's for sure helped us save money! I hope we can go on a little trip sometime this summer to make up for lost adventure time. My best tip for Date Night at home is to treat it like a Date Night out in the world: get dressed up and feel your best! I never feel ready to connect at the end of a long day if I'm still in my athleisure gear with baby formula on my shirt. If I do my hair and makeup quickly after the kids go to bed, it makes me tap into my femininity and gets me ready for grownup time.
Until then, here are some ideas for connection. Let me know if you have other great ideas, or if you're going to try these Date Night tips!
CUTE IDEAS FOR DATE NIGHT AT HOME
HELLO, BARTENDER
Take turns creating a signature cocktail for each other using ingredients you have at home! You can utilize anything from herbs, juices, spices, syrups or honey! Choose a few of your partner's favorite ingredients, and then come up with a cute name. You can both rate each other's drinks and write down the recipe if you concoct something you love! Need inspiration? Check out my collection of cocktail recipes. 
GAME NIGHT
Games are such a fun way to connect with your partner—I especially LOVE Scrabble. Other great options for couples are Santorini (a really simple game to learn), Morels, Code Names: Duet, and Tiny Towns (so fun, and can be scaled to larger groups). Make sure you set the mood for your Game Date Night at home! Dim the lights, light some candles, and maybe crack open a bottle of wine. Help it feel like an escape!
SPA NIGHT
We love spending Spa time together at home! We get in cozy bathrobes, put on relaxing music, and enjoy facials (by Yours Truly) and massages. You can either invest in a great massage oil—I love this body oil by Mutha—or use Extra Virgin Coconut Oil. Diffuse some lavender essential oil in an essential oil diffuser to get your relaxation vibes going. Then, take turns giving each other a relaxing massage. You can kick your body treatments up a notch by using a dry brush all over before the massage starts! Finish the evening with a bubble bath if you're really feeling decadent.
FLASHBACK TV
I think it's really fun if you're in the mood for a "Movie Night" to take a walk down memory lane and use that energy to learn a little more about each other. Instead of checking out whatever the latest Netflix show is, try each choosing an episode of a TV show that was THE COOLEST to you in High School. For me, it would be. My So-Called Life or Friends. Then, take turns watching the shows together that you choose. It will bring you right back to that youthful energy and give you that feeling you used to get when you were with your crush watching TV. At least it does for me! Hahaha. Extra points for popcorn and fun snacks!
MAKE A TIME CAPSULE
Try cracking open a bottle of wine, and printing out our HEA time capsule! Besides the worksheets, try finding a few objects you can put in that perfectly encapsulate the past year for you. Or, maybe include a list of the places you're dying to go together. Seal it up, and set a date to open it!
DATE NIGHT, DELIVERED
There are so many creative subscription services nowadays, and there is truly something for everyone. Companies like Night In Boxes make Date Night something you don't have to think twice about, and take care of everything including a fun theme! I think this route is super fun and low stress, and really pushes you outside your comfort zone. I highly recommend it for anybody who has a hard time coming up with creative ideas, or for any couples in a "rut" with the romance.
MAKE PIZZA!
Pizza is super fun to make, and you learn a lot about somebody from their pizza toppings, in my honest opinion. I like my pizza either cheese-free, or with goat cheese. Then I have mixed vegetables, black olives, jalapenos, and anchovies. YES, I KNOW ANCHOVIES ARE POLARIZING. I love them, what can I say? Check out this recipe for pizza dough!
DECORATE MUGS
What's cuter than getting to sip your coffee every morning from a mug designed by Bae? Grab a couple of porcelain coffee mugs, and then decorate them for each other using porcelain markers! I did this for Mother's Day one year with platters and they turned out so amazing! Check out my blog post for all the tips.
OLD-SCHOOL BUNK GAMES
Throw it back to the old days when you'd stay up for hours with your bunkmates at sleep-away camp playing hilarious games! Try playing a fun game of Truth Or Dare, or even Which Would You Rather? It's fun and hilarious to come up with ridiculous situations and have your partner choose between them….also never underestimate the fun of a good old fashioned prank phone call. Pranks between couples are trending big time on TikTok, and I think it's so hilarious.
TIKTOK DANCE MOVES
And speaking of TikTok….try spending a couple of hours learning a TikTok dance! It's not as easy as it looks by any means, and you definitely feel a sense of accomplishment when you figure it out. Plus, it's nice to have a video dancing together, amirite?!
COUPLE BUCKET-LIST
Snuggle under a blanket with a pad of paper, and make a Bucket List of things you want to do or experience together in life! They could be extremely exotic (We have a Safari in Africa on ours), or really simple like going on a boat together or dancing in the rain. Make sure there are a few close to home so you can check them off sooner rather than later!
TICKET TO A FOREIGN COUNTRY
Make it a night to remember with a theme from a foreign country! Order takeout from a restaurant featuring food you haven't really explored (And extra points for supporting a local business during these crazy times). Then, check out some cool images or tourist info online about your location. (I love looking up luxurious hotels in places I want to visit, and daydreaming). Settle in on the couch with a film from the country you chose!
Photographs by Julia Dags | Happily Eva After, Inc. © 2021 All Rights Reserved