The following content may contain affiliate links. When you click and shop the links, we receive a commission.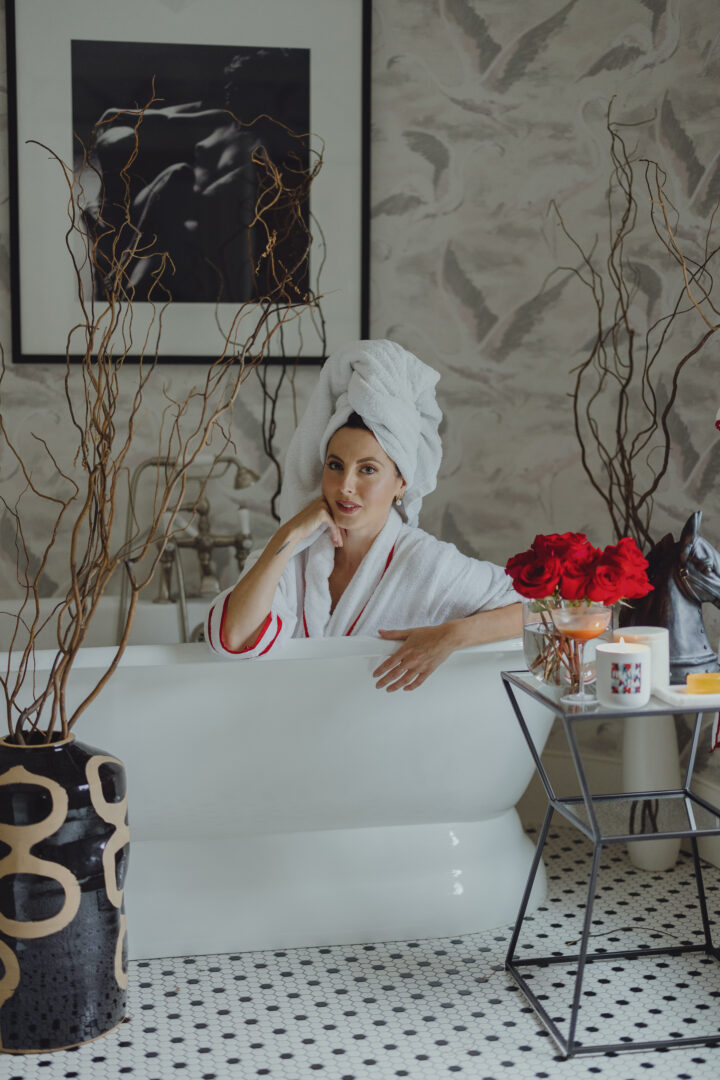 Anyone who knows me knows that I LOVE a beauty tool. Beauty products and helping my skin live its best life are high on my list of priorities. Not only am I obviously in the public eye (with my face front and center LOL) but I come from a long line of women who used a beauty routine as a ritual to create some Me Time in the day. Whenever I spend time on my skin, hair, or nails, I feel like it's an investment both financially and emotionally in myself and my own peace of mind. I find the process meditative, and I can't help but feel a lot of mystical power surrounded by all of these "potions" as I used to call them when I was a little girl. Trying new beauty tools has become such a fun experience for me as I age! I like to tell Marlowe that there is no shame in taking time for yourself, and that aging is a process that we should make friends with, slow with respect, but never totally arrest. I hope she learns from me that the most beautiful thing of all is aging gracefully and looking your best for YOU. Never trying to look like somebody you're not.
I'm proud to say that I take good care of my skin! Today I thought I would share some of my favorite beauty tools with all of you. They range from the complicated to the very simple, and they're all a great investment. I gave my Mom the facial steamer for Christmas last year because it's one of my favorites, but note that any of these would make a wonderful gift for the beauty lover in your life!
Aira Ionic Facial Steamer
$47.20
I absolutely love this facial steamer. It's the first step towards being able to achieve spa-worthy facials at home. I love steaming my face before washing to really help loosen up the dirt and clean out my pores. Then, after masking it's great to help open the pores to receive toners, serums, and moisturizers. A little convenient side hustle is that it really works when you're congested too!
Essia Ultrasonic Exfoliating Skin Spatula
$68
I've been using this ultrasonic skin spatula for over a year and I think it's a must. It exfoliates and unclogs pores, and then with a flip of your wrist, it helps tighten and tone your skin.
SLIP Pure Silk Pillowcase
$89
Silk pillowcases are a must for your skin and hair! They help prevent wrinkles, as well as maintain the integrity of your hair shaft while you sleep. They help extend the life of your blowout too!
Pose LED Travel Mirror
$46.40
If you're not doing your makeup in front of an LED mirror, what are you even doing?!! But really, how can you SEE what you're even doing? I always say these mirrors are a must for achieving that flawless finish and the precision to take your glam up a notch. I loved mine so much I found a huge version and hardwired it into the wall above my vanity. LOL.
Rose Quartz Gua Sha Face & Body Tool
$22
A gua sha tool is a small investment for a big effect. Check out my Gua Sha tutorial video for details on how to use it! I love this beautiful rose quartz version, and the packaging is pretty enough to gift or use as a stocking stuffer.
Rousa Vibrating Rose Quartz Roller
$47.20
This is one of my favorite tools to gift! The roller is amazing for de-puffing, toning, lifting, and helping your serums and moisturizers penetrate more deeply. The vibrations are optional! I love rolling my face in upwards motions after applying my serum and before my moisturizer. 
Nurse Jamie UpLift Facial Massaging Beauty Roller
$69
If you watch The Real Housewives Of Beverly Hills, then you've met this facial tool. LOL. I had to have it of course, though I can't say I use it to avoid difficult conversations… 
Skincare DRx SpectraLite™ FaceWare Pro LED Light Therapy Device
$435
I've tried this amazing SpectraLite LED mask but I think I'm going to buy it for myself for Christmas. It's SO GOOD!! It fights wrinkles and bacteria with two different kinds of light and is great for anti-aging as well as acne-prone skin in just three minutes of use!
The Body Brush Soft Natural Bristle Brush
$35
I swear by body brushing for keeping your skin tight, toned, and for limiting cellulite. I have a whole tutorial for the body brush in my REELS on Instagram! 
ZIIP Beauty Electrical Facial Device
$495
This nano current and microcurrent device is another beauty tool I'm dying to get my hands on!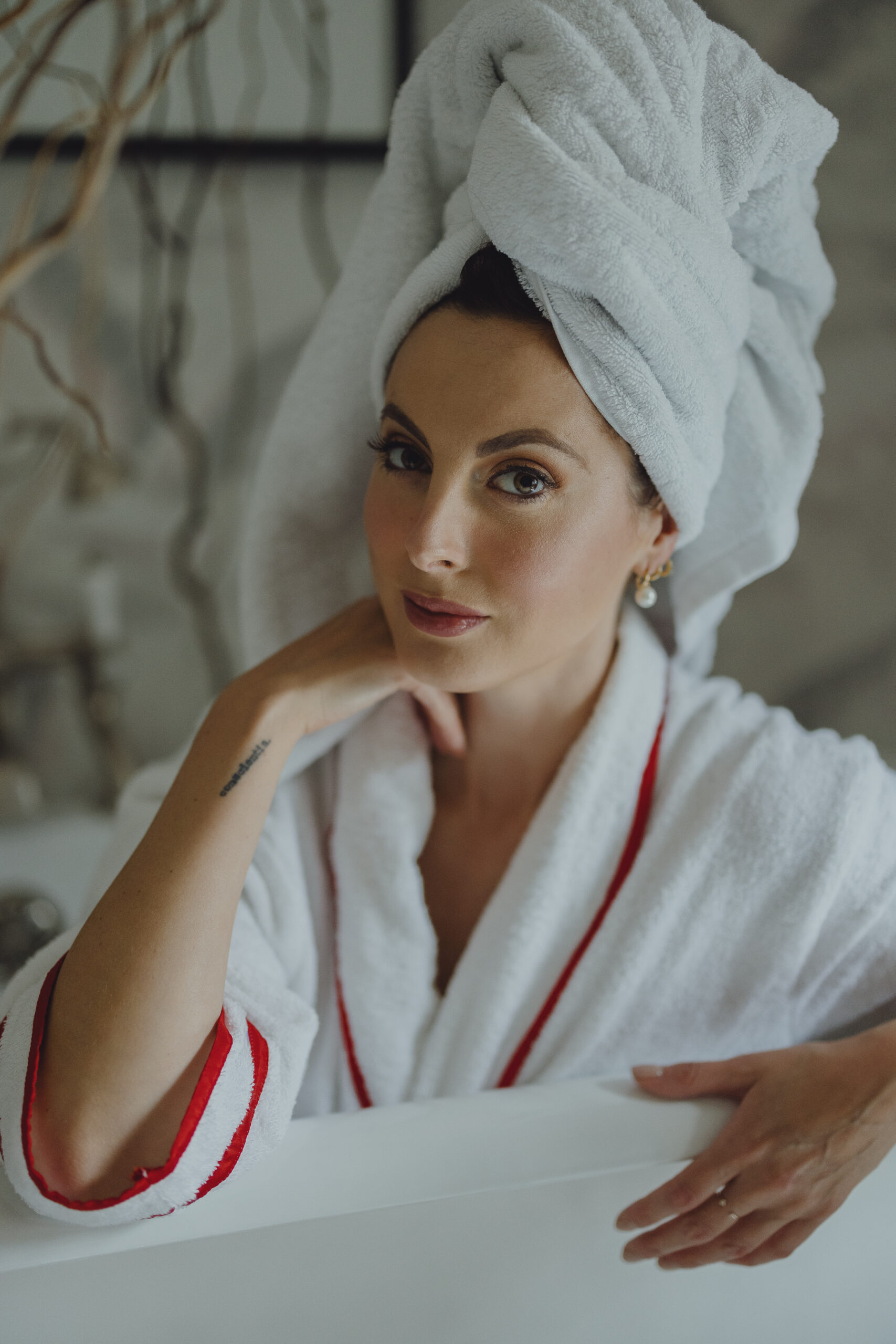 ---
Shop the post…

Photographs by Julia Dags | Copyright © 2021 Happily Eva After, Inc. All Rights Reserved.