The following content may contain affiliate links. When you click and shop the links, we receive a commission.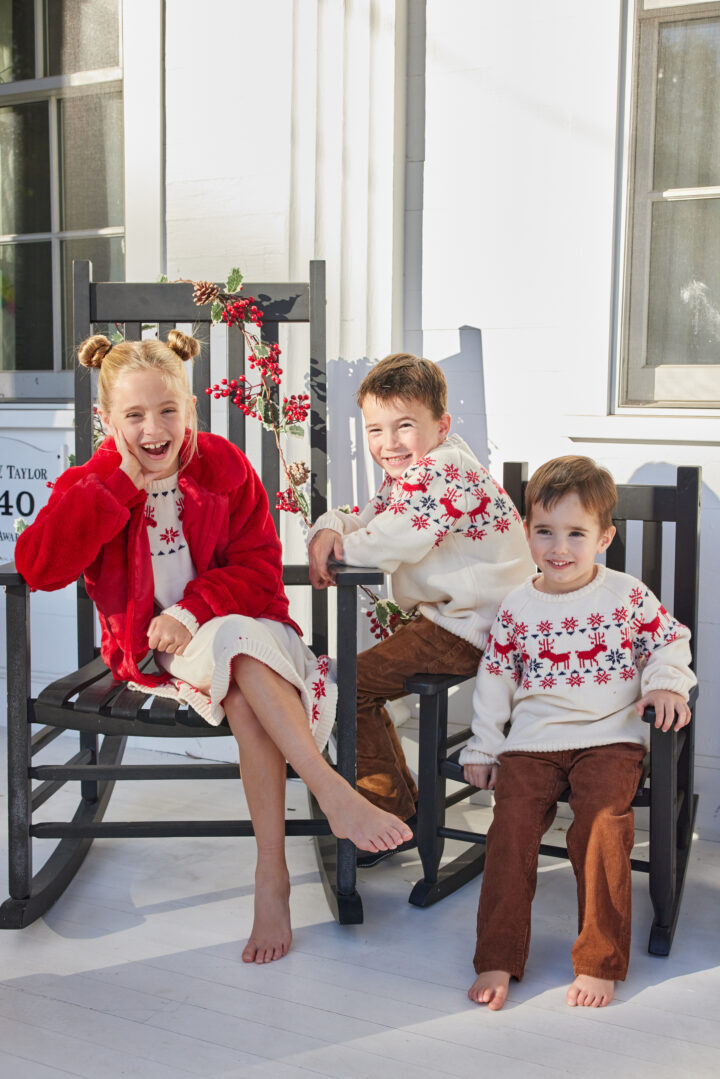 As we head into the Holiday Season, it's perfect timing for a little Co-parenting update! The Holidays can be a super tricky time for divorced families. We are fed so much culturally this time of year– about togetherness, family, and what a happy family is supposed to look like. I remember my first Thanksgiving and Christmas post-split from Kyle. It was so challenging for me to keep my head above water with the feelings of guilt and failure, and how diminished I felt by all of it. Even though we were forging a path of peaceful and collaborative co-parenting, I still felt like our reality was somehow "less than" the other ones I was seeing all around me.
I remember showing up to a Santa meet-and-greet that December (also don't forget I was 6 months pregnant then), and it was a weekend so the room was filled with married couples and their kids. Everyone was dressed in matching, photo-op-worthy outfits. The charm and festivity were turned up to 11. I was alone and pregnant, with my two kids. I was standing there in the midst of all of this feeling like somebody punched me in the stomach. We waited in line, and then after our turn with Santa, I hurried my kids out to our car, sat there, and wept. It felt like the loneliest experience in the world. I truly wondered if the holidays could ever feel happy again. Now, three years later, what I value in my life isn't the optics of the "perfect" family, but rather the authentic happiness and health of every member of it.
We, and by We I mean all six of us, are in a great place today. Individually, and together. Co-parenting has taught me so many things: patience, resilience, forgiveness, humility, and a new perspective on humor and awkwardness…LOL. But above all, it's taught me that you have to re-examine what success and joy mean for you. It's ok if it's not the same as what those things mean for your parents, your best friend, or your neighbor. I consider my family, as it is today, the greatest achievement of my life. It takes SO much hard work and effort on all sides. But I'll never again look around me in a room full of Traditional nuclear families and envy that at face value. I know also that my value as a Mom isn't designated by whether or not I'm married to my children's father.
These were not things I can honestly tell you I believed in three years ago. There was so much fear for me. My best advice if you're going through a similar experience right now is not to project from a fearful place into the future, or feel drawn back into the past. Try to be as present as possible in your reality for this present moment. Find the pieces of joy in it, even the tiny, sparkly, speck-of-glitter-sized ones. There are always some, and they can sustain you if you let them. Tomorrow is a new day, and so is next week, next month, and next year. You never, EVER know what kind of magic is around the next corner. Trust me on that one!
As we head into the Holidays, there is so much that we're looking forward to doing as a family! We're spending Thanksgiving at my Mom's new home for the first time. Ian and I are bringing the kids, Kyle is meeting us there, and my brothers on my Mom's side will be there as well. We are all going together the following weekend to watch Major dance in the Nutcracker for the very first time. Then, Ian and I are bringing the two Bigs to see the Nutcracker at Lincoln Center the following week! We plan to spend Christmas Eve and Christmas all six of us together at my house. Somewhere in there, we're also going to take the kids to see the Rockettes…our favorite, longstanding Holiday tradition.
If you had asked me when I was getting divorced what I was most scared of, I would have told you two things:
That my kids would somehow have a diminished and sad experience from here on out, and that I would always feel guilty for causing that new reality for them.
That I would never get to experience the level of connection, love, and joy that I wished for in my life since I was a little girl. I thought my dream was probably not going to happen.
Just three years later, my life disproves those fears every single day. My kids are surrounded by love and are thriving. I am partnered with the most incredible person who is the answer to all my prayers, and together as a blended family we are striving for the level of connection, joy, and belonging that I have always hoped to model for my children. This is not the happy ending I wrote in my heart the day I got married eleven years ago. That's for sure. But my message today, for anybody out there who needs it, is this: sometimes we give up one story, and we write a better one. We leap, full of faith, and when we think we will fall… we fly.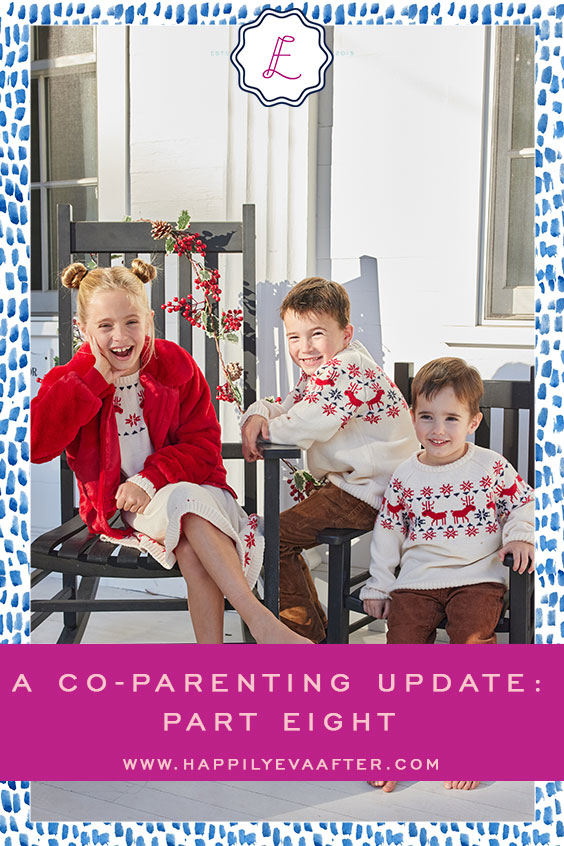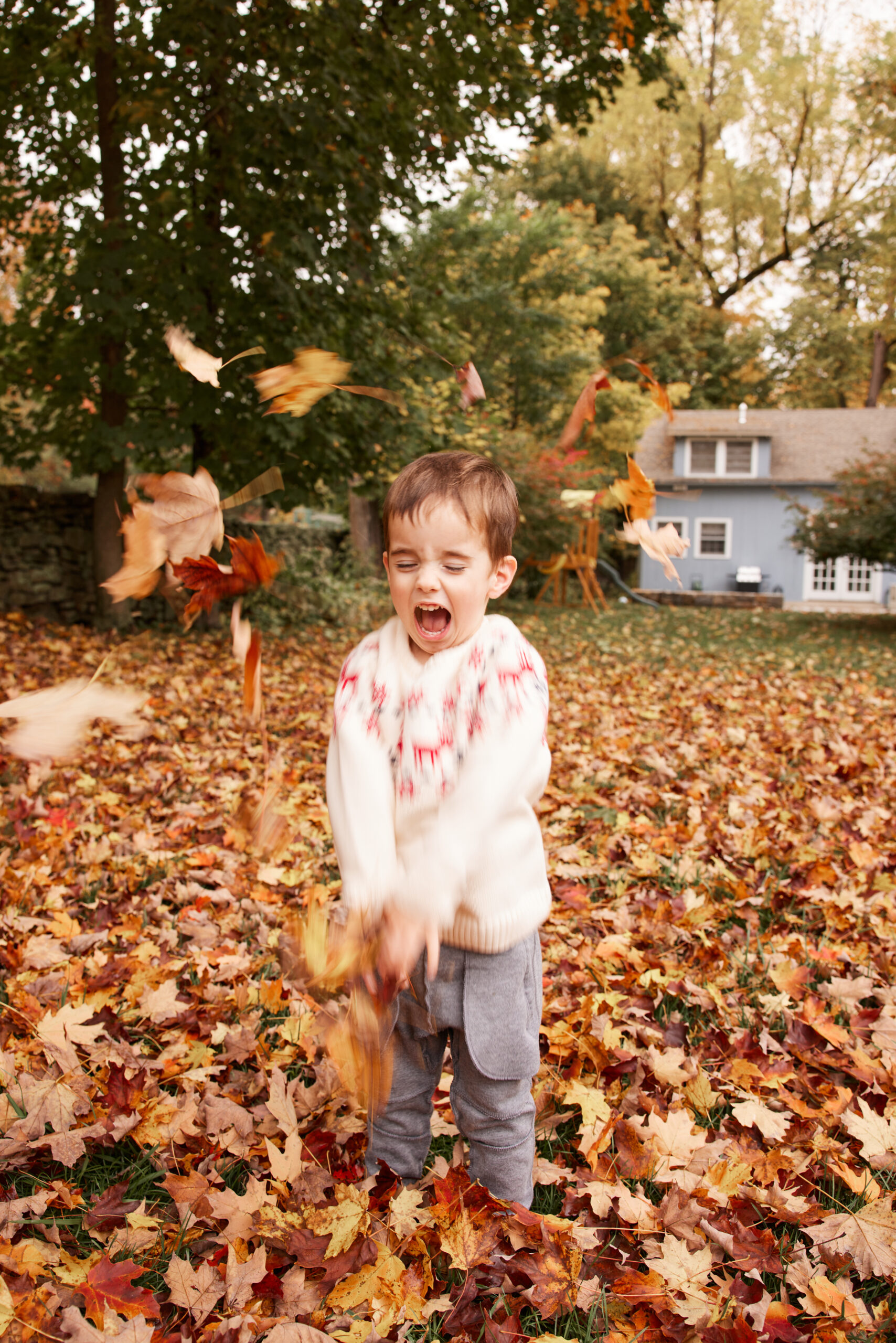 ---
Shop the post…

Photographs by 

Julia Dags

 | Copyright © 2022 Happily Eva After, Inc. All Rights Reserved.