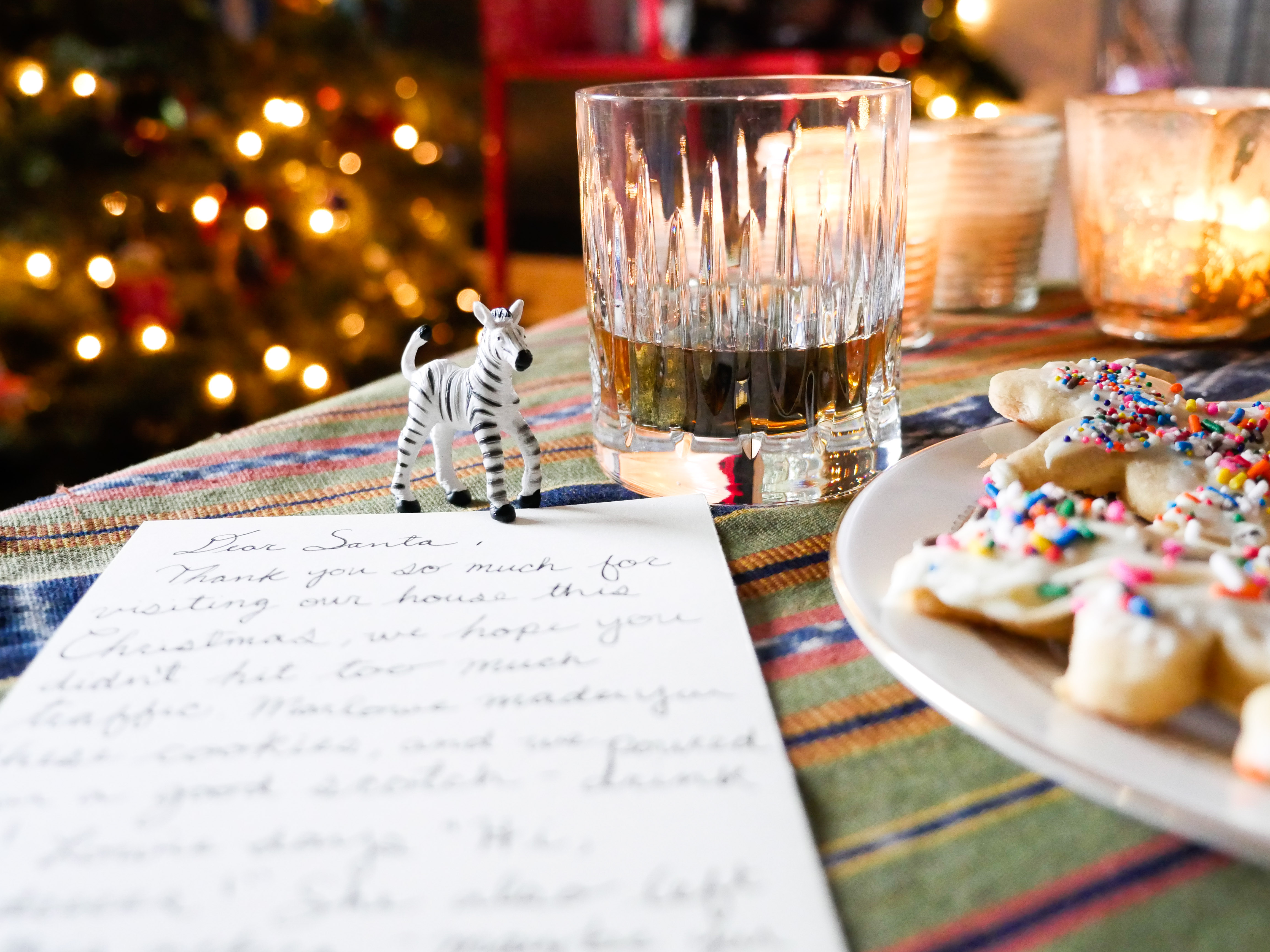 For me, Christmas Eve has always been about one of my favorite traditions: leaving out treats for Santa! Growing up we would do this every year.  The treats changed a little over the years (I'm pretty sure Santa started off with milk, and ended up with Whiskey) but the tradition was always the same.  Leave a little something for Santa, and he left a little something for you. When I was a kid, my brothers and I would write a note, and handpick what to leave for a snack.  The note would say something like "We've been good! Seriously! No Coal, OK?" and the snack would be something like cookies– although one year I think we left pizza? Santa is always parched after his long night of house-visiting, so a drink was in order as well.  A glass of milk was the norm, and by the time I was in elementary school it had transitioned in to a nice healthy tumbler full of whiskey.  We always were so anxious to make sure everything was set up for Santa before we went to bed at night.  When we woke up on Christmas morning, our note was gone, a few bites of cookie, ALL of the whiskey, and there was a handwritten note by the plate thanking us for the snack! Depending on how badly behaved we had been recently there also was a set of instructions on how to improve if we wanted to be considered for his next run around the block.  LOL.
Continuing the tradition with Marlowe this year was a total no brainer!  Although she is a little fuzzy on the exact details of Christmas (She thinks every present from anyone is from Santa himself, "Grasias, Santa!") and hasn't put together that anything exciting will be happening tomorrow morning, she has gathered that Santa Claus is definitely coming to town.  I decided to involve her this year in our efforts to welcome Santa down our chimney!
First up, a fun playdate with her BFF to make cookies! I made the dough (obviously), but then we unleashed Marlowe and Sloane on some icing and sprinkles.  Sloane was excellent at icing the cookies, and Marlowe was excellent at eating handfuls of sprinkles out of the bowl.  She also bit the head off three of the Teddy Bear cookies– major party foul.
The cookies ended up looking like something your crazy Aunt decorated after seventeen cocktails, but they did taste delicious.  Unfortunately I've been eating…a lot of them...every day.  A lot.  Oh and P.S., I made the cookies with a traditional recipe, just substituting Earth Balance (dairy free) for the butter so I can eat them! I'm allergic to Cow dairy, which can be a bummer sometimes around the Holidays.  I was happy to find that these cookies were delicious even without the butter added!
Next up was choosing a few perfect cookies for Santa.  Marlowe chose them, as well as a Zebra figurine that she wanted to leave for him.  I'm not sure if she thought it was a reindeer wearing a unique jacket (?) but I thought the intention was very sweet.  We poured Santa a nice scotch, and made sure to add a few whiskey rocks, just like Kyle– I mean Santa– likes it.  Last but not least, I wrote a special note with Marlowe to let Santa know we were thinking of him.  I had her give it a couple smooches before leaving it on the table as well.  You really can't be too safe when it comes to keeping in Santa's good graces…
It really warmed my heart to continue our childhood tradition with my little girl this year– I can't wait for next Christmas to see how much more involved she will be in the process.  I won't be posting tomorrow to unplug a little and enjoy the Holiday with my family, so I just wanted to say MERRY CHRISTMAS!!!! Wishing you a beautiful day with the ones you love.
xoxo
EAM