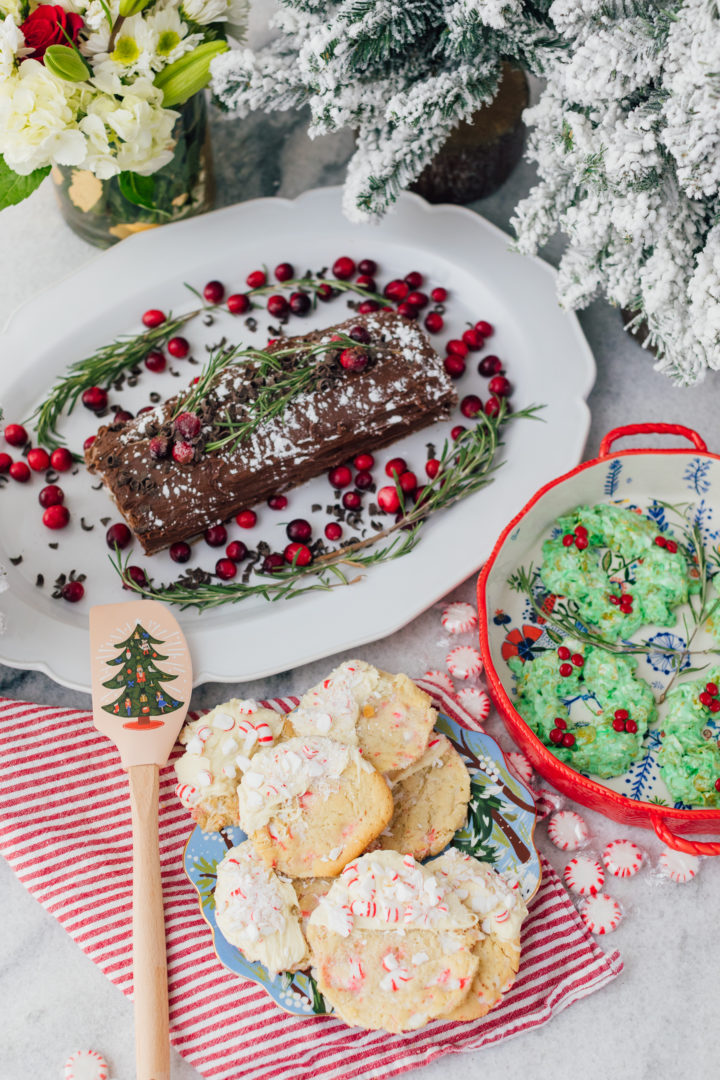 'Tis the season for baking up some fabulous deliciousness! At least I'm pretty sure that's the technical term. LOL. For me, holidays are synonymous with indulgence, and no more so than the Christmas season. I'm admittedly not the most committed baker– I much prefer cooking to baking– but I have tested and loved some recipes over the years that I come back to because they are delicious and not overly challenging.  The holidays are the perfect time to try out new recipes, and maybe even create some culinary traditions of your own!
Today I wanted to share three delicious holiday treats that I'm making this year for my family– and they are all at different levels of difficulty and presentation! I included one treat that is dairy-free and no bake, one that is Pinterest-worthy but EASY, and a more advanced option. All are delish! I hope you love these treats as much as we do!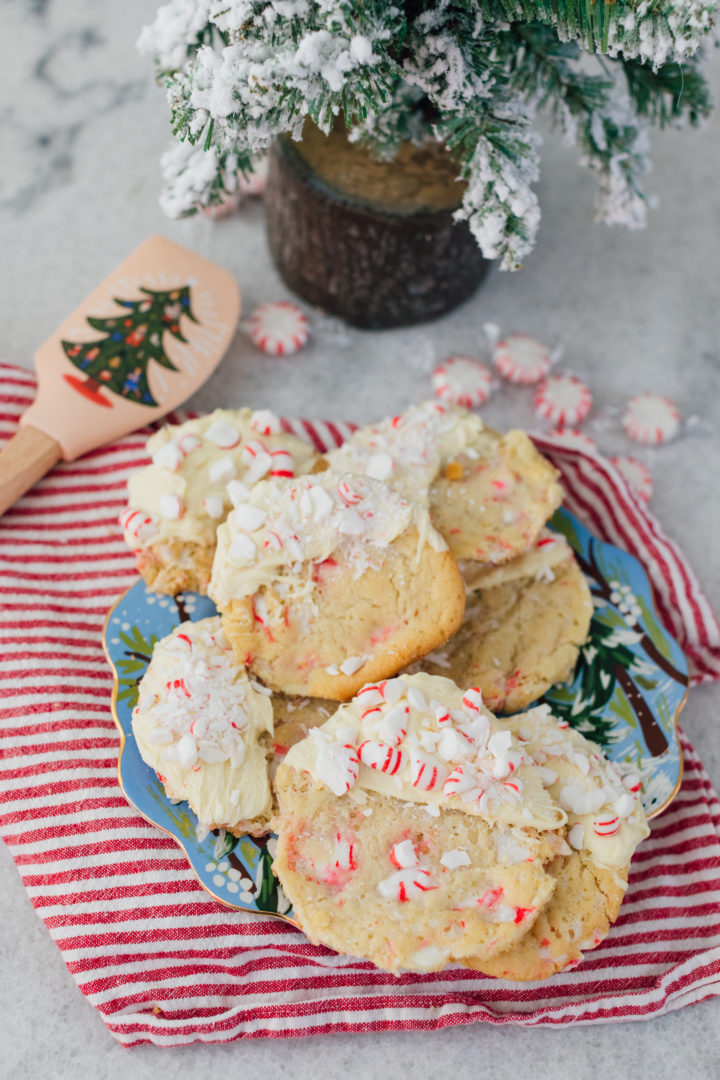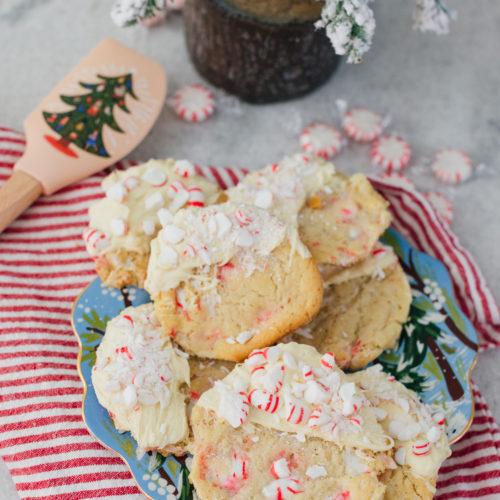 White Chocolate Dipped Peppermint Crunch Cookies
This is a great simple recipe for those who don't have time to bake sugar cookies from scratch, but leaves the options to use your own recipe if desired!
Equipment
Large Baking Sheet

Parchment Paper

1 Mixing Bowl

Cooling Rack

1 Medium Microwavable Bowl

1 Small Bowl
Ingredients
16

oz

of your favorite pre-made sugar cookie dough

I used a roll of Pillsbury, but any will work!

1/4

cup

all-purpose flour

8

peppermint candy canes, crushed.

I unwrapped all the candy canes and placed them in a ziploc bag and hit them with a frying pan. Safe, I know, LOL!

2

cup

white chocolate baking chips

1/2

tsp

oil

I used Coconut Oil, but feel free to swap for whatever you prefer!
Instructions
Preheat oven to 350º and line baking sheets with parchment paper.

To crush the candy canes, put them in a large ziploc bag and crush them using a frying pan or cooking mallet.

In a mixing bowl, break up the cookie dough.

Slowly stir in the flour and 1/3 cup of the crushed candy canes to the mixing bowl with the cookie dough until combined.

Shape dough into 1" balls and place 2" apart on the baking sheets.

Bake for 8-10 minutes, or however long the instructions said for the pre-made dough you purchased, until the cookie edges are golden brown.

After letting cookies cool for a few minutes, move them to a cooling rack and let stand until they've cooled completely, about 30 minutes more.

Add the white chocolate baking chips and the oil into the microwave safe bowl, and microwave on high for 1-1.5 minutes, stirring every 30 seconds until smooth.

Dip half of each cookie into the melted chocolate, letting the excess drip off, and place on parchment paper.

Sprinkle the dipped half of the cookies with the remaining crushed candy canes.

Let stand 15 minutes and enjoy!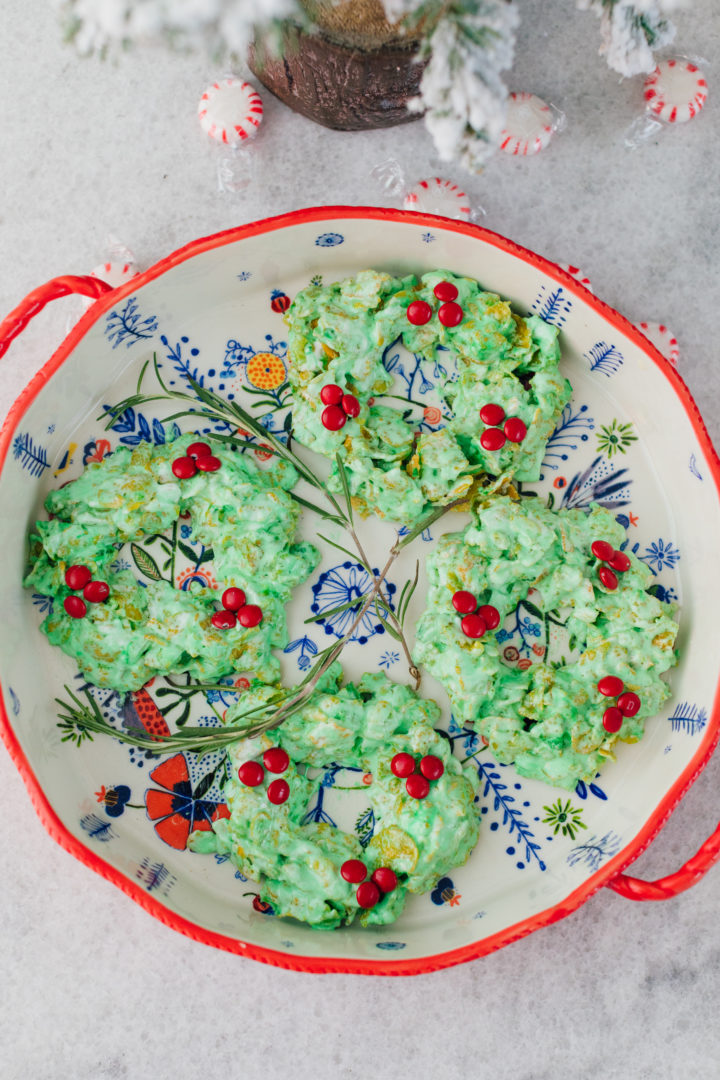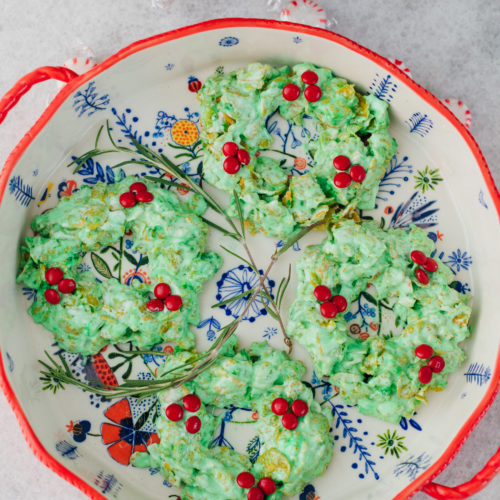 Dairy Free Marshmallow Cornflake Wreaths
These require no baking, and are so cute!
Equipment
Microwave Safe Bowl

Microwave

Baking Sheet

Parchment Paper
Ingredients
20

large marshmallows

2

tbsp

unsalted butter

green food coloring

3

cups

cornflakes

2

tbsp

red M&M's Mini's
Instructions
Place marshmallows and butter into a microwaves safe bowl, and microwave (uncovered) on high for 45 seconds, or until butter is melted and marshmallows are soft and puffy.

Add green food coloring drop by drop until you get the shade of green you prefer.

Stir in cornflakes until combined well.

Divide the mixture into eight portions and shape each portion into a 3" wreath, and place onto the parchment paper lined baking sheet.

Decorate with M&M's and let stand to set. Enjoy!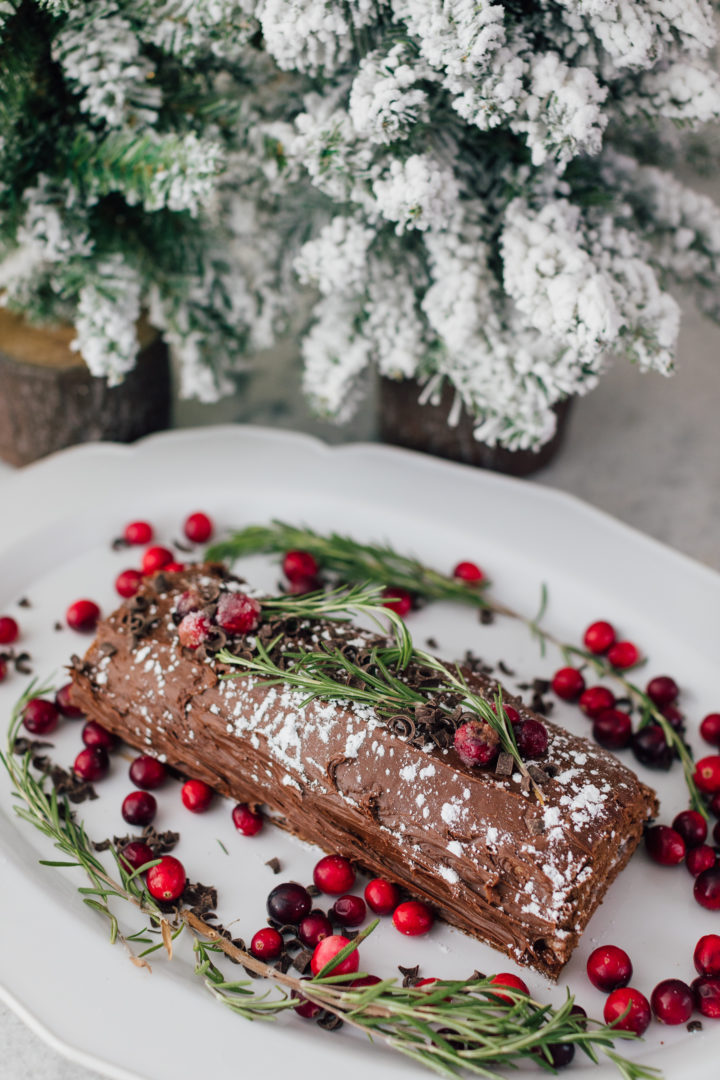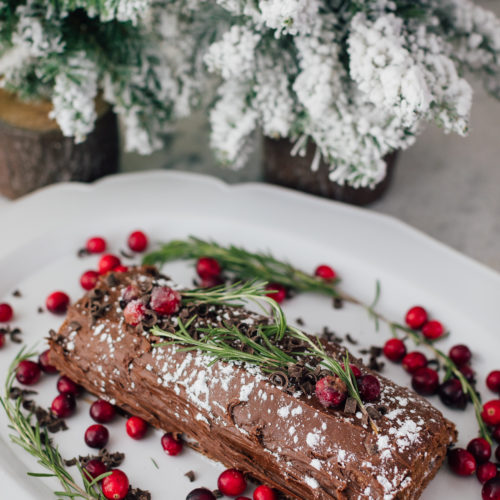 Bûche de Noël
This is the most gorgeous dessert to make for the holidays, but it's definitely involved and takes a bit of time. If you have the patience, I cannot recommend a more beautiful edible centerpiece!
Equipment
Jelly Roll Pan

medium mixing bowl

large mixing bowl

Parchment Paper

Cooking Spray

Stand Mixer

Kitchen Towel

Fine Mesh Sieve
Ingredients
For the Cake:
6

large eggs

separated

1/2

cup

all-purpose flour

1/4

cup

unsweetened cocoa powder

3/4

cup

sugar

divided into 2

1/4

tsp

kosher salt

powdered sugar

for sprinkling
For the Filling:
1 1/4

cup

unsweetened coconut cream

1/4

cup

powdered sugar

1

tsp

pure vanilla extract

1

pinch

kosher salt
For Decorating:
1/2

cup

softened butter

1 1/2

cup

powdered sugar

plus extra for garnish

5

tbsp

cocoa powder

1

tsp

pure vanilla extract

3

tbsp

unsweetened coconut cream

1

pinch

kosher salt

Cranberries

for garnish

Rosemary Sprigs

for garnish
Instructions
Cake:
Preheat the oven to 350º F and line your jelly roll pan with parchment paper and then spray with cooking spray. You want this cake to eventually easily peel from the parchment paper, so don't be shy with the grease.

Meanwhile, in a medium mixing bowl, combine flour, cocoa powder, and salt set aside.

Once you've separated all six egg whites from the egg yolks into two separate bowls, pour the egg yolks into a stand mixer bowl.

Beat the egg yolks until thick, and slowly add 1/2 cup of sugar and beat until pale.

Once the egg yolk and sugar mixture is pale, slowly add in the flour mixture until combined well.

Pour egg yolk, sugar and flour mixture into a separate large mixing bowl, clean the stand mixer bowl, and return it to the stand mixer.

Add the egg whites to the stand mixer bowl and beat until soft peaks form.

Add remaining 1/4 cup of sugar to the egg whites slowly, continuing to beat until stiff peaks form.

Gently fold egg whites into the egg yolk/sugar/flour mixture in a few batches, using a spatula to combine slowly, making sure not to collapse all the whites at once.

Pour the batter into your prepared jelly roll pan and spread it until it evenly covers the entire surface.

Pop you jelly roll pan into the oven for 12-14 minutes. The cake is ready when it bounces back slightly when you press on it.

Remove the cake from the oven. Meanwhile, lay out a clean kitchen towel on your counter and sprinkle it with a thin layer of powdered sugar using a fine mesh sieve.

Your cake should be separating away from the edges of your jelly roll pan, and if it needs help, take a butter knife or offset and carefully help it separate. The goal here is to have the cake still warm (having been out of oven no more than 10 minutes max), but not attached to the pan at all. Remember what I said about the grease? This is why.

Once you're sure your cake is separated from the pan, align the pan edge next to your kitchen towel covered in powdered sugar and tilt the pan gently upwards on its side, so that you can carefully transfer the cake face down onto the sugar. Your kitchen towel will be bigger than your cake, so try to aim for the center of the towel.

Once the cake is transferred, immediately remove the parchment paper from the bottom, and adjust the cake on the towel so that the towel appears like a frame around the edges of the cake.

Using the short end of the kitchen towel, slowly and carefully roll the cake with the towel tightly into a log. Your towel should be rolled up with the cake, similar to how the filling with eventually lay rolled in the cake. Don't worry, this is just so that we can cool the cake down in that shape and make it easier to re-roll it once we apply the filling.

Place your rolled up cake and towel log back onto the jelly roll pan and place it in the coolest part of your kitchen/home to cool completely. Don't put it in the fridge because it will dry out the cake and make it more likely that it will break when you unroll it. A dark, cool corner will work just fine.
Filling:
Back to your stand mixer: Beat together your coconut cream, powdered sugar, vanilla extract, and a pinch of salt until peaks start to form. Once reaching whipped cream consistency, place it in the fridge until ready to use.

When your rolled up cake and towel log are room temperature, carefully unroll the cake so it's flat and take your whipped cream and spread it across the entire flat surface evenly.

Using your kitchen towel, carefully roll your cake and the whipped cream back into a log shape it was in before, but this time, keep the towel out of the roll. The towel should remain on the outside, slowly and carefully helping the cake tightly roll itself into the log shape.

Once the cake has been rolled up, tuck the top of the kitchen towel gently under the seam so that the log is wrapped tightly around by the towel. Place it back on the jelly roll pan and into the fridge for 1-2 hours, or up to overnight. The longer it sits in the fridge, the better set the cake and the whipped cream will be and the more flavorful the end result will be.
Frosting:
Now back to our stand mixer! Beat the butter until smooth. Add the powdered sugar and cocoa powder and beat until no lumps remain. Add the vanilla, coconut cream, and salt and combine everything until buttercream is smooth and no lump remain.
Frosted Cranberry Garnish:
Wet your hands and roll the cranberries in your palm and then drop them into a small bowl of granulated sugar. Toss them around until coated.
Serving:
Take your cake out of the fridge and dust off as much of the powdered sugar as you can because it will prevent the buttercream from sticking.

Next, trim the ends of the log so it has a nice clean edge with which to admire all that hard work you did rolling that sucker up! LOL

Frost the entire log with the buttercream, dust lightly with powdered sugar, and add some rosemary sprigs for garnish, and some frosted cranberries, and serve!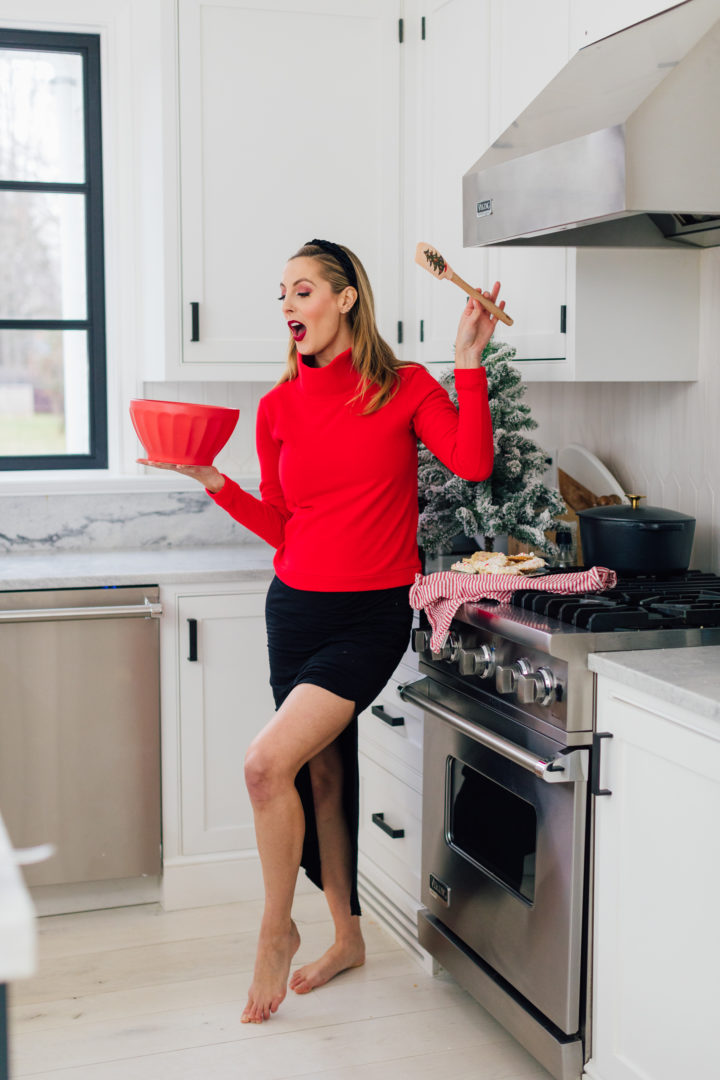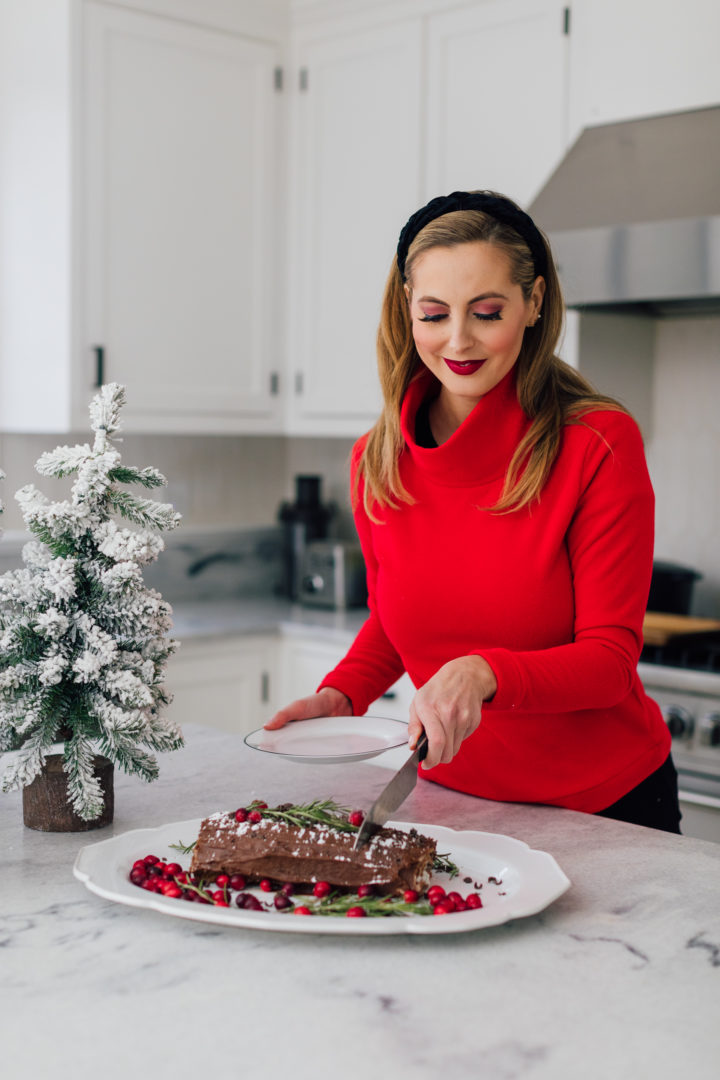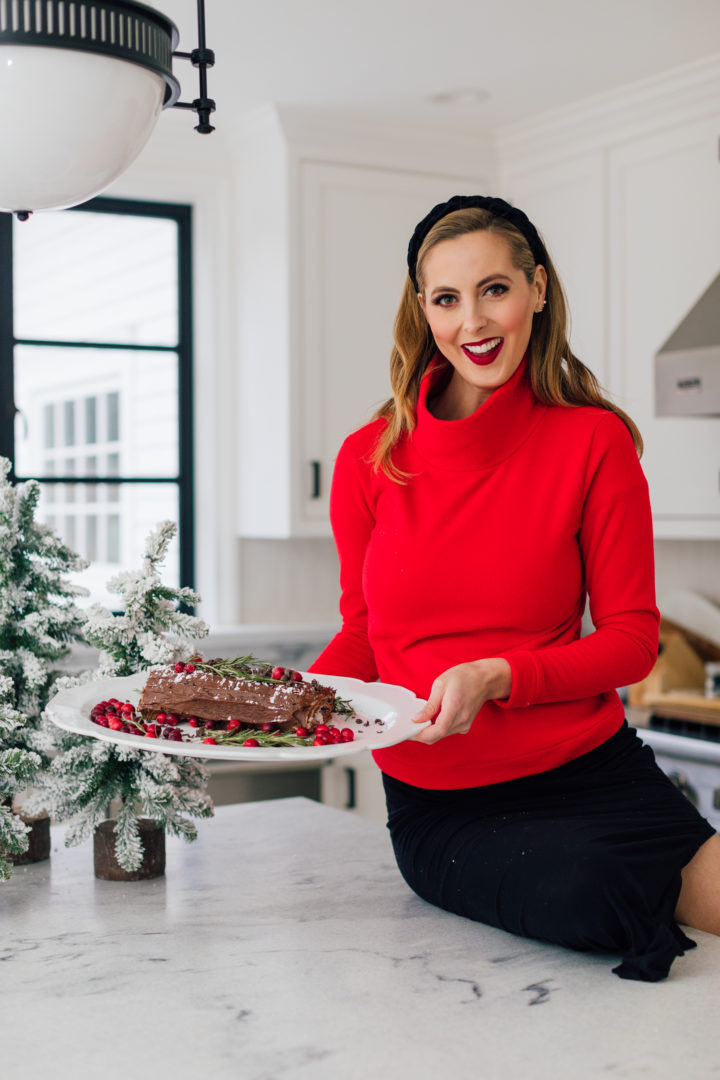 Shop the post…

Photographs by Julia Dags