The following content may contain affiliate links. When you click and shop the links, we receive a commission.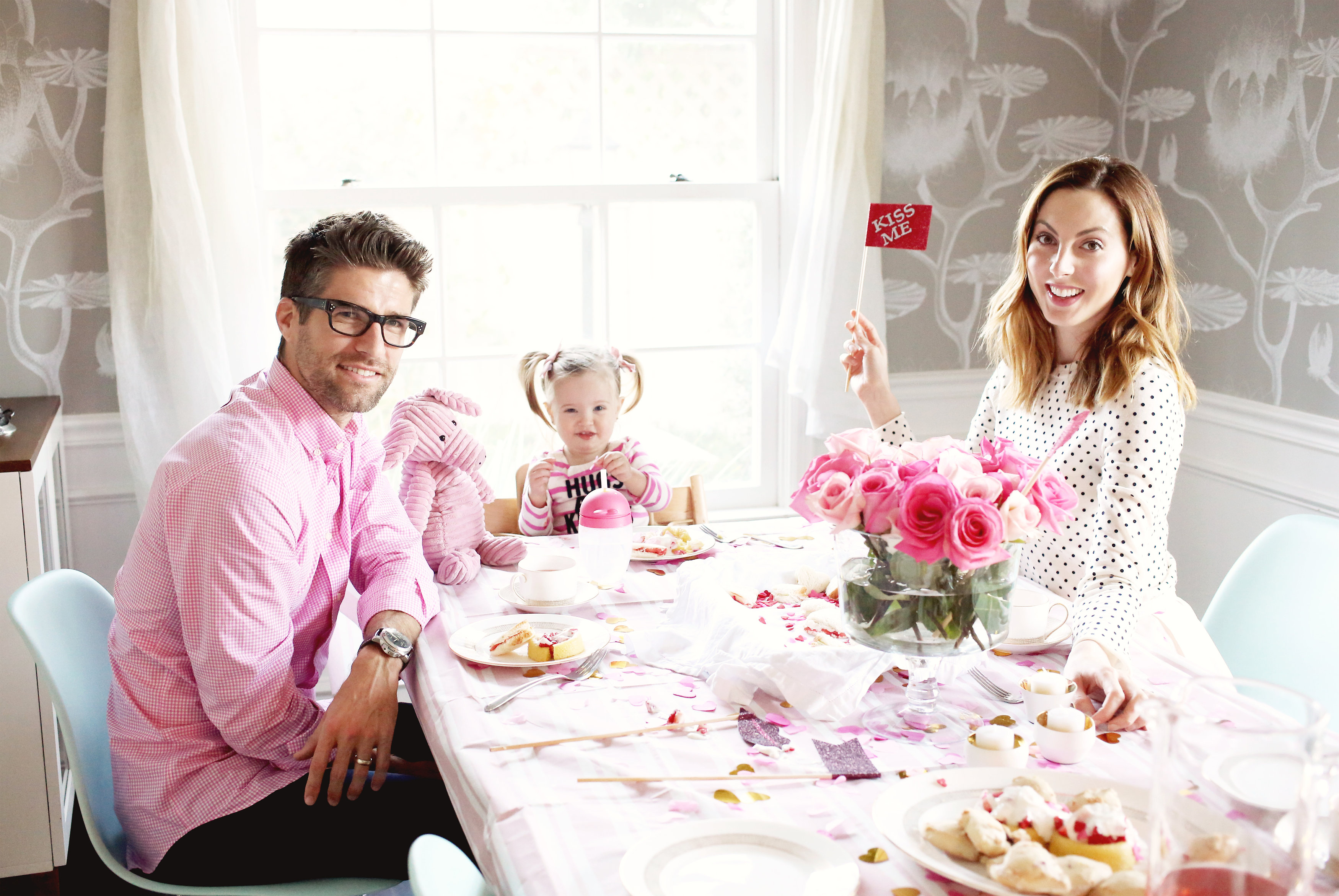 I love Valentine's Day.  But as a Mom of a Toddler, I feel pulled in two directions.  I am in love with two people– and they both have very different ideas of a good time.  I think it's wonderful (and important) to have romantic time with my husband, but I love my kid too! I want to celebrate with Marlowe, and have some sweet time that she enjoys as well.  This year I decided to create a "Family Date" for us to enjoy in the afternoon on Valentine's Day– before Mama and Daddy go out. It's an activity we can all enjoy, and it makes Marlowe feel super special.  Read on for a look at my Valentine's Day Tea Party Celebration that the whole family can participate in!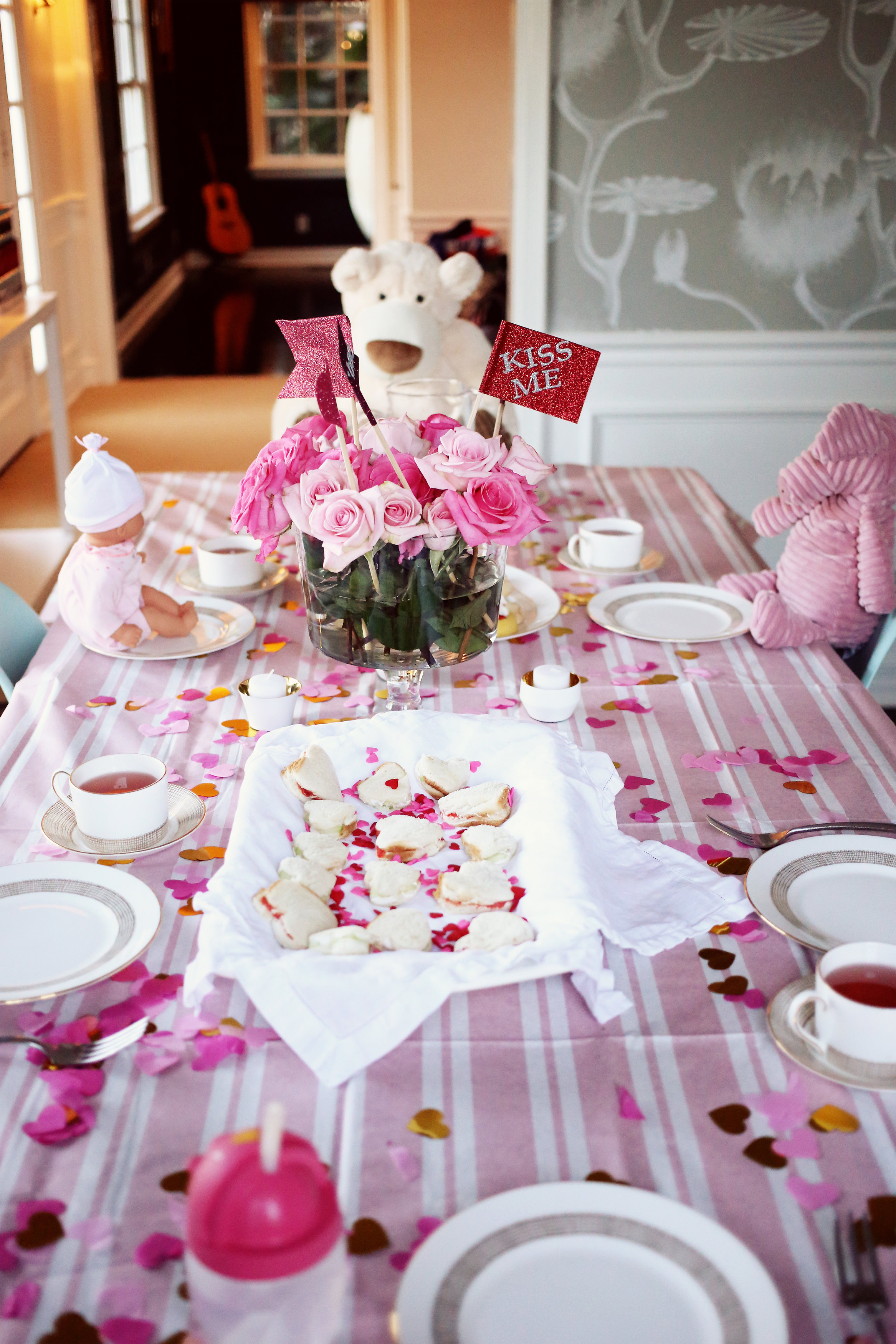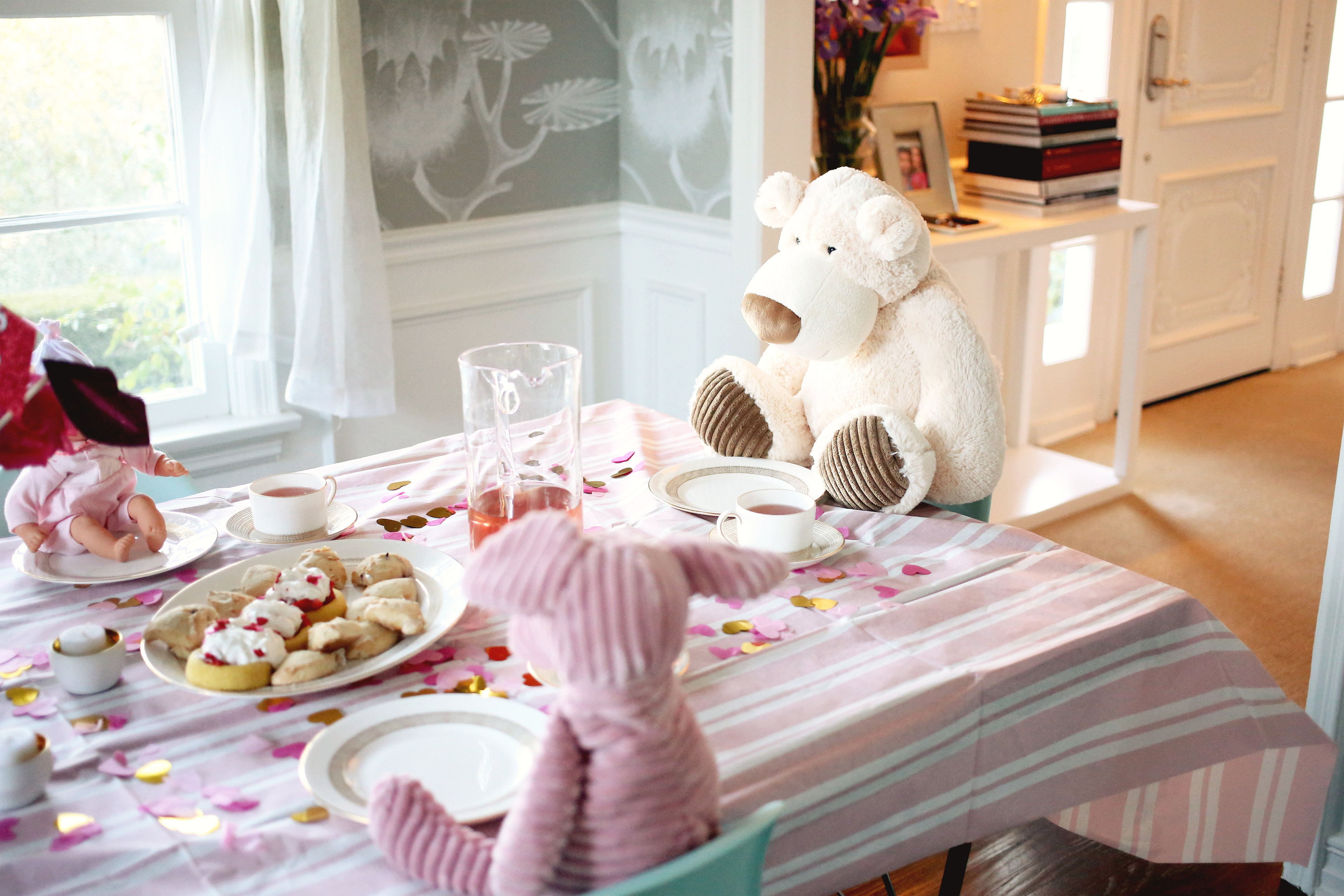 I decided I wanted to create a Tea Party, with all the fixings, and invite some of Marlowe's best friends!  Her Besties these days are of the stuffed variety– the upside of which is that they are extremely well behaved and eat almost nothing.  They also don't spill their tea even close to as much as another person I know.  I'm actually talking about Kyle– Marlowe holds her sippy like a champ! haha.
Some people deck everything out in red on Valentine's Day, but for me this holiday is all about PINK!! Pink is one of my favorite colors, and I just love a pink explosion whenever possible.  This time I mixed it with white and gold for a glam effect.  I even pulled out our wedding china to make our "date" even more special!  When Marlowe saw the pretty plates and tea cups, her eyes went wide and she said "Mama, WOW! Spark-tull!"  What can I say– she gets it from her Mama.  A sprinkle of jumbo sized pink and gold heart confetti pulled everything together and set the scene for the yummy party food.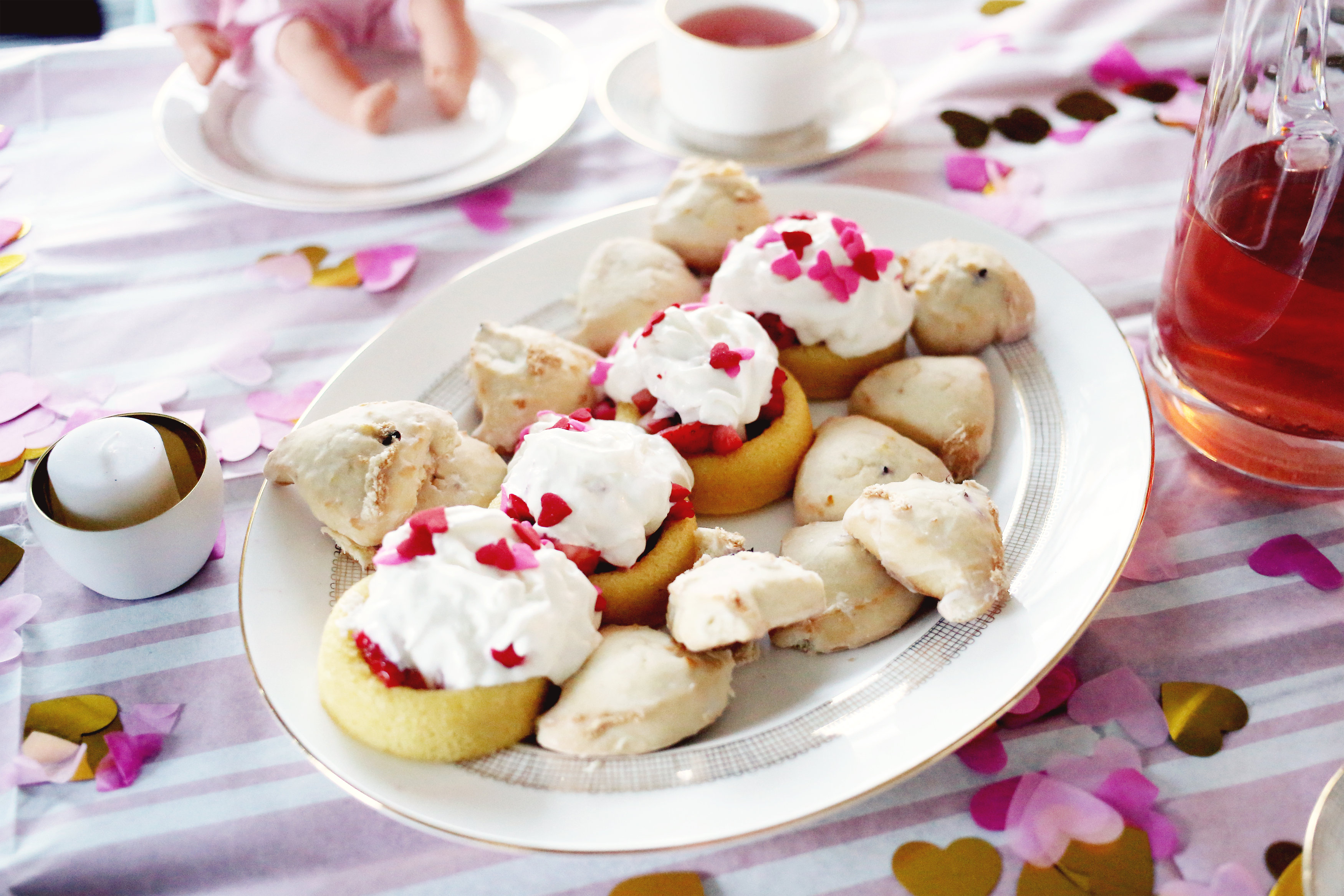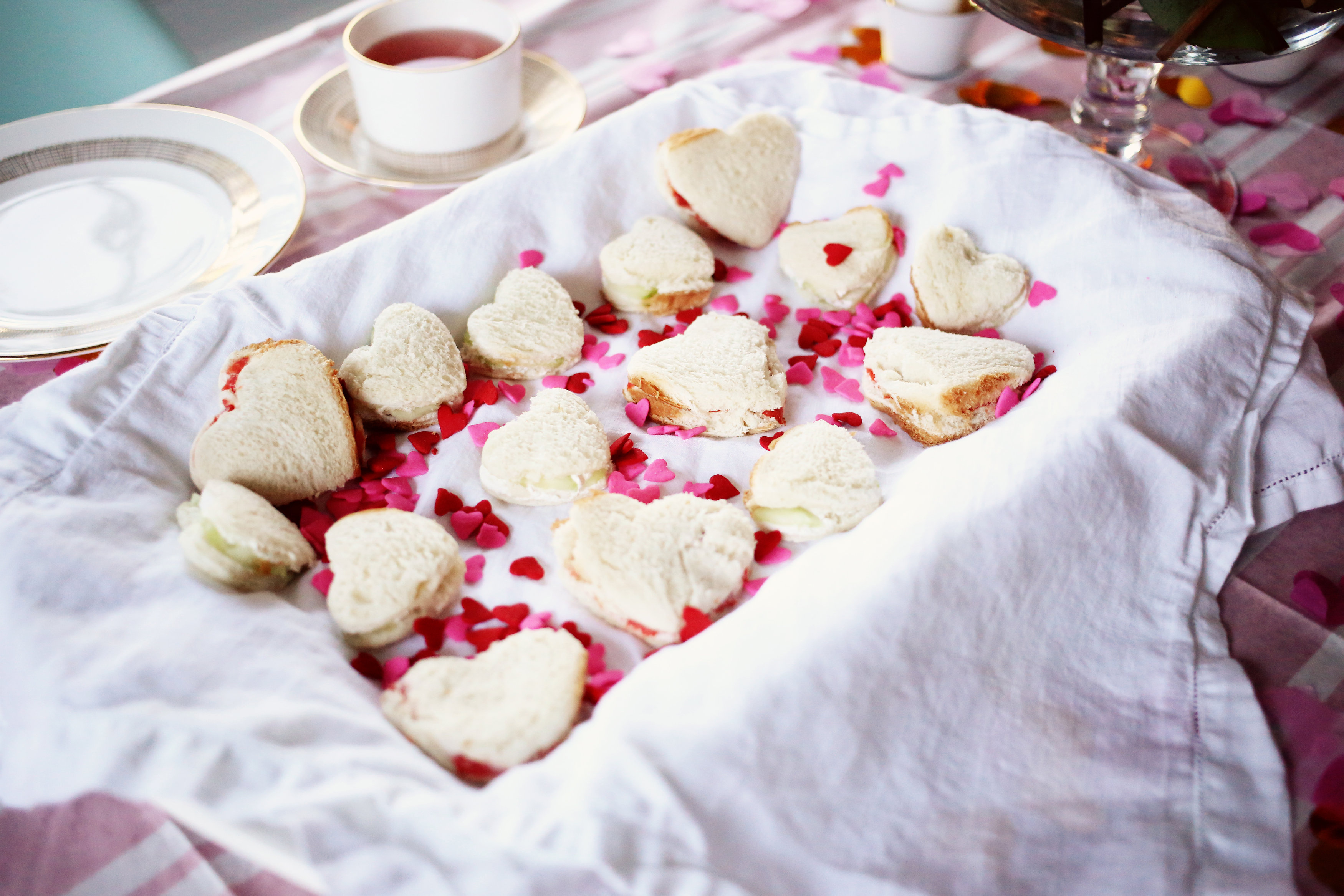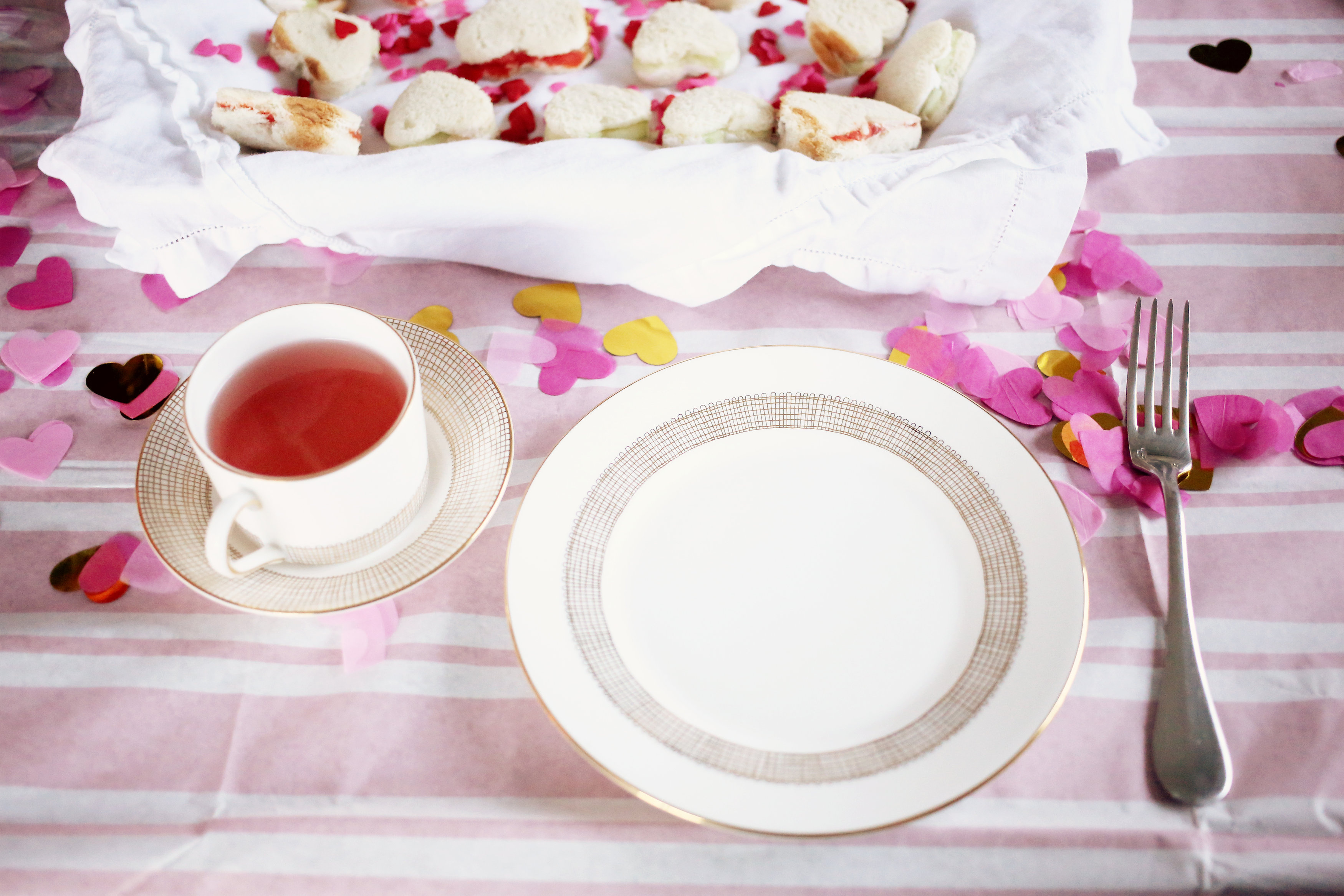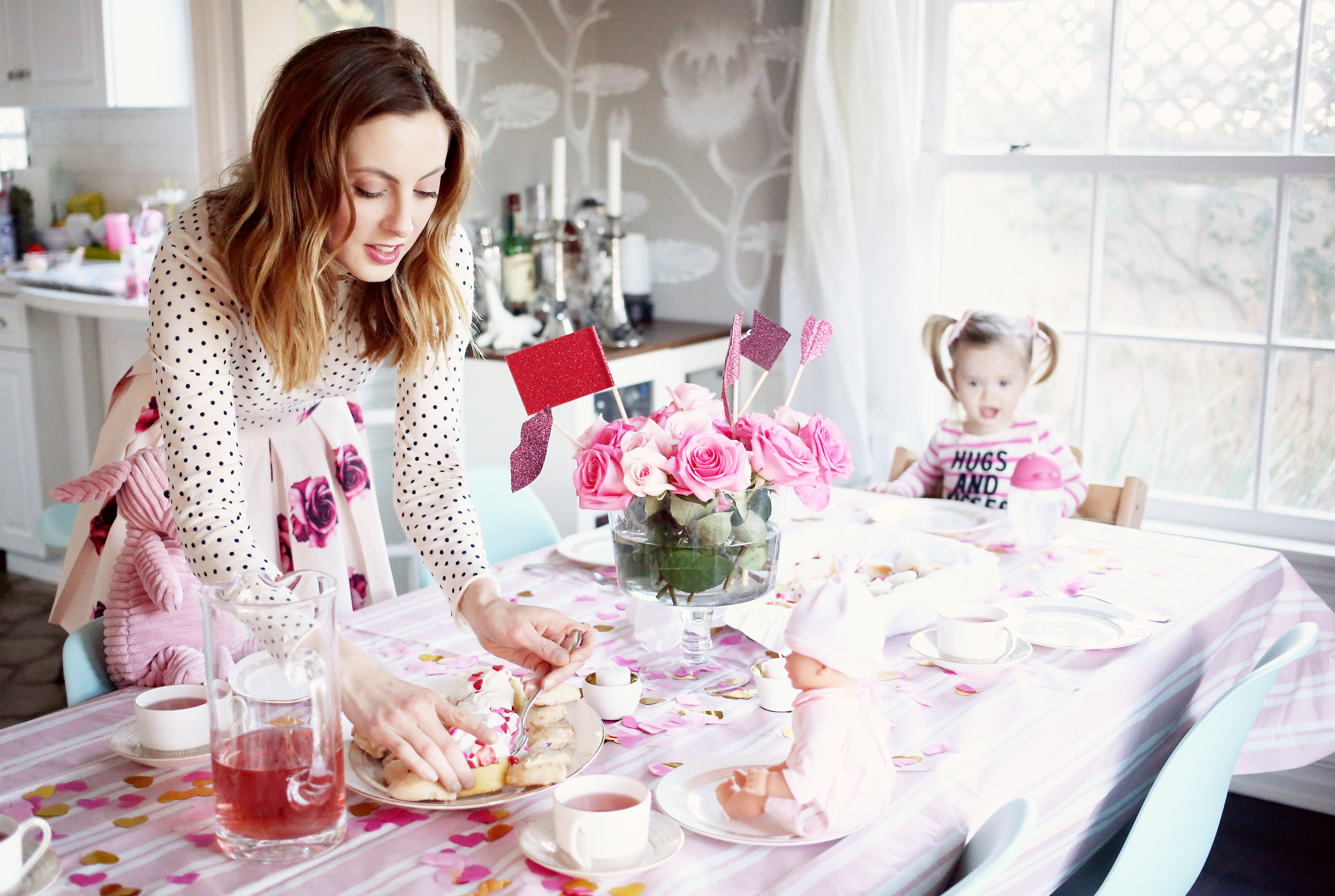 For the food, I decided to serve some sweet treats alongside some mini sandwiches– just like a fancy British High Tea!  Marlowe felt so special being allowed to pile her plate high with yummy treats– little did she know they were packed with fruit and protein for a nutritious midday snack. For the tea, I made sure to make something herbal and non caffeinated.  Raspberry Zinger Tea is great for this, and imparts a rosy color!
Strawberries & Cream Nests
Yellow Sponge Cake premade "nests"
3 cups strawberries, chopped
Lowfat whipped cream
Sprinkles
Pile lots of strawberries in to the well of each nest.  Pile high with whipped cream, and add a flurry of sprinkles on top.  Welcome to a toddler's favorite treat EVER.
Cucumber & Cream Cheese Finger Sandwiches
Cream Cheese
1 Whole Cucumber, sliced in to very very thin rounds
White Bread
Heart Shaped Cookie Cutter
Place a thin layer of cream cheese on one side of bread.  Cover with slices of cucumber, being careful not to overlap.  Place another piece of bread on top, and then press firmly down with your cookie cutter!  If your sandwich is big enough to make multiple shapes, make sure to start in the corner and work your way down so you can get as many shapes as possible out of one sandwich.
Lemony Smoked Salmon Finger Sandwiches
1 package thinly sliced smoked salmon
Creme Fraiche
1 lemon, cut in to wedges
white bread
Place a very thin layer of Creme Fraiche on one slice of bread.  Place a layer of thinly sliced smoked salmon on top, being careful not to overlap.  Squeeze a few drops of lemon on top of the salmon, and top with your second slice of bread.  Press down firmly with your cookie cutter! If your sandwich is big enough to make multiple shapes, make sure to start in the corner and work your way down so you can get as many shapes as possible out of one sandwich.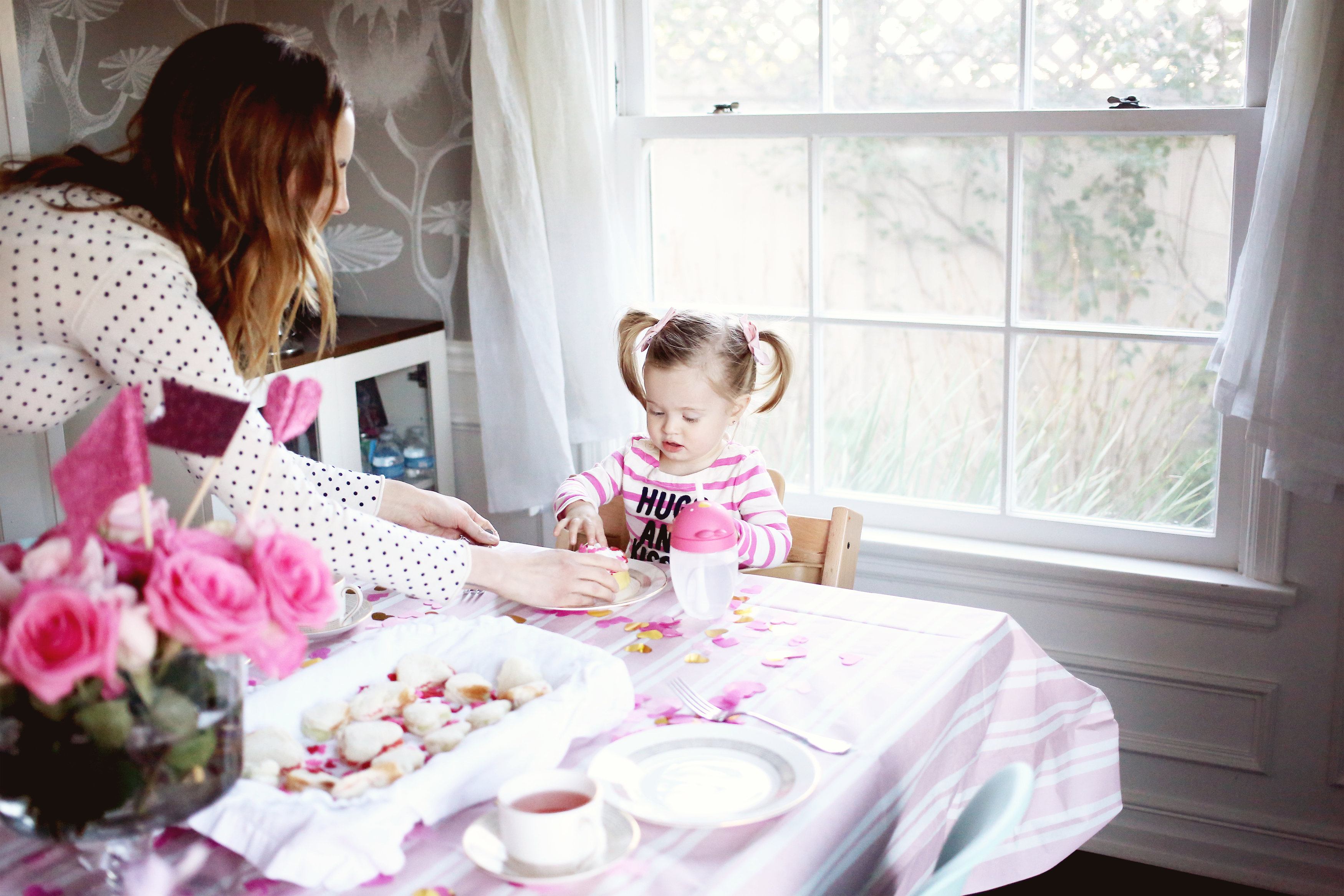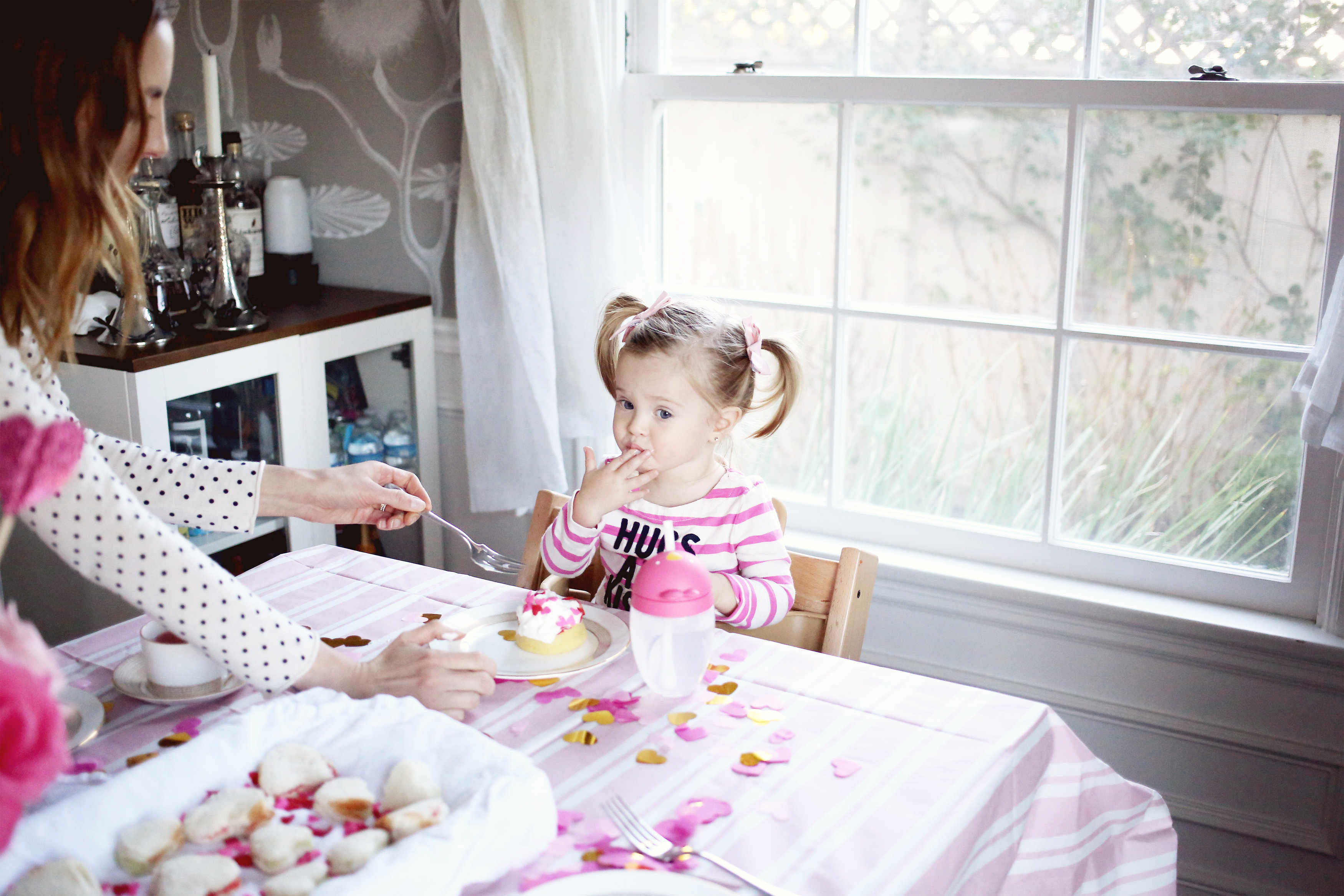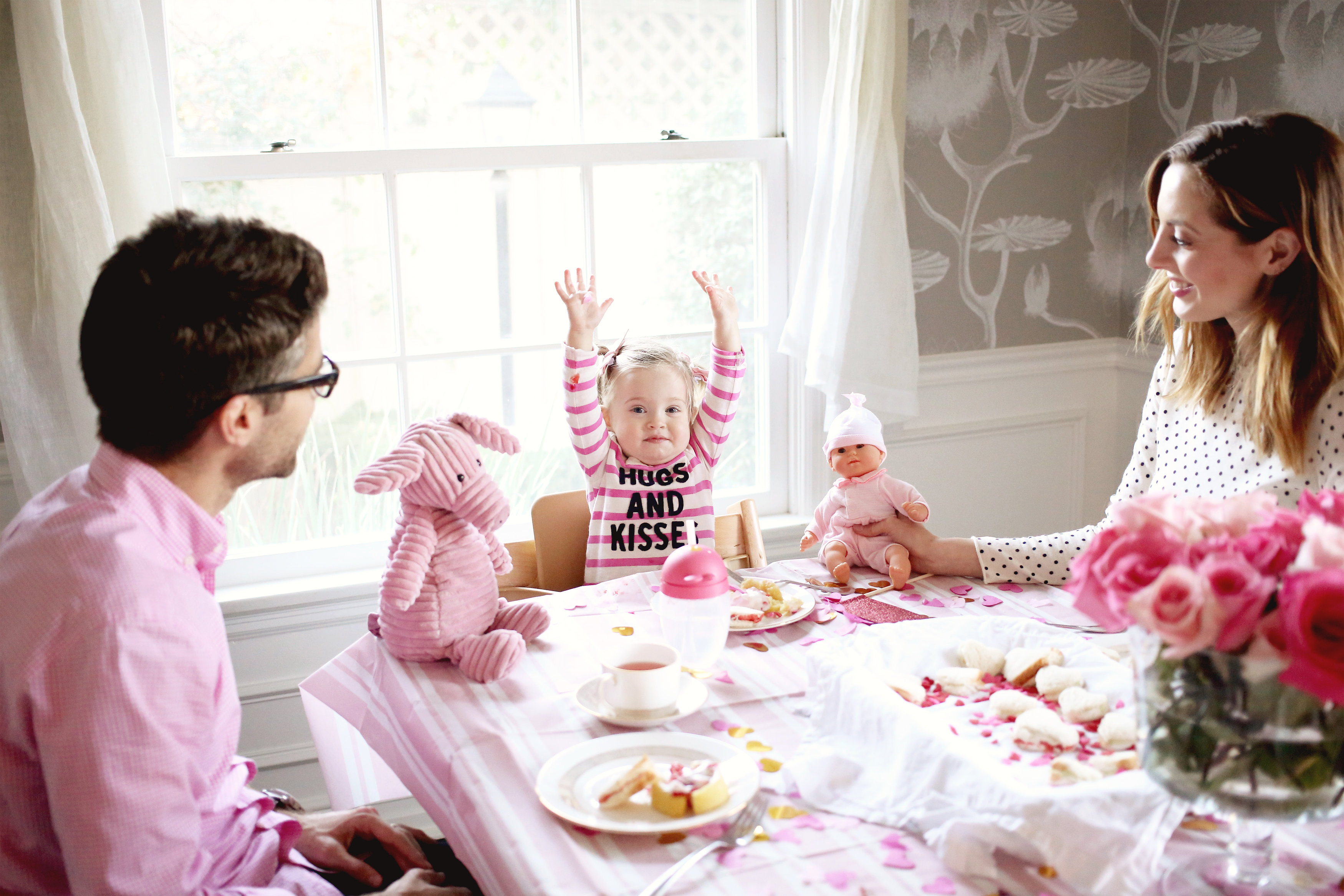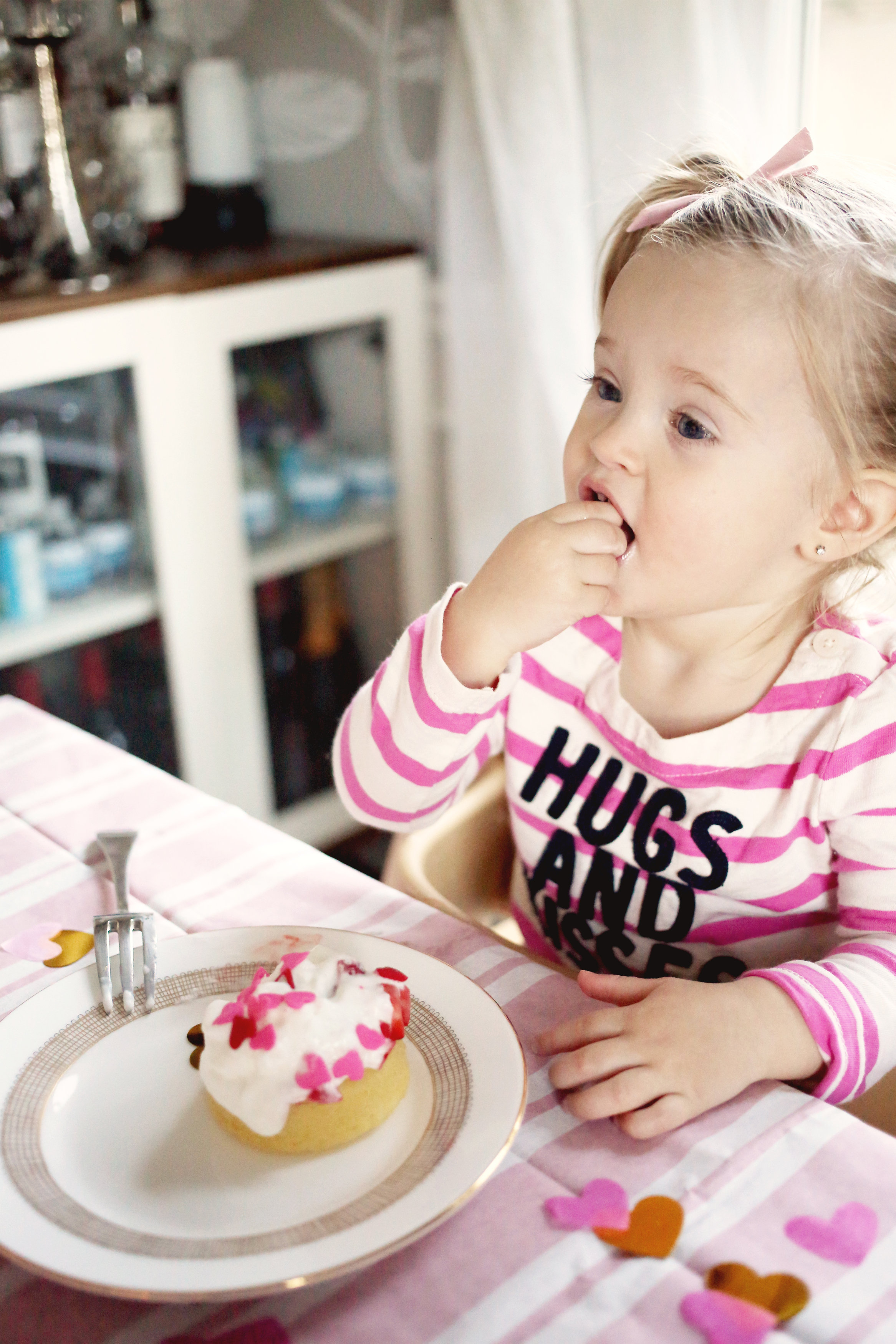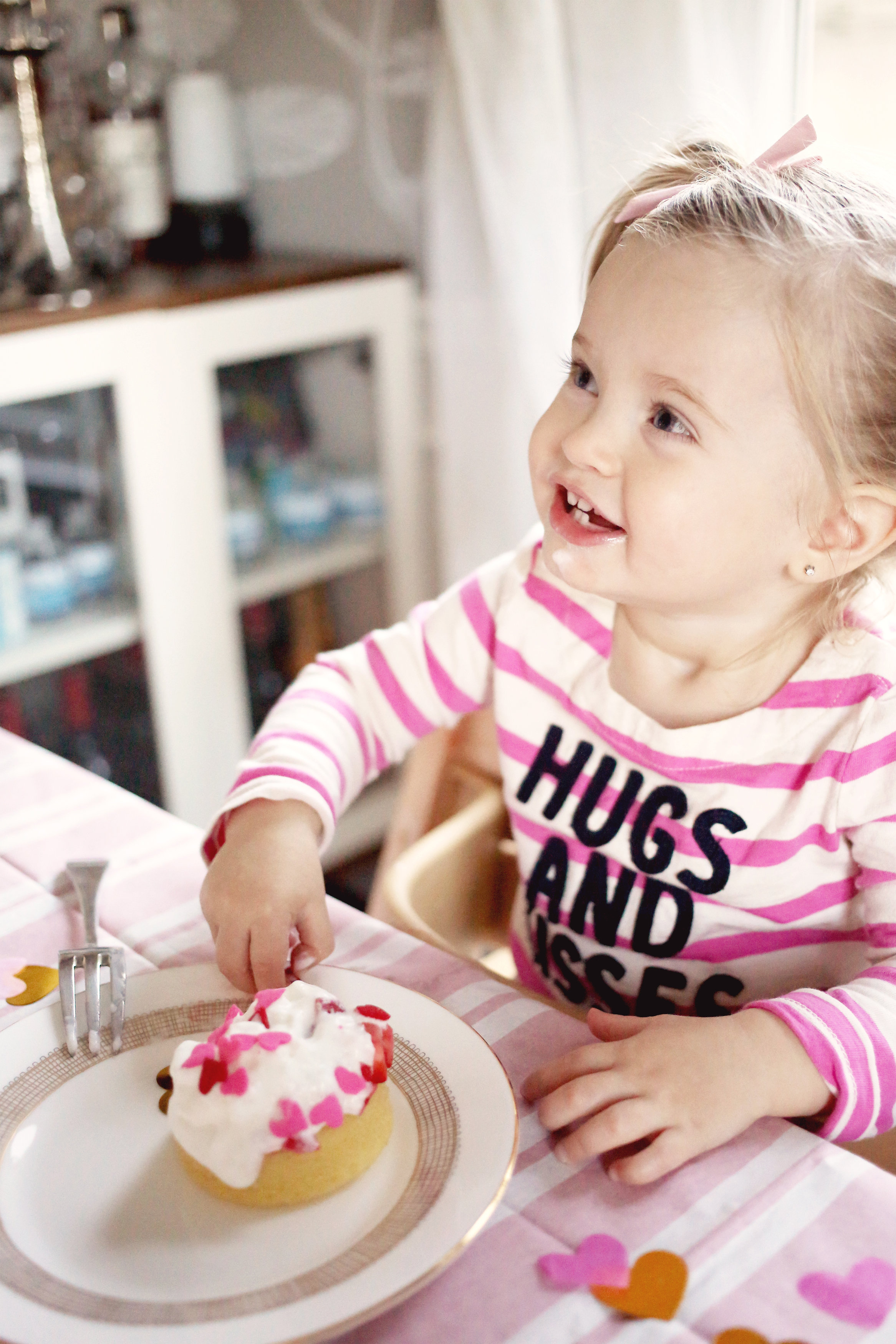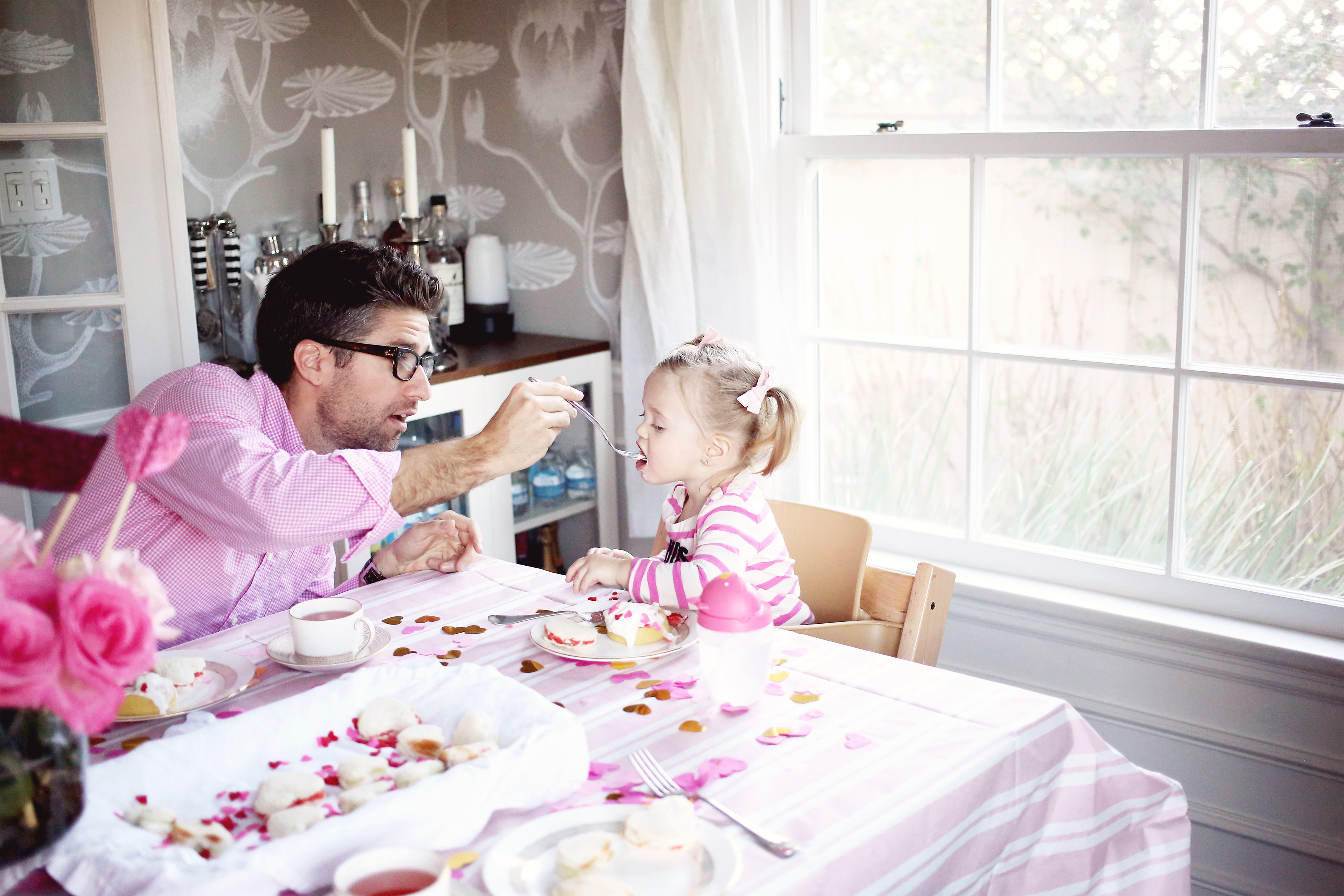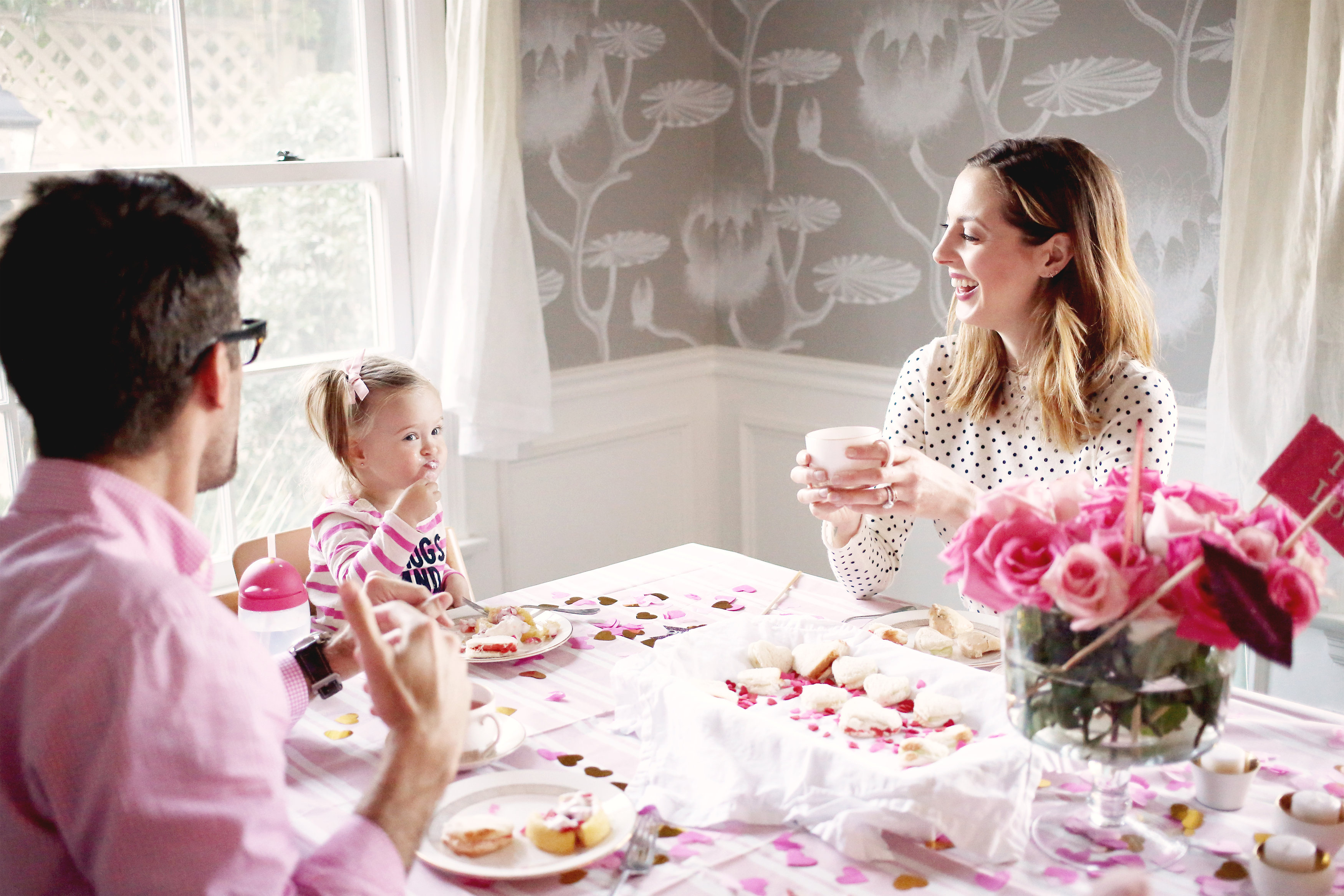 As we sat around the table enjoying our snacks, we told Marlowe that Valentine's Day is a holiday all about celebrating the people we love! We told her how much we love her, and how lucky we are that she's our kid.  We laughed, and sang some songs, and played with our Valentine's Day props.  We even helped Marlowe name all of her family members and friends that she loves! Obviously cell phones were not permitted at the festivities– it was so fun to just sit around eating, sipping and enjoying each other.  Truth be told, it was kind of the perfect date.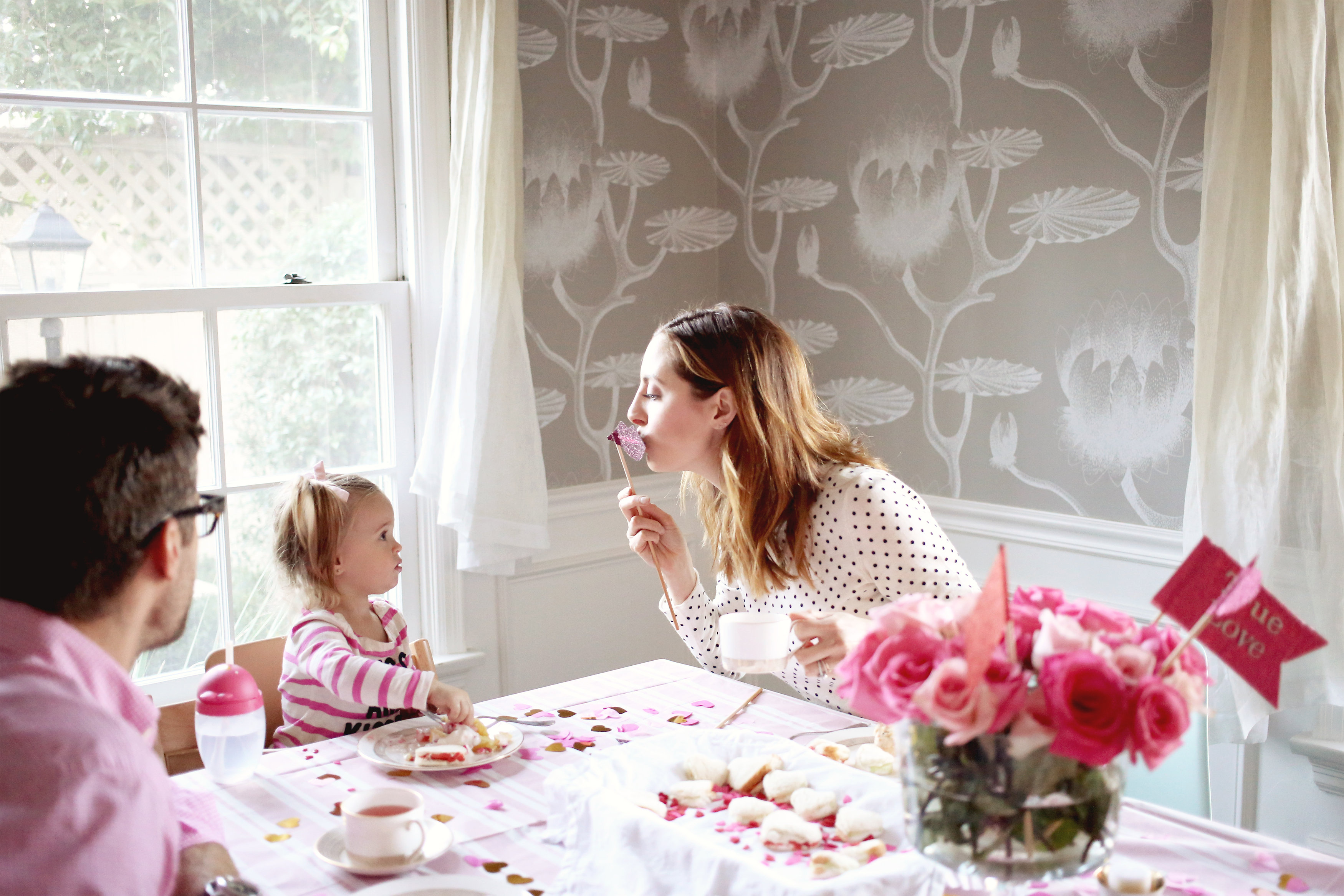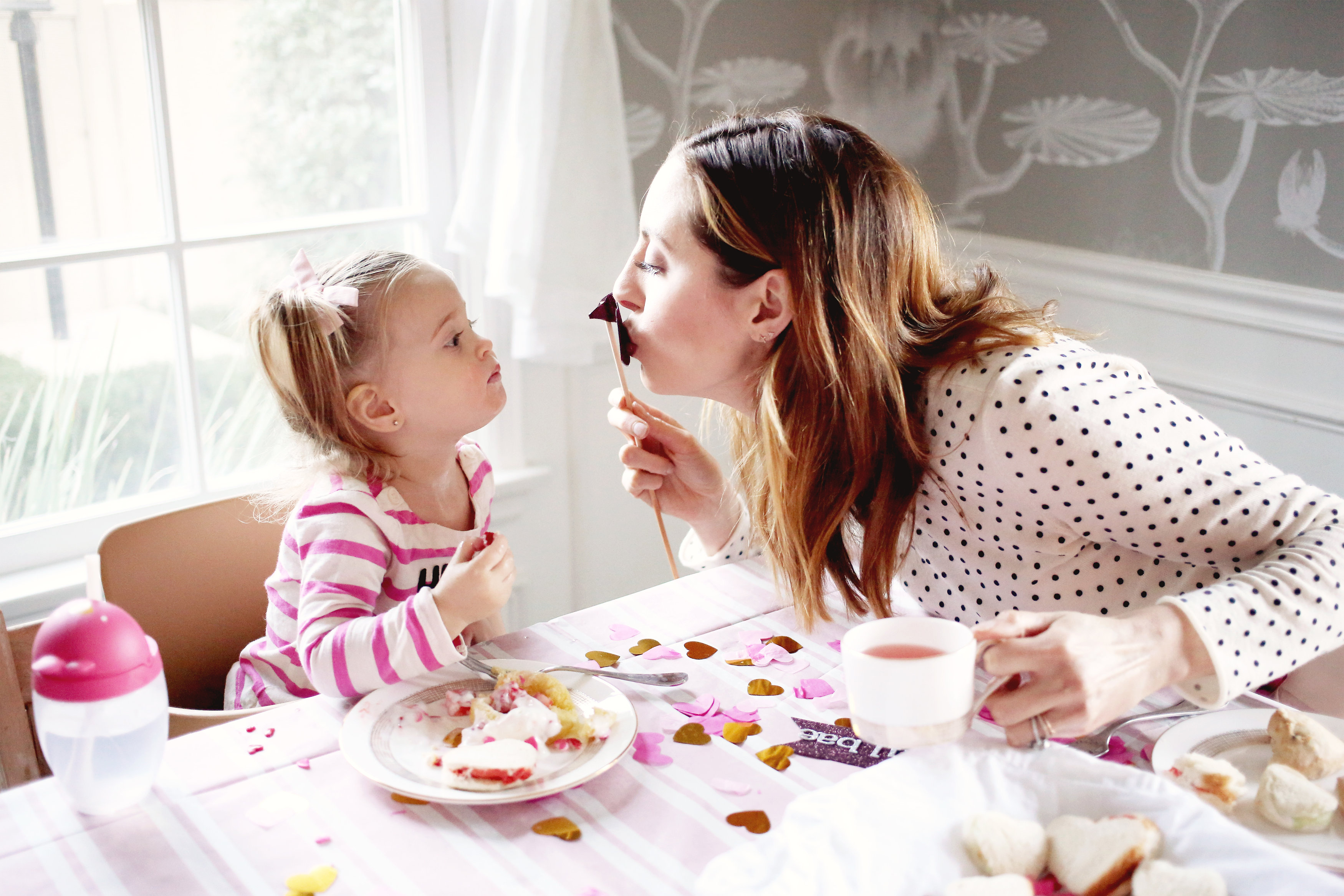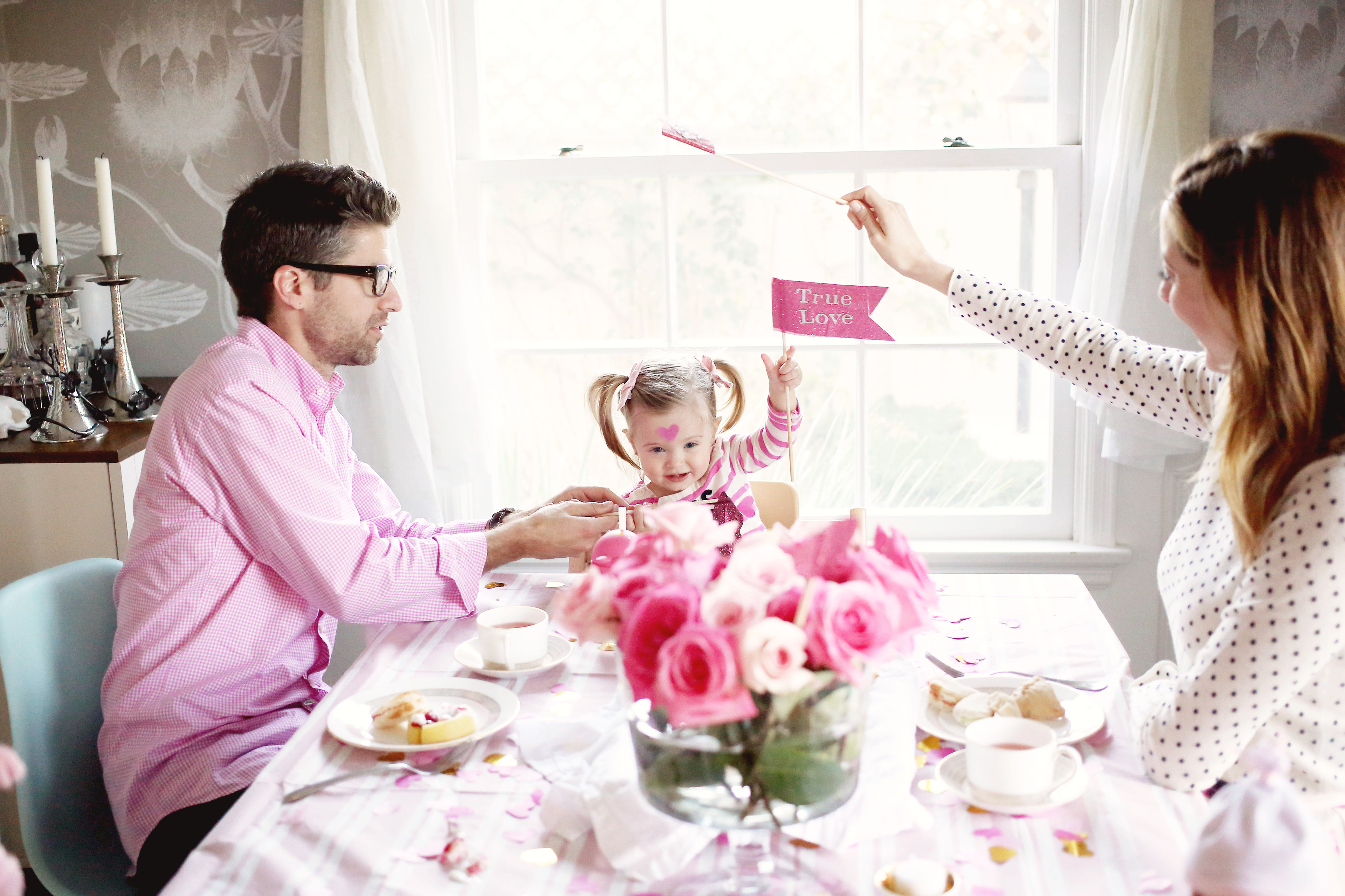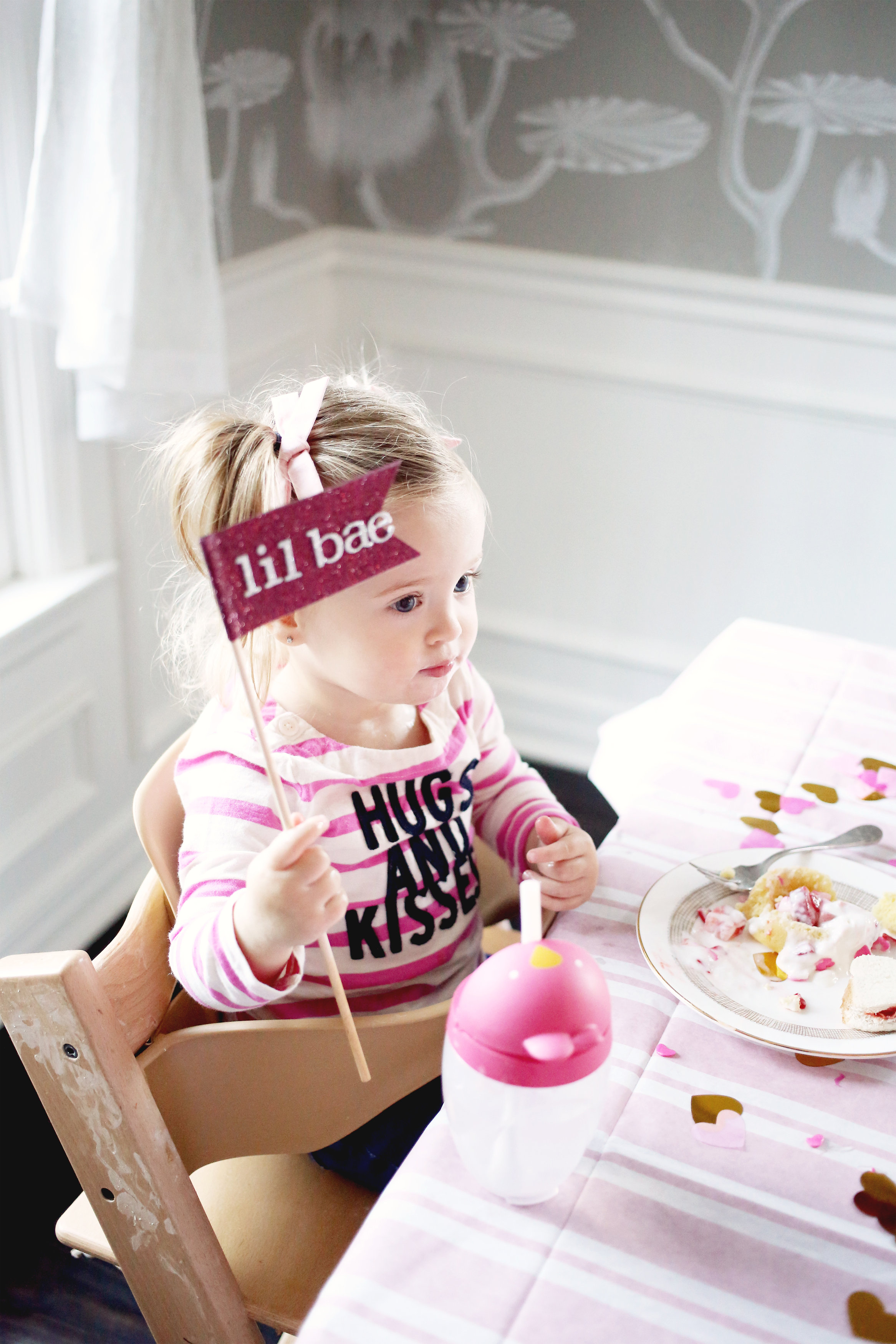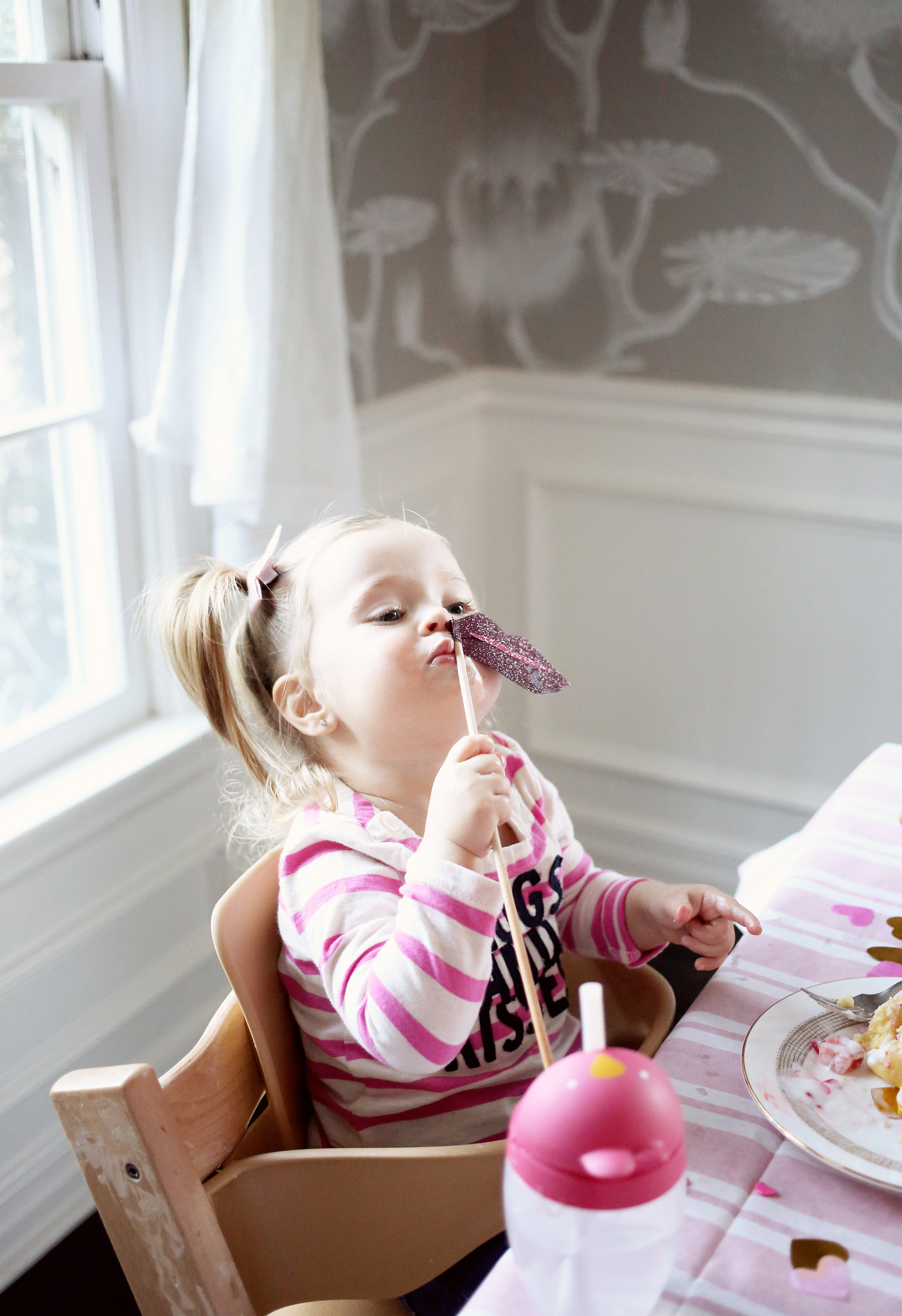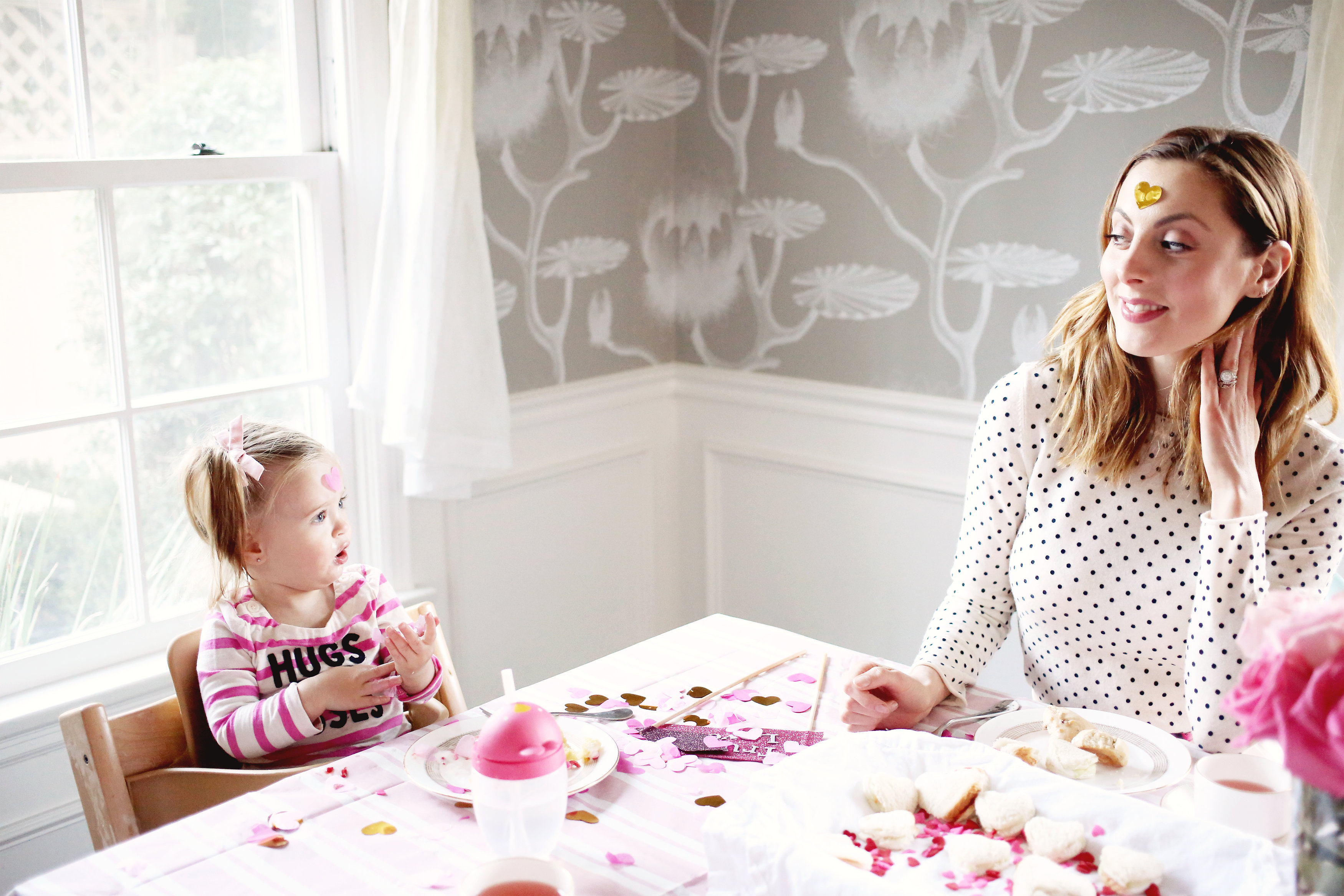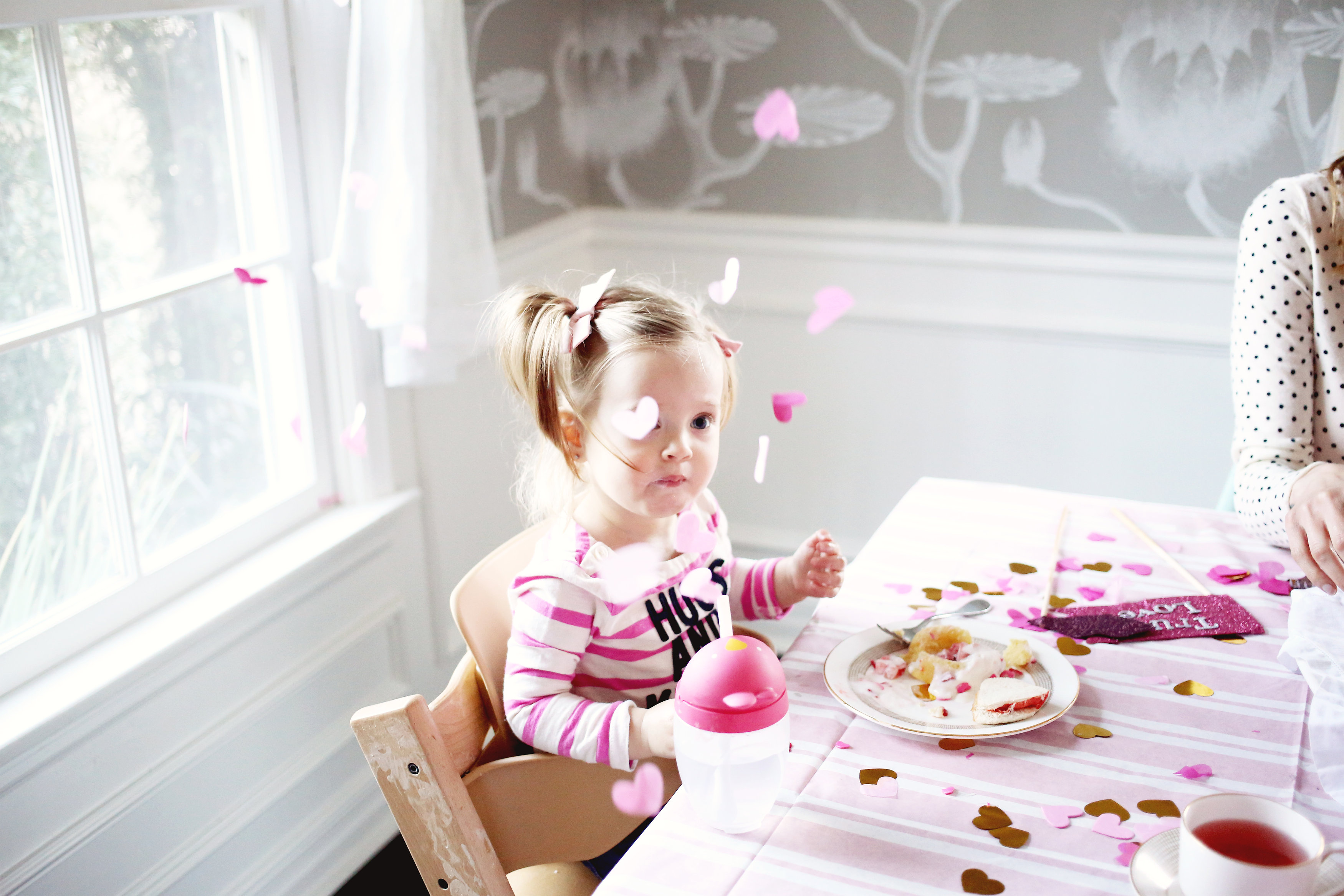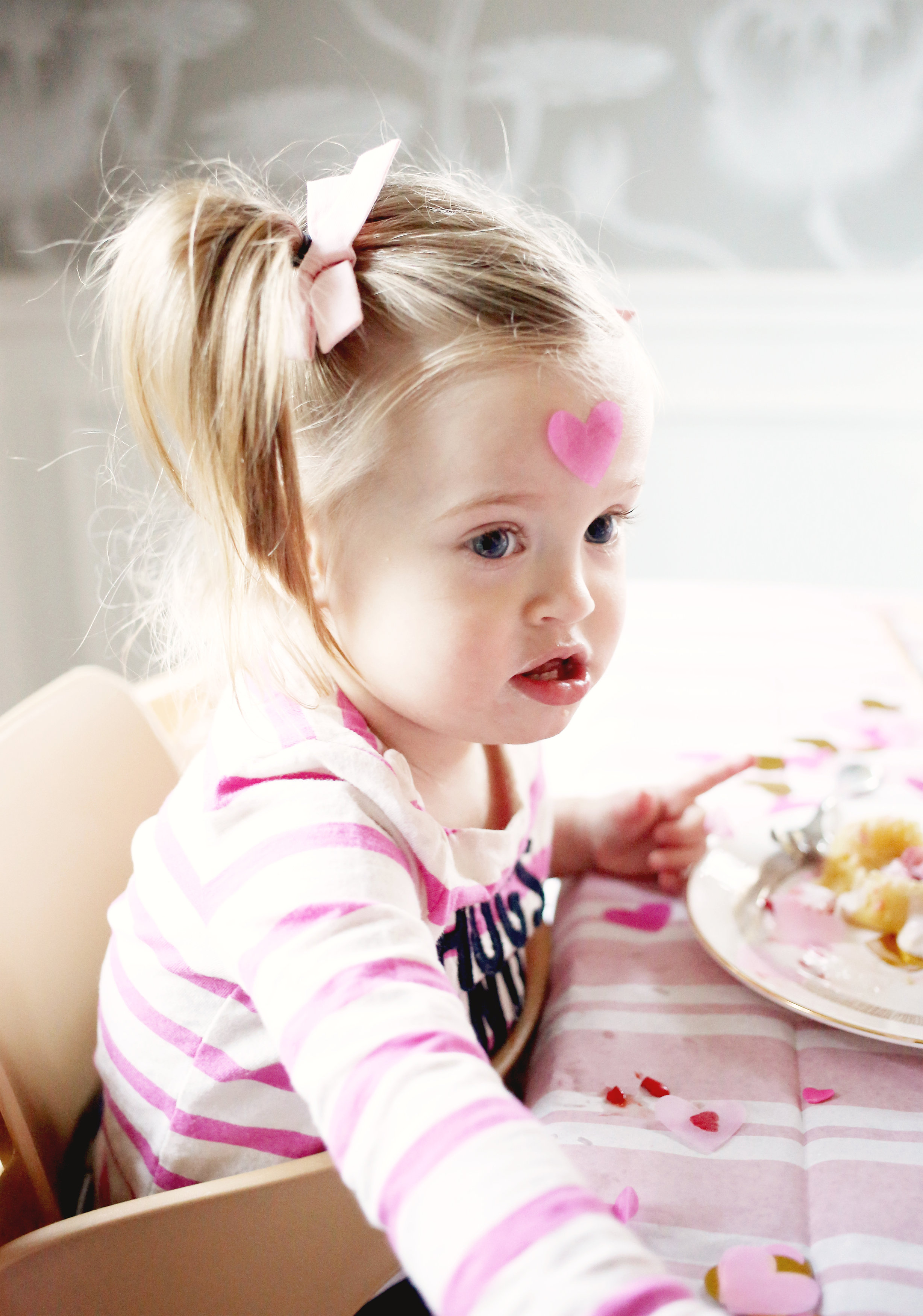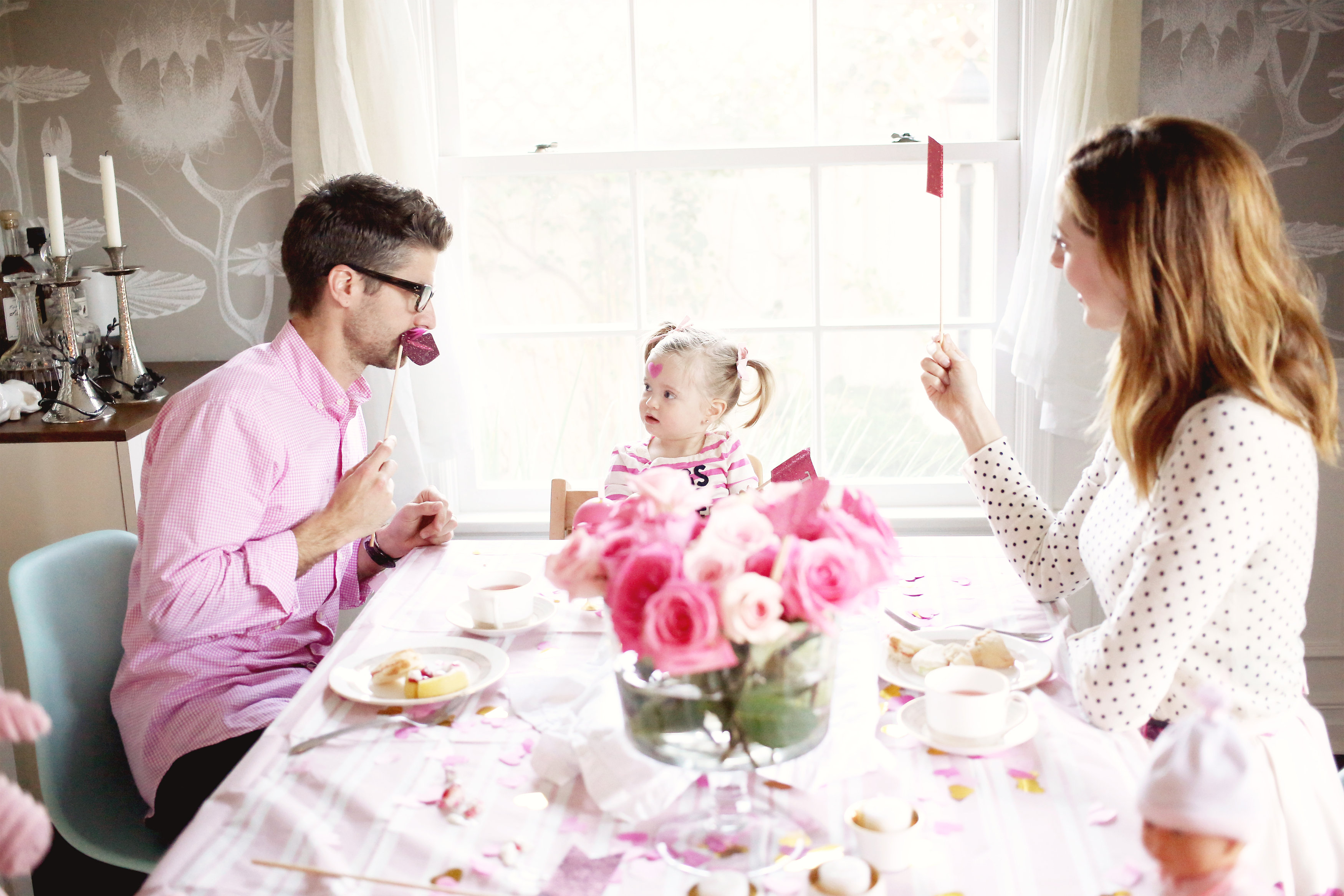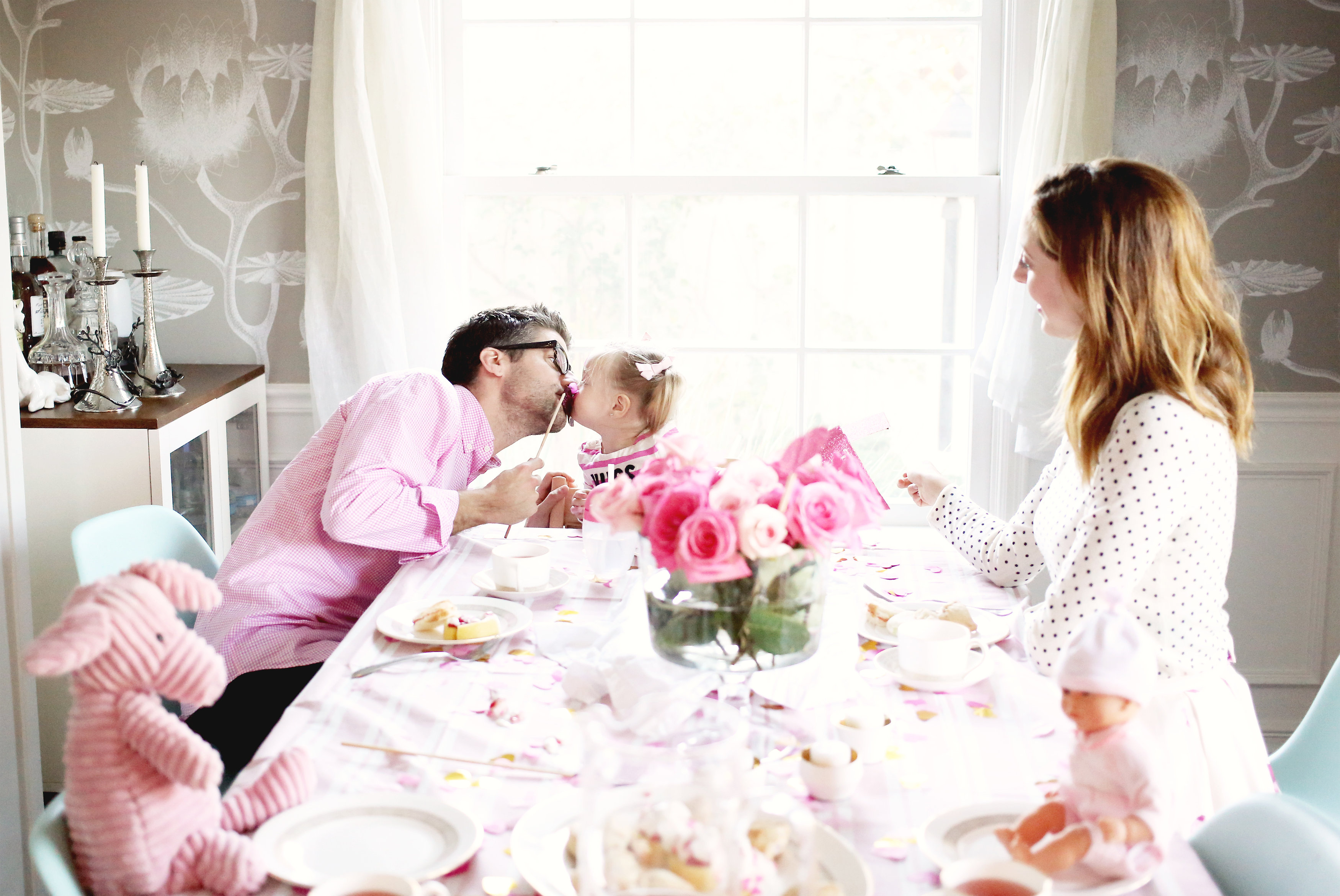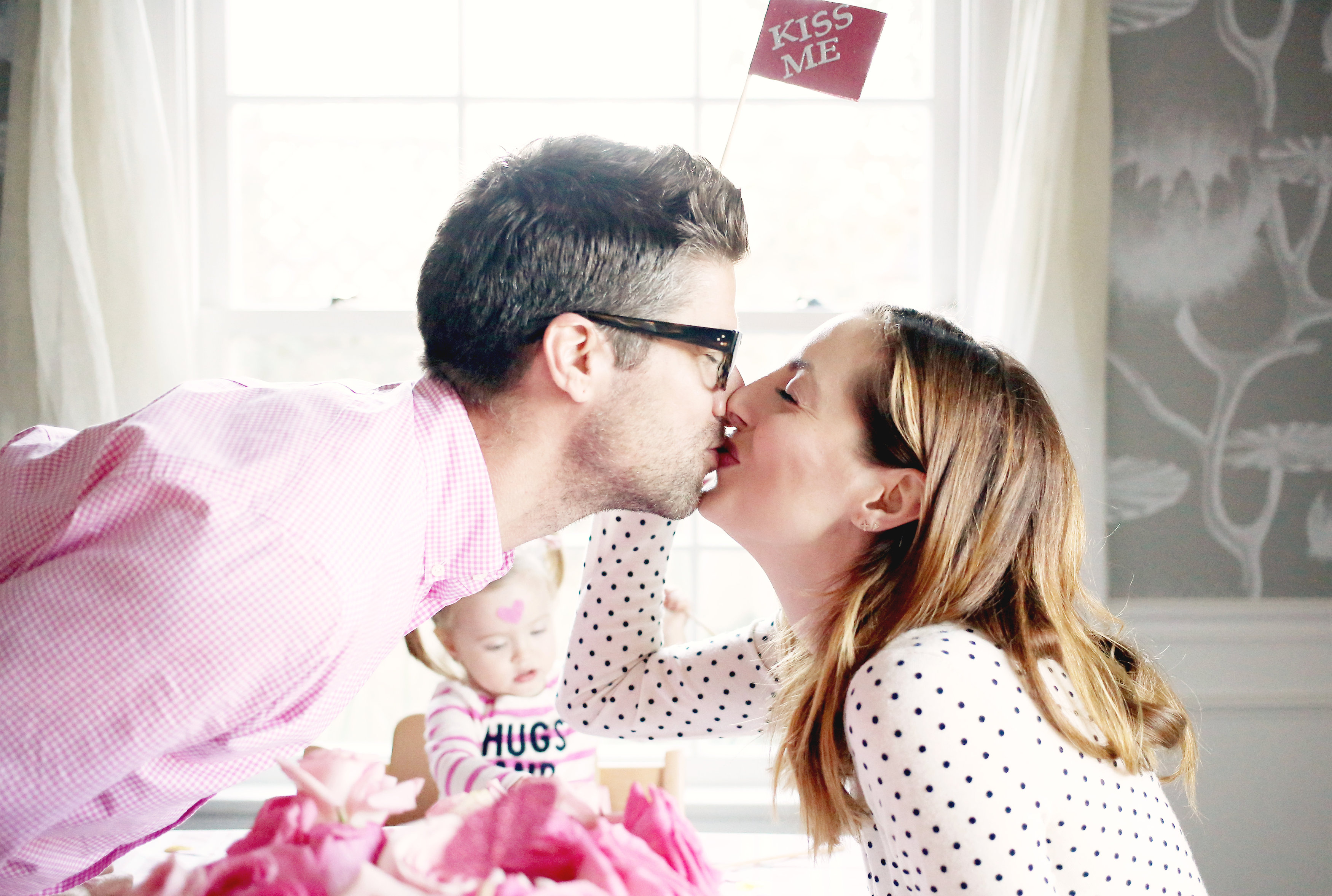 Do you guys use Valentine's Day as an excuse to spend romantic time together as a family? I'd love to hear your plans!
xoxo
EAM
SHOP THE POST