The following content may contain affiliate links. When you click and shop the links, we receive a commission.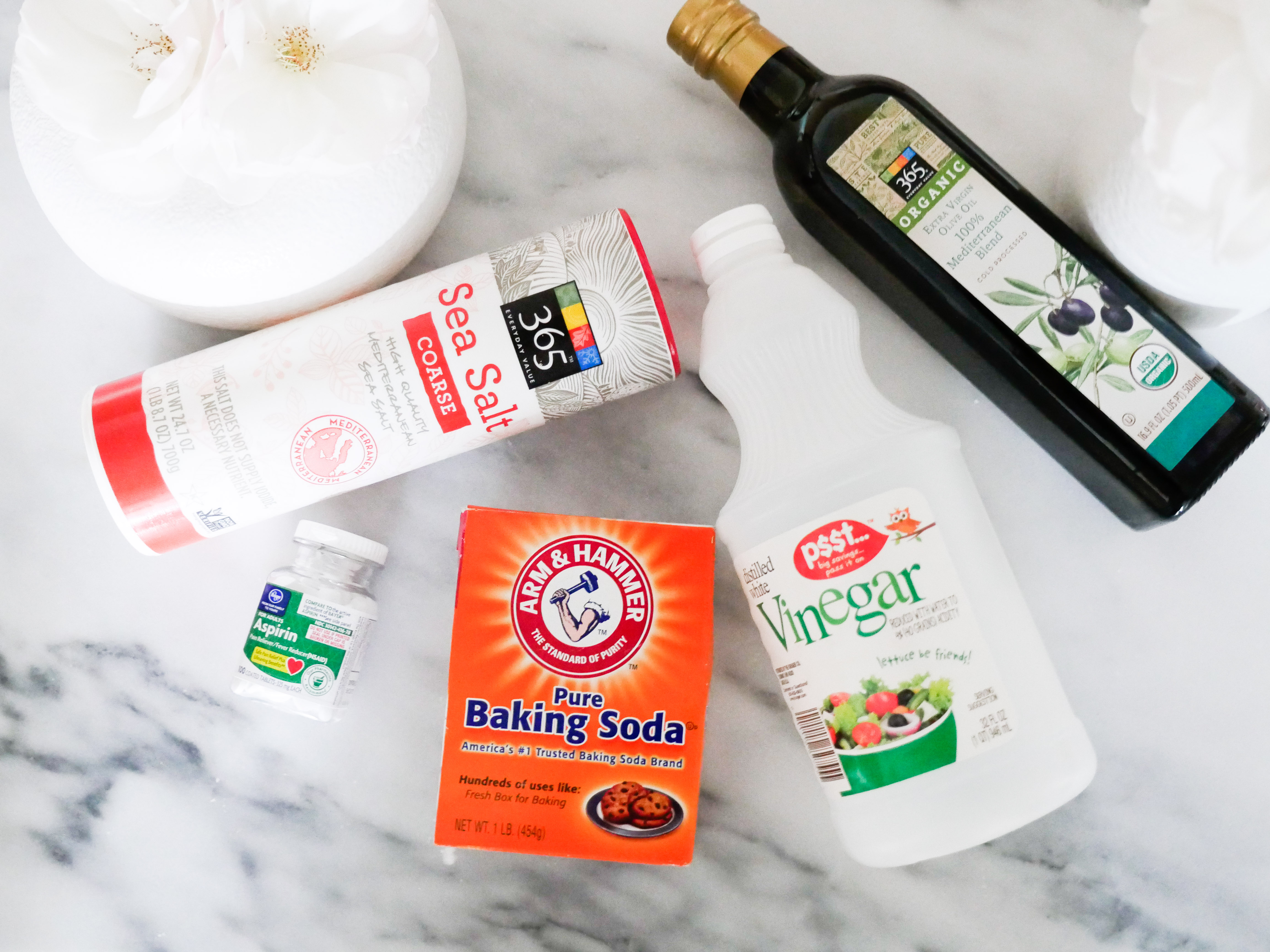 These are all products that you probably have in your home already:  Coarse Salt, Aspirin, Baking soda, Vinegar, and Olive Oil.  Nothing crazy about those things! And I bet you are used to using them…well, exactly how you always use them.  Today I'm going to show you three unexpected household hacks with these simple and inexpensive products that will have you feeling like an overachieving Superhero!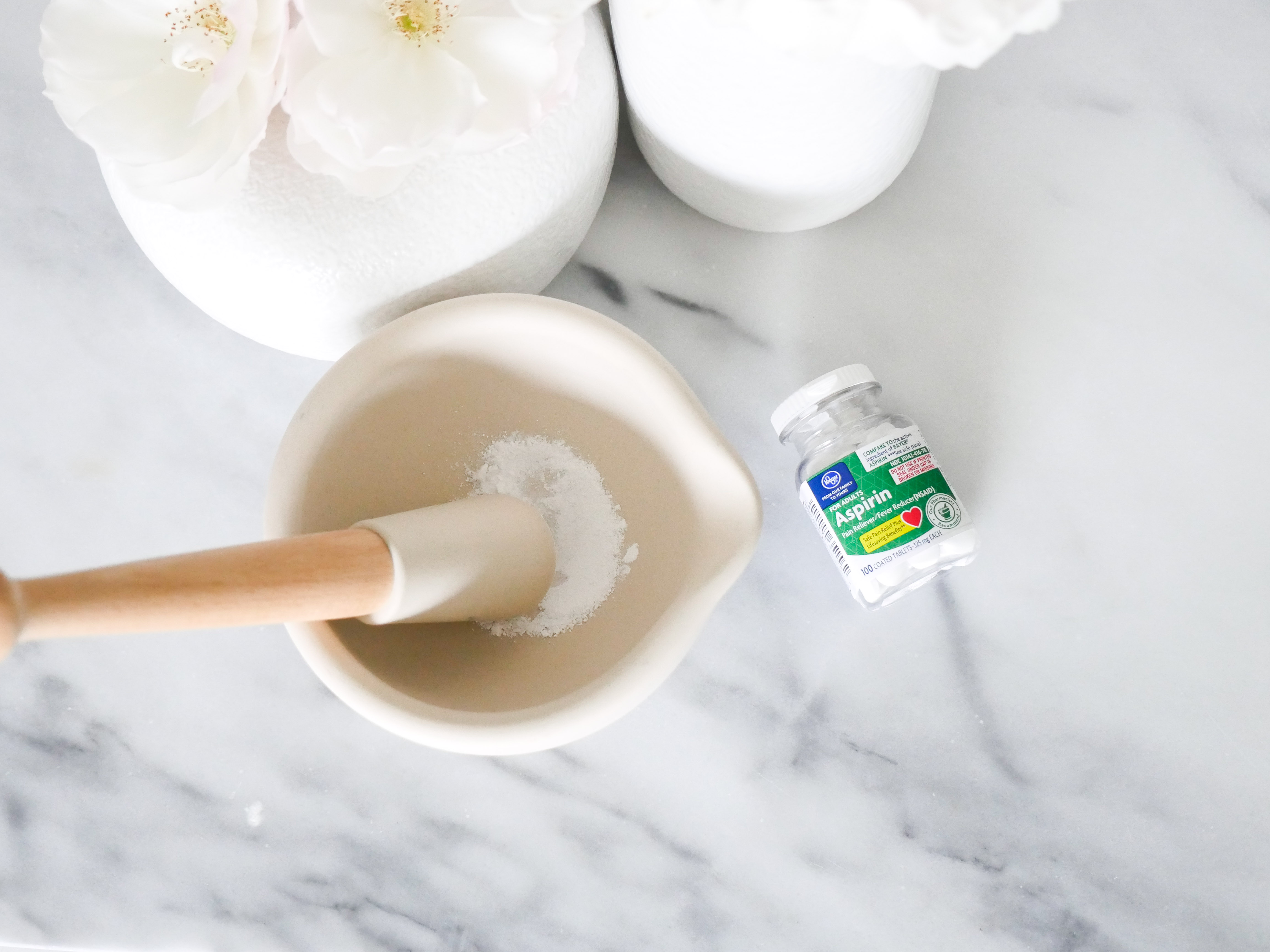 Crushed Aspirin Zit Paste
Place three aspirin in a bowl or mortar.  With the back of a spoon, or a pestle, crush the aspirin until they are a fine powder.  Little by little, add 1/4 teaspoon of water to the powder until a forms a paste.  Stir with a Qtip, and apply on a clean, dry face.  The high concentration of Salycylic Acid in the aspirin will zap your zit!  You can leave this on for a couple hours, or overnight.  I use this when I'm traveling and a sneak attack pimple pops up! Such a waste to buy a whole new (expensive) bottle of zit cream when you're on the road!
Coarse Salt & Olive Oil Body Scrub
This scrub is perfect for the Winter months as it's super hydrating!  I use this when I am so flaky and dry but forgot to buy a body scrub (or don't have the essential oils on hand to make my go-to Sugar Scrub!)  It's also excellent for Winter Ravaged dry hands.  Mix 1/2 Cup of Coarse Salt (2 Tbs if just using for hands) and 2 Tbs of Olive Oil (2 Tsp if just using for hands) in a bowl.  Mix well with a spoon.  Scrub your body or hands in circular motions, rubbing the oil in to your skin.  Rinse the salt away, and then rinse your body or hands with soap to remove the excess oil.  Pat to dry.
Baking Soda & Vinegar Drain Cleaner
I will begin by telling you that your kids will become obsessed with this trick.  Remember the vinegar "volcanoes" from our school days? It's that.  My bathroom sinks get clogged a lot from hair and God knows what else (Ew), but I really don't love using those super harsh chemical drain cleaners.  I heard about this trick and it works like a charm!  Begin by unscrewing the top of the drain to allow for an easy pour.  Now, put a kettle of water on the stove to boil.  Fill the kettle, or around four to five cups.  Next, pour some Baking Soda down the drain.  For bad clogs I use about half a box, or as much as will go down there before getting stuck.  Fill a measure cup with two cups of Vinegar.  Use distilled Vinegar not cooking Vinegar! Slowly pour the Vinegar down the drain, pausing every so often as the foam bubbles over.  When all the Vinegar is down the drain, leave it there for five to ten minutes, or until the kettle is boiling.  Pour the boiling water directly in to the drain, slowly so that it doesn't splash.  When the boiling water has all gone down the drain, but the tap on hot and let the water run down the drain for a couple of minutes to flush down any remaining clogs.
Do you have any other tried-and-true Household Hacks with these products?? Please leave them in the Comments section below!!
xoxo
EAM