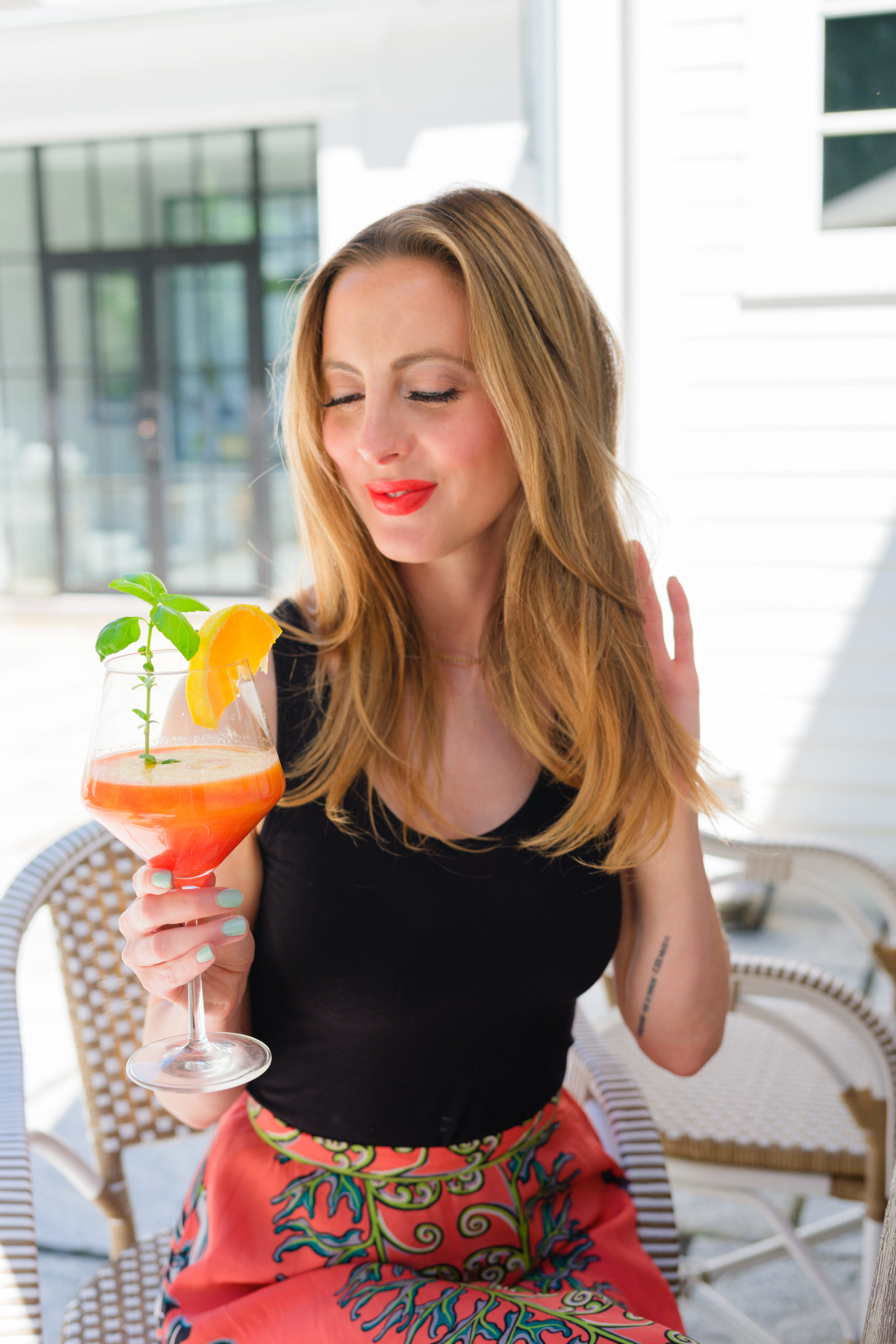 **You must be 21 years of age or over to make this cocktail! Please drink responsibly.**
If there's something I've learned by looking at what you're all searching for on this site recently, it's that YOU ARE ALL COCKTAIL QUEENZ! Ha!
I'm not gonna lie, I've been super into cocktail recipes recently as well, and I figured it was high time to give you guys another one of my favorites.
You all know I'm Italian (on both Dad's and Mom's sides), but I bet you didn't know that Campari is one of my favorite spirits! (I loooove a Campari and soda on a hot summer day).
Campari is just so quintessentially Italian, and has that bitter taste that is the perfect accompaniment to a big meal — in fact, the Italians use this as an aperitif to prepare the stomach and wake it up!
This Italian Sunrise cocktail mixes the iconic flavor of Campari with the sweetness of fresh Orange with no added sugar! In my opinion, it is the PERFECT brunch cocktail, which is why I named it after an Italian Sunrise.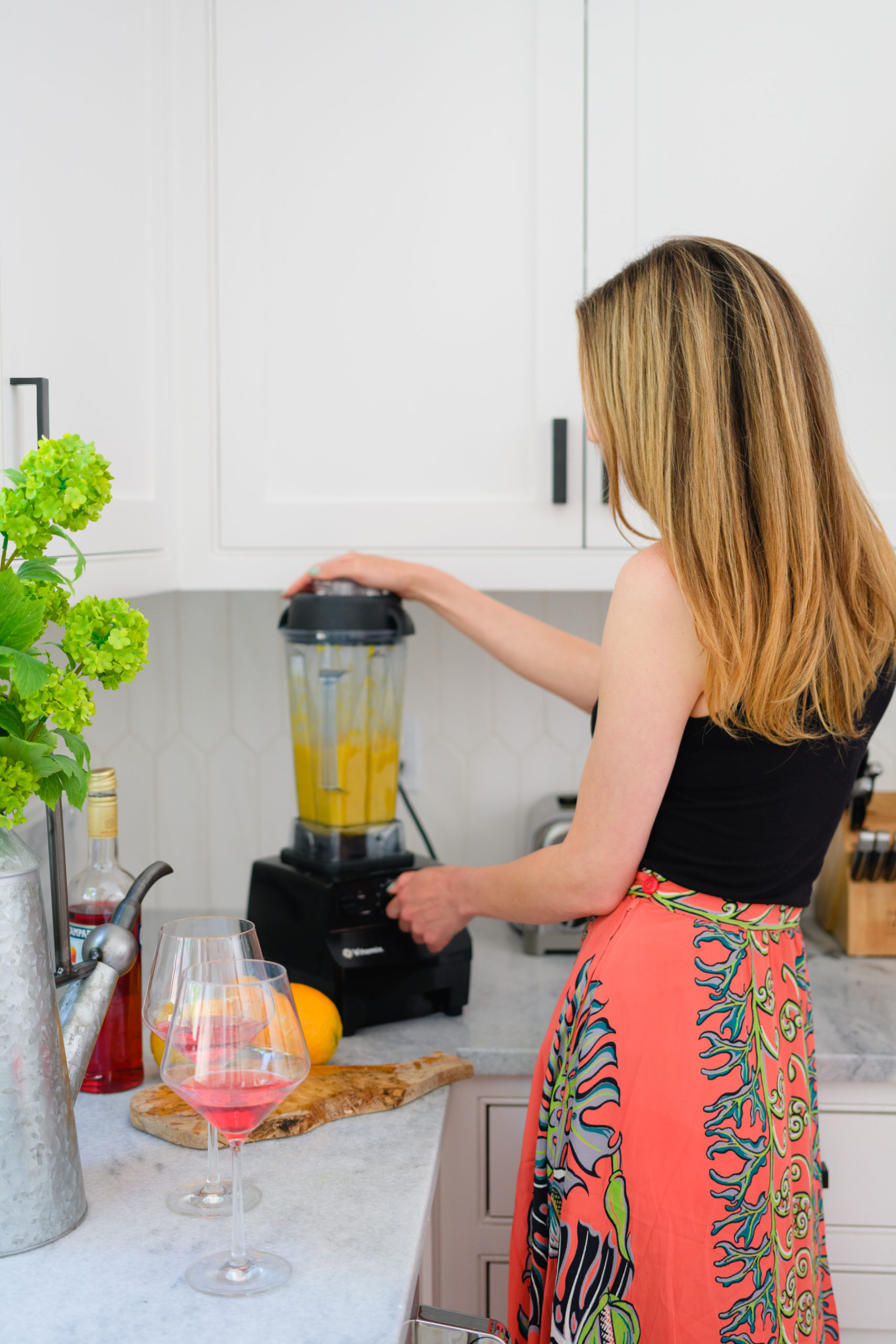 You just toss the orange in segments into a blender and Arrivederci! Leaving the peel on part of the orange gives the drink an incredible froth and such a flavor kick with the essential oils from the peel. You can also use a juicer if you don't have a good blender, but I'm linking two great blender options below…
Vitamix 5200 Standard
Vitamix
This is the blender I have and I LOVE IT! Totally worth the investment!
Ninja Professional Countertop Blender
Ninja
This is more affordable blender option that I've heard wonderful things about! AND it's on sale right now!
I hope you love this cocktail as much as I do!
The recipe makes 2. (I batched up for the photos so it would fill the glass, so go off of the recipe not off of the amounts in the photo…though if you want to make a double recipe I certainly won't tell anybody! LOL)
You must be 21 years of age or over to make this cocktail! Please drink responsibly!
Ingredients
(Serves 2)
3oz Campari
2 large oranges (try to get valencia oranges, if you can!) plus 1 more orange for garnish
6 large ice cubes
2 sprigs basil, for garnish
Directions
Step 1
Soak
Begin by soaking your oranges in a bowl with 2 tablespoons of white vinegar and warm water. This will remove anything yucky from the outside rind, since we will be eating it! After 2-3 minutes, rinse the oranges in cold water.
Step 2
Blend
In a blender, combine 1 whole orange (seeds removed) sliced up into eighths. Keep the peel on. Add the juice of one orange as well. Blend on high to combine. It should look very frothy. If you need to loosen up the mixture at all, add water 1 tablespoon at a time.
Step 3
Add Campari
Put 1.5 ounces of Campari in the bottom of each cocktail glass.
Step 4
Add Orange Mixture
Pour the Orange mixture over both glasses and stir gently to combine.
Step 5
Garnish and Enjoy
Drop 3 large ice cubes in each glass. Garnish with an orange slice and sprig of basil for an extra sensory Italian experience!
If you would like to print this recipe, visit this link.