The following content may contain affiliate links. When you click and shop the links, we receive a commission.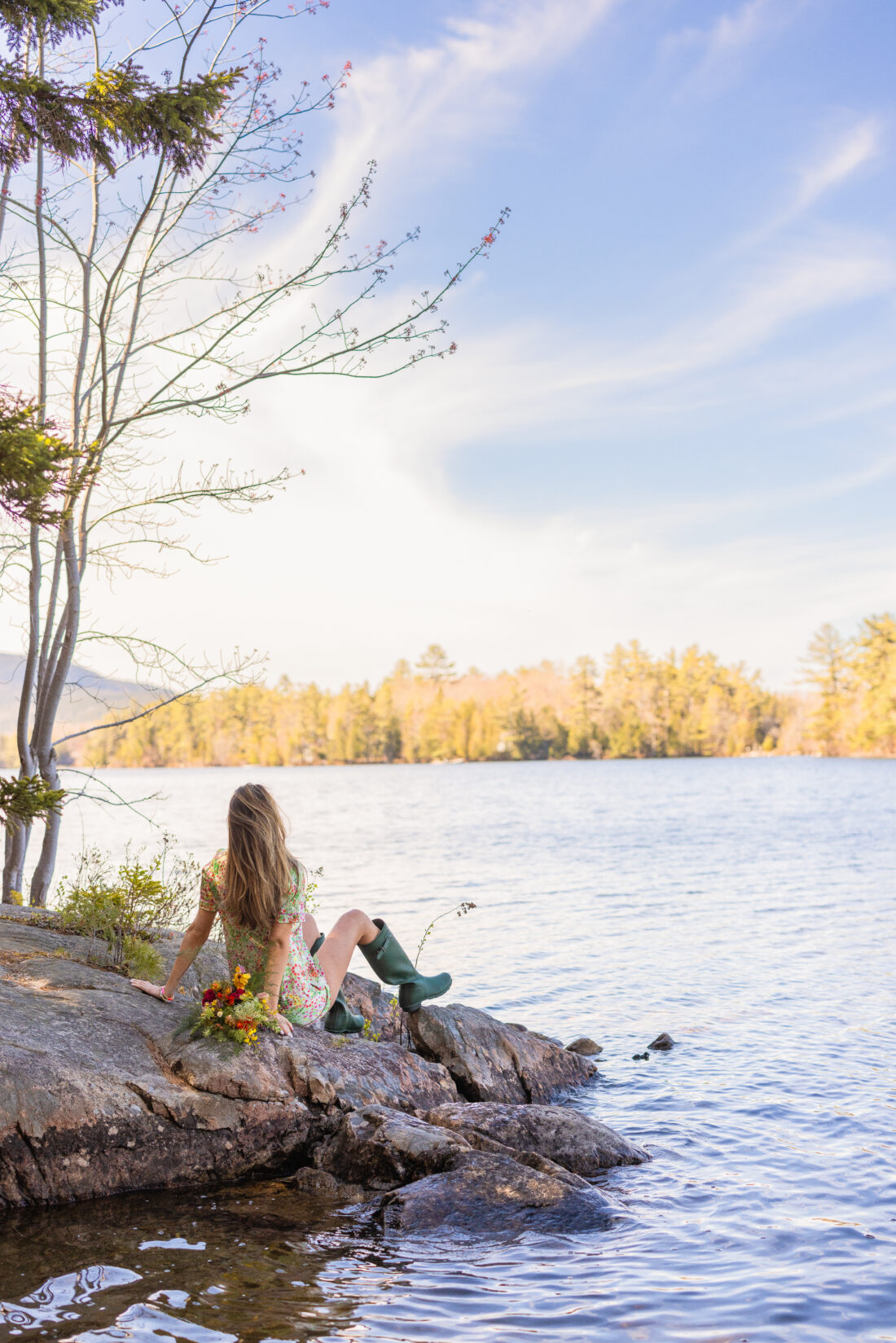 Today is the day! I always get so excited to share our new, seasonal capsules with you guys, but this one is so special because of the inspiration for it! As I mentioned last week, The Lake House series is really sentimental for me because it is all based on my history of spending summers at our family house on the lake in Bar Harbor, ME. It is truly such a magical place, and I wanted to share the special feeling it gives me with all of you through this collection!
As a reminder, this series launches on June 2nd at 12pm EST. There will be no early access and no restocking of pieces. I urge you to shop for what you're interested in immediately in order to make sure you secure your size! We did extra accessories in this series, which I'm really excited about. It is our first capsule with a bag and our first with a kids' item! I hope you love these pieces as much as I do! I'll be walking you through each piece below. Let me know in the comments which ones you have your eye on!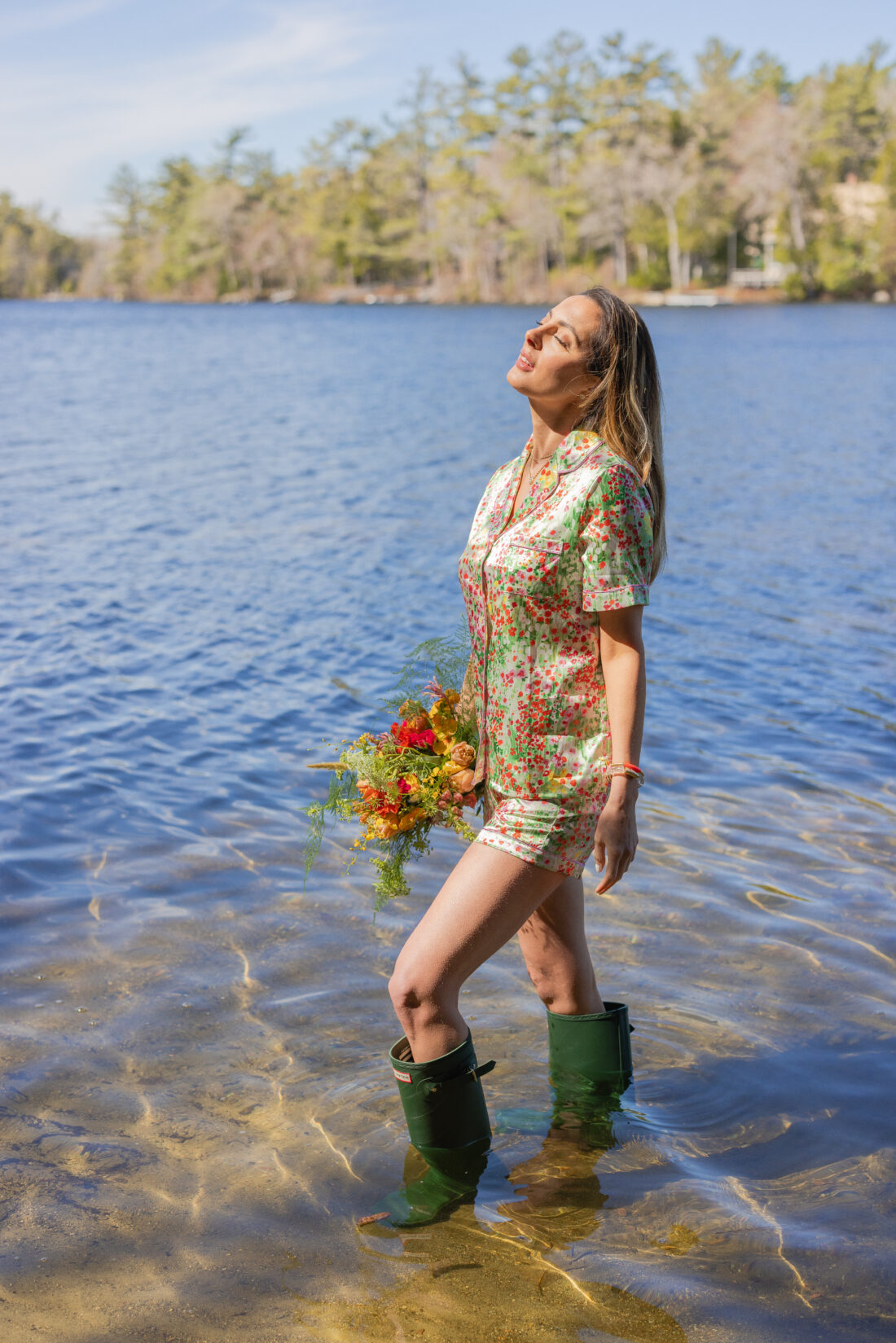 The JORDAN POND Pajama – $116
These pajamas epitomize summer for me! I am beyond obsessed with this handpainted floral we developed with a Parisian print house– it's so pretty and ethereal. Feminine, without being overly "girly". I chose contrast piping in lavender and our signature smiley face drawstring tips to add playfulness to the ensemble. I'm wearing a size small in these photos! I also wanted to mention that I LOVE using this set as style separates, so it's really a few outfits in one.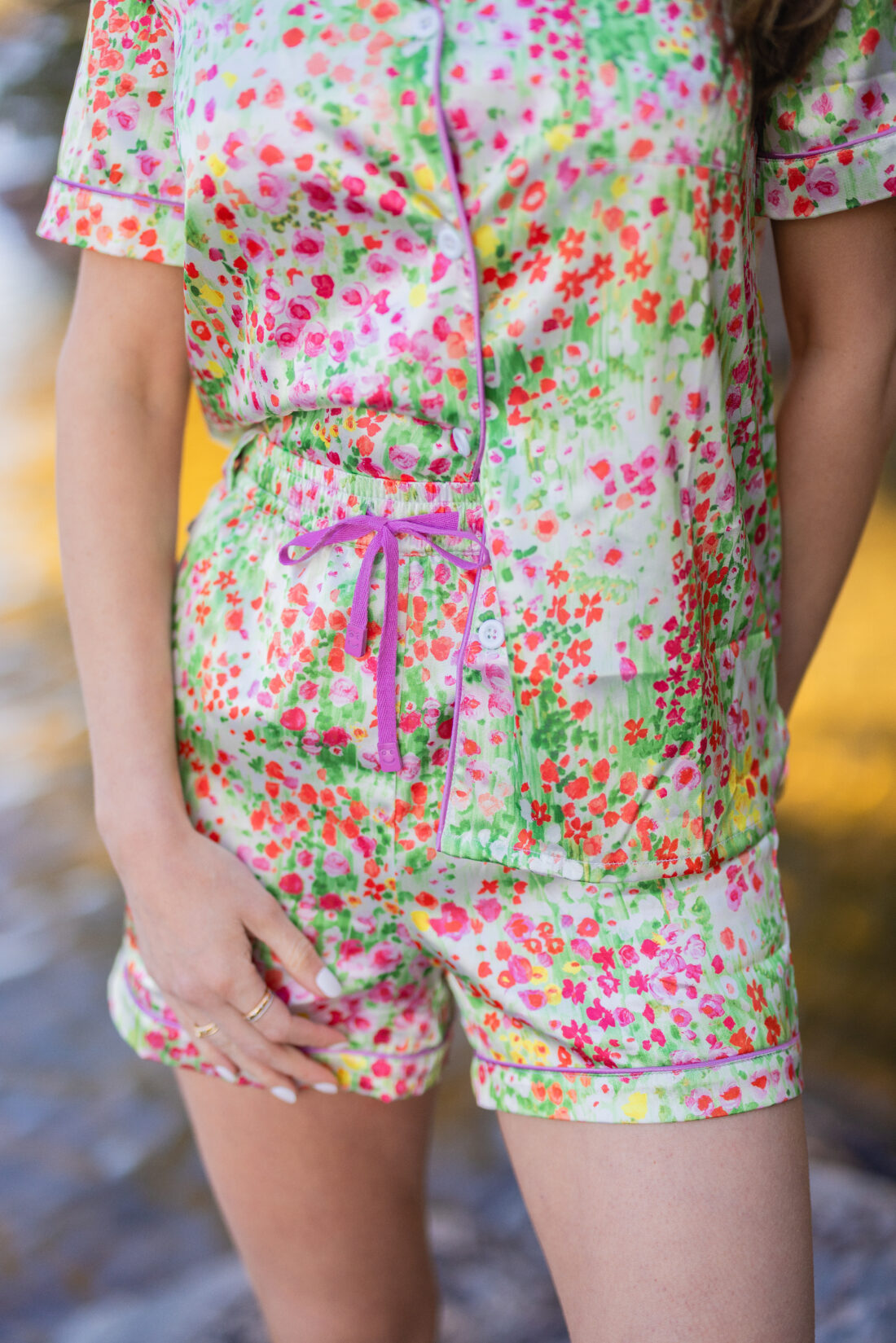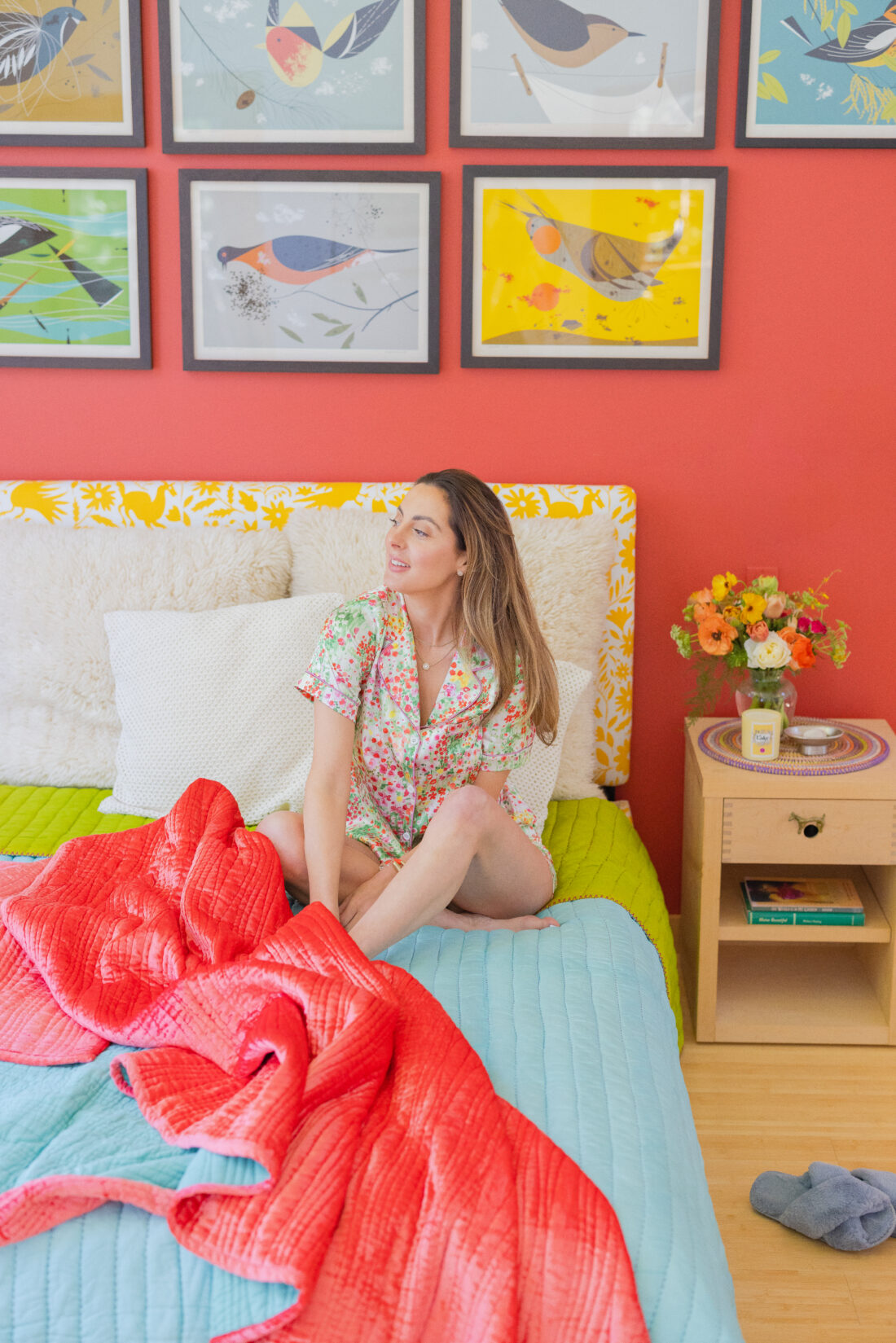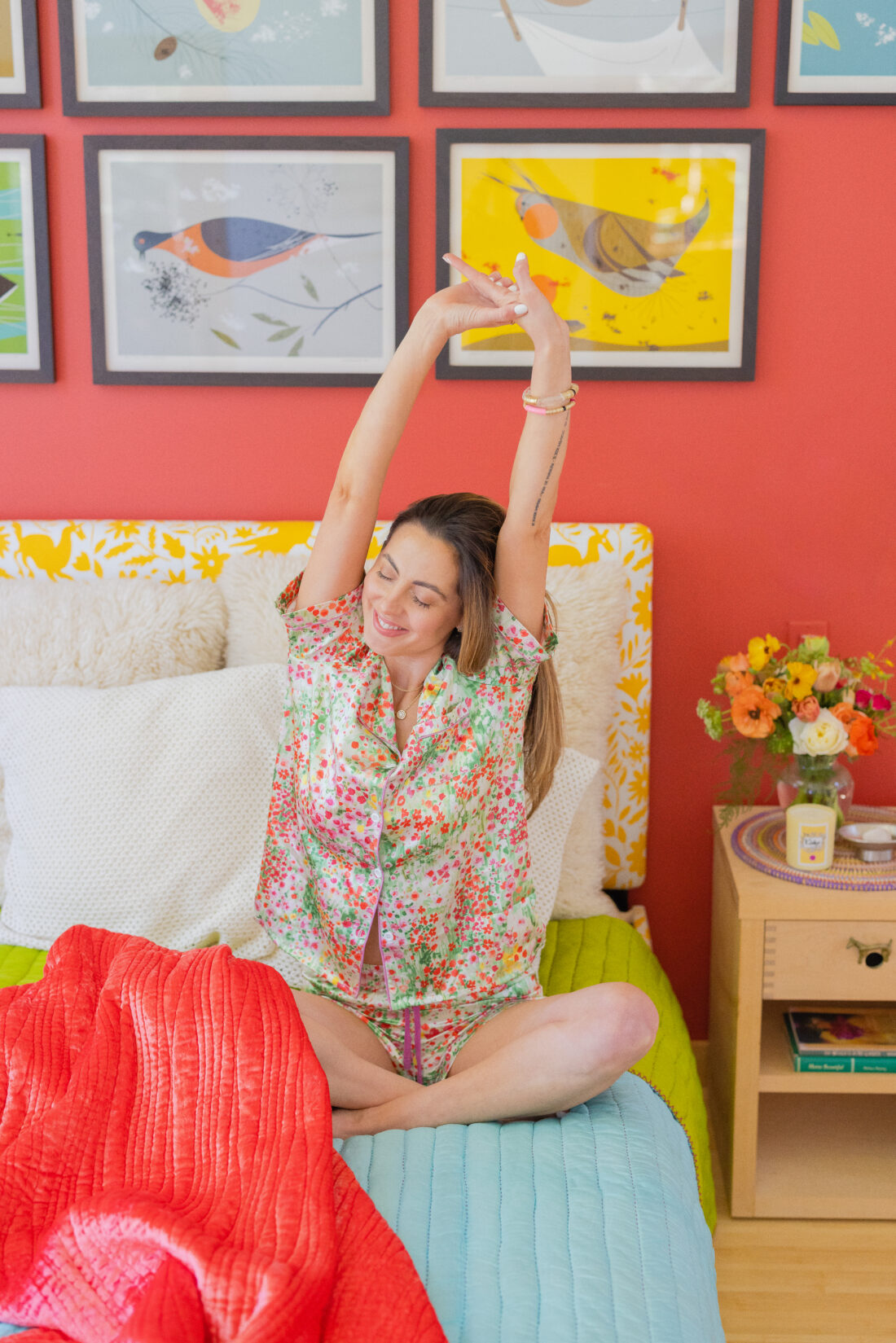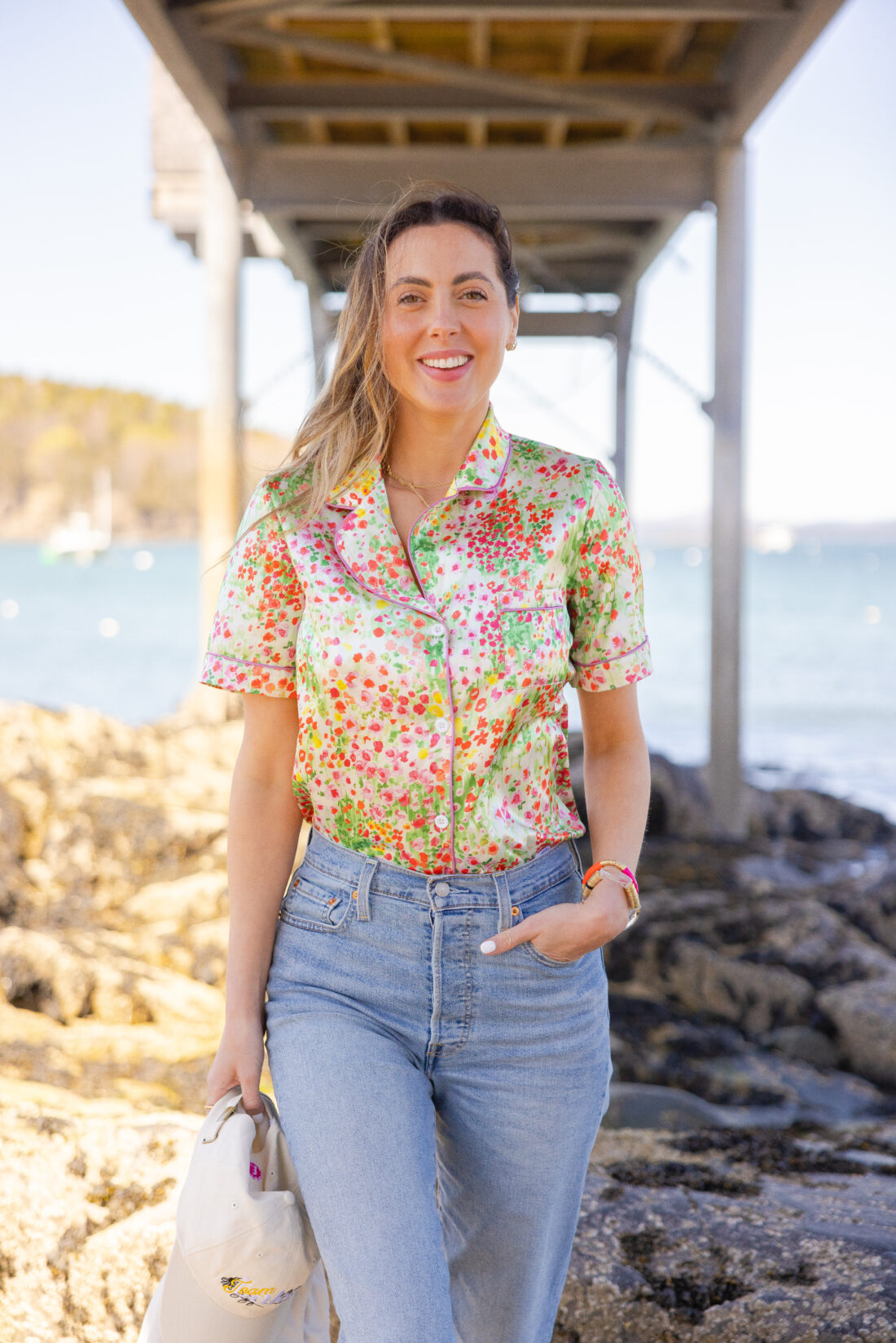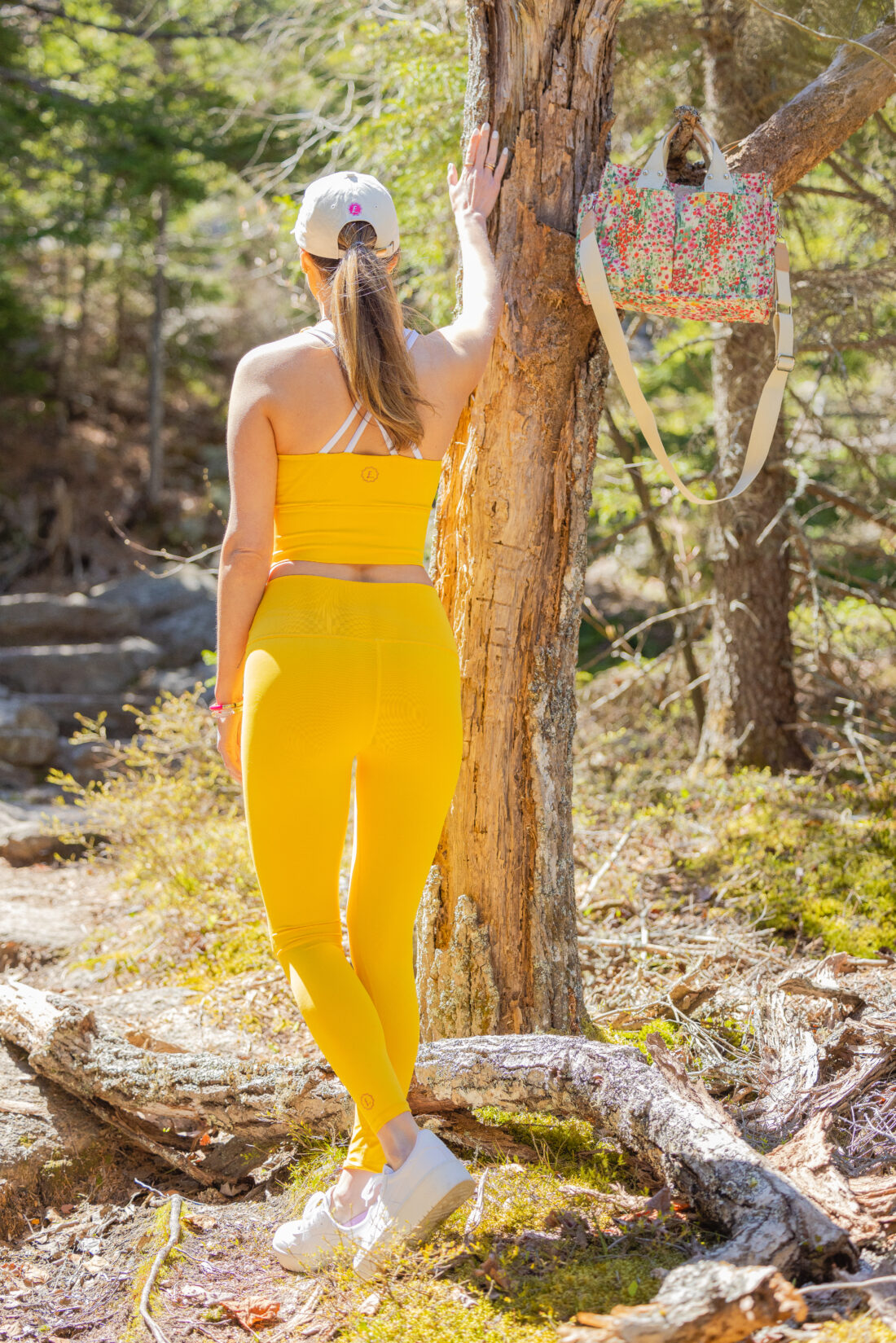 The ACADIA Top – $49
This workout top is a dream of mine, realized! I wanted a sports bra that was longline, so it could feel like a crop top with sweats as much as a set with a pair of leggings. This marigold color is THE color of summer for me, and reminds me of sunny and cheerful Maine! The back has contrasting straps for a little intrigue, and our signature pink logo. I love how secure I feel in this top, and that it has removable pads as well for extra support and coverage. I'm wearing a size medium here!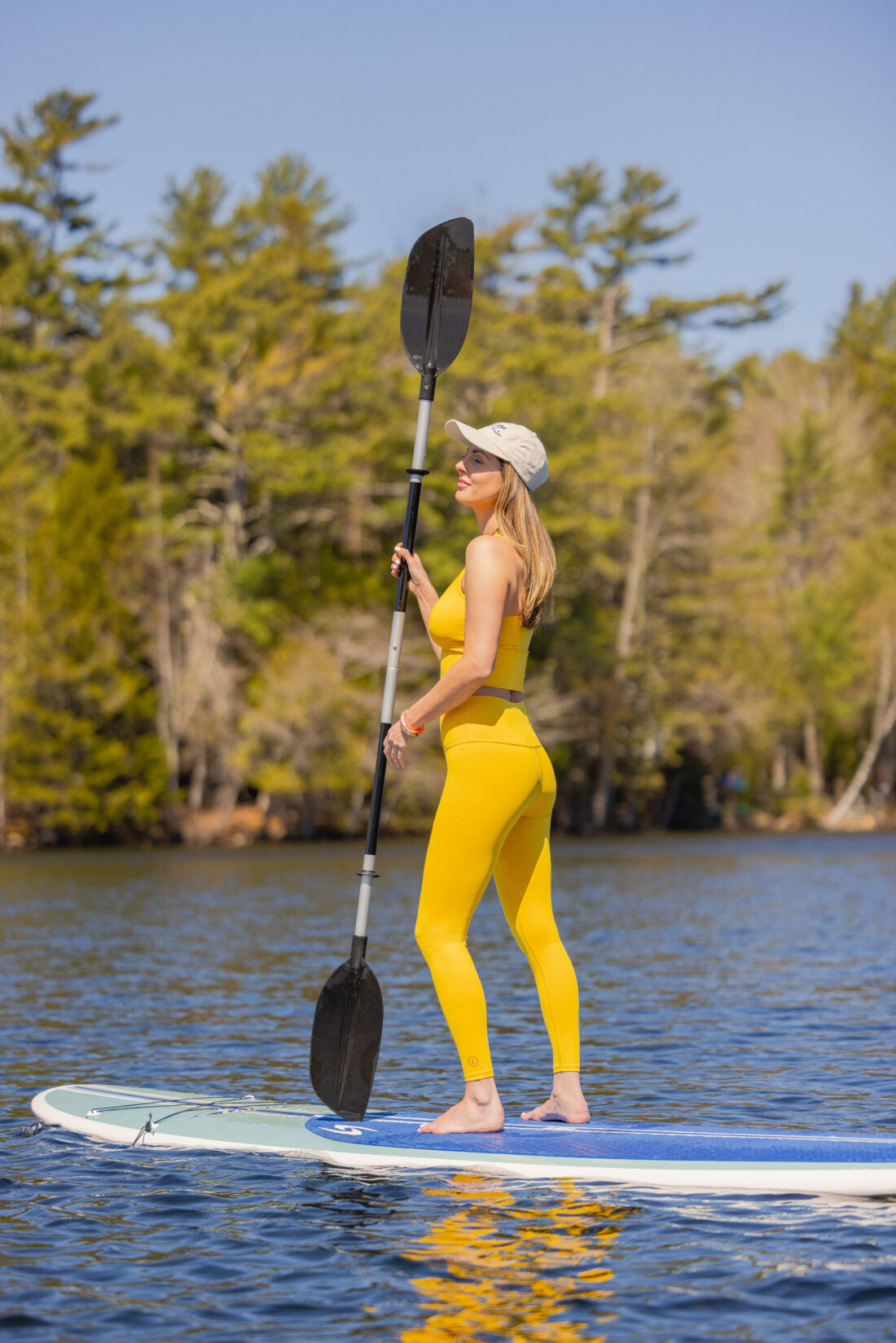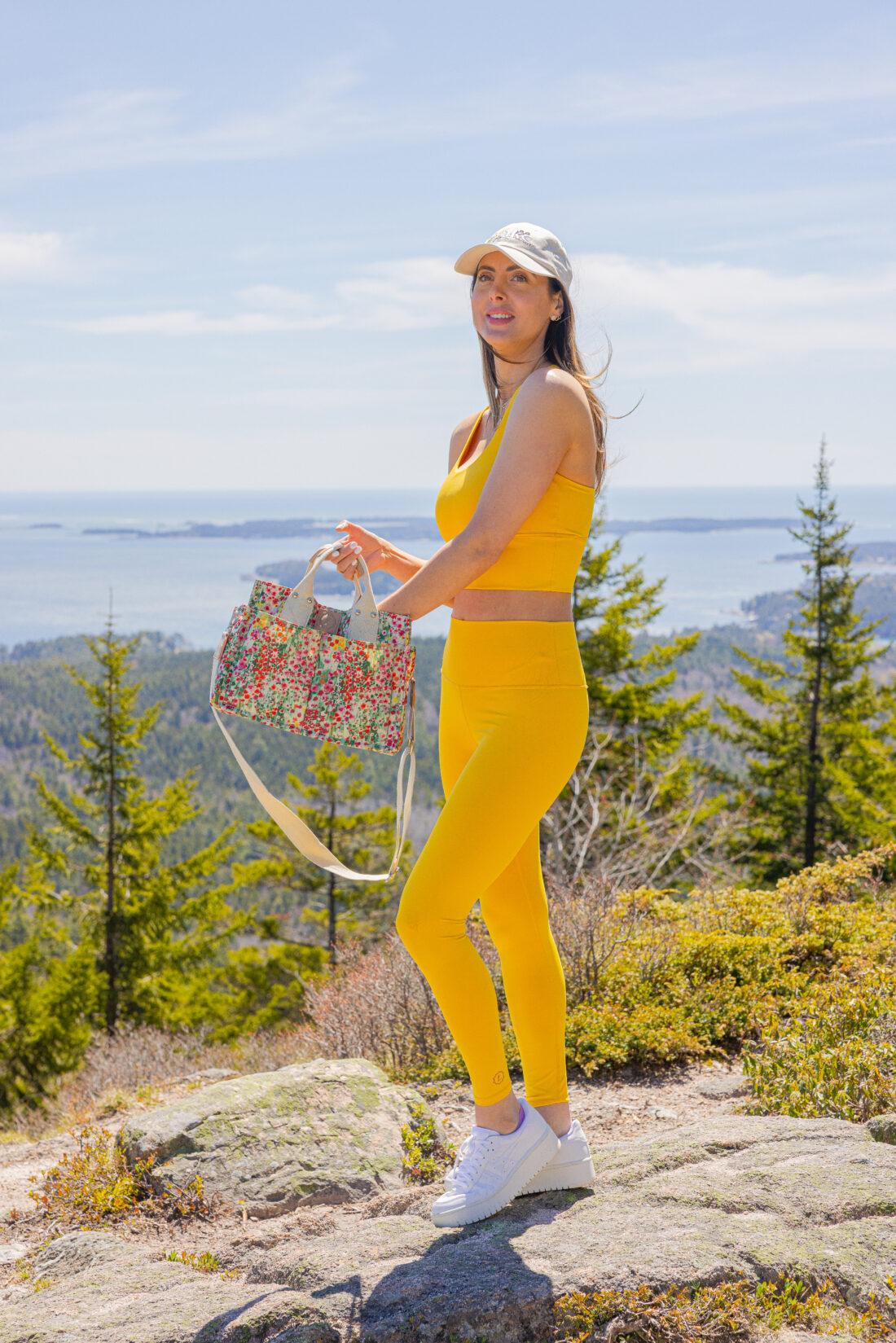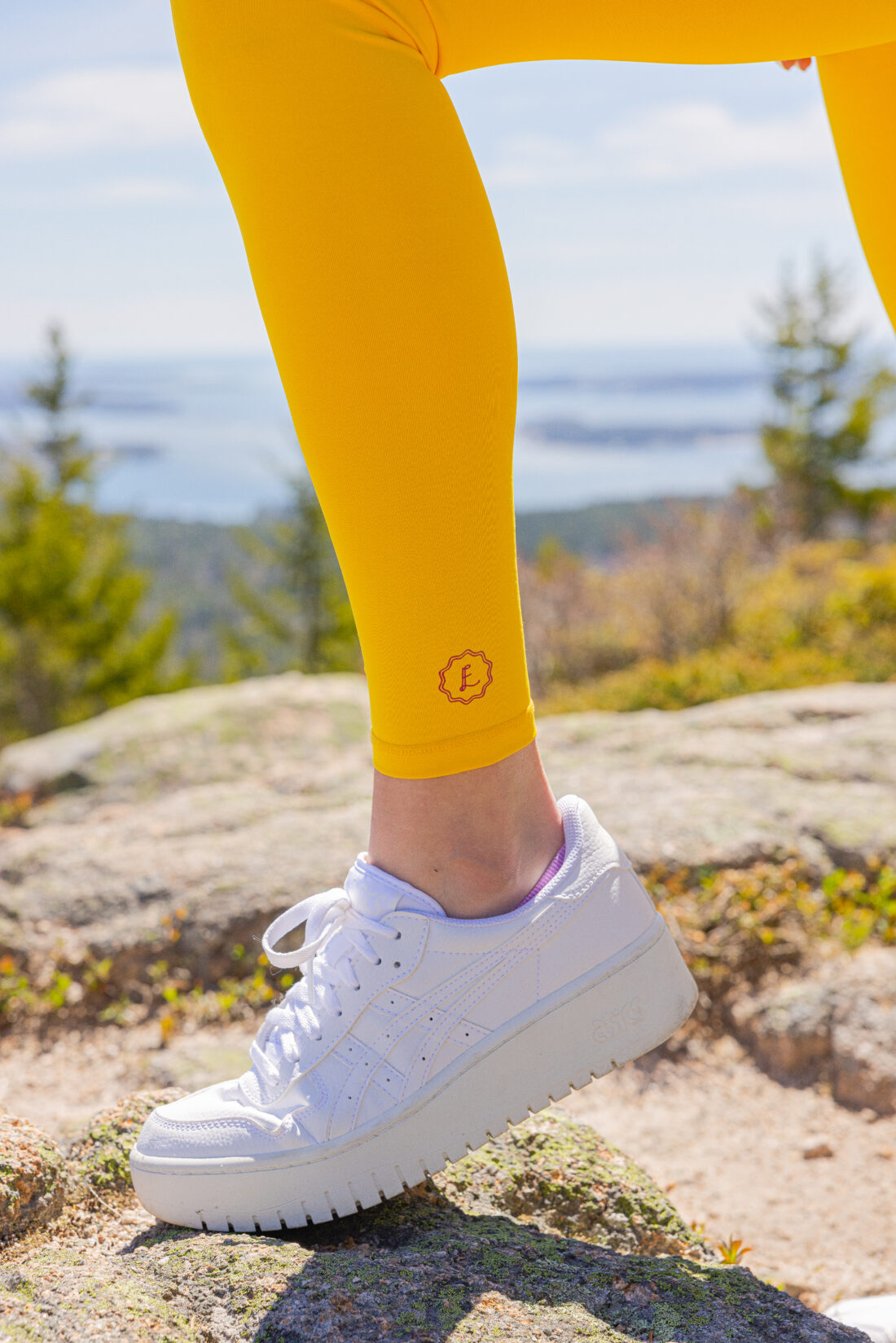 The CADILLAC Leggings – $68
These matching marigold leggings are a must! You won't believe how soft and stretchy they are. The 7/8 length and the high-rise waist make them extra flattering. I'm wearing a size small here!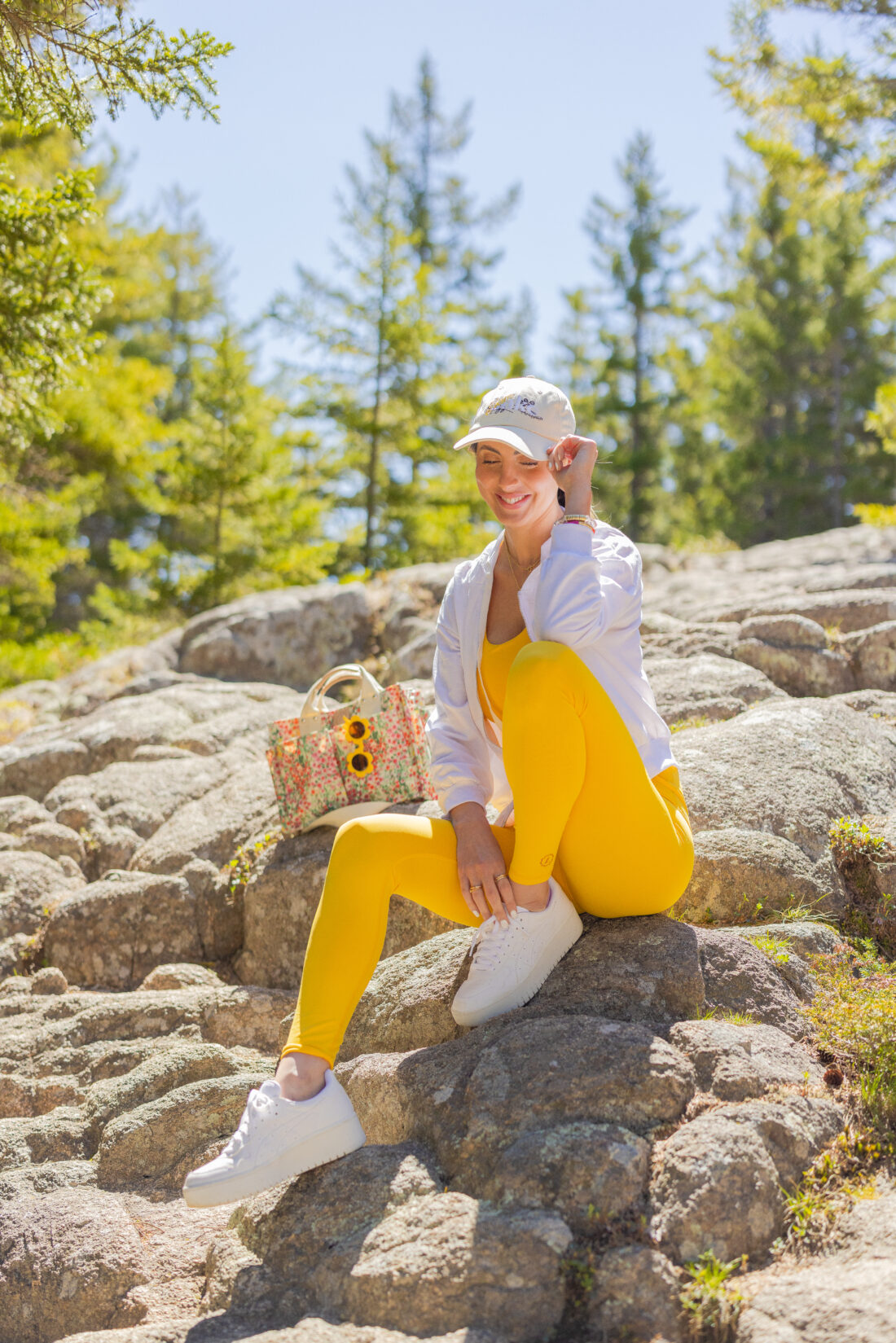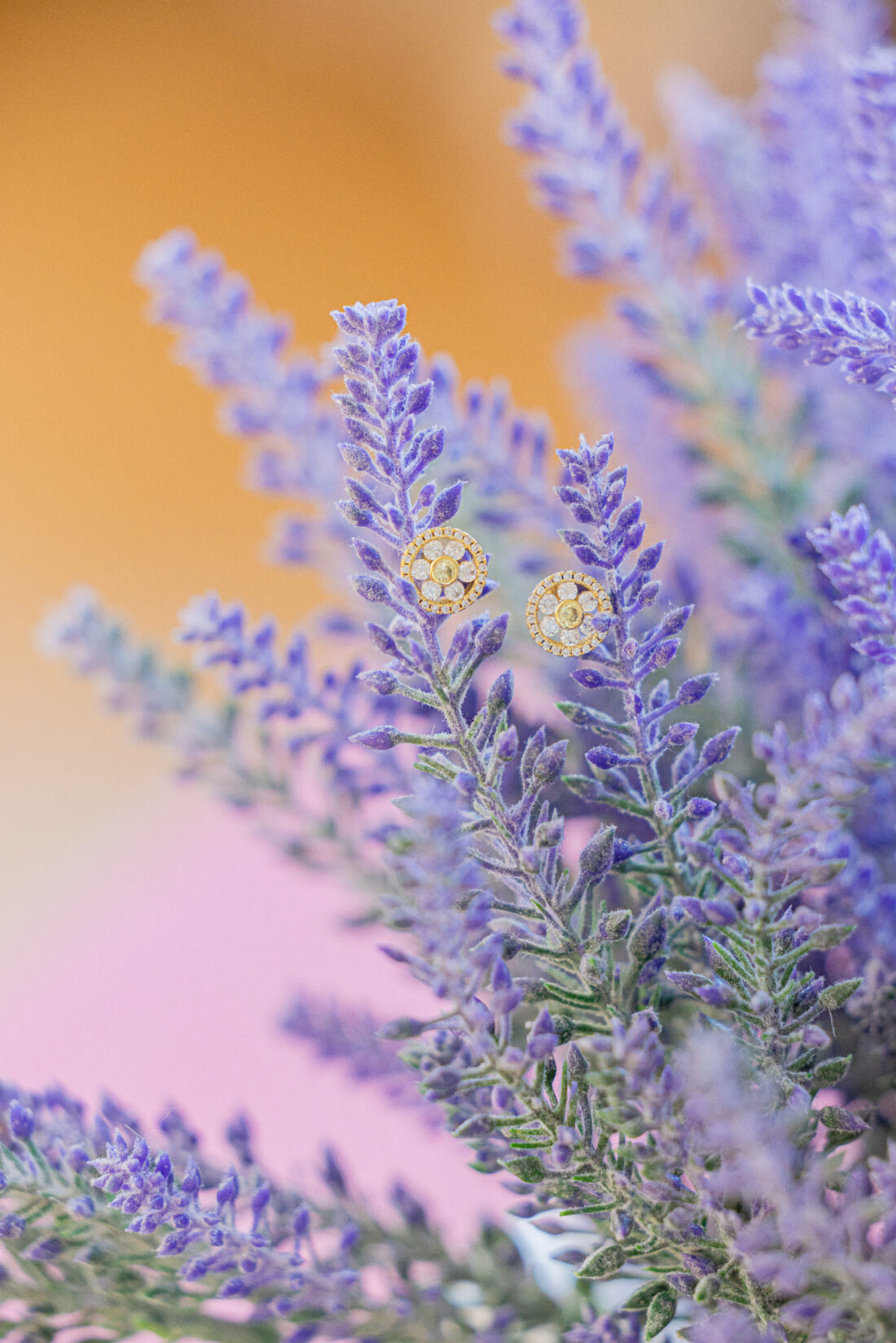 The DAISY Studs – $54
I'm obsessed with our jewelry drop for Summer!!! These earrings are 14k gold plated with high-grade CZ and the absolute CUTEST. Marlowe wears them too! I love how they encapsulate the sweetness of summer, with a little bling for good measure.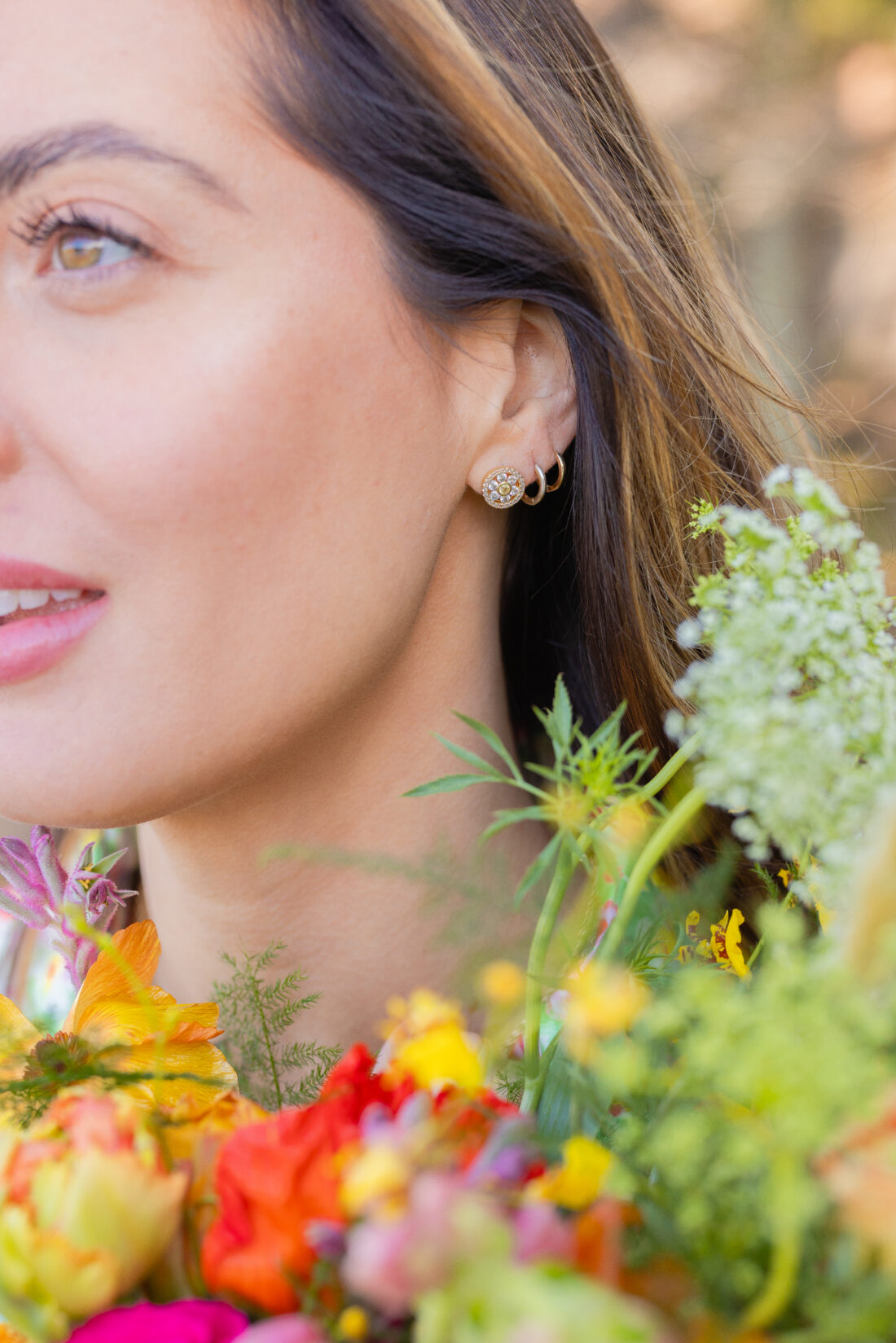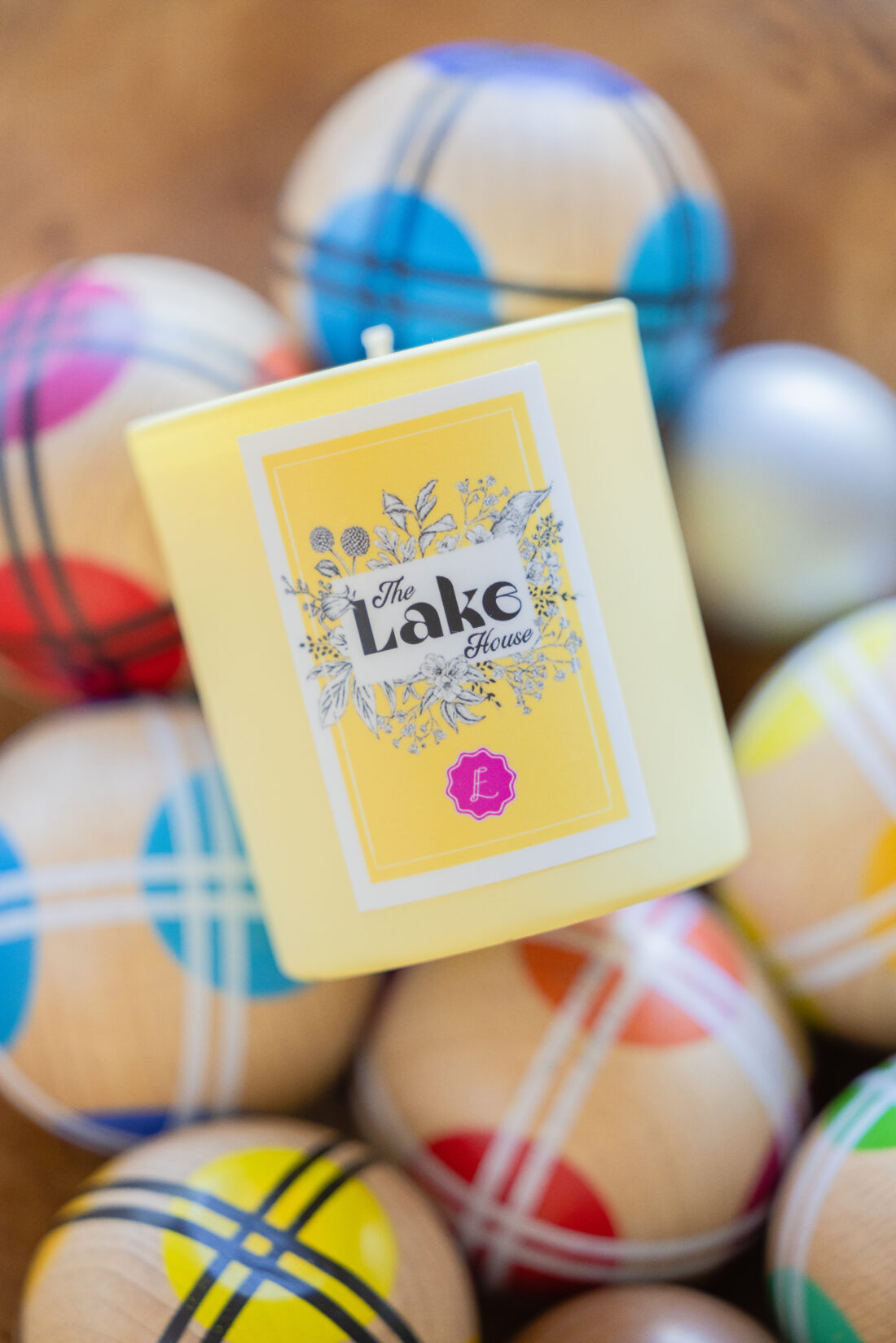 The LAKE HOUSE Candle – $44
This candle is such a favorite of mine in this series. We skipped a season with our collection candle because we wanted to get it just right and be able to support a local business by getting them hand-poured right here in CT. I'm happy to report that this candle is entirely non-toxic, made from essential oils, and hand-poured in Newtown by a woman-owned business! It was so much fun crafting the scent, which is Lavender, Mint, Basil, and a hint of rose. When I tell you this is the most swoon-worthy summer scent I have EVER smelled I'm not joking. It's to die for! The perfect combo of herbaceous and sweet. And I'm extra happy to report that Ian designed the label for us…such a nice memory for the two of us to have!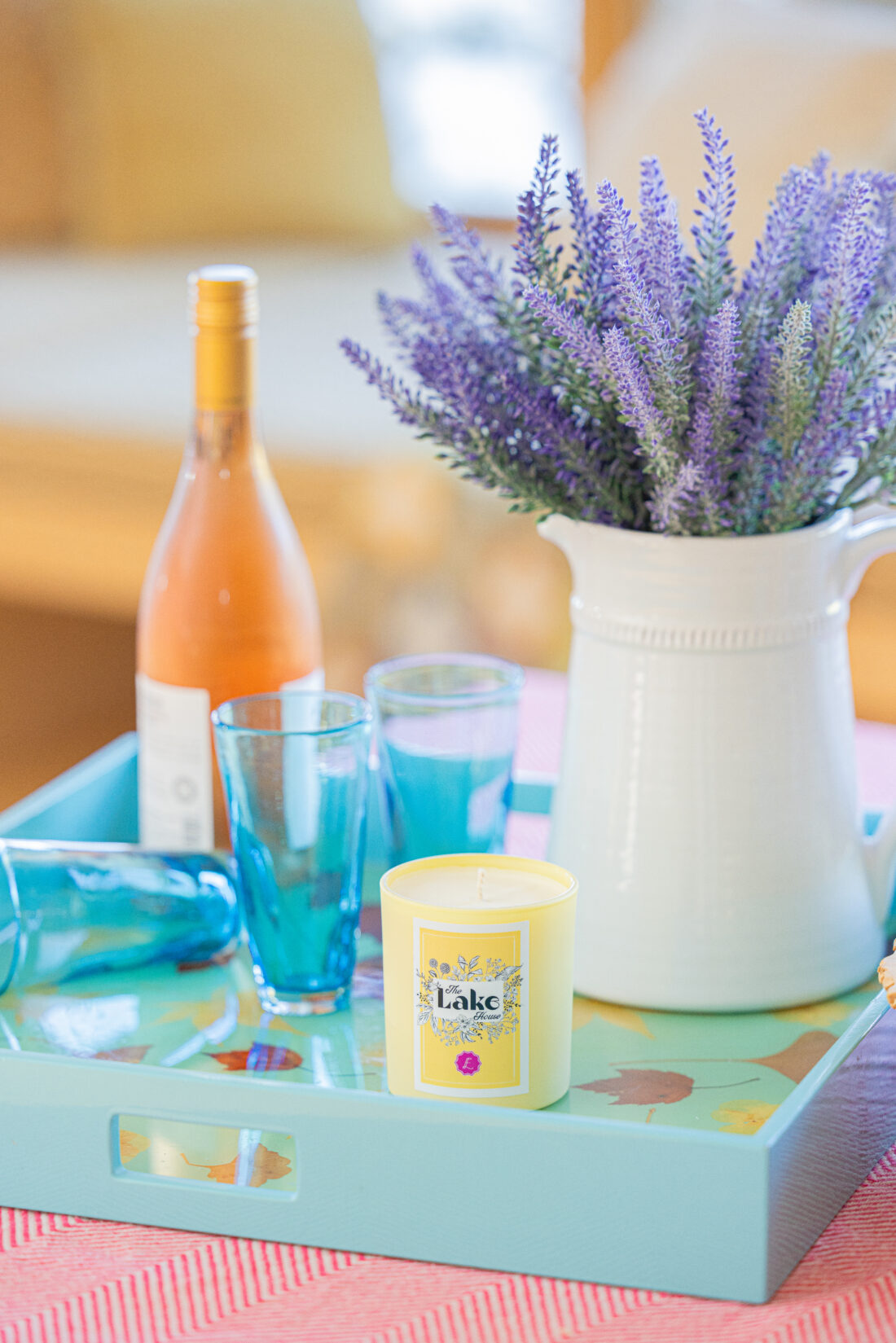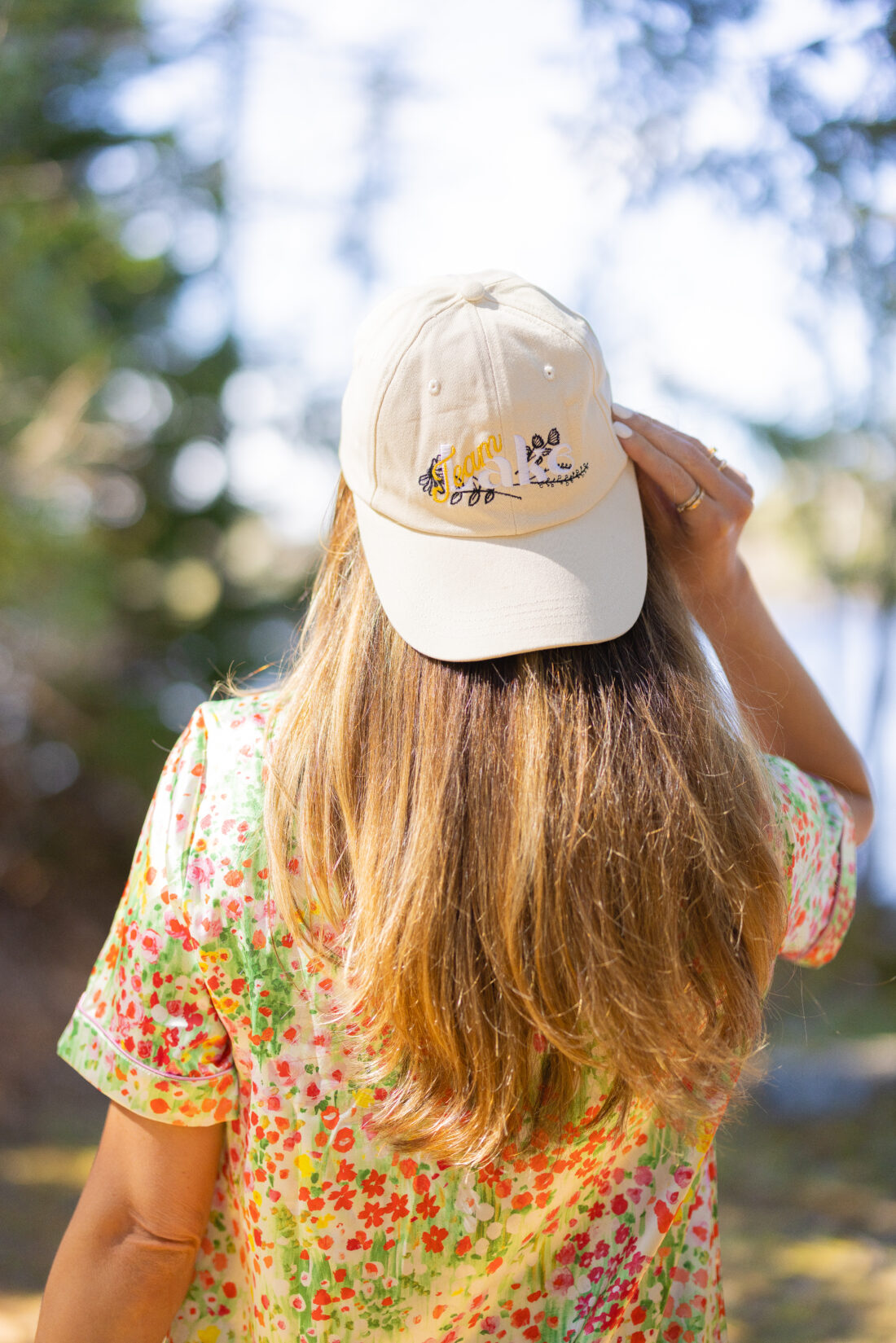 The TEAM LAKE Hat- $25
Whether you're normally "Team Pool" or "Team Beach", I am 100% certain that Maine can turn you into a member of Team Lake! And I made a hat to prove it! Hat design by my super adorable boyfriend who fell in love with the lake house last summer…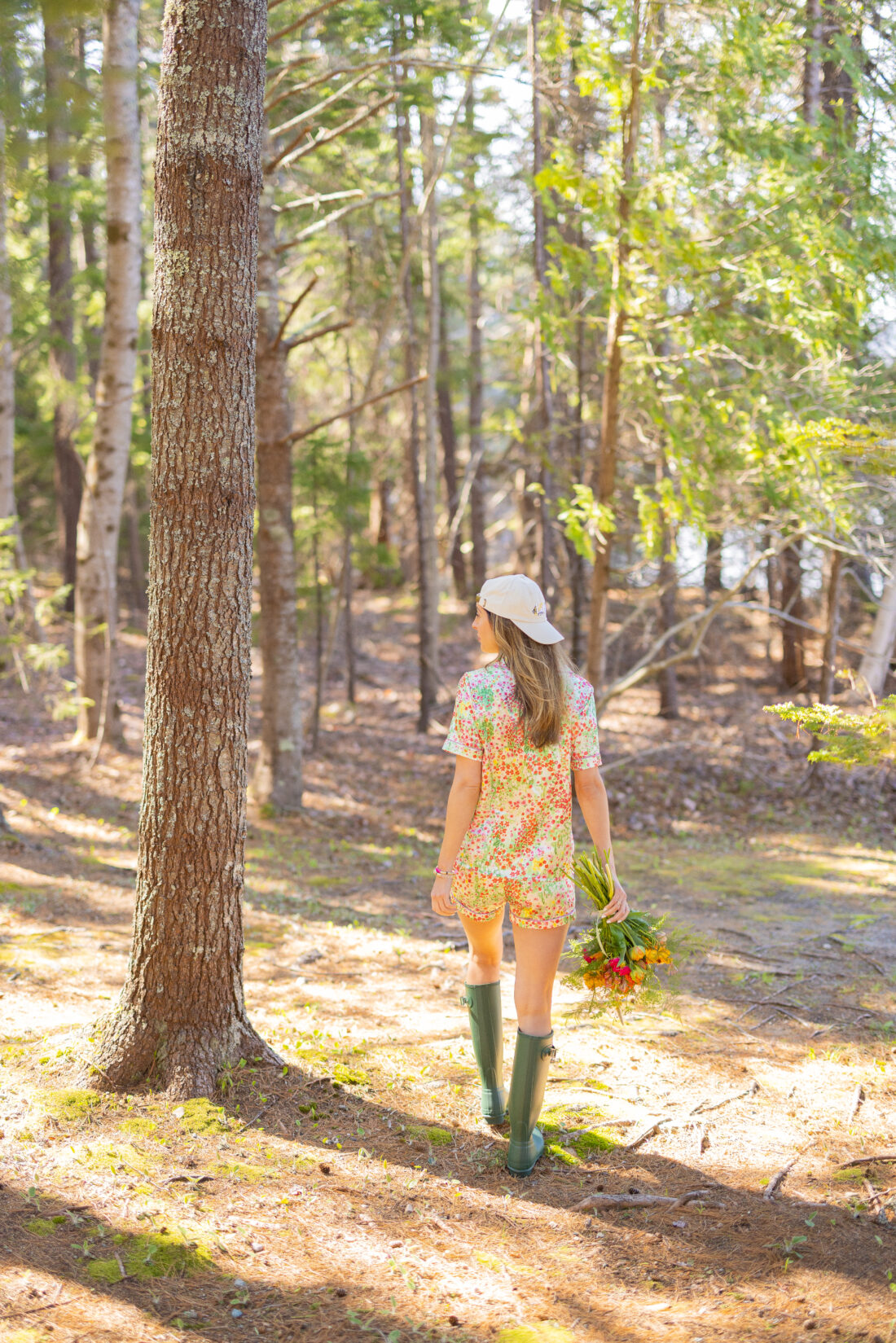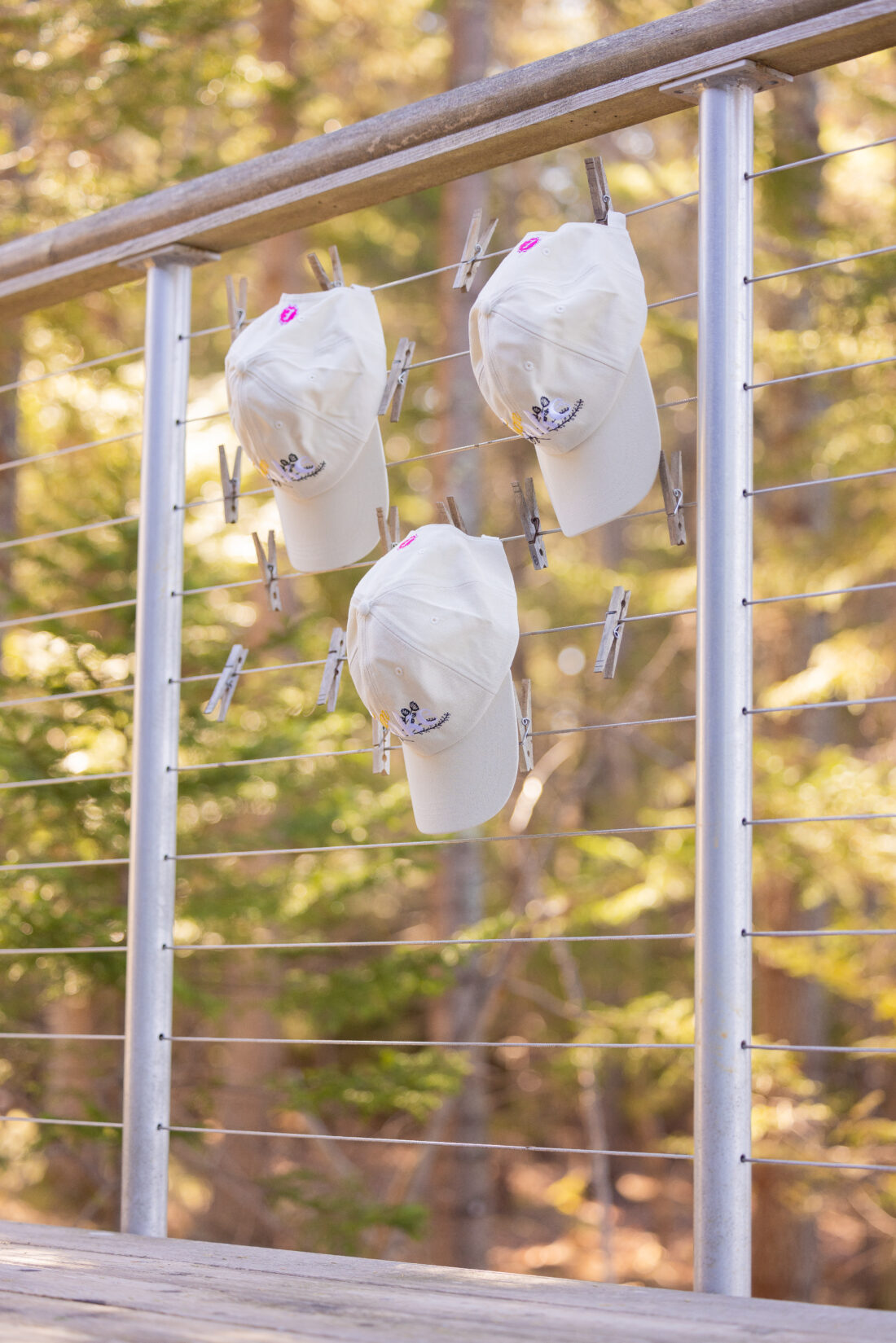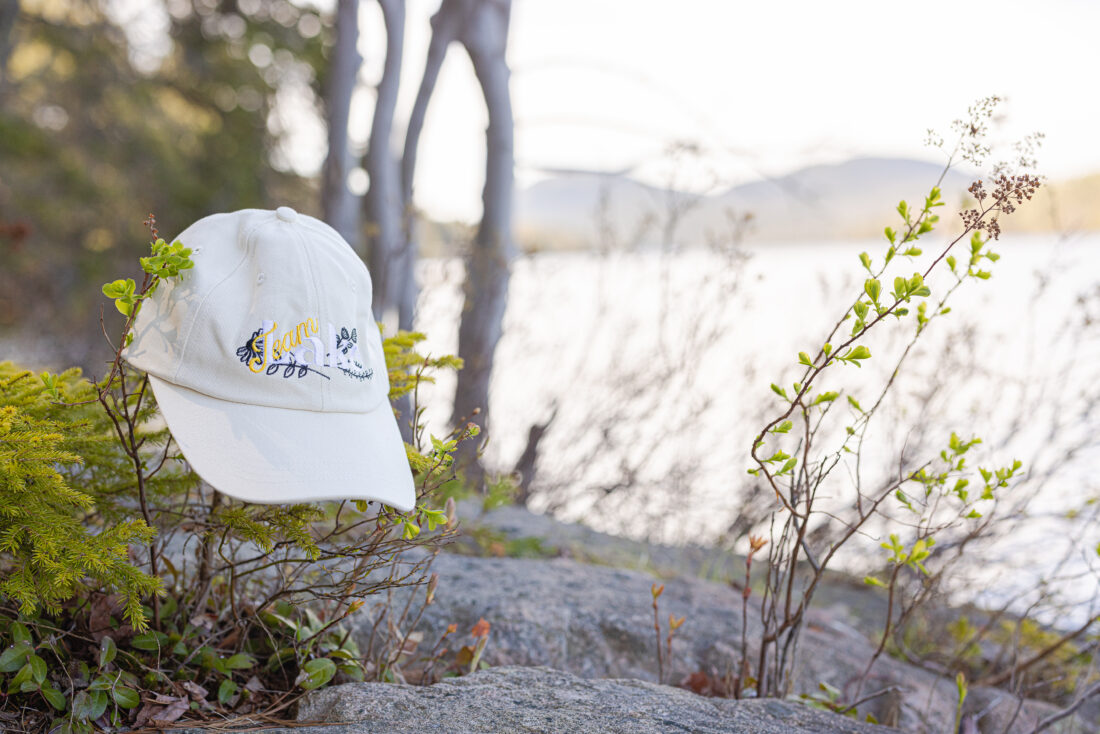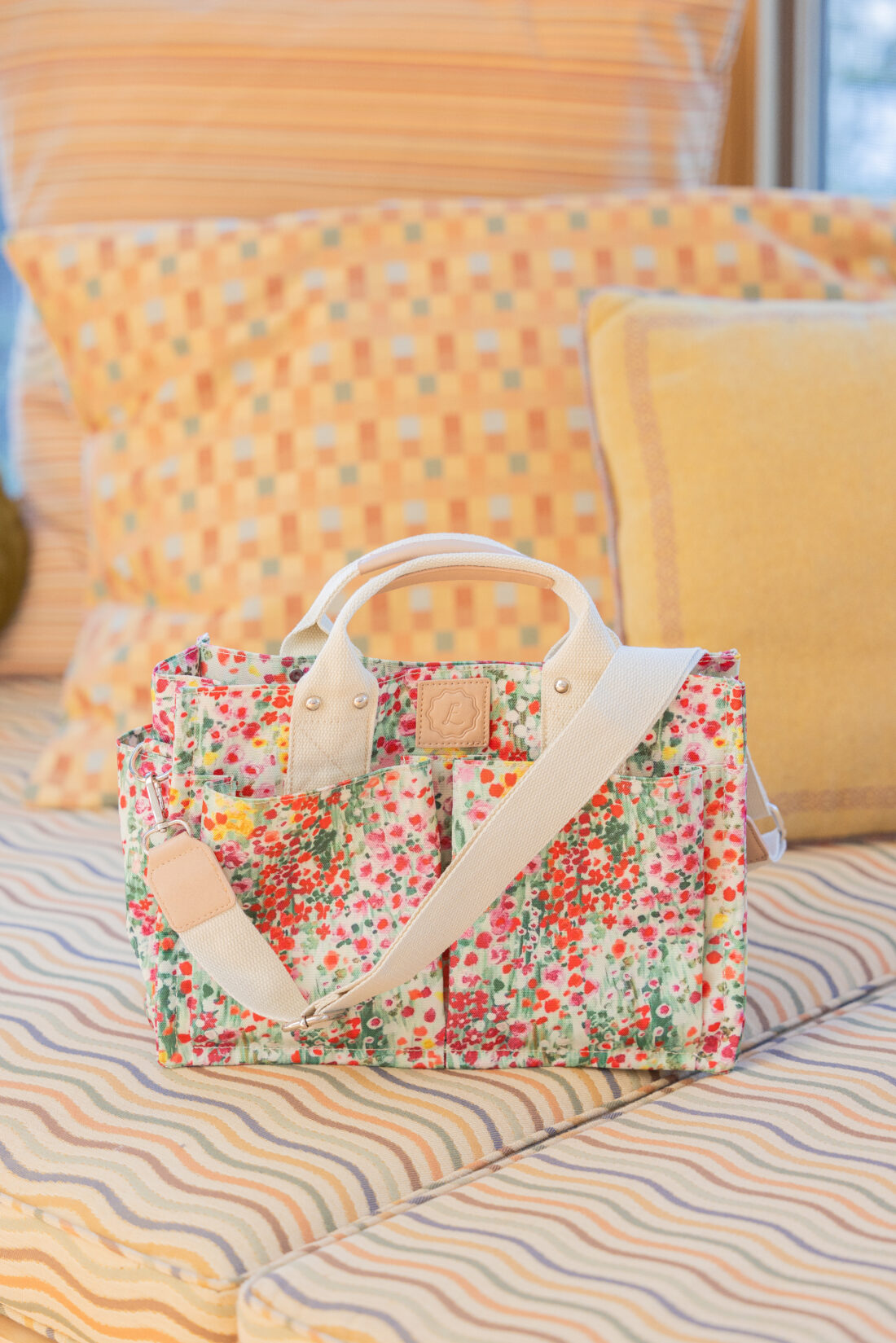 The BAR HARBOR Bag – $88
This bag is my favorite piece in this series. Hands down. It's made of coated canvas, has utility pockets, and is my lake alternative to a summer "beach bag". I love that it has a removable strap so it can be worn as a crossbody, or as a handbag. It features our signature lake house print and is just the most adorable ever. It would also make the perfect summer diaper bag for anyone who is on the lookout!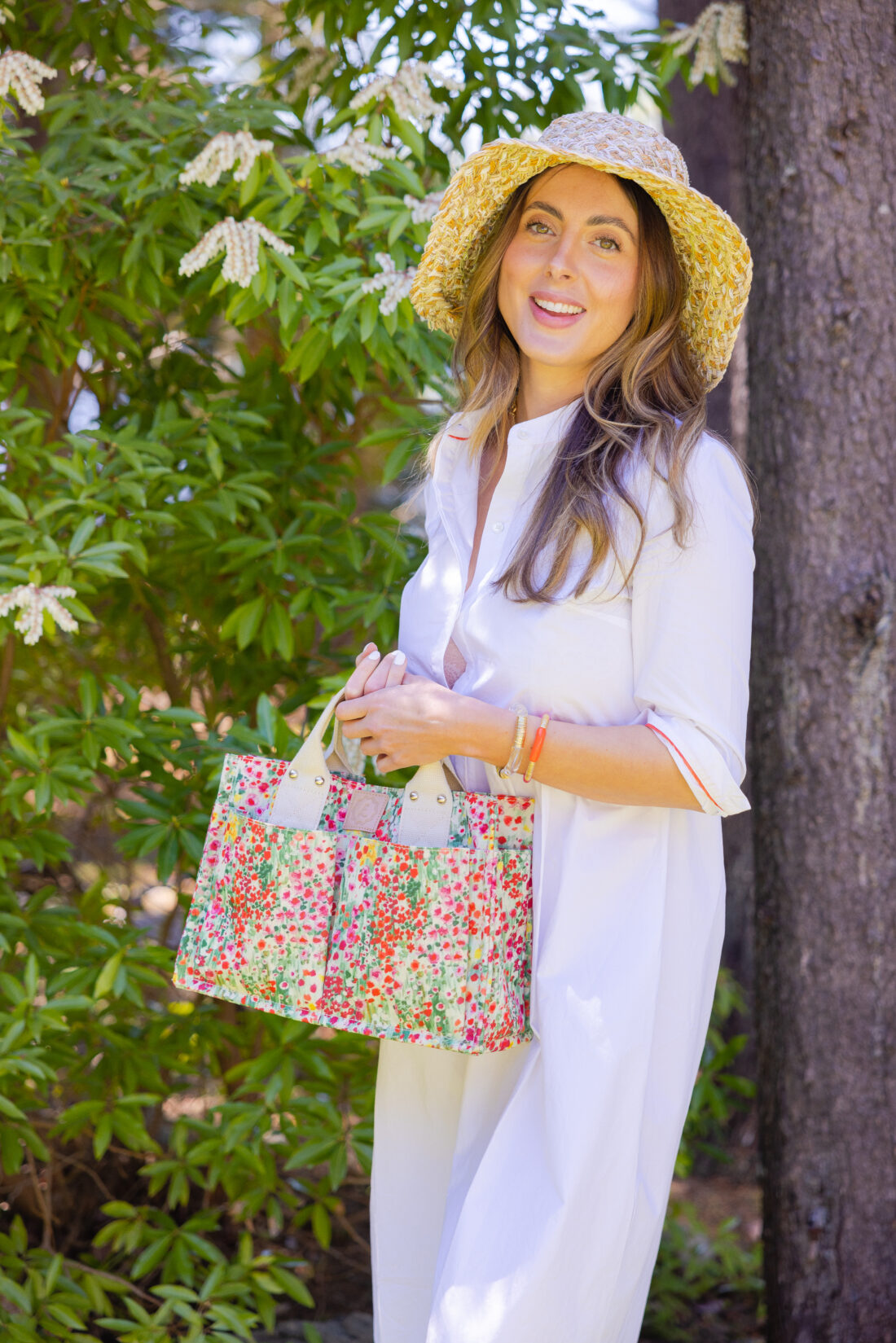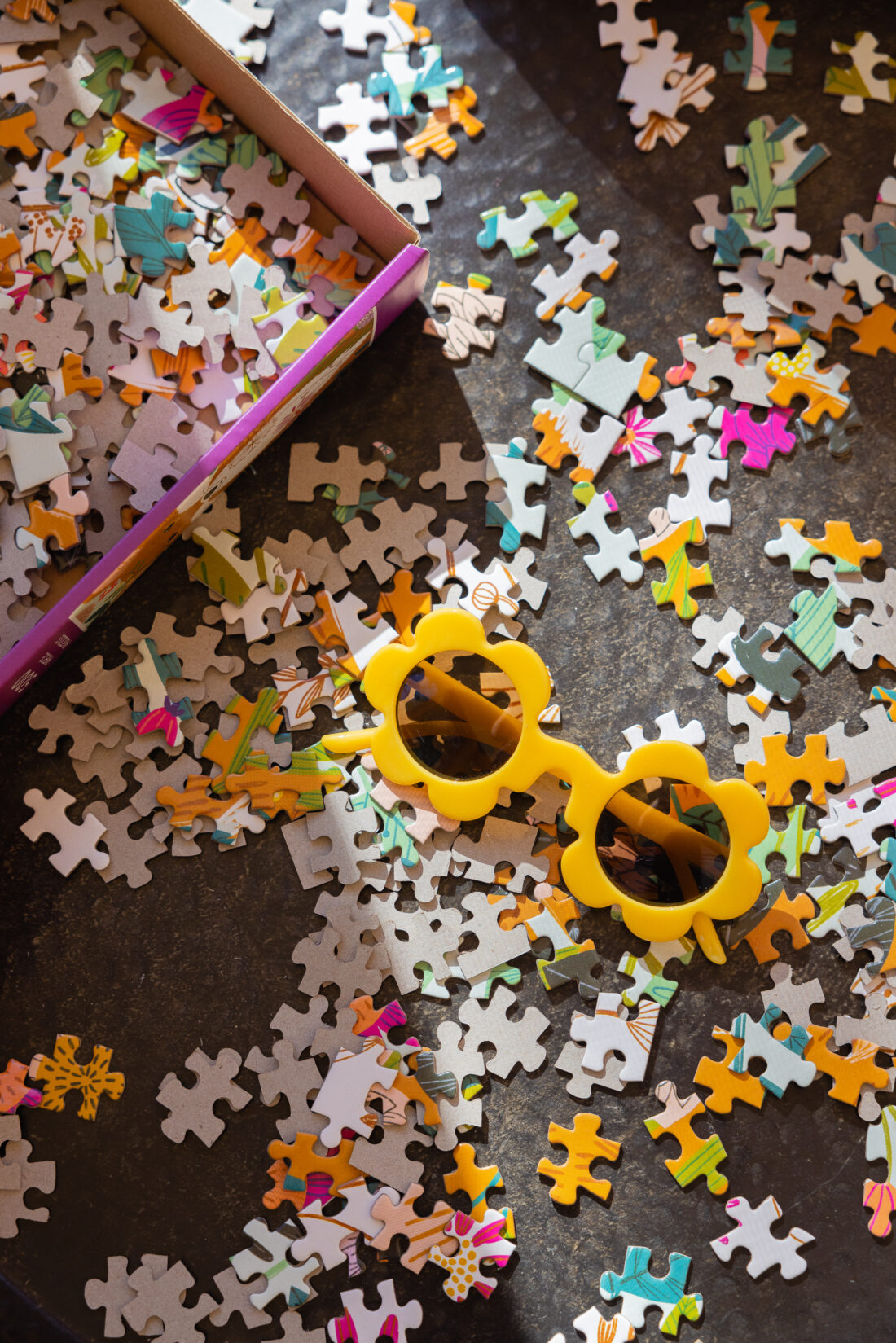 The MAJOR Sunnies – $22
I had to name these fabulous flower sunglasses after my sweet boy, Major! He is absolutely my style icon, and I wanted to make a pair of kids' sunnies that were truly unisex. I love the modern shape of these, and the cheerful yellow color! All three of my kids are obsessed with them… as well as a bunch of my friends' kids who I've slipped a pair or two to!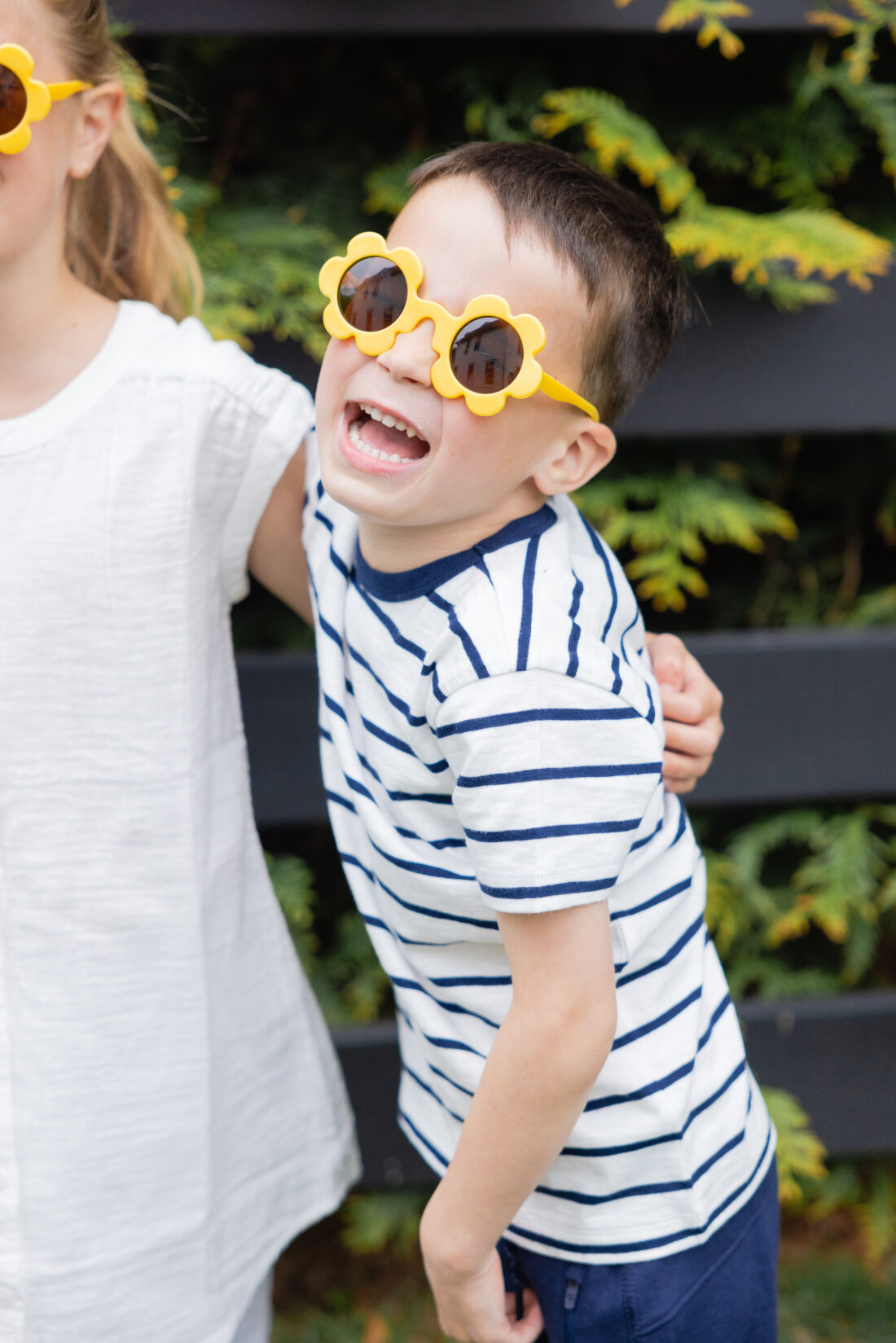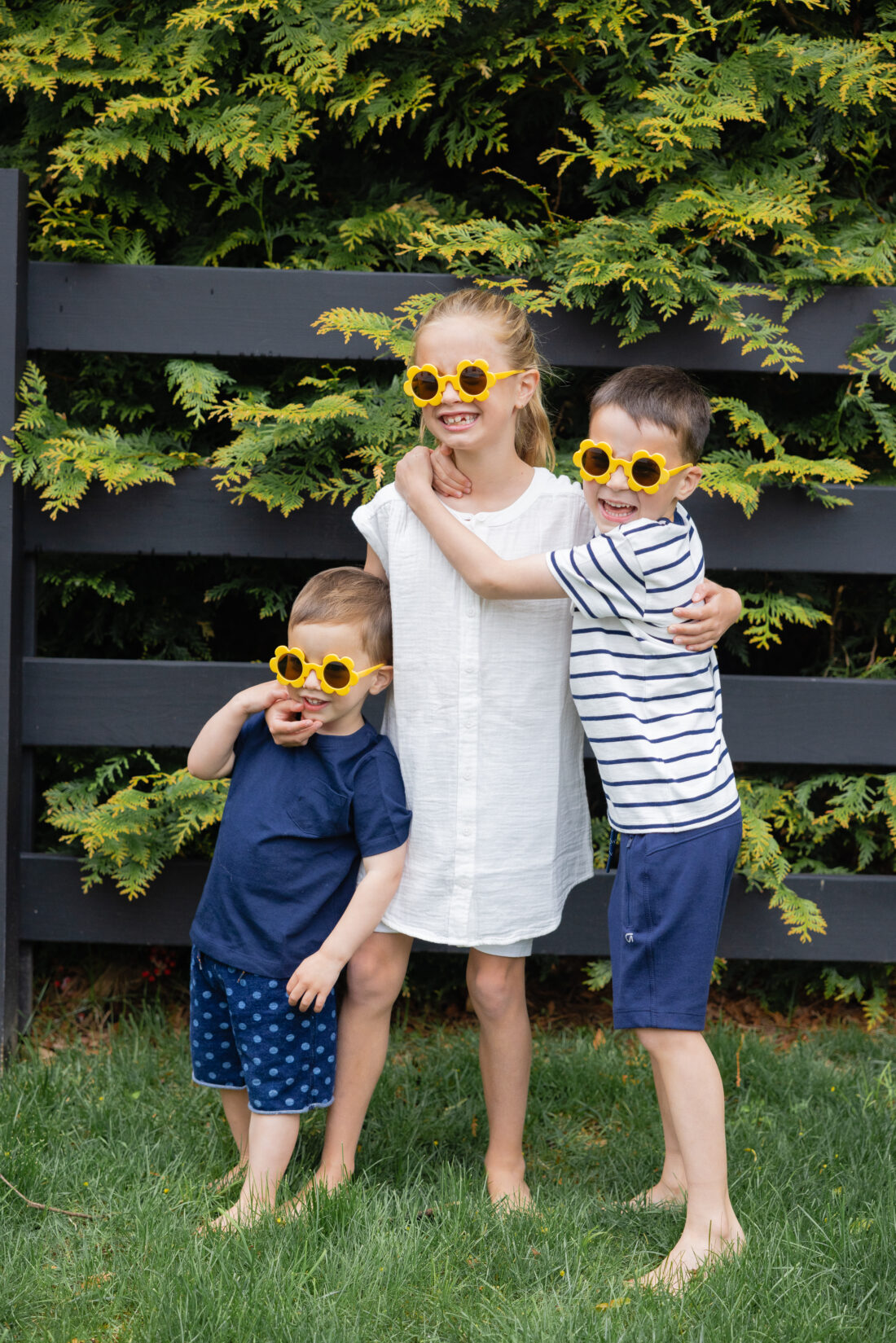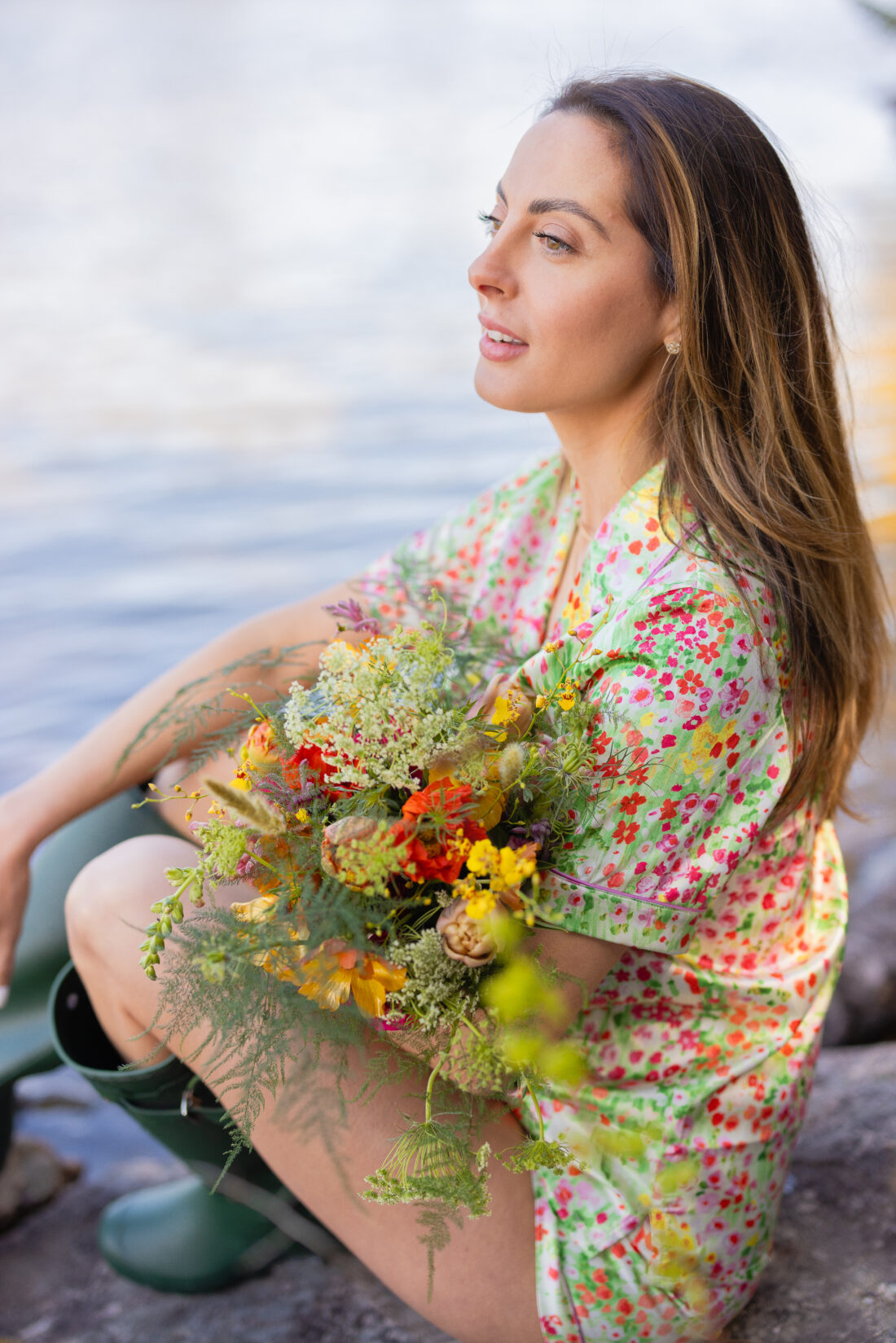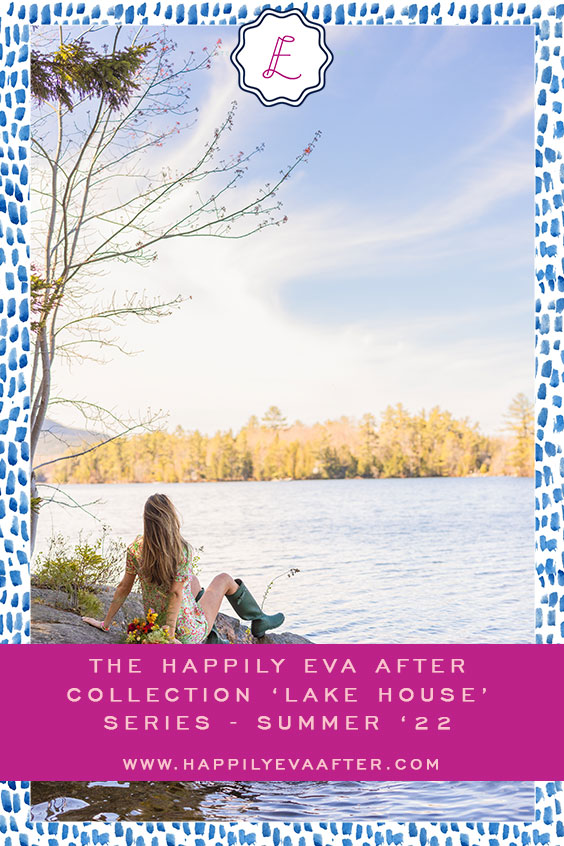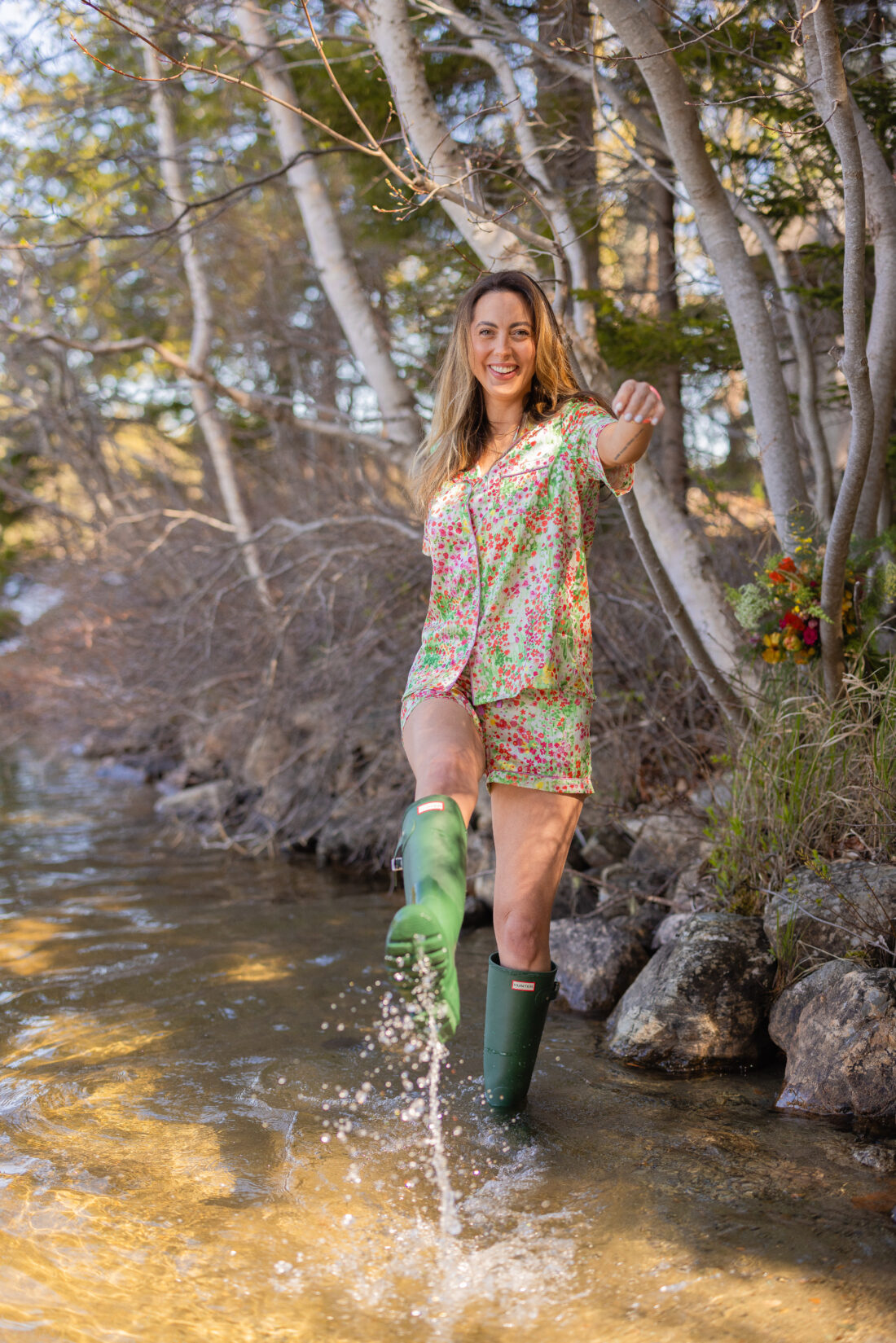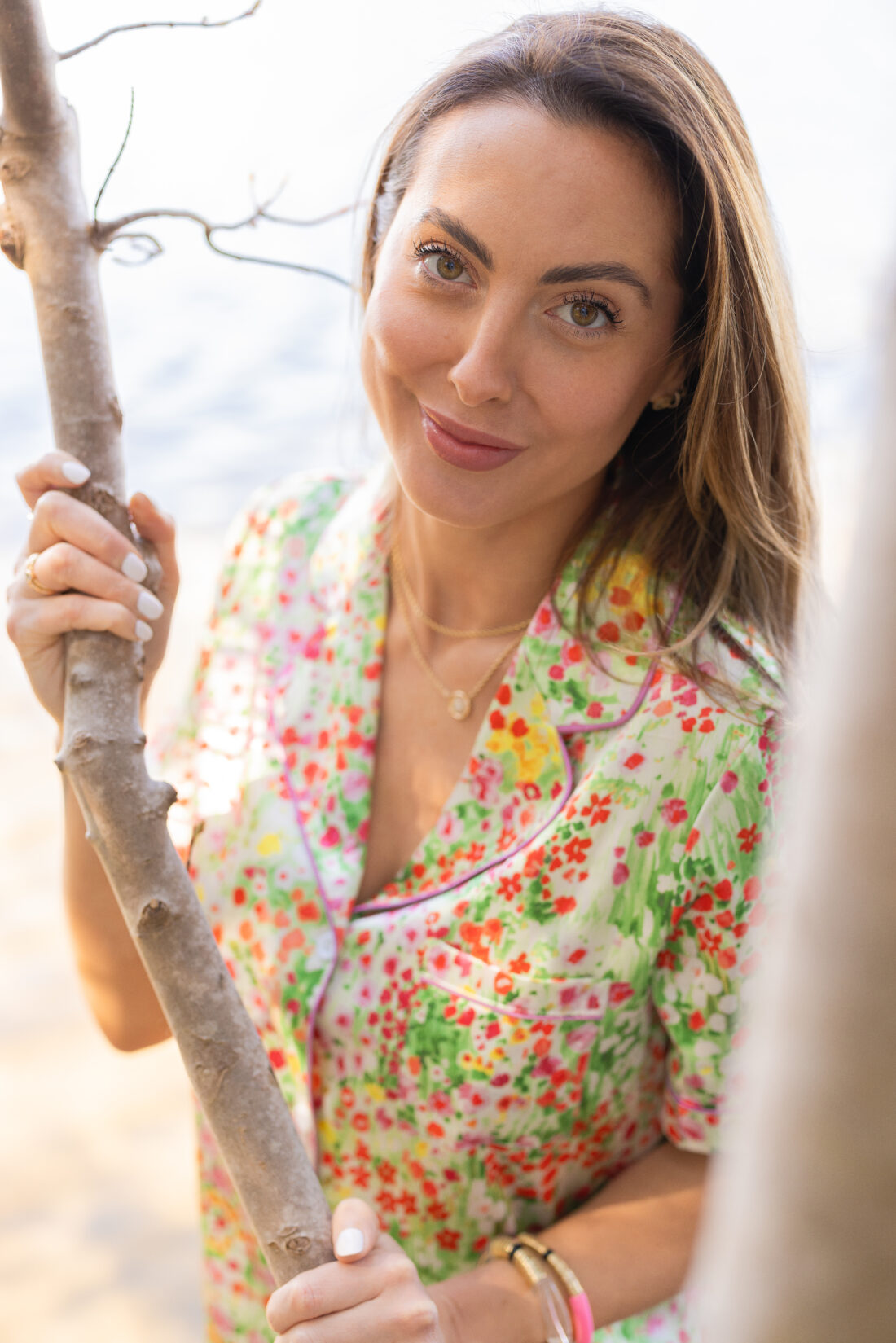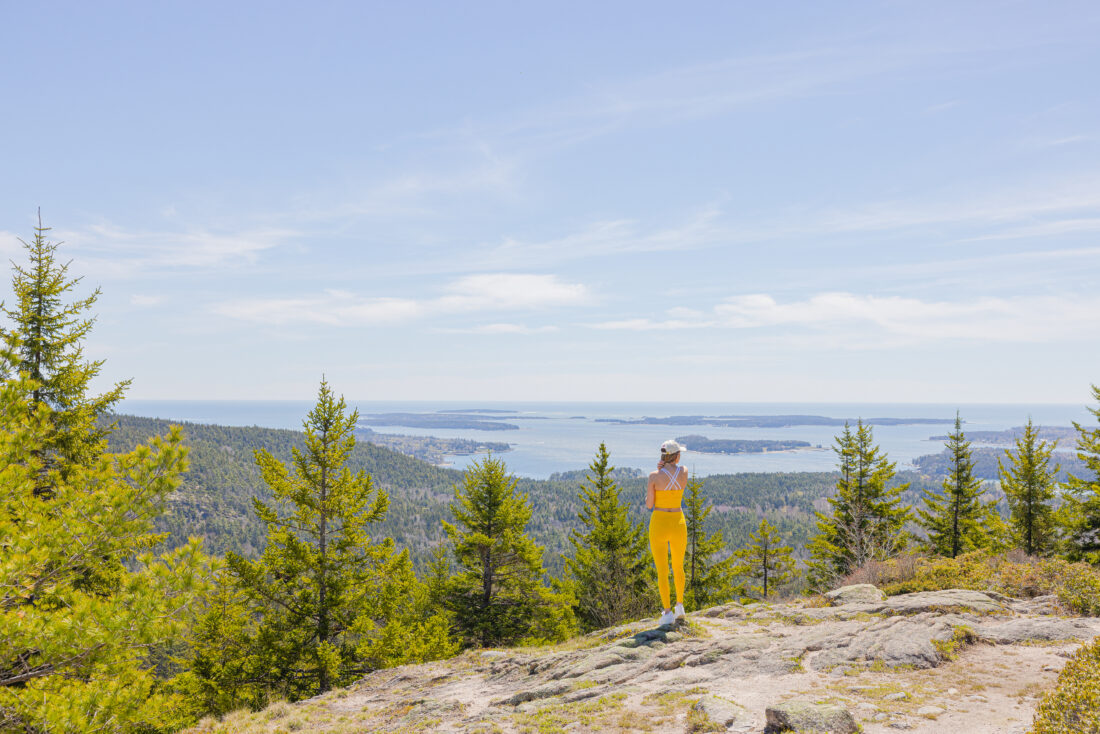 ---
Photographs by Julia Dags | Copyright © 2022 Happily Eva After, Inc. All Rights Reserved.