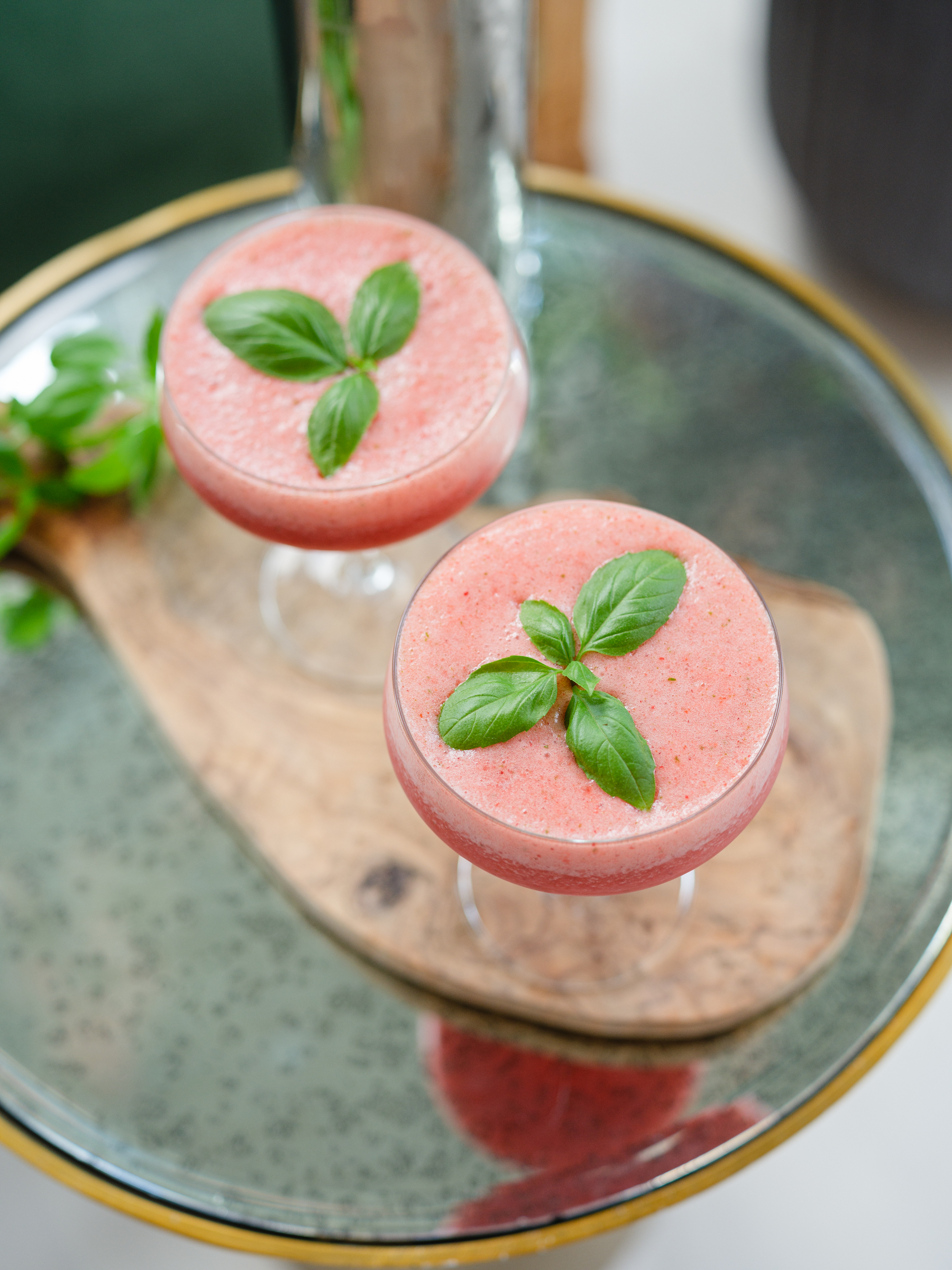 **You must be 21 years of age or older to make this recipe. Please enjoy responsibly!**
Can you tell yet that we went strawberry picking recently? Ha!
I'm not going to lie, one of the first things I thought about making with our mountain of delicious, ripe strawberry straight from the patch was…a cocktail. Can you tell it's been a long summer?
I love the simple but elegant combo of strawberries and basil. It smells instantly like summer, and basil and strawberries are both at their best right now. I made a really simple strawberry puree and then added fresh basil diced up super small to the mix when ready to serve.
These Strawberry Basil Gin Fizz's are the bomb dot com! Let me know if you made any adjustments in the comments blow!
Ingredients…
Makes 2 Cocktails
⅔ cup strawberry purée
3-4 fresh basil leaves, diced very small, plus more leaves for garnish
2 tsp fresh lemon juice
4 oz. gin (I love this dry gin from Scotland!)
1 can club soda
Strawberry Purée
1 cup strawberries, stemmed and halved
2 tbsp sugar
Step 1
Macerate Strawberries
Mix the strawberries and sugar together at room temperature, and set aside for 15-20 minutes while the strawberries release some of their liquid.
Step 2
Purée
Put the strawberry mixture into a blender and blend until puréed.
Step 3
Fill & Shake
Fill a cocktail shaker halfway with ice and add the strawberry purée, diced basil leaves, lemon juice, and gin, and shake vigorously until very frothy, approximately 30 seconds.
Step 4
Garnish & Enjoy
Pour into glasses, and top with a splash of club soda (about a centimeter to top of glass). Garnish with basil leaves. Enjoy responsibly!