The following content may contain affiliate links. When you click and shop the links, we receive a commission.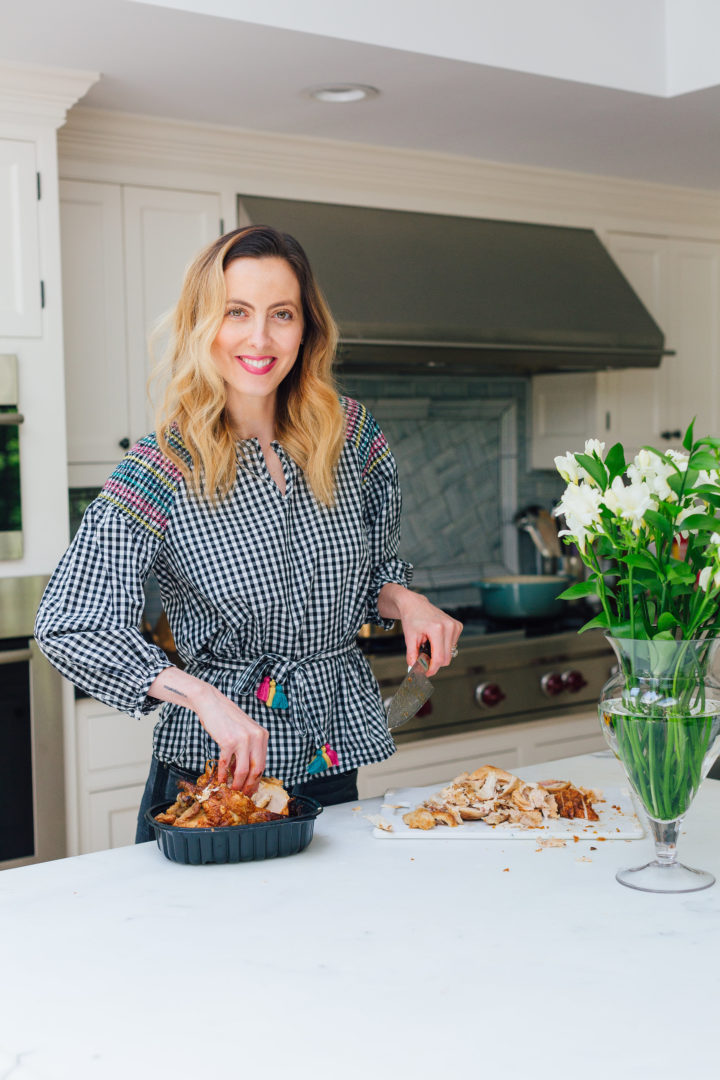 We all have busy lives, and we all know that making your own dinner at home is not only economical, but the healthiest option as well.  But sometimes coming up with what to make night after night can be the most stressful part of the day– at least for me! When I became a first-time Mom, I ended up getting Rotisserie chickens at the super market for dinner a lot of nights.  I love that they're a great burst of protein, so yummy, and also WAY cheap.  Of course it's even cheaper to make your own, but if time and convenience are an issue for you they are a wonderful choice! I would normally serve it with some veggies and salad– but I got bored really quickly.  Over the years, I've developed some recipes to use the store-bought rotisserie chicken as the key ingredient in some really simple and delicious meals.  It's a like a roast chicken remix! LOL.  I thought I would share some of my favorites with you today, to make your weeknight dinners a little easier.  Let me know which one is your fave, and please share other great ways to repurpose store-bought rotisserie chicken in the Comments below if you know some!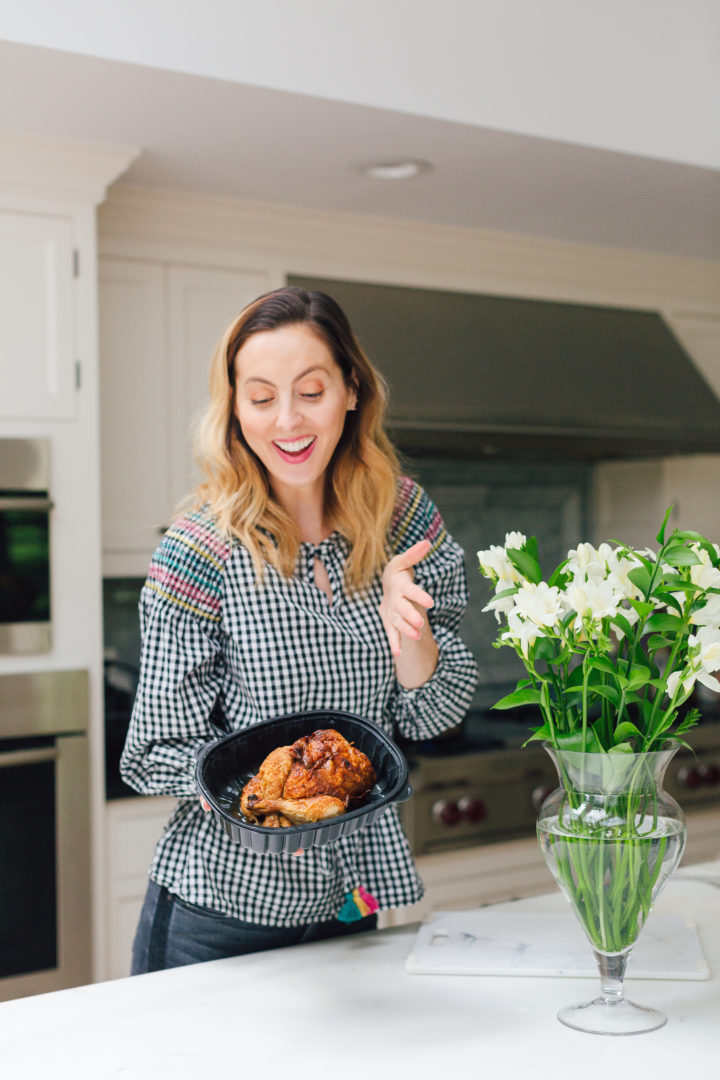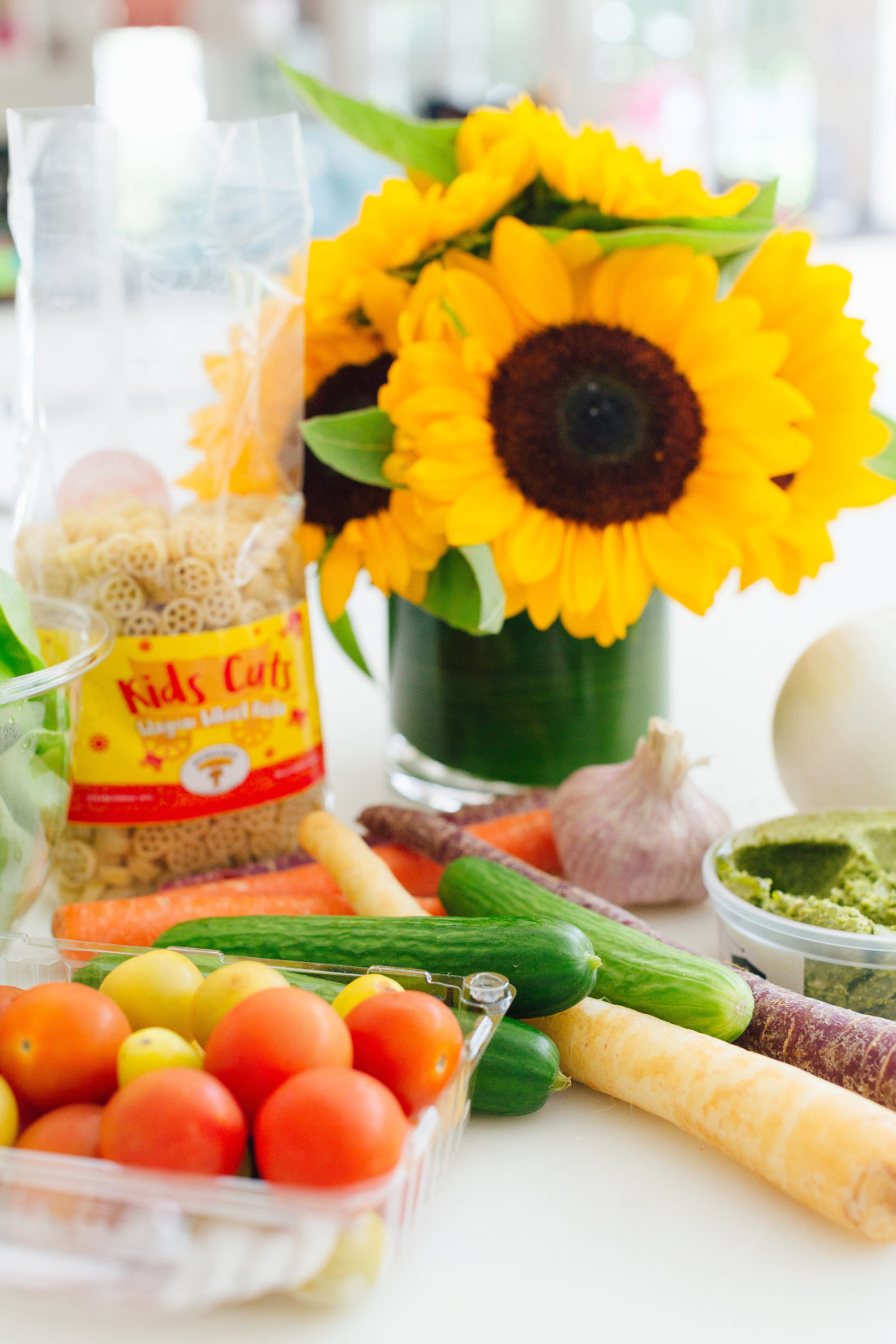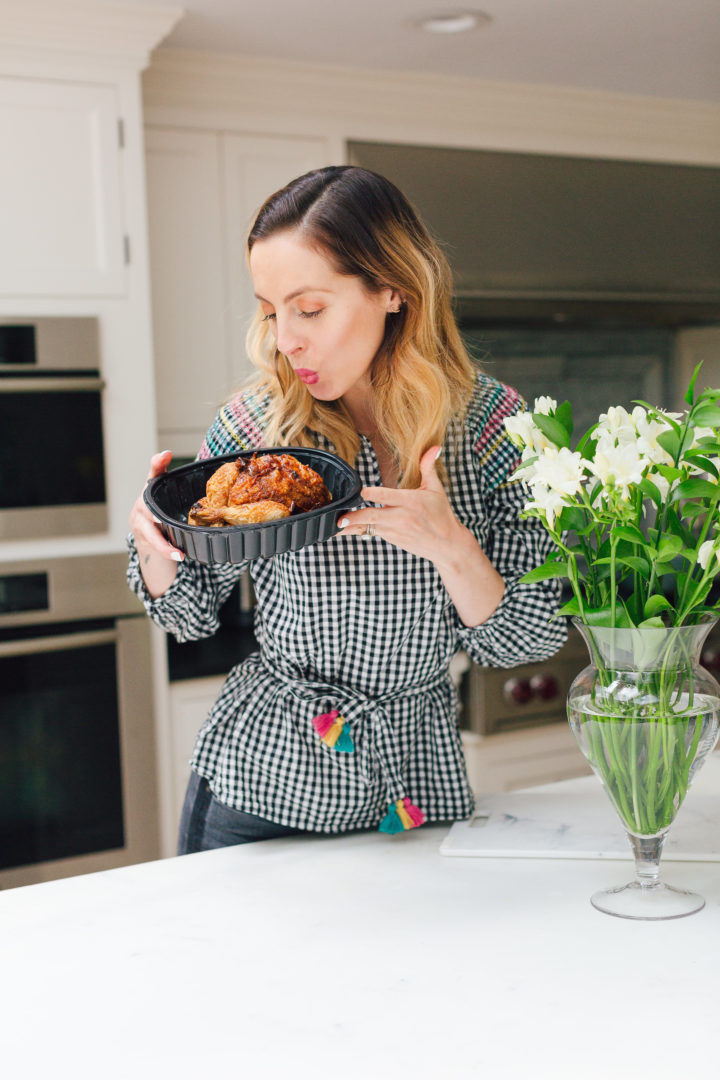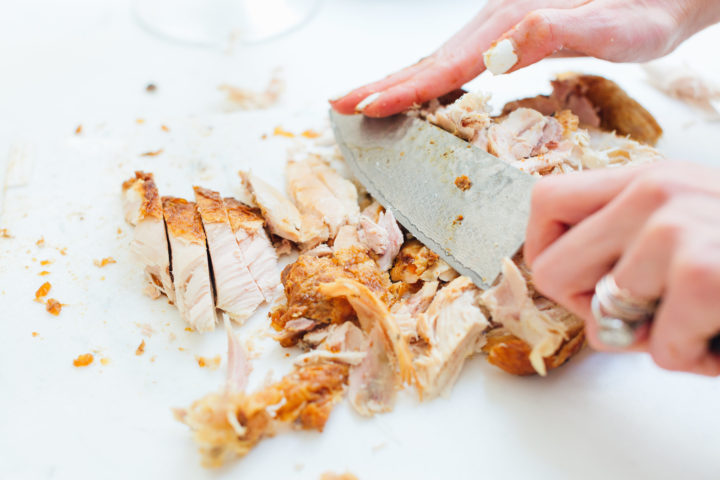 I start off with a nice, browned rotisserie chicken.  I normally get the ones from Whole Foods these days since they're organic– BUT my hands down favorite has always been the Costco Rotisserie chicken.  They're insane if you haven't tried them.  I like to take all the meat off of the chicken and roughly chop it.  I also slice the breast meat in to thin strips. Once I have all the meat ready to use, I make dinner in one of the following ways: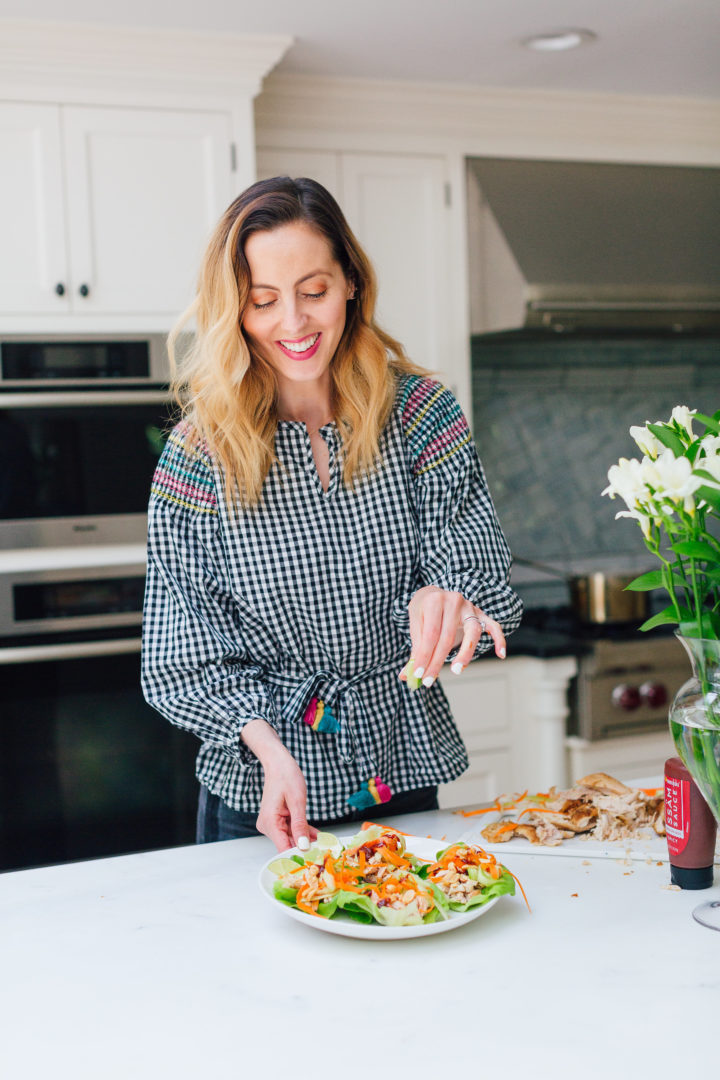 Asian Lettuce Wraps
Asian flavors are totally my jam, and what I end up craving the most! This is a really simple, carb free way to eat your rotisserie chicken! (This recipe serves 1, so multiply however you like to feed more)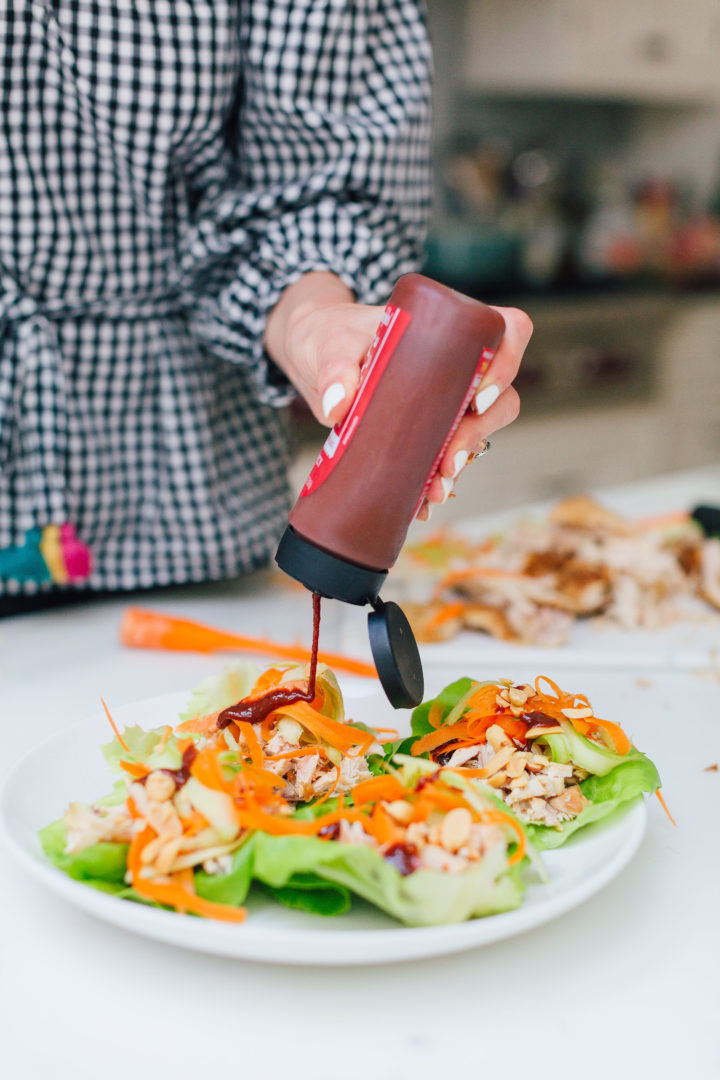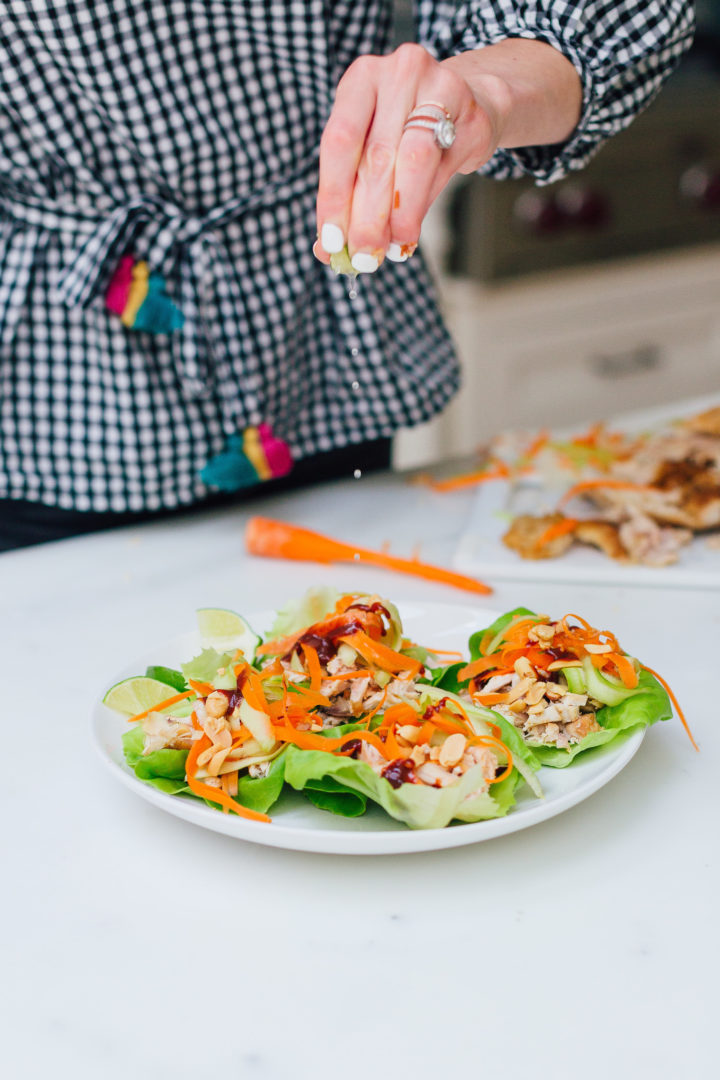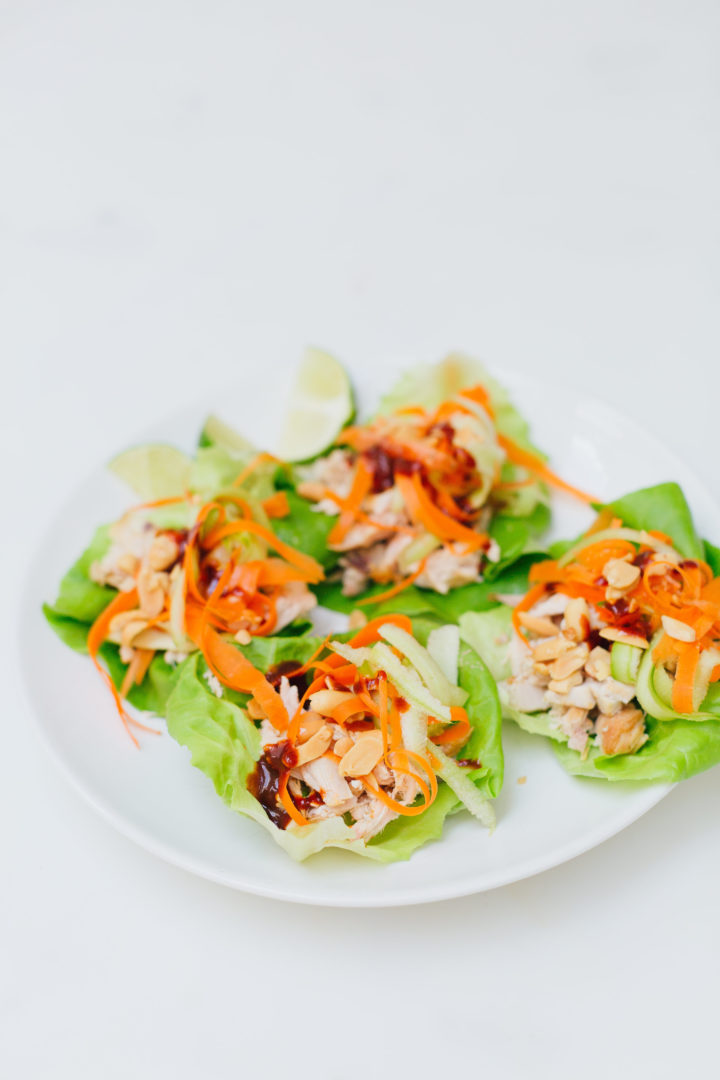 Butter lettuce, outside leaves removed, next 4 leaves rinsed and dried

1 cup chopped rotisserie chicken

1 carrot, peeled and then sliced in ribbons with the peeler

1 cucumber, outside skin removed and then sliced in to ribbons with a peeler

2 tablespoons roasted peanuts, crushed

1 teaspoon rice vinegar

1 lime, quartered

Asian sauce of choice (I love Momofuku SSAM Sauce)

4 sprigs of cilantro, optional
In a small bowl, toss the carrots and cucumbers with the rice vinegar.  Divide the chicken evenly among all four lettuce leaves, and top with the carrot and cucumber mixture.  Sprinkle peanuts on top, and a squeeze of lime.  Finish with SSAM sauce and an (optional) sprinkle of cilantro!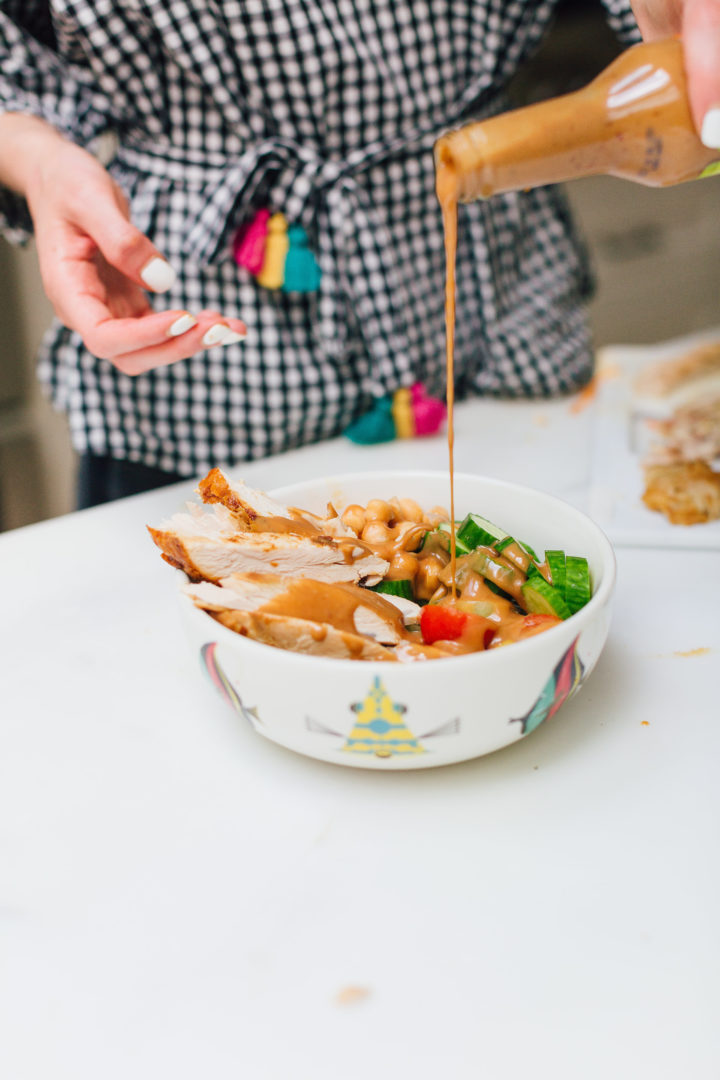 Protein Bowls
I love this as a lunch option for me, and it's strangely great for kids since I find that mine love eating anything in a bowl, and anything with a lot of different components that are all separated in to different sections.  It's a super healthy weeknight option! (Makes 1 bowl)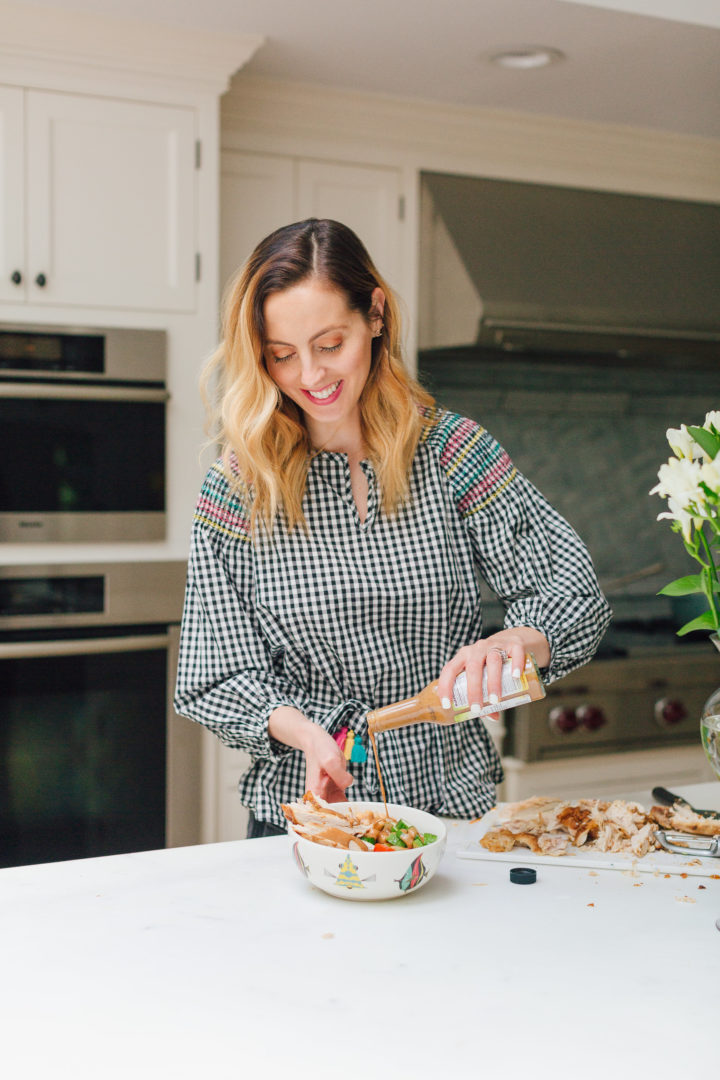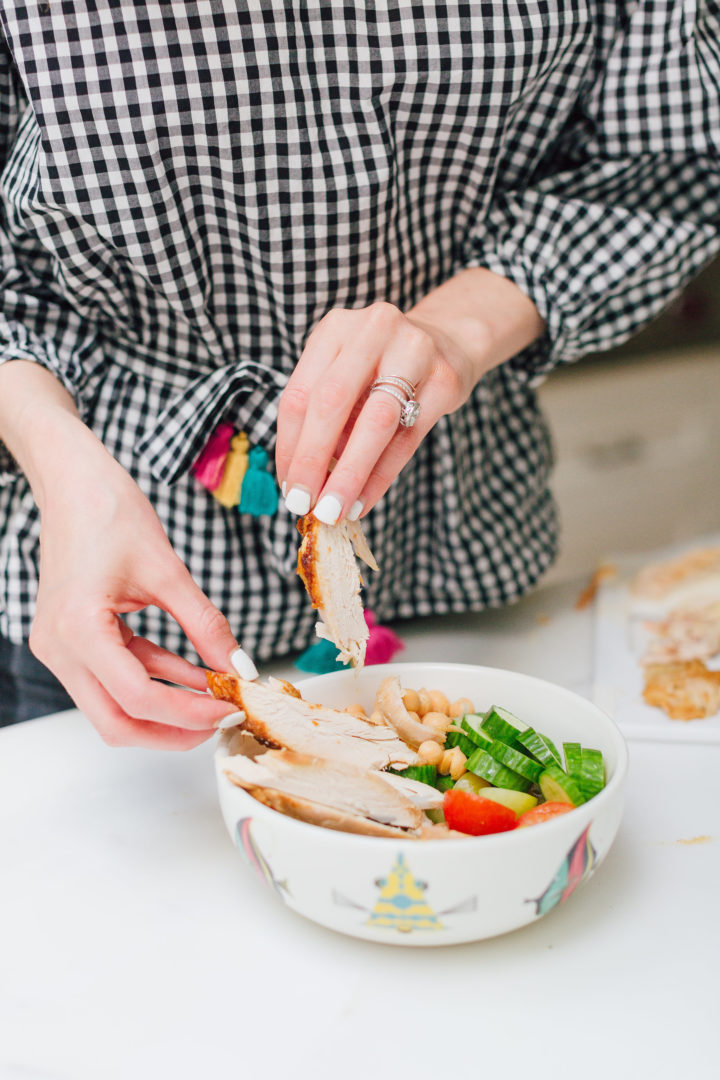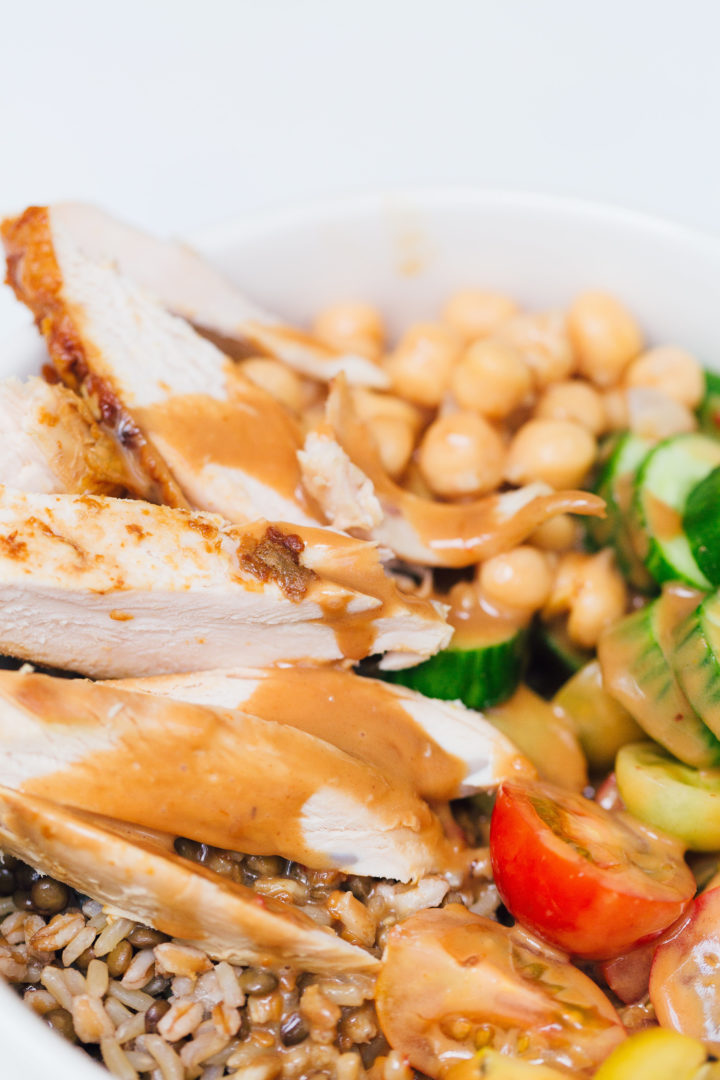 Rotisserie chicken breast cut in to strips

½

 

cup sliced cucumbers

½ cup cherry tomatoes, halved

½ cup chickpeas

1 cup cooked brown rice

1 cup cooked lentils

2 tablespoons peanut sauce (I love Annie Chun's Peanut Sauce)
Begin by mixing together the brown rice and lentils.  You can also buy the combo already made and cooked in little packages at Whole Foods, which is a great time saver! Next, layer on the other ingredients in individual sections.  Top with the peanut sauce and serve!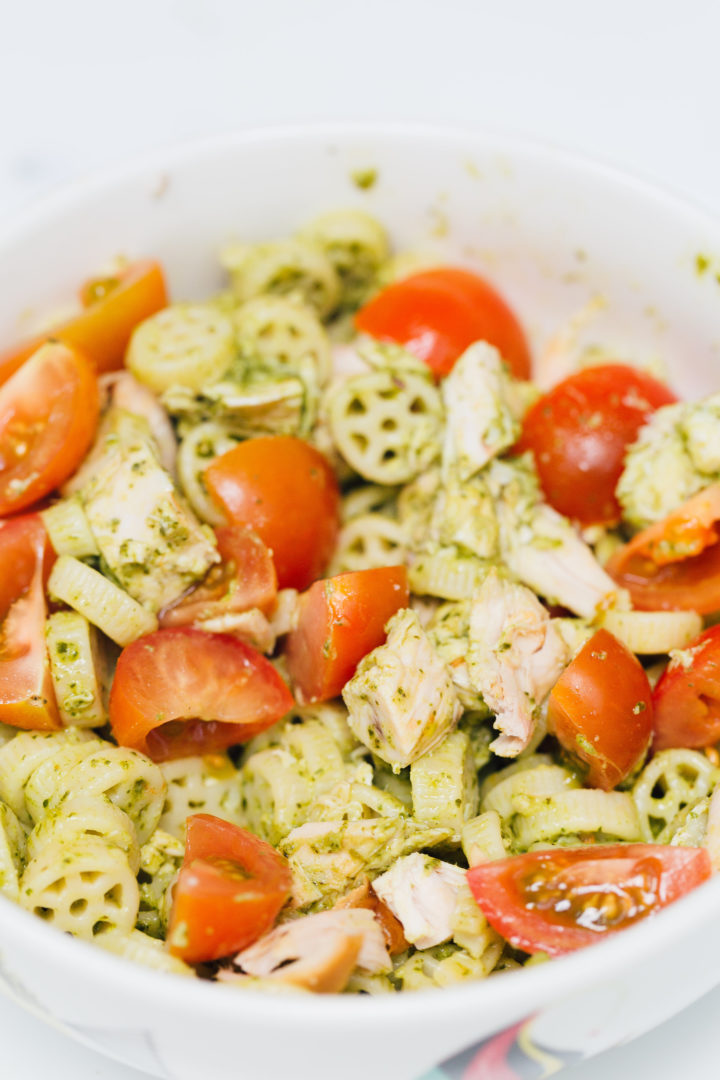 Pesto Pasta With Chicken
This is the best quick fix meal with lots of nutrition and zero fuss.  I usually make this with next-day leftover rotisserie chicken for lunch or Kid Dinner. (Serves 1)
1 cup cooked pasta

2 Tablespoons Pesto

½ cup cherry tomatoes, halved

½ cup diced rotisserie chicken
Combine all ingredients in a bowl and toss to coat the pasta and mix the sauce.  Enjoy warm or chill in the fridge as a salad or side dish!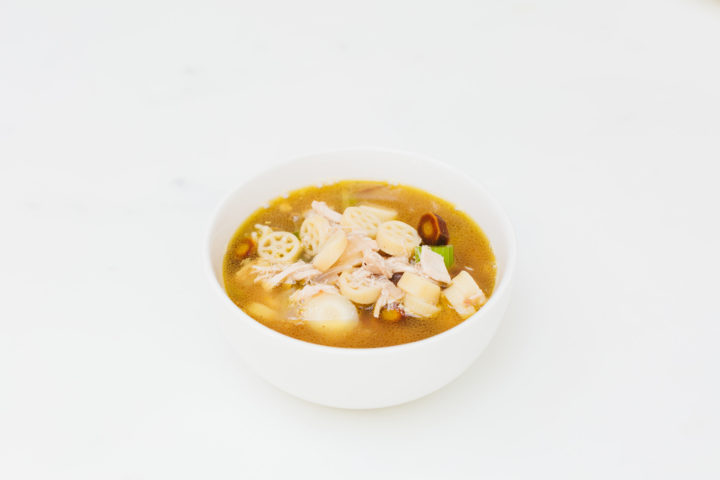 Cheater's Chicken Noodle Soup
Sometimes you just need some yummy, comforting soup! I end up making this a lot in the winter, or when anyone in our family is under the weather.  Of course a traditional, long-simmered home made soup is best, but when you don't have the time– Cheat! LOL.  This ends up being just as yummy.  (Serves 1-2)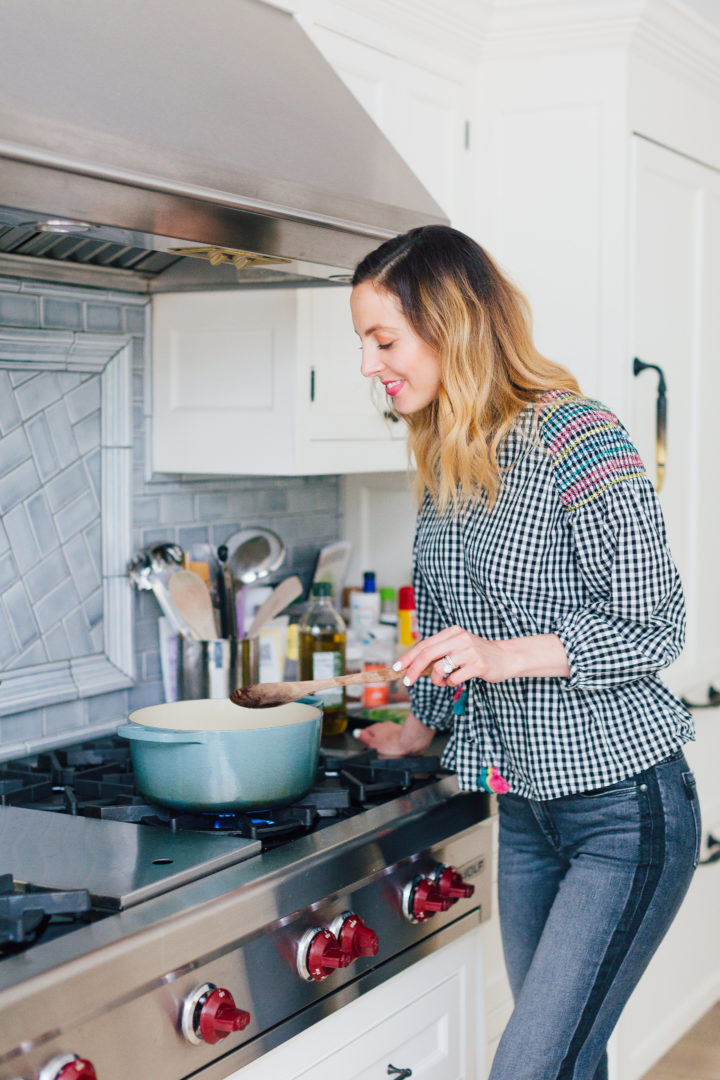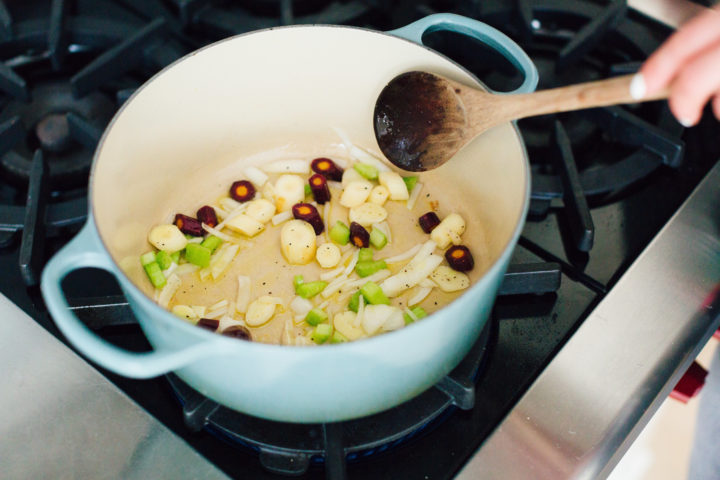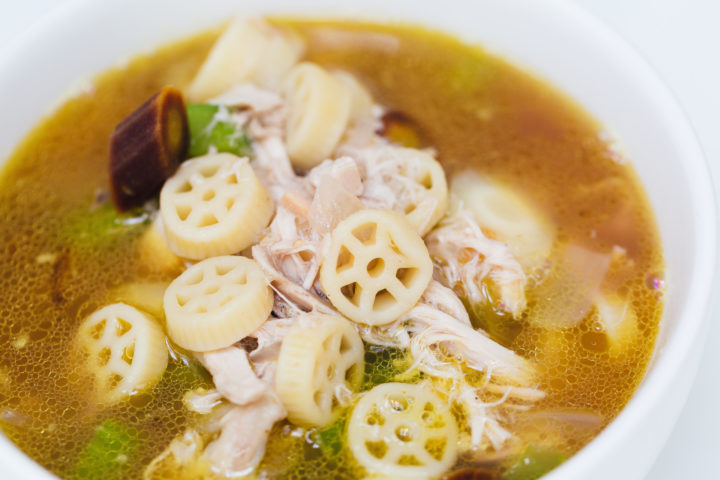 2 Tablespoons Extra Virgin Olive Oil

1 Carrot, peeled and diced

1 celery stalk, diced

2 cloves garlic, minced

½ onion, sliced

1 bay leaf

1 cup rotisserie chicken, chopped

3 cups Chicken stock

1 cup noodles of your choice, cooked

½ Lemon
In a medium or large pot, heat the oil over medium heat and sauté the carrots, onions, celery, and garlic.  When the onions are translucent, add the bay leaf and the chicken stock.  Bring to a boil, and then allow the soup to simmer for 15 minutes, uncovered.  Add the rotisserie chicken and the noodles and simmer for 5 minutes longer. (If you'd like to use raw noodles, add them when you put the broth in)  Turn off the heat, remove the bay leaf, add a squeeze of lemon, and season to taste with salt and pepper.  Serve warm, and add some grated parmesan cheese for the "Italian way"!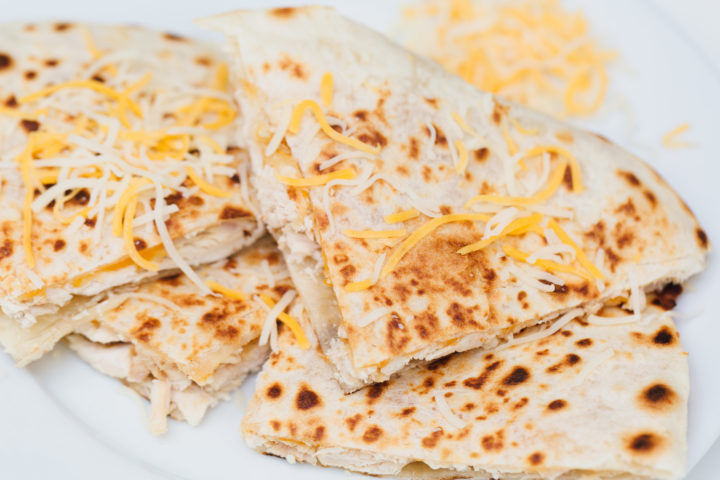 Chicken Quesadillas
Does anybody dislike quesadillas? I feel like they are the nation's crowdpleaser.  At leat in Kidnation! This dinner is so quick, and I usually serve it with some black beans and guacamole on the side.  When I make it for myself, I use a goat brie instead of the shredded Mexican blend! (Serves 1-2)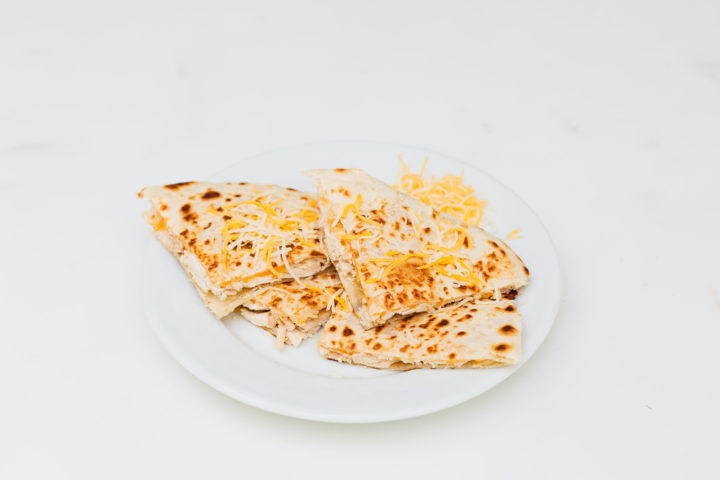 2 flour tortillas

½ cup shredded Mexican blend cheese

½ cup chopped rotisserie chicken
Kyle always says I make the best quesadillas he's ever had, and I truly believe the trick is the heating of the tortillas! Begin by heating a nonstick frying pan over medium heat.  When it's hot, spray the pan with nonstick spray (I like canola oil spray) and toast/heat the first tortilla, about 1 minute on each side.  Remove and place on a plate next to the stove.  Now put the second tortilla in the pan and toast one side.  When you flip it, quickly add the chicken on top of the tortilla, and the cheese, and then cover with the already toasted tortilla.  Allow to cook for approximately 2 minutes, and the flip using a spatula.  Allow to cook for 1-2 mins more on the other side and then remove the pan from the heat and set it on a different burner.  If the cheese is melty, remove the quesadilla with a spatula and put it on a cutting board to rest.  If it needs more melting time, allow it to sit in the pan a little longer.  Let it cool a couple of minutes before slicing and serving!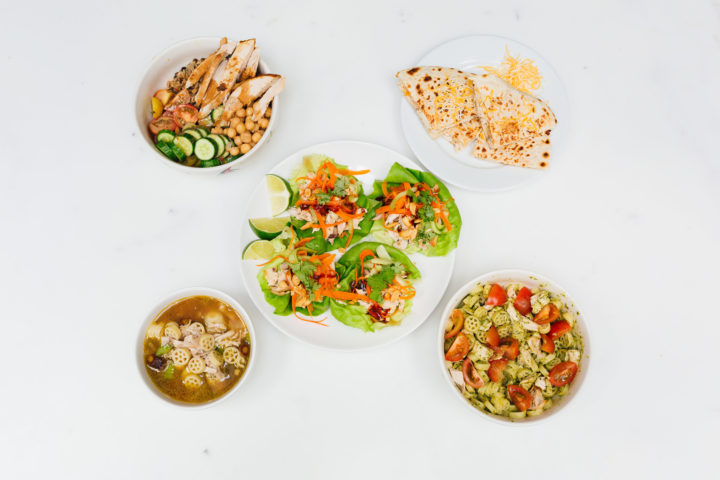 I hope the five recipes give you some inspiration and a MUCH easier week ahead.  It's ok to not have everything home made all the time! Cheating a bit to have a healthy and affordable meal at home is ultimately so much better than ordering in!
Photographs by Julia Dags.
Shop the Look…