The following content may contain affiliate links. When you click and shop the links, we receive a commission.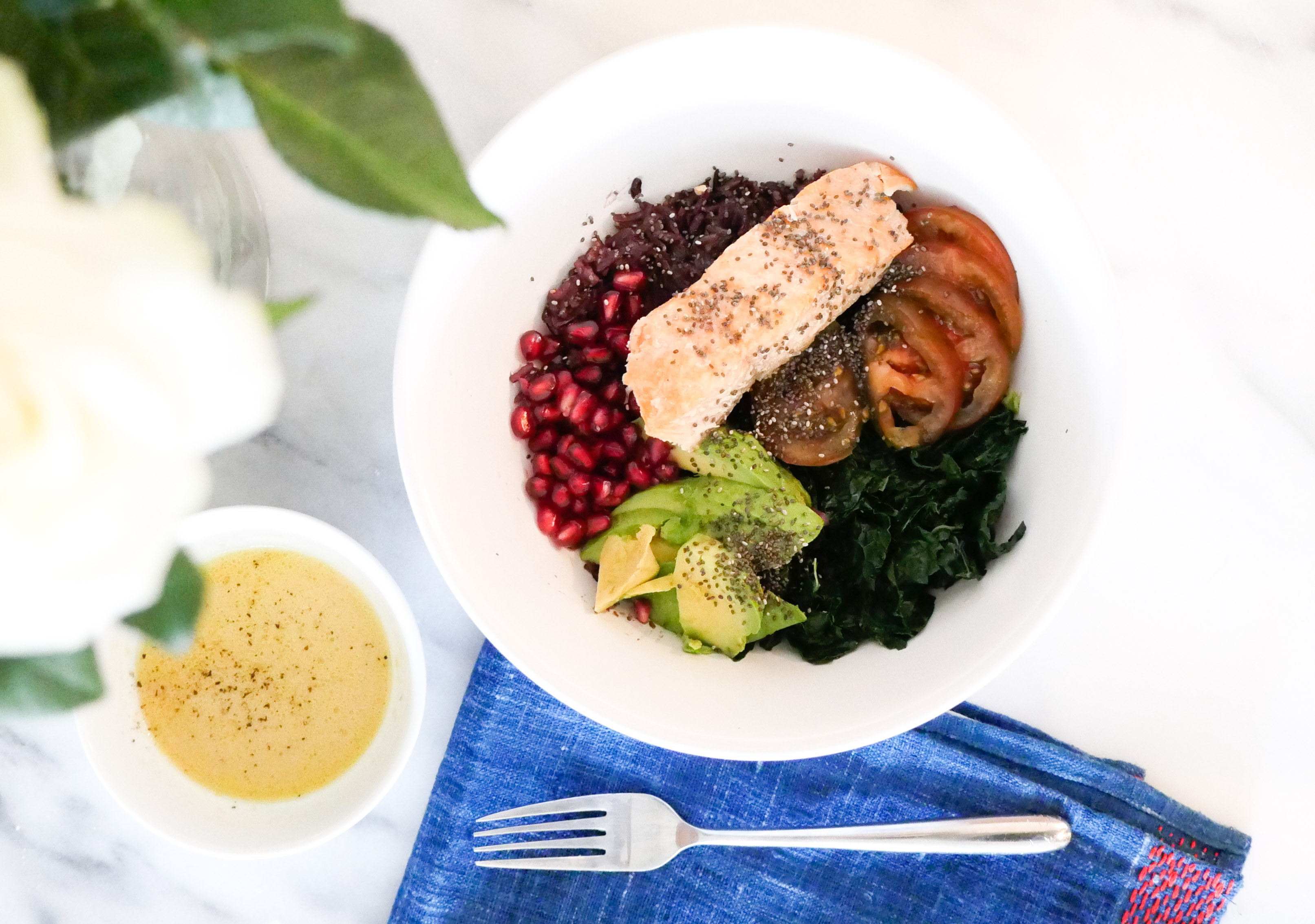 If any of you are like me– on our best "health kicks" in 2016– you'll appreciate this post! There's nothing I love more than a good Bowl.  I just salivate over a bunch of yummy ingredients over rice with a great dressing.  A multi-component bowl can also be one of the easiest make-ahead types of food for busy Moms!  I cook all of these ingredients weekly in bulk, store them in glass containers, and then assemble my Bowl with a quick dressing.  This week I'm sharing one of my faves– The Superfood Bowl! Loaded with ingredients that pack a serious nutritional punch, this bowl is perfect if you are trying to reset your body in 2016!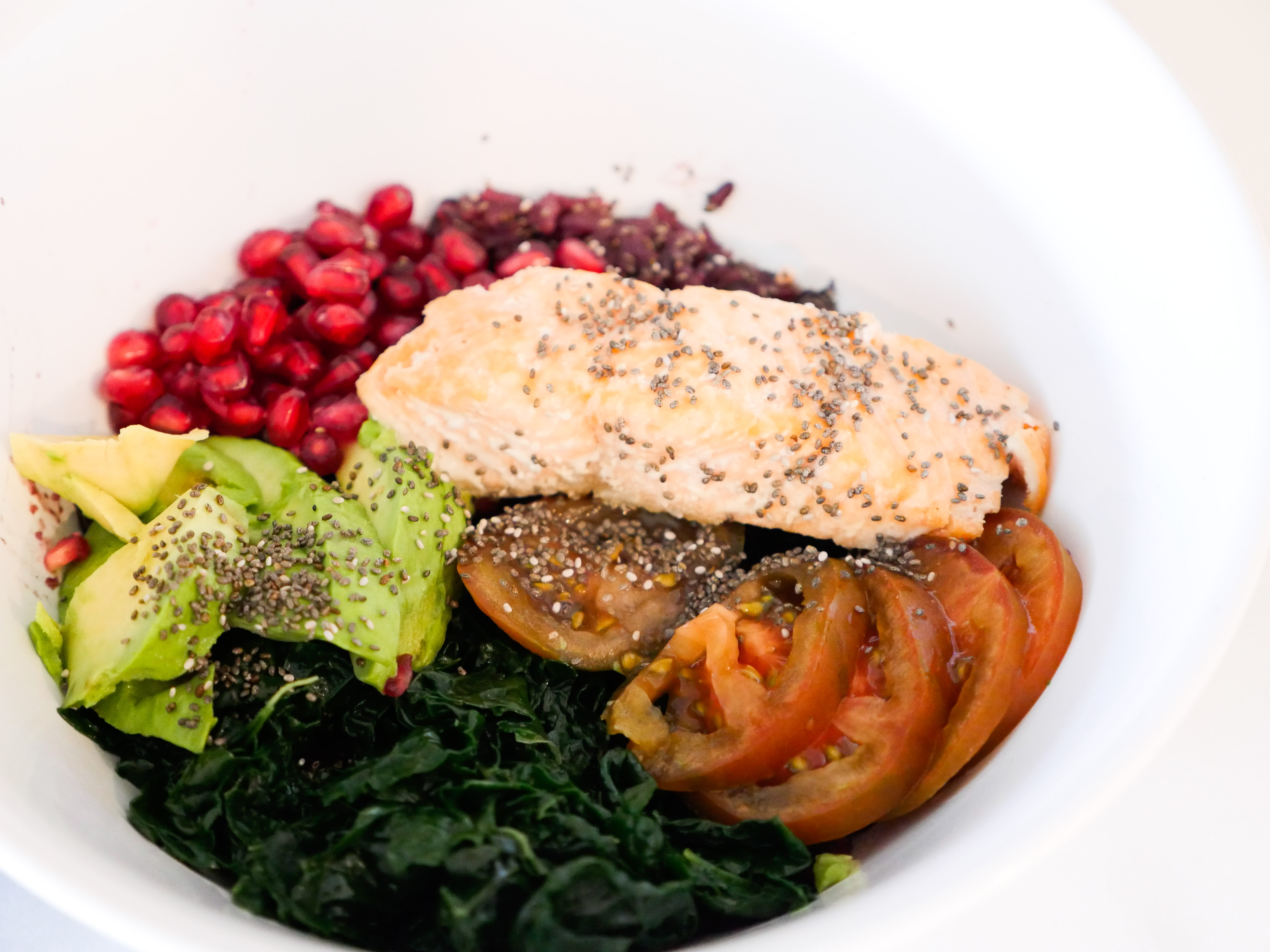 Purple Rice
I like to use purple rice as a little sassier version of a whole grain.  It is almost exactly like brown rice, just with that gorge purple hue.  Purple rice is super high in fiber, and the natural purple color is high in antioxidants. I use this as the bast of my Superfood Lunch Bowl! Cook according to package directions, mix with one teaspoon rice vinegar.
Kale
Oh Kale yeah!  By now, you and everyone you know is probably aware of the healthiness of Kale. Kale is actually one of the most nutrient dense foods on the planet.  It is packed with Vitamin A, Vitamin C, Vitamin K, Vitamin B6, Manganese, Calcium, Copper, Potassium, Magnesium, and Omega-3 Fatty Acids.  Woof! Rinse, Dry, Chop, and sautée with olive, garlic, salt and pepper. 
Avocado
Avocado has always been one of my faves.  They're abundant in California, and are an Omega-3 Fatty acid, Vitamin C and fiber powerhouse.  Select a ripe avocado, pit, and slice. Note: these do not keep well in the fridge.  Always slice your avocado fresh instead of storing!
Tomato
Tomatoes are an excellent source of Vitamin C, and are thought to fight free radicals known to cause cancer.  I saw these little purplish tomatoes and I couldn't resist! Wash and slice thin.
Salmon
Salmon is another Superfood!  It's an incredible source of Vitamin B12, Vitamin D, and Selenium.  It's also high in Omega-3's, Potassium, Niacin, Vitamin B6, and of course Protein!  You can cook salmon fillets so many ways. I usually either marinate in Mirin and grill or marinate in extra virgin olive oil, salt, pepper, and garlic, and bake (as pictured)
Pomegranate
Pomegranate has been lauded for it's heart healthy benefits.  Pomegranate seeds are an excellent source of Vitamins as well as Folic Acid (helloooo pregnant Mamas!), and have antioxidant, antifungal and antitumor properties!  I love these tart and sweet little nibbles.  Scatter them over salads or in your bowl for a nice textured crunch!
Chia Seeds
Chia seeds are little Fiber, Protein, and Omega-3 Linebackers! They are one of the foods that delivers the most nutrients with the least amount of calories.  Increase the nutrient value of your Bowl, Salad, or Smoothie, by scattering in a few of these little suckers!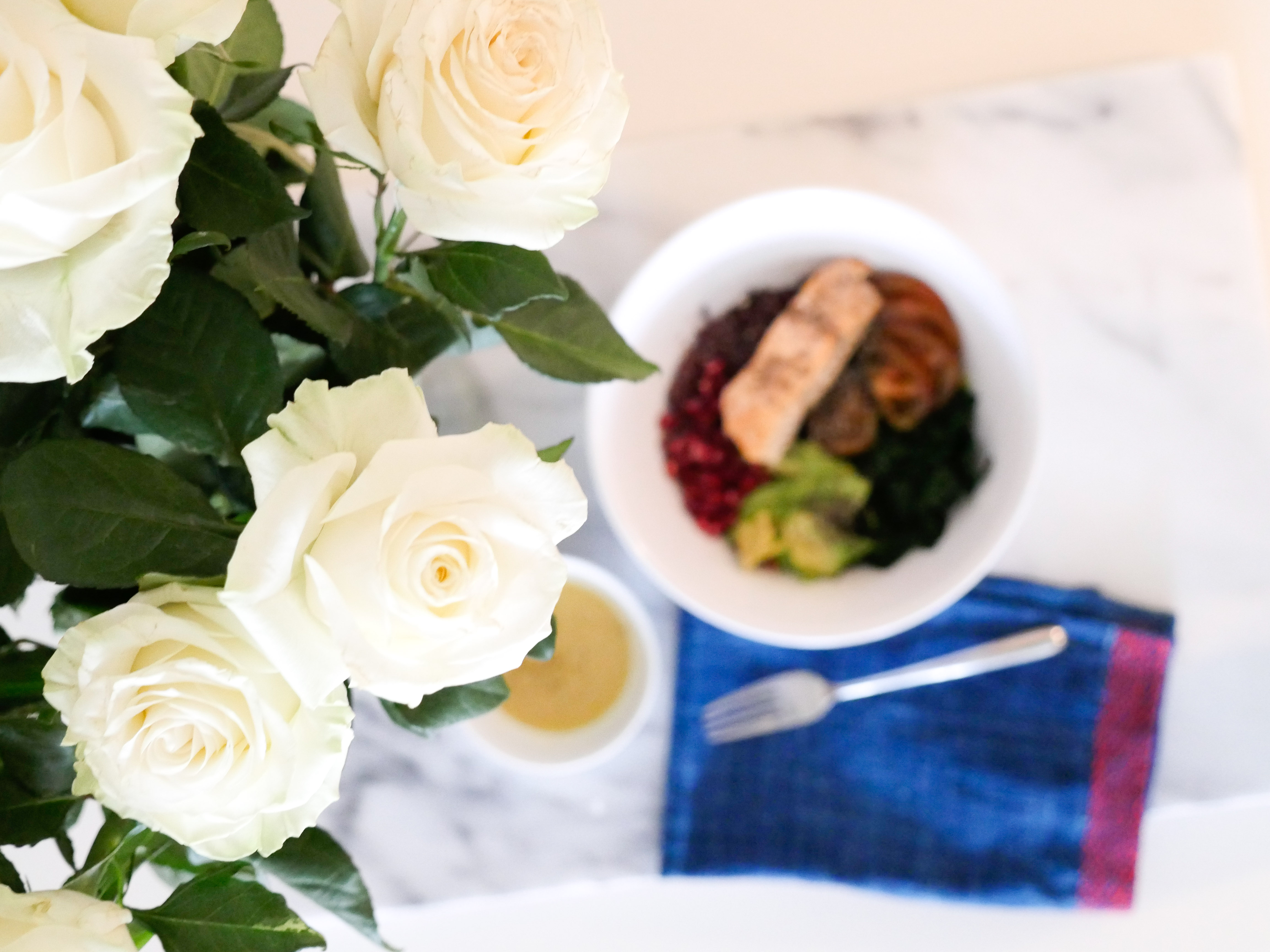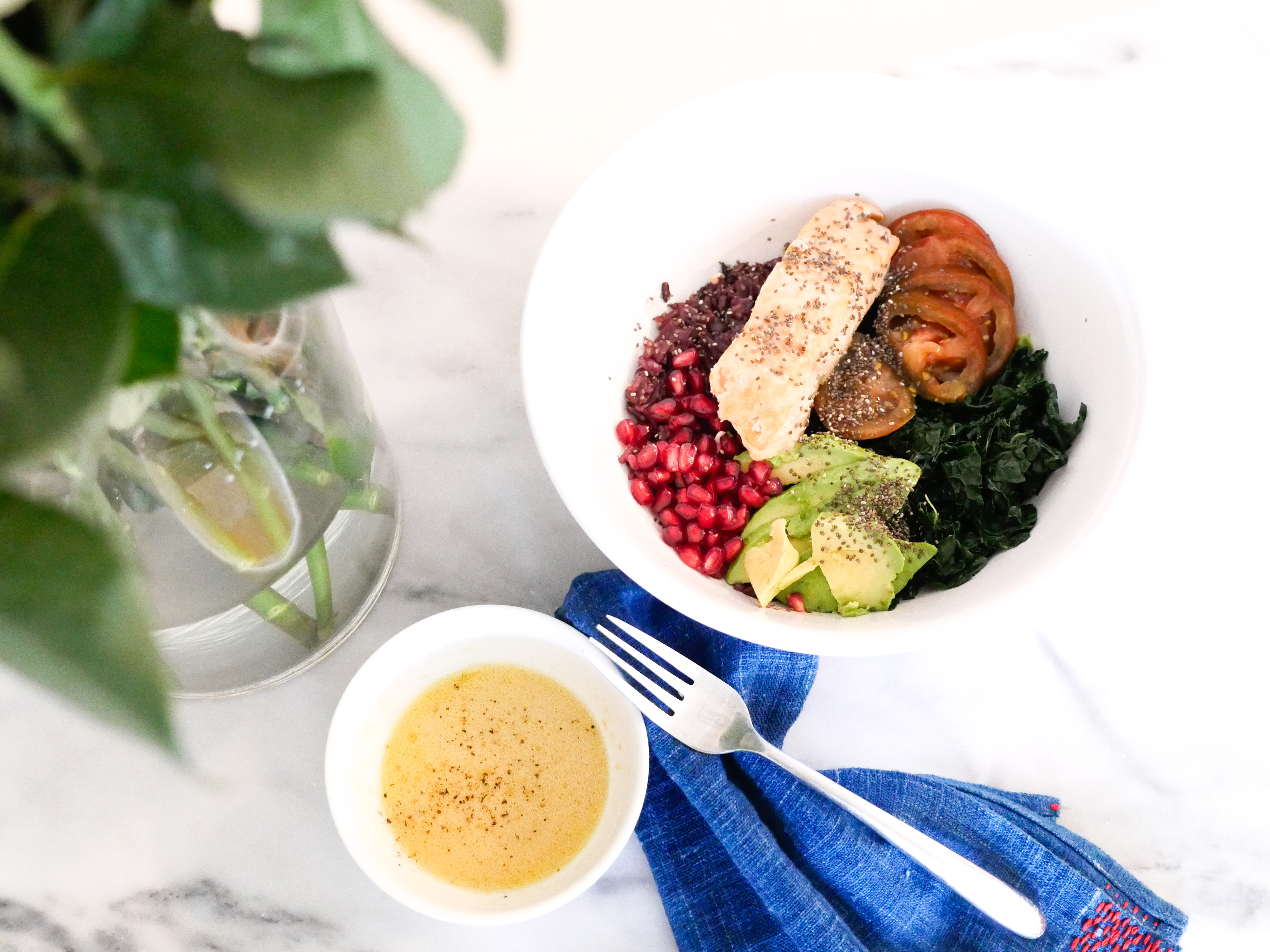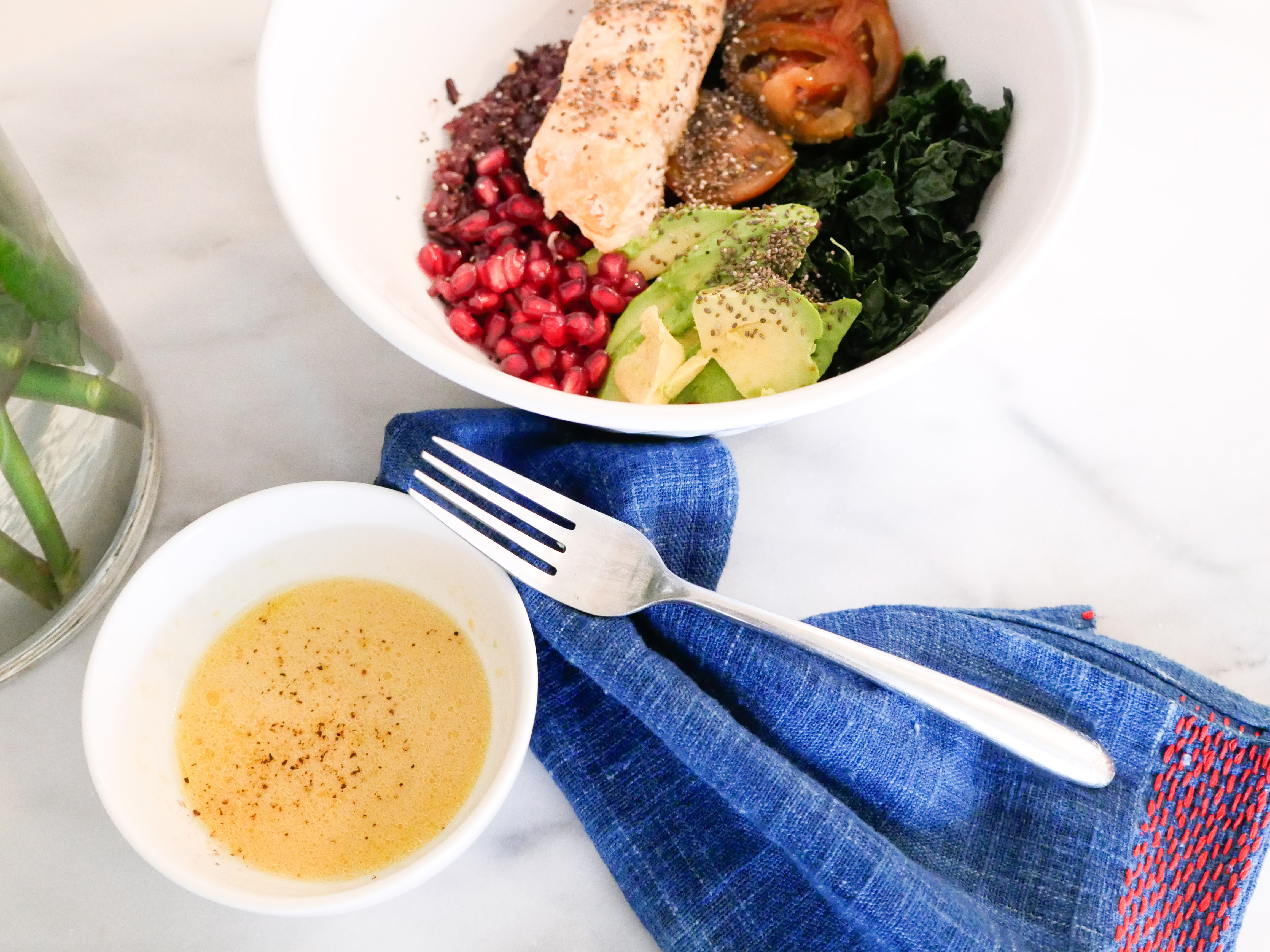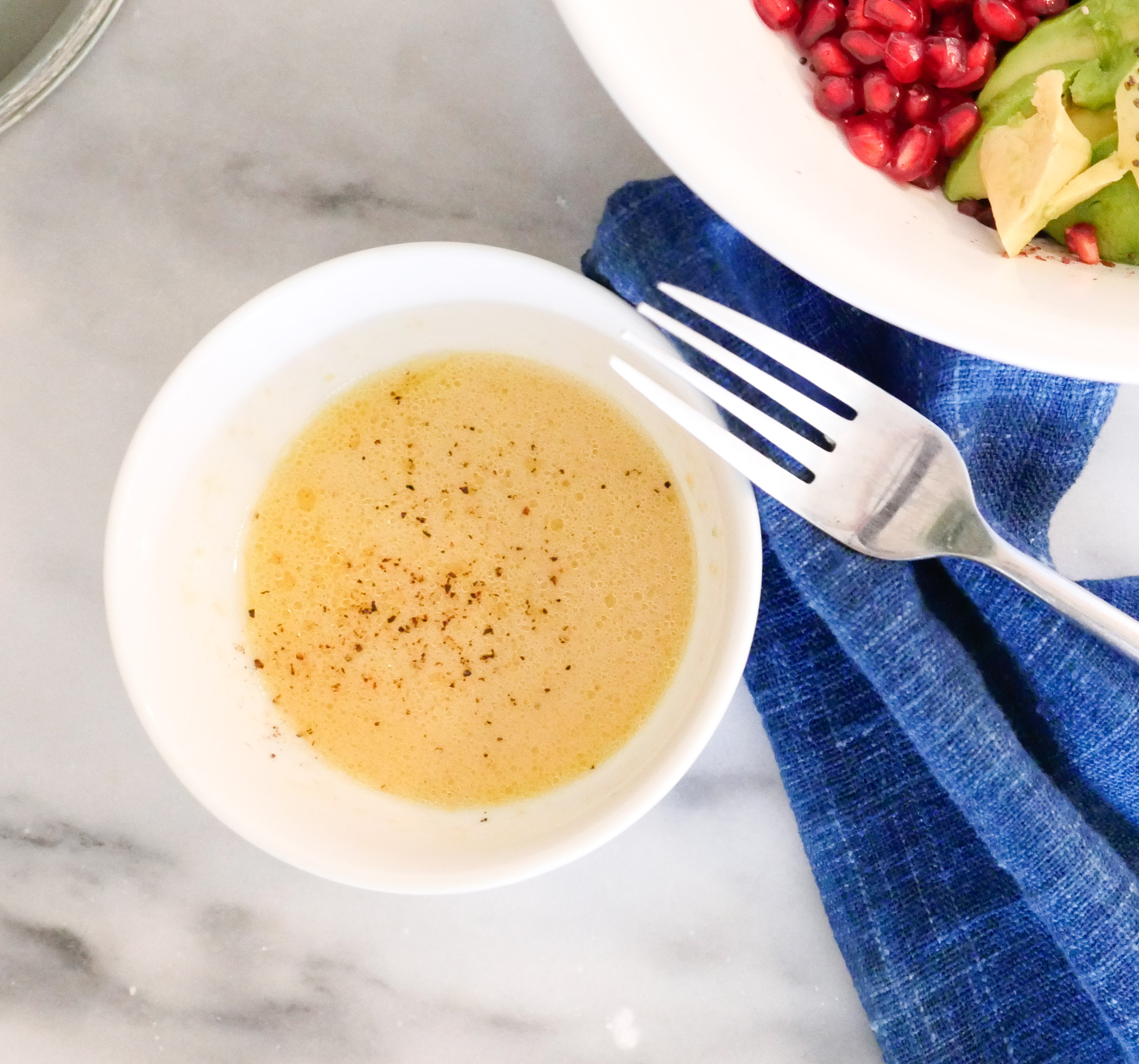 THE DRESSING
3 Tablespoons Extra Virgin Olive Oil
1 Tablespoon Dijon Mustard
Juice and zest of 1 Lemon
1 Teaspoon Maldon salt
1/4 Teaspoon Black Pepper
1/2 Anchovy fillet, crushed (optional but delish)
Combine all ingredients and whisk well together.  Dress your bowl immediately, or store in the fridge for up to one day.