The following content may contain affiliate links. When you click and shop the links, we receive a commission.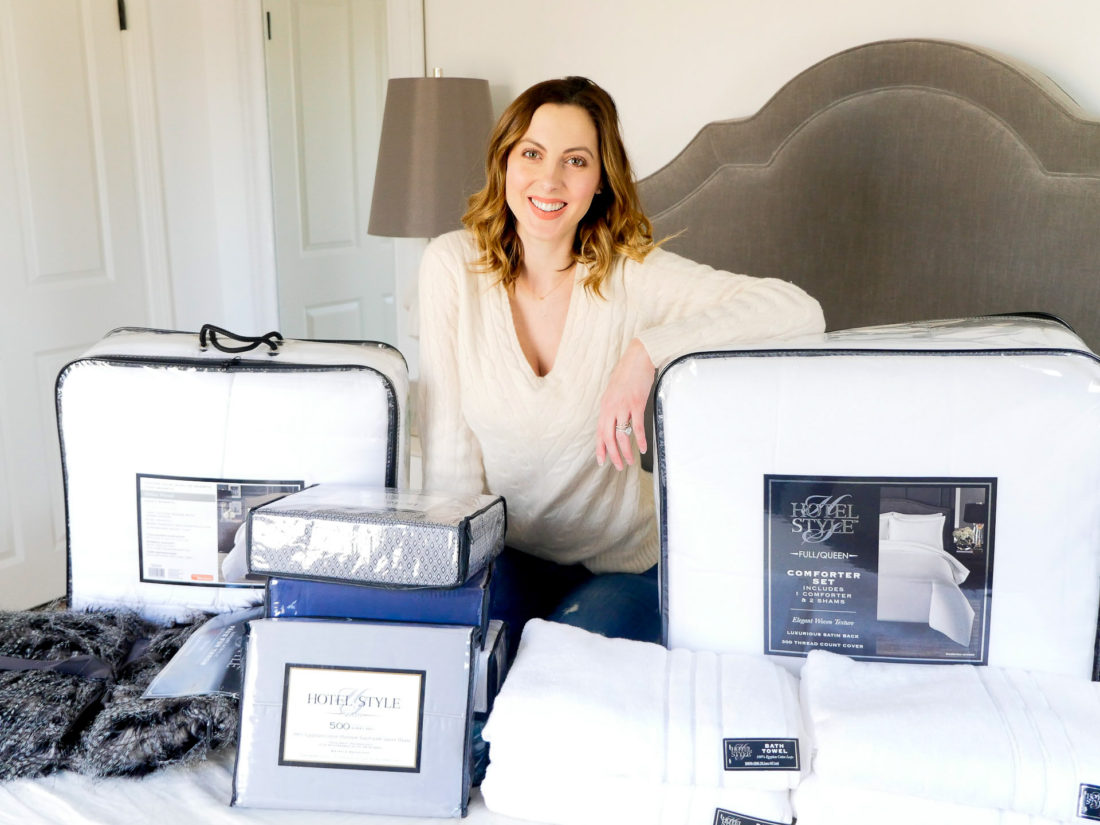 With the Holidays around the corner, I'm starting to get prepared for the flood of guests that always seem to pop up around this time of year. Both Kyle and I come from big families and we love to get together with everyone when we can– not to mention host friends from out of town! I always say that there is nothing more fun than a little festive chaos around the Holidays. Since moving to the East Coast from Los Angeles, most of our friends end up coming from far away and spending the night when they visit us. Because it's our first Holiday season in our new home, it's really important to me to make a great impression on our guests, and to create a Guest Room environment for them that feels cozy, luxe, and stylish. The only issue? I don't want to break the bank while I'm at it. Gotta save a few dollars for all of the over-the-top, matching Christmas outfits I plan on coercing my children in to wearing. Ha! Thankfully, I found Hotel Style by Walmart, which helped me accomplish the super chic look and luxe feel I was going for– at an excellent price point.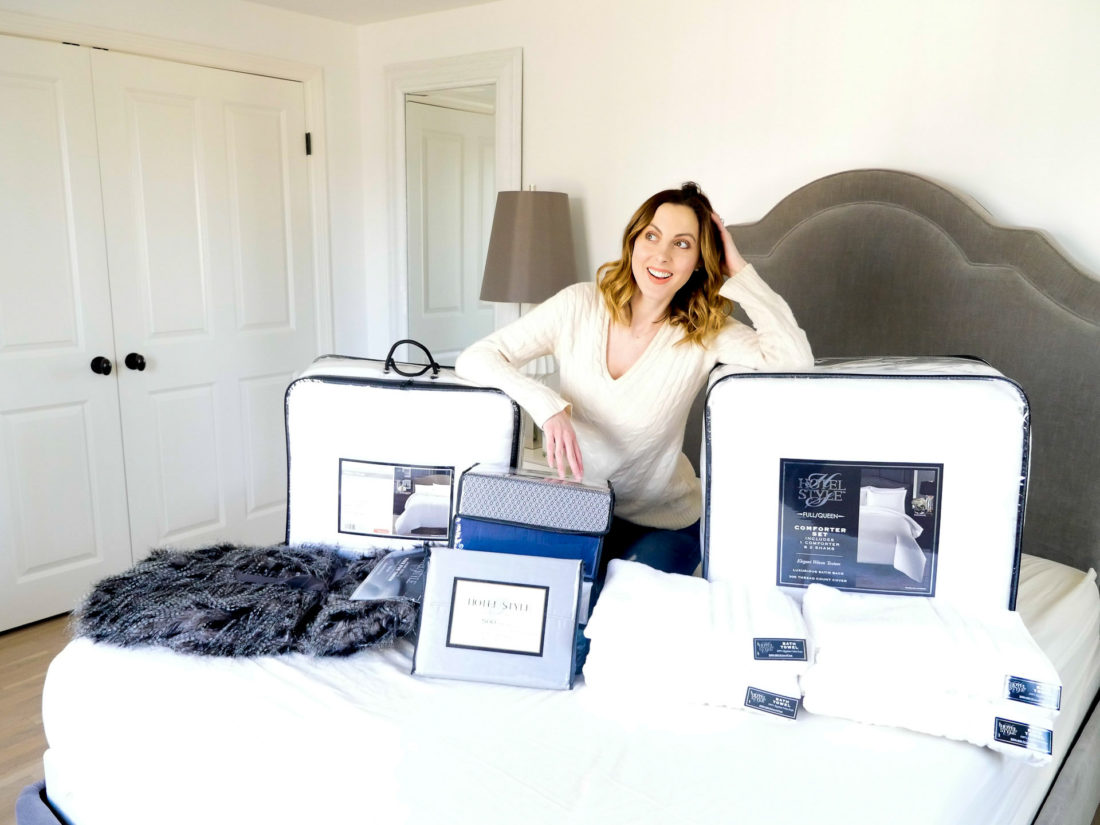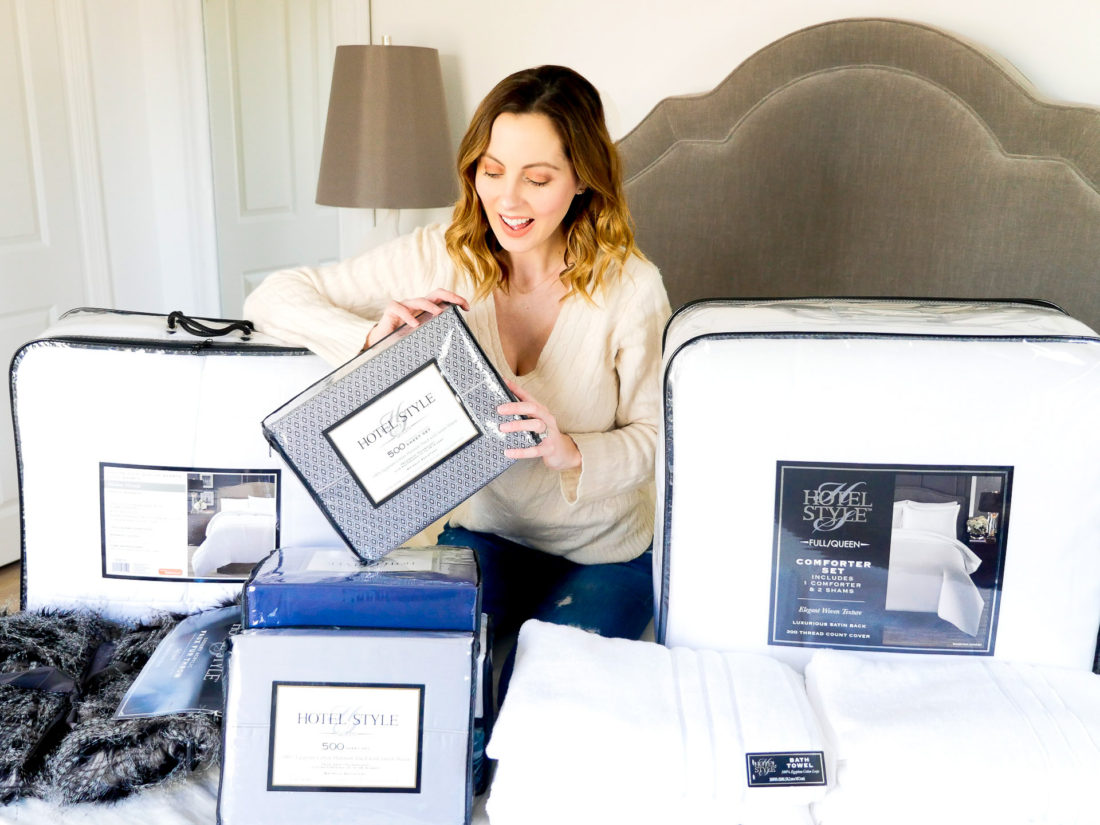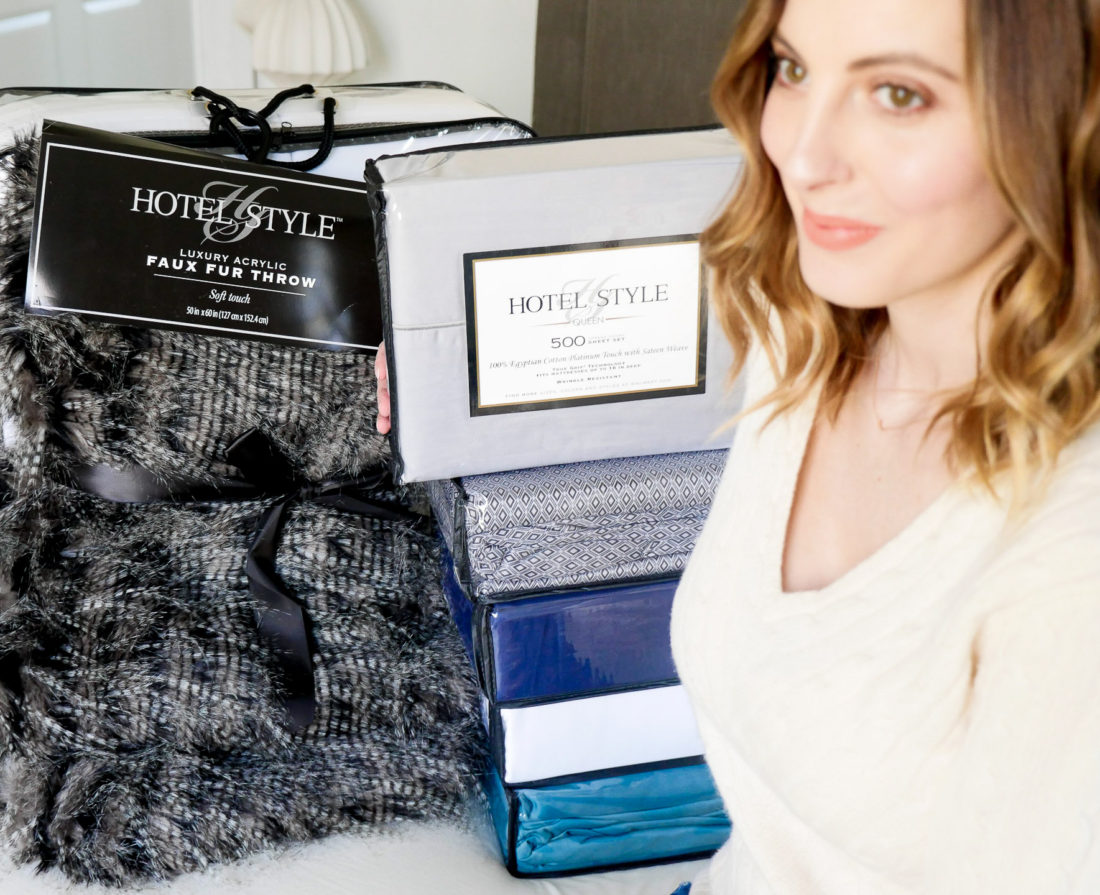 When I was designing our Guest Bedroom, a tranquil feeling was really important to me. I always want our guests to feel like they're really getting an opportunity to relax and unwind…that is until our very vocal toddler bursts in at 7am and climbs in to bed with them. She's very friendly. Ha! To achieve the look I was going for, I concentrated on a cool and calming color palette of blues, grey, and white– and a variety of textures and patterns to add some intrigue. Black and white photography in simple, elegant frames added a masculine touch. Hotel Style, available exclusively at Walmart, had the most gorgeous pieces to help continue the look I was going for!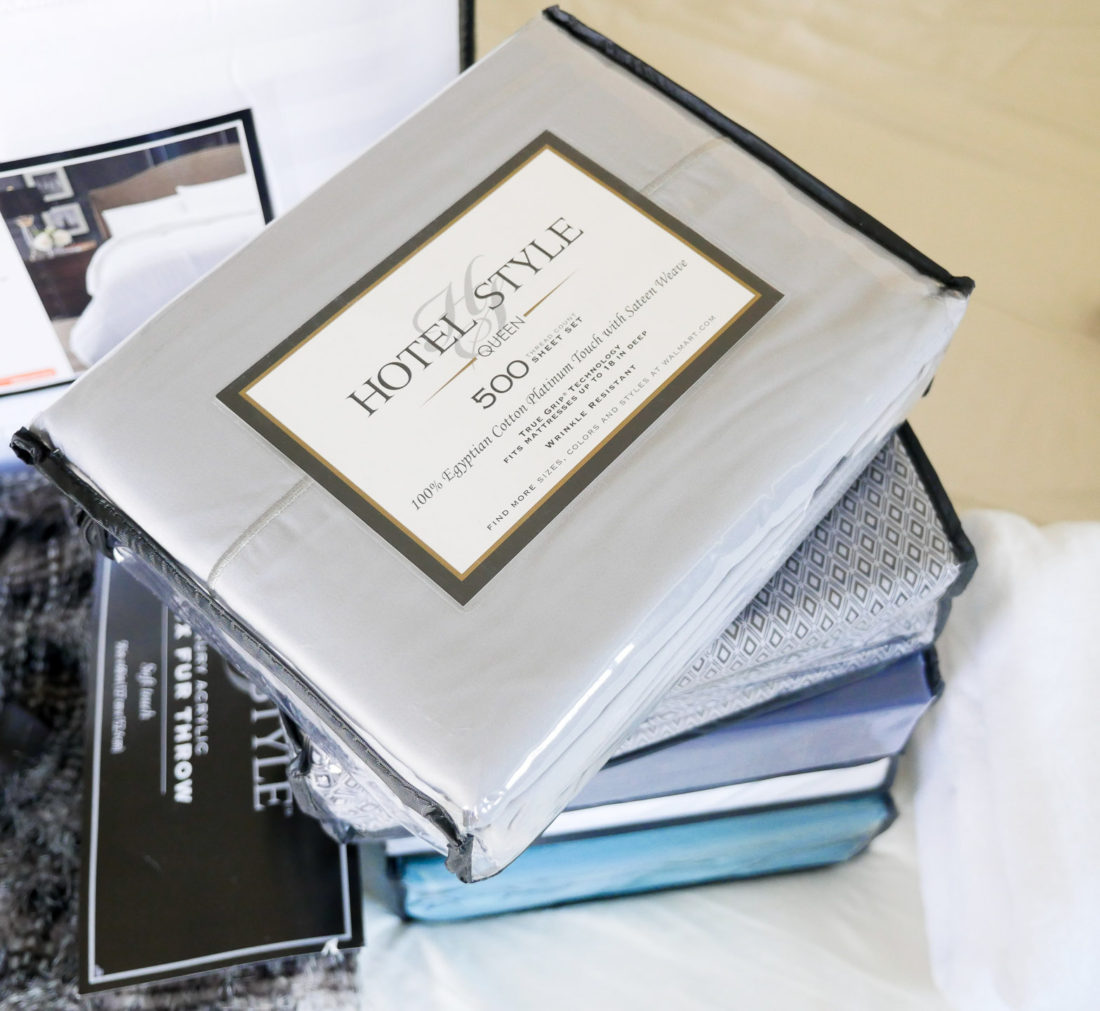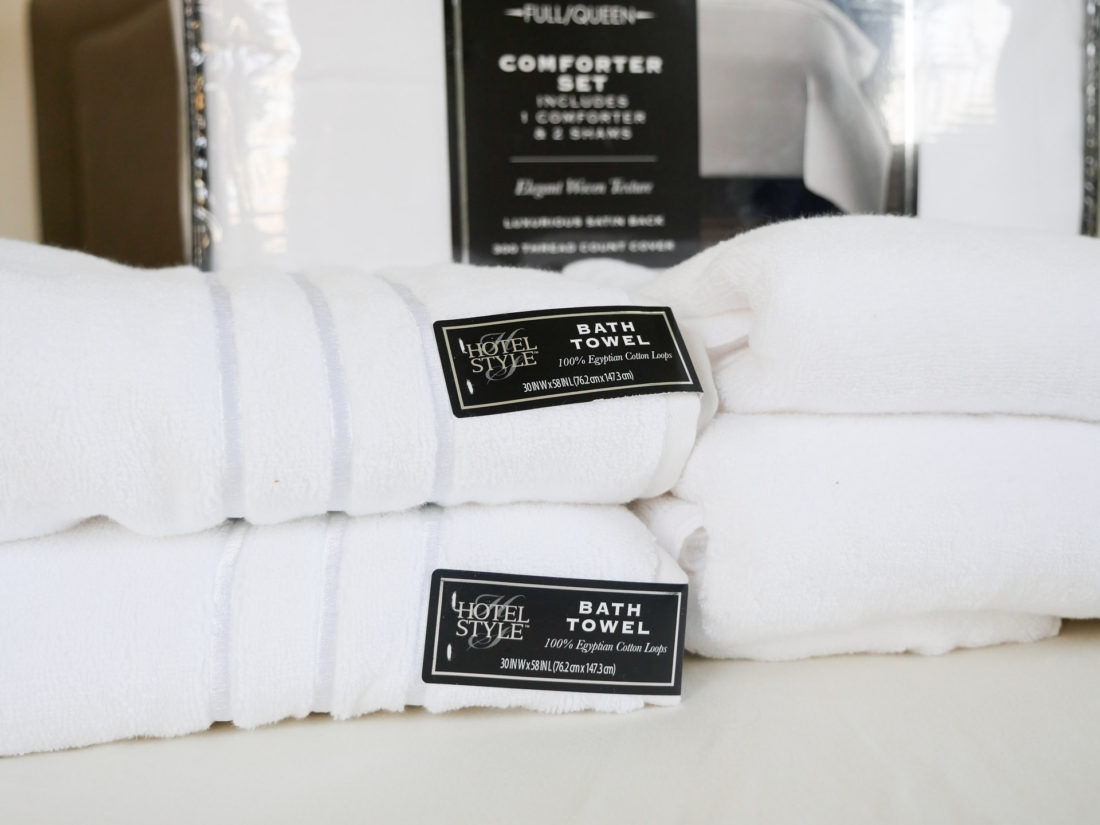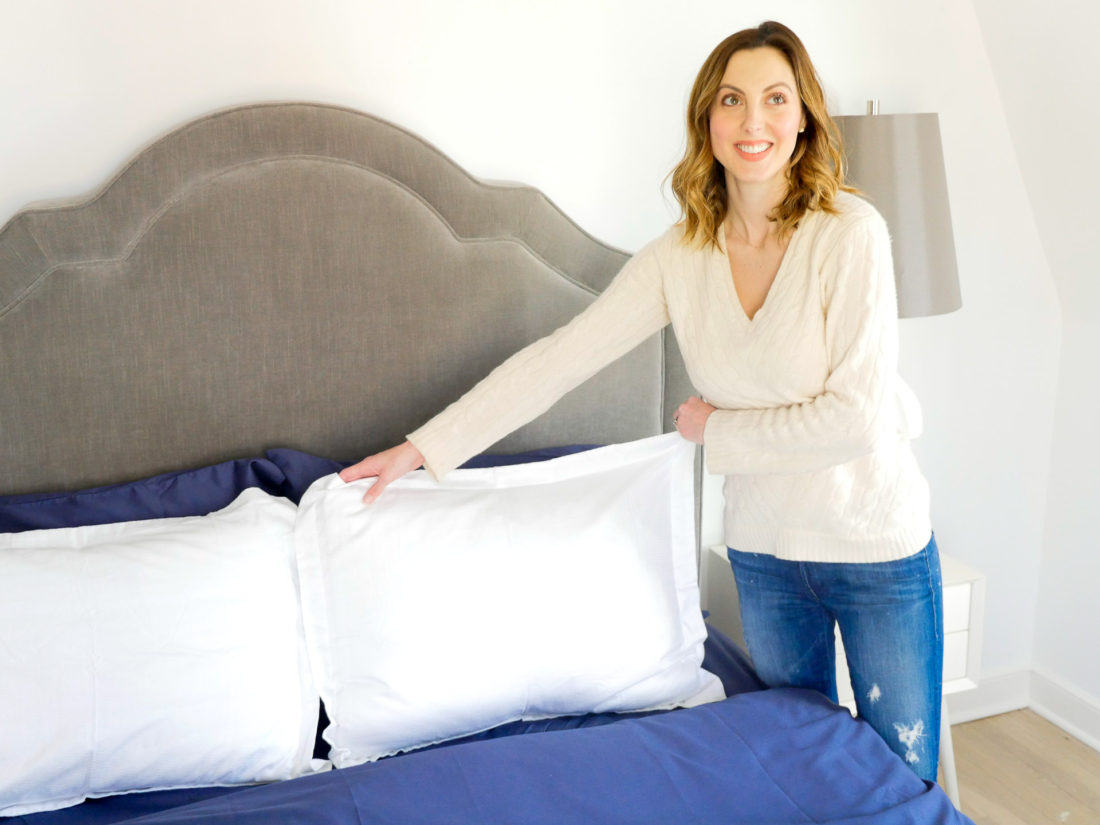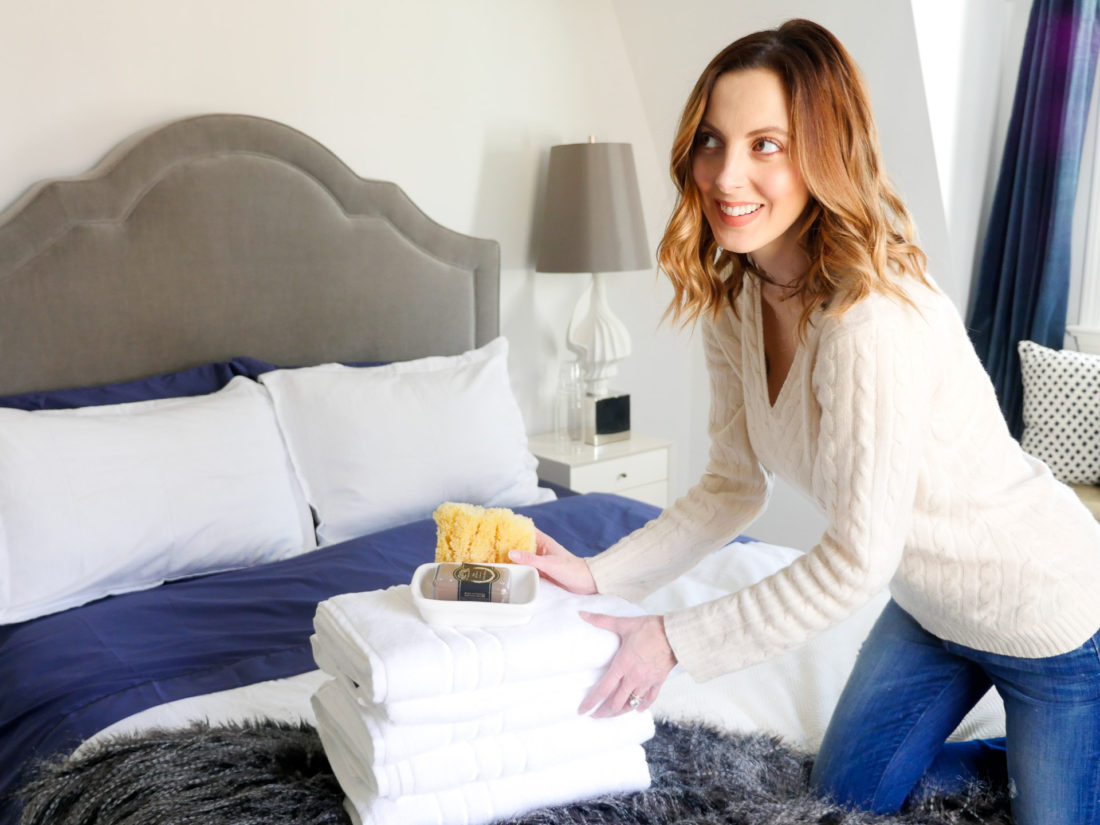 I wanted to continue the crisp and calm feel of the room with a bright, white duvet and shams, since white bedding always makes me think of a comfy and luxurious hotel stay. I added in a couple of the Hotel Style blankets and throws to add a bit more of a cozy dimension to the bedscape. The Hotel Style faux fur blanket is so chic!! You almost never find them for such an affordable price, which I just adore. I can imagine my Mom snuggled under it, reading her book this Thanksgiving!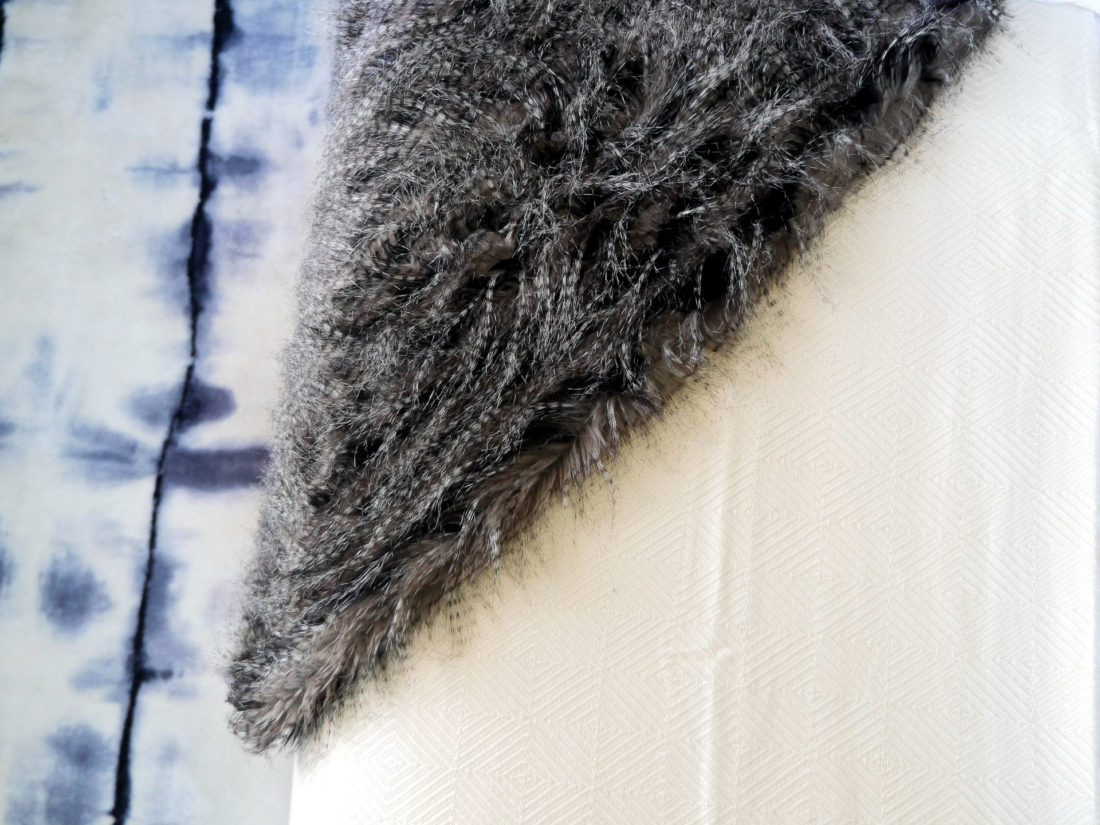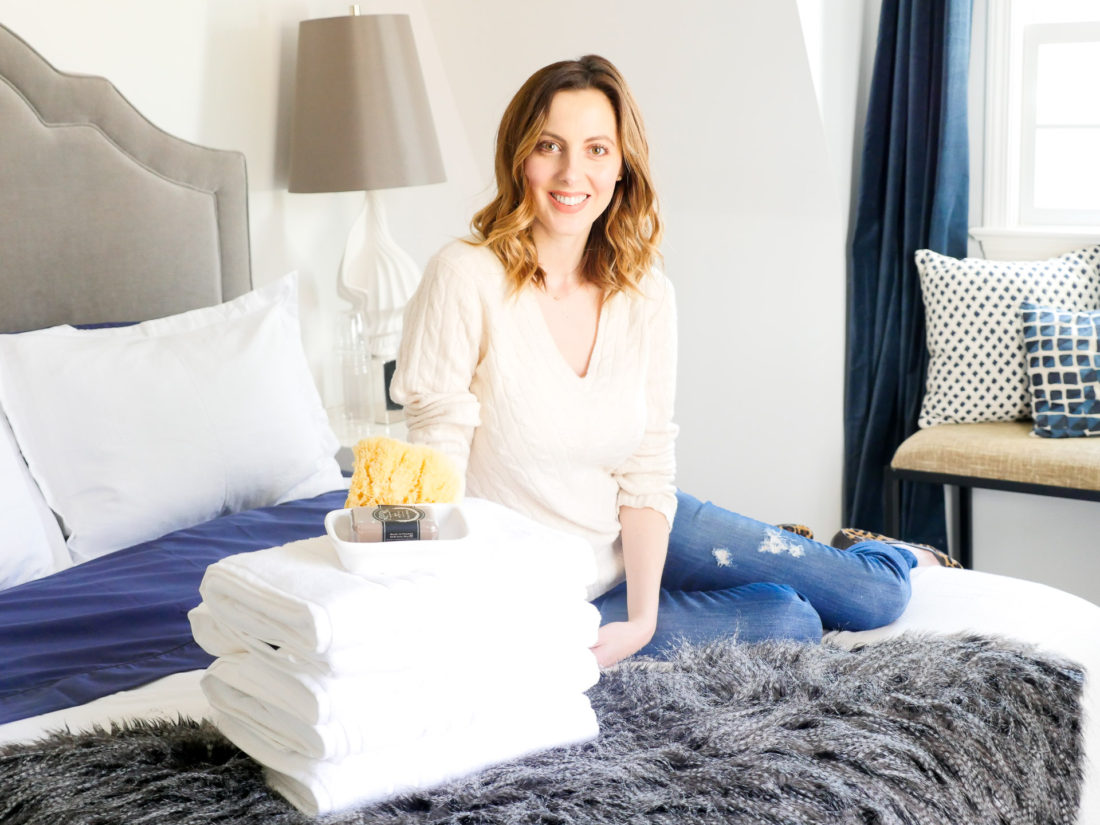 It was so hard for me to decide on a sheet color, though! Hotel Style has so many amazing bedding choices, including some really great patterns. I love how they're made out of 500 thread-count cotton, so they're excellent quality and feel really luxurious. I finally settled on making the bed with a set of Navy sheets to play up the colors in the rug– but I'm excited to play around with all the other sheet colors as well. Maybe I'll change up the color when Summer comes around! Whenever I set up the room for Guests, I always leave out fresh, white towels to make them feel at home. It creates such an inviting presentation. The Hotel Style towels are fabulous– so soft, and they have a great weight to them. I know my houseguests will love using them on those chilly winter evenings.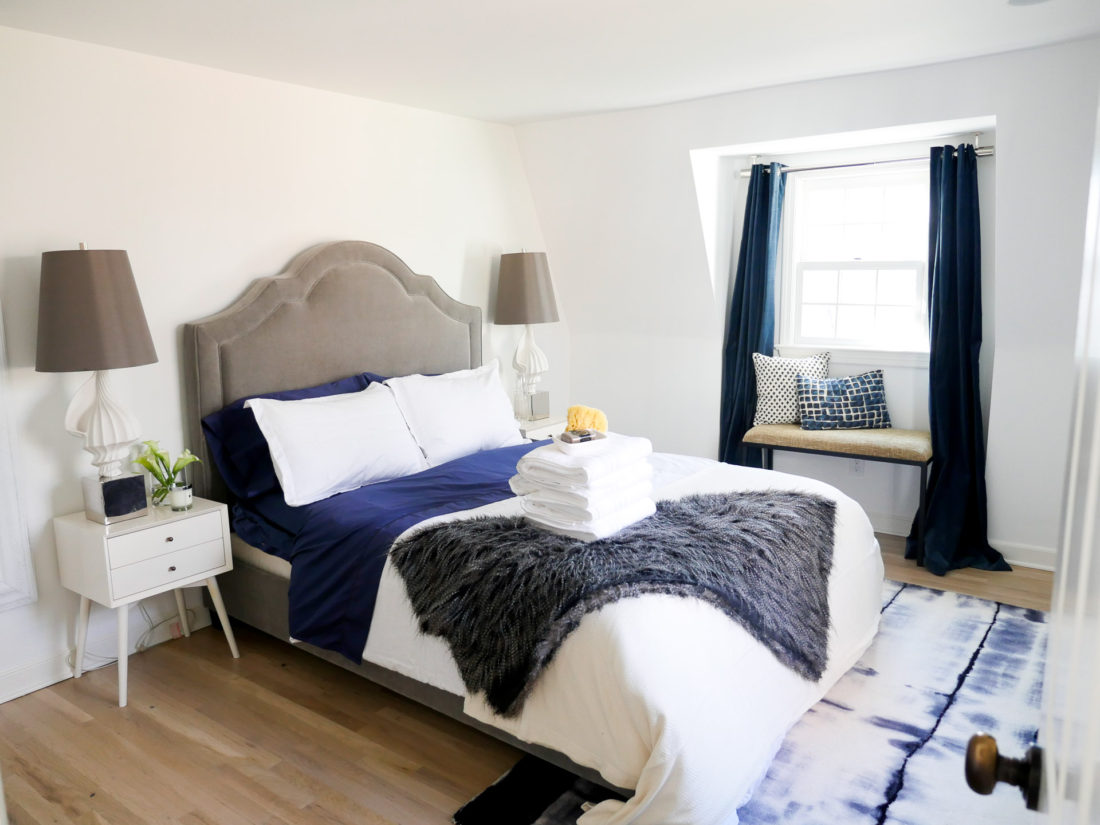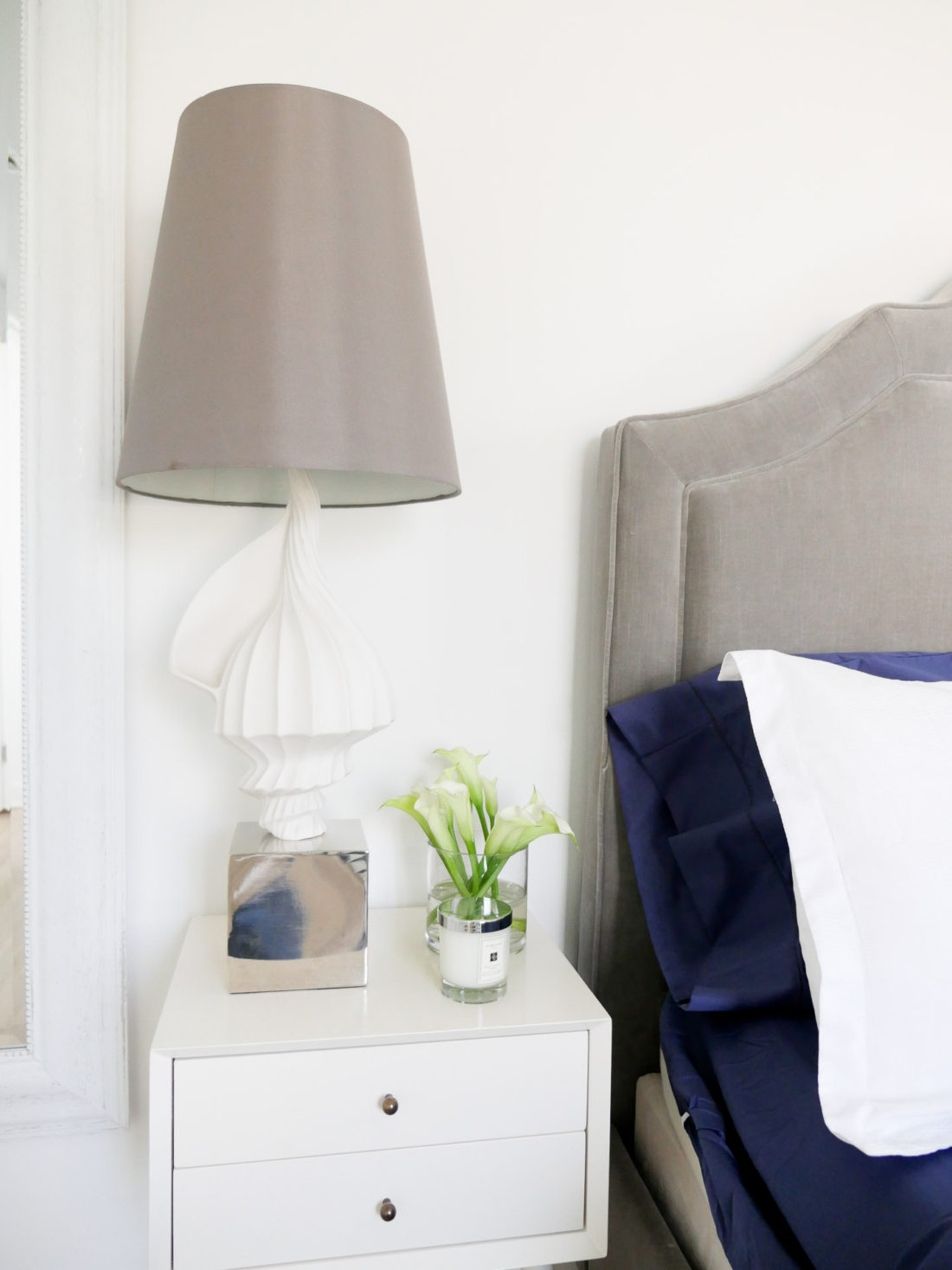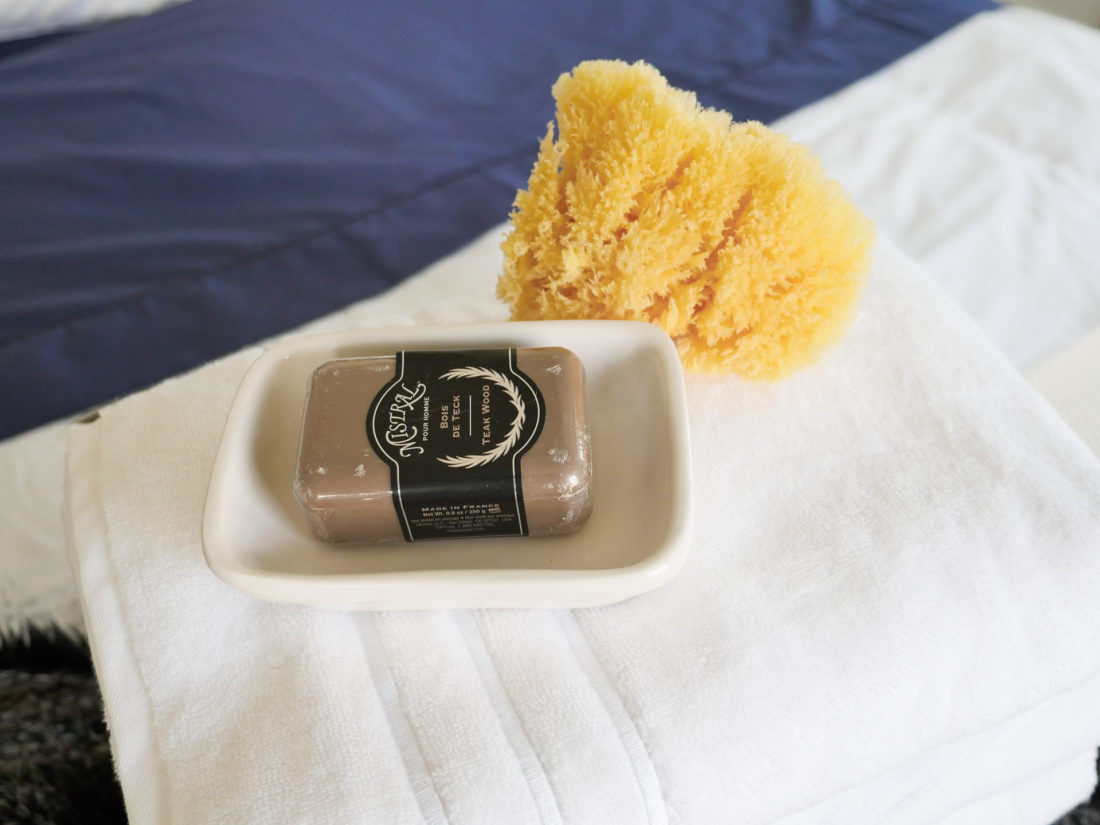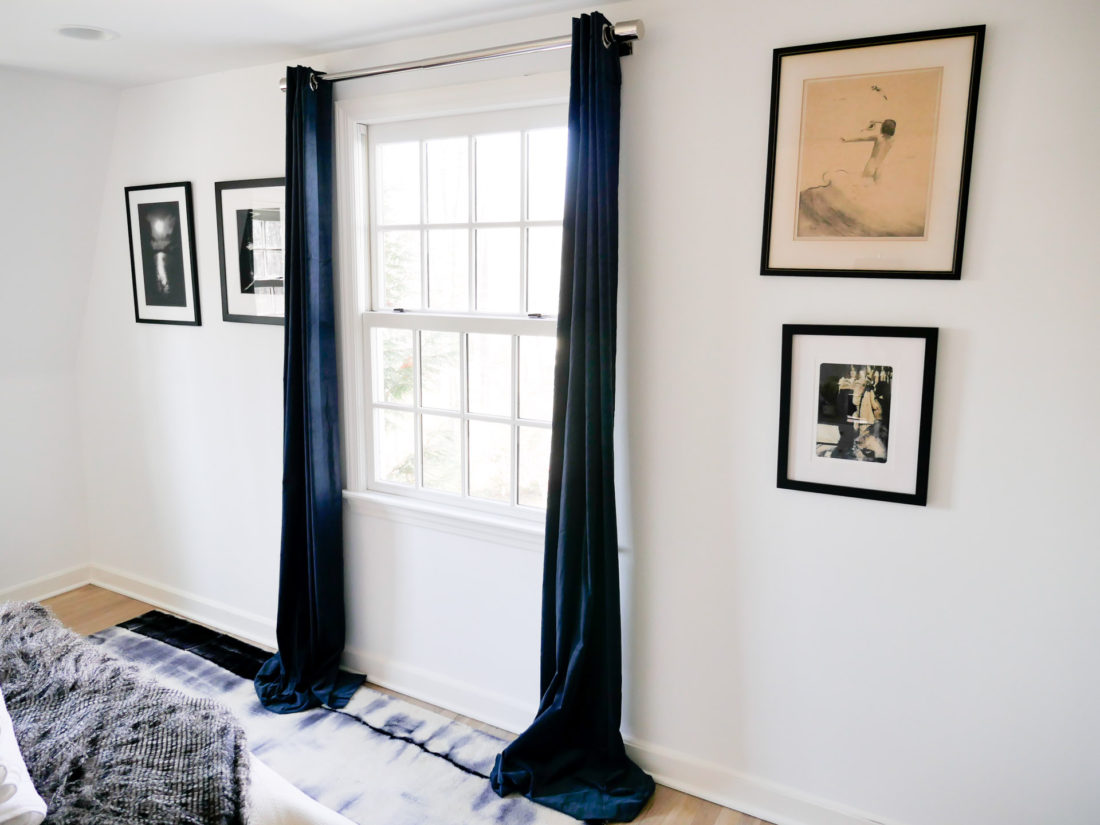 I find that creating an inviting space for my guests really sets the tone for the entire stay. And that's a vibe that keeps on giving! Who doesn't love everyone to be in a relaxed and rejuvenated mood during the Holidays? Make Peace not War! Lol! I'm so grateful to the Hotel Style by Walmart line for helping me create a chic and luxurious space for my guests to enjoy our home this year, and for years to come. I'm so obsessed with how great our Guest Bedroom is looking now that I can't wait for the Holidays to come and our guests to arrive and experience it for themselves! If I'm feeling like treating myself, I may even pawn the late night newborn feedings off on my hubby and go sleep in there myself. After all, I feel like I definitely deserve a night at Hotel Martino…I hear you can order up a delicious breakfast in bed…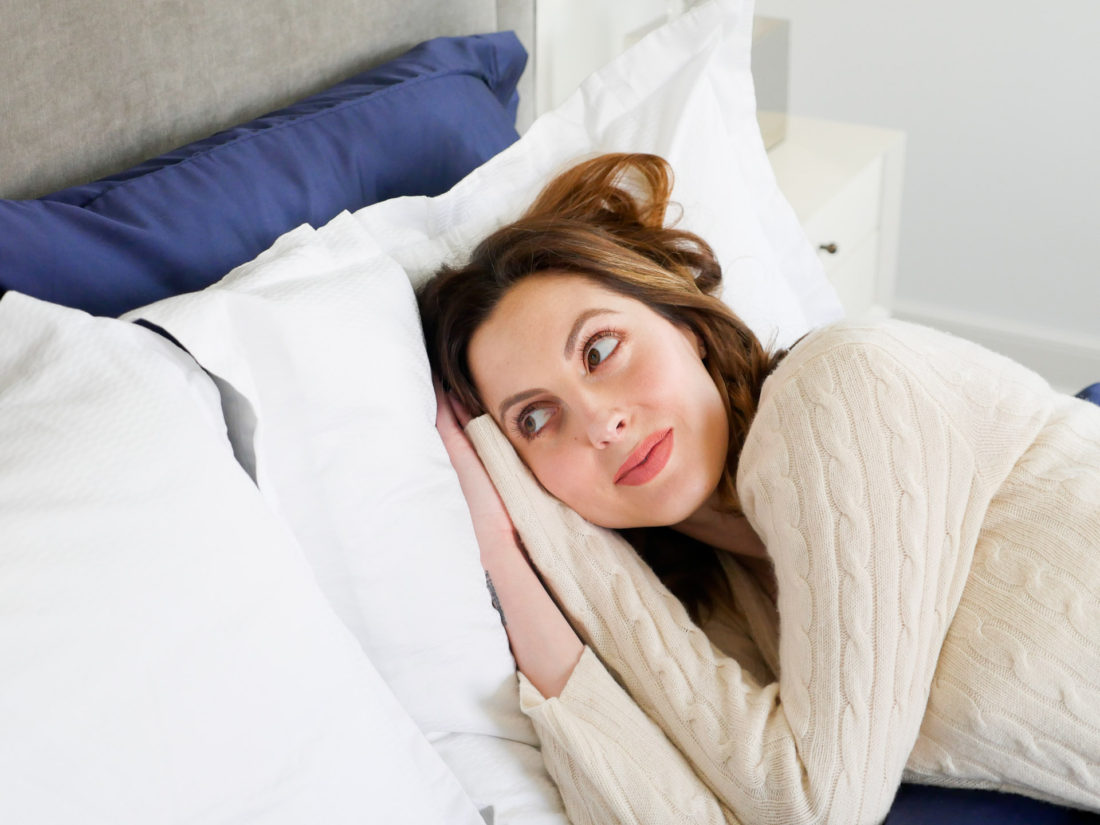 Tips for setting up the perfect Guest Room…
Clean the bedroom top to bottom before your guests arrive, fluff the pillows, make the bed with clean crisp sheets, and turn down the bed for a beautiful presentation.
Leave several towels folded on the bed for your guests, I like to give each guests two large towels to make sure they are comfortable!
Add a bath treat. I place a new artisanal bar of soap in a simply elegant soap dish on top of the towels for my guests to use while visiting.
Homey Accents make the experience much sweeter! I like to place some fresh cut flowers and a nice candle (with matches!) in the room to help my guests relax.
Stay Hydrated! A pretty glass carafe filled with water in the room is a thoughtful touch for guests, especially those who have travelled on an airplane.
Do Not Disturb! Make sure to have "a conversation" with any children that they are not to disturb your houseguests early in the morning! Marlowe is always so excited when we have friends or family staying at our house, but I make sure to tell her that she needs to wait for the Green Light from me before she pesters them at the crack of dawn.
**Many Thanks to Walmart for sponsoring this post! As always, the thoughts and opinions expressed above are entirely my own.