The following content may contain affiliate links. When you click and shop the links, we receive a commission.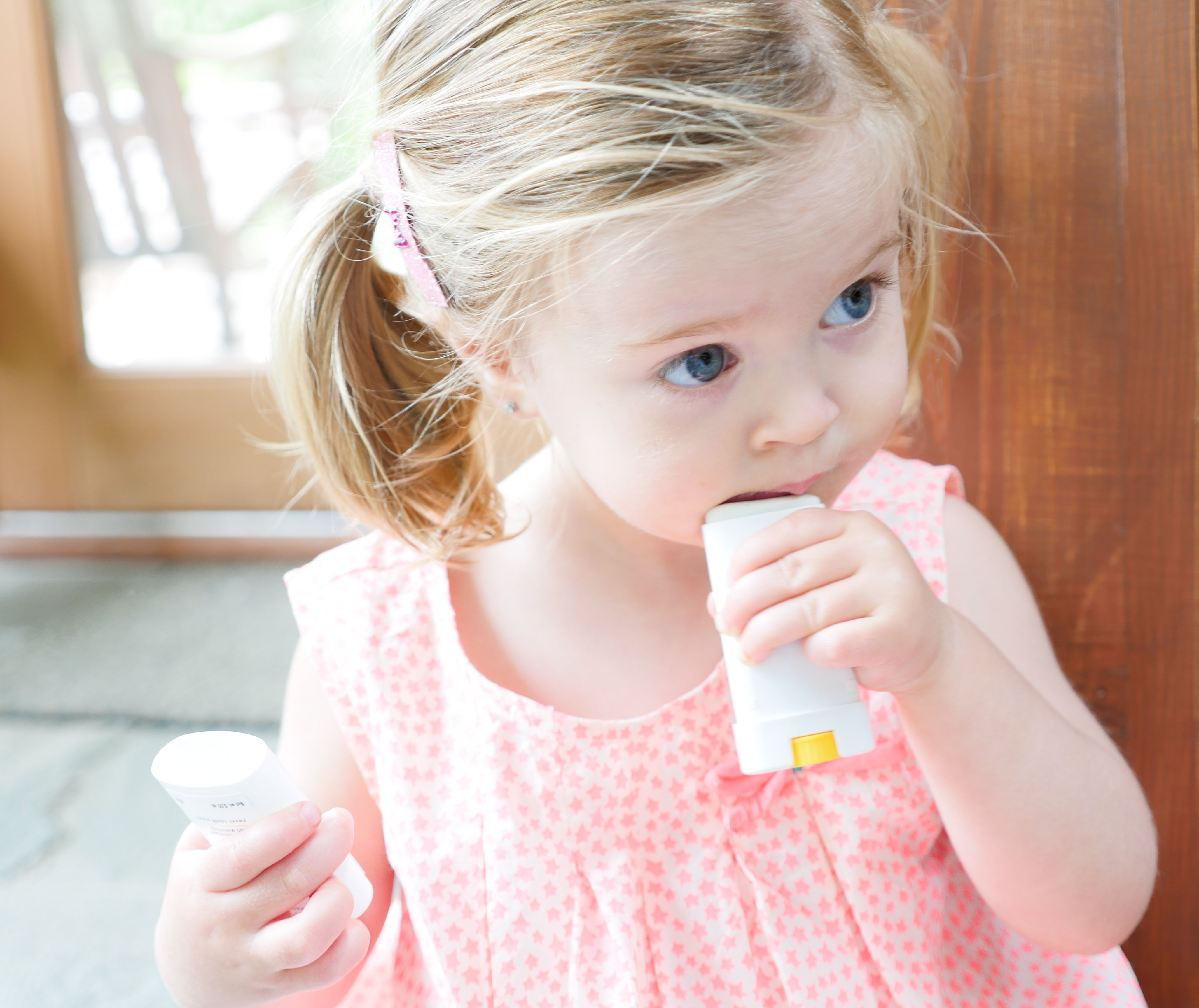 It's that time of year again! On the East Coast, the weather is finally warming up for good, and if you live in other sunnier parts of the country you have been experiencing it for a while now!  Last week my Sister-In-Law sent me a text asking if I can do a post on Sunscreen since the options and info are overwhelming,  and I thought it was a brilliant idea.  I think the broad strokes of using sunscreen are pretty basic and understandable…but how much do we really know? What do all the numbers really indicate, and what are the most important elements of a safe sunscreen– especially when it comes to our kids?
Luckily, I have become a bit of an expert from living in California for six years!  This weekend I gave myself a little refresher course, and pulled together a bunch of my favorite methods of shielding you and your Little Ones from the sun's harmful rays.  Below are some of the informational broad strokes, as well as a few of my own Greatest Hits!
Say 'See Ya' To Harsh Chemicals
Most of the sunscreens you can buy inexpensively at any drugstore are just that…cheap.  They're often loaded with chemicals and nano-particles that can enter your and your children's bloodstream and disrupt their hormone balance among other terrible side effects.  Our skin is our body's largest organ, and in the warmer months it's important that our sunscreen is keeping us healthy– not making our health worse! Below are several of my "safe" favorites that I personally use and love.  I made sure to include a stick (that goes on amazingly clear– pictured above), a tinted facial SPF (for Mama!) and a couple spray varieties alongside the more tradish options.  Click through to view them all!

Choose Broad Spectrum
Make sure the Sunscreen you're using is "Broad Spectrum", meaning that it blocks both UVA and UVB rays.  UVB rays are the rays which cause you to burn or tan, and the UVA rays are the rays which cause deeper and more invisible skin damage.  Both UVA and UVB rays are linked to ageing and skin cancer.
Decode The "SPF" Label
Ok, so this one can be a big misunderstanding–  I didn't even get how this worked until I really looked in to it!  SPF labels can be confusing because they insinuate that the higher the number (i.e. SPF15, SPF3o, SPF50, and so on) the more complete the protection from the sun.  Wrong! The truth is way simpler and more surprising.  It is true that the higher the number, there is a slightly higher percentage of UVB rays that are blocked, but the real indication of the number has to do with reapplication.  SPF30 indicates that a person needs to re-apply sunblock after around 30 minutes in order to remain protected by the sun, and so on for the rest of the numbers.  According to most studies, SPF really "stops" at SPF50 so no need to spring for a higher number.  The biggest piece of advice from any skin cancer website is to be sure to reapply often, and especially after swimming.  Apparently the biggest mistake sunscreen-users make is not re-applying often enough OR not using enough sunscreen per square inch!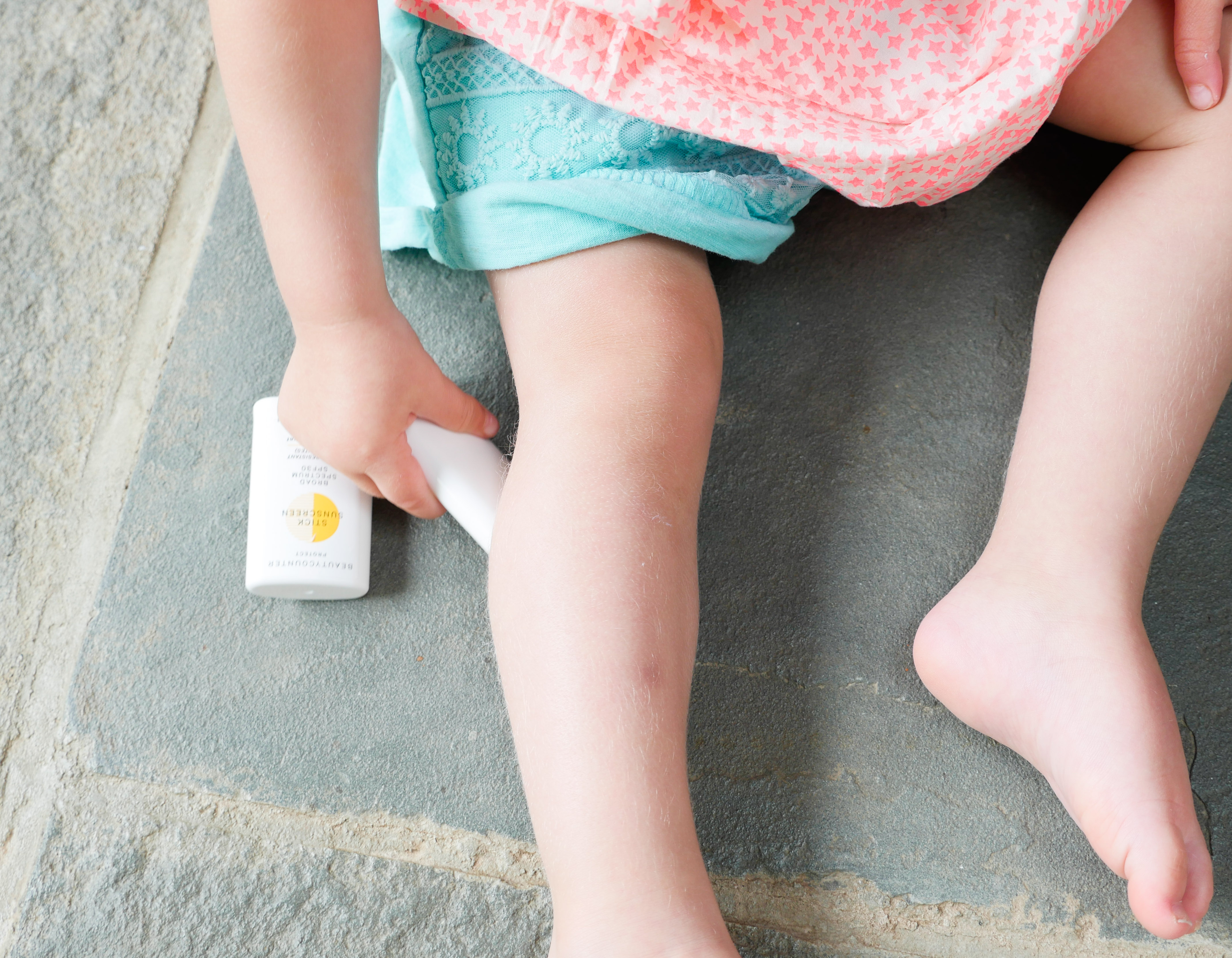 Give Kids More Coverage
You probably aren't in to wearing a rash guard over your own bikini all day, but you definitely want to put one on your kid if you can! This doubles up on SPF, especially since most good-quality rash guards and sun shirts these days contain SPF in the fabric!  It also saves you a ton of headache with the constant sunscreen applications.  Just remember that these rash guards are not substitutes for sunscreen! Here are a few cute ones below.  Click through to view them all!

Put A Hat On It
Protect those gorgeous faces– yours and theirs!  Studies show that covering up physically from the sun is just as important as wearing sunscreen.  Sunscreen can sometimes create a false sense of security, while harmful rays work silently to damage the cells under the surface.  Thankfully there are lots of cute hat options for you and your kiddos! Some of my favorites are below.  Click through to view them all!

Stay Hydrated
Make sure you're keeping up with your water intake while you're out enjoying the sunny weather! Fill plastic bottles and freeze them to keep your water cool at the beach for hours or get one of these amazing water bottles that are BPA-free and formulated to keep your drinks cold for 24 hours!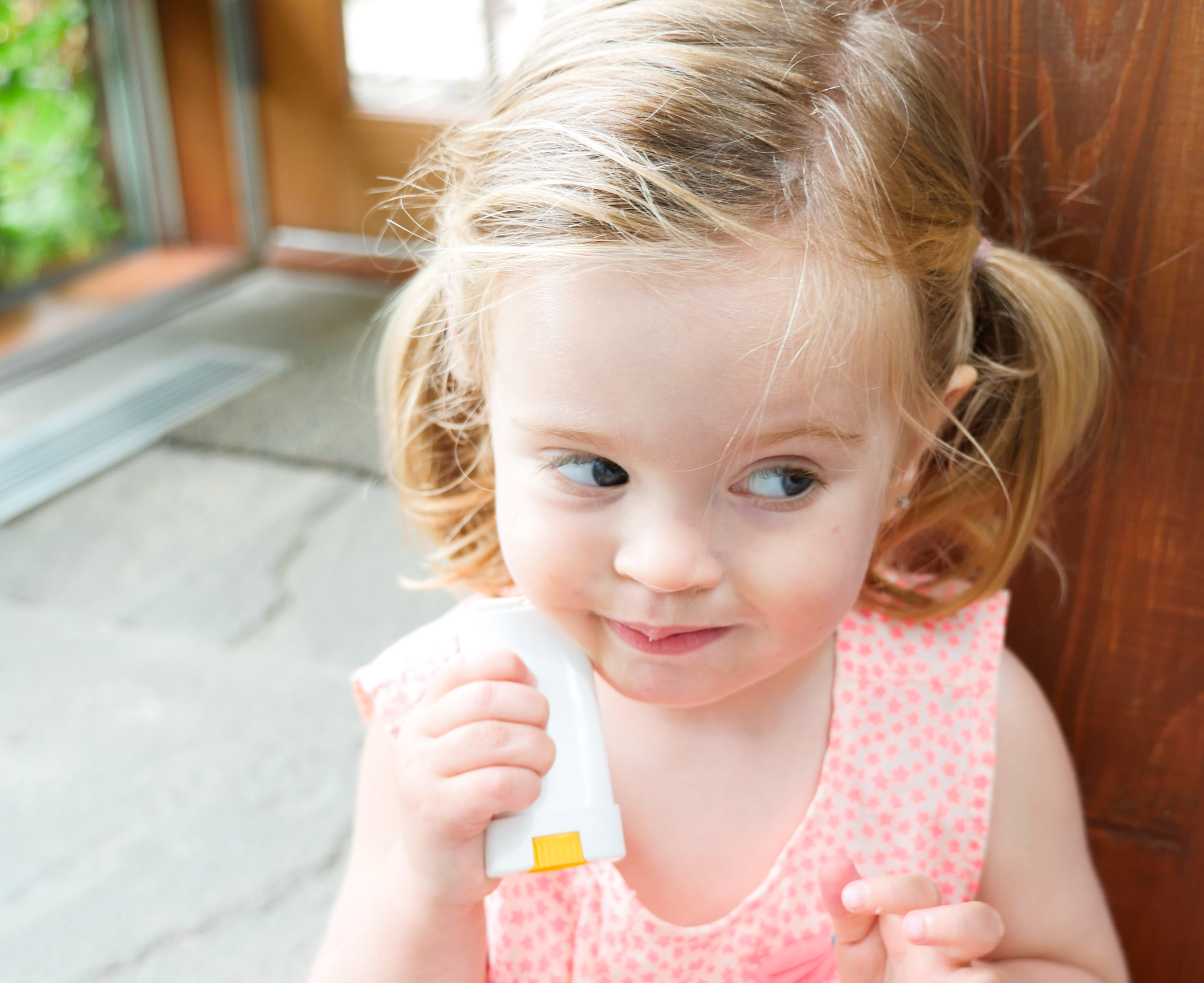 Have fun, and stay safe out there! What are some of your favorite products for keeping summer sun damage at bay?  Let me know in the comments below!
**Marlowe's Top and Shorts by Zara Kids