The following content may contain affiliate links. When you click and shop the links, we receive a commission.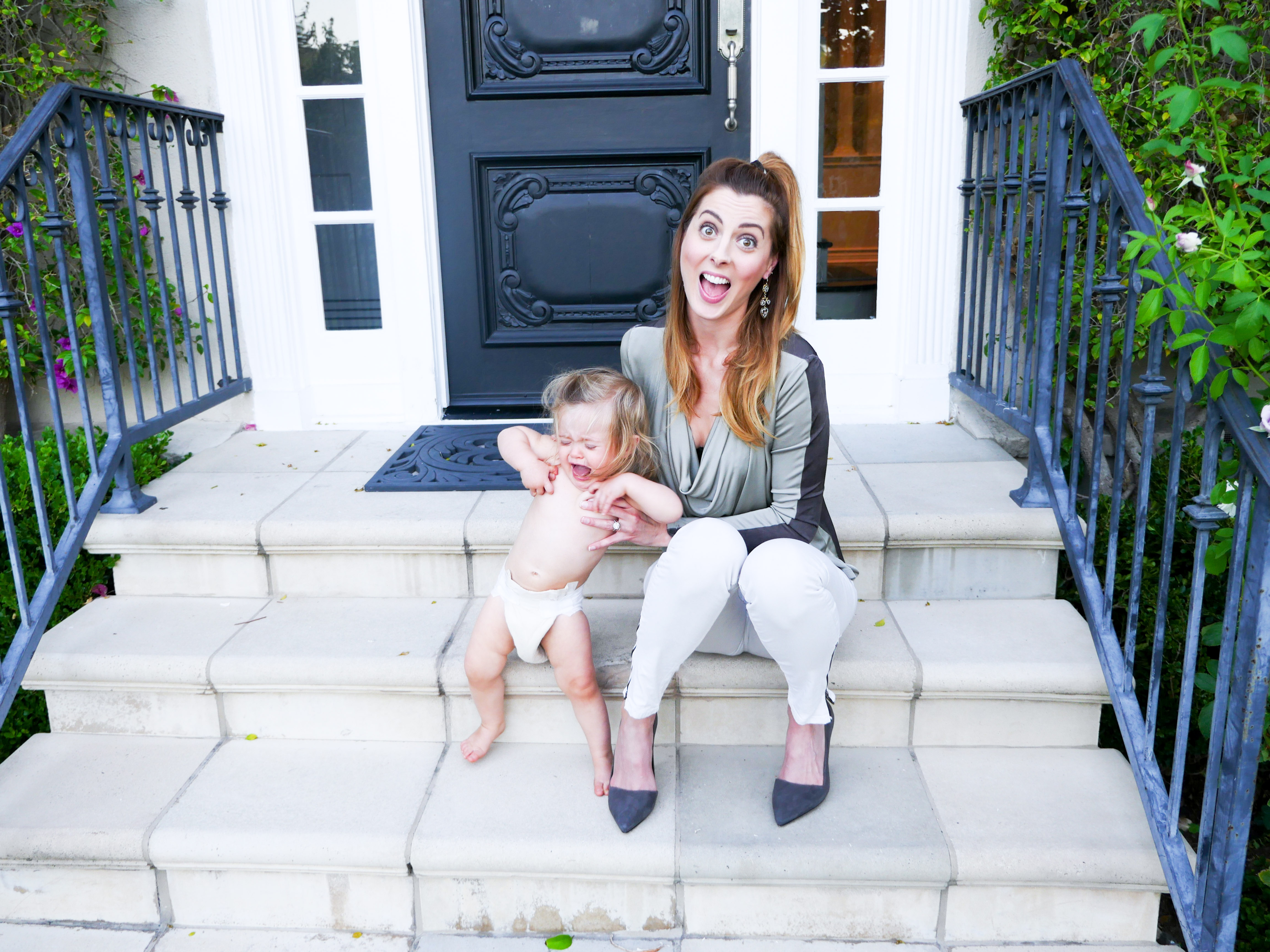 Ok. So.  We all know about "Mom Shaming" right? I think it's extended to the underside of any rock that anybody could be living under, so I won't take time explaining what it is.  You know what it is. I've been putting off writing my thoughts on the Mom Shaming Phenomenon because I've been trying to collect all of my thoughts.  Observing, living, and thinking from within my own place as a Mom of almost-two children, and attempting to figure out why so many Women and Moms lash out at each other so bitterly and aggressively.  And then this whole Boy-In-The-Gorilla-Pen episode happened recently and the aftermath of that made me think a lot about Mom-Shaming, and why it happens.
This essay isn't about what happened with the boy and the gorilla, or what should have happened, or zoos, or guns,  or anything like that.  There are so many opinions and I truly don't have enough information to take a definitive stance.  I've heard so many valid positions on both sides.  What I find interesting is the absolute skewering of the child's Mother after the fact, both by the press and by public opinion.  Everyone wants to talk not only about what happened, but about her– her parenting, her background, what she was or wasn't thinking.   And what we are all talking about is a Woman who just went through the scariest thing you can ever go through as a Parent– watching your child as their life may be in critical danger.  Looking down in to that enclosure, I'm sure she saw her son and didn't know whether she would ever hold him in her arms alive again.  Whether that threat was true or not isn't the point.  How he got there isn't the point, and whether she is, in fact, a bad mother isn't the point.  To me, the point is that as parents we all have moments when we worry that we are doing it all wrong, when we feel like failures, when our hard work and our planning and our best efforts are all for nothing and we don't "succeed".  Whether or not we admit it, we have had moments like that– all of us.  And then imagine being kicked, taunted, and chastised at your absolute lowest by everyone else.  That's what Mom Shaming feels like.
I had my own personal online (and viral) experience with it this past March, and I was left extremely shocked by it.  Sad too, of course, and hurt.  I had written a post about an extremely vulnerable experience in my life in which a woman who was taking care of our daughter in my home made a move on my husband while I was away on a business trip (and two months pregnant).  As I share about everything else on this blog no matter how imperfect ( Infertility, miscarriage, my own shortcomings as a parent, my unpopular but honest opinion on the first few months of Motherhood, sex after baby, etc)  I shared the experience with my readership as it truly felt like a turning point in my life and in my marriage.  And sure, I was prepared for the onslaught of public opinion about whether I should share the experience. Of course everyone will always "have an opinion".  Opinions are as common as grains of sand, as diverse, and inconsequential over time.  I have tons of opinions all day.  I get it.  What I wasn't prepared for was the absolutely vitriolic attack on my character, on my job, and on my parenting…because I HAD A NANNY.  The amount of hatred I received for being a "Working Mom" was absolutely shocking to me.  It felt so old-fashioned, so misinformed, and SO beside-the-point.  It made me feel like I was not living in the year 2016, but instead wearing some kind of corset and silken tapestry as a dress, waiting for a Nursemaid to come pluck Marlowe from my bosom so that I could go join my husband in the dining hall to gnaw on a mutton leg.  But it wasn't that people so despised the fact that I wasn't "taking care of my own child" (I still LOL when I read that opinion) but that people felt completely comfortable writing paragraphs and paragraphs about it to me, with the hope that their words would hurt my feelings and "show me"…something.  What they wanted to show me I still don't really get.
The point is that when it comes to being a Mom, everyone feels entitled to think whatever hateful thing about you and your choices… and to vent them.  In America, we have a hard time even getting people to sign petitions or write a letter to their Congressman about actually important issues that affect our human rights and our futures, BUT if I (and who cares about me) have a Nanny for my child it is totally appropriate to go Ape Shit all over my life choices.  And this is Mom-Shaming for you, ladies and gentlemen.  An unspoken "Ay-Okay" that because other people are raising children also, that they know better than you and do better than you, and have the right to make you feel absolutely terrible about yourself.  I think probably the worst thing you can ever say to a person is that they're a bad parent.  I can't think of anything that hurts more than the idea that you are failing at doing the thing that you literally care the most about in the entire world.
Whether you read my blog regularly or not, it takes only a few minutes to read over my content and see that even within a brutally candid site, I never ever will say that a certain way of parenting is wrong or right– that a Mom should or shouldn't be a certain way, or should or shouldn't make certain choices with their child.  I've had opinions cross my mind when confronted with information, like any normal human, but I truly believe that when it comes to parenting we are all doing the best we can with what we have.  And why do I believe that? Because we love these kids, guys.  It's really that simple.  We really, really love them– more than life itself, and more than we love ourselves or any other thing.  When I had Marlowe, one of the aspects of Motherhood that surprised me the most was how connected I suddenly felt to other Women and Mothers.  I realized in that moment that I  understood the feelings that a Mom has for her child and so I somehow also understood her– as different and diverse as we may be.  I view Parenthood as the great unifier in many respects. It's hard. It's the hardest job there is (in fact, I personally view "Stay At Home Moms" as "Work From Home Moms" because they are working too, and don't get the breaks that a lot of us who work outside the home get to enjoy).  My point is that becoming a Mother myself made me think a lot before judging anyone and their parenting choices or styles, because I realize now more than ever that the phrase "doing the best you can" really is a thing.  We all love our children so fiercely, and we all want the best for them.  So why is Mothering tearing us apart instead of banding us together?
I think it's because we feel insecure.  I think parenting is such a hard job, with so many ups and downs, that it makes us question ourselves and second-guess our choices all the time.  I have hundreds of moments a week where I question if my choices are right, or are good for my daughter, or will affect her positively.  And lots of times I feel like I made a mistake.  We are always so busy wondering and hoping that WE are doing the right thing that it makes us all defensive.  Instead of just hoping we are doing right by our own kids, we convince ourselves that we are doing it all THE right way, and in THE right style.  Anything that falls outside of the way we do things in our own lives threatens our very opinions of ourselves as parents.  This is all subconscious, of course.  Nobody is actually sitting around thinking that. And if we're being really real here today, the truth of the matter is that there is no right way.  Humans have been parenting for centuries, with thousands of different "styles", making millions of mistakes…and guess what? You and I are still walking around today on our own two feet continuing the human race.  We made it, okay?  But, I truly believe that what's at the root of all of the Mom Shaming animosity is Fear–  fear that we might be making a mistake with our most precious of jobs.  And so we point fingers, because then at least the finger isn't being pointed at us.
I wonder how much of this behavior would change if we chose to applaud ourselves and how we are doing as parents in our own lives.  I wonder if instead of focusing so much on what our kids aren't doing yet, or what they are behaving like, or how overwhelming it all is, we choose to focus on what we view as our own strengths as Parents.  What have we done well today? This week? This month? I think that if we began acknowledging ourselves and each other as getting through (or maybe even enjoying) the exhausting but joyous experience we call Parenthood, that we might care a lot less about what Suzy Q is doing with her kids over there.
As parents, we don't get a medal.  There isn't a Best Mom award, no "great job" from the masses to pat you on the back.  A lot of the result of the hard work we put in daily is invisible.  Sure, it shows itself in moments.  In snuggles from our children, in school reports of good or kind behavior, and most definitely in what our children do with themselves when they spread their wings and inevitably fly away from us in to the big brave world.  But then there are parents who do their best, and do a great job, and their kid grows up to be a giant piece of sh*t.  There is no measuring stick.  I, for one, can do a better job at spreading reinforcement and positivity to parents within my own community.  The ones I watch, and the ones I truly do admire from afar.  How does that saying go? "If You See Something, Say Something."  And this doesn't only have to refer to suspicious luggage.  In awe of another parent's fortitude that day? Tell them! Think a new Mama is doing a great job? Tell her! And if you look at your own day and feel it was a success, then certainly, absolutely, for God's sake CELEBRATE IT.
I'll take a moment here myself to take you, stranger, gently by the shoulders and look you square in the eye.  I will tell you this now, and please believe me:  I know you.  I know how much you love your family, and I know how hard you're trying at all of this.  You are doing a great job.  Better than you think, and better than you know.  It takes real strength to tackle the day, and no matter how gracefully you're doing it, you are doing it.  You're doing it. 
I hope you find it in you today to spread encouragement to parents who may need it, even if they don't show it.  Thank you so much to all of the kind and generous people who have been so supportive and uplifting to me on this site the past year.  It is all so moving and appreciated.
xoxo
EAM