The following content may contain affiliate links. When you click and shop the links, we receive a commission.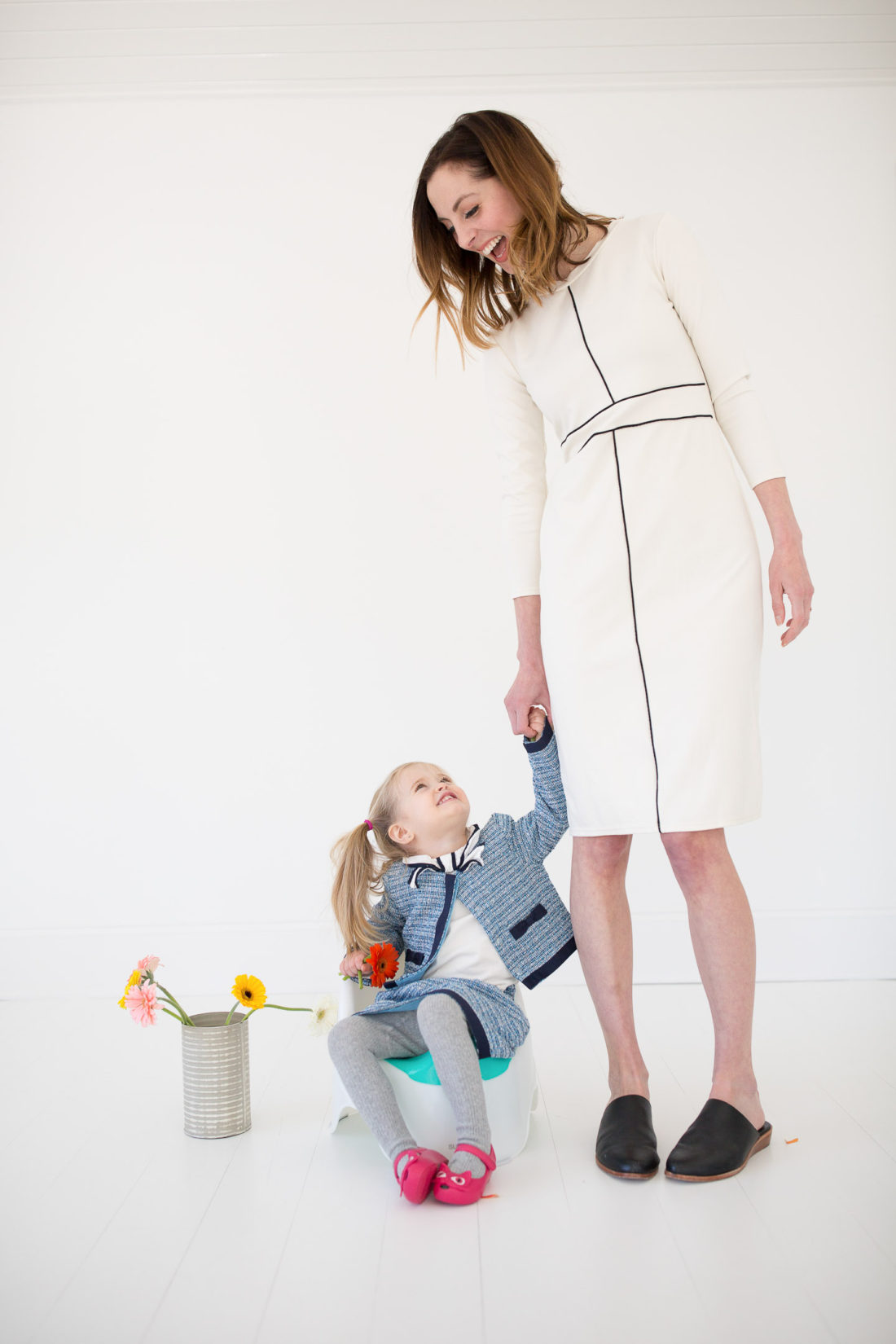 Potty Training is the absolute worst.  I would take Sleep Training over Potty Training any day of the week, and I've done both in the past 90 days.  I swear I've aged five years in one week.  Anyway, where were we?  Last time I wrote a piece in this series, we were gearing up to Potty Train.  I had my method ironed out, and a toddler who was definitely ready but suuuuuper resistant.  So, here's what happened between then and now:
Miraculously, right after I wrote my last Potty Files installment, Marlowe became interested in the potty.  A couple of the girls in her class were starting to potty train, and one day I picked her up from school and her teachers told me she had actually peed on the potty that day! I literally cheered at the top of my lungs.  From that point on, we started waking her up 15 minutes early every day to put her on the potty before she went in her diaper.  She would pee every morning on the potty! Aside from that, we weren't really pushing it.  The book I've been going by says to pick a date for the intensive "Naked Potty Weekend" and not to push the agenda before then.  I chose the third weekend in March– the only weekend that my husband had off from work.  I knew I'd have to have him taking care of Major the entire time so I could devote my Eagle Eye to Marlowe and her potty cues all weekend.  Any time before the official Potty Training weekend when Marlowe wouldn't want to sit on the potty, I would just let it slide and not make it in to a big deal.  Meanwhile, I was reminding Marlowe of our upcoming Potty Weekend like it was a Dancing With The Stars Promotional Tour: "Hey Lowie, remember what's coming up? In ten days, we are going to take away your diapers and you are going to put your pee and poop in the potty! It's going to be great! Only in the potty from then on! No more diapers!" She would give a little side eye, and occasionally seem excited.  I'm not gonna lie, I was not particularly confident that my countdown was doing anything at all.  But I was relentless.  Every morning when she would wake up, we'd talk about how many days it was going to be until we taught her to go in the potty.
Finally, the night before, I snuggled with her before bed and gave her a special pep talk: "Marlowe, I'm SO excited for you! Tomorrow is the big day! When you wake up we are going to go pee pee in the potty like always, and then we are going to take your clothes off and be naked for the whole day and we are going to learn how to go pee and poop in the potty! It's going to be so fun to flush your pee and poop down the toilet! It's going to be really funny! No more diapers! I'm so proud of you that you're a big girl now and can learn new things! If you do well with learning, we are going to give you a big treat at the end of the weekend!" By the way there were exclamation points at the end of every sentence.  If I got any more enthusiastic my head was going to spin around on my body.  Her only reaction: "I'm going to be naked for the whole day?"  She seemed skeptical.  I said goodnight, had two glasses of wine, and went to bed hoping for the best.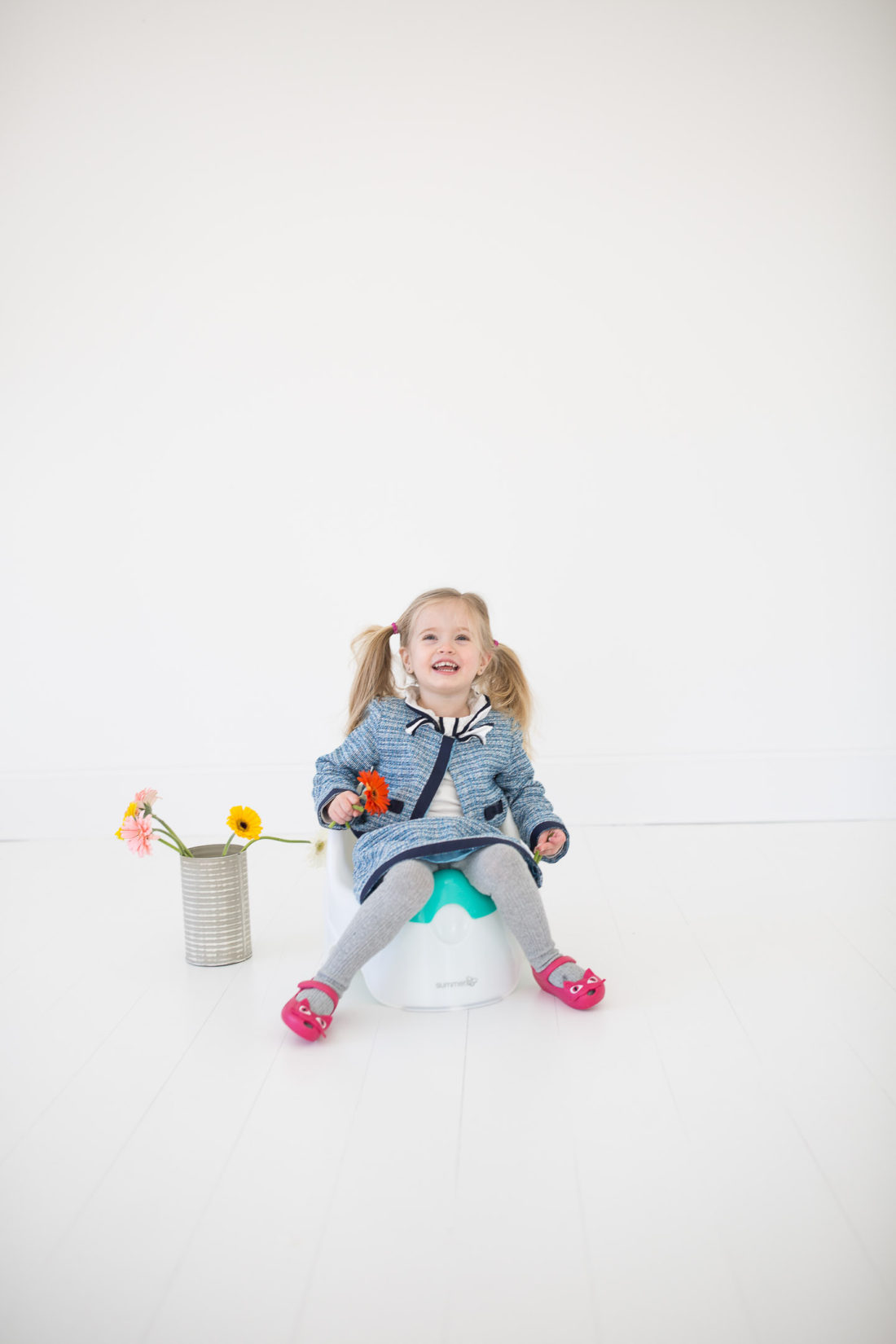 The next morning was like a scene out of Sophie's Choice.  We peed on the potty upon waking as per usual.  When I brought her back in to her bedroom, I took her pajama top off (the bottoms and diaper had come off already in the bathroom) and told her that we were going to go downstairs for breakfast right now, just like this.  Naked.  Immediate hysterics.  "WHERE'S MY DIAPER?!"
"We don't use diapers anymore."  Her face was a gut wrenching mix of panic and heartbreak: "MOM! I NEED MY DIAPER. I NEEEEED MY DIAPER!!!!!! DIAPERRRRRRRRR" She threw herself on the ground and started sobbing.  Not tantrum-type sobbing, but heartbreak sobbing.  I almost aborted the entire mission right there.  But I remembered the book I read, and what the author had said about diapers being so emotional for toddlers– they've had a diaper on the their body for their entire life since they were an hour old. This wasn't just a routine change, this was practically like a divorce! I picked her up gently, and held her in my arms, I whispered in her ear that I knew it was such a big change, and big changes are hard.  I stroked her head and rocked her and told her that I knew she'd do great, and everything was going to be OK.  I told her I would be with her every step of the way, helping and teaching her.  After about ten minutes, she calmed down, hiccuping with every breath.
We went downstairs and started breakfast.  From then on, I watched her like a hawk.  Luckily, I pretty much knew Marlowe's potty signals already and so besides having her sit on the potty every hour or so to "try", I also could tell when she had to poop or pee and rush her to the potty if I knew something was about to go down.  As a result, she did AWESOME.  No accidents, and made consistent pee and even one poop the first day! Every time she went, I would go crazy with celebrations.  We decided we weren't going to use a food or sticker "reward" system so I made sure we basically set off emotional fireworks every time to compensate.  We jumped up and down, we cheered, we high fived.  We Facetimed everyone we knew to tell them when she pooped on the potty just a few hours in.  I could tell that all of the attention and congratulations were really making Lowie feel great about herself and that she was starting to be really in to this potty attention.  But I'm not going to lie, the day felt weeks long– it was exhausting.  I haven't been so vigilant on such a small scale in years.  Every muscle my daughter moved, I was all over it.  By bedtime, I needed a vacation.  She probably did too! Ha.  The next day was equally exhausting, and equally successful.  By the end of the weekend, I was kind of wondering what all the fuss was about.  Why did people say this took weeks? Sure it was really, really tiring and super boring to bring somebody to a potty all day long and do nothing but watch them for potty signals– but she was doing so well! It was worth it! I asked her what she wanted as a treat for doing great all weekend with the potty.  Marlowe response: "A blue manicure."  Proof we are related.  LOL.  I promised her we'd go on Monday or Tuesday after school.
The next morning I dropped her off at daycare with NO DIAPER! Cold turkey.  We were both so excited to tell her teachers how great the weekend had gone! Before I left I had a slight pang of anxiety– school was a bit more distracting that being alone with Mom all weekend– but I figured we had enough hours under her belt and she knew what to do. I left feeling pretty optimistic.  I emailed the head of her daycare halfway through the day to see how she had been doing.  The reply? NOT GOOD.  Accidents.  Two.  One just pee and one pee WITH POOP.  I actually said "NOOOO!!!" out loud when I got the email back.  I immediately had this weird mix of emotions: anxiety, frustration, and intense guilt.  In that moment I realized that this would, in fact, be a process.  Naive Mom strikes again! Hadn't I learned by now that nothing is as simple as you wanting your kid to do something and they just do it.  They're human, and little, and learning– and like with anything else in Kidland, it is a constant dance of two steps forward and one step back.  But I also felt so guilty.  My Working Mom brain went to a dark place of feeling like it was my fault– that if I didn't work and Marlowe had been at home with me, instead of at daycare, that she wouldn't have had her accidents and wouldn't be feeling badly about herself.  Of course they can't monitor her at daycare every moment like I could do at home on the weekends.  She's doing a hundred fun activities and so distracted–  but I was so worried that her accidents would make her discouraged and would stick with her forever.  Of course when I think about these things intellectually, I know it sounds crazy.  Accidents are a part of potty training, especially when kids are in a school setting and not one-on-one.  But it was interesting to see how my mind went to a deeply personal place when faced with my child's small-scale shortcomings– and that I blamed myself.  It definitely got me thinking about parenting down the road, and how important it will be to learn to separate my feelings about my child's behavior and my feelings about myself.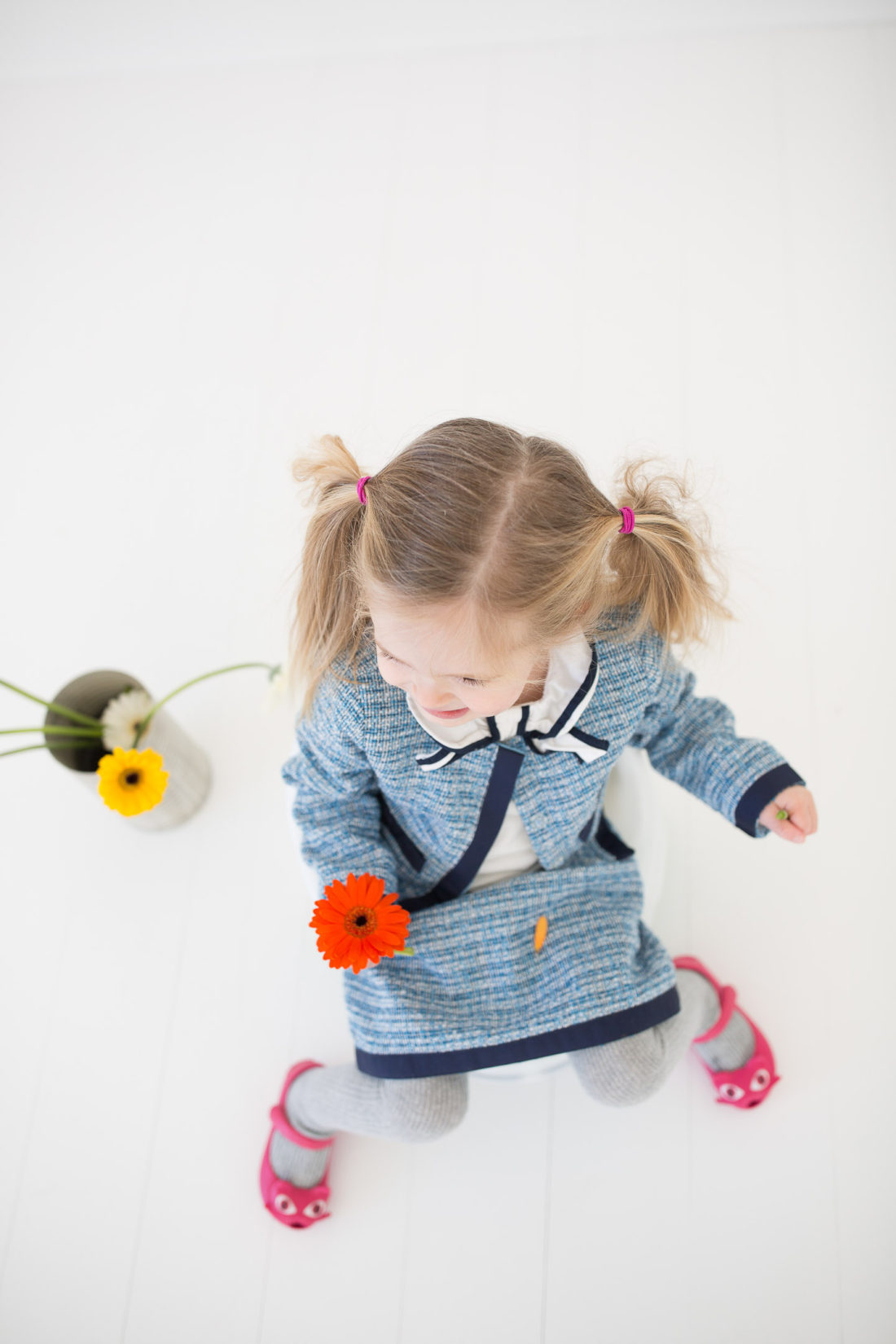 When I picked her up at the end of the day, the teachers told me that there were just those two accidents– and after each time she had cried and hid.  She definitely was aware that it was happening, and was not what was supposed to be happening.  A good sign, I guess? They told me that all in all, though, she had done great.  There were lots of other times during the day that she had successfully used the potty!  On the drive home, I could tell she was in a funk.  She wasn't as talkative as she normally is and stared out the window.  When I asked her what she did at school today, she just answered with "Nothin'".  When we got home, I held her in my lap.  "Listen, babe.  You know that poop and pee goes in the potty, not in your pants.  But I know you're still learning.  I know you will do better tomorrow.  The most important thing is to try your best, and I think you tried your best today.  I love you and I'm really proud of you."  She hugged me for a long time, and I tickled her.  She went pee on the potty for the rest of the night.  The next day brought another road block– another poop accident at school.  But… no pee this time! The fact that that was a small victory for me really shows the kind of brainwashing that potty training can do to you.  LOL.  Also, if you want to instantly reexamine where you are in life and how you got there, I recommend rinsing poop out of a pair of toddler leggings with a hose at the end of every day.  A truly "grounding" experience! Ha.
That afternoon, I took Lowie for her potty training manicure.  She was so proud and sat so still while the manicurist applied two coats of blue polish and little tiny glitter flowers to her fingers.  That night, Marlowe had a talk with me.  "Mom. I really want to wear underpants." This potty training book emphasizes two weeks of NO underpants in the beginning of potty training.  Just pants. The author claims that underpants feel too much like a diaper and that it leads to accidents.  This made total sense to me! I had been sending Marlowe to school with leggings or sweatpants without underpants underneath.  So, I reminded Marlowe that underpants might feel too much like a diaper and might be confusing.  She might poop or pee in her pants without realizing.  She stared right in to my eyes: "Mom, I really want to wear my underpants.  It makes me really sad to be naked under my clothes.  I don't like it."  She was being totally serious and looking at me with so much conviction.  Suddenly, she seemed 25.  Suddenly, I felt like the World's Biggest Jerk for making my kid wear clothes with no underpants.  "Well, Lowie," I told her, "I just want to make sure you don't have an accident at school because of the underpants.  If I send you to school in underpants tomorrow…are you sure you won't pee or poop in them?" Her ENTIRE FACE lit up.  "YES MOM! I won't! I won't pee or poop in them! No way, José! I won't!"
"Ok," I told her.  "I trust you.  Underpants tomorrow!" And guess what?  She never had an accident at school the entire rest of the week.  I'm not kidding.  Lesson #239 in how our kids know way more than we do. She also stopped pooping at school– at all.  Interesting development.  She does still poop at home.  Not sure how this is sustainable long term (it isn't), and also not sure that in this moment I really care.  As my Movie Buff husband reminded me, "You know, she's just like "Shit Break" in American Pie.  He wouldn't poop at school either."
Stay tuned for more updates.  Sincerely, Shit Break's Mom.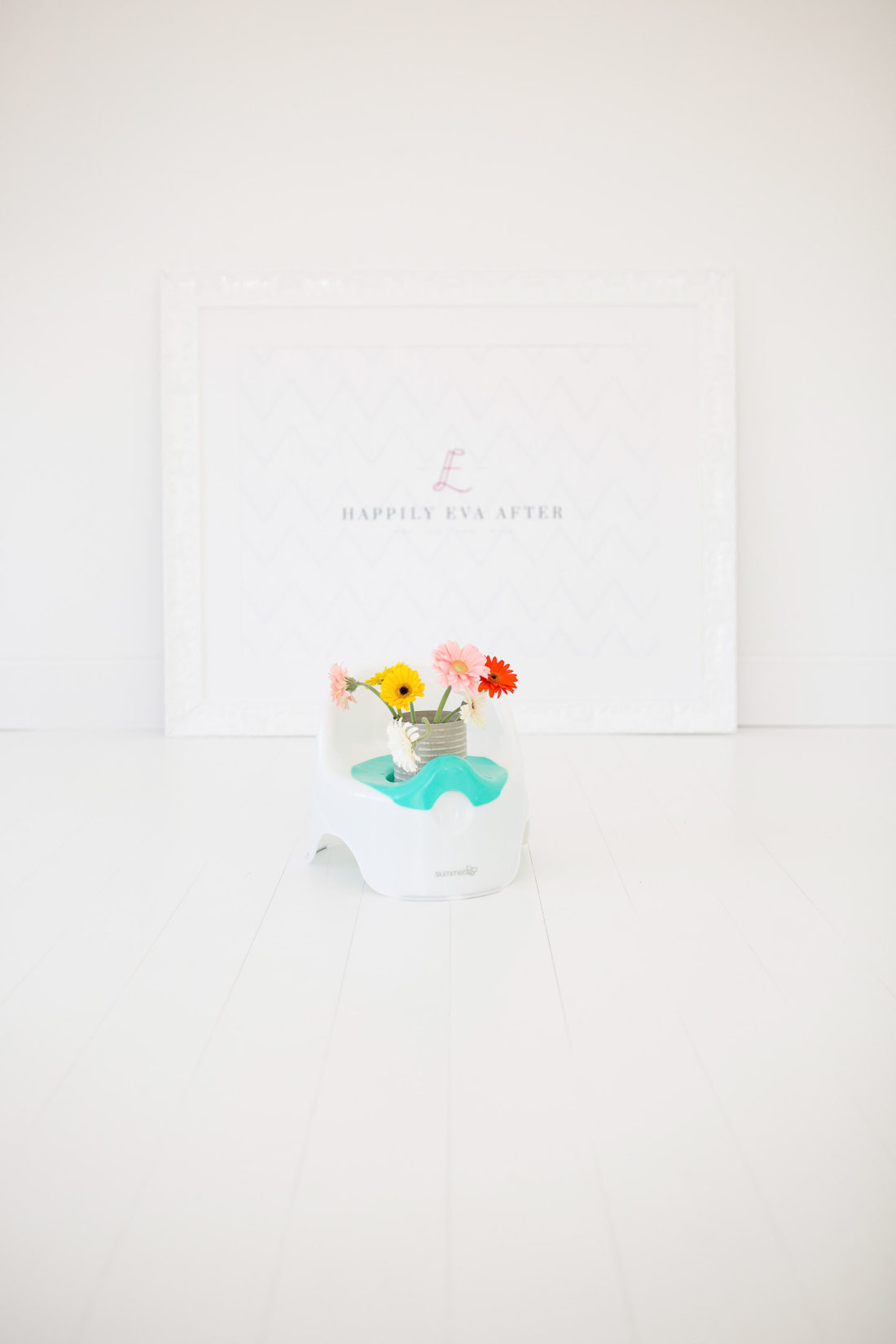 Photographs by Stephanie Elliott Photography
Save