The following content may contain affiliate links. When you click and shop the links, we receive a commission.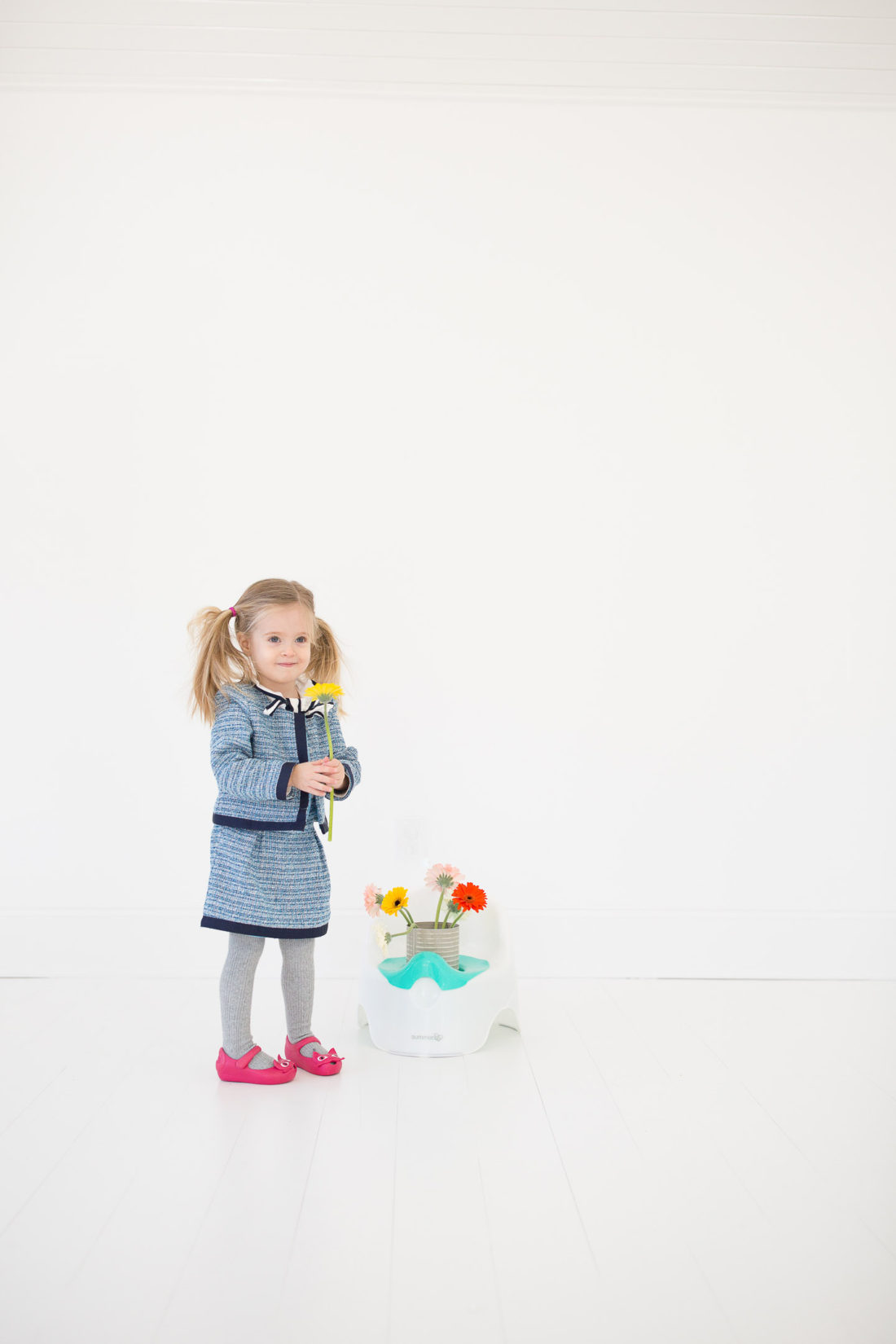 There's been a lot of Potty Talk around my house recently.  And I'm not talking about Poop and Pee jokes (although if you see a picture of my kid laughing there is a 99% chance I had just told her there was a big poop on the camera.  Whatever, it works!).  I'm talking about chatting, pleading, bribing, fighting, and crying about the actual Potty– namely, getting Marlowe to use it.  And guess what? It aint happening.  Because this has been such a big event in our home, I thought I would create a series where I track her progress and what we are doing to help our (very) reluctant Potty-Aged Toddler pass this major milestone.  Welcome to The Potty Files!
Let me back it up here for a moment.  Marlowe WAS potty trained! Seriously.  If you scroll back on my Instagram, say, a hundred years (aka to around January of last year) you'll find a video where a One-and-a-half year old Lowie is telling me not to touch the poop in the potty.  Hilarious! So cute! And impressive, in retrospect.  I hadn't planned on potty training her so young, but she has always been very verbal and at her 1.5 year old check up our pediatrician suggested we try it.  In under a week she was pooping AND peeing in the potty.  Of course this was kind of like a party trick at this point.  We hadn't transitioned her in to underpants or anything, and we were basically just doing it as much as we could get her to throughout the day.  But she was doing SO well with it.  "This is going to be easy!" I thought to myself in my naive first-time-mother brain! I patted myself on the back and thought, "Hello World! My toddler is a genius!"
Then we moved.  And then my daughter never wanted to look at, talk about, or sit on a potty ever again in her entire life.  Sooooooooooo. Yeah.  I've tried everything to get her excited and motivated.  I've shown her videos and pictures, and reminded her how great she was at the potty: she doesn't care.  I've tried to bribe her with sweets and treats: she doesn't care.  I've tried to pretend to take all her diapers away and give them to babies who need them: she cares a lot and cries uncontrollably until she pukes.  I've tried telling her about all her friends and family members who use the potty: she tells them Congratulations and lets me know that she goes in her diapers.  I've even tried explaining to her that there is a Big Girl Glass Ceiling in which you must learn how to use a Potty if you ever hope to do any Big Girl things ever again like go on special trips with Mommy or eat Ice Cream, or move to the preschool at Daycare, or be an Astronaut:  She shrugs and tells me to go to the potty by myself.  Then we had another baby and she ABSOLUTELY does not want to be a Big Girl if somebody else gets to be the only baby.  Regression 101, people!  But my kid is smart and she can manipulate me, come up with a million reasons why something can't happen, and of course tell me that she is going to try it some day…just, like, not in this lifetime.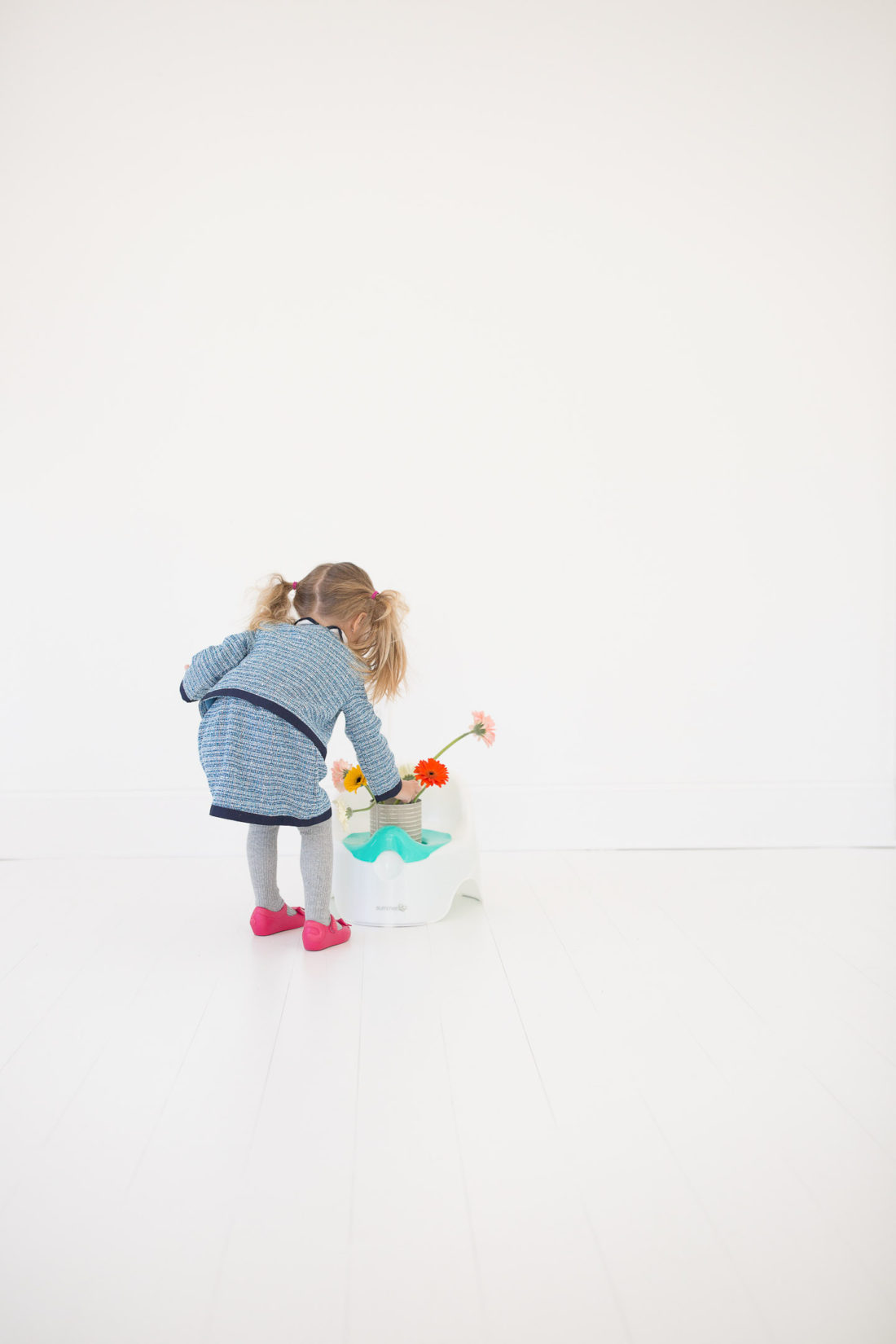 It's a problem.  Because now she is two and a half, is smart enough to tell me the full address of every home she has ever lived in, and we are over this shit.  Pun intended.  So I started doing something I never do– read instructional parenting books.  A friend of mine had success with THIS BOOK so I bought it.  The title is hilarious, and I can really relate to the author's entire approach.  I felt it was a sign when another busy Mom with a couple of kids came over, pointed at the book and said "THAT is a lifesaver."  Yesssss!! I think I'm on the right track! I won't reprint the entire book here (read it if it seems interesting to you) but basically it tells you to put a weekend on the calendar to potty train, and roll your sleeves up.  No gradual progression, no "waiting until they're ready" or any of that.  It's more like you strip your kid down, hang out with them all day without a diaper, learn their potty cues, and teach them how to put it in that potty! Pretty practical.  We are going to aim for March and go for it!
In the meantime– we found out one night, while really delving deep with Marlowe about her allergy to the toilet, that she is scared she is going to fall in there (LOL but also Awww).  So Mama came to the rescue and bought one of these potty rings.  I did a whole dog and pony show when it arrived, and presented it to her like a big important present.  Lowie kind of side-eyed it, but did seem a little relieved.  We also have this little potty.
Stay tuned for another update in the next installment of The Potty Files!
(Also PLEASE contribute any foolproof Potty Training tips and tricks to add to the community in the Comments below!)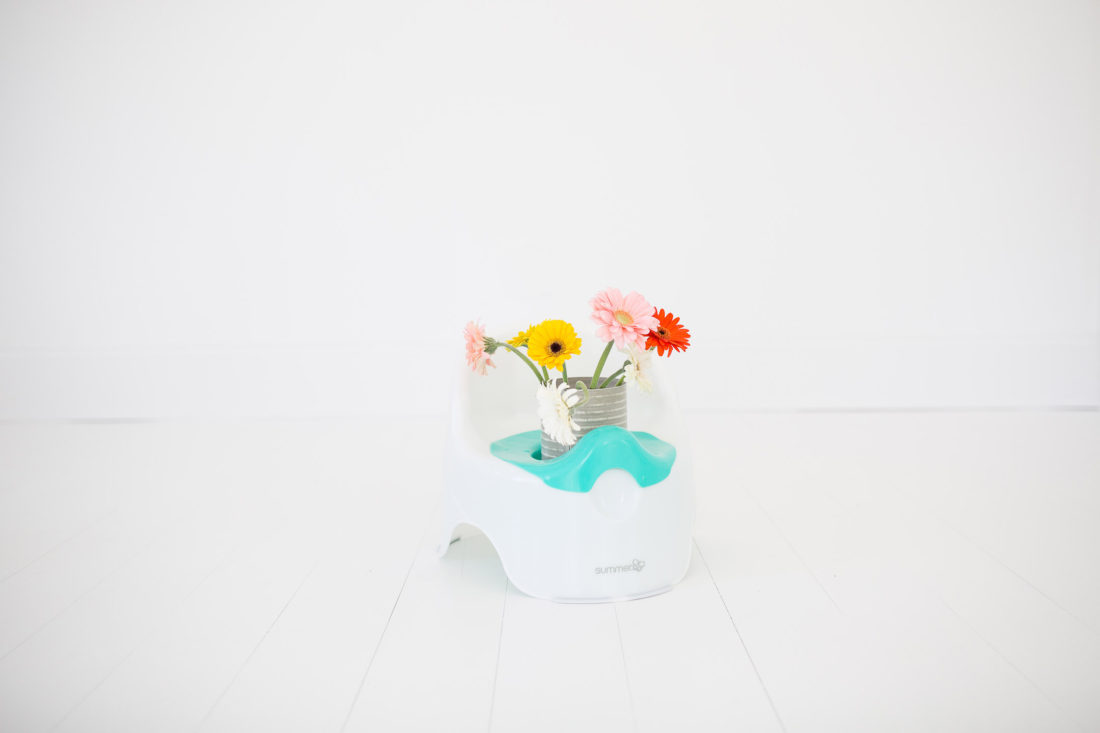 Photographs by Stephanie Elliott Photography
Save