The following content may contain affiliate links. When you click and shop the links, we receive a commission.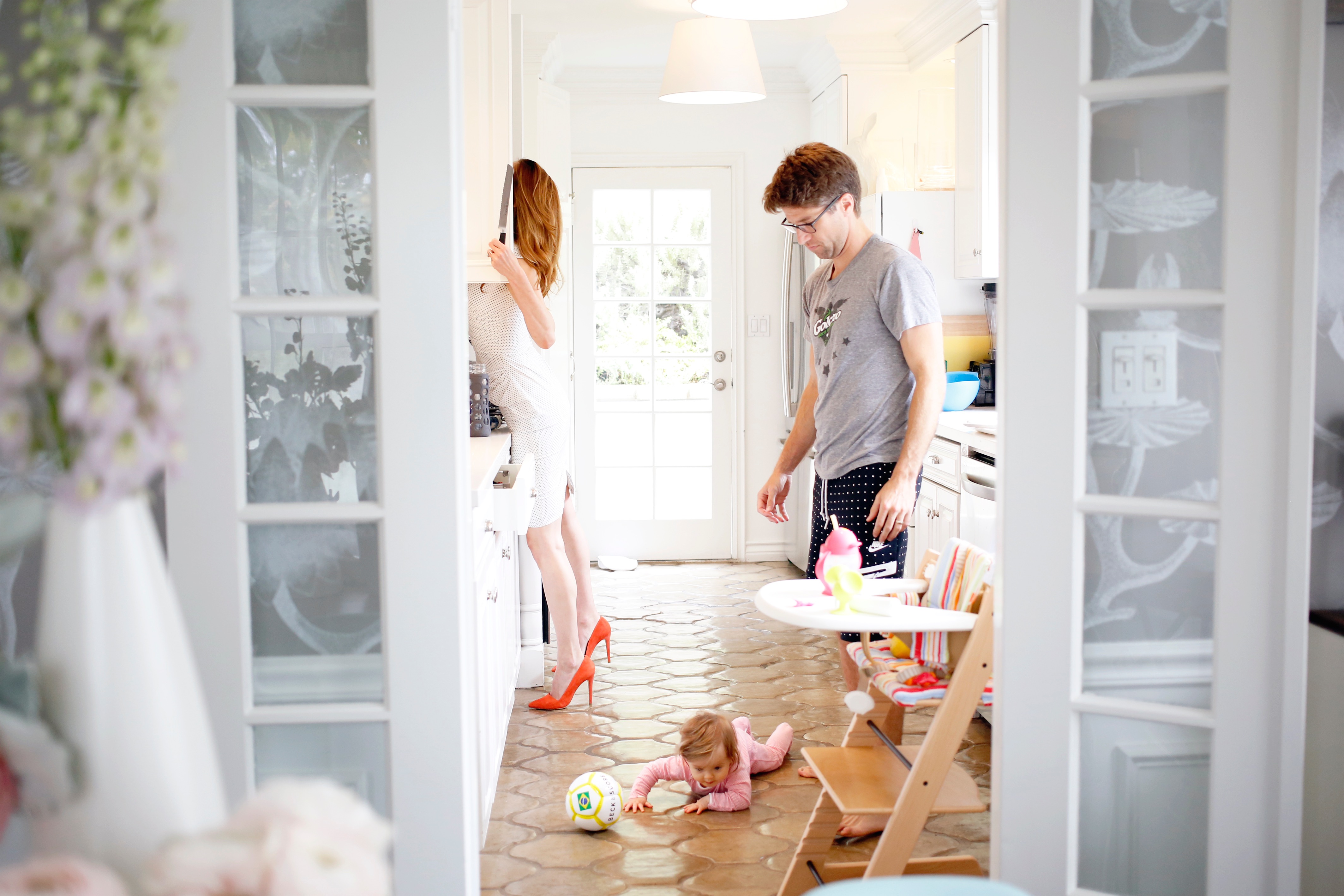 Well, we have some pretty big news today.  It's been brewing for a while, but there were so many moving parts that I thought I would wait until we were 10000% sure before I laid it all out on the table:  After a lot of consideration, some tears (mine) and a mountain-load of logistics, Kyle and I have decided to move our family permanently to Connecticut! The California Martinos have migrated!
If you follow this blog (or my Instagram) you know that we've been in the Westchester area for the past four months– also known as the-majority-of-my-pregnancy with Baby Boy Martino!  We did this to be closer to Kyle's work as he finished out the soccer season.  He works as a Soccer Analyst for NBC Sports and covers the English Premier League in a weekly studio show.  This show shoots in Stamford, Connecticut. As most of you know, my husband has been traveling to do this job four days a week for the past five years.
Yes. You heard that right.  Anybody with small children can probably relate to how hard that has been on me holding down the fort alone in L.A., on Kyle to be getting on two planes a week, and on Marlowe to only have her parents in the same house together for a a handful of days each month.  It was terrible for everyone! In my "other life" (ok, a year ago) I was acting full-time and so I had to be based in Los Angeles to be close to all of my jobs, meetings, etc.  But this blog has set us free! I can Blog from anywhere, and so as this business has solidified so has our interest in exploring a way of life that would be easier on our family.  Then enter Baby Number Two (and pregnancy Number Three) and we looked at each other and knew we had to take the idea of relocation more seriously.  We really felt like we wanted to be enjoying these years together, not constantly playing catch up, filling each other in, and powering through it as we had been doing for so long.  Also, the idea of being along four days a week with a Toddler and a Newborn: HELL NO. Do you think I'm crazy?!
It's been so amazing the past four months to be together so much more as a family. Kyle and I have both noticed such a change in Marlowe and her relationship with Kyle has really grown leaps and bounds.  This was especially important to me, as somebody who grew up without my Dad consistently in my life– it was such a priority to have Marlowe build a close bond with hers.  I also really missed my Husband! I wanted to be able to attend dinner parties with him, and grocery shop with him, and turn over in bed to feel his sleepy body warming up the bed sheets.  We got married for a reason! (I'm pretty sure) So as our "bit of time" on the East Coast progressed, we started looking at homes and having long logistical conversations– and low and behold one day we found our Dream House!!
I know almost nothing about Connecticut (tips and info welcome!) but I do know that we have bought an incredible house that I am so excited to raise our family in and embark on this next phase of our journey together!  We just started renovations, and we will be moving in to our NEW HOME (eeeek!) in August.  I am beyond excited to take you along with me as I show you all of the changes I'm making, how I'm decorating the house, and tons of fun, crafty, and inexpensive ideas for creating that Wow-Factor.  Get ready for some super fun Happily Eva After Interiors content!  Plus who doesn't love entertaining in a brand-spanking-new space?! Party at our crib!
Of course this move and decision hasn't been without its drawbacks and bumps in the road.  Switching care providers for my pregnancy was really challenging and pretty emotional.  After my miscarriage I got really attached to the providers I had in LA, and so it's been tough letting go of the image I had in my mind of my Baby's birth and opening my heart to it being a different way.  Trusting new people can be a challenge after a loss, but I'm happy to say that I found an INCREDIBLE team here on the East Coast, and I am planning another Home Birth! (More on that later this month).  It's been so overwhelming to leave my closest friends in Los Angeles as well.  As you would imagine, being without my husband a majority of the time, I really had to build such a strong little community with my Girls– and I miss them terribly.  They are such a fantastic, strong, funny, and kind group of women and it still makes me sad that they aren't just a short car ride away.  I'm going to make a point of visiting often after this baby comes! There are tons of other little bumps when you move across the country with a family, of course, but I won't dwell on them here because really what's the point.  This post is about moving forward and being joyful about the things that are positive about this big change!
And with that in mind, I'll get to the HEA Housekeeping and a couple of Announcements:
First of all, I am launching a complete Happily Eva After site redesign and revamp in a few short weeks!! SURPRISE!! I know I've been teasing it for a while, but it's just around the corner now and I'm cartwheel-level excited for you guys to see this.  It's gonna be major!
The second announcement is that with all of this going on I am currently a little overwhelmed.  Ha! I mean, a cross-country move, a Toddler, a Pregnancy, a Business, and a house renovation and complete redesign….  Overwhelmed, who? Me? YES.  I want to keep bringing you the best content ever (duh) and so I've decided to cut my "new content" days down from Five times a week to Three times a week.  The schedule will now be as follows: New content on Mondays, Wednesdays, and Thursdays, and once the new site launches I will send out a fun Newsletter on Fridays!  Any extra content (I'm Type A, so sometimes this happens) will post on the normally dark days. I'm really excited about the Newsletter as it will have recaps, exclusive content, fashion finds, links to articles I'm loving that week, as well as totally exclusive information and announcements that only my Newsletter Subscribers will get.  For example, I may or may not be planning to announce Baby Boy Martino's birth and name to my Newsletter subscribers before anybody else hears about it! I love a Secret Club!! Don't forget to sign up as soon as the new site launches.  There will be prompts galore, so you won't miss the chance.
Well that pretty much sums it up!! I'm so excited to take you on this journey with me as my family and I navigate a new environment and way of life!  Thank you as always for being such a supportive, engaging, interesting and hilarious readership– you really do inspire and motivate me every day.
To the Connecticut Martinos!!!
xoxo
EAM
Save