The following content may contain affiliate links. When you click and shop the links, we receive a commission.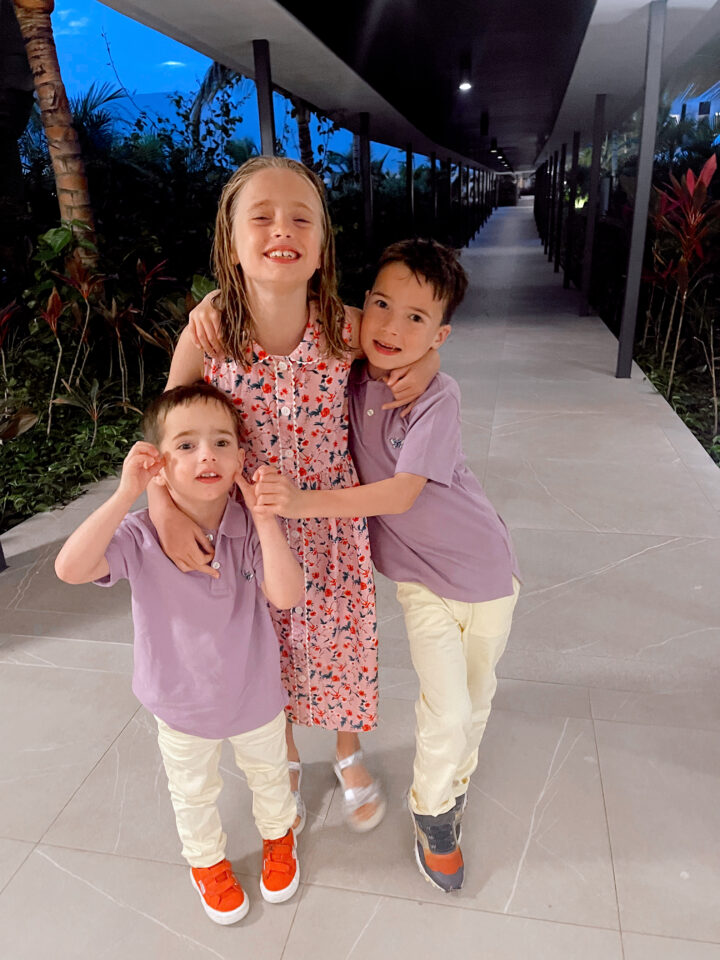 We've been back from our family vacation to the Dominican Republic for a few days now, and in all honesty, it feels a bit like a dream. We hadn't been on a beach vacation with Ian…ever…especially when he and I had both taken off from work so we could all be together uninterrupted as a family. It felt like we were in our own little bubble while we were there! Our time just flew by in a flash, but it also felt so good to just be in that bubble, not attempting too much or having too many plans. I've realized at this point in my motherhood journey that playing our days by ear, not sweating the small stuff, letting our routine slip through the cracks a bit, and giving each other lots of grace in our "moods" (LOL) is what overall makes for some semblance of a vacation with three kids! I was expecting it to feel more like a "trip" than a vacation because that's what I always prepare myself for at this phase of life traveling with littles, but we really did accomplish the true vacay vibe! We even all slept more than I think Ian and I were expecting! LOL.
It was much needed, and I think a great way to reset heading into the crazy season of moving house altogether and starting our fun-but-hectic summer! Besides our first day, when we literally landed in a thunderstorm and then had torrential rain from morning until night, our weather in the DR was beautiful! I was also so blown away by the beach, with its clear, blue waters. I was pleasantly surprised that the beaches weren't overrun with seaweed, either! The resort we stayed at The Finest Punta Cana (part of the Excellence Collection of resorts), is an all-inclusive…which is my favorite way to "resort" with kids who are still little. I first discovered all-inclusive family vacations when I partnered with the Hyatt Ziva about five years ago…and it completely reformulated my opinions on all-inclusive resorts. I LOVE how easy it is to go to an all-inclusive with your family, or with large groups. It makes meal times so much easier, and I like that I don't stress about overpaying for a resort meal that my kid takes two bites of and loses interest in! Plus, it's so fun that most things are just built in and you know exactly what you're paying for before you go. I actually really did love the Hyatt Ziva and would definitely go back!
I chose our resort in the Dominican Republic sort of by chance. I had heard incredible things about their other resort, in Playa Mujeres Mexico, from my friend Alex. When I went to book there for Easter break this year, all of their family suites were already booked up! Family suites have a large primary bedroom with a pull-out sofa, and a separate bedroom for the kids with two twin beds. Plus, a large bathroom and walk-in closet. With the number of people we had, we needed that level of room, apparently. I was so disappointed, but they let me know that they had a new location in the Dominican Republic AND they were having great deals. I was blown away by the price, and decided to book it! I'll say that overall our experience was really great. The resort is way more elegant than what I would have envisioned for an all-inclusive, and the design of it is really gorgeous–and very modern. I loved the marble and wood details in our rooms, and I felt the whole resort had a great flow. The pools were beautiful, and very well-kept! I would say my favorite thing about the resort was the gorgeous beach. I loved the vibe out there, and the water was very easy for all of us to swim in and so warm! Another thing we loved were the amenities for the kiddos. They had one of the coolest playgrounds I have EVER seen, which was shaped like different enormous birds! There were also really fun splash pads and bouncy domes at the various pools for kids to play on. Many lifeguards were on duty, and everything felt really safe.
The biggest drawback to our experience there was that the food at the resort is NOT good. It's really not. There are many options of places to eat, and I loved how easy it was to eat everywhere within the resort, but the food itself was just bad. I would say there was one good option on each menu (yes, we tried everything by the time we left), and the best food we found was at the food truck by the beach which served delicious Dominican beef patties, fish and chips, and sandwiches. I also loved the fresh fruit offerings in the morning, and then I'd sometimes get fresh juice from the coffee shop as well. The best restaurants we tried were the Italian one, and the seafood restaurant on the beach. Both had a few simple options that were nicely done! I also have to give props to the ice cream at the coffee shop, which the kids ate every night after dinner.
I'll admit that it was kind of a bummer to be someplace for five full days and to feel like there wasn't any great food to look forward to! If we had been there with older kids who were up to a drive, I definitely would've left the resort and explored Punta Cana for some great local food. My second drawback was that there was a lot of upselling, and vendors coming by both on the beach and by the pool encouraging you to book excursions and spa treatments, etc. It wasn't just once or twice, but pretty much all day long. I totally respect the hustle, but the environment felt really pressured to be booking things or purchasing things on top of what was already part of the all-inclusive experience. It was kind of exhausting after five days of constantly saying no thank you to the same people. Having been to another all-inclusive that definitely didn't feel that way, it was just a vibe that I hadn't been expecting and didn't love. Overall, I think the resort is wonderful, the people who work there are lovely, and the rooms were really nice. I loved our suite, and I thought that it was so well-appointed and comfortable. The activities at the resort were really fun, too! They had a great party for Easter, and each night there was tons of entertainment that the whole family could enjoy. Would I go there again? Not sure. I think I'll try the Finest Resort in Mexico first, and then see. I know from my friends who have been there that the food is much better! That's my honest review!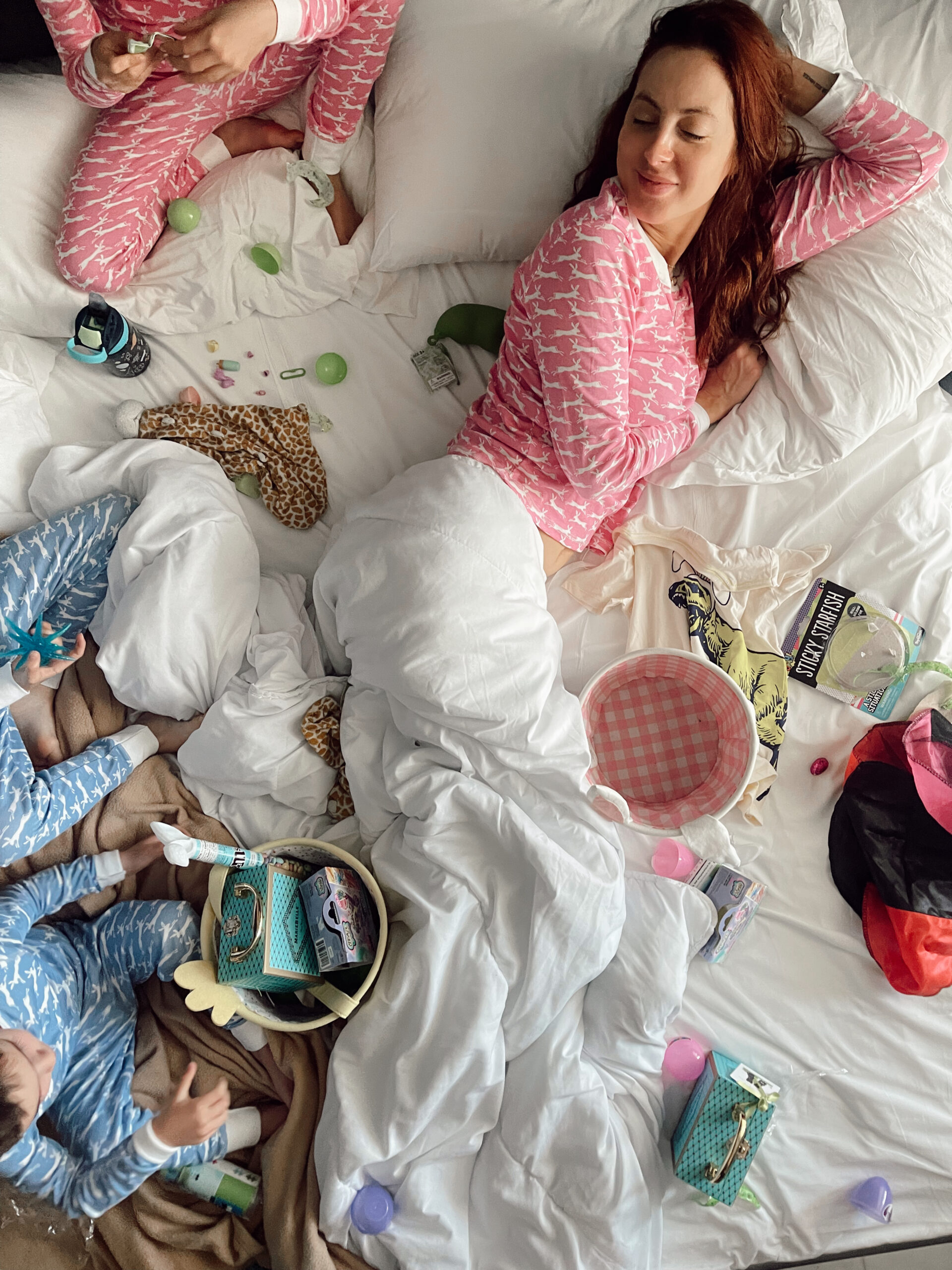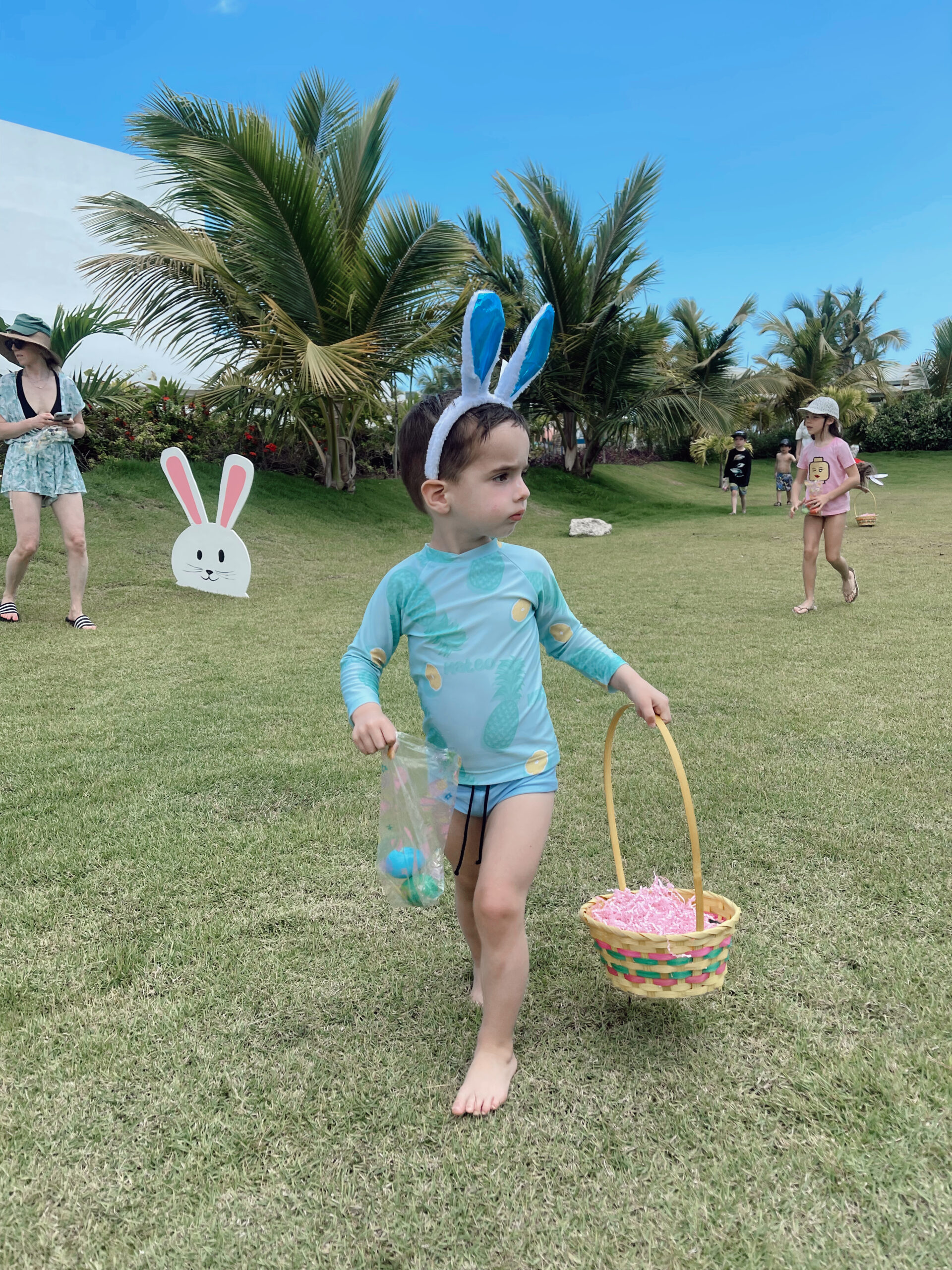 We woke up early each day around 7 am and walked to get breakfast and coffee. I love how easy it was to either get buffet food for the kids or order certain things a la carte if desired. Then, we'd go get chairs at either the beach or the pool and use that as our home base for the day. We had soooo much fun swimming and playing with the kids. I am truly SUCH a water baby, and it was really nice to be playing in the water with the kids and swimming around instead of our standard yard playtime. Mateo, in particular, went hard in the paint and was basically falling asleep in his chicken fingers by the time we got to lunch. LOL. Then, either Ian or I would go take him back to the room to nap for a couple of hours, and the other one would hang with the two big kids at the beach, or take them to the kids club to hang with other kids while we had some alone time! We even met a great family that we became friends with while there, who also had three kids. It was so fun to meet people, click with them, and form a little vacation bond! We even all ate together on our last night at the resort. I have so many great memories from growing up of making "vacation friends" who we stayed in touch with for years. I love watching my kids do the same!
The trip went by way too quickly, but we did all genuinely get to unplug, unwind, and spend quality time together– which was all that we really wanted. It was nice to get a little tan, too! I still can't get those blue Dominican waters out of my head. I'd love to go back to Punta Cana with Ian and stay at a different resort to try it out. Let me know if you've tried any other resorts there that you love!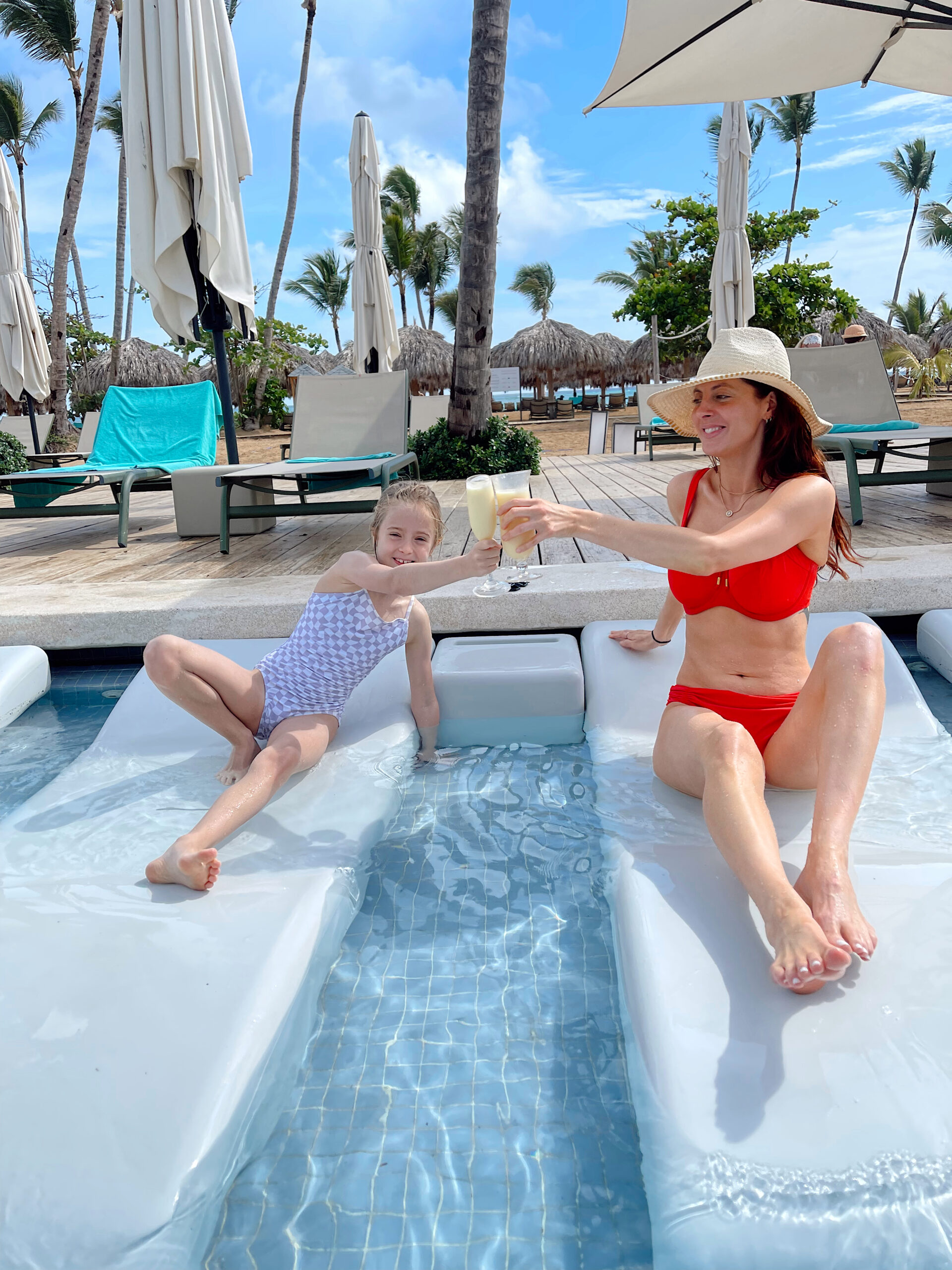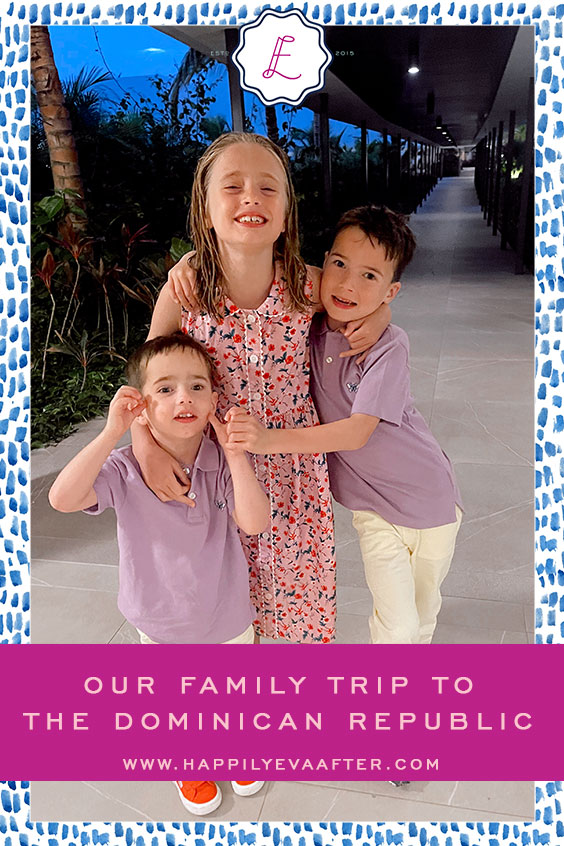 ---
Shop the post…