The following content may contain affiliate links. When you click and shop the links, we receive a commission.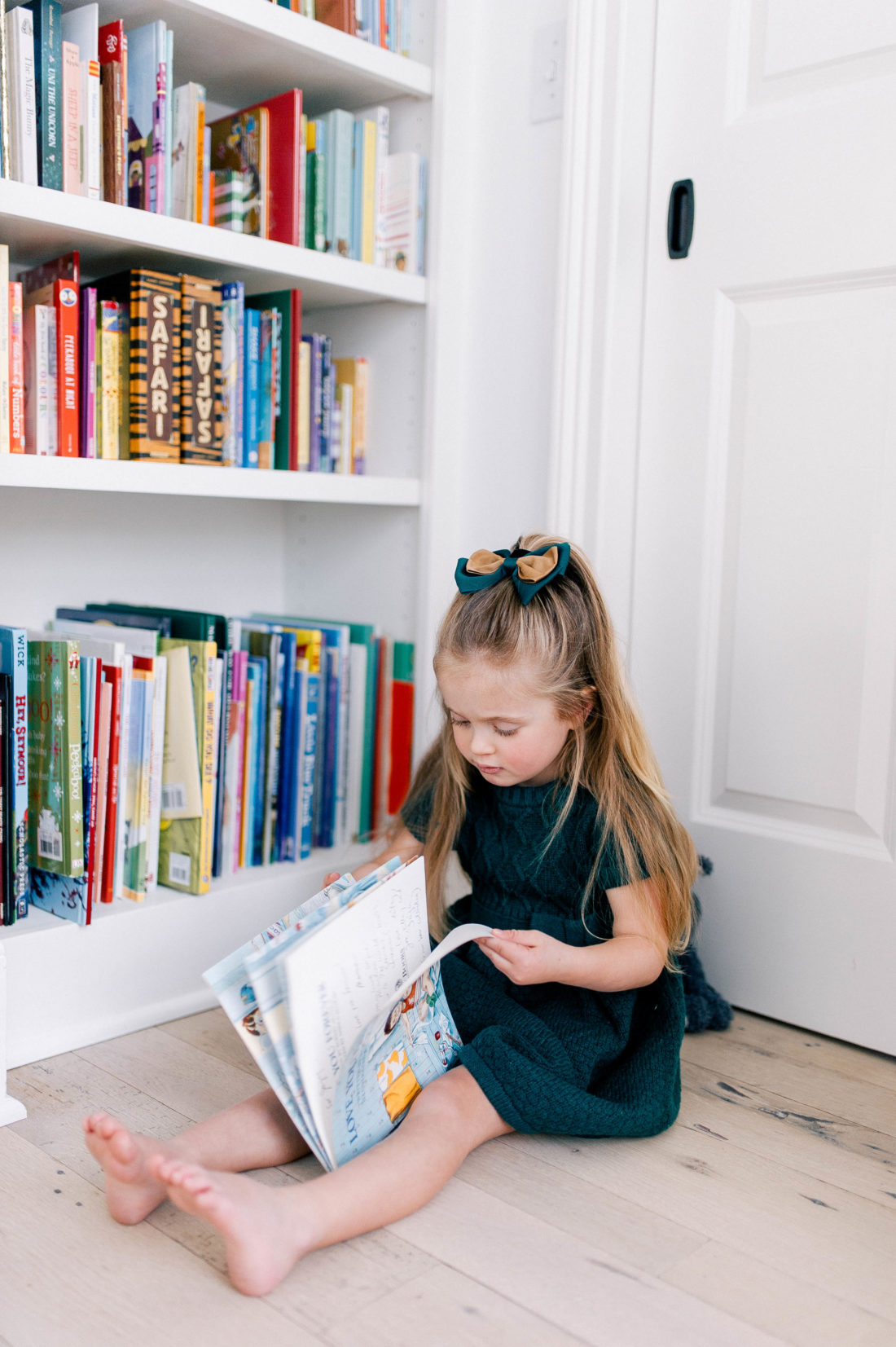 I've always had a group of Mom friends in my circle with kids who are about 5-8 years older than mine.  It's been great, because over the years I've gotten a good insight in to all the stages to come– and those more seasoned Moms have always been there to offer the calmness and sage advice in response to all the first time Mom jitters I had with my first.  One thing I remember them always saying was that one of the first most noticeable transitional changes with kids happens when they go off to school– and have an entirely new, peer-based environment.
As the Mom of a very headstrong little girl who is extremely independent and attached to her ways of doing things, I never really listened to these observations. I figured that my daughter was going to spend time in a new environment, with new people, and just stay exactly who she was– but I was totally wrong.  And it's been one of the most interesting milestones as a parent so far to watch the changes that Marlowe's peer-based environment has made in her.  I figure these changes with our school-age kids is something all Moms end up going through– and I thought it would be fun to share some of the little idiosyncrasies I've noticed over the past few months.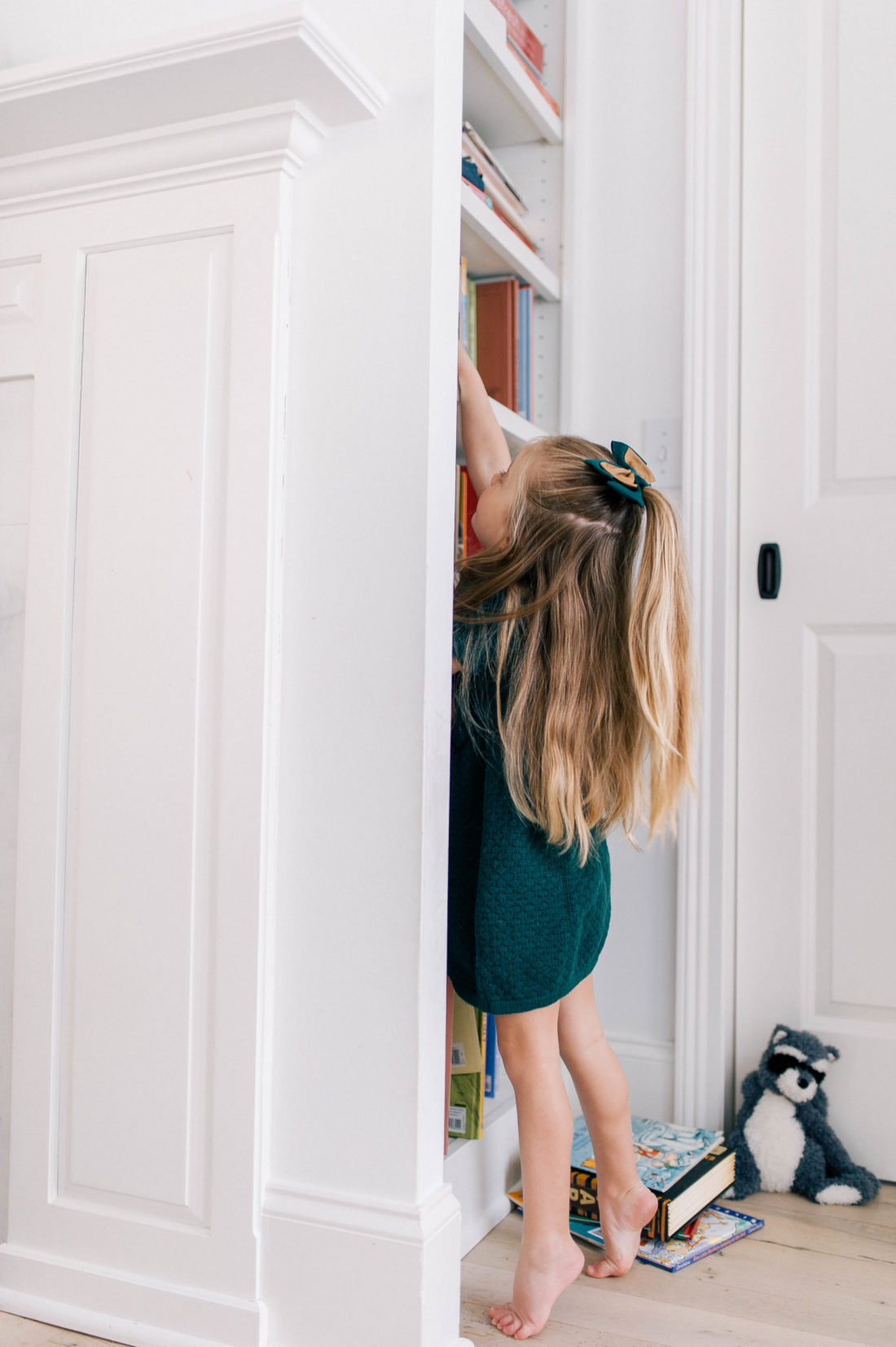 New Routine, Who Dis?
At the beginning of the school year, I shared that Marlowe was having a brutally challenging time adjusting to school– and that it was really affecting our entire family.  The school had made some suggestions for how to get her acclimated, and I'm so relieved to report that those tactics worked WONDERS.  I would say the best of all was the curbside dropoff component.  She now is so used to her routine of meeting a teacher at the curb and starting her day right there.  They always have a tricycle out for her that she hops on it every single morning, and rides up and down the front of the school greeting the other kids and parents.  It's become her little "thing", and I can tell that having a specific role to play in the mornings has really made her feel safe and secure.  It's amazing to watch her get excited in the mornings instead of heave with sobs (its also slightly more relaxing for Mommy.  LOL)
New Food, Who Dis?
Marlowe has always been pretty particular about food– the likes AND dislikes.  Turns out when your kid goes to school, that all goes out the window! I've never loved peer pressure more.  Before Preschool, Marlowe wouldn't eat oranges, salsa, string cheese, SunButter (the nut free "safe" peanut butter alternative), or salad (among other things!).  At her school, they will often cook something special as a group for snack time, and it's gotten her to eat a ton of new things– not to mention all the encouragement she gets by watching other kids tuck in to their lunches every day.  Imagine my surprise when her teacher commented to me one day at pickup: "Isn't it amazing how much Marlowe LOVES SunButter?!" And I was like where's my kid, though? Because this must not be her. LOL.
New Attitude, Who Dis?
Marlowe has never been a grabby kind of kid, but she was definitely your typical three year old when she started preschool– it was hard for her to give something up that she had been playing with in order to let somebody else use it (for example, *cough*, Major, *cough*).  Being around a lot of other kids who can speak up for themselves and demand equal time with toys has been great for teaching her about how the real world works– you can't ALWAYS get what you want, kid! I've noticed her being a lot more understanding with Major, and generous about sharing with him at home.  In fact, on weeks where she is out of school for holidays or illness, I notice that she starts slipping a bit back in to "Mine" territory.
I've also noticed that she has become SO complimentary of others since starting school! For example (and this must be something they encourage in her classroom) she will look over at her brother's artwork, or something her Nanny or I have colored or drawn, and say "Wow, that's beautiful! Good work!" It's so adorable– I love that she feels so comfortable building other people up!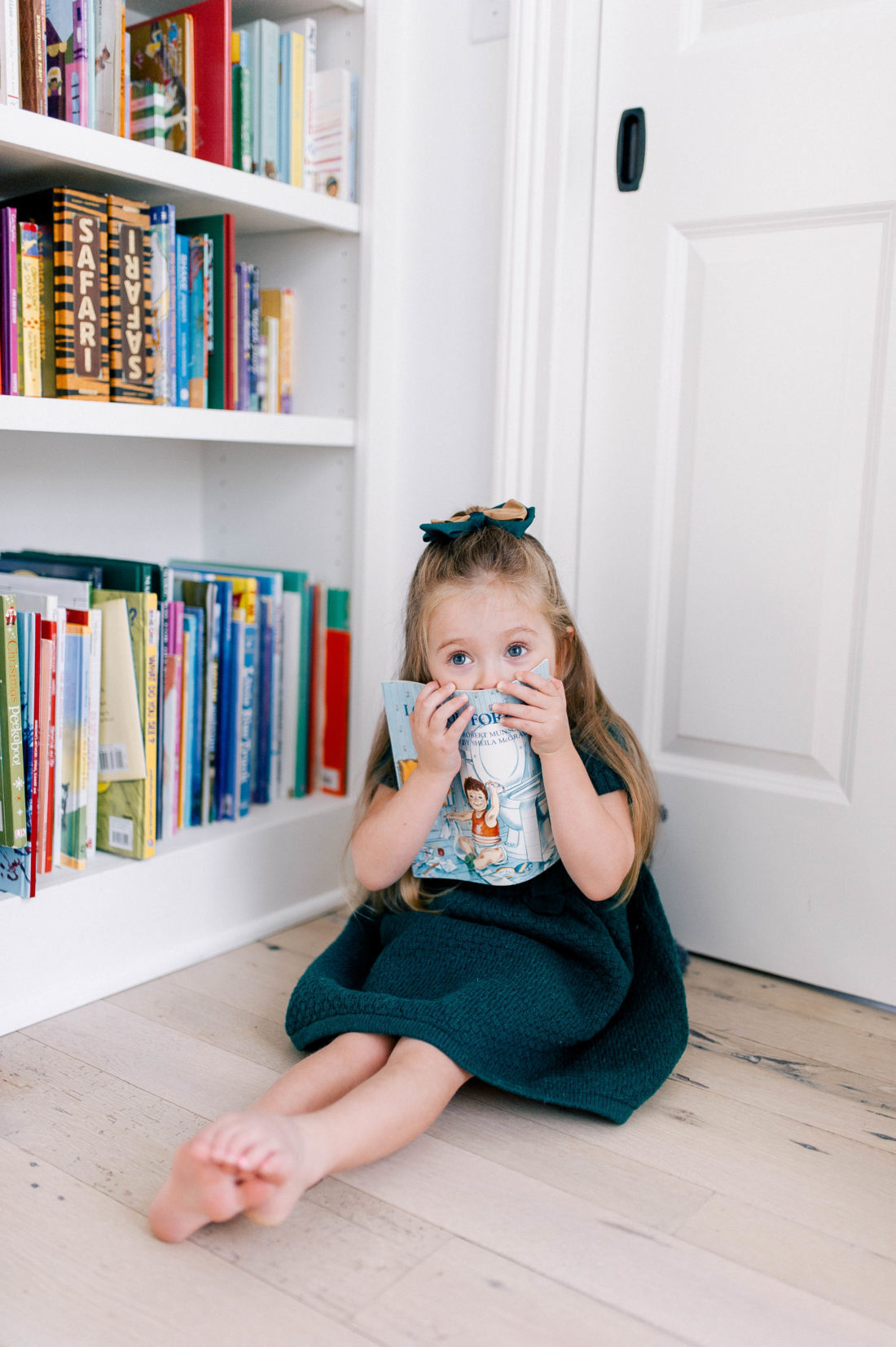 New Language, Who Dis?
Ok, so this can be a fun one, and a NOT SO FUN ONE.  Let me start with the fun.  Whenever we went through our Lice debacle, we spent about a million hours in a lice salon getting everyone checked and getting her lice taken out strand by strand.  By the time the day was over we were all exhausted.  I was pulling out of the parking lot, and our whole family was in the car.  Everyone was silent– until Marlowe's little voice piped up from the back: "GREAT teamwork today, guys.  I'm proud of all of you!" I started hysterically laughing (and crying a little bit, too).  I feel like every week little things come out of her mouth that remind me how much she's learning and growing since being in school.
On the other end of the spectrum, perhaps the most uncomfortable thing that happens when your child enters a new peer environment is that they get exposed to language and behaviors that you may NOT like or appreciate. One day about a month in to school, we were all eating dinner as a family.  In the middle of munching on a bite of food, Marlowe turned to me and said: "Mom? We don't say 'Stupid Fucker' right?"  Kyle started choking on his chicken taco.  I tried to stay calm so that I wouldn't make that type of language seem interesting, "Wow. Yeah, you're right babe.  We don't say that. It's a bad word.  Where did you hear that?" She told me that a kid at school screamed that in her face on the playground.  SOOOOOOOOO.  They're THREE! Of course I was horrified, and I ended up talking to the school about it (they were equally horrified, obviously) But the point is, different kids are exposed to different types of language, and that ALLLLL ends up coming out on the playground.  "Butthole" has been another fun one. I can't say I expected to explain to my three year old why we can't go around saying "stupid fucker" all day long– it's been eye opening to see that a lot of these language and behavioral corrections we have to make based on school experience actually can happen at much younger ages than I would have thought.  Of course we can't protect them from everything (and honestly, curse words are probably the easiest to deal with of all of these) but it's made me think a lot about how important it is to model correct behavior and language at home so that our kids know what we approve of, no matter what they hear at school.
One little trick I developed for this has actually been working really well for us: once every few weeks, when I'm alone with Lowie, I ask her to tell me all the REALLY bad words she knows.  Her eyes get as big as saucers and I say "It's ok to say them all right now.  Tell me all the bad words and then we won't say them again for a while ok?" She says "Ok Mom," and then lets them rip! It's interesting to see if there are any new ones in the arsenal that I didn't know she had heard ("Butthead" was a new one the other day)– but it's equally adorable to hear some that actually aren't curse words.  For example, Marlowe deems "Shut Up", "Don't Play with me",  "I don't like you", and "Penis" to be curse words.  I told her Penis is a body part and not a curse word. LOL.  The other ones I'm letting stick, though!  Ha!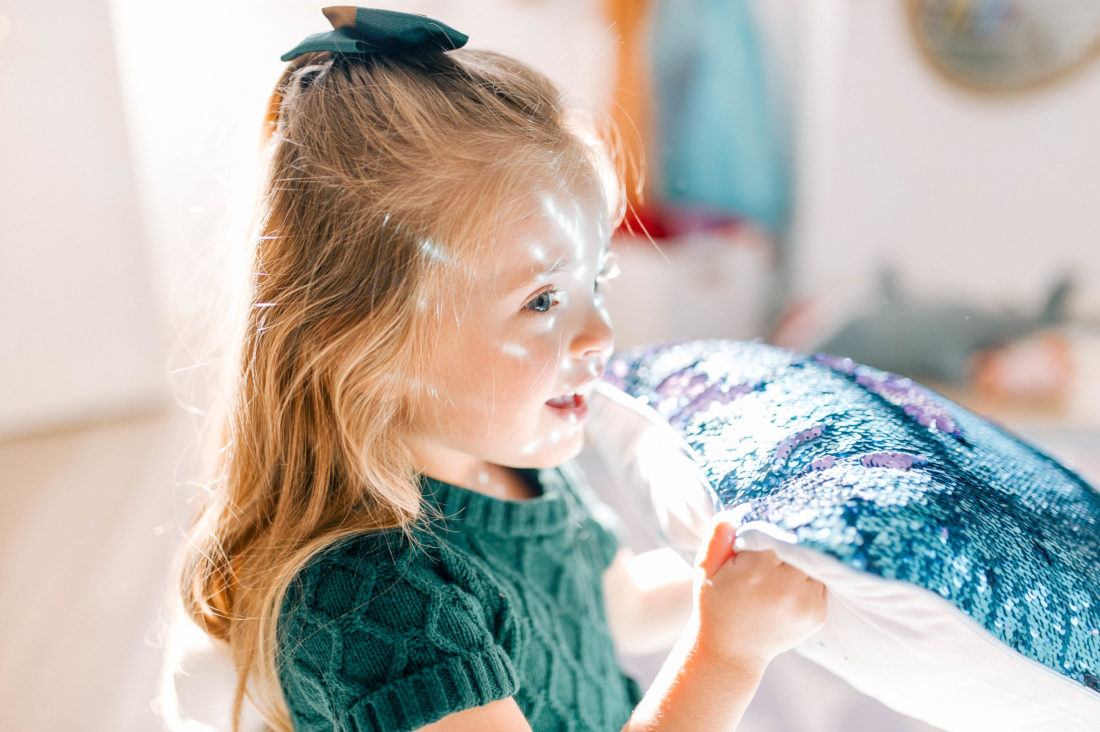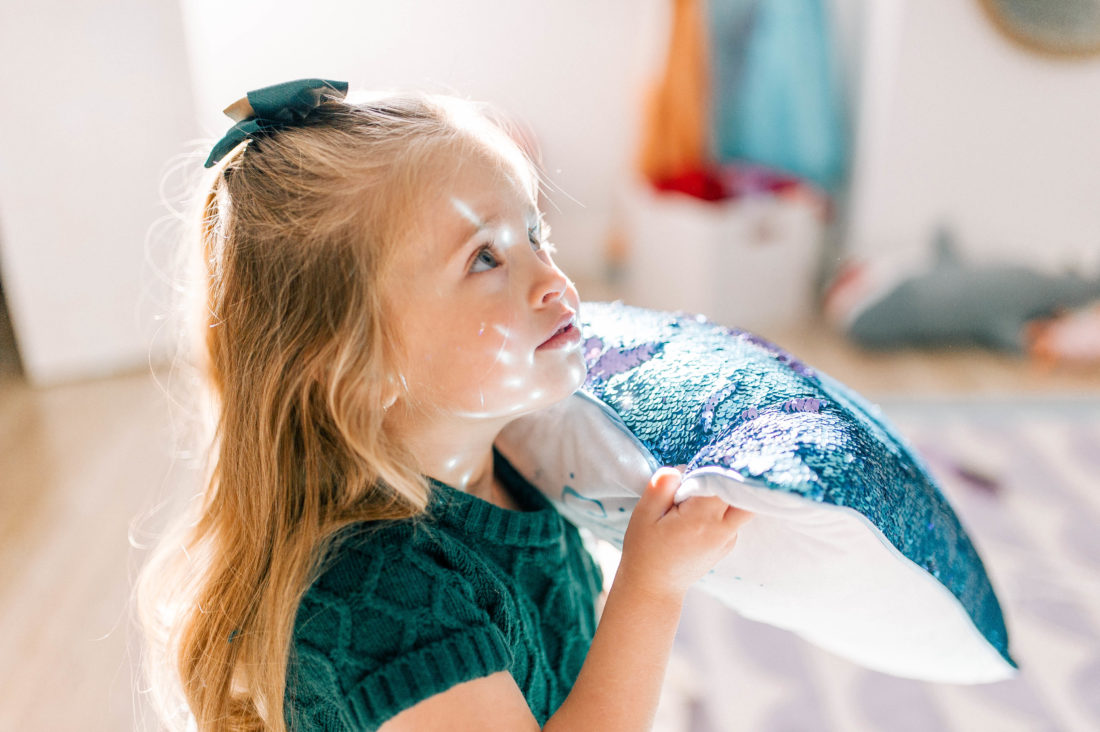 I'm curious to hear what the biggest changes have been in your school-age children, both funny and serious! What did you do to protect against the more harmful ones?
Adorable sweater dresses…

Photographs by Carter Fish
Marlowe's dress by Janie and Jack