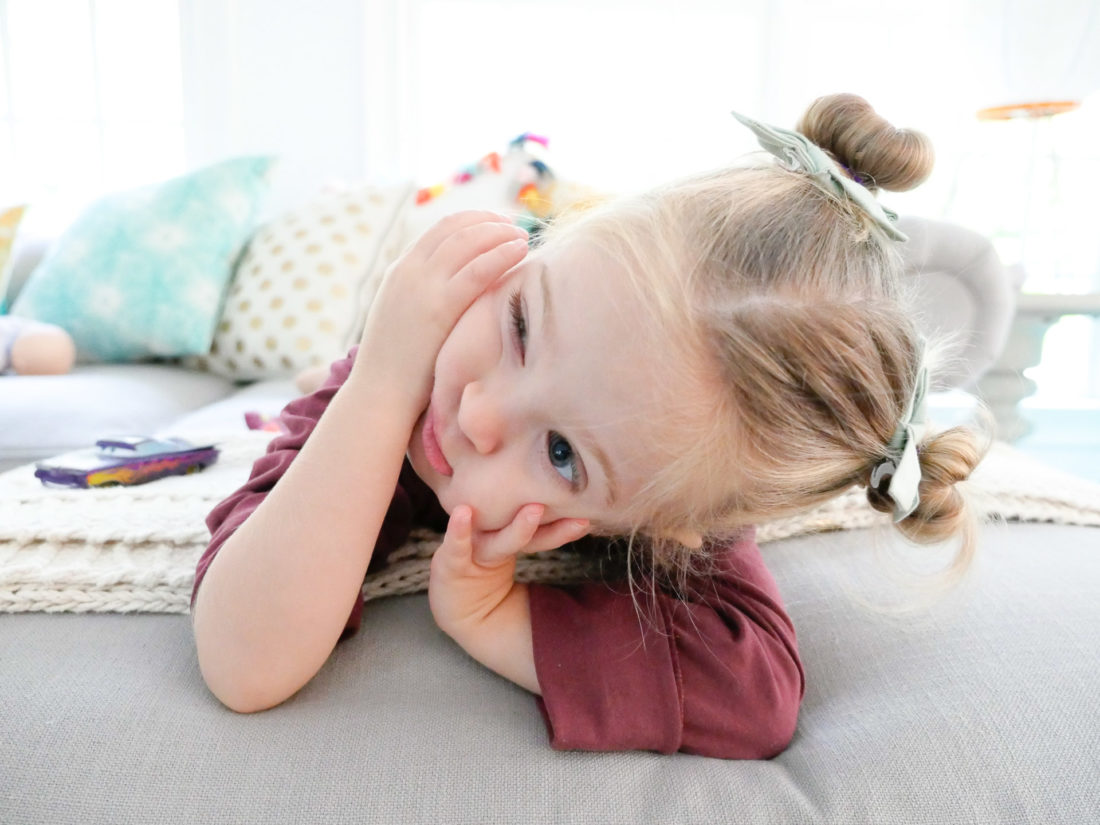 The whole family was excited for Marlowe to start preschool– Kyle and I had looked at six or seven preschools in the area– considered and compared them painstakingly– before finally choosing "The One".  We were pumped, Marlowe was intrigued, and we were ready to go.  I was convinced that my super social, outgoing, verbal, and totally potty trained child was ready for preschool.  In fact, I started looking up the paperwork to enroll Major for the Two's program at the school the following year.  Marlowe did a week of the school's Camp program in July, and by the time my kid was all gussied up for the first day just over a month ago, I sent her off without hesitation.  Everything was going to be great.
Until she came home that night and declared that she was never, ever, ever going to go back to school again.  I thought she was giving us the setup to an uncharacteristically advanced sarcasm joke.  When I had picked her up that day she was smiling, laughing, happy.  But now she was singing a different tune. "I don't like that school Mom.  I don't like the teachers, I don't like the kids, I don't like anything.  I don't want to go back there."  I didn't panic.  Yet. "Look, Lowie, it was a lot to do the first day at a brand new school.  I know a lot of people there already have friends and you don't yet but that's going to change.  First days are never the best.  Let's talk about it again tomorrow."  We left it at that.  The next morning she was a little ball of sunshine all through breakfast until I uttered the words: "Let's get you dressed for school!" I was met with the shriek of the century and immediate hysterics.  "NO MOM! I TOLD YOU! I don't like it! I don't want to go back! Nooooooo!!!!" This was now a thing.  And what in the world was going on?!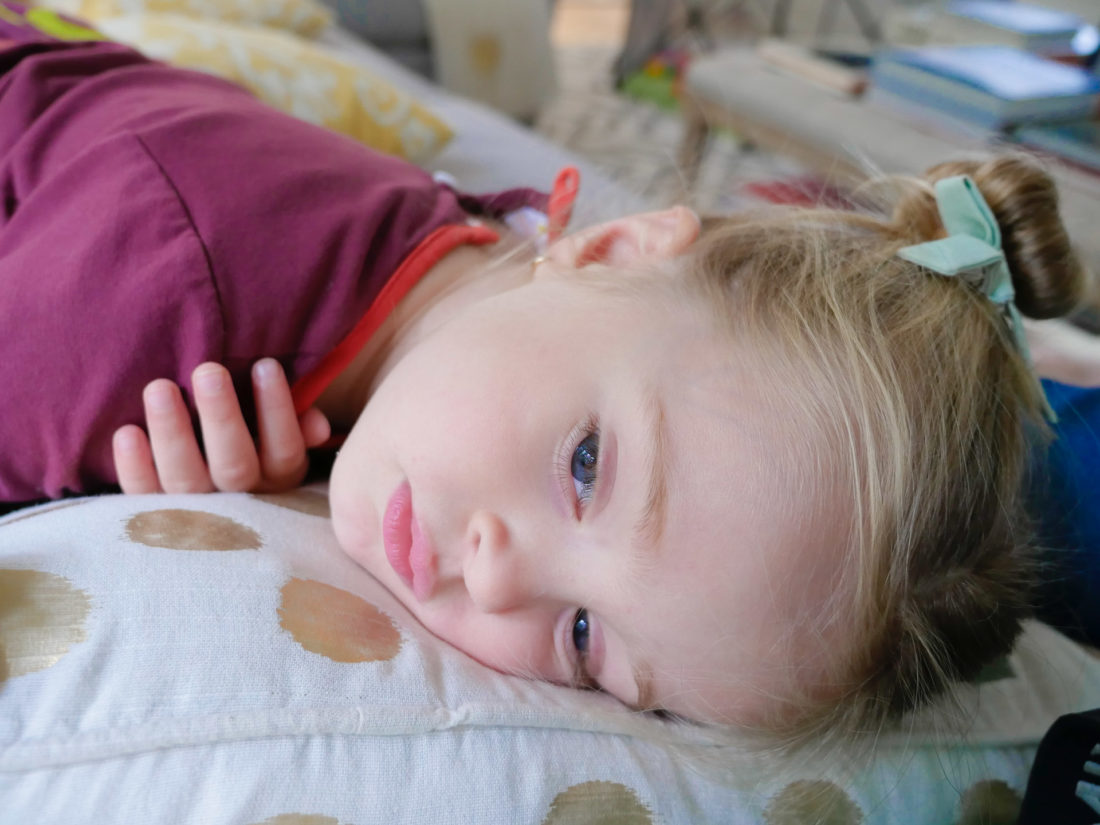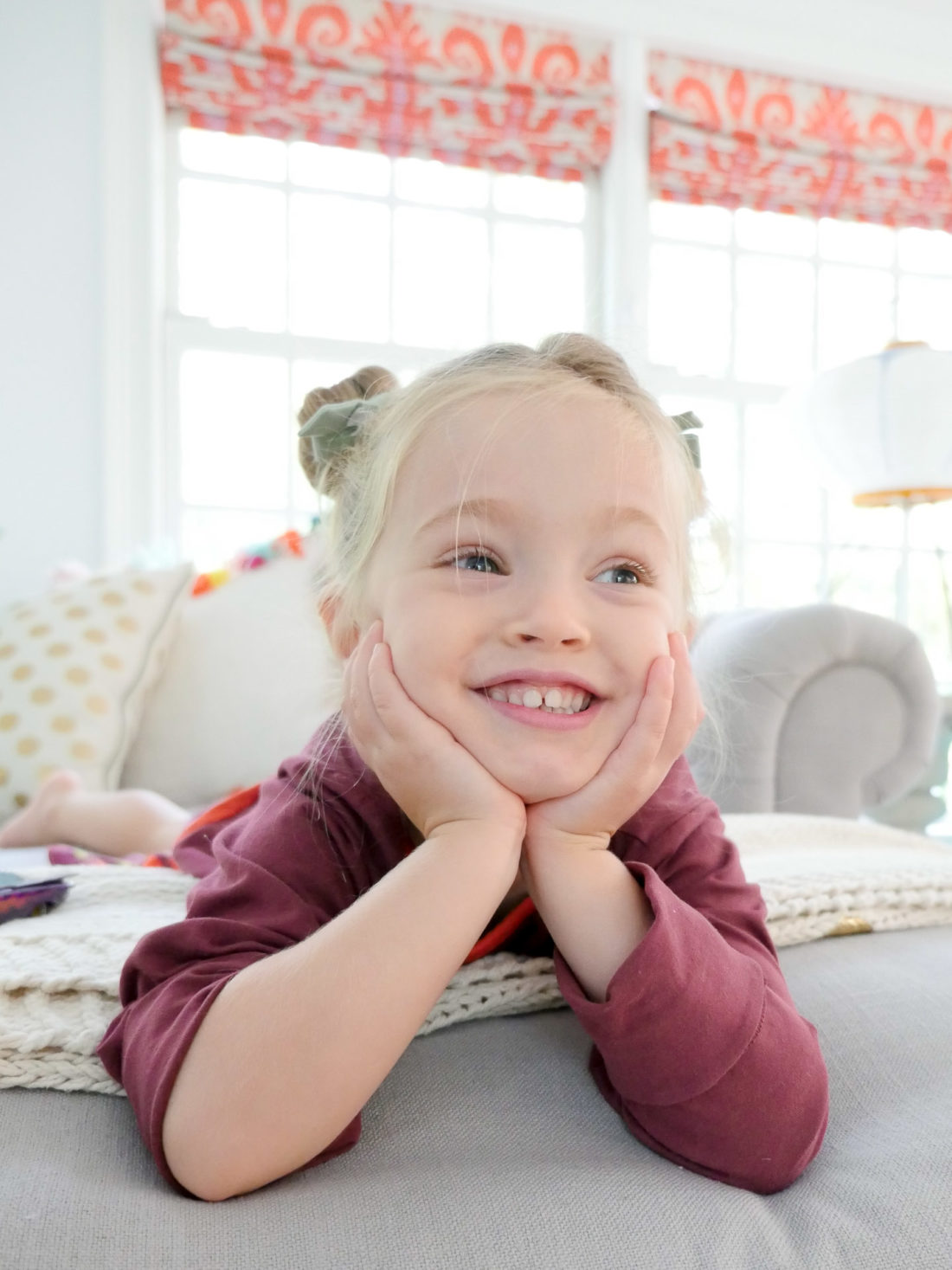 My child is normally the one who I have to be extra vigilant about in public spaces because she is usually so NOT attached to me.  She will (and has) grabbed the hand of whoever seems nice in the immediate vicinity and just rolls with it (terrifying).  She's normally so down to try new things, meet new people, and explore new places.  We had transitioned her in and out of two other daycare facilities, and there was never a reaction even close to this.  It just seemed so out of character.  Normally when Marlowe exhibits out of character behavior I chalk it up to her coming down with something and feeling a bit off.  I felt her head and she wasn't warm.  No sniffles, no congestion.  Nothing out of the ordinary.  I ended up convincing her to get dressed and we headed to school.  She held it together until we got near the front door, and then immediately started up.  Whole body rigid, pulling on my hand away from the entrance to the school.  Crying and whining, eyes wide with fear.  The look of fear was my first red flag– I don't know about your kid, but mine has two modes: Faux upset, and ACTUALLY upset.  I can definitely tell the difference, and in that moment this chick was not playing around.  I got down on my knees and pulled her to me.  I hugged and kissed.  I cajoled and bargained, bartered and pleaded.  I told her I was coming back in just a few hours, that there were so many fun things to do inside, new books, new friends, etc etc.  Finally the teachers helped me get her in the door.  I saw a few other kids a bit weepy so I chalked it up to second day jitters, blew her a kiss, and darted out the door. As I was walking towards the car, I felt like the world's most giant asshole. It really made me feel awful to leave my kid crying, but what was I supposed to do? Do all kids like school right away? She needed to learn and be prepared for the school environment at some point, right? I took some deep breaths in my car and repeated in my head "It'll just be a few days, a rough week maybe.  Then it's going to be GREAT.
Well, ladies and gents: 4 weeks later and every single day is exactly the same.  And I'm currently dealing with the most emotionally challenging, continuous parenting hurdle I've ever come across.  How do you decide what to do, what is right for your child, how to encourage them through a tough time, and to learn to trust you and themselves when they absolutely refuse something that you are absolutely sure is important for them: Preschool? And here is the craziest part: every day when any one of us picks her up, Marlowe is ALL SMILES.  Happy, beaming, laughing, telling me about her day, showing me what she made at school– and then not even an hour later once home she refuses to ever go again.  In the morning before school, it takes me an hour of convincing to even get her in the car, and ten to twenty minutes to even get her through the front door of the school.  My life has become all about Preschool refusal.  And according to everyone at the school, including other parents, once we drop her off she's fine.  Totally fine. She is LITERALLY saving the drama for her Mama, folks.  And it's exhausting– for all of us, actually.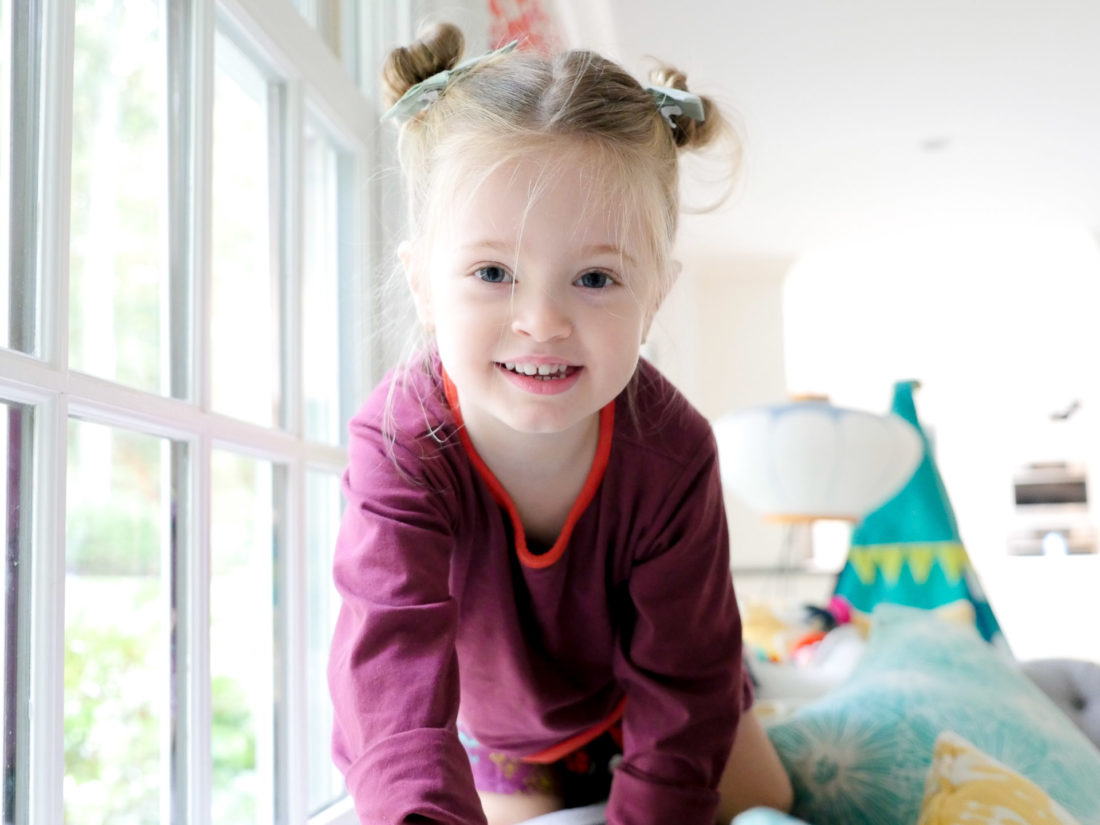 I should mention that there are a few other dynamics going on.  I have been spending so much time trying to have heartfelt and constructive conversations with Lowie about school, about why she is worried about going, how she feels, what could be making her anxious to return.  And there were always different answers.  And some of them seemed more bogus than others.  For example, one day she told us that a little boy in her class "hit" her.  (There were only three boys in her entire daycare class before so rambunctious boys are kind of new to her) This complaint I understood, I mean I wouldn't be psyched to go back someplace where a kid had hit me.  But then other reasons were more confusing: "I don't like my teachers." All of them or just one? "All of them." Why? "They say bad things to me." Really? Bad things like what? (Marlowe looks around the room for a few seconds before her eyes land on one of the pumpkins in our kitchen.  She turns to me with glaring eyes) "They told me 'Marlowe, you are a very bad pumpkin!' Isn't that nasty, Mom?!" LOL.  As a parent I was stuck between a rock and a hard place.  Of course I want my child to be comfortable and happy at school, but as somebody who suffered A LOT in school for various reasons I know that it's not something that feels perfect overnight.  I knew she didn't have close friends yet and that the whole place was really new to her also.  But, as somebody who suffered a lot in school, this subject is also especially emotionally loaded for me.  I found myself with tears in my eyes as she told me at night that she didn't want to go back there.  Every morning was a struggle for me not to get emotional as I had to leave my panicked child at the door.  Her eyes pleading with me, calling for me as the door closed behind me. It has been so hard for me to distinguish between identifying Marlowe's feelings about school and what is behind them, and my own feelings of abandonment, betrayal, and hurt from my own experiences as a child.
Obviously, from day two we started talking to the teachers.  They could clearly see that Marlowe was having a hard time every morning, and when Lowie would report an "incident" with a child at school I would ask them for details.  The challenging part is that these kids are three years old.  There is physicality going on from time to time, especially on the playground– but also kids this age (mine included) can sometimes get bumped or brushed up against and say that they are being hit.  There is so much grey area.  How do you figure out whether your toddler's description of an event is over dramatic or spot on? If they're crying about it for an hour, does it even matter what the facts are? It got to the point at the end of last week where Kyle and I were seriously considering pulling her out.  I just couldn't figure out what the right thing to do was: stick with it and encourage her to get used to this school that her loving parents had carefully selected for her, or take her out and cross our fingers that she wouldn't have the exact same reaction at another school.  I stayed up many nights thinking about it.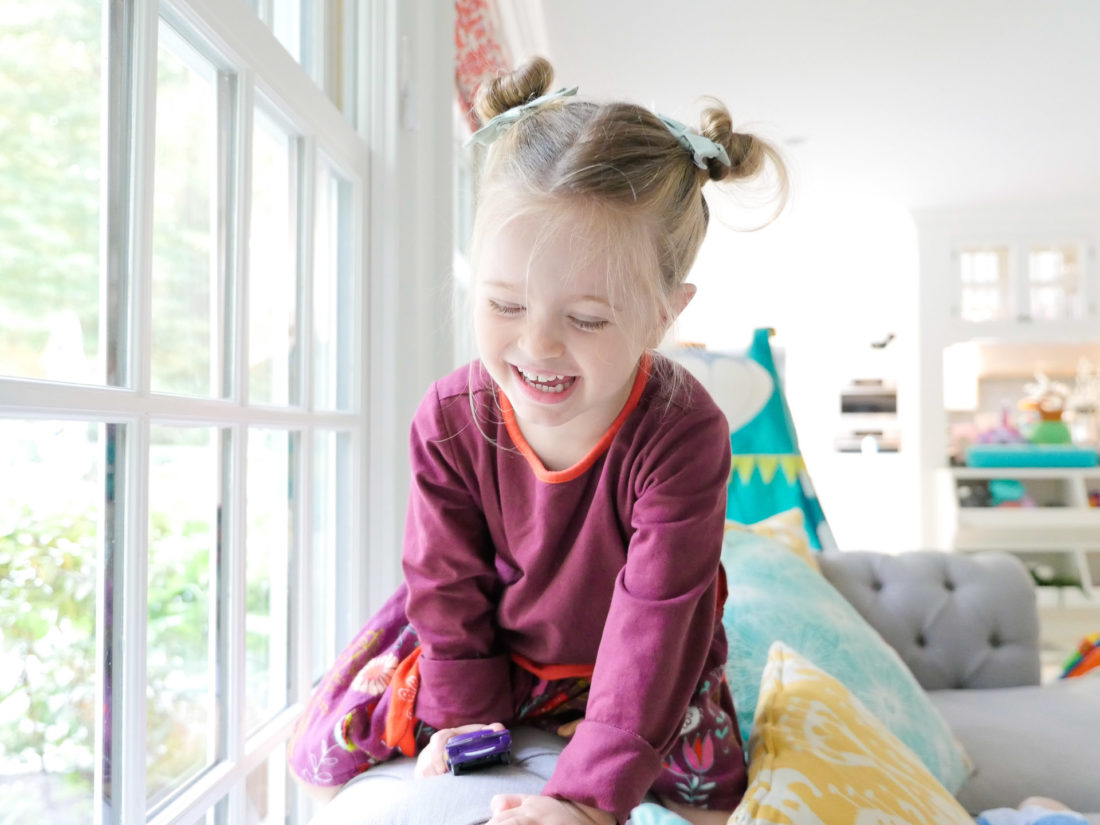 Finally on Friday, Kyle and I called a meeting with her three teachers and the head of the school.  We just felt like things weren't adding up and that we all had to get on the same page to see if we could come up with some solutions to make Marlowe's transition a bit easier and faster.  We just didn't have the ability to fight with our three year old every day about something that at the end of the day should be fun and positive! We ended up having a really amazing and incredibly helpful meeting.
They had done something really smart, which was film Marlowe that day in the classroom.  They showed us videos throughout the day of her playing with the other kids, laughing, singing, and being such a leader in the class.  My eyes welled up as I watched the happy, social, fun-loving kid that I know so well seeming so in her element.  They turned to us and explained their take– they think that Marlowe is having a classic and unexpected case of separation anxiety.  They told us that they see it happen out of nowhere sometimes with kids, and even halfway through the year with some kids who had been totally adjusted and happy for the first half of the year.  She definitely is feeling uncomfortable, but because she can't really place the feeling that she's having, she's transposing it on to lots of varying things when she tries to explain it.  Kyle and I were both there, and they were able to share with us that she recovered much more quickly when Kyle dropped her off in the morning than when I did.  That possibly Marlowe felt a bit worried about me leaving her and not having eyes on me for the entire day.  I can totally see that– and I'm sure the fact that she knows I work at home with Major in the other room for me to kiss or hug whenever doesn't sweeten the deal for her either!
I had a sudden realization about something else that could be contributing to Marlowe's separation anxiety: The Lion King.  A few weeks before Lowie started preschool, we had shown her The Lion King for the first time.  She loves the movie ( and has watched it many times since) and had never shown any signs of distress while watching it– but I remembered that Simba's Father dies in the beginning of the movie.  And then doesn't come back.  Ever.  I suddenly realized how she could have subconsciously held questions about that storyline in her head and that it could be making the separation from me every day a bit harder for her to handle.  Her teachers suggested that I tell her every day on the way to school exactly what I was going to do before she saw me again later that day.  To talk her through my itinerary so to speak– this way she could imagine what I was probably doing at that moment if she had doubts in her mind.  I thought this was a great idea.  To help at dropoff, they suggested that Kyle bring her to school all this week– and do curbside dropoff with her teacher to avoid the parent-child doorway threshold drama.  We are also going to implement a daily "journal" for Marlowe where they write down a detailed account of her day and the games or activities she enjoyed so we can read it with her at night. There would also be a description of any incidents with other children so that we would know the actual facts about what had occurred.  We will write back a little note from Marlowe in the journal about what her favorite part of the day was, including any anxieties about the day ahead that she may have.  I loved this idea. This way we can all be on the same page and have the tools to help Marlowe through this.  I'm confident now that this is a phase that is not only important for us to work through with Marlowe, but crucial.  I'm so glad we are sticking it out instead of caving to the emotional complications of the situation, and encouraging Marlowe to do the same.  I think working through this and getting Marlowe to a confident place in her daily separation with us will give her really important tools she can use moving forward.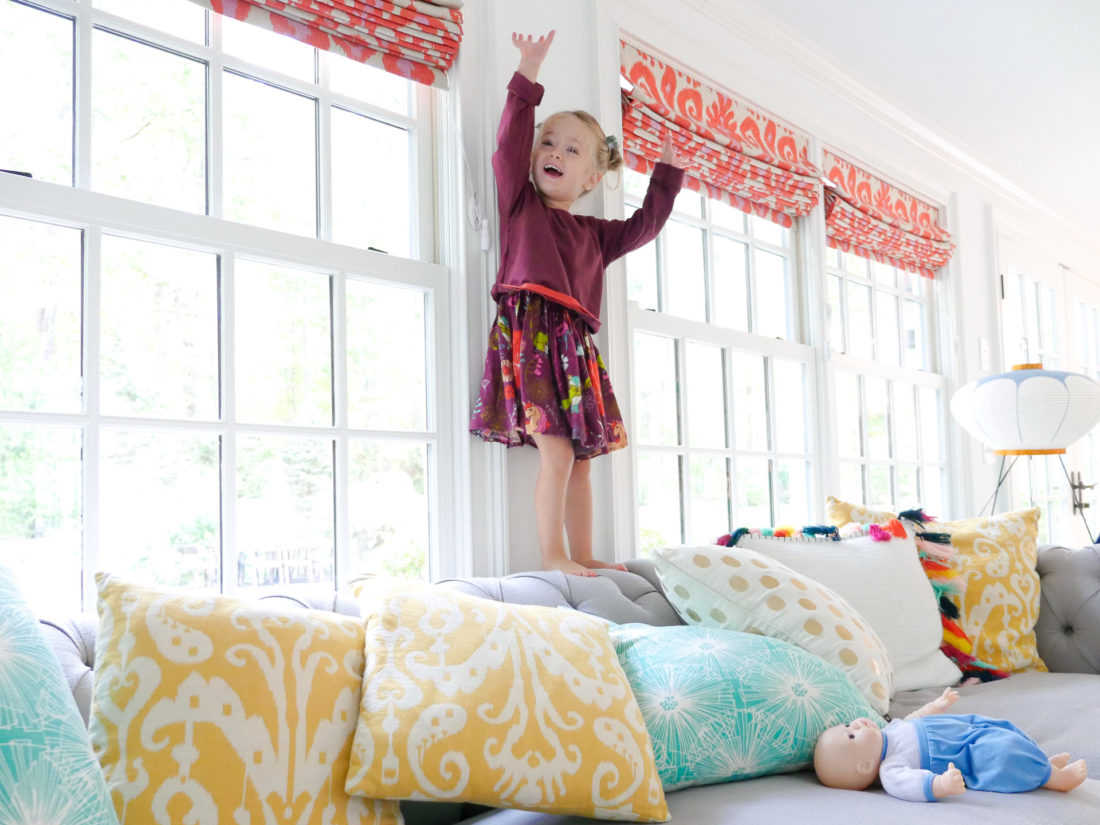 I'm also letting myself off the hook.  I'm realizing that my childhood is not my daughter's, that I can't heal myself by any actions I take with her– and that it's definitely time for me to go back to my own childhood…with my therapist.  It's important for me to focus on what is going on with Marlowe, in HER reality and not link it so much to my own.  I think that as my kids grow up and hit milestones that spark emotion for myself in my own history it will always trigger personal feelings from those times– whether good or bad– and I definitely want to develop the tools I need to keep the immediacy of those negative emotions in the past.  If I let Marlowe's emotional journey rile up my own, we will just be building off of each other's anxiety and that won't be good for anyone.  One of my biggest goals as a Mom is to be a pillar of strength for my children– to envelop them in love, and address every emotion, but also to have them be absolutely sure that I can protect them in any situation.  Parenthood is so wild in its ability to put a mirror directly in your face and force you to look at yourself long and hard.  What a challenge this is, but also what an exhilarating gift.
I wish this post ended with an answer or solution for any other parents going through something similar, but all I can say is I'm working on it.  She is working on it.  We are all in it together.  Hang in there! And, obviously, if anybody has some other great tips for school-based separation anxiety, please share!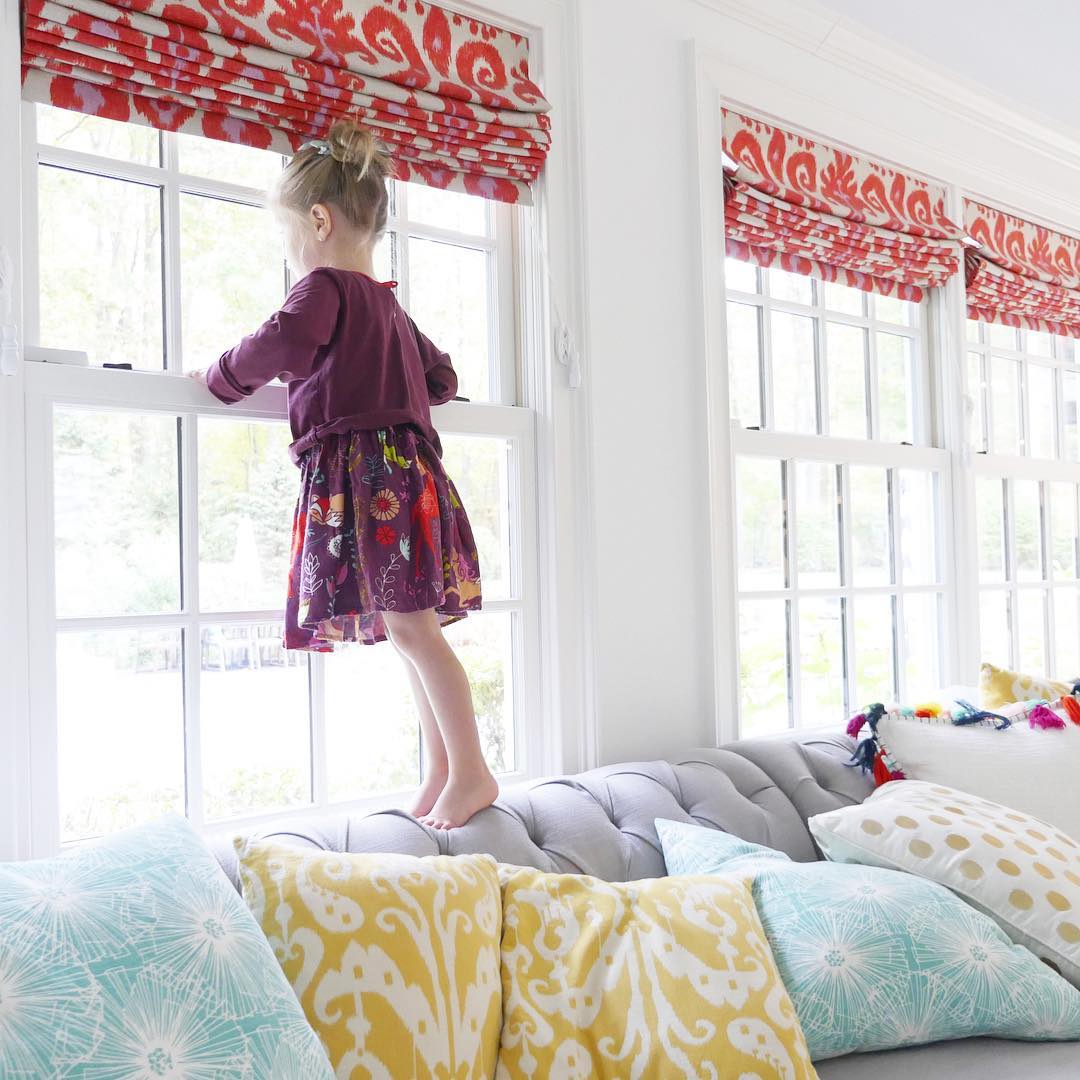 Save
Save
Save