The following content may contain affiliate links. When you click and shop the links, we receive a commission.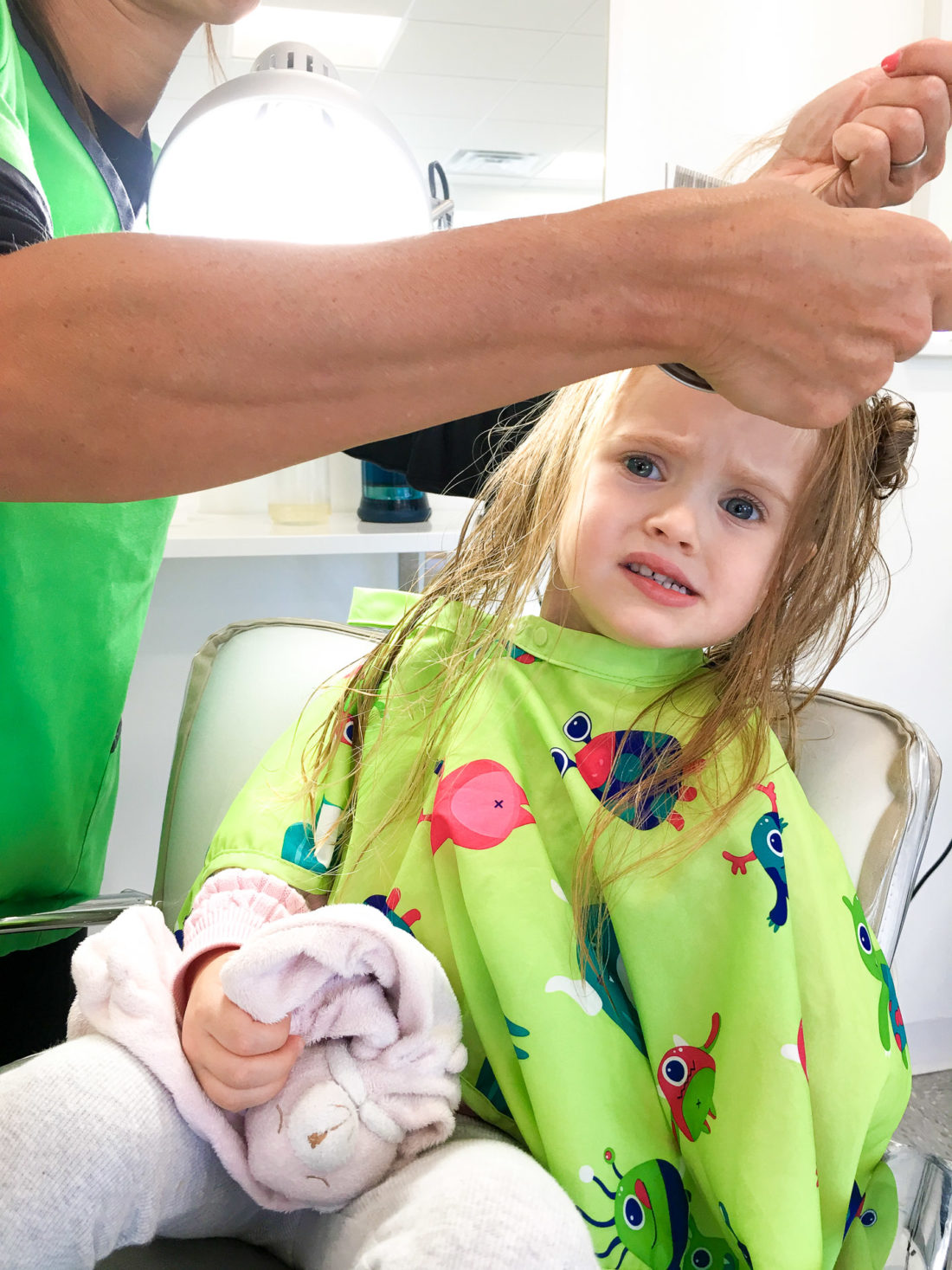 A little Mama rite of passage over here– Marlowe got LICE! We went through this recently and it was one of the more stressful Mama Milestones I've been through, so I figured I would share my experience and what I learned! I feel like Lice is one of those bizarre things where people don't really talk about it, even though it's such a normal kid thing– especially when your kids are entering school for the first time.  I never got lice as a kid (but I remember all the regular checks with the school nurse very well– is this still a thing in elementary school?) so I really didn't have any information or know how to proceed or react when Marlowe got them! I did learn a ton from the experience, though, so here are my two cents…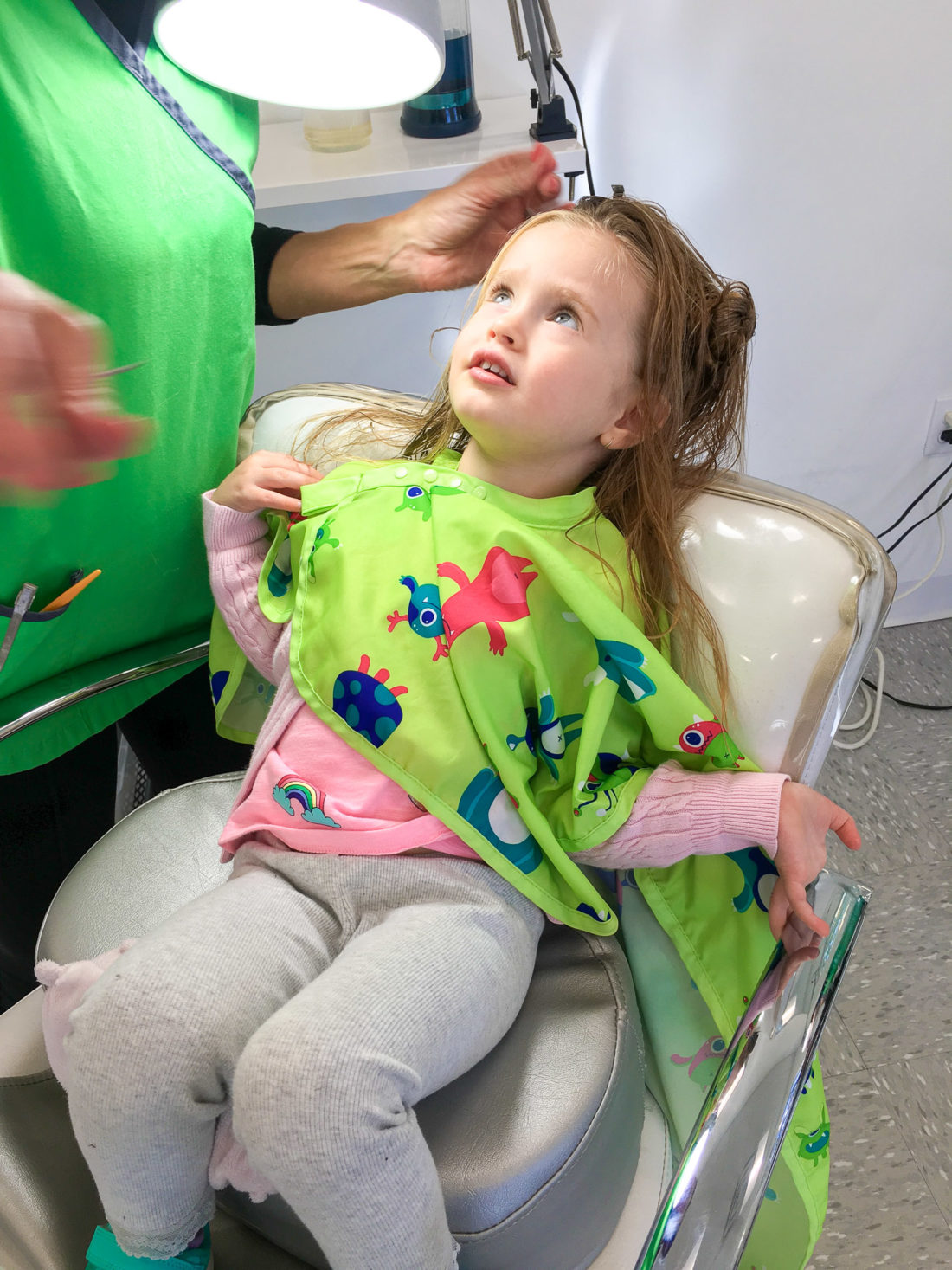 Marlowe came down with lice in a pretty typical way: there was a little mini "outbreak" in her class at school.  I did as much prevention as I could, thought we were in the clear about ten days later, and then BOOM.  There they were! Those little crawling suckers, and my toddler scratching her head like it was going out of style.  And poor Marlowe…she has SO much hair! It's so thick and long–I feel like living in it must be like a Four Seasons for Lice.  Hahaha.  (I can laugh about it now, but I was crying when it happened, trust me).  A common misconception about lice is that it has something to do with dirtiness, or dirty children, but the reality is that they looooove super clean hair.  And hair that is a bit damp.  So thick haired little children with freshly washed hair are a super target! I will tell you for sure, though, that I totally freaked out when I found the lice.  I'm a little bit neat-freaky when it comes to our home, and I immediately started turning the house upside down, stripping the sheets, etc.  But what I learned is that there are a few things that are VERY helpful when it comes to combatting lice, and then a lot of things that aren't very helpful (and are actually a total waste of time).  Here are my tips and insights for what to do when your kid gets lice!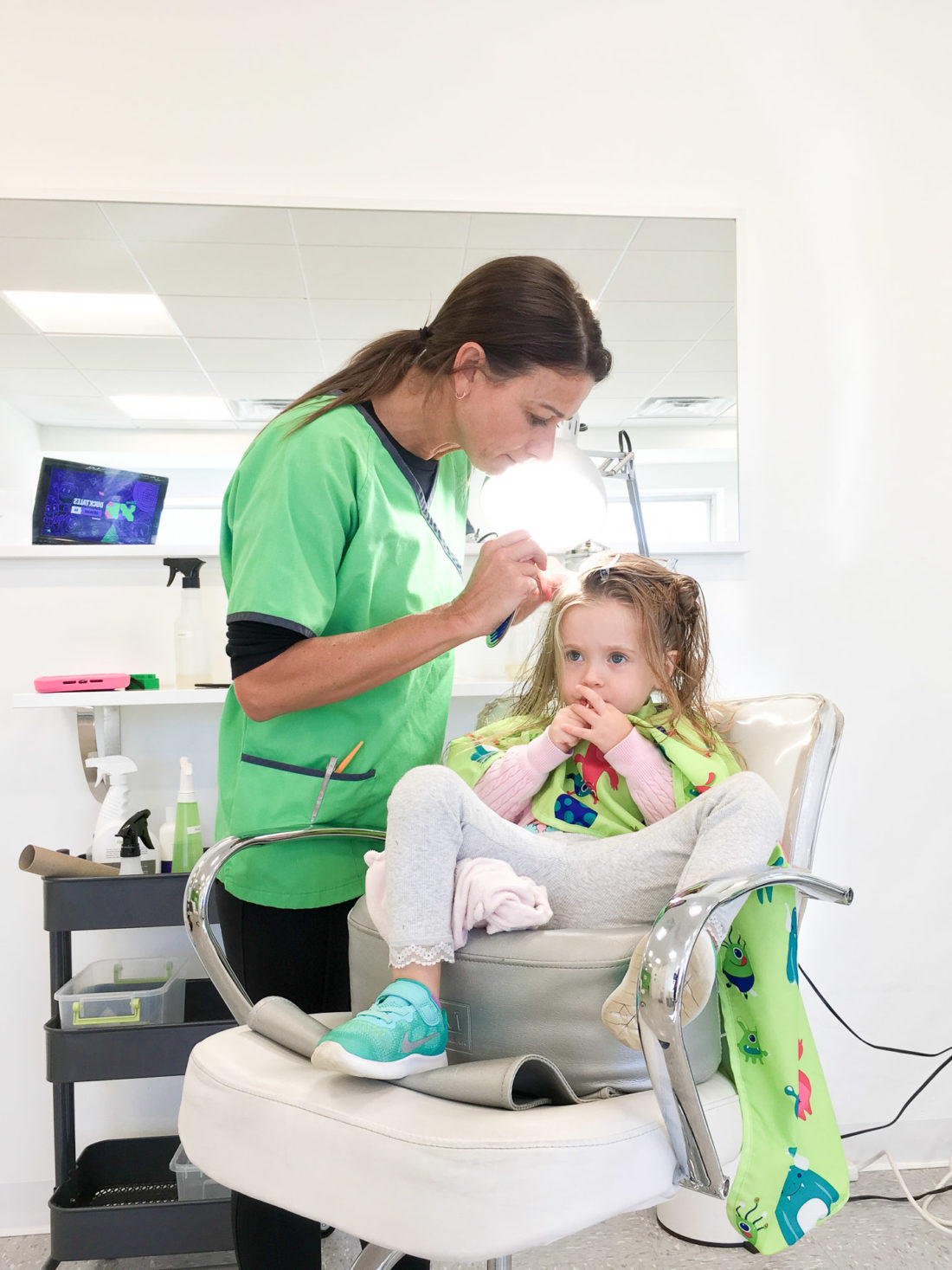 Lice 411
Nits are the eggs, Lice are the bugs.  A pregnant louse (or multiple lice) crawl from an infested head on to your child's head and lay eggs.  If there are multiple lice they can mate on the head and lay eggs.  These are the nits and they are tiny white looking dots on your child's strands of hair.  When they hatch, the tiny babies crawl around and will mate and hatch eggs again! I have goosebumps even typing this out.
Get Your Child Checked Immediately When You Know Of An Outbreak & Keep Checking.
So I actually took her in someplace to get checked (the place shall remain nameless) a few days after the lice outbreak at school to see if she had any nits.  They "didn't find anything", which is maybe because they weren't looking properly for nits, or maybe because Marlowe has more hair on her head than an average grownup and therefore it was super hard to see anything.  In any case, I wish that I had taken her back in again a couple days later or continued the checks at home myself afterwards.  Lesson learned.
If You Can, Leave It To The Professionals
When I first found the lice, I got RID over the counter solution to treat her, and to also treat the whole family just in case.  I followed the directions to a T, and then when I was combing through her hair with the nit comb to remove the "dead" lice I found a bunch still partying and crawling around! AKA the RID did nothingggg.  (I have since heard that NIX Creme Rinse is the only good over the counter treatment) Our pediatrician said that most lice now are resistant to the over the counter stuff.  They can prescribe some prescription strength lice killer, but that seemed harsh to me, so I took her to the professionals.  We found this awesome place in our area called Hair Genies. IT WAS NOT CHEAP, but it was so worth it.  The solutions they use are totally non toxic, and they go through the hair literally check and clean every single strand.  By the time your child leaves, their head is totally lice free.  I also thought the salon had a great vibe and really calmed me down when I was feeling frantic about the lice! They also can give you great tips for how to clean and control your environment to make sure that the lice don't live in your home. Unfortunately I have the squirmiest toddler around with a crazy amount of hair so it took a long time (two hours) and she got majorly impatient.  If you go someplace like this bring an iPad, snacks, toys, and bribes.  They gave her a lollipop at one point which I think actually made her entire life (first one ever!)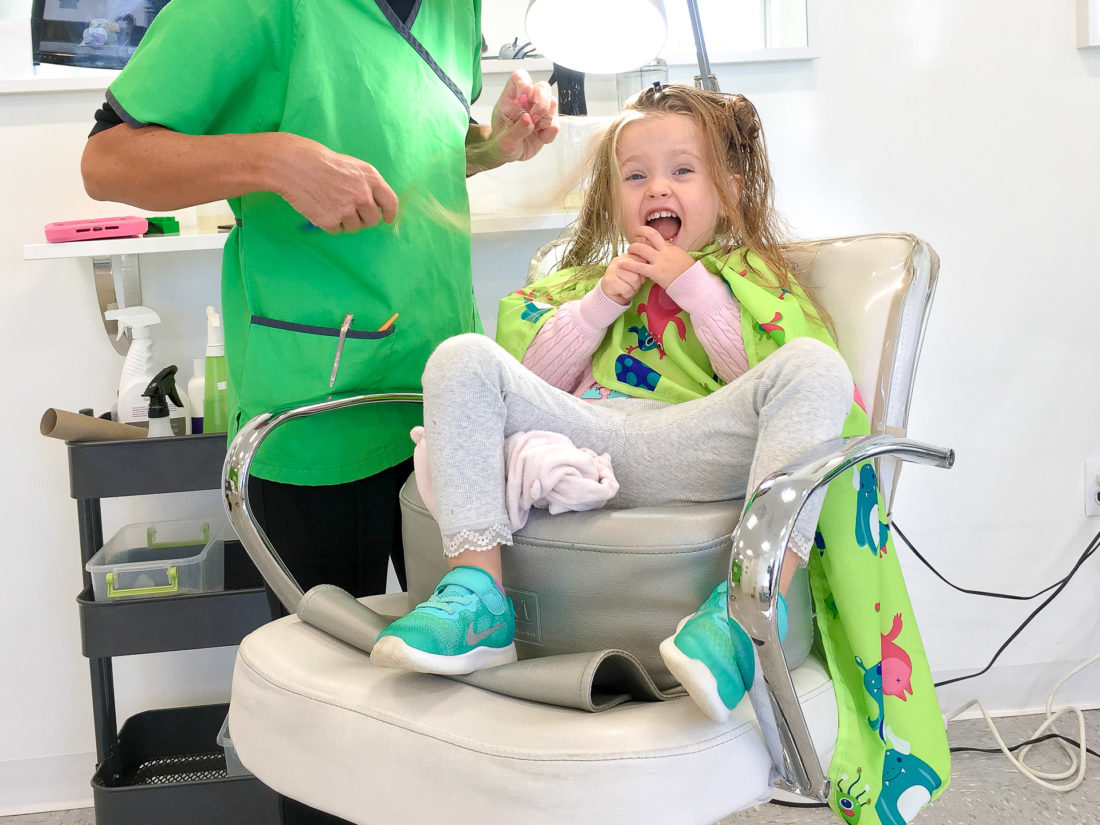 Control Your Environment & Clean Your Home
Your first instinct when your kid has lice crawling on their head is to burn everything in your house, sell it and move away.  LOL.  It turns out that most people go waaaay overboard with the cleaning during a lice occurrence in their home and with just a few controlled steps it is just as effective.
Wash Sheets, towels, and clothes that the child has worn or used in the past 48 hours
Vacuum the floors,rugs and couches, and any upholstered headboards.  Don't forget to vacuum out the car seat if your child uses one, and the head rests of upholstered cars!
Kill lice on any pillows, stuffed animals, jackets, etc that have been used in the past 48 hours by sticking them in the dryer for 40 minutes on high heat.
Anything that has come in to contact with the infected person in the past 48 hours needs to be either stuck in the dryer, or bagged in garbage bags for 2-3 days.  We bagged all our couch pillows, throw blankets, jackets that couldn't be dried, bean bag chairs in Lowie's room, and large stuffed animals.
Any brushes and hair accessories (bows, scrunchies, hair ties), or even styling tools don't need to be thrown out if they are bagged and put in the freezer for 2-3 days.
Create an essential oil spray to spray over the rugs and couches, couch pillows etc to prevent lice.  They hate Rosemary and peppermint so I filled a spray bottle an added 5 drops each of Peppermint Essential Oil, Rosemary Essential Oil, and Lavender Essential oil.  You can spray this during the 2-3 day "waiting period" or even from time to time during the week as a prevention technique (If you don't want to make one, you can also buy one)
Lice Can Only Live For 2 Days Off The Human Body
That's it.  So if you get them off the head, they can't infest as badly as you'd think.  I left everything bagged for 6 days as an extra precaution but it was definitely overkill.  The experienced Lice Ladies at Hair Genies told me that two days was plenty of time!
Prevent Lice In The Future
Whenever your child is going to school, make sure you're creating a line of defense against lice.  I learned that since Marlowe has long hair, it's important to keep it styled when she's at school to prevent lice from seeking her out.  Two buns on the top of her head, or braids are the best way to go.  Loose, long hair (or even long pigtails) attract lice! Use a natural lice preventative shampoo and conditioner every day for school aged kids.  I Like this shampoo and Conditioner.  Keep a protective spray in your mud room or car to spritz a veil of mist over your child's hair style before school.  The lady who combed out Marlowe's lice told me she sprays it on her daughter every single day no matter what.  I trust that coming from her! The one I have is totally non toxic and natural.
My favorite protective products…

I will say that our lice experience was beyond stressful, but I feel much more aware now and able to tackle it.  Plus, it didn't end up being as long-lasting of an ordeal as I originally expected.  If you're reading this right now and going through it yourself, hang in there! It will be a tough 4 or 5 days and then all will be fine.  Resist the urge to shave everyone's head in your family.  Unless of course you're a Stranger Things fan. Then go for it! LOL.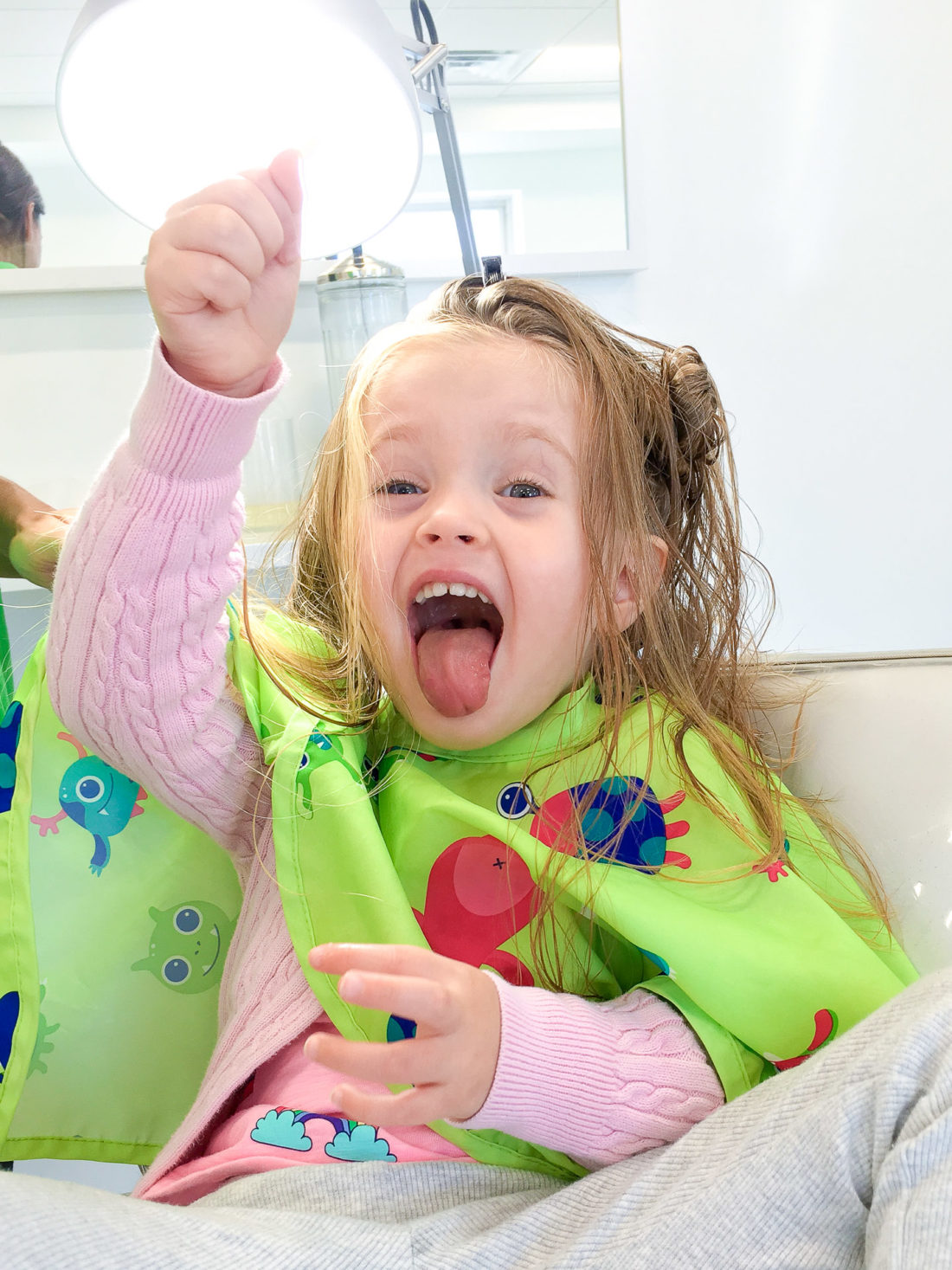 *Dodgy iPhone photographs by me (I definitely didn't think to bring along my nice camera during this whole ordeal– sorry for the subpar images!)
Save
Save