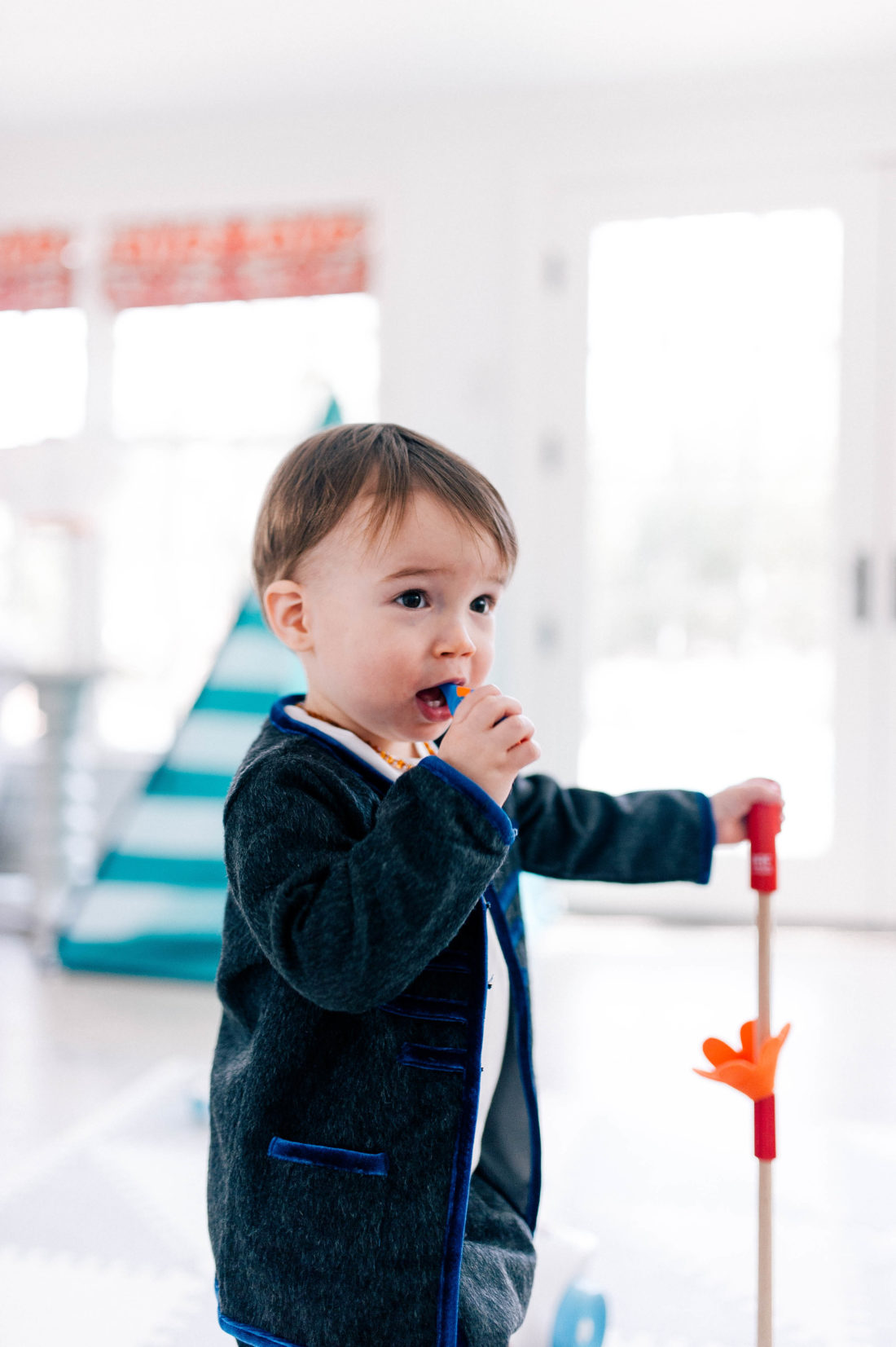 Both of my kids started to teeth late– 12 months for Marlowe and 13 months for Major! Not only do their teeth come late, but for Major they've been coming in extremely slowly, which means lots more days and long nights of teething in our house.  And no Mama likes to see their baby is such frustrating pain! Since this is officially my second rodeo with teething, I thought I would share my go-to methods for helping my kids get through it.  I hope they help you along your teething experience as well!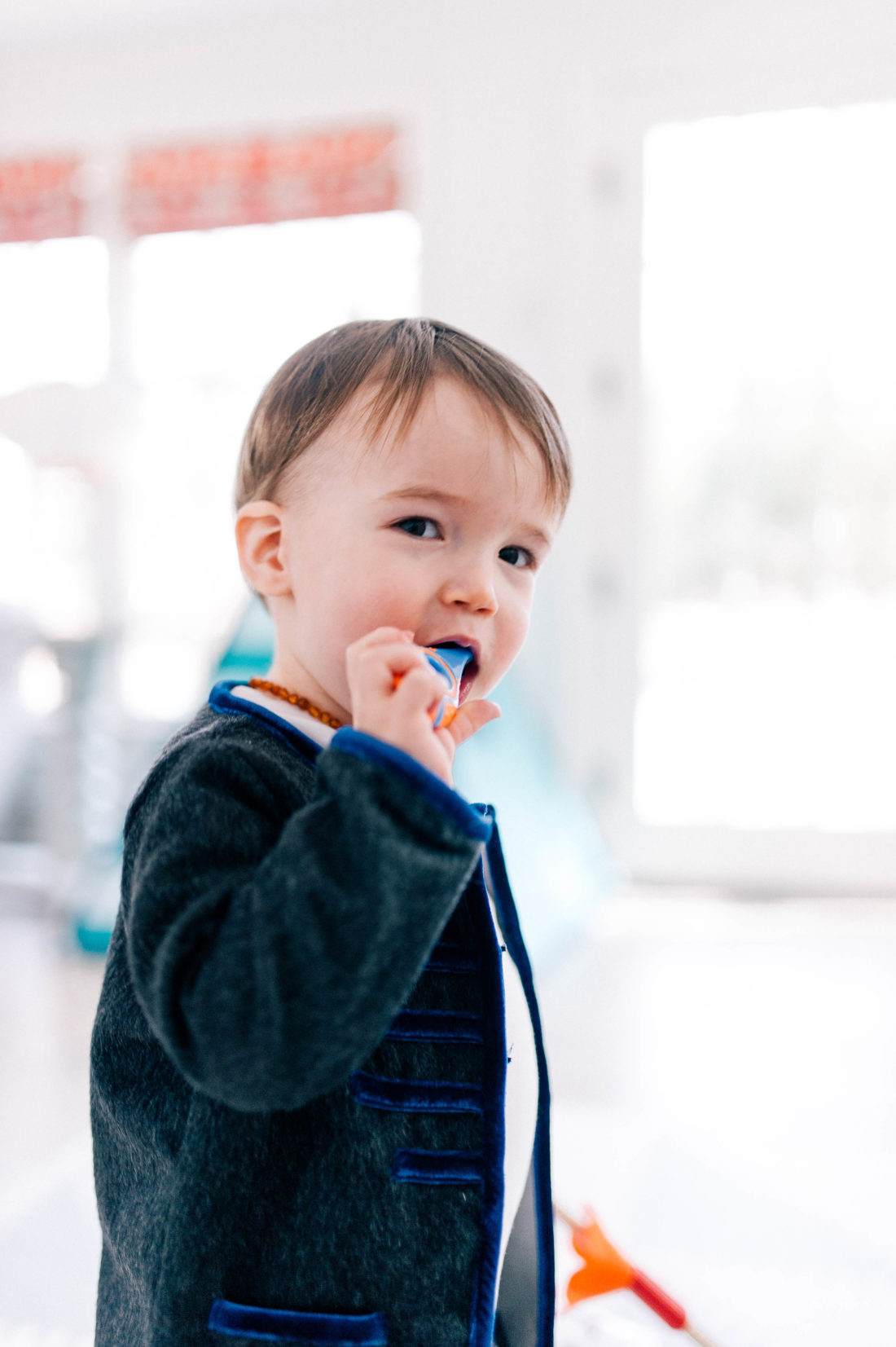 Amber Teething Necklace
I have gotten tons of questions from blog readers and social media followers about the necklace of amber beads that Major wears daily– it's a raw amber teething necklace! This is definitely a naturopathic remedy, but one that I have found to really work for both of my kids.  Marlowe wore an amber necklace for teething as well!  I ordered one for Major as soon as I saw the signs of his first painful teething experience, and in the days before it arrived he was really struggling.  Once he started wearing it I noticed a big difference in his mood and fussiness.  Raw amber has analgesic properties, and when the warmth of the child's body heats the amber, the benefits get released on contact with the skin.
I definitely recommend buying a high quality necklace from a reputable buyer, though! When I bought Marlowe's I went to a few different stores so I could really feel the beads and see them close up before I selected the necklace.  When I got Major's, I ordered another one from the same shop on Etsy.  Make sure to remove the necklace while bathing, and to always screw it back on nice and tight.  You don't want the necklaces to be so long that they are able to chew on them (these are not chewing necklaces!).  Major sleeps with it on as well.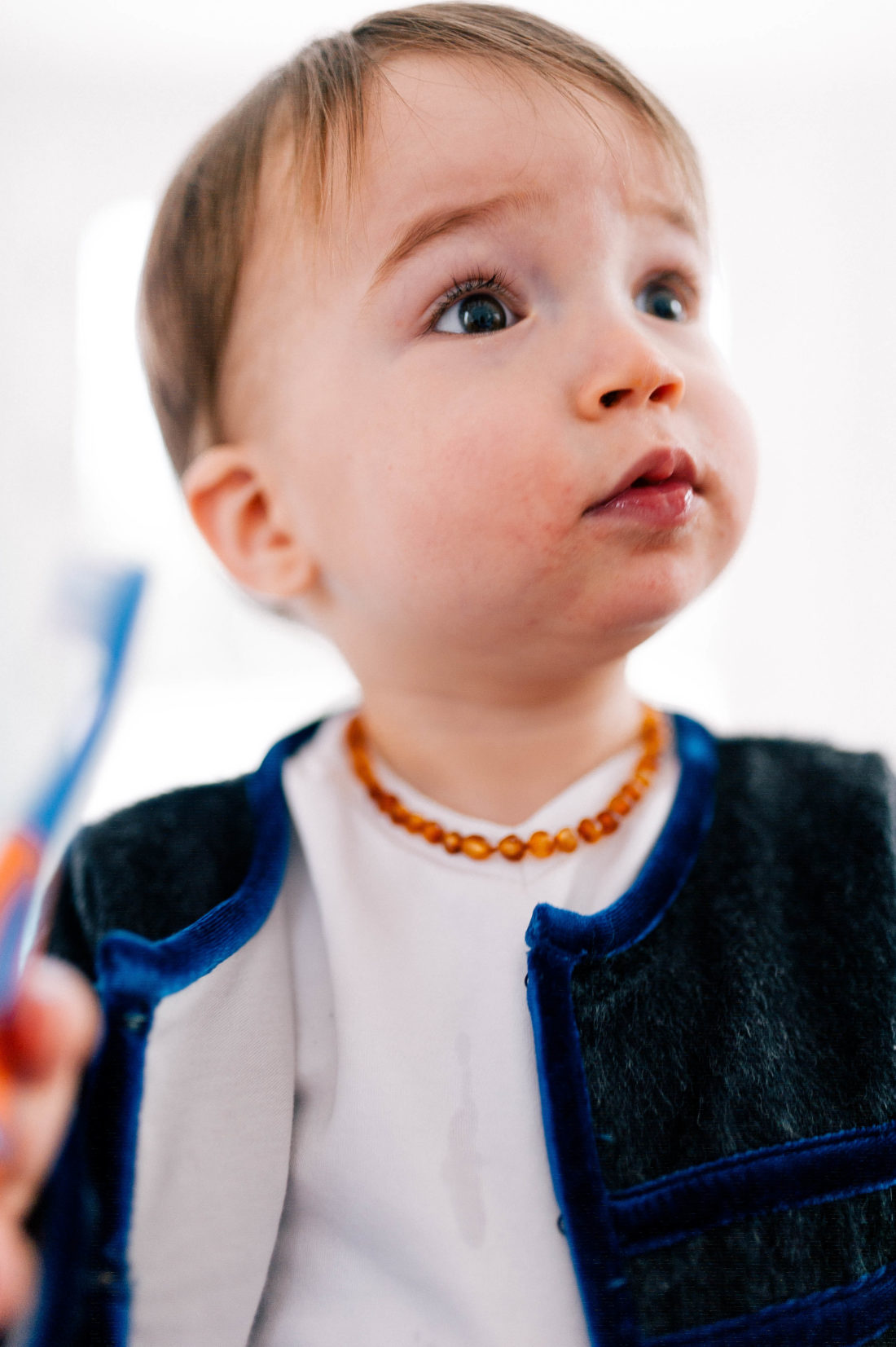 Cooling Foods
Giving some de-puffing, cooling foods can work to keep your baby much more comfortable while teething.  I keep some mesh teething bags on hand and can throw bit of fruit or vegetable in there to double as a little snack! The mesh makes it so he can't choke on any pieces, and it's nice to chomp down on something that has been in the fridge and is cool on his gums.  I also keep frozen peas in the freezer! I'll give him a little bowl of them to gnaw on as a snack– and the peas are small enough that I don't worry about him choking.  I get organic fruit popsicles for when the teething is at its worst!
Teething Toys In The Fridge
People always used to tell me to put teething toys in the freezer, but I have found that the freezer made them a bit too intense for my kids' gummy mouths.  Instead, I keep teething toys in the fridge in between uses.  This keeps them cool without the risk of freezer burn. Just make sure you're washing them with hot soapy water in between uses, and storing them in a clean plastic baggie!
Another great trick is to wet a clean wash cloth, lightly squeeze out the excess, and fold it before placing in a clean plastic baggie in the fridge.  If your baby is having a rough time, you can give it to gnaw and suck on.  Added bonus is that the water is super hydrating!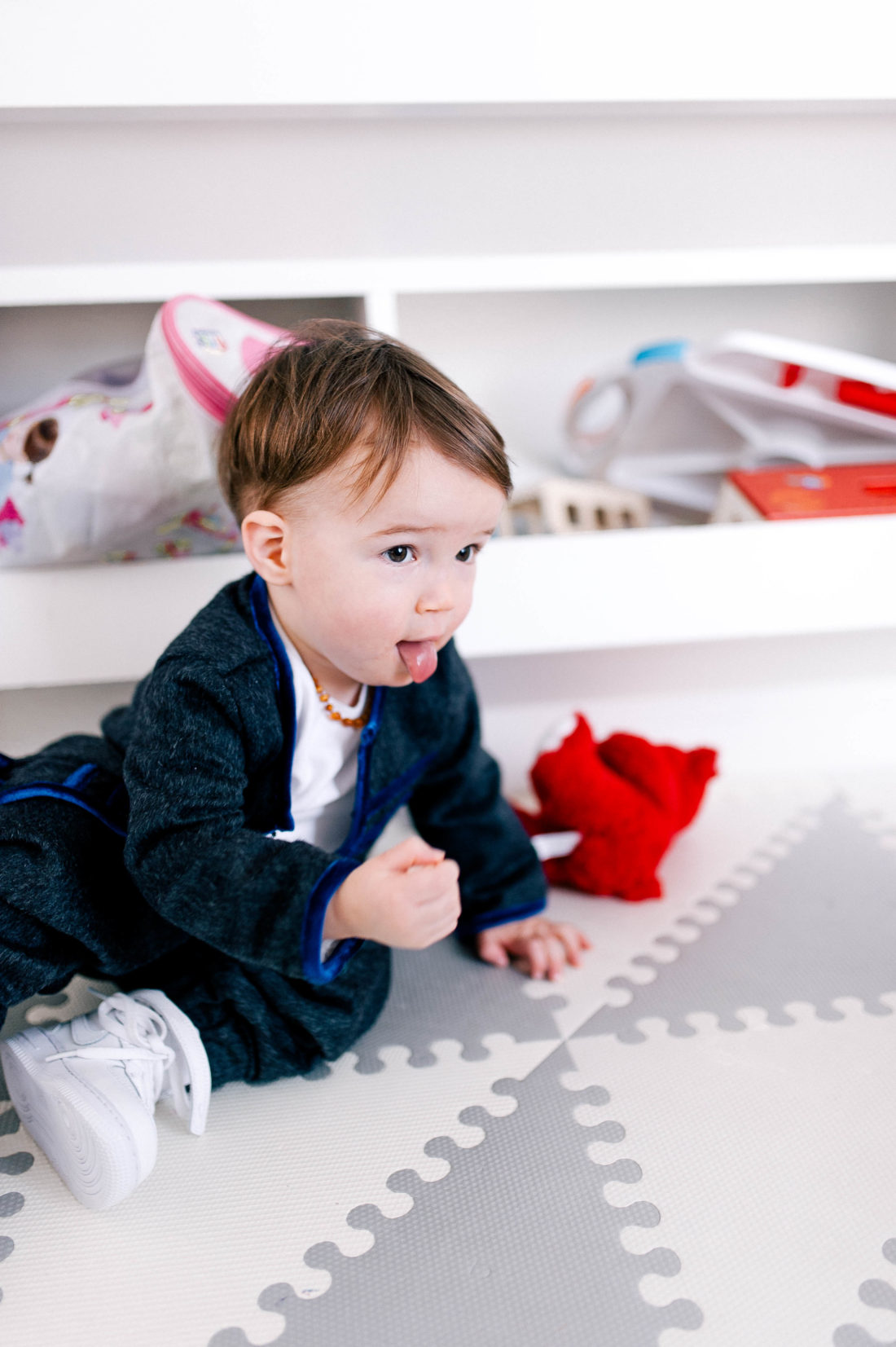 Baby Tooth Brush
Giving a teething baby a baby tooth brush is a wonderful way to introduce dental hygiene, and a great teething trick! Both my kids loved gnawing on an infant toothbrush when they were cutting a new tooth– and I loved that they were brushing their already-cut teeth at the same time! You don't need to put toothpaste on it, though.  Just the toothbrush itself works.  Rinse well with hot water in between uses, and disinfect with boiling water once a week.
Essential Oil Rollerball
I love essential oils, and use them for everything from cleaning products to home remedies! When my kids are teething, I mix up an easy-to-apply rollerball to apply during the day if needed, and before bed.  I roll on the outside of the jaw, and under the chin, as well as at the nape of Major's neck.  Rub in gently to absorb.  The lavender and roman chamomile essential oils are anti-inflammatory and calming.
Drop the Lavender Essential Oil and the Roman Chamomile Essential oil in to the rollerball.  Fill the rollerball the rest of the way with the coconut oil, close the rollerball, and shake well to mix.  Apply to outside of jaw, beneath chin, and nape of neck a few times throughout the day, and before bed.  Keep out of reach of children (*always ask your pediatrician before using essential oils on your child AND patch test any essential oil mixtures before all-over use!)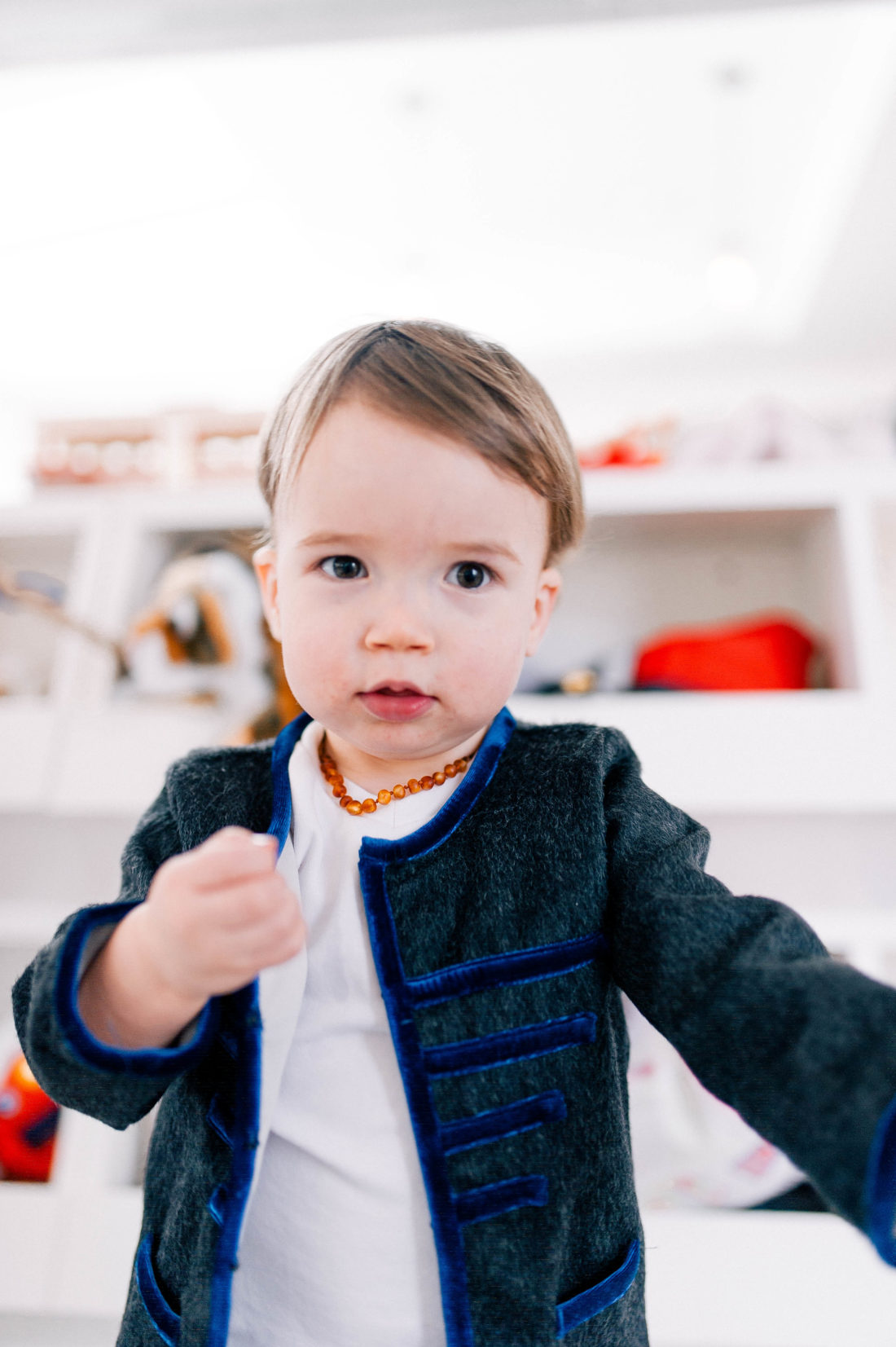 Homeopathic Medicine
One of my favorite products for teething EVER is the Camilia ampules by Boiron! I've been using these since Marlowe teethed, and they're a great option for when your teething baby is hitting those super puffy-gummed, irritable days before a tooth breaks.  Plus I love that they're all natural.  I even keep these in my diaper bag for travel!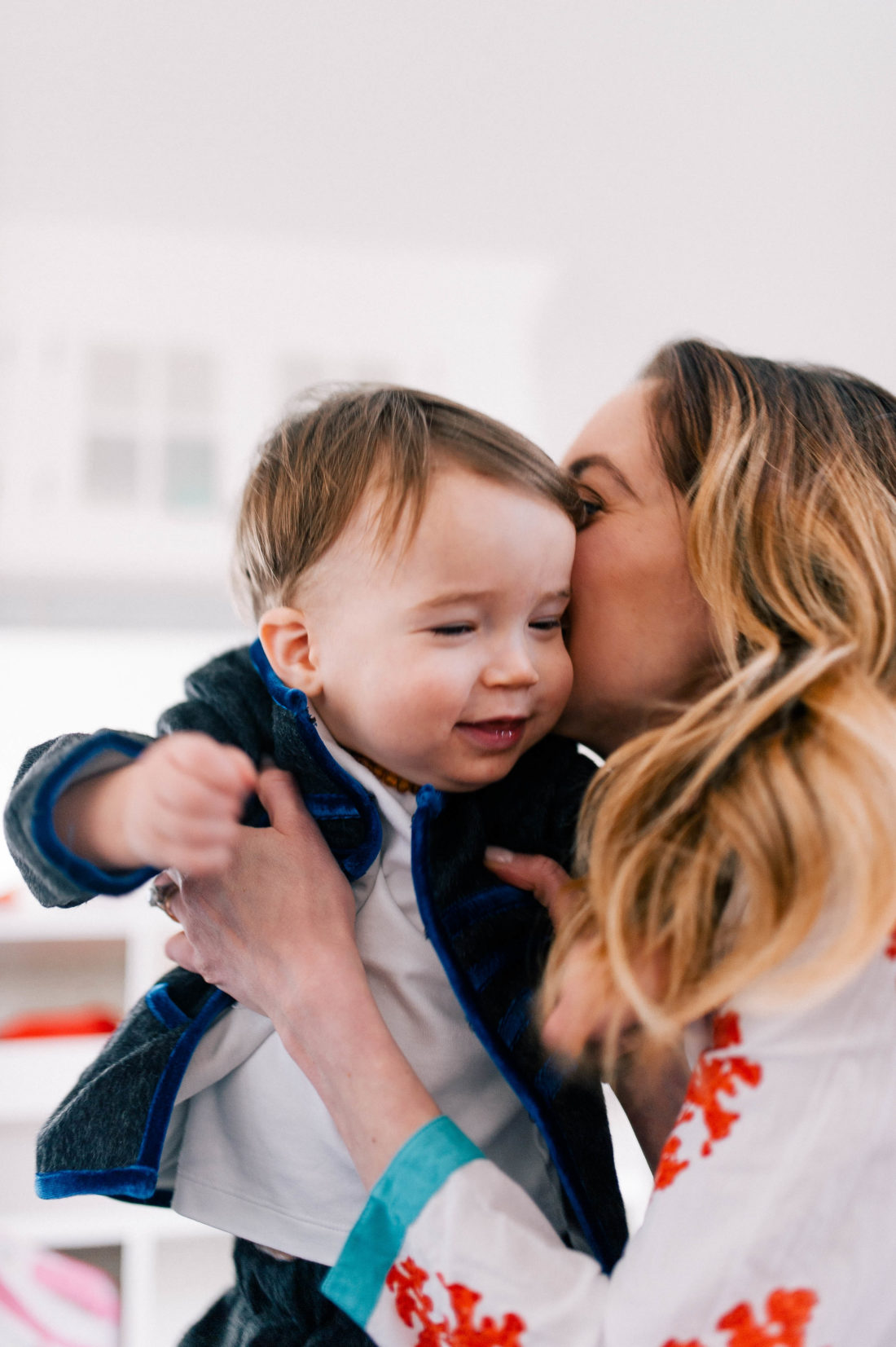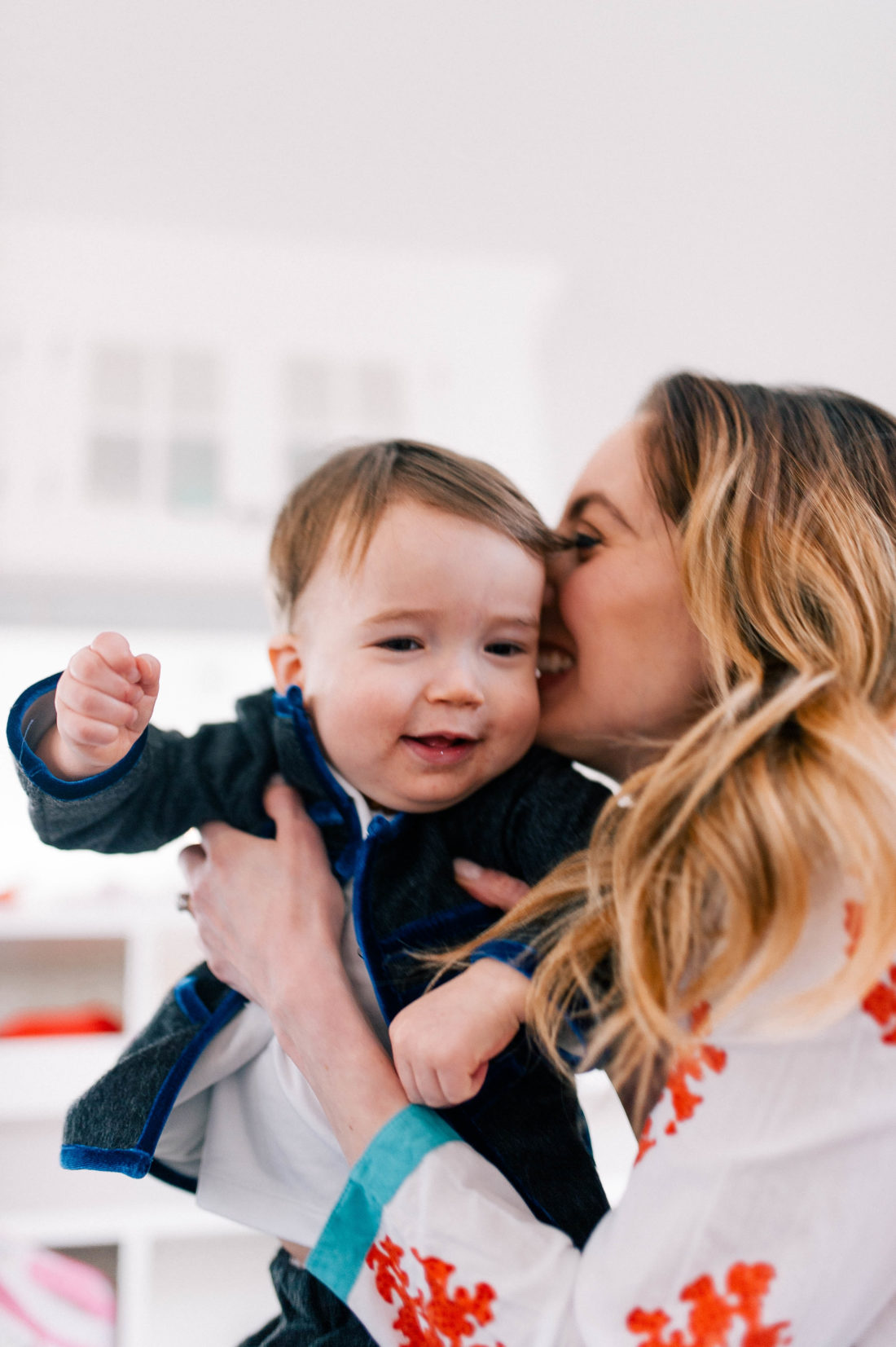 I hope these tips help you and your little one! Do you have any tried and true teething remedies? I'd love to hear them in the Comments below!
Shop the post…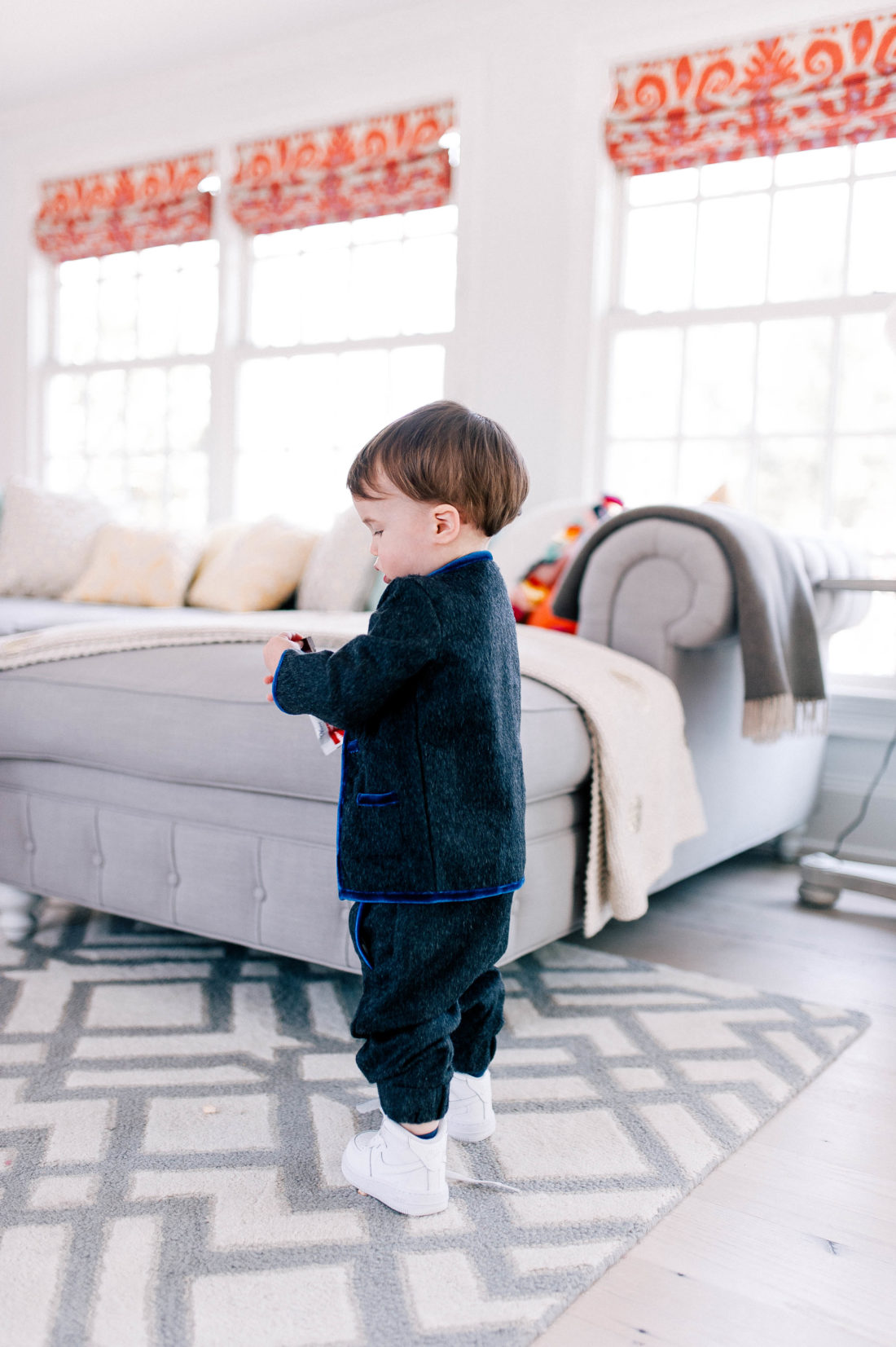 Photographs by Carter Fish
Major's Suit by Sasha + Lucca
Major's Sneakers by Nike