The following content may contain affiliate links. When you click and shop the links, we receive a commission.
Choosing how I'm going to decorate my Thanksgiving table is so much fun for me every year. I try to do something different every time, and to go off of however I'm feeling like celebrating. One year I did a very fresh and neutral white and green motif, while the next I went with more traditional Fall colors. My favorite part is figuring out how to mix old with new, use things I already have, and then choose one or two beautiful new pieces to add to my collection. My grandmother passed down a lot of her tabletop items to me. They aren't fancy (she wasn't rich and had nine children to feed) but they mean so much to me because I know they bore witness to so much life. And so many family gatherings! It's one of my great wishes that my kids attach memories to the tabletop pieces I choose with care and use gathering after gathering. I'd love to pass them on one day and have them spark wonderful memories!
This year for Thanksgiving, we are doing a really small, family only Thanksgiving Lunch! We're planning on eating around noon, cleaning up, and then heading right after on a little weekend getaway with the kiddos and another family. It's going to be so fun to do something totally new for the holiday this year! Ian and I are going to cook a handful of our favorite things, and Kyle will be there too of course. In terms of decor, I felt like keeping the table really festive but minimal. I decided to do a modern take on "traditional" fall plaid…by pairing it with pops of dark pink and burgundy red! There's something so feminine about it. Like a beautiful italian suit being worn by a woman with the most elegant burgundy lipstick. I'm using pomegranates as seating cards by drawing on them with a paint marker.
I just love how this table turned out. The playfulness of it makes me so happy. I also love how we officially have another kid sitting AT the dining table with us this year! Mateo has ditched his high chair and is using a booster seat. It's going to be so special to look around the table and have everyone there for our family meal. Do you know how you're decorating your Thanksgiving table yet??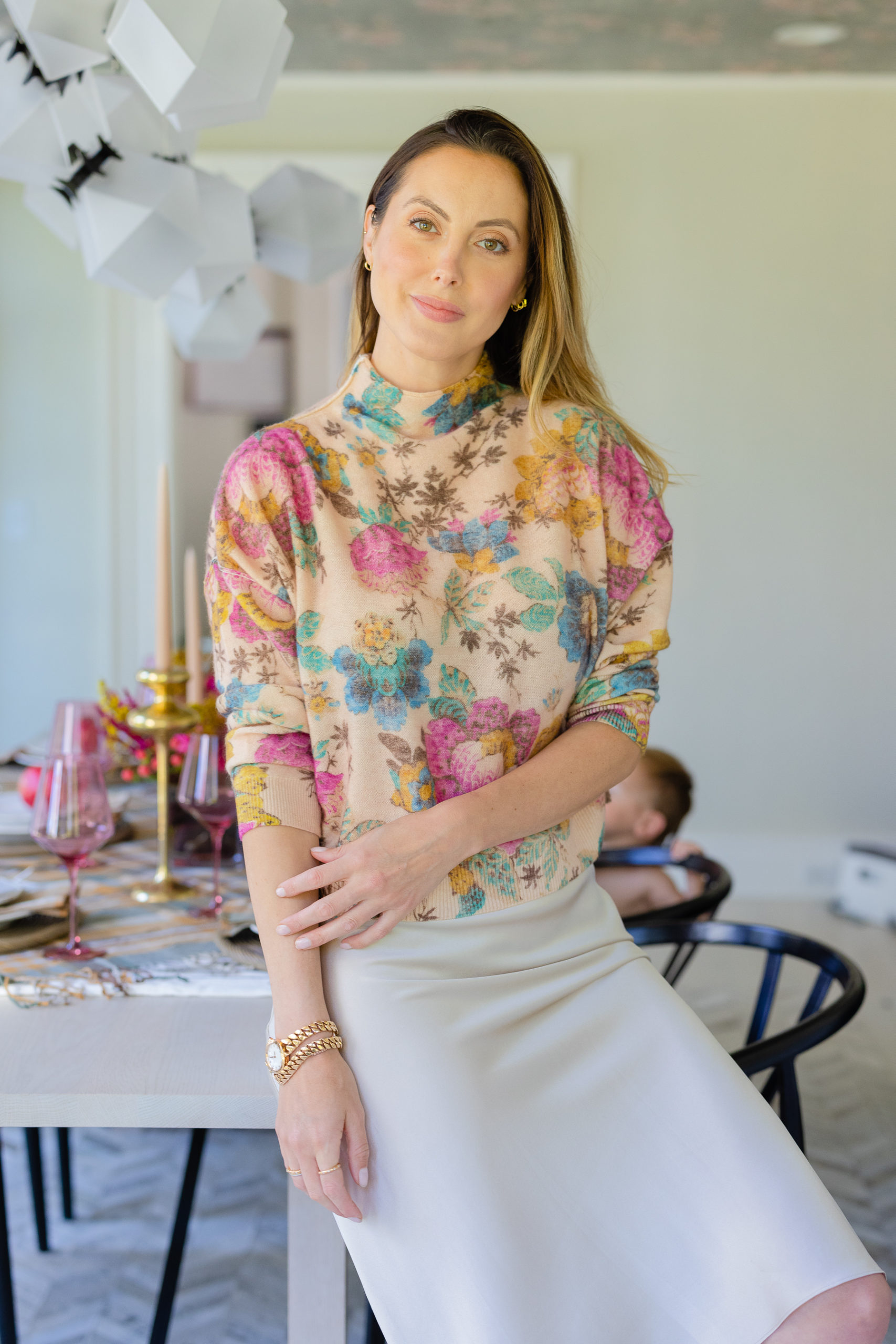 ---
Shop the post…

Photographs by 

Julia Dags

 | Copyright © 2021 Happily Eva After, Inc. All Rights Reserved.